Azure is not the most user-friendly cloud hosting provider.
I've seen complaints about the difficulty level of various tasks, from connecting a domain to changing the configuration of a load balancer. I've also read reports of extensive downtime – and while my colleague didn't see that in
our tests
, we did record slow page loading speeds of over 3.5 seconds. Finding an enterprise-grade cloud hosting provider that meets all your needs can be tricky. My colleagues and I have tested all the top large-scale hosting options on the market to come up with the providers that give you things Microsoft Azure can't. Read on to find out which of our alternate hosting options is right for you.
Short on Time? These Are the Best Microsoft Azure Alternatives for 2023:
Kamatera – Fast page loading speeds with unmatched flexibility and scalability
Liquid Web – Helpful support with superb performance
Cloudways – Managed cloud hosting designed for user-friendliness
What We Look For in the Best Alternatives to Microsoft Azure
With hundreds of corporate clients, Microsoft must be doing something right. Nevertheless, we found shortcomings in its website hosting services, and these are what we looked to address with our top Microsoft Azure alternatives.
Better performance. These top Azure alternatives give you page loading speeds below the two-second threshold, with 99.9% or better uptime reliability.
Ease of use. VPS and dedicated server hosting is often more hands-on, but that doesn't mean the experience needs to be as complicated as it is with Azure.
Value for money. You should choose a host that can give you what you need at a price that you can afford. Azure can give you a lot, but it costs a lot.
More focus on website hosting. Web hosting is just one part of the Azure product family. The alternatives on this list may offer other services as well, but hosting websites is usually a top priority.
Added features. Azure's list of included features is very sparse, so we looked for hosts that offer more.
Global reach. Azure has data centers in 140 countries and 54 regions, so its competitors should have a global presence too.
Solid support available. One thing Azure gets right is its above-average support service. A top alternative should offer reliable support as well.

While Microsoft Azure clocked in with page loading speeds north of 3.5 seconds,
Kamatera consistently loaded our test site's homepage in about one second during our tests, with near-perfect uptime throughout the testing period.
With 13 data centers across North America, Europe, Asia, and the Middle East, Kamatera brings its solid performance to your audience no matter where it may be located.
There are 1,174 different resource configurations available with Kamatera's virtual servers.
You can scale individual resources up or down instantly even after deployment, and you can add firewalls and load balancers, or have these configured for you for an additional fee. Kamatera's pricing is transparent.
You pay only for what you use, down to the second.
Its standard support doesn't offer in-depth help, but it offers optional, rock-solid managed support in addition to an optional fully-managed service – though its managed support does cost a bit more than Azure's. Its
near-perfect performance, scalability, and precision pricing makes Kamatera one of the best cloud hosting options
on the market.
Features:
5TB of free bandwidth. Every Kamatera configuration comes with 5TB of bandwidth per month for internet traffic, which connects at up to 10Gbps.
Cheaper cloud block storage. For 32TB of block storage with Kamatera, you'll pay less than half of what you'll pay with Azure.
Simpler online pricing calculator. Kamatera's online pricing calculator is much easier to use and understand than Microsoft Azure's.
Free SSL. Every server instance comes with preconfigured SSL certificates to save you the time and hassle of setting them up.
Read our
expert Kamatera review
for more details.
Types of hosting available

Cloud, VPS

Managed hosting available?

✔

Average page loading speed

1.1 seconds

Data center locations

North America, Europe, Asia, Middle East

Uptime guarantee

99.95%

Free trial

30 days

Starting price

$

4.00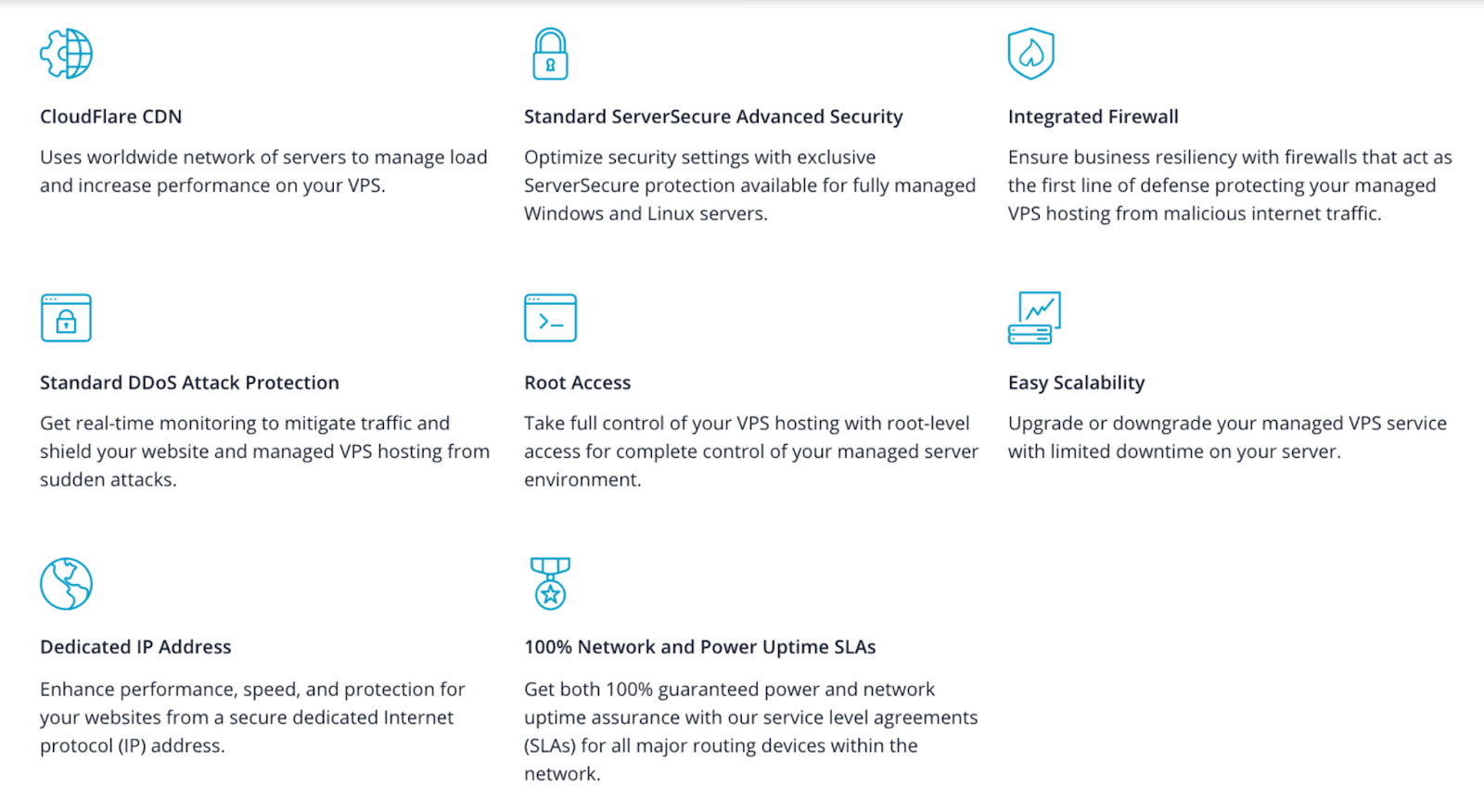 Liquid Web is a top-end provider of cloud, VPS, and dedicated server hosting that offers
great value for developers, agencies, and enterprise clients, as well as user-friendly plans for smaller-scale WordPress hosting.
In addition to unmanaged hosting, you can get semi-managed or fully-managed services.
With fully-managed hosting, Liquid Web takes care of all server setup, maintenance, and support.
With the semi-managed option, you run your server but can get support when needed. And
support from Liquid Web is some of the best we've seen
. You get great flexibility from Liquid Web and can increase or decrease storage, CPU, and bandwidth individually. You do have to upgrade to a new plan to increase RAM, so it's not quite as flexible as Kamatera.
We saw consistent page loading times from Liquid Web – around 1.4 seconds in our tests – and 100% uptime.
It only has data centers in the US and Amsterdam, so it's best suited for visitors in North America and Europe. If your target market is elsewhere, you should consider paying extra for the Akamai content delivery network (CDN) to maximize server performance.
Features:
100% uptime guarantee. You're guaranteed 100% server power and network access, but unless you go with the very reasonably-priced fully-managed hosting option, keeping your site functioning is up to you.
Free backups. Every plan comes with 100GB of free backups, and advanced plans give you 100GB of backups per day. You have to pay extra for backups with Azure.
24/7 monitoring. Liquid Web provides automatic monitoring of your server, but it's up to you to fix any problems unless you choose fully-managed hosting.
Easy site migration. There's a team dedicated to migrating your site(s) from your previous host, and this service is free with Liquid Web's WordPress plans or with fully-managed hosting.
Read our
expert Liquid Web review
 for more details.
Types of hosting available

Cloud, VPS, dedicated servers, managed WordPress

Managed hosting available?

✔

Average page loading speed

1.4 seconds

Data center locations

US, Europe

Uptime guarantee

100%

Free trial

14 days

Starting price

$

149.00
Cloudways does things a bit differently than the others on this list.
It provides cloud hosting on your choice of physical infrastructure from DigitalOcean, Linode, Vultr, Amazon Web Services (AWS), or Google Compute Engine (GCE).
If you select a Vultr plan, for example, you'll use a Vultr data center and get Vultr's uptime guarantee. Cloudways then installs its own proprietary web server infrastructure and optimization tools. When it comes to ease of use,
Cloudways manages all aspects of your hosting
so you can focus on your business and your website content.
It also gives you free 24/7 support for infrastructure and platform issues. The Advanced add-on gives you application and customization support, and Premium adds a 24/7 private phone line and Slack channel. There are a variety of set plans with each hosting partner, with corresponding prices and resource sets. Pricing is transparent:
you will receive a monthly invoice but you pay as you go on an hourly basis, and you only pay for the resources you actually use.
Features:
ThunderStack. Cloudways' hosting technology stack includes Apache web servers with an NGINX proxy, and advanced caching with Memcached, Varnish, PHP-FPM, and Redis, delivering top performance for your website and your databases.
Extensive control panel features. The easy-to-use, proprietary control panel provides real-time server monitoring, vertical scaling, advanced app control, server cloning and cache configuration.
Breeze plugin. This proprietary WordPress caching plugin is available with all Cloudways plans. It's easy to use, requires no coding, and lets you manage cache rules, reduce file size and download time, and boost performance.
Free migration. Your first website or application migration from your old host to Cloudways is free, though you do have to pay for migration of additional sites.
Read our
expert Cloudways review
 for more details.
Types of hosting available

Cloud

Managed hosting available?

✔

Average page loading speed

Varies by hosting partner

Data center locations

North America, South America, Europe, Asia, Australia

Uptime guarantee

Varies by hosting partner

Free trial

3 days

Starting price

$

11.00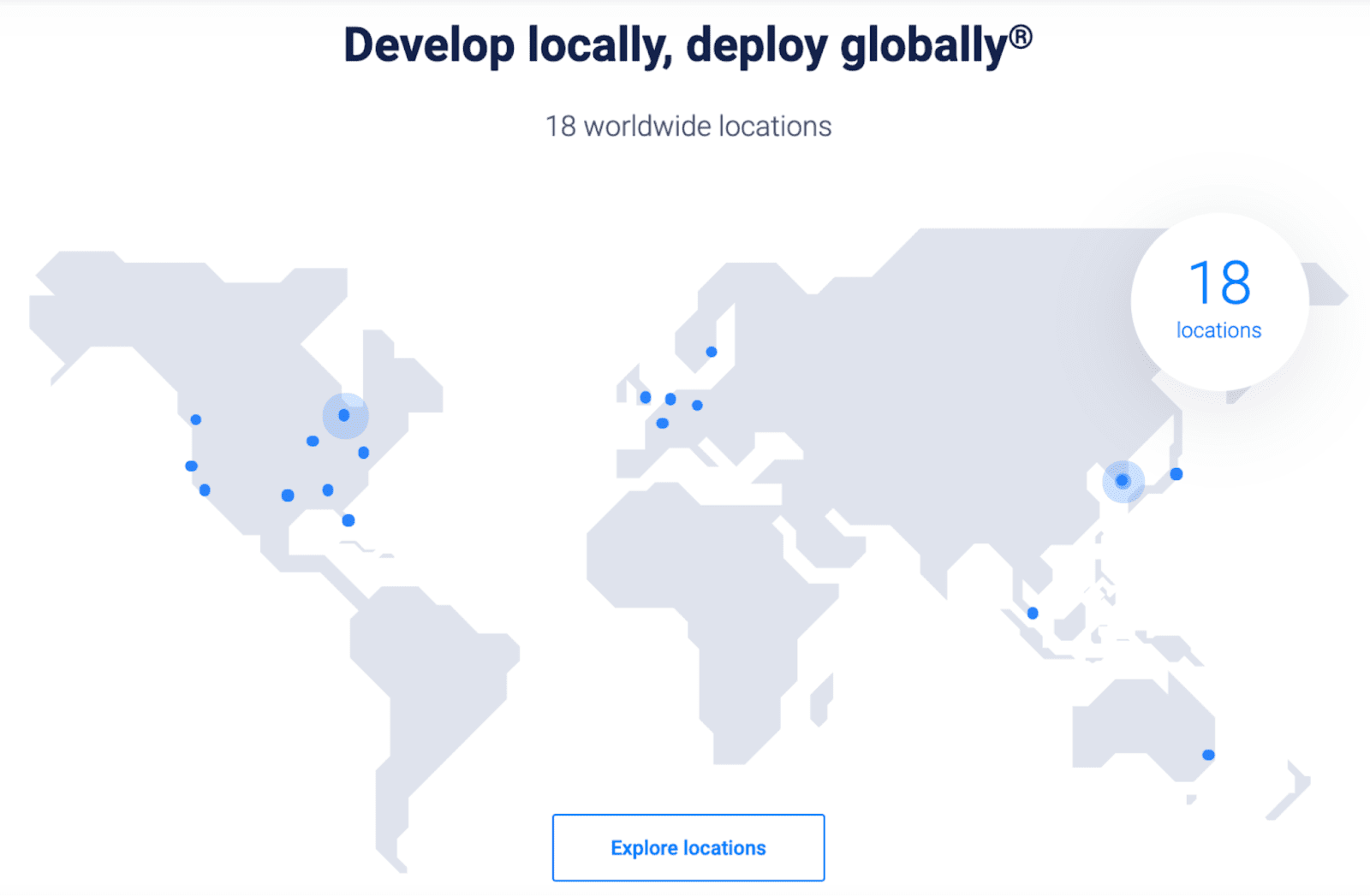 In my colleague's tests,
Vultr received an A+ for speed, with most data centers returning page loading speeds under 1 second, with an average of 0.5 seconds overall.
But while we didn't have any uptime issues, some users have reported significant outages. Vultr is the lowest-priced host in our list of Azure alternatives.
Vultr's cloud instances start at

$

5.00

 per month.
You'll get Vultr a lot cheaper directly than you will going through Cloudways, but Vultr doesn't offer managed hosting. So,
if you want managed hosting from Vultr, Cloudways is a reasonable option.
Vultr also provides a dedicated option to rent 25-100% of a server so you don't have to share resources with "noisy neighbors." Bare metal servers are also available if you want full control right down to the hardware.
Features:
Quality infrastructure. Every Vultr cloud instance utilizes fast Intel Skylake processors and SSD storage, but you can upgrade to high-frequency computing with 3+GHz CPUs and NVMe storage for even better performance.
Wide global coverage. Vultr has multiple data centers in North America, Europe, and Asia, as well as one in Australia, so you can easily reach a worldwide audience.
One-click installers. There's a variety of one-click installers for operating systems, web applications, management tools, and control panels. You can easily install web hosting stacks, Linux, Windows, cPanel, Drupal, Magenta, Joomla!, OpenLiteSpeed-based WordPress, and even Minecraft servers.
Snapshots. These let you create copies of your instances at any time, which is helpful if you want to duplicate a server setup to deploy on a new instance.
Read our
expert Vultr review
 for more details.
Types of hosting available

Cloud, dedicated cloud, bare metal servers

Managed hosting available?

✘

Average page loading speed

0.5 seconds

Data center locations

North America, Europe, Asia, Australia

Uptime guarantee

100%

Free trial

✘

Starting price

$

5.00

Amazon Web Services doesn't primarily focus on hosting standard websites; instead, it closely resembles Microsoft Azure by providing a broad spectrum of cloud hosting, computing, and storage services. It serves as Azure's primary competitor, enjoying several advantages in this competition. My colleague got blazing fast speeds in our tests, with
global page loading times less than 0.3 seconds on average.
And AWS gives you a 99.99% uptime guarantee. Like Azure, Amazon's service offers
all
the features and functionality you could possibly need
, and some of these are free – but you have to pay for any significant usage as well as for customer support.
Free support only covers basic questions about pricing and plans. And
AWS is the most expensive Azure alternative on this list
, even if you pay advance monthly fees to save money rather than paying as you go. Furthermore, it is every bit as complex to deploy and maintain as Microsoft Azure's services.
You can get managed AWS hosting from Cloudways and still get all the performance benefits,
but this option is more expensive.
Features:
Vast global network. 81 "availability zones" in 25 regions around the world, with a presence on six continents. So, if you're looking to deploy websites in every corner of the world, you can do this with AWS as your only hosting provider.
Amazon Lightsail. This is AWS's version of monthly plan-based hosting with set resources for each plan and paid add-ons like CDN access, load balancing, and block storage. These are easier to deploy, but still require developer-level knowledge to operate.
AWS Launch Wizard. The Launch Wizard helps you configure resources for things like third-party applications, and it gives you an estimate of what your configuration will cost, so you can modify as needed (instantly) to fit your budget.
Free features. You get 5GB free object storage for a year with AWS, and it offers dozens of features for free forever, such as 100GB of hybrid cloud storage. Azure offers fewer always-free services, including only 5GB of file storage.
Read our
expert AWS review
for more details.
Types of hosting available

Cloud, VPS

Managed hosting available?

✔

Average page loading speed

0.3 seconds

Data center locations

Every continent except Antarctica

Uptime guarantee

99.99%

Free trial

30 days

Starting price

$

3.50
Which Microsoft Azure Alternative Is Right for You?
If you want great value, near-perfect performance, and more flexibility than Azure – or any other cloud or VPS host for that matter –
go with Kamatera
.
Liquid Web will give you superior reliability and support,
and you can get potentially better performance than Azure at
far lower prices from Vultr
.
For the absolute best performance,
choose AWS
.
And if you want the managed version of AWS or Vultr (or a few other hosting options),
Cloudways is worth your consideration
.
Still unsure which to pick? Here's a side-by-side look at the five best Azure alternatives:
Standout feature
Managed hosting
Average page loading speed
Starting price
Kamatera

1,174 server configurations and unmatched flexibility

✔

1.1 seconds

$

4.00

Liquid Web

Best-in-class support

✔

1.4 seconds

$

149.00

Cloudways

Fully-managed and the most user-friendly

✔

Varies by hosting partner

$

11.00

Vultr

Low prices and fast page loading speeds

✘

0.5 seconds

$

5.00

AWS

Biggest global network and best overall performance

✔

0.3 seconds

$

3.50
FAQ
Which is the best Microsoft Azure alternative?
Kamatera is the top alternative to Azure and provides great value for cloud or VPS hosting. Its server configurations are more flexible than any other host's. We recorded fast page loading speeds and near-perfect uptime from Kamatera in our tests.
Are there free alternatives to Microsoft Azure?
There isn't really a free cloud, VPS, or dedicated server host that's worth using. If budget is an issue, you should consider an entry-level plan with a lower-priced provider like Vultr. Before you make a final decision, take a look at the latest deals for 2023 on our coupon page.
How do I cancel an account with Microsoft Azure?
First of all, make sure you've backed up your data if you want to keep it. Once that's done, log into your Azure portal, delete any active resources, and then go to the Subscriptions page. From there, select the subscription you want cancelled, click Overview, and then click Cancel Subscription. The system will guide you the rest of the way.
Which is the cheapest and most reliable Microsoft Azure alternative?
The cheapest Azure alternative on our list is Vultr. Its entry-level cloud hosting plan starts at just

$

60.00

per month. The most reliable host we tested was Kamatera, which delivered 100% uptime during our tests, though its 99.95% uptime guarantee is slightly lower than that of Amazon Web Services, which guarantees 99.99% uptime. If you decide to settle for a more straightforward web hosting plan instead of cloud hosting have a look at our list of the best web hosts for 2023.