You know the phrase, "Don't judge a book by its cover?" It applies very well to these vendors' websites. Kamatera's website isn't sexy. It's a lot of words – which means a lot of reading. But those words paint a clear picture of exactly what you get with its service, which is reliable VPS or dedicated cloud hosting with unrivaled flexibility and scalability. Vultr's website is sleek and appealing, with lots of nice animations and punchlines. And underneath its flashy exterior is one of the better cloud-based providers we've tested (and we've tested many). Advanced technology, ample resources, decent customizability. But does it give you enough to beat Kamatera? In a word:
No.
Vultr does a few things better than Kamatera, but
Kamatera gives you more choice and is a better bang for your buck
when it comes to cloud-based hosting.
Click here for Kamatera's latest cloud hosting deals
,
 or keep reading to find out more.
Plans and Pricing
Vultr Can't Match Kamatera's Flexibility and Value
Vultr offers three bare metal server plans and Kamatera doesn't offer any, so if you think you might need access to actual hardware, Vultr may have an advantage in that regard. But
if you're after cloud-based hosting, Kamatera gives you a lot more for your money.
Both hosts offer dedicated hosting plans. Vultr's four dedicated cloud plans give you the option to "rent" 25%, 50%, 75%, or 100% of a dedicated server, which doesn't sound like dedicated hosting, though the marketing suggests you're not sharing your resources at all: "no noisy neighbors." Similarly, Kamatera promises dedicated, unshared resources with its cloud hosting plans, but what sets Kamatera apart is its flexibility.
Kamatera lets you adjust individual resources and pay for exactly what you need, down to the minute, with over 1,100 various server configurations on both its cloud and VPS plans.
Vultr offers hourly or monthly pricing on its ten cloud computing plans and nine high-frequency computing plans with faster CPUs and NVMe storage, and while it does allow for some customization, it's not nearly as customizable as Kamatera.
Vultr offers better deals than Kamatera on budget single-CPU setups with 512MB RAM
 (Kamatera has no equivalent option), which might be of interest if you're just getting started. That being said, Kamatera offers a minimum 5TB per month of bandwidth even on very low-end plans, a feature rarely matched by other providers of custom servers. Then,
as CPU power and resources increase, Kamatera's value-for-money ratio goes up,
 and its customizability allows you to save money by tweaking individual resources to lower your price accordingly. Neither host requires a long-term commitment, and both have transparent pricing and offer a version of free –
Kamatera gives you a 30-day free trial and Vultr offers a decent free credit
 – so they're neck-and-neck in those categories. With Kamatera you can only pay by credit card, whereas Vultr gives you more niche payment options, including PayPal and bitcoin. Still, all things considered,
Kamatera takes round one in a landslide.
Support
Vultr Edges Out Kamatera But Neither Is Great
Let me caveat this section: if you pay for Kamatera's managed support service, it takes the support gold medal for sure. But that service costs quite a bit, so this comparison is squarely between the standard support service you get for signing up with either host. And with that,
Vultr's support service is slightly better, despite having fewer options, and despite what you may read in reviews.
How do I know? Because my colleagues and I tested both.
Kamatera offers 24/7 technical support via email, phone, and tickets.
 It also has live sales chat, but sales and billing have limited hours. If you're in the Middle East, you can reach sales and billing Sunday to Thursday from 8:00 a.m. – 6:00 p.m. IST. For the rest of the world, it's Monday to Friday 8:00 a.m. – 6:00 p.m. EST or CEST. Beyond standard FAQs and help documents,
Vultr only offers a message form, a 24/7 ticketing system for existing customers, and a chatbot
that more often than not just links you to the FAQs. There's no phone number, which can be annoying for those of us who still like speaking directly to humans. The response times my colleagues and I got from both hosts were very similar – each replied within ten minutes. But neither was overly helpful. Vultr tended to direct us to its FAQs and help docs, or even to outside support, rather than providing answers.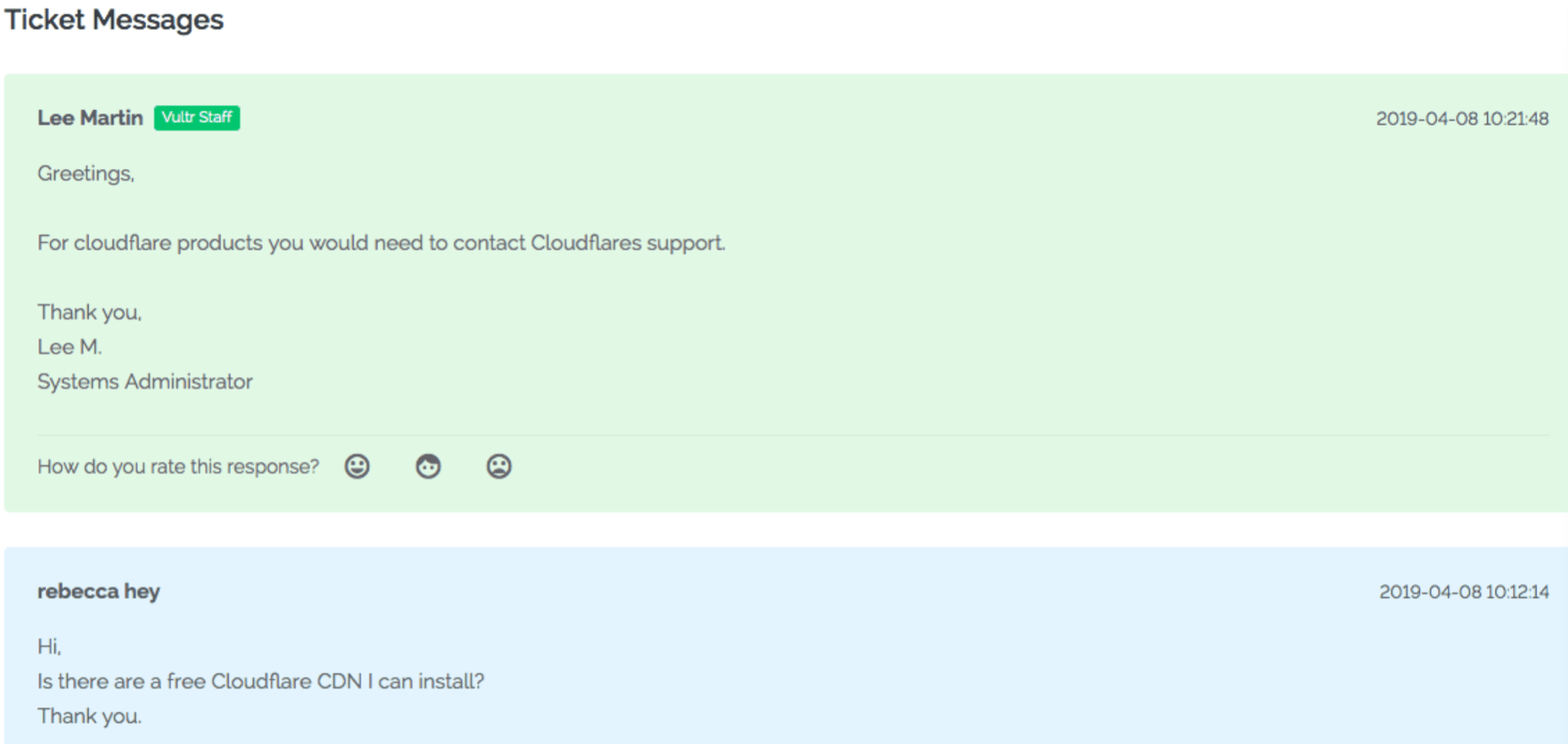 And even though Kamatera gave us more information, it was confusing, and it included an upsell attempt for its managed support service.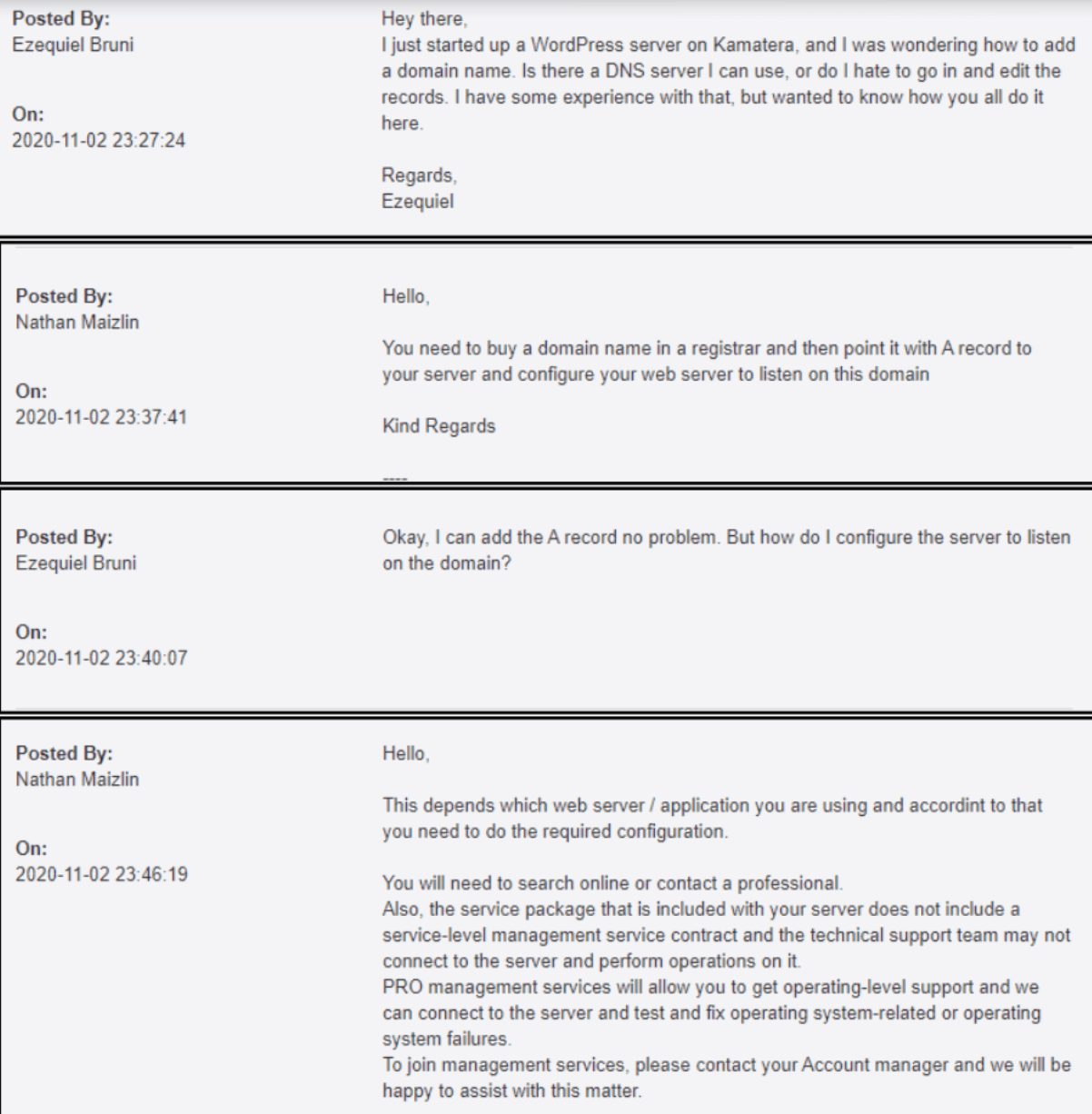 You won't find great standard support with either one of these hosts, but since I have to pick one,
Vultr is the winner in this category
as it was less frustrating to deal with.
Features
Vultr Is Easier To Use, But Kamatera Gives You More
Neither of these hosts' platforms are designed for beginners. Vultr's cloud-based hosting is a bit more user friendly… unless you pay for Kamatera's managed service.
Vultr has a custom account interface that lets you easily launch new instances from any device.
 It also gives you one-click installers for popular web apps, management tools, and web hosting control panels like cPanel and Plesk. You can pay for multiple required licenses in discounted bundles.
Kamatera offers a proprietary management console as well.
 If you're setting up a web hosting server, you can choose from a number of pre-configured images that include a web hosting control panel, and you can pay for the license(s) in bundles here too. But as my colleague found out, even with pre-configured servers you need to know what you're doing. When it comes to the basics, both hosts support a wide range of operating systems, but
Kamatera gives you slightly more features, like free, automatically-installed SSL
. You have to pay extra for automatic backups with both providers and keep in mind neither includes free domain registration as a standard web host might. Both hosts offer private networking options. Vultr has some cool features, like Snapshots, which allows you to create copies of your VPS. Kamatera has a few more unique offerings, like remote desktop servers, which allow you to install a single instance of an app on a VM and make it accessible to multiple remote clients. Kamatera has that aforementioned fully-managed service option too. Vultr's only fully-managed service is its Kubernetes Engine, which is an open-source platform to manage containerized apps using cloud instances, but even Vultr admits it's complex, hence requiring full management. As I already touched upon in the Plans and Pricing section, Kamatera sets itself apart with its range of customization options.
With
Kamatera you can get up to 104 virtual CPUs (vs Vultr's 24), 512GB of RAM (vs Vultr's 96GB), and up to 40TB of storage (vs Vultr's 1.6TB).
The one thing Vultr offers more of than Kamatera is bandwidth on higher-tier plans – you can get up to 40TB of included monthly bandwidth with Vultr. Although Kamatera includes "only" 5TB on all its customizable instances, overage fees for anything above that are nominal. Vultr's slight ease-of-use advantage can't overcome the features and flexibility Kamatera offers, so
Kamatera takes this category.
Kamatera
Vultr
Hosting Types

VPS, dedicated cloud

VPS, dedicated cloud, bare metal server

Fully-Managed Service

✔

(optional)

✘

Free Domain

✘

✘

Free SSL Certificate

✔

✘

Disk Space

5GB SSD – 40TB block storage

10GB – 1.6TB SSD or 32GB – 768GB NVMe

vCPU

1 – 104

1 – 24

RAM

256MB – 512GB

512MB – 96GB

Bandwidth

5TB

500GB – 40TB

Automatic Backups

Daily (costs extra)

Daily, weekly, or monthly (costs extra)

Control Panel

Proprietary control panel; web hosting control panels available in discounted bundles

Proprietary control panel; web hosting control panels available in discounted bundles

Uptime Guarantee

99.95%

100%

Money-Back Guarantee

✔

, only if 99.95% uptime guarantee is not met

✘

, but credits if 100% uptime guarantee not met
Performance
Vultr Is A Bit Faster, But Kamatera Is More Reliable
In our test drives of Vultr and Kamatera, both hosts provided fast page loading speeds.
Kamatera came in around 1 second on average, which is solid, but Vultr was consistently under 1 second.
Each host offers a slew of global data centers.
Kamatera has 13 data centers across North America, Europe, Asia, and the Middle East, and Vultr has 17 in North America, Europe, Asia, and Australia.
Additionally, both offer speedy SSD storage, but Vultr offers plans with faster (and costlier) NVMe storage options. When it comes to reliability, Vultr guarantees 100% uptime. We didn't run into any downtime issues during our tests, but some users have reported significant outages, as well as randomly deleted accounts.
Kamatera has a 99.95% uptime guarantee, but it maintained 100% uptime in our tests
, and we didn't see any other reliability issues. Based on our tests,
this one's too close to call and I'm chalking it up as a tie
, with Kamatera giving you slightly better reliability while Vultr delivers slightly faster page loading speeds. Want to see more analysis of Kamatera's nearly-perfect performance? Check out our
expert Kamatera review
. And give our
in-depth Vultr review
 a look to see just how fast its page loading speeds can be, but also to learn why some have concerns about its reliability.
Security
Kamatera's Free SSL and Data Center Security Give It A Leg Up
If you pay for Kamatera's managed service, it will monitor your servers and maintain your security, including protection against DDoS, brute force, spyware, and trojan attacks as well as malware and viruses. If you don't pay for the managed service,
aside from free automatically-installed SSL certificates for any websites you host on the platform, security features will cost extra with Kamatera, and you'll have to implement and maintain all of these yourself.
Vultr gives you a free firewall, but it doesn't come with free SSL. You can of course install free Let's Encrypt SSL certificates if you want. Aside from that,
Vultr is a lot like Kamatera in that you have to maintain your own security and pay for most security features, like DDoS protection.
With its 17 global data centers, Vultr uses a redundant network design to help ensure your servers stay up and running – though as mentioned in the Performance section, some users have had uptime issues even with its 100% guarantee. Kamatera also employs redundancy in its network to meet its 99.95% uptime guarantee. And
all Kamatera data centers are not only securely guarded 24/7, they're also designed to prevent disaster and be able to withstand power failures
 – each center is backed up with a generator that can run the entire system without interruption in the event of power loss.
Kamatera takes home the security trophy in this comparison
, but if, like me, you're not a developer or advanced user, it may be worth paying up for the managed service if you want to make sure your site is fully protected.
Vultr Has Its Advantages, But Kamatera Is The Clear Winner
Kamatera defeats Vultr in this battle, thanks to its well-rounded performance, unmatched resource flexibility, and overall value.
Kamatera provides completely customizable server configurations with greater resources available at the top end, and you are billed for your usage down to the minute. However, Vultr's per-hour payment option is also quite competitive. Vultr can offer you bare metal servers or slightly faster page loading speeds, though
Kamatera's loading speeds are above average and it has a better track record with uptime.
Neither will wow you with its basic support tier, and server management and security is up to you unless you pay for Kamatera's managed service, so these hosts are best suited to developers and advanced users. Kamatera and Vultr are both solid hosting providers, but if you're just looking for straightforward web hosting, have a look at our list of
the best web hosting services for 2023
. Here's a quick side-by-side comparison table to help you decide whether Kamatera or Vultr is the host for you:
Plans and Pricing
Free 30-day trial, 1,174 server configurations, pay for what you use down to the minute
Higher prices overall than Kamatera, set plan options with the ability to customize, pay for what you use either hourly or monthly
Key Features
High resource scalability including 104 vCPU and 40TB of block storage, optional fully-managed service
100% uptime guarantee, NVMe drive option
Performance
13 global data centers, solid page loading speeds (around 1 second), and 100% uptime in tests
17 global data centers, faster page loading speeds (below 1 second), but some users have experienced uptime issues
Security
Free auto-installed SSL certificates, but advanced security costs extra
Free firewall, but advanced security costs extra
Support
24/7 technical support via email, phone, and tickets, as well as limited live chat, but not much help unless you pay for fully managed support
24/7 messages and ticketing, as well as a chatbot, but not the most helpful support staff
FAQ
Is Kamatera the best host?
No VPS host does it better than Kamatera. Here at Website Planet, we've tested all the top hosting providers out there and Kamatera topped our lists for the best-value VPS hosting provider. It doesn't make our list of the 10 best web hosts overall, but these are more suited to those looking for straightforward website hosting.
How much does Kamatera cost?
Kamatera's lowest-tier plans (dedicated cloud or VPS) cost about the same as shared hosting, though Vultr's entry-level plans are even cheaper, due to starting with lower resource limits and significantly less bandwidth. One of the great things about Kamatera is there are no set plans – you can configure your server to the exact specifications you need and pay only for what you use, down to the minute. You can also try it out on a 30-day free trial.
Is Kamatera reliable?
Kamatera has a 99.95% uptime guarantee, and in our tests it maintained 100% uptime. In fact, we think it's so reliable that it tops our list of the most reliable VPS hosting providers. Want to understand how we graded Kamatera's reliability? Check out how we measure performance for the web hosting providers we test.
Is Kamatera good for small businesses?
Absolutely. If you've outgrown shared hosting, or want better performance or scalability, Kamatera is a great option. But before you make a final decision, you should stop by our coupons page to see the best deals from Kamatera for 2023.