But how do you know which "features" are worth it, and which ones are just listed on the homepage to make the host appear better than it is?
Well, I've tested both hosts to help you make the best decision on which one is better for your website. Bluehost advertises features (like "scalability" and "resource protection") that
sound impressive but ultimately don't mean much, as most web hosts have the same abilities.
iPage, on the other hand, actually offers features and benefits that are unique to the company,
 which is why it's the winner in this comparison. That said, if I had to choose a web host today, I wouldn't go with either of these companies. I'd go with Hostinger, which offers better features for much better prices.
Click here to see Hostinger's best deals
, or read on to see if iPage or Bluehost could be the right host for you after all.
1. Plans and Pricing
iPage's Hosting Plans Start Cheaper and Offer More Than Bluehost
Bluehost's many positive reviews are largely generated because of the company's generous affiliate marketing program.
 But is Bluehost really as good as they say? Let's take a look. Bluehost offers shared hosting, WordPress hosting, VPS (virtual private server) hosting, and dedicated hosting plans. Every hosting type gives you the option of three or four plans. Every plan also comes with a standard 30-day money-back guarantee.
A free domain name is included with some hosting plans from Bluehost
Bluehost also advertises a
WP Pro hosting option that includes detailed web analytics, marketing tools, and backups.
When you try to purchase a Bluehost plan, however, you'll be hit with upselling, such as pre-checked add-ons (SiteLock Essential, CodeGuard Backup, etc.) and a default payment setting of 36 months.
So
pay attention to what you are buying and actively uncheck the services you do NOT want.
Boston-based iPage also offers shared web hosting with a one-size-fits-all plan, while its WordPress hosting only has two options available. It has a lower introductory price than Bluehost, but its lowest introductory price is only available if you purchase a three-year term.
A free domain name is included with some hosting plans from iPage
Like Bluehost, iPage also has a 30-day money-back guarantee – however, it does not apply to domain registration, setup fees, or fees for additional services. And iPage also includes some pre-checked upsells during the checkout process.
All iPage plans include a free domain for one year and unlimited disk space and websites, including its most basic web hosting plan
, unlike Bluehost, which allows only one website at the basic level. iPage also offers unlimited domains, even at its basic tier, which is a helpful future investment if you ever want to run more than one site or change your site name. In short, both hosts have reasonable and comparable pricing and plans, but iPage offers a tad  more bang for your buck. It has a lower introductory price, so you can test out its features with less risk, although technically you're covered either way by both companies' money-back guarantees. Before you make any final decisions, though, you should check out Hostinger's super-low prices:
A free domain name is included with some hosting plans from Hostinger
2. Features
Bluehost Has Standard Offerings – iPage Offers More
Bluehost offers the basic features you would expect for a budget hosting company: 50 GB to unlimited SSD storage, unmetered bandwidth, automated WordPress installations and updates, and free SSL certificates. One thing that makes Bluehost stand out is its helpful checklist for people new to setting up websites. Bluehost also offers marketing credits for Microsoft Advertising and Google Ads, but only if you purchase new Microsoft Advertising and Google Ads accounts.
Like Bluehost, iPage includes a free SSL certificate with every plan.
 The plans also include an easy drag-and-drop website builder, a free domain name for the first year, unlimited storage and bandwidth, and access to dozens of popular apps. And if you're interested in e-commerce,
iPage offers an easy one-click installer to set up your own online store
, along with half a dozen shopping cart options and PayPal integration. One downside for users who are most familiar with cPanel is that
 iPage uses its own vDeck Control Panel instead of cPanel,
 which Bluehost and many other hosts prefer. However, vDeck is intuitive and easy to learn, with customizable widgets. So if you are new to website creation and aren't familiar with cPanel anyway, the vDeck will be just as useful to you. Finally, iPage includes free ad credits worth hundreds of dollars on all its plans (no additional purchase necessary like Bluehost), as well as a free drag-and-drop builder for those who want an easy way to set up their website. So if you're wondering which of these two hosts has the best features, the answer is clear: iPage takes the cake once again.
| | | |
| --- | --- | --- |
| | iPage | Bluehost |
| Hosting Types | Shared, WordPress, dedicated server, VPS | Shared, WordPress, dedicated hosting, VPS |
| Free Domain | Yes, for the first year | Yes, for the first year |
| Free SSL Certificate | Yes | Yes |
| Disk Space | 40 GB to unlimited | 50 GB to unlimited |
| Bandwidth | Unlimited | Unlimited |
| Automatic Backups | Automatic daily backups available as a monthly paid upgrade | Daily, weekly, monthly backups for legacy accounts only; no guarantees, and not for sites above 30 GB in size |
| Control Panel | vDeck | cPanel |
| Email Accounts | Starts with 500 MB storage, and you can pay for more | Unlimited on all accounts except Basic |
| Ad Credit | Yes | Yes, but only with purchase of an ad account |
| Free Site Migration | No | No |
| Money-Back Guarantee | 30 days | 30 days |
3. Performance
Both Host's Speed Varies by Geography
Bluehost's servers are located in the US. Its loading times are faster in Montreal, Canada, and some Western European cities, and not as strong in East Asia and most of the US. But
Bluehost
does not have an uptime guarantee.
In comparison, iPage only has two data center locations, both in Boston, Massachusetts, which means iPage performs well in the United States where it is based, but does not always have the best loading times internationally. However,
iPage has an industry-standard 99.9% uptime guarantee
that applies to all plans. The site does not specify exactly what credits you get in case the guarantee is not fulfilled. When compared head to head, iPage is slightly better than Bluehost in terms of speed and performance. But this depends on where you and/or your target audience are accessing your site. So consider geography carefully when deciding which host is better for you. iPage scored well on our performance tests, and some users report an actual uptime as high as 99.98%. Check out
our expert iPage review
 for more details. Bluehost, however, nearly failed our performance tests. To find out what went wrong, read
our in-depth Bluehost review
.
4. Security
Bluehost Beats iPage with a More Appealing Price for an Add-On Security Suite
Bluehost includes a free SSL certificate powered by Let's Encrypt with each of its plans. If you want advanced security features,
you can order SiteLock products as an add-on service, at a discount.
SiteLock is a suite of tools that scans for malware and blocks automated attacks. It includes a firewall and CDN (content delivery network), which helps speed up site performance. As for backups – an important feature if your security is ever breached – Bluehost performs them at its discretion, meaning
it doesn't have a set backup schedule and it doesn't claim responsibility
if users don't manually perform their own backups to protect their content and data. On its website, Bluehost states that it has internal tools to automatically mitigate distributed denial of service (DDoS) attacks so that such attacks don't slow or damage sites, although they are not specific about what tools they use. iPage also claims to mitigate the effects of DDoS attacks using its "pooled, load-balancing architecture." Like Bluehost, iPage offers free SSL certificates on all plans and SiteLock security for an additional annual fee, or if you sign up for the WP Essential plan.
iPage runs daily malware and spam scans and offers daily backup capabilities for a fee.
And if, by some great misfortune, your site is hacked anyway, you can also buy SiteLock911 and have a professional help clean up your site. Both iPage and Bluehost have comparable security offerings, but with an 80% discount off retail price for SiteLock products, Bluehost beats iPage in this round.
5. Support
iPage Offers US-based Support – Bluehost Customer Support Is Unreliable
Bluehost offers 24/7 chat or phone support and also offers a knowledge base with video tutorials and guides. iPage offers 24/7 US-based support via phone, email, and live chat. And
if you want the highest quality support, making a direct call will get you in touch with its technical engineers.
Not all Bluehost customer support representatives are necessarily fluent in English, and you might be in for a bit of upselling: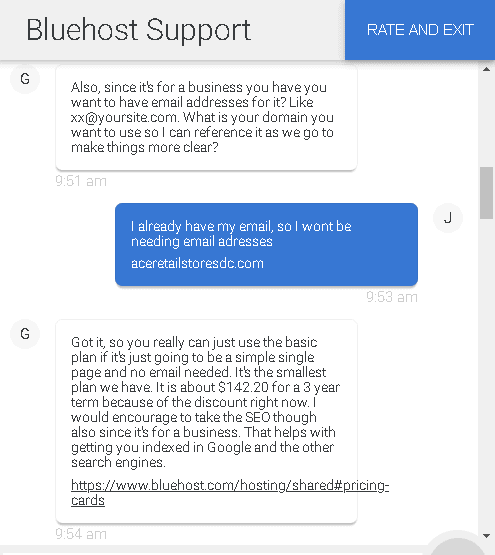 On the other hand, the iPage service agent tested for this article had a noticeably worse grasp of the language: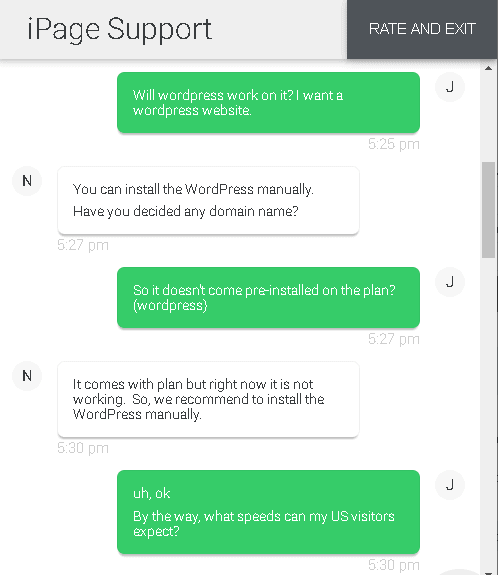 Neither Bluehost nor iPage demonstrated strong knowledge of their product
(in this test case, speed issues). The Bluehost agent mentioned that performance was "standard" and "very good," without defining terms: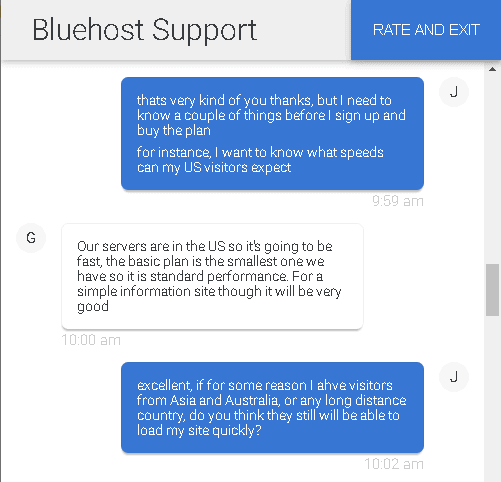 While the iPage service agent gave a generic answer ("load quickly") instead of a more specific one (numbers):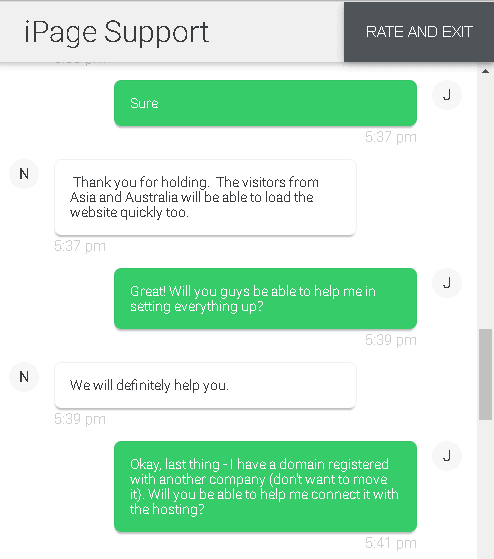 Unfortunately,
Bluehost is not known for timely customer service.
When one of our writers tried to get in touch with Bluehost customer service
, not only could he not find an easy way to contact support through his account area, once he did enter live chat, it took him a full 20 minutes of chatting to get basic information about Bluehost processes. Not only that, representatives asked him for password details to "verify" his account (a dangerous breach of privacy), and he found that customer service representatives were slow to respond, ignorant of how to help him solve his issues, and eager to upsell him on unnecessary services. In addition to typical customer support avenues,
 iPage also offers step-by-step tutorials in its knowledge base for do-it-yourself clients
 who prefer to work things out on their own. Who wins the competition for best support? The answer is iPage. With support, it's not just what you do, it's also what you DON'T do that matters, such as NOT making it difficult for clients to get the information they need and NOT making clients wait too long or violating their privacy by asking them to "verify their password." Unfortunately, Bluehost crossed all of these lines, making iPage the clear winner in the customer support arena.
Overall Winner with Better Features for the Price: iPage
From multiple perspectives, iPage and Bluehost are close, but where they do differ, iPage tends to win the prize. For example, even though both companies offer low prices,
iPage includes more features for free
, while Bluehost has an annoying habit of frequently
trying to upsell customers. Both have similar performance speeds, but only iPage has an uptime guarantee. In other words, iPage is a stronger webhost choice if your only other option is Bluehost. But the good news is: it isn't! Before you choose either iPage or Bluehost for your website, you should know that neither of these hosts is in our top recommended hosts. To see our top picks, take a look at our
best web hosting companies right now
– or just
hop over to Hostinger's website to see the company's best prices
.
Plans and Pricing
Lower initial price, but only if you purchase a long-term plan
Lower renewal fee than iPage, but pushes many upsells
Key Features
vDeck control panel, free drag-and-drop website builder, hundreds of dollars of free ad credits
Unlimited bandwidth and email accounts
Performance
Consistent uptime of 99.98%, with a 99.9% uptime guarantee; performs particularly well in the US but not always internationally
Does not perform as well in the US, but is strong in Montreal and parts of Western Europe; no uptime guarantee
Security
Free SSL certificate; SiteLock tools available for a fee or with a higher-level plan
SiteLock tools also cost an additional fee, but this fee is slightly lower than iPage's
Support
24/7 US-based support via phone, email, live chat; knowledge base
24/7 support via live chat, phone, though notorious for slow and unprofessional support; knowledge base
FAQ
Does iPage offer WordPress hosting?
Yes, it does. And when it comes to iPage vs Bluehost for WordPress, iPage wins: iPage has a lower starting price if you choose a longer service term, as well as helpful site builders to get your site up and running without having to know too much about programming. But if your focus is on WordPress hosting, you might do better to check out one of these 6 six best managed WordPress hosting providers in 2020.
Is iPage the best host?
That depends on what factors you are looking for. In terms of pricing, it is hard to beat iPage. But if you are interested in the absolute best web hosting services for this year, check out our top web hosting picks here.
Does iPage offer good performance?
Overall, yes. iPage performance is reliable and consistently at the industry standard of 99.9+% If you are interested in learning how we measure web host performance, make sure you take a look at our article on web hosting server performance tests.
Is iPage good for an online store?
If you're interested in setting up an online store, say, with WooCommerce, iPage can help you do that. It has an easy one-click installer, PayPal integration, and multiple shopping cart options for you to choose from, including: AgoraCart, OpenCart, PrestaShop, Zen Cart, and more.