GoDaddy is a popular domain name registrar that sells a broad range of hosting services. But does popular mean better? Not in this InterServer vs GoDaddy comparison.
InterServer offers unlimited resources, a stronger set of features, and better performance than GoDaddy, all for a lower price
. GoDaddy did provide slightly better support, but this simply wasn't enough to beat InterServer.
To make a fair comparison between InterServer and GoDaddy, I evaluated both hosts across multiple factors. InterServer defeated GoDaddy in four out of five categories.
Click here to see InterServer's latest deals
or keep reading to find out what makes InterServer the winner of this comparison.
1. Plans and Pricing
GoDaddy Is Affordable, but InterServer Has Less Unexpected Expenses
InterServer and GoDaddy cover a range of hosting solutions from simple shared hosting (for Linux and Windows) to VPS and dedicated servers. GoDaddy offers shared WordPress hosting, while InterServer provides WordPress VPS together with other VPS hosting plans. With GoDaddy, you can choose from four Linux-based and three Windows-based shared hosting packages. In contrast, InterServer has only one big package for Linux and another for Windows. However, InterServer's shared hosting plan (Linux or Windows) comes with much the same features and resource allocations as GoDaddy's most expensive plans and costs less than GoDaddy's basic (smallest) plans.
GoDaddy Hosting Web Hosting
A free domain name is included with some hosting plans from GoDaddy Hosting
InterServer's prices start at just

$

2.50

, which is half the cost of GoDaddy's basic plan
. Both hosts renew at higher rates after the initial payment term, but even after renewal, InterServer still comes out as the cheaper option.
Unfortunately, InterServer doesn't offer a free domain, but you get a 30-day money-back guarantee. Alternatively, GoDaddy only provides a 30-day money-back guarantee with annual subscriptions and a 48-hour money-back guarantee with monthly subscriptions, but you get a free domain with most plans. InterServer provides free website migration with all plans, whereas you'll only get this perk with GoDaddy's fully managed WordPress hosting plans.
Overall,
InterServer is the cheaper and better-value option, short term and long term
. It easily beats GoDaddy in the pricing round. 
2. Features
You Get More Freebies and Resource Allocations with InterServer
InterServer's standard shared hosting plan for Linux gives you unlimited resources such as unlimited ultra SSD storage, hosted websites, email accounts, bandwidth, databases, and FTP accounts. It also comes with cPanel, application installer (450+ apps), free SSL, free Cloudflare CDN, CloudLinux OS, LiteSpeed server, free SitePad website builder, and weekly backups. In contrast, GoDaddy's Economy plan (basic) comes with limited resources such as one hosted website, 100 GB HDD disk space, 50 FTP accounts, and 10 x 1 GB databases. To get unlimited resources, you'll have to sign up for the most expensive plan, Maximum. GoDaddy also provides cPanel and an application installer with its plans. Unlike InterServer, GoDaddy's shared hosting packages don't come with free CDN or a free website builder. Plus, only the higher-value plans come with a free SSL certificate. Use the detailed comparison table below to compare InterServer and GoDaddy further:
| | | |
| --- | --- | --- |
| | InterServer | GoDaddy |
| Hosting Types | Shared (Linux and Windows), reseller, email hosting, e-commerce hosting, VPS (Linux, Windows, WordPress), dedicated servers | Shared (Linux and Windows), business hosting, reseller, WordPress hosting (managed and unmanaged), VPS, dedicated servers |
| Free Domain | ✘ | ✔ |
| Free SSL Certificate | ✔ | With some plans |
| Disk Space | 30 GB – Unlimited | 20 GB – Unlimited |
| Bandwidth | 1 TB – Unlimited | Unlimited |
| Automatic Backups | Daily, Weekly | ✔ |
| Control Panel | cPanel, DirectAdmin, Plesk | cPanel, Plesk |
| Email Accounts | Unlimited | 1 Free |
| Free CDN | ✔ | With WordPress hosting only |
| Free Site Migration | ✔ | Only with the fully managed WordPress hosting plans |
| Money-Back Guarantee | 30 days | 30 days for annual plans and 48 hours for monthly plans |
The winner? InterServer. Even though InterServer only has one shared hosting package, it's loaded with everything you need to launch a functional website. GoDaddy, however, has some limitations, especially with its lower-value shared hosting packages.
3. Performance
GoDaddy Can't Beat InterServer's Performance
While both InterServer and GoDaddy have two server locations, both of InterServer's locations are in the U.S.A. GoDaddy has servers in the U.S.A. and India, giving GoDaddy a slight advantage in global presence. All of InterServer's plans come with SSD storage, but GoDaddy only uses it with specific plans. SSD storage positively affects your website's loading speeds and overall performance compared to HDD storage. You'll get a free CDN (Content Delivery Network) with all of InterServer's plans, while GoDaddy only provides free CDN with its WordPress hosting plans. A CDN, when activated, places your website on a global network of cloud servers. Among other benefits, this boosts the loading speeds of your website from different locations around the world. Both hosts promise a 99.9% uptime guarantee. While InterServer exceeded that promise with a perfect uptime of 100%, GoDaddy reported some minor downtimes. However, the downtimes weren't significant.
In our full review of InterServer
, we tested the loading speeds. You'll see that most locations showed perfect loading times, leading to an excellent overall score. When testing GoDaddy's loading speeds, only one location showed slow loading speeds, resulting in a perfect global score.
Check out the test details in GoDaddy's full review
. Even though GoDaddy had slightly faster global loading speeds, InterServer's better uptime and performance features give it the win in this round.
4. Security
InterServer Has More Security Features
InterSheild is a security package that comes as standard with all of InterServer's plans. The package consists of DDoS/Brute-Force protection, a virus scanner, a machine learning firewall, and an in-house malware database, which it obtains from thousands of servers and websites worldwide. Another unique security feature offered by InterServer is Inter-Insurance, which cleans out any compromised, hacked, or exploited accounts. In contrast, GoDaddy implements 24/7 server monitoring, strong firewalls, and DDoS protection with all its plans. Both hosts use CloudLinux OS with the Linux-based plans. CloudLinux OS securely isolates your account from other users on the same server (in the case of shared hosting accounts) to protect it against unwanted threats targeting those accounts. It also ensures the fair allocation of server resources among accounts. InterServer includes free automatic weekly backups with all its plans, while GoDaddy only offers free daily backups with some plans. In summary, InterServer takes your website's security more seriously than GoDaddy as it has a comprehensive range of security-related features.
5. Support
GoDaddy's Support is More Helpful
Both hosts have informative and resourceful websites with extensive knowledgebase sections, including numerous articles and tutorials covering the most important topics. InterServer offers 24/7 customer support via live chat, phone, email, and support ticket. The phone support is available through five native-speaking call centers in the U.S.A., U.K., Israel, Brazil, and Mexico. Unfortunately, the live chat is not always online, and even when it is, the agents aren't very helpful or responsive.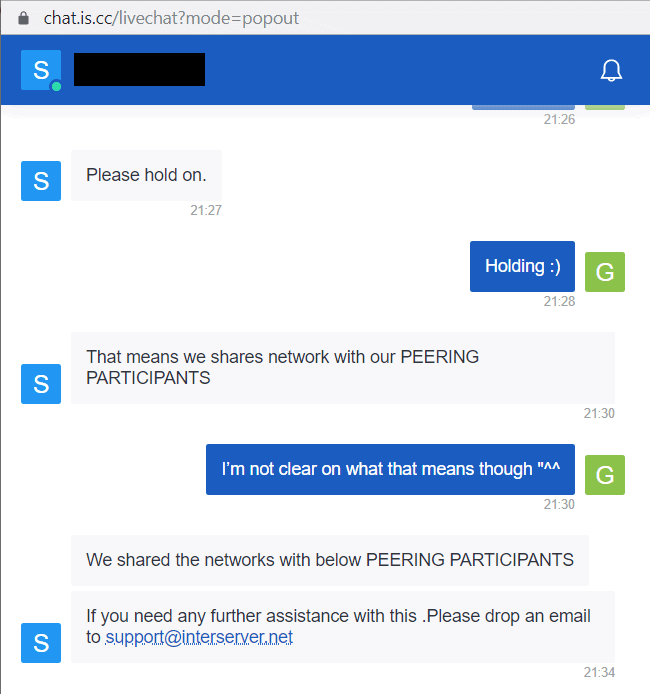 GoDaddy's support is also available 24/7 via live chat and phone. However, it can take some time to get connected to an agent (up to 50 minutes if the queue is busy). But once connected, I got all the help I needed, and the support agent promptly answered my questions.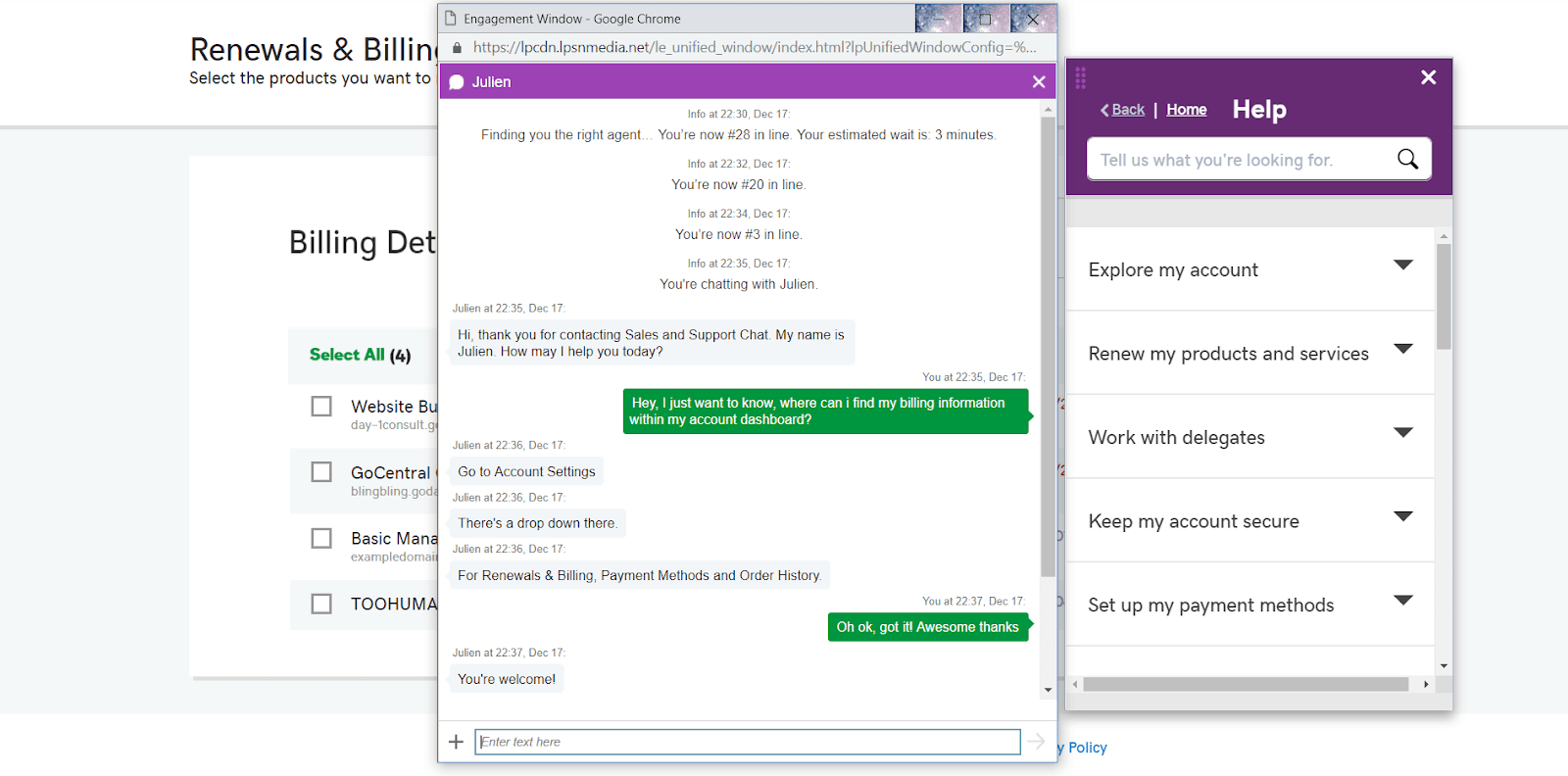 Both hosts have room for improvement in customer support, but GoDaddy stands out as the more helpful option. With its well-trained team and greater responsiveness, GoDaddy takes the lead in the support round by a narrow margin.
InterServer Crushed GoDaddy in Almost Every Round
Despite its efforts, GoDaddy couldn't take down InterServer in this comparison. As you can see,
InterServer provides better value for money
by offering budget-friendly prices, impressive performance, a complete feature set, and tight security measures. Even though GoDaddy provides slightly better customer support. InterServer is also featured on our
expert list of the best web hosting services
 in the market today.
Plans and Pricing
Cheaper plans in the short and long term, 30-day money-back guarantee 
More shared hosting plans. More expensive prices. 30-day money-back guarantee with annual subscriptions
Key Features
Free website migration, unlimited SSD storage, free SSL certificate, free website builder, and unlimited email accounts
Free domain, free website migration (with certain plans), free SSL certificate (with higher-tier plans), up to unlimited storage, and up to unlimited email accounts
Performance
Less globally dispersed server locations, free CDN with all plans, 99.9% uptime guarantee, no downtimes, slightly slower loading speeds
More globally dispersed server locations, free CDN only with WordPress plans, 99.9% uptime guarantee, minor downtimes, slightly faster loading speeds
Security
InterSheild, Inter-Insurance, CloudLinux OS, weekly backups with all plans
24/7 server monitoring, strong firewalls, DDoS protection, CloudLinux OS, daily backups with specific plans only
Support
Comprehensive knowledgebase, 24/7 live chat, phone, email, and support ticket, live chat is not always available and agents aren't helpful
Comprehensive knowledgebase, 24/7 live chat, and phone (5 different global call centers), the live chat takes time to connect, agents are very helpful
FAQ
Is InterServer better than GoDaddy?
Yes. InterServer provides better performance, more affordable prices, and more features/free extras than GoDaddy. Unlike GoDaddy, InterServer is recommended as one of the top 10 web hosting services.
Does GoDaddy use SSD?
GoDaddy doesn't use SSD with all plans by default. You can only get SSD storage if you purchase one of the VPS plans (managed or unmanaged). However, I recommend these cheap and fast SSD hosting services instead.
Is InterServer good for VPS hosting?
Yes. InterServer is one of the most reliable VPS hosting services today. InterServer sells VPS servers by the slice (one slice includes 1 v CPU, 2 GB RAM, 30 GB disk space, and 1 TB bandwidth). If you purchase four slices, you get a fully managed VPS server.
Does GoDaddy offer a free domain?
Yes, but not with all plans. You can get a free domain name from GoDaddy if you buy an annual (12 months, 24 months, or 36 months) web hosting or managed WordPress hosting package. Not sure which domain name you should choose? Don't miss this ultimate guide to choosing and buying a domain name.