Based on reviews across the internet, you'd think Bluehost was the most wonderful web host in the world. But digging a little deeper reveals the truth – Bluehost has a great affiliate program that pays reviewers when new customers sign up. I'm not here to get paid (well, not by Bluehost anyway!), but to share the results of my in-depth research with you. And I can tell you right now that
I'd choose InMotion Hosting over Bluehost every time.
InMotion Hosting offers better security and more value for your money, and you get a generous 90-day money-back guarantee to thoroughly try out the service risk-free.
Click here to see InMotion Hosting's best deals
, or keep reading to find out what else sets InMotion Hosting apart.
Performance
Bluehost Offers a CDN – But InMotion Hosting Is Still Faster
Advice from Google suggests that if it takes more than three seconds for your pages to load, 53% of people will leave your site.
InMotion Hosting aims to improve page loading speeds by offering "Max Speed Zones."
When I asked support what exactly these zones are, I discovered that this is merely a fancy name for being able to choose which data center you use. If your target audience is located in a specific region of North America, then you can choose between InMotion Hosting's East Coast
(Washington DC)
 or West Coast (
Los Angeles
) data centers to improve page loading speeds for your audience.
Both data centers sit directly on internet exchange points (IXP). 
If, however, you serve an audience scattered across the globe, being able to choose your data center is not going to benefit you tremendously.
In that case, a content delivery network (CDN) would be more valuable.
I tested InMotion Hosting's page loading speed using GTmetrix's free tool: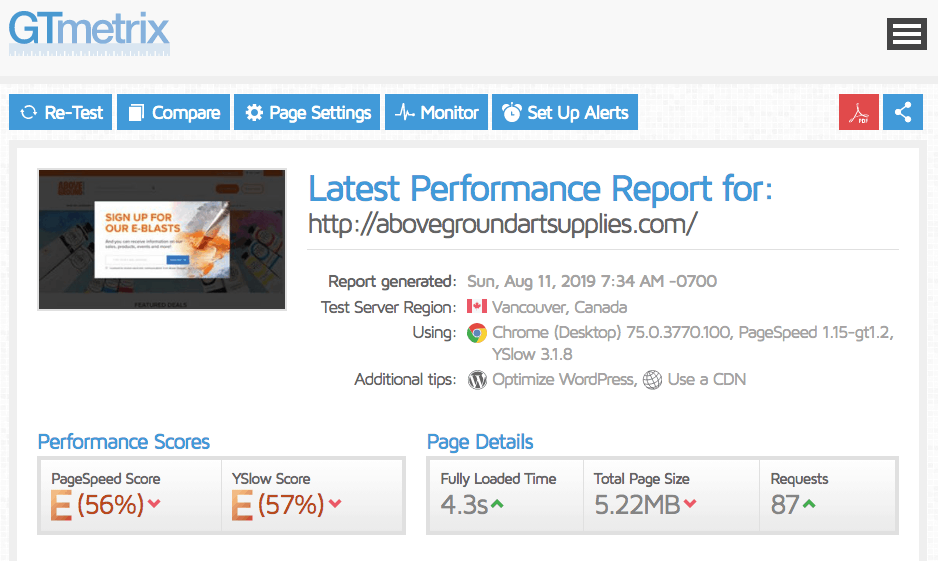 The website I tested is built on WordPress and has a large page size. As you can see from the screenshot above, it took over four seconds to fully load.
Bluehost is known to overpopulate its servers (i.e., pack as many websites onto a server as it can), which has led to some performance issues.
However, speeds have improved now that Bluehost uses SSD storage instead of HDD storage on its servers. Bluehost does offer a Cloudflare CDN – but you have to enable this in your control panel. To put Bluehost to the test, I used the free GTmetrix tool and tested a website with a page size of just under 3MB (smaller than the InMotion Hosting website I tested). GTmetrix reported that the server was slow to respond – and, as you can see in the screenshot below, it took 16 seconds for the page to fully load.
That's over five times Google's recommended maximum of three seconds.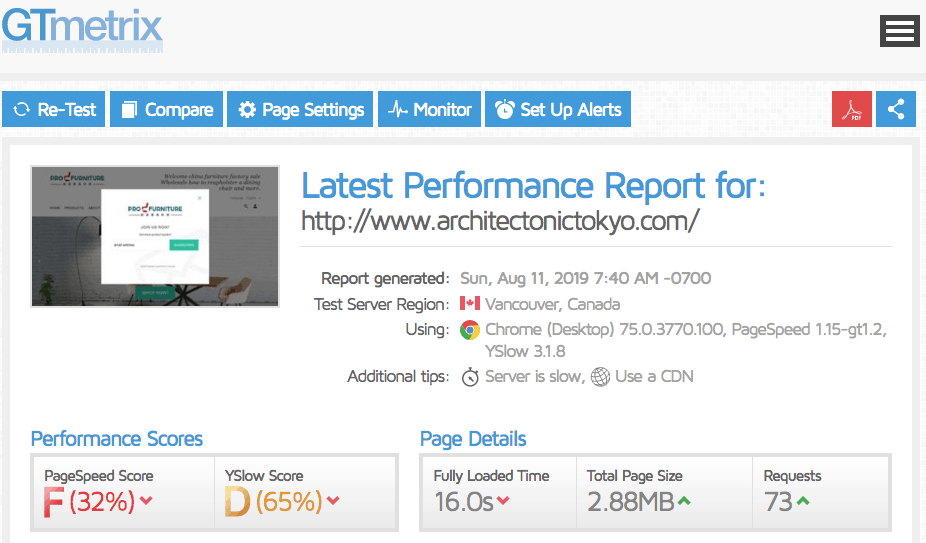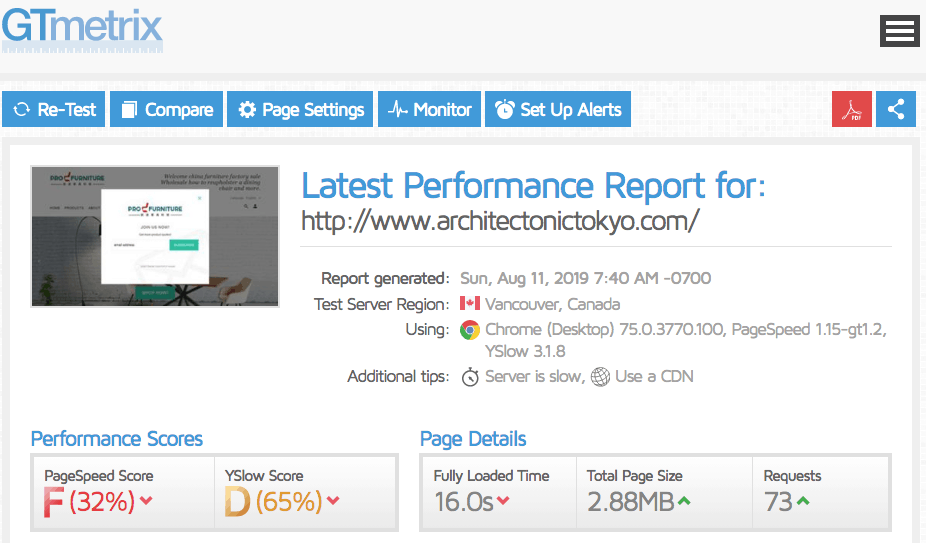 In terms of reliability, InMotion Hosting offers a 99.99% uptime guarantee,
and its recent uptime records show an average uptime of 99.97%
– which equals around 13 minutes of downtime per month. Bluehost doesn't have an uptime guarantee, so you won't get any compensation for excessive downtime.
However, Bluehost's average uptime is 99.98%, equaling just over eight minutes of downtime per month.
And the winner is:
InMotion Hosting. Despite the lack of a CDN on its shared hosting plans (WordPress hosting plans do include a CDN),
InMotion Hosting still manages to perform better than Bluehost in page loading times.
The advantage of being able to choose your data center (if you have a localized audience) can also be useful.
Features
InMotion Hosting Has Built-In Features – Bluehost Charges for Add-Ons
InMotion Hosting and Bluehost both have different types of hosting plans – shared, VPS, and dedicated servers.
I've outlined their shared plans in the table below, but when it comes to VPS and dedicated servers, there are some additional features I want to highlight.
InMotion Hosting offers two types of VPS hosting – Managed VPS and Cloud VPS.
With Managed VPS hosting, you benefit from updates, security, and speed enhancements – plus private SSLs. With Cloud VPS, you have to manage everything yourself, but these plans are much more affordable. Bluehost's VPS hosting plans are self-managed like InMotion Hosting's Cloud VPS servers, but come with a higher price tag. Both hosts offer similar amounts of storage, memory, and bandwidth on their self-managed VPS plans, starting at around 25GB of storage, 1GB RAM, and 1TB of bandwidth. With dedicated hosting, Bluehost offers high-powered servers with up to 15TB of bandwidth and 16GB of RAM. There's a choice of three plans so you can upgrade as you grow, but
Bluehost just can't match InMotion Hosting's offering of Managed Dedicated Hosting and Bare Metal Dedicated Servers,
with six different plans for each and up to 192GB of RAM.
Feature
InMotion Hosting
Bluehost
Storage Space
Unlimited
50 GB to unlimited, depending on the plan
Money-Back Guarantee
90 days
30 days
Free Domain Name
Yes, free for the first year

on almost every plan

Yes, free for the first year when you sign up for 12 months or more
Automatic Backups
Backups limited to 10 GB
Full backups are only offered with CodeGuard Basic, for an additional monthly fee
Free SSL Certificate
Yes
Yes
Free CDN
No
Yes, Cloudflare CDN, but it's not automatically enabled
Bandwidth
Unlimited
Unmetered, but Bluehost often limits websites due to "performance issues"
Free Site Migration
Yes
No, you have to pay for this service
Email Accounts
Unlimited
Limited to five on the basic plan (unlimited on all other plans)
One-Click Application Install
Yes
Yes
And the winner is:
InMotion Hosting. Not only does InMotion Hosting have a three-month money-back guarantee, it also offers free website migrations and gives you backups (albeit limited) that Bluehost expects you to pay extra for. For a full list of features, check our
in-depth InMotion Hosting review
.
Security
InMotion Hosting Includes Decent Security – Bluehost Makes You Pay Extra
Bluehost knows your website security is important – and seems to be using this fact as a means of generating more income. Bluehost is one of a growing number of web hosts that offer the SiteLock security suite for an additional fee.
The free security features Bluehost offers are limited to SiteLock Lite
, a malware scanner that will scan a maximum of five web pages per month. The company recommends you buy SiteLock Premium as an add-on – and even automatically adds it to your cart during checkout, so you have to manually deselect the option if you don't want to pay the premium. By contrast,
InMotion Hosting doesn't expect you to pay a premium for security
. It offers a security suite that incorporates hack protection, DDoS (Distributed Denial of Service) protection, and an advanced web application firewall (WAF) called the SmartWall Threat Defense System to protect against malicious traffic and script injection. InMotion Hosting makes automatic backups of your website – but you should be aware that the company doesn't guarantee these backups and advises you to also make your own. If your webspace exceeds 10 GB, InMotion Hosting won't back it up at all. Bluehost will make courtesy backups of your webspace, but these are R1 snapshots (essentially, a previous version of your database,
not
a complete copy of all your data). And you have to pay a fee if you want to restore from one of these backups.
Bluehost recommends you purchase its backup add-on, CodeGuard Basic
, for access to automatic backups that you can schedule, as well as tools to help you restore backups easily.
And the winner is:
InMotion Hosting. Unlike Bluehost, InMotion Hosting doesn't make you pay for security for your website, and its SmartWall Threat Defense System means that your website will be protected 24/7/365 against malicious traffic.
Pricing
The Lowest Price Doesn't Always Mean the Best Value for Your Money
When choosing a web host, you need to consider the long-term costs, including what you'll pay when you renew your hosting. You should also look at the added value of features that one host offers but the other doesn't.
InMotion Hosting's prices for the initial term of your hosting plan are higher than Bluehost's,
and to get the lowest advertised price, you have to pay for two years up-front. However, when it comes to renewing your hosting, the renewal costs are only around 15-20% more. Plus, InMotion Hosting's 90-day money-back guarantee is three times what most web hosts offer, so you have plenty of time to give it a good test. Bluehost advertises really low prices, but you need to pay up-front for three years to get the best rate. When it's time to renew your hosting, you could find your costs double. When you factor in having to pay extra for security and backups,
Bluehost works out to be more expensive than InMotion Hosting, especially in the long term.
InMotion Hosting's free website migration also adds extra value, especially when you consider that Bluehost's migration fee costs almost the same as two years of hosting with InMotion Hosting.
And the winner is:
InMotion Hosting. In the long run, InMotion Hosting provides better value than Bluehost, plus you don't have to pay extra for your security and website migrations.
Support
InMotion Hosting's Support Isn't Perfect, but It's Far Better Than Bluehost's
Both InMotion Hosting and Bluehost have 24/7/365 support available to help you resolve any issues, but the quality of the support is vastly different. With InMotion Hosting, you can get round-the-clock support via live chat, email, and phone.
You may have to wait around ten minutes to be connected to a live chat support agent
, but that's better than Bluehost's wait times. I tested out InMotion Hosting's support myself and only had to wait eight minutes to get connected. It took less than half an hour to fully resolve the issue I was having. Bluehost's customer support reputation is pretty bad. There's 24/7 support via live chat and phone, but no email or ticket support options. Customers report difficulties getting connected to support agents, support agents being unable to resolve issues, and websites that were down for days because of errors made by the so-called experts on the customer support team. I tested out Bluehost's support and, after waiting 30 minutes for a response, was randomly disconnected from the chat and had to start all over again. This time,
I waited 32 minutes and spent another 20 minutes trying to explain my question
to an agent who seemed to have very little knowledge about WordPress. My issue couldn't be resolved during the chat session, and I ended up using a tutorial video on YouTube to resolve the HTTPS redirect issue. I was really disappointed with the quality of Bluehost's support. You can read more in our
in-depth Bluehost review
.
And the winner is:
InMotion Hosting. While waiting times for live chat aren't the best, InMotion Hosting's support is significantly better than Bluehost's, and the support agent was able to understand and resolve my issue.
InMotion Hosting Beats Bluehost in Every Area
Bluehost is ranked at the top of web host lists on dozens of review websites, but its popularity is certainly not due to its performance, security, or support. It's because of its great affiliate program. But you can see here that InMotion Hosting is far superior to Bluehost, whether you're focused on price, features, or security.
Choose InMotion Hosting
whether you need webspace for your business, a personal website, a blog, or a portfolio. Bluehost just doesn't measure up, as you can see in this comparison table:
Performance
Cloudflare CDN, but overloaded servers affect page loading speeds
Max Speed Zones allow you to choose your data center
Security
Anything beyond the very basic malware scanner is an add-on
Average security, but better than Bluehost
Features
More focused on selling you add-ons than giving you features
Free website migrations, unlimited email addresses – plus a 90-day money-back guarantee
Value
Website migration fee and cost of security and backups make it more expensive
Renewal prices are more pocket-friendly, though initial prices are higher
Customer Support
24/7 support available via live chat and phone, but wait times are extensive and support isn't very knowledgeable
24/7/365 support available via phone, email, and live chat, but expect to wait for responses