But you need to know how to go about it.
Sure, you could put your stuff on Amazon or eBay. I'd even recommend it if you're just looking to get rid of some spares lying around. But
if you're serious about your business, a website's the way to go.
To grow your business, you'll need to establish a brand identity.
Your own website will help with this by giving you a personal touch that online retailers can't. It'll also tell potential customers you're a serious and trustworthy business. And if you want to sell on other platforms too, most website builders will let you connect to these to manage all your sales from a single dashboard. Don't know how to start? I've gone through the entire process myself, and
I'm here to walk you through it. Step by step.
Step #1: Choose a Great Name and Domain for Your Store
The right name could do wonders for your store.
It's no coincidence that we call tissues "Kleenex" and "Google" things on the internet. When choosing your name,
it's important to consider what you want your store to be and who your potential customers are.
"Optimus parts" might be a fun name if you're a Transformers fan, but no one will know what you're actually selling. On the other hand,
a very direct name might be clearer, but it'll also sound generic.
And I hate to break it to you, but carparts.com is already taken.
Try to be pragmatic.
If you're a local business owner, nothing beats a familiar identity like "Smith's Auto Parts." If your store specializes in a certain brand or part, mention this in its name. Customers will know exactly what you're selling with a name like "Headlight City."
Warning. Remember that if you're starting a business, you'll need to register it in compliance with your local laws and tax requirements. You could get in a lot of trouble otherwise.
With a kick-ass name, it shouldn't be too hard to choose a custom domain for your store. If you need inspiration, you can always
try out our free domain generator.
Step #2: Choose the Right Website Builder and Plan
Not everyone is a professional web designer, but you don't have to be one to make a great website.
With a website builder, you do all your editing directly on the page, without touching a single line of code. A (good) builder will let you add, remove, and rearrange elements with only a few clicks, giving you the freedom to create just the site you want. That said,
you'll need a plan with integrated e-commerce to sell car parts on your site.
I recommend going for the cheapest e-commerce plan available to begin with and upgrading later if you need more features as your business grows. These plans usually come with domain hosting as well, so you can manage all aspects of your business in one place. Here are the builders I recommend for your store.
Each offers a free trial or a free plan, so you can try them for yourself before making a commitment.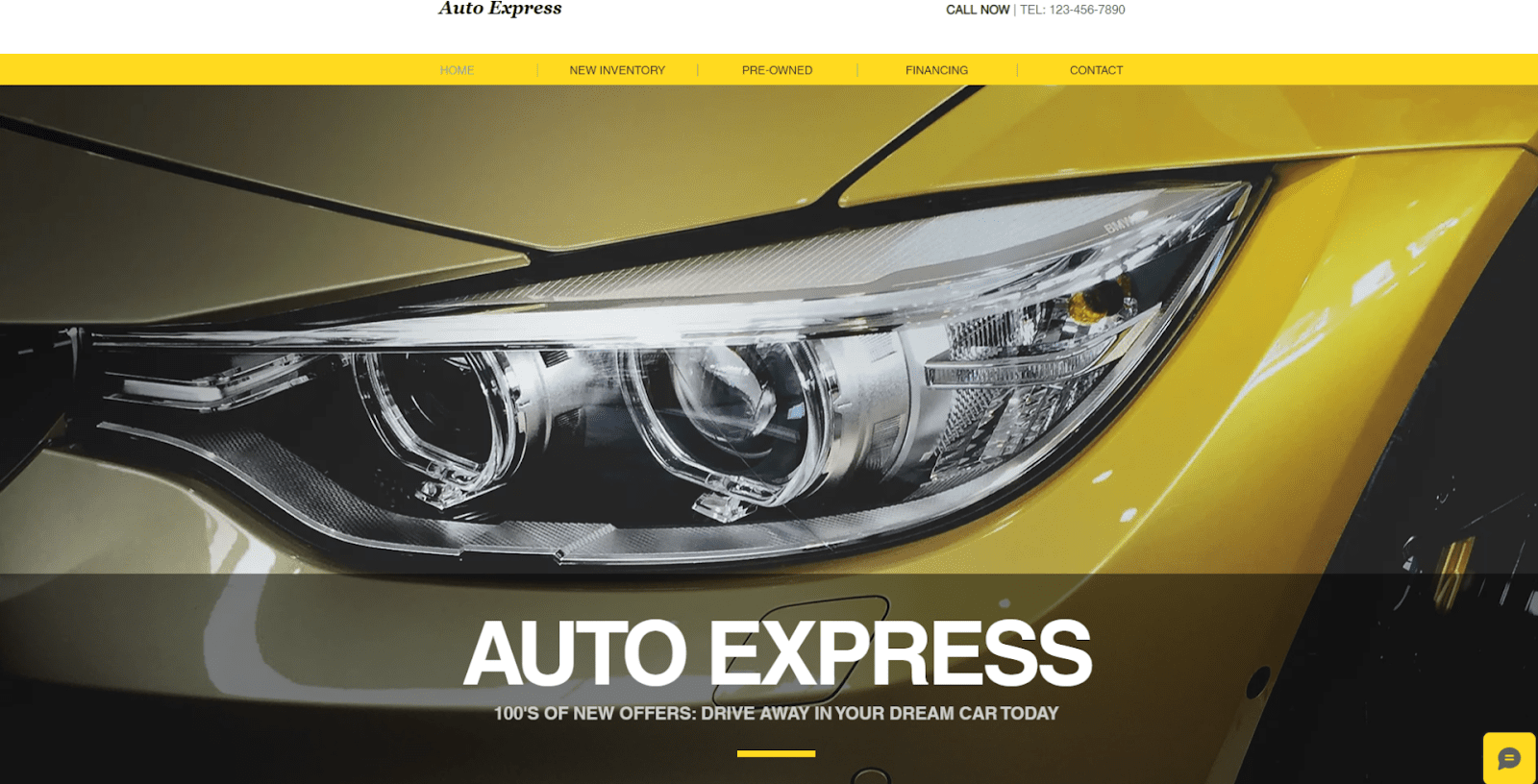 Wix combines plenty of design flexibility with outstanding e-commerce tools.
The drag-and-drop editor is powerful but intuitive, so it won't take you long to get your site looking and working exactly how you want. When it comes to selling your parts,
the product manager makes it easy to add, edit, and customize your product listings.
If you have a clear vision for your store, Wix will give you the features and flexibility to achieve it without having to worry about technical things like hosting, databases, and payment processing. Here are some of my favorite features:
Drag-and-drop editor. You can drag elements wherever you want on the page, and you get plenty of other options for adapting your template's design to suit your needs.
Great product manager. It only takes a couple of minutes to add any product to your store. You can edit categories, shipping options, product descriptions, and even create custom coupons, all on the same platform.
Powerful marketing tools. You can send emails with specific promotions to everyone on your mailing list. Wix's SEO and blog features will also help you get noticed and establish your brand.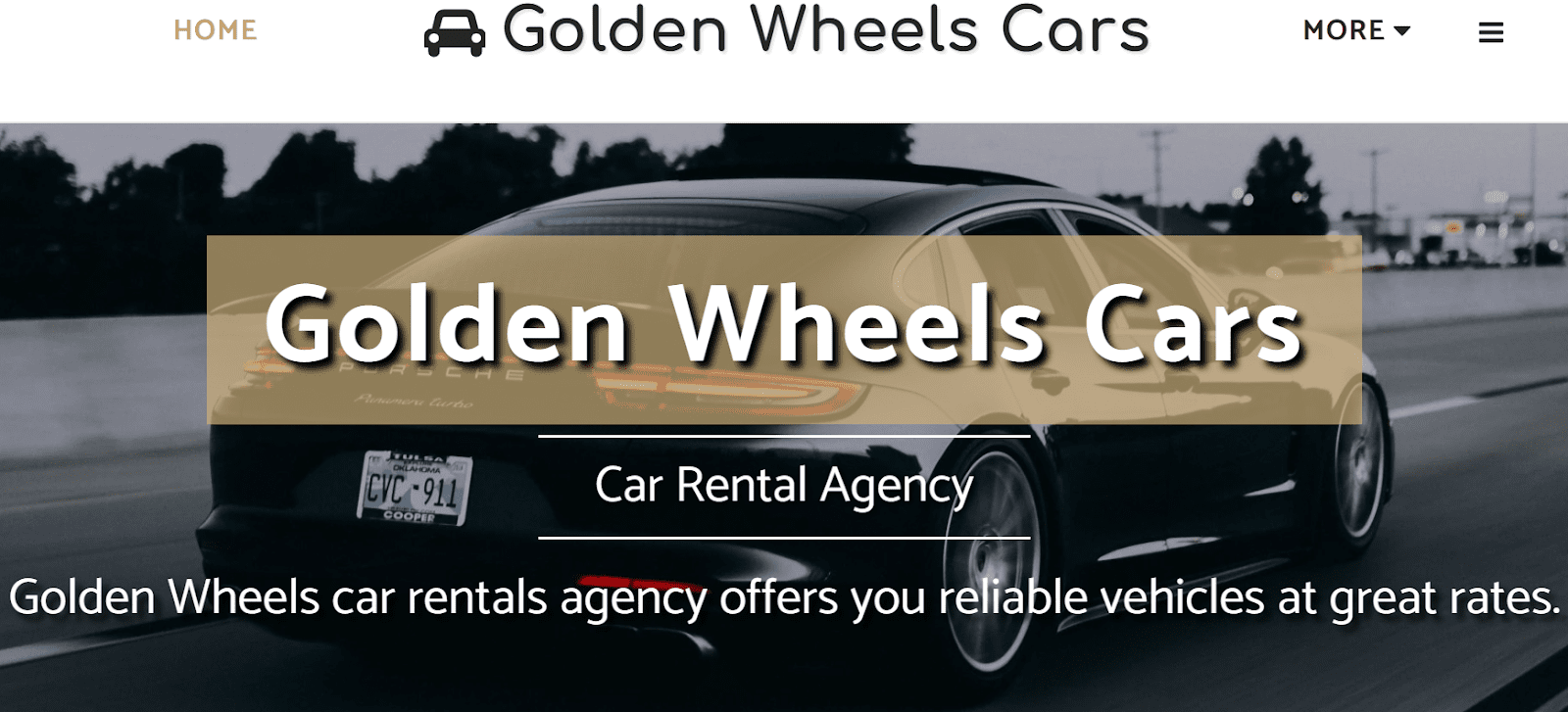 SITE123 is a fantastic builder if you want a simple but professional-looking site in minutes.
It doesn't offer as many customization options as more flexible builders like Wix, but you get more than enough for a simple website that works well.
I recommend SITE123 if you're a beginner who wants to build a site quickly.
Some of the best things about SITE123 are:
Incredible ease of use. SITE123's intuitive interface makes building a website simple, even if you've never built one before.
Fully mobile responsive. Every SITE123 template is mobile responsive, meaning it will automatically adjust to look as good on desktops, mobiles, and tablets.
Great app market. If you need to expand your site's functionality, you can install various apps from SITE123's extensive app market.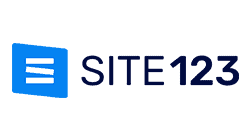 This Black Friday/Cyber Monday, SITE123 is 50 % OFF!
Save 50 % when you sign up for SITE123's annual plan
76 users used this coupon!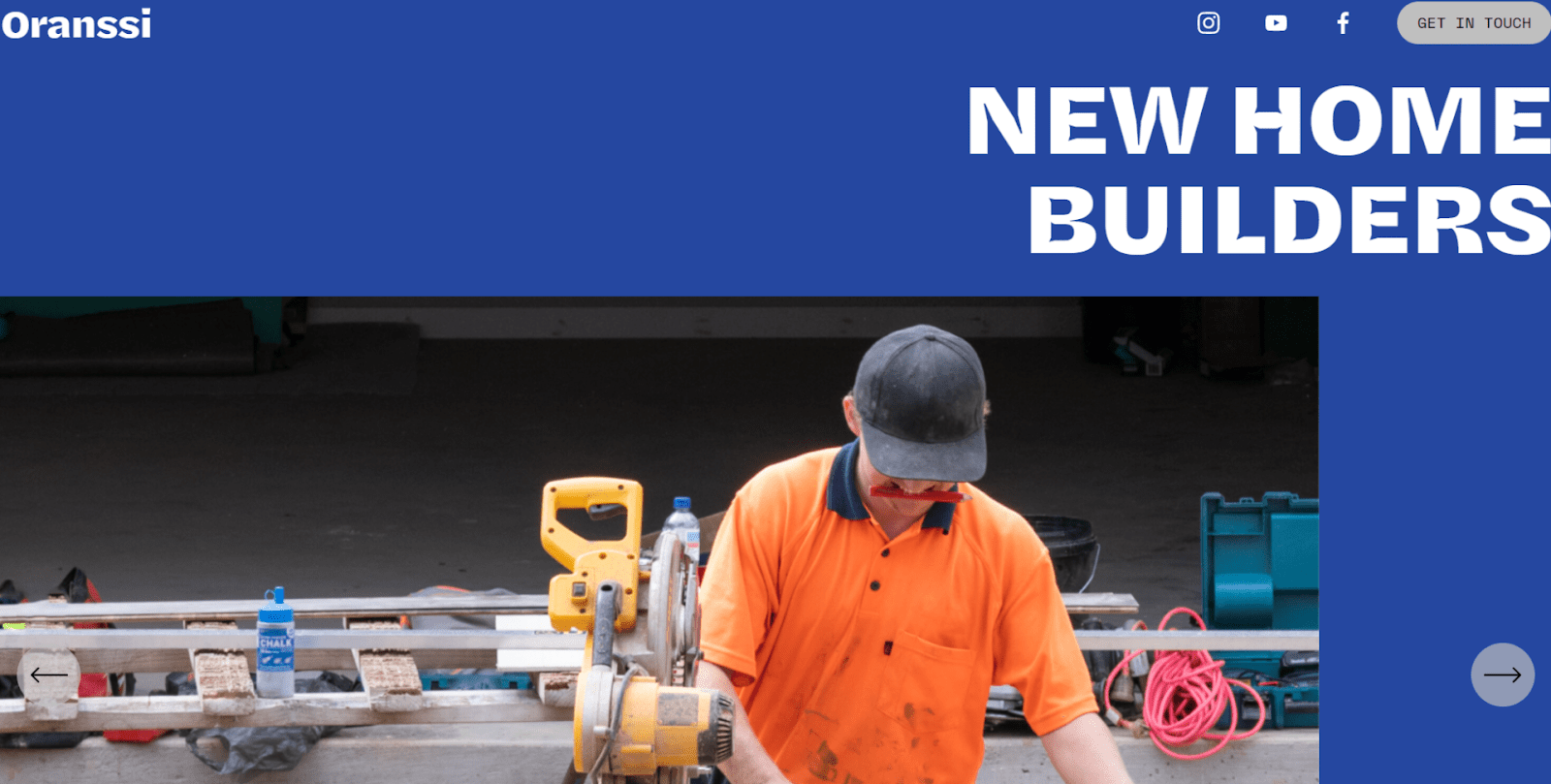 Squarespace is best known for its sleek and attractive templates.
What's more, its grid editor gives you just enough freedom to modify any of its 140+ templates to match your vision without messing up your site's visual consistency. It's not just about looks, though.
You also get access to powerful e-commerce features
that can really help get your business off the ground. Some of Squarespace's best features are:
Intuitive and responsive editor. Adding pages and elements to your site is incredibly easy. You can also preview any changes you make in real time, so you always know how your site is going to come out.
Great store features. It only takes a couple of really simple steps to add products to your store and edit details like availability, variants, and related items.
Lots of extensions. You can install dozens of third-party extensions to add useful features and integrations to your site. For example, Smart SEO helps to increase your Google ranking and TaxJar will automatically calculate sales tax on transactions for you.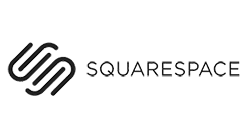 Get $65.00 Off Squarespace's Business Plan
Don't miss out on this great deal!
715 users used this coupon!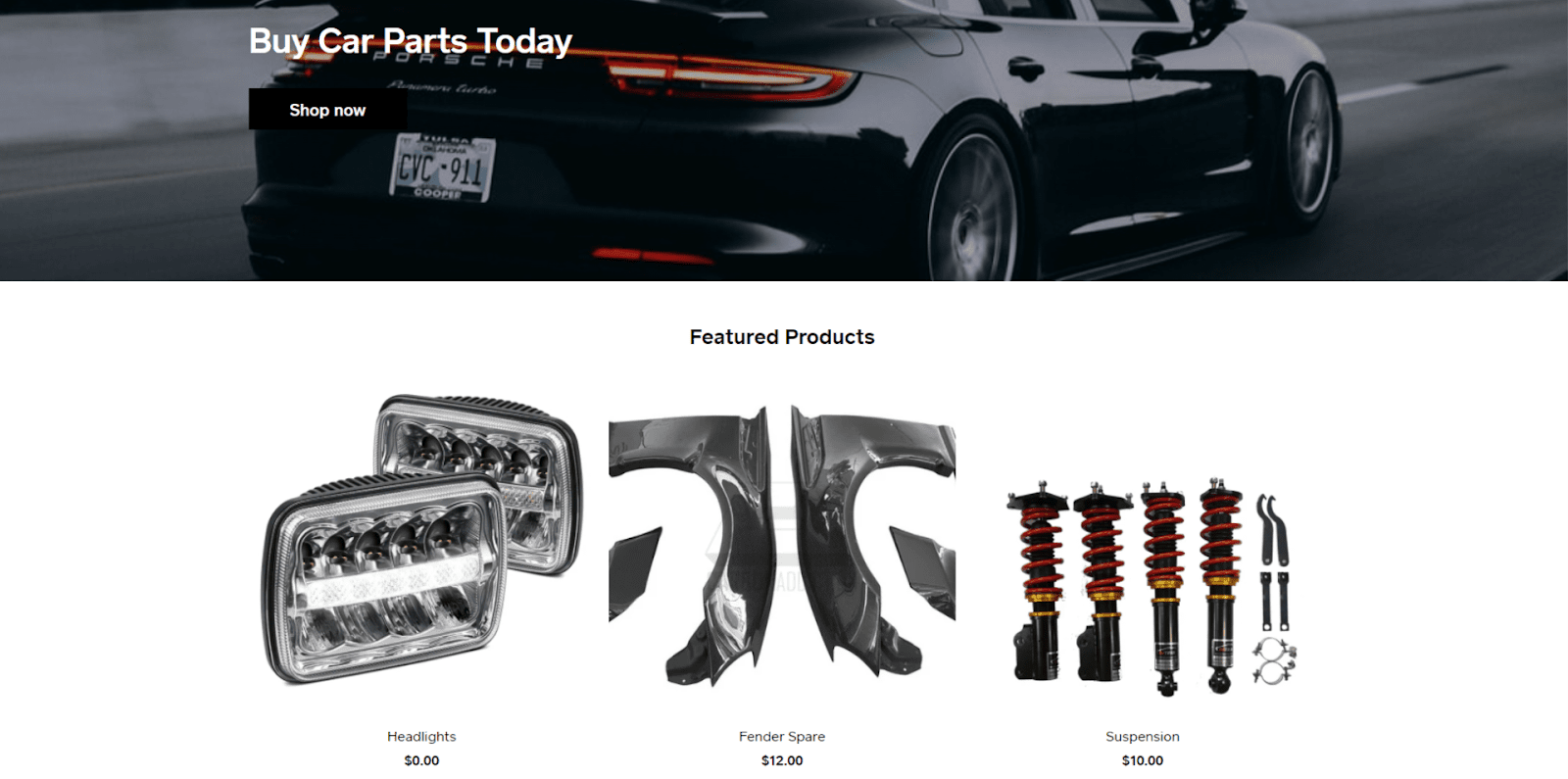 If you already use Square's services, then Square Online might be the best option for your store. You won't get as much design freedom as with the other builders on this list, but you can still create an appealing store.
What makes Square Online special is its unique integration with the rest of Square's ecosystem
, which allows you to manage everything from a single dashboard. Square Online offers some great features like:
Sales-ready free plan. Square Online is the only website builder that allows you to sell products on its free plan, so long as you only process payments via Square.
Fast website creation. Instead of offering a variety of templates, Square comes with a single template you can customize. This means you can get your online store up and running in practically no time, so long as you don't mind having a fairly barebones site.
Automatic inventory updates. If you also have a physical store, Square's point of sale system can automatically update physical sales to your website's database – no need for manual updates.
Standout Feature
Transaction Fees
Cheapest E-commerce Plan
Wix

Full creative control

1.9% – 2.9%

$

16.00

SITE123

Incredible ease of use

0%

$

12.80

Squarespace

High-quality templates

0% – 3%

$

23.00

Square Online

Best Square integrations

1.9% – 2.9%

Free
Step #3: Pick a Template That Fits
Now that you've found the perfect builder for your store, it's time to choose a template.
Think of your template as your starting point.
Your final website doesn't have to look exactly like your initial template (it shouldn't), but you'll want to find the one that's closest to your vision.
I strongly recommend starting with a store template.
You can add store functionalities to pretty much any template, but store templates will already have the basic structure you need. Remember, your template's job is to minimize the amount of work you need to do to create your perfect site. That being said, focus more on the
feel
of the template than on the kind of site it's "intended" for. Most builders don't have a specialized "car parts store" template anyway, but
you can always change text and swap out photos and products.
Choosing your template is all about finding a structure you like that you can easily adapt to your needs. I used Wix to create my site, and I was first drawn to its "Vintage Car Garage" template. It looks elegant and comes pre-configured with most of the elements you're likely to need, such as location, about, and contact tabs. I also checked out the "Accessories Store" template because I liked its bold style and products-first design.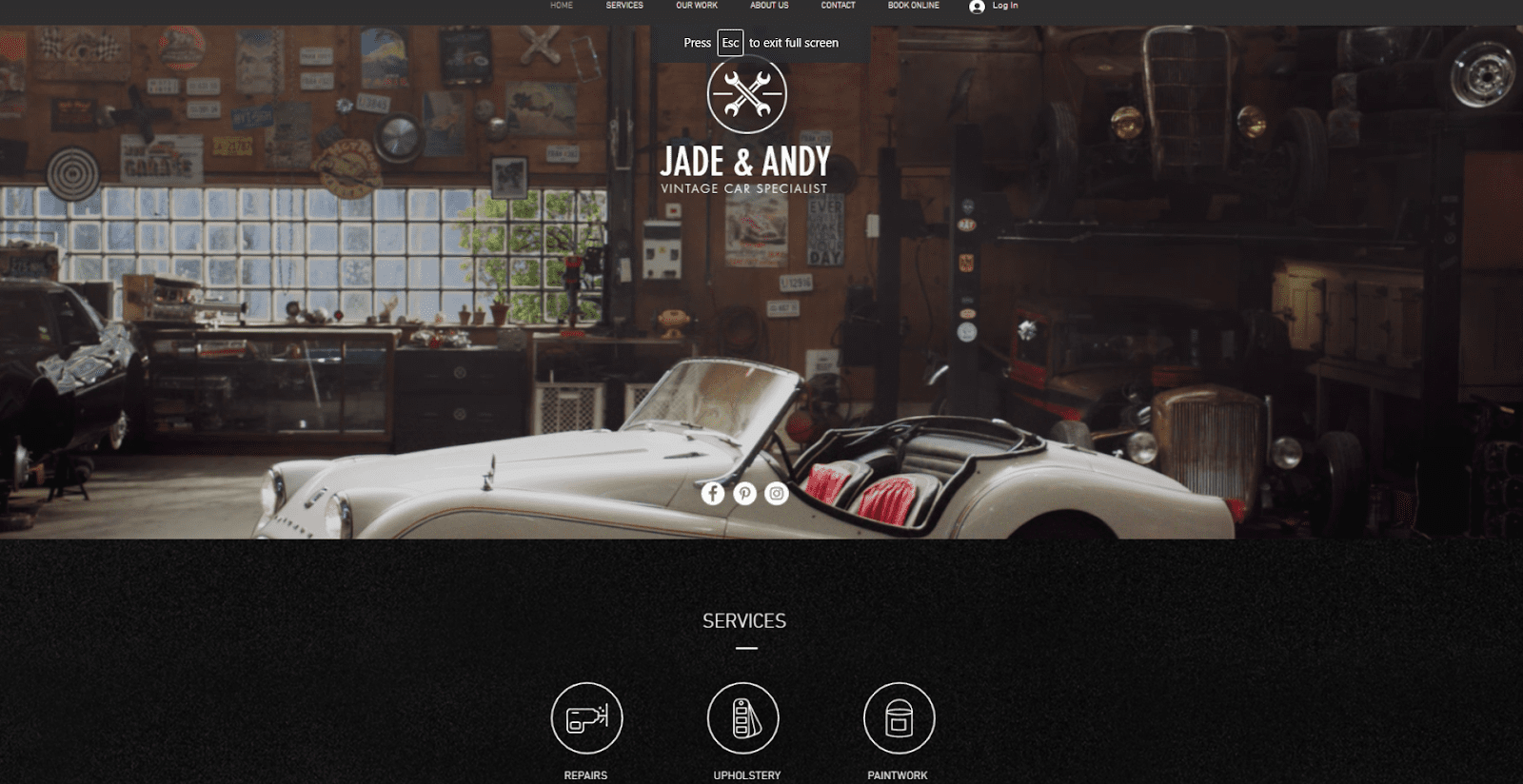 In the end, however, I chose the "Hardware Store" template because it has the perfect structure for displaying large inventories across different categories.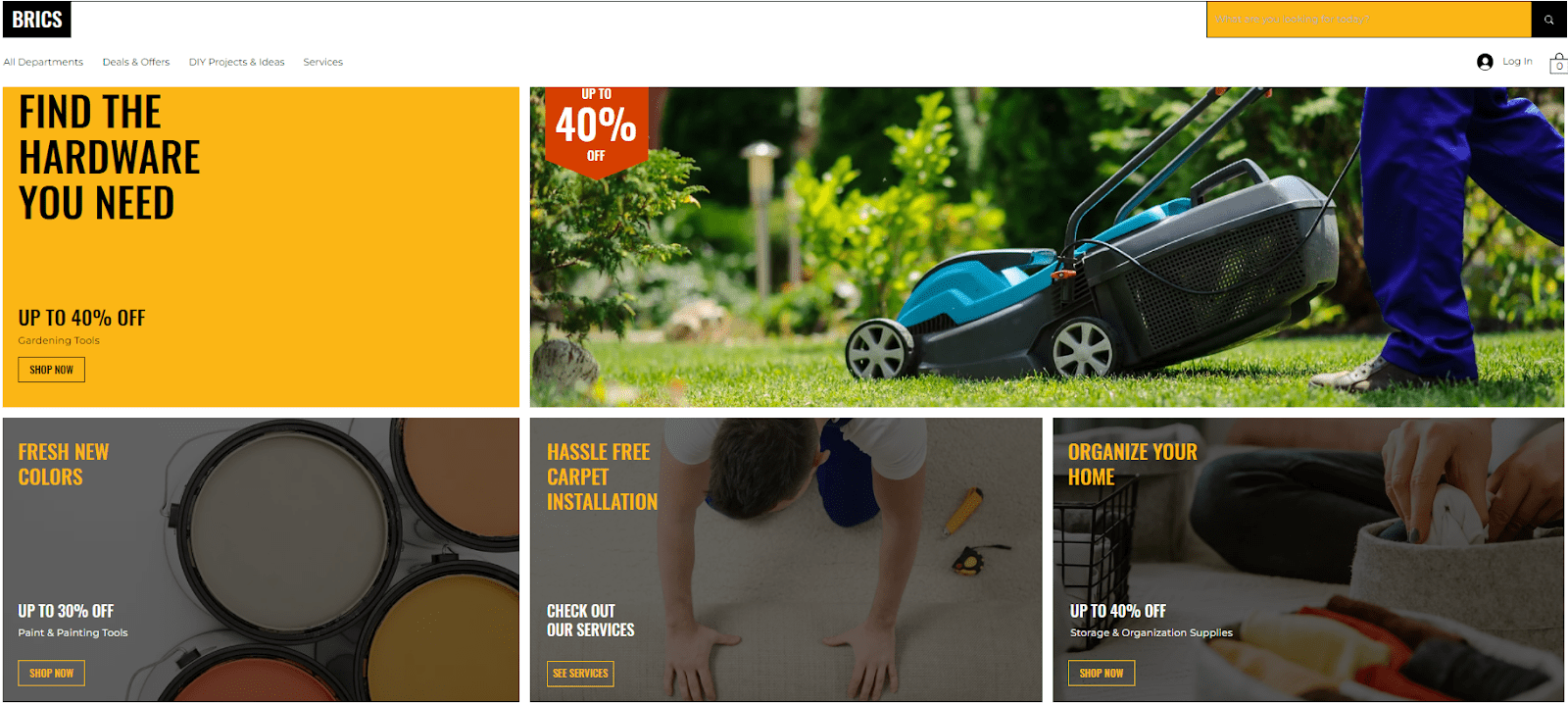 Step #4: Customize Your Car Parts Website
Now that you've chosen a great template, it's time to turn it into a site unique to your business.
This process will vary depending on the builder you choose. Some builders, like SITE123, make it far easier to customize your site, but offer fewer options.
I chose Wix, which gave me all the design freedom I wanted
, even if this meant building my site took a little longer.
Pro tip. Don't forget the mobile version of your site. Wix isn't mobile responsive, so I had to edit the desktop and mobile versions of my site separately. Different builders handle mobile editing differently (some even take care of it for you).
I started by rearranging my site's structure. The "hardware store" template had a lot of useful elements, so instead of deleting them, I just gave them a fresh coat of paint. I also added a nice call-to-action header to make my site feel more dynamic and direct visitors to my online store.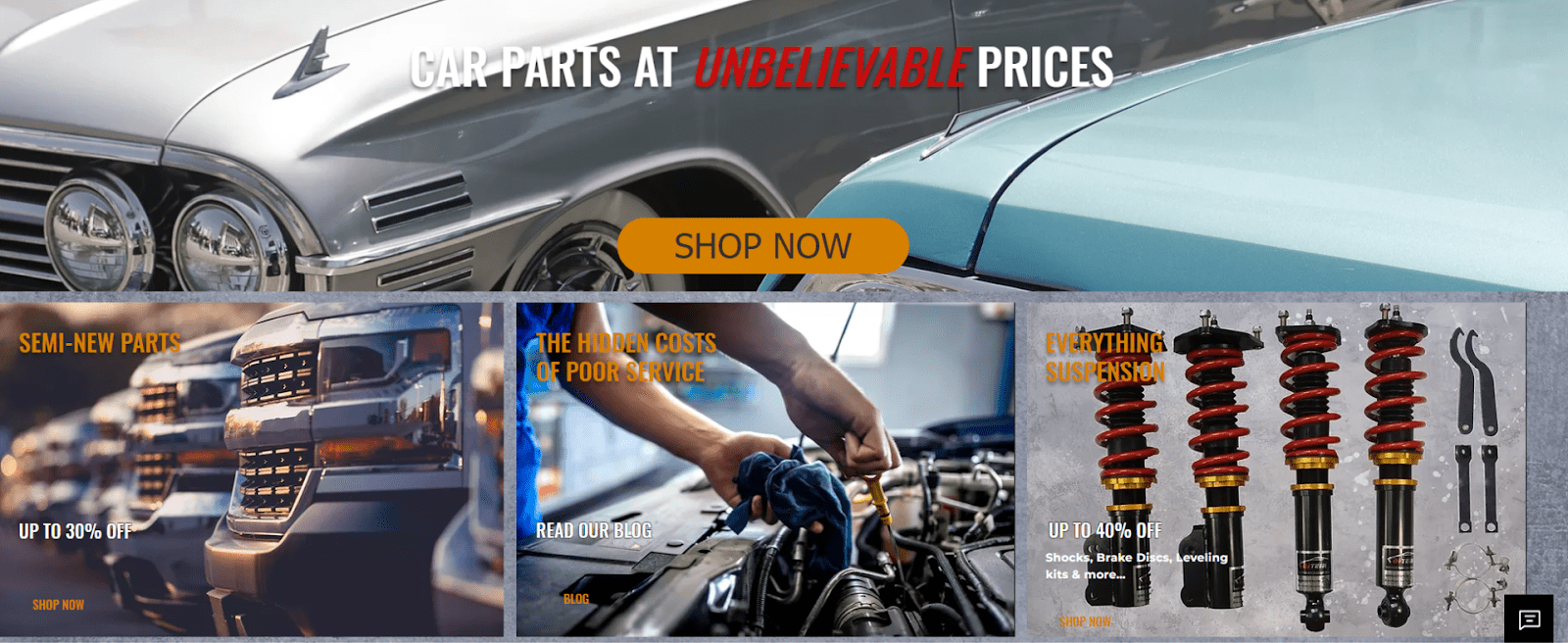 A lot of your tweaking will be visual, but you need to remember structure as well.
Did you choose a template with a subscription page? What about an About Us page or physical store location? Builders like Wix and Squarespace offer third-party apps or extensions that can be incredibly useful.
I particularly like "Smile: points and rewards" by Wix.
This app lets you reward your customers with in-store points, helping to build their loyalty. You can also add an abandoned-cart recovery app to help boost your sales. Finally, I suggest you
don't try to do everything in one sitting.
Take some time between editing sessions to check the changes you've made with fresh eyes. If you're anything like me, you're bound to notice plenty you missed the first time around.
Step #5: Add Items to Your Store
Now that you have the perfect store, it's time to add your products. Your store's dashboard will be populated with mock products to begin with. I recommend deleting these and starting from scratch.

When you add a product, you'll have to enter basic info like name, description, and price. Try to
upload more than one picture and make sure these reflect your product's actual condition.
Finally, assign your product to one or more categories. This will help you better manage your inventory, and it'll help your customers find exactly what they need.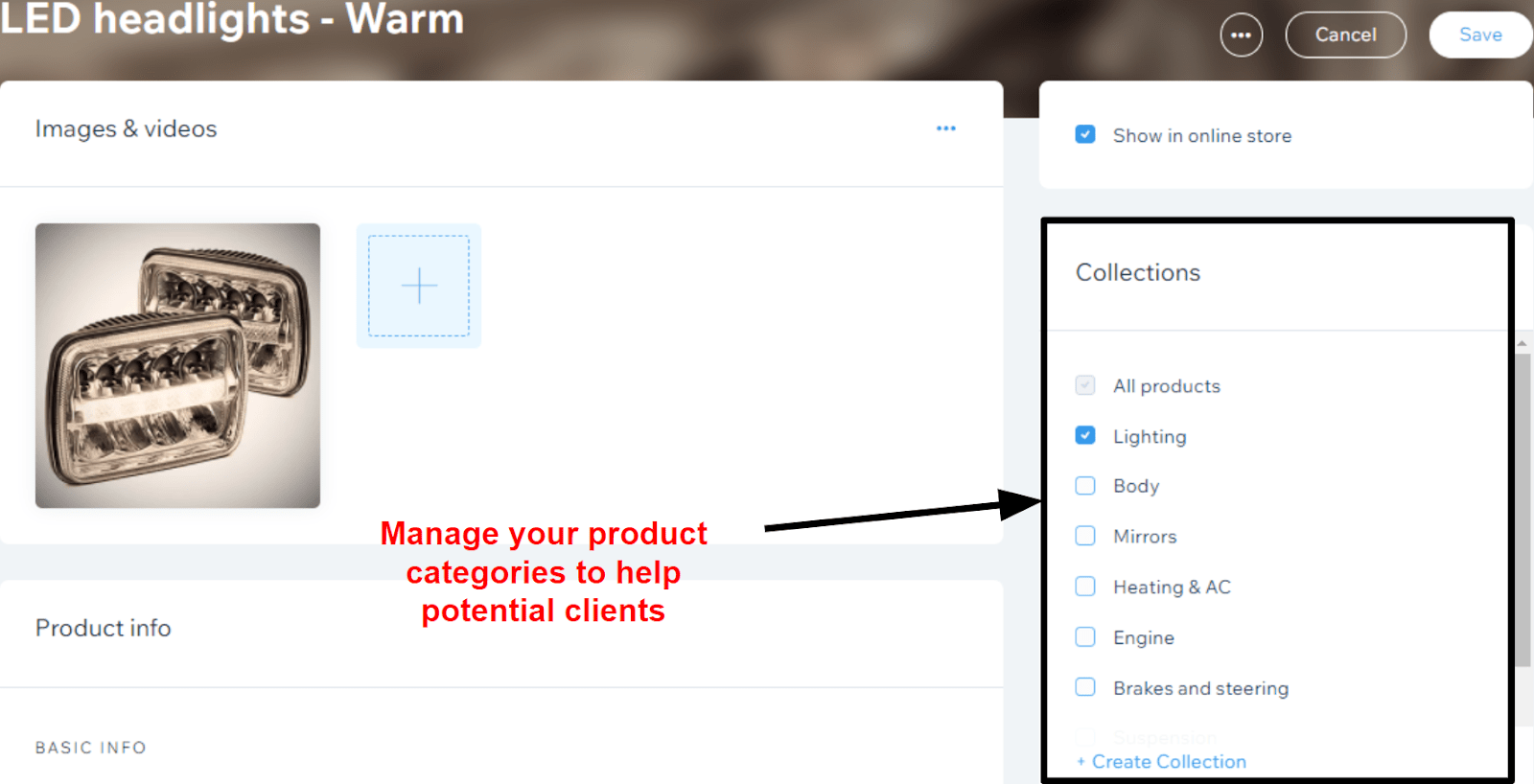 Step #6: Update Your Store Settings
Now it's time to deal with the slightly more technical side of things. Go to your store's dashboard and click settings. You'll find a lot of information you need to update, and
I can't emphasize enough how important it is that you go through each step of the process carefully.
In Wix, the relevant categories in its general settings are:
Website settings. Here's where you'll change things like your site's name, URL, and favicon (the little image that appears next to your site's name on search bars and tabs).
Business info. Here, you can edit your business's name, logo, contact info, and location (even if you just sell online, you still need a business address).
Language & region. This is where you can set location-related information such as language, time-zone, and currency.
Roles & permissions. If you have more than one person working on your site, you can edit how much each person can see and edit. You can also specify who is in charge of what.
Video settings. Here, you can enter information relevant to any videos on your site. If you plan to upload videos of your products or anything else, it's important you take your time to research these settings properly.
Other builders' settings might be divided into different categories, but you'll get similar options with each of them. With Wix, there's a different section for e-commerce settings, which are split into the following categories:
Accept payments. This covers everything about how you're going to accept payments and get paid. More on this below.
Shipping & fulfillment. Here, you can update important information about your shipping rules. More on this below.
Tax. This is where you enter information about taxes on any sales made through your site. More on this below.
Checkout settings. Here, you'll define relevant parts of your checkout process. What information do you want your customers to see at checkout? What information would you like them to input?
Order settings. You can decide when you want your inventory to be updated after an order is made (when it's placed or when it's paid), set price ranges for product variations, and choose whether to create automatic invoices.
Order email notifications. Here, you can choose if customers receive order and shipping confirmation emails, as well as customizing what these say.
Checkout policies. You can edit important policies that your customers will see at checkout.
Product price settings. Select whether you want pricing and tax info to be shown with each product.
Invoices & quotes. You'll find everything you need to manage, well… invoices and quotes.
Step #7: Connect a Payment Method
One step you won't want to miss is connecting one or more payment methods to your store. Otherwise, you'll be giving away your parts for free. Very charitable, but not what we're going for…
To connect a payment method on Wix, all you have to do is go to "Accept payments" on the settings page.
Make sure that your business location is correct, as some payment methods aren't available everywhere. You can then choose between Stripe, PayPal, and manual payments (such as cash or cheque) and follow the instructions on screen.
Step #8: Update the Shipping and Tax Rules
It's very important that you pay attention to shipping and tax rules. Taking the proper time to configure these correctly could save you a lot of trouble further down the line.
Wix lets you apply custom rules
 depending on the country you're shipping to.
For instance, you can decide how you want shipping to be calculated (e.g. by product weight, price, or type) and add average delivery times for each country you ship to.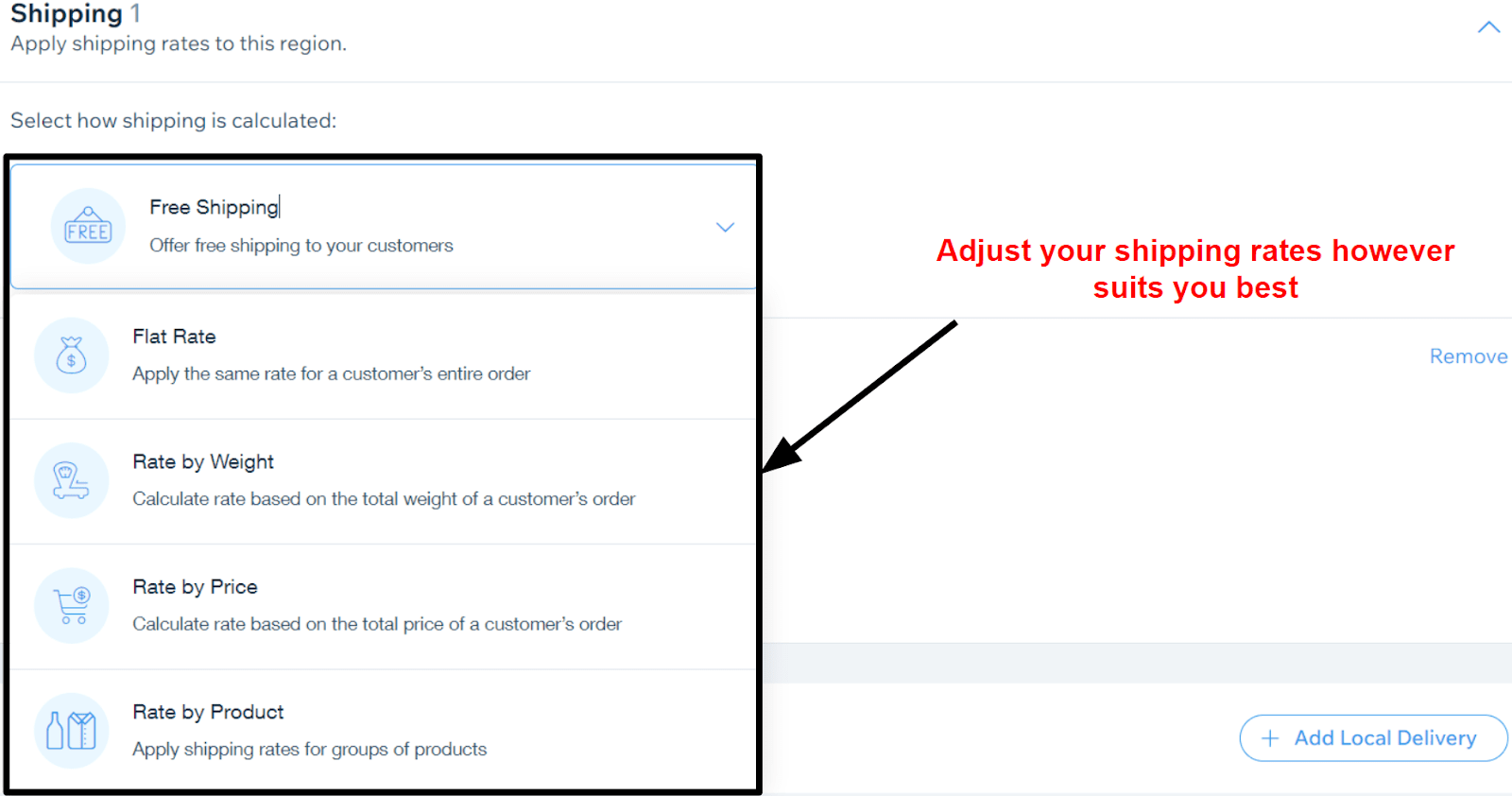 If you prefer to deliver your parts yourself, you can set conditions around this with the
local delivery
option. If you don't do deliveries, you can edit your pickup rules under
local pickup
. To edit tax rules, go to settings and then "Tax." Wix's Business Unlimited (
$
27.00
) and Business VIP (
$
32.00
)
plans include an automatic tax calculator.
Otherwise, you can manually adjust tax rates depending on the country you're selling to. These are then applied automatically to every purchase made through your store.
Step #9: Connect a Domain
If you're using a website builder, connecting a domain couldn't be easier.
Just go to your site's dashboard, and under settings click on "connect domain." If you haven't yet purchased a domain, you can buy one right there. If you have, just click "connect a domain you already own" and follow the instructions on the screen.
Step #10: Preview Your Website
Before you launch your store to the world, take it for a test drive.
Make sure that all your links work, that your text is typo-free, and so on.
I also recommend you go through all the steps of buying a product,
even if you cancel at the end (though I mean… you'd only be buying from yourself). That way, you can make sure that there are no missing or unnecessary steps in the process.

Also,
I can't stress this enough
,
make sure your site runs as well on mobile.
About half of all internet traffic comes from mobiles, so you could lose half of your potential customers if your store isn't mobile friendly.
Step #11: Promote Your Awesome Products
Now that your store is ready to go, it's time to show your products to the world.
Wix provides robust SEO tools that assist you in achieving higher rankings on search engines. Additionally, it enables you to initiate email marketing or Facebook ad campaigns, thereby expanding your customer base and fostering business growth. If you want to collect valuable marketing information,
I recommend using Wix's Google Analytics integration.
After all, attracting new customers is easier when you know which campaign is working and which isn't.
Email marketing can do wonders for turning occasional customers into recurring ones.
If you're interested in email marketing, you can check out our
Sendinblue
and
AWeber
reviews to learn more (spoiler: it's much easier than it sounds).
Pro tip.
Getting a marketing campaign off the ground all by yourself takes time and effort. Luckily, there are professionals that can take care of it for you.
You can hire amazing digital marketing specialists on Fiverr at very reasonable rates.
Conclusion: A Successful Business Is Closer than You Think
I'm not going to stand here (well, sit here, but you know what I mean) and tell you that running a business is easy. But with the right tools and knowledge,
building a car parts website is easier than it's ever been.
And with this guide, you can create your own in no time. If you're looking for a site that's uniquely yours,
Wix offers the best customization options by far
.
It's also filled with useful marketing tools to grow your business over time. If you're just looking for a quick and easy way to get a functional website off the ground, then
SITE123 is the best option for a simple site
.
Or, if you're going for a more modern-and-minimalistic vibe,
Squarespace can help you create just that
.
It also offers useful e-commerce features to help you sell your products without much of a headache. Now that you've chosen the right builder,
it's time to focus on providing the best parts and the best service you can.
FAQ
Is it legal to sell car parts online?
First off, Website Planet is not qualified to give you any legal advice, nor do we wish to. Commerce laws will vary depending on your region, so you should always consult with your local authorities before starting to trade. Still, selling car parts online is legal in most places, so long as those parts were lawfully acquired. You should keep an eye out for the tax requirements of your specific region. Getting a good handle on taxes and shipping can save you a lot of trouble down the line.
How do I start selling car parts online?
You can start by building your own website. Website builders make it easy for anyone to create a personalized site with an online store. Even if you plan to sell on other platforms as well, a website is a great way to manage everything from a single dashboard and keep track of your customers. Just remember that you'll need a builder that can handle e-commerce. If you don't know which builder to go with, you can always read our review of the best website builders for 2023.
Can you sell used car parts on Amazon?
In theory, yes. In practice, usually not. Though you can sell used parts on Amazon, they must be in "like new" condition. The problem is that Amazon's standards are rather arbitrary. You can never be sure if a given part will meet them, so you risk violating Amazon's terms with every sale. And even if your parts do pass its standards, Amazon buyers are unlikely to go for used products unless they come from the Amazon warehouse.
Which car parts sell best?
Exterior parts like grille upgrades and side view mirrors tend to sell the best. Sales of lighting upgrades of all types (from headlights to interior lighting) are also on the rise. Of course, the parts bought most often will vary depending on your region, target customers, and other factors. That said, there aren't many car parts that sell poorly, so I'd recommend focusing on selling the parts you have in the best way possible.