Most dropshippers don't tell you that it's a lot of work to get to that point.
Given how easy it is to set up a dropshipping store, you'll be entering a massively competitive market where your ability to compete on the uniqueness of your products is reduced to almost zero. Instead, your competitive edge will come from your branding and customer experience, which will depend on the website you build. So, to create a lucrative dropshipping business, you should choose a website builder with all the creative tools and e-commerce integrations you need to stand out.
Currently, Wix is one of the best options available to you.
I'm a big fan of Wix – it's one of the most intuitive website builders I've ever used. Plus, it offers an astounding amount of robust built-in tools to help you build your brand and improve your visibility on search engines. Keep reading for my step-by-step guide on how to create a Wix dropshipping website that will keep customers returning to you.
Create Your Wix Account
Head to the Wix homepage and click
Get Started
in the top right corner.
From there, you get to answer a few questions about your business. While you
can
skip this, I recommend you work through it. It only takes a few minutes and means you'll get the features you need pre-loaded to your site (instead of hunting around to activate them later).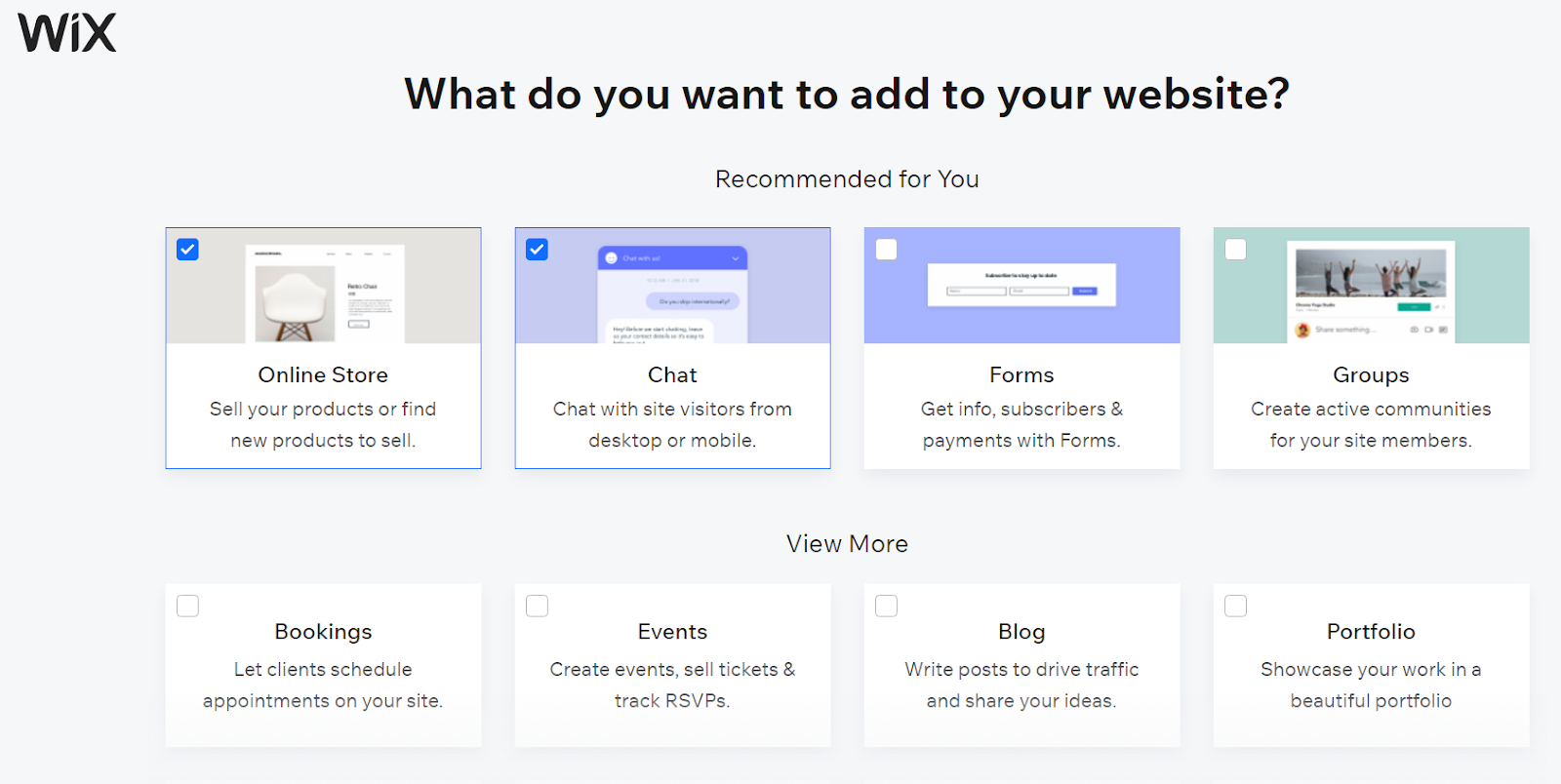 Remember that
Wix's free plan is the default.
As great as it is, it doesn't work for e-commerce websites, so you must upgrade your account. In your dashboard, you'll see an
Upgrade
button at the top of your screen. That will take you to Wix's pricing plans.
Make sure you're only looking at the
Business and eCommerce Plans
tab
– the plans in the
Website Plans
tab don't come with e-commerce functionality. While you can dropship on all of these plans, I'd recommend using the Business Unlimited plan (
$
27.00
/month) unless your budget is really limited. That's because the Business Unlimited plan connects you with one of the best dropshipping suppliers, allowing you to source up to 250 products from Modalyst. Note that the price advertised on this page is the per-month price for a 12-month plan, which you'll pay in one go. If you'd rather pay monthly, then the price will be higher. You can, however, pay for a few years upfront to bring the relative cost down. Fortunately,
all paid plans have a 14-day money-back guarantee,
so you've got nothing to lose if you find that Wix doesn't work for you within those two weeks.
Choose and Customize a Template
Next up, you'll need to start designing your store. Click
Site and App > Website
on your sidebar menu, then click the blue
Design Site
button. You can either use Wix's suite of AI tools to build a custom template for you or
choose one of 900+ templates
.
You don't need to use a template specifically designed for e-commerce, either – Wix's templates are so customizable that it's easy to adapt the one you like into a dropshipping storefront. If you're prone to analysis paralysis, don't worry.
Wix will recommend templates based on how you replied to the onboarding questions you filled out earlier.
Just don't rush into anything – you won't be able to change your template once you've picked one.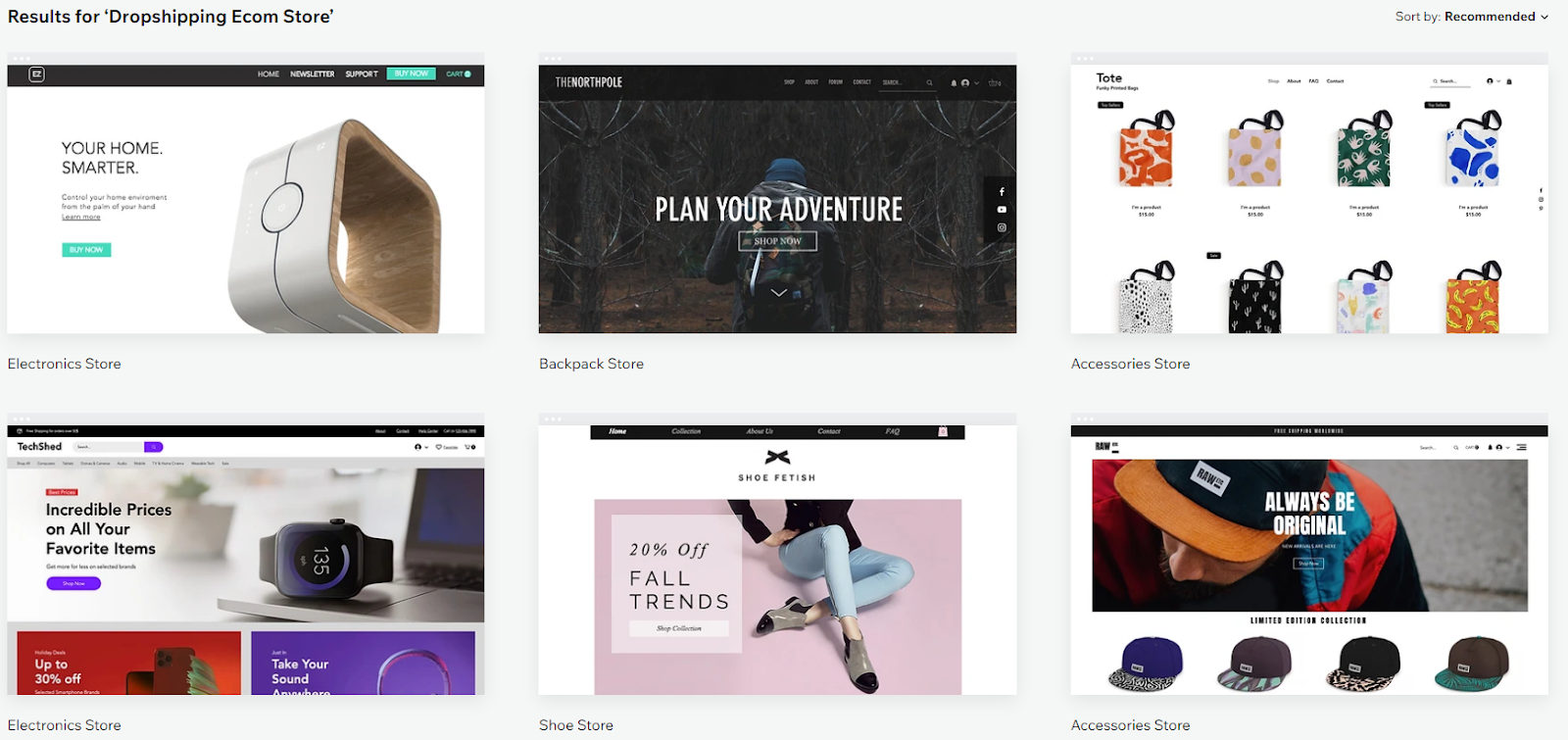 Designing a website is a
massive
topic (and one we've covered in greater depth in our guide to designing a website).
Here's a quick tour of Wix's tools and functionalities: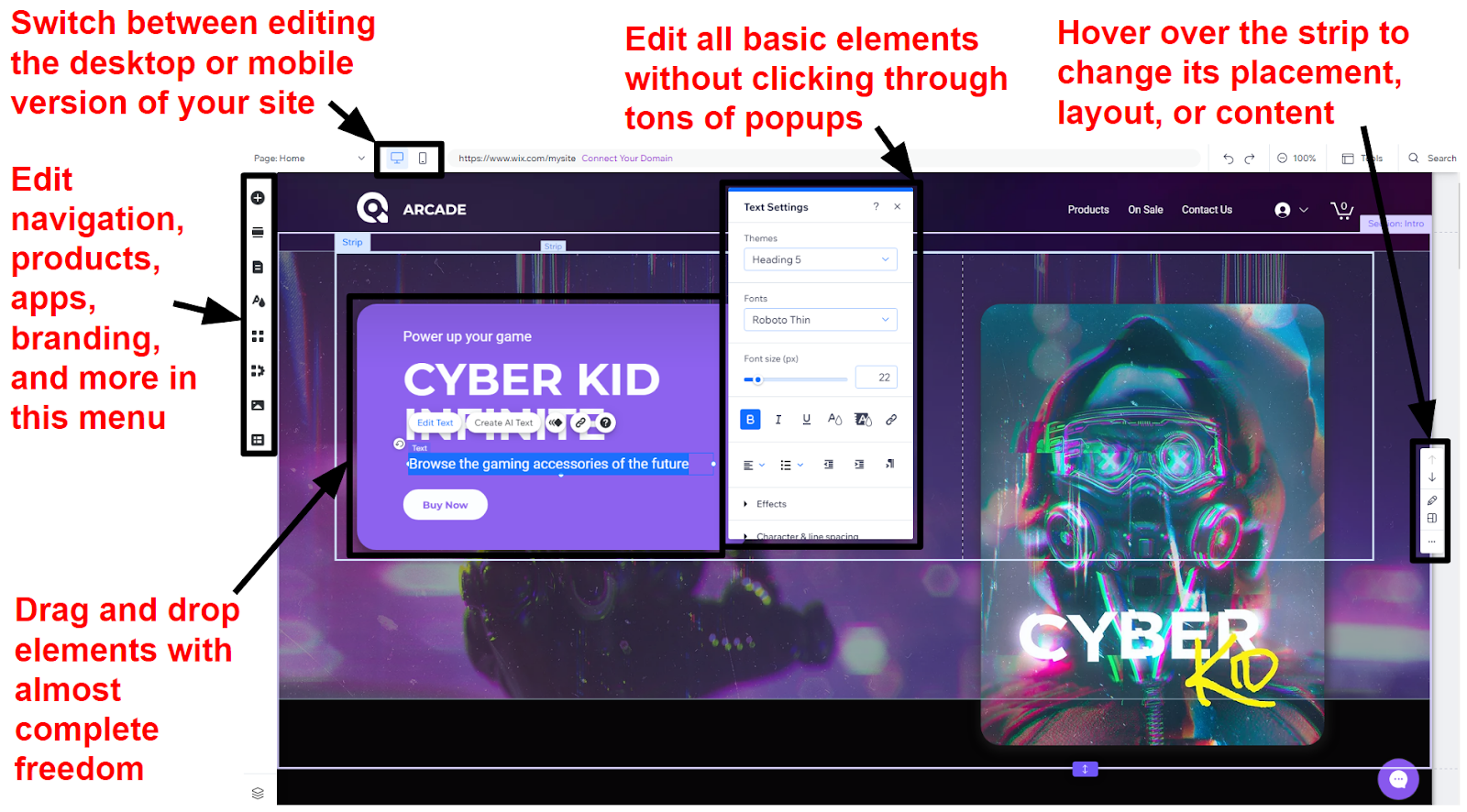 Your website consists of neatly arranged strips, each representing a content block. You can easily drag and drop elements within each strip to rearrange them. Hover over strips and use the up or down arrow to change their position. There are some exceptions (such as the product page below), but, for the most part, there are a few design limitations.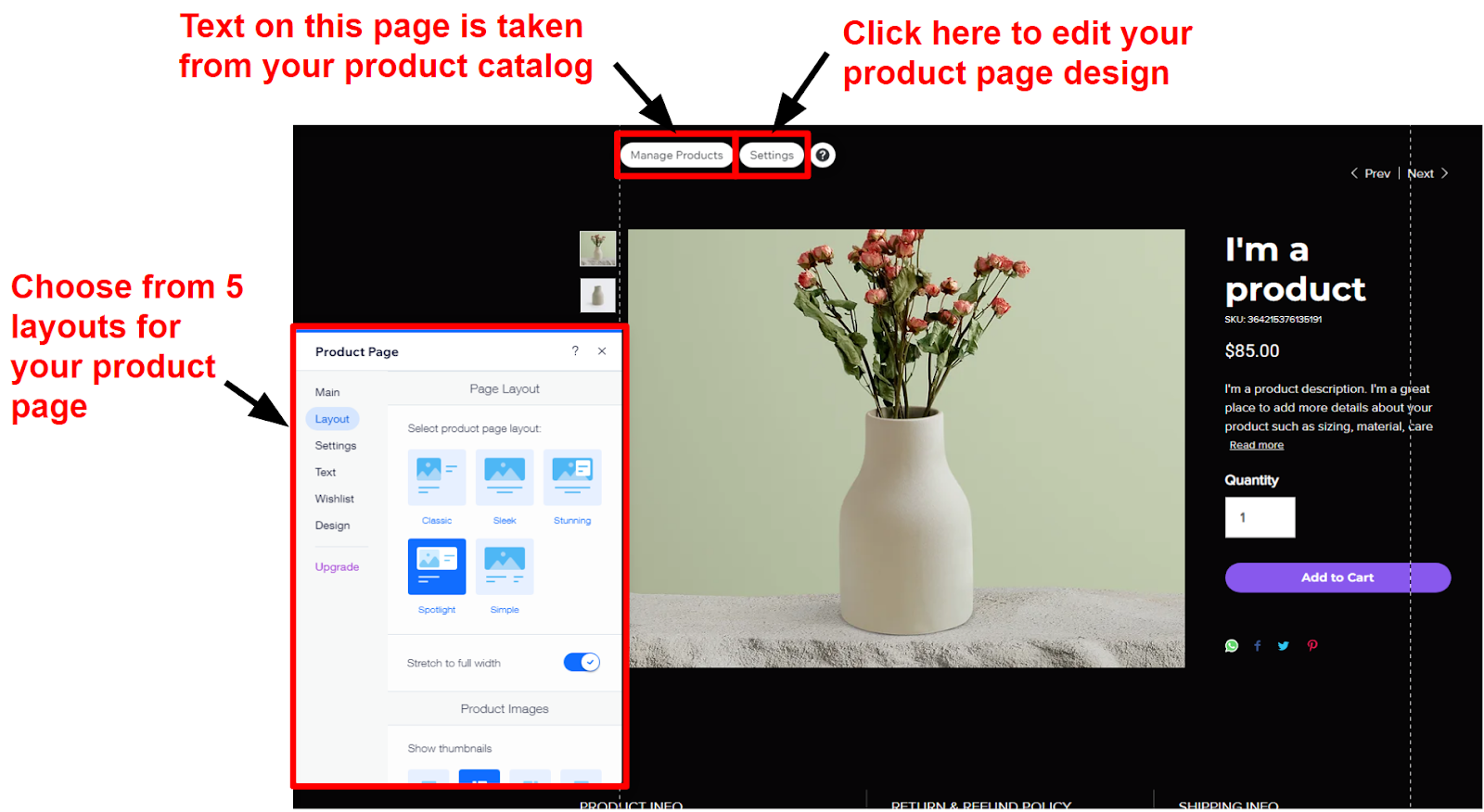 Thanks to Wix's templates and intuitive drag-and-drop editor, it's possible to set up a dropshipping store on Wix in under an hour.
That said, just because you
can
, doesn't mean you
should
. It will undoubtedly be faster than building your website from scratch, giving you more time to get the branding right.
Install Dropshipping Apps
Now that you're happy with the look of your dropshipping store, it's time to fill it with products.
Wix offers 70+ dropshipping and print-on-demand apps
, but I'll show you how to set up Modalyst for this example.
Modalyst is Wix's own dropshipping and print-on-demand app.
Not only is it super easy to set up, but it'll tell you exactly how much profit you'll make on your products.
No more tapping away on a calculator – Modalyst does the math for you. You can source products from Modalyst's own suppliers, Alibaba, or AliExpress. Let's get started!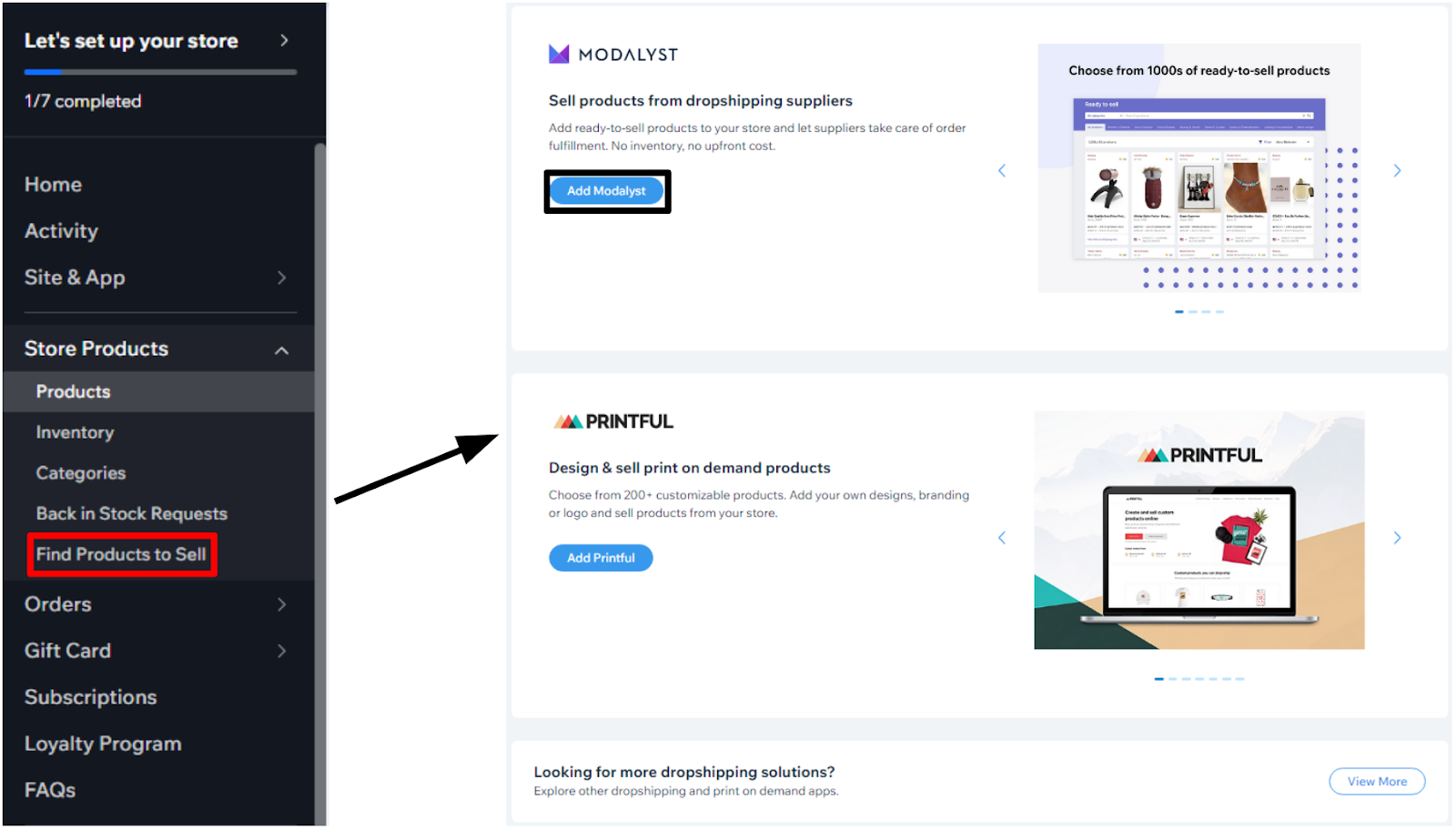 Go back to your dashboard and click
Store Products > Find Products to Sell
on the sidebar on the left.
From there, click
Add Modalyst
. Or, if you want to explore other dropshipping apps, click the
View More
button at the bottom of the page to open the app store.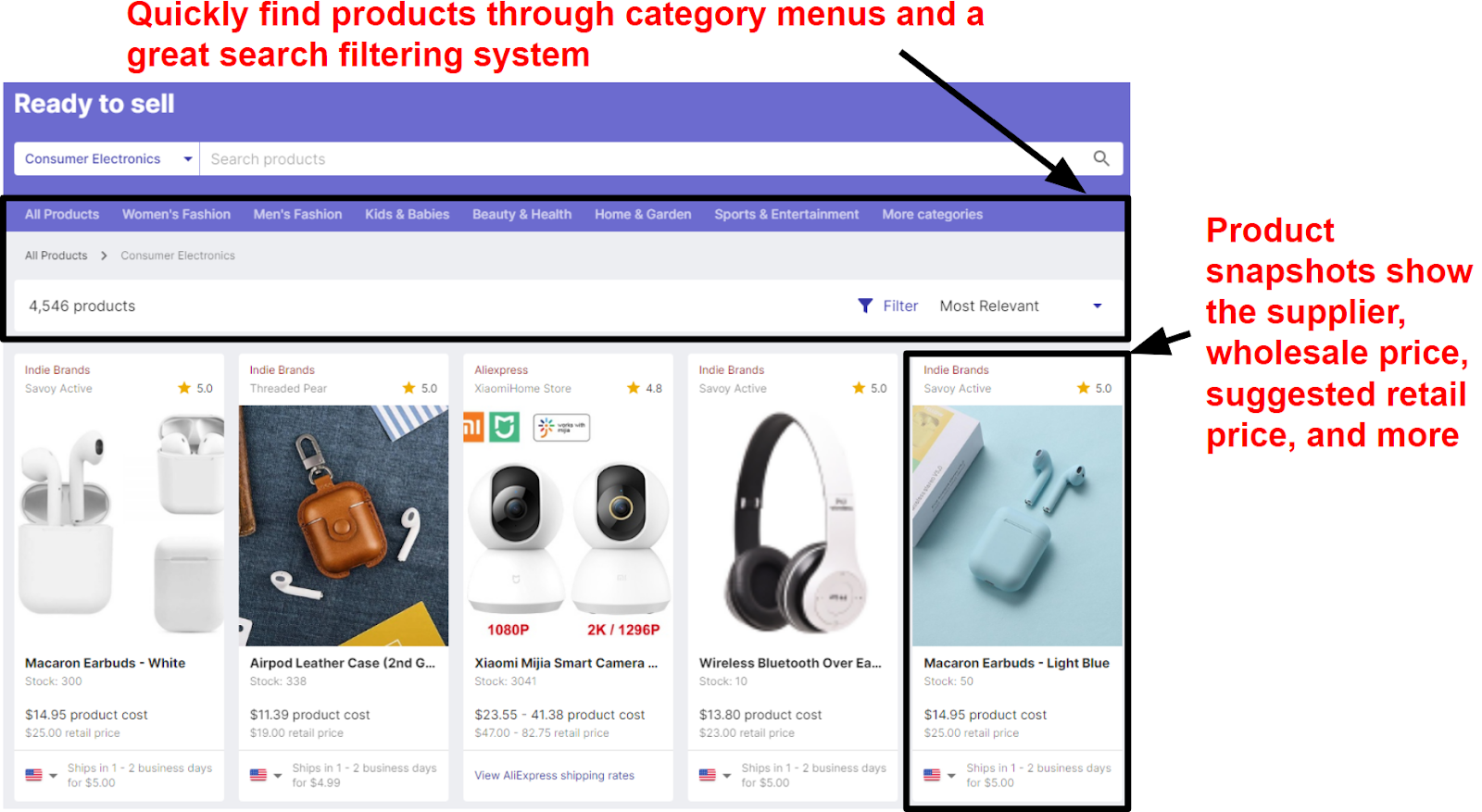 As good as the snapshots are, you can get more information about a product by clicking its product page.
This is where Modalyst shines.
Its product pages aren't just detailed – it also doesn't require any additional browser extensions to import products. That's more than I can say for suppliers like AliExpress. If you want to dropship from AliExpress, access products through Modalyst – it's so much easier.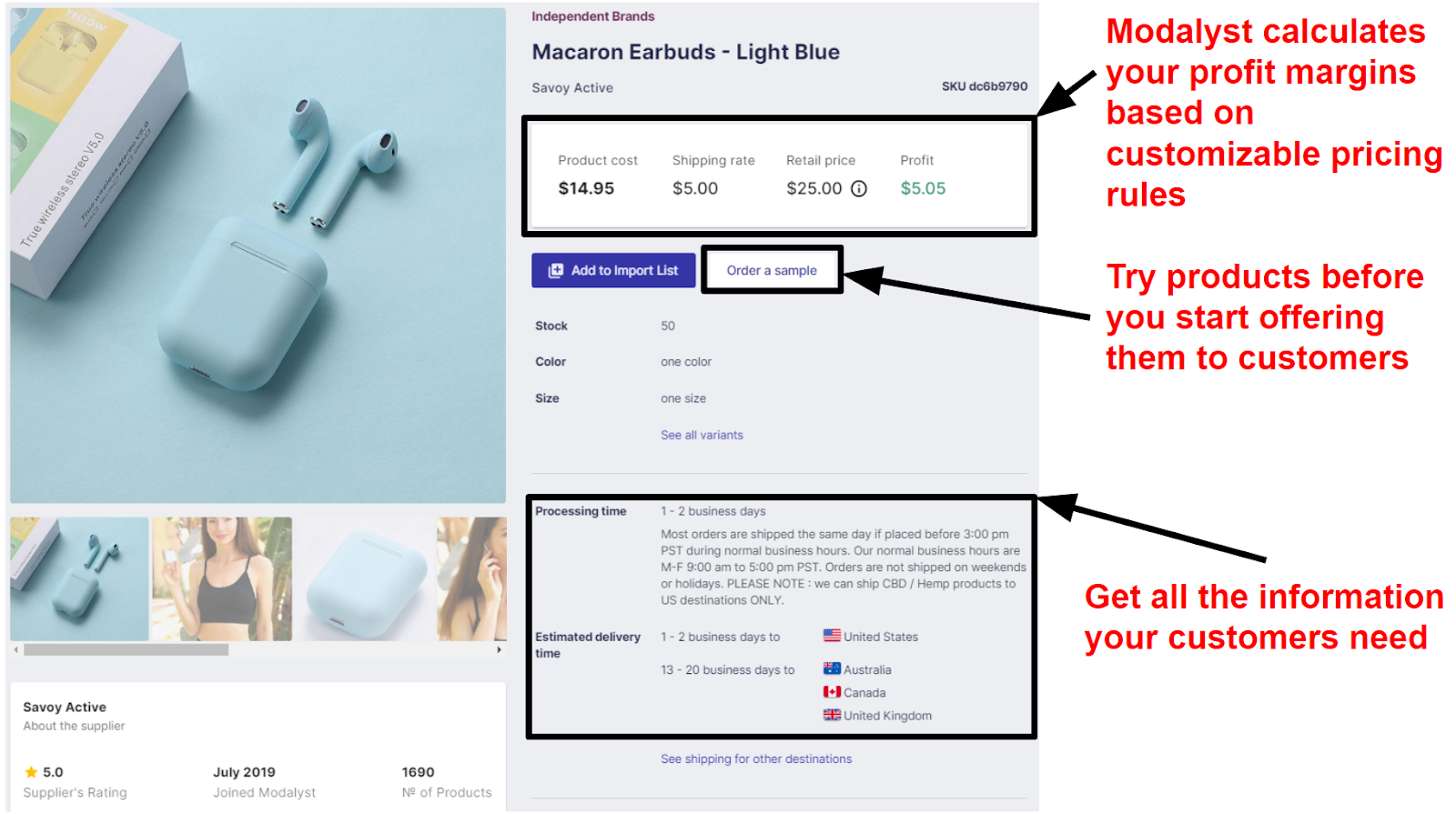 The great thing about Modalyst is that it calculates your profit margins based on pre-set pricing rules it sets per supplier group.
When you visit a product page, you'll see exactly how much profit you'd make if you sold that product at the supplier's recommended retail price.
But you don't have to use this pricing. You can set custom pricing rules in your settings for complete control over your profit margins. While product information and images will be automatically imported to your product pages, note
the supplier's return policy and shipping times.
In the next step, you'll need these to set your shipping and returns policy. If you're happy with your product choices,
click
Add to Import List.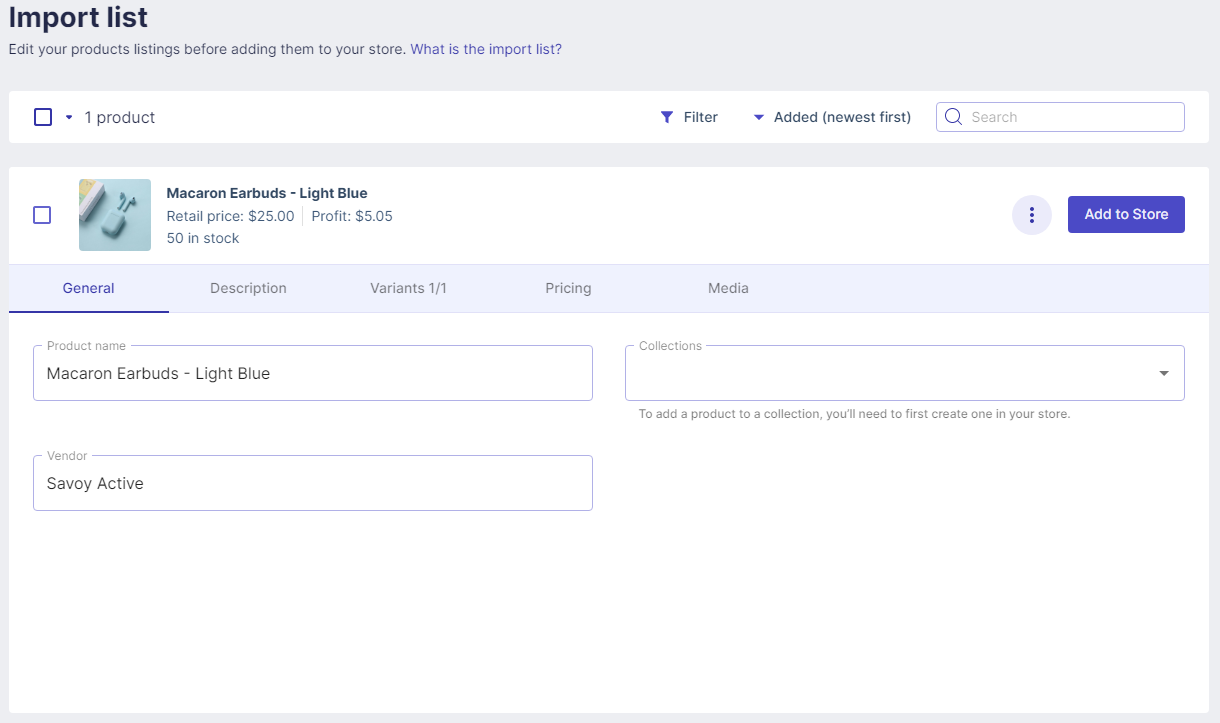 You can edit your product's description in the import list before it's published on your website, and I recommend that you do.
It's a great way to reinforce your brand's voice and personality.
You'll get some basic formatting options here, but nothing too extensive.
When everything looks good, click
Add to Store,
and you're done!
You can edit your new product by clicking
Store Products > Products
from your dashboard, so you don't need to open the Modalyst app every time. I'm a big fan of anything that makes my life easier, so this earns Wix (and Modalyst) some extra points.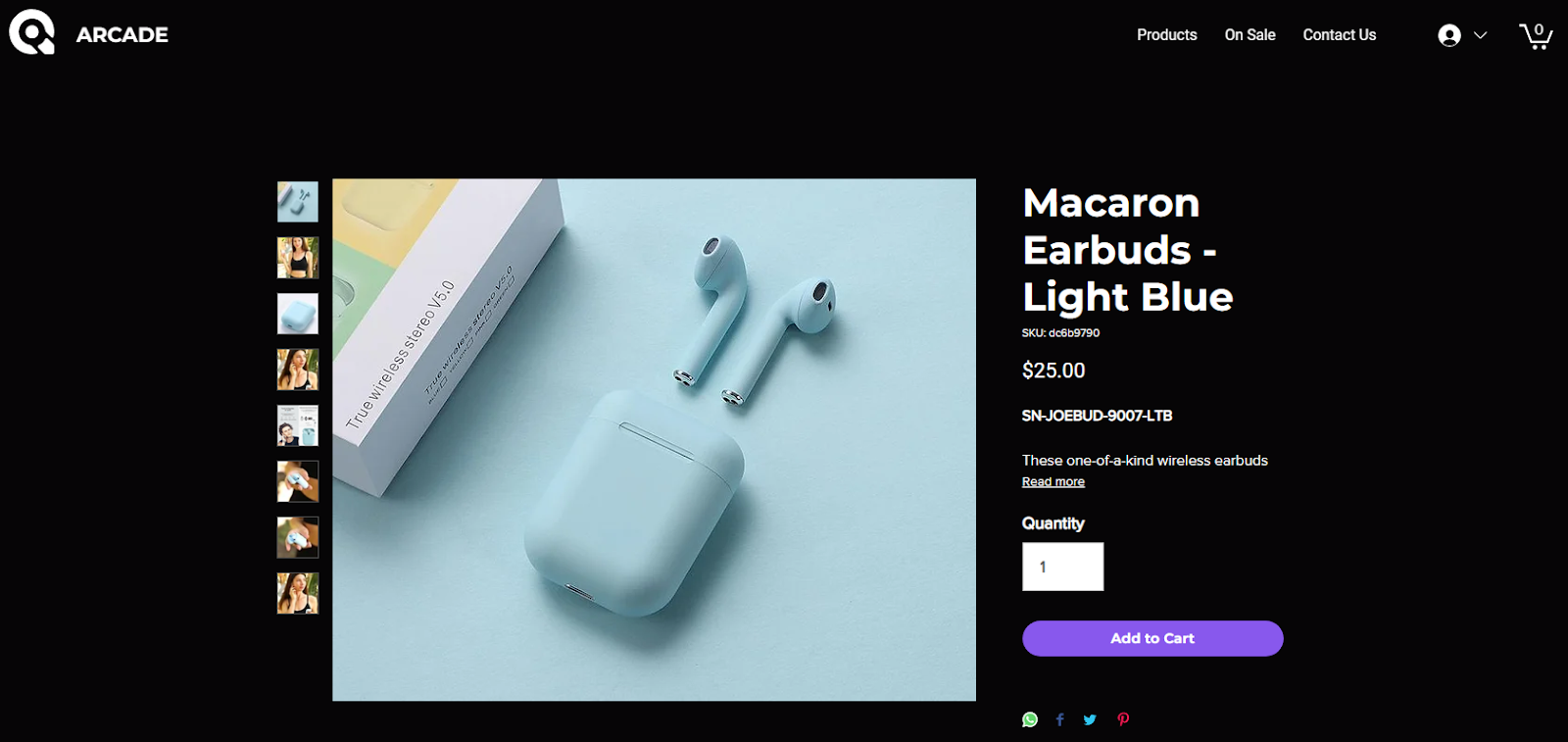 Add Store Policies
Before you publish your site, you'll need to get your legal affairs in order.
That means adding privacy, shipping, and returns policies to your store, including a terms and conditions page.
Sure, they're not glamorous or fun, but they're necessary. Fortunately, that's easy with Wix. When you first created your store, it automatically created pages for all of these policies on your site.
These pages are pre-populated with advice on crafting policies and what information you need to include,
including support links. It's time to use the information I asked you to note in the last section.
Go to your website editor and use the dropdown menu in the top left to select one of your policy pages.
Remember that the content on these pages keeps your business and your customers safe, so you shouldn't rush this process.
I used
Wix's AI text generator
 to write a basic refund policy, and I edited it to match my store. This is a good way to get your policy if you're unsure where to start, but you'll need to add extra information to suit your business.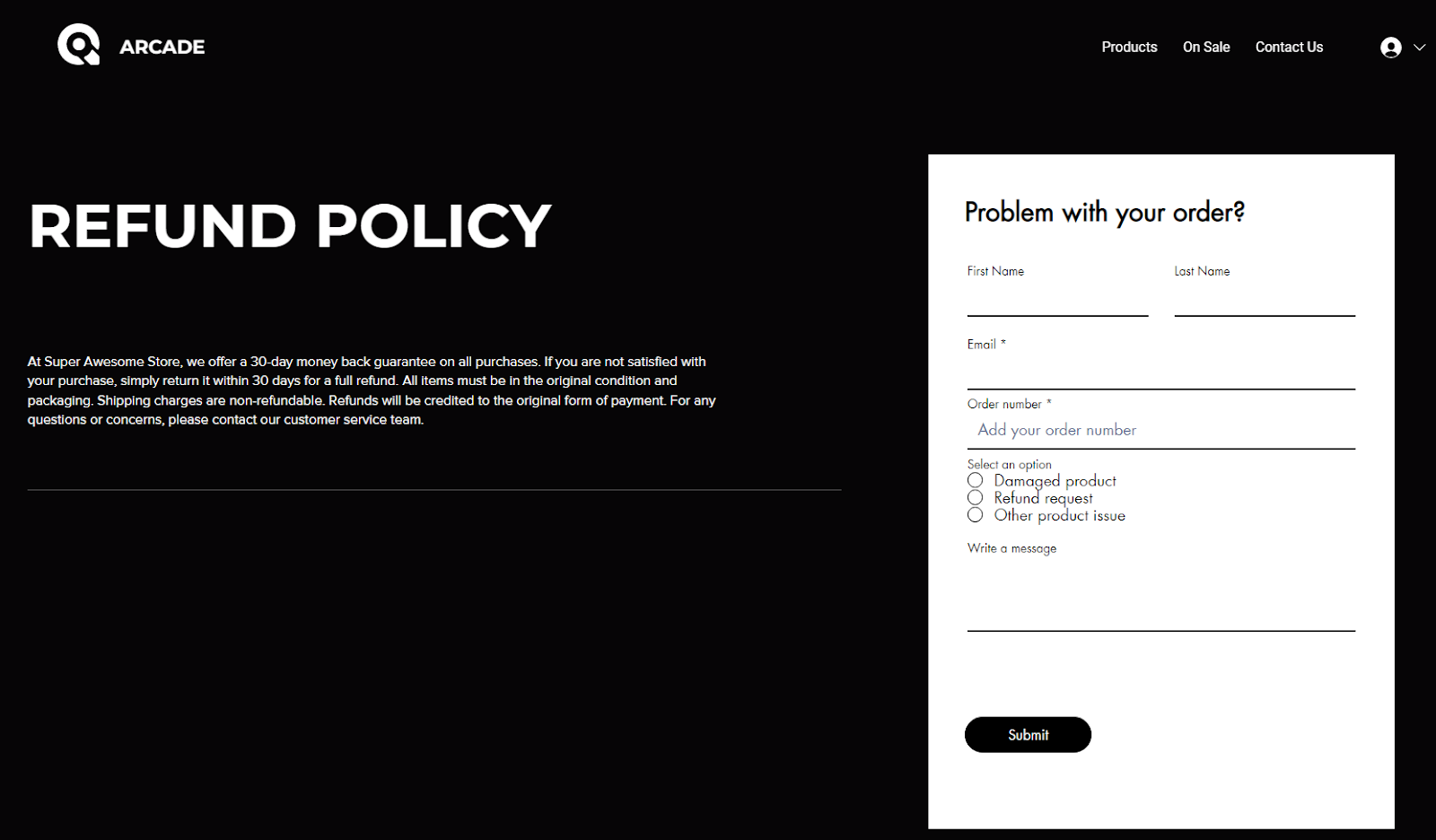 Connect Your Domain Name
Finally, you should set up a custom domain name for your dropshipping store.
Custom domains don't just reinforce your branding – customers expect you to have one.
Stores trading on subdomains don't have the same legitimacy or level of trust. After all, custom domains are relatively cheap, so customers are (usually rightfully) suspicious of any business that doesn't bother to get its own. To connect a custom domain, go to your dashboard. You should still have your setup checklist available, so click the
Connect Domain
button. Type the domain name you want to use into the text bar and click
Let's Go.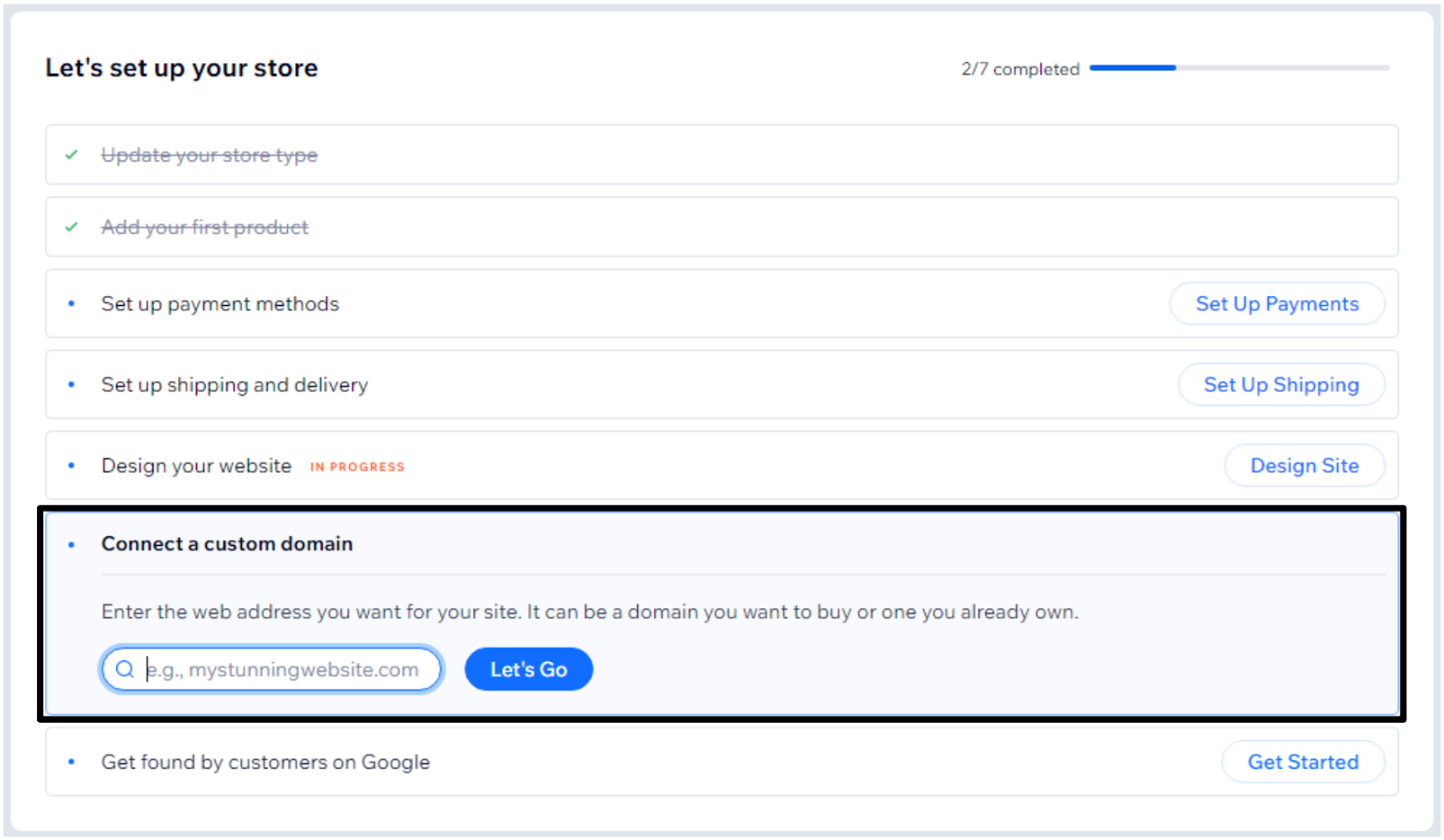 The following page will show you whether your domain is available and, if not, provide some alternatives.
I recommend looking for a .com domain name above all else.
These domains are a little more expensive, but they're worth it – most customers assume a URL ends in .com anyway, so it makes your website more memorable.
Plus, every Wix plan offers a free domain name for a year, and you can use this to claim a .com domain name.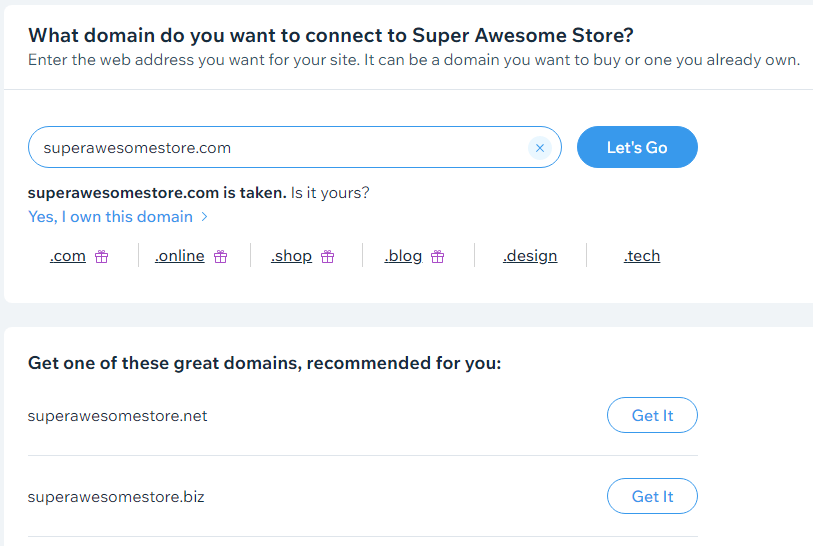 Once you've found a domain name you like, click
Get It
to use your free domain name voucher.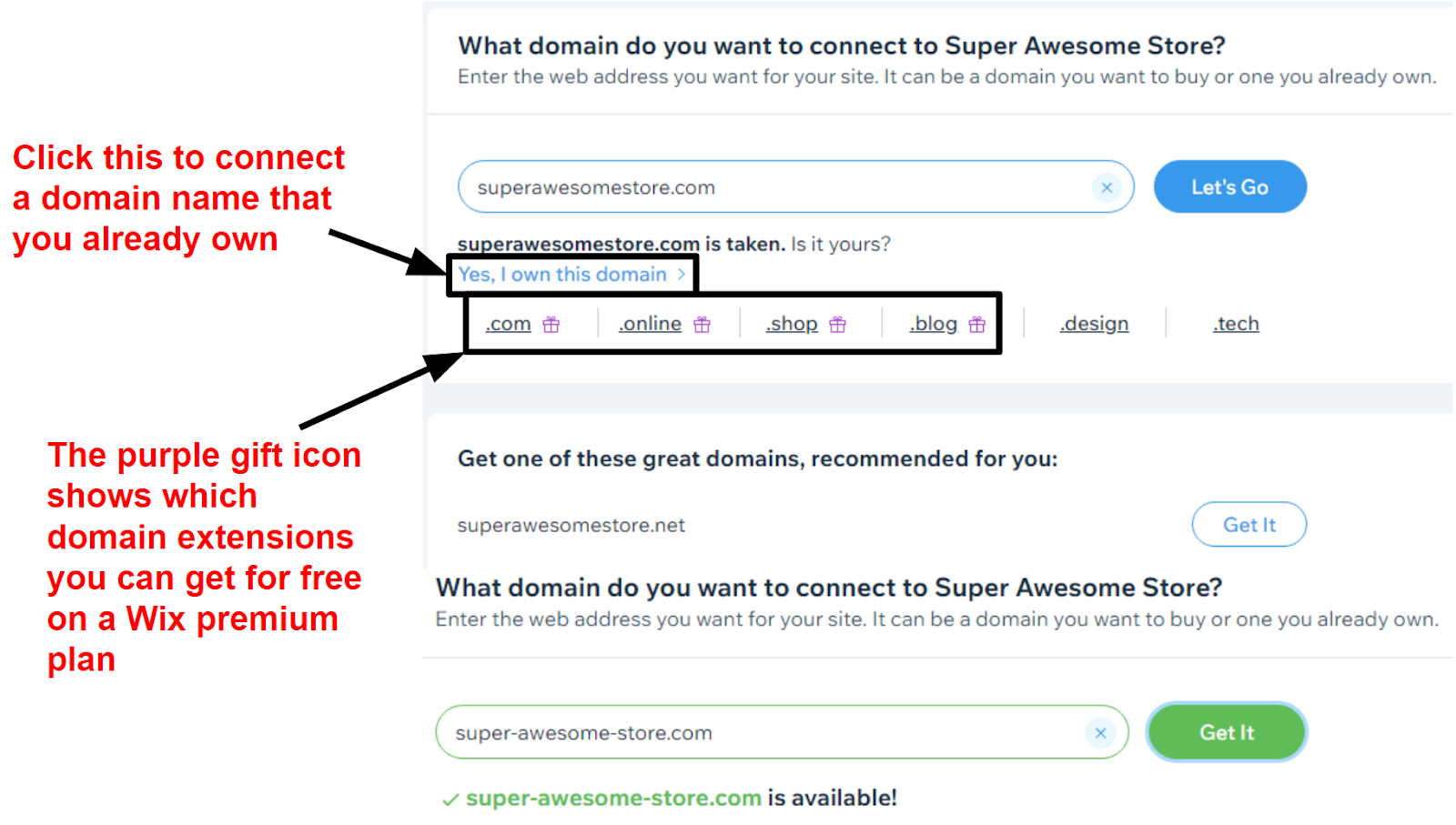 You can also connect a domain name you already own.
Either click
Yes, I own this domain
on the
Connect a domain
page, or click the dropdown menu in the top right and select
Domains.
Check that the information on the page is correct and click
Start.
From here,
Wix will guide you through connecting your existing domain name to your new dropshipping store.
Don't worry if you've never manually set up a domain name before – it's pretty straightforward with Wix.
Best Wix Alternatives for Creating a Dropshipping Website
Wix isn't always the best choice for all businesses.
As you grow your dropshipping store, you'll likely outgrow the Business Basic or Unlimited plan
– and the Business VIP plan is pretty pricey. Plus, as good as Wix's e-commerce features are, online stores aren't the platform's focus. Whether you're sure about Wix or you're still on the fence, there's no harm in exploring other options.
Shopify: Best for Flexibility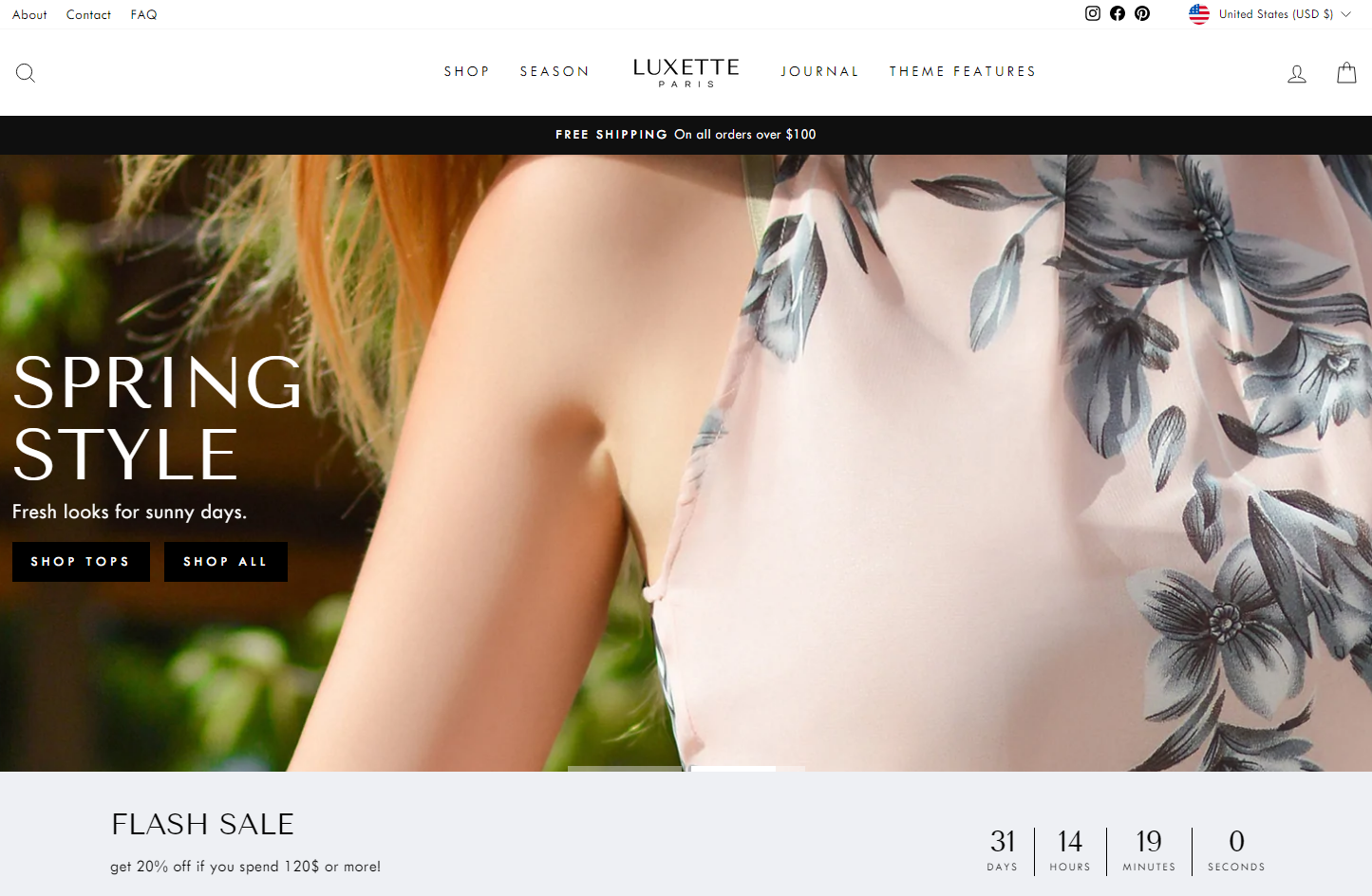 Shopify is
the
e-commerce website builder, so it's your next best bet after Wix.
Shopify doesn't just allow dropshipping – it actively encourages it with 400+ dropshipping apps, so you've got tons of suppliers and integrations to choose from.
It feels unfair to compare it to Wix on that point alone. It's also convenient that the Wix-owned Modalyst is also available on Shopify.
Even more impressive is that Shopify lets you run pop-up shops thanks to its point-of-sale app and payment hardware.
You can even allow customers to save on shipping by offering local collection. So, not only does Shopify empower you to run your dropshipping business in the way that suits you best, but you'll be able to pass that benefit to your customers.
BigCommerce: Best for Scaling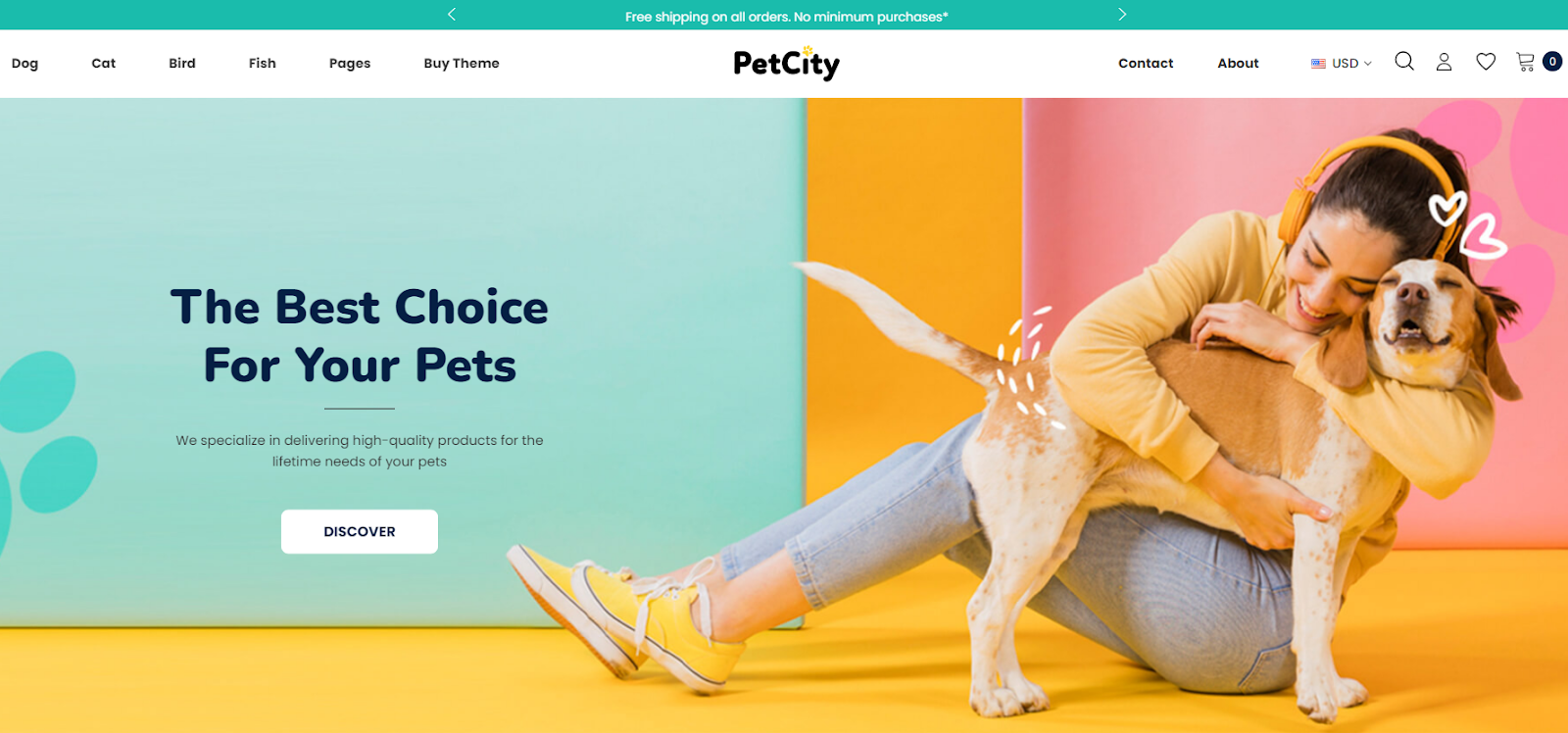 Like Shopify, BigCommerce is (unsurprisingly) designed for e-commerce. Every plan offers unlimited products, storage, and bandwidth, so you can maximize your profits while continuing to provide a great customer experience. On top of this,
you can add as many staff accounts as you need to run your business
– Wix limits you to 15, even on the most expensive plan. Even though BigCommerce is more expensive than Wix per month, you'll save money if you need built-in payment processing services.
All BigCommerce plans can access preferential payment processing fees through Braintree. On the Pro and Enterprise plans, these fees are super competitive
with most payment processors – and they're significantly cheaper than those charged by Wix. Since dropshipping profit margins can be pretty tight, this can help you optimize your income even more.
Squarespace: Best for Branding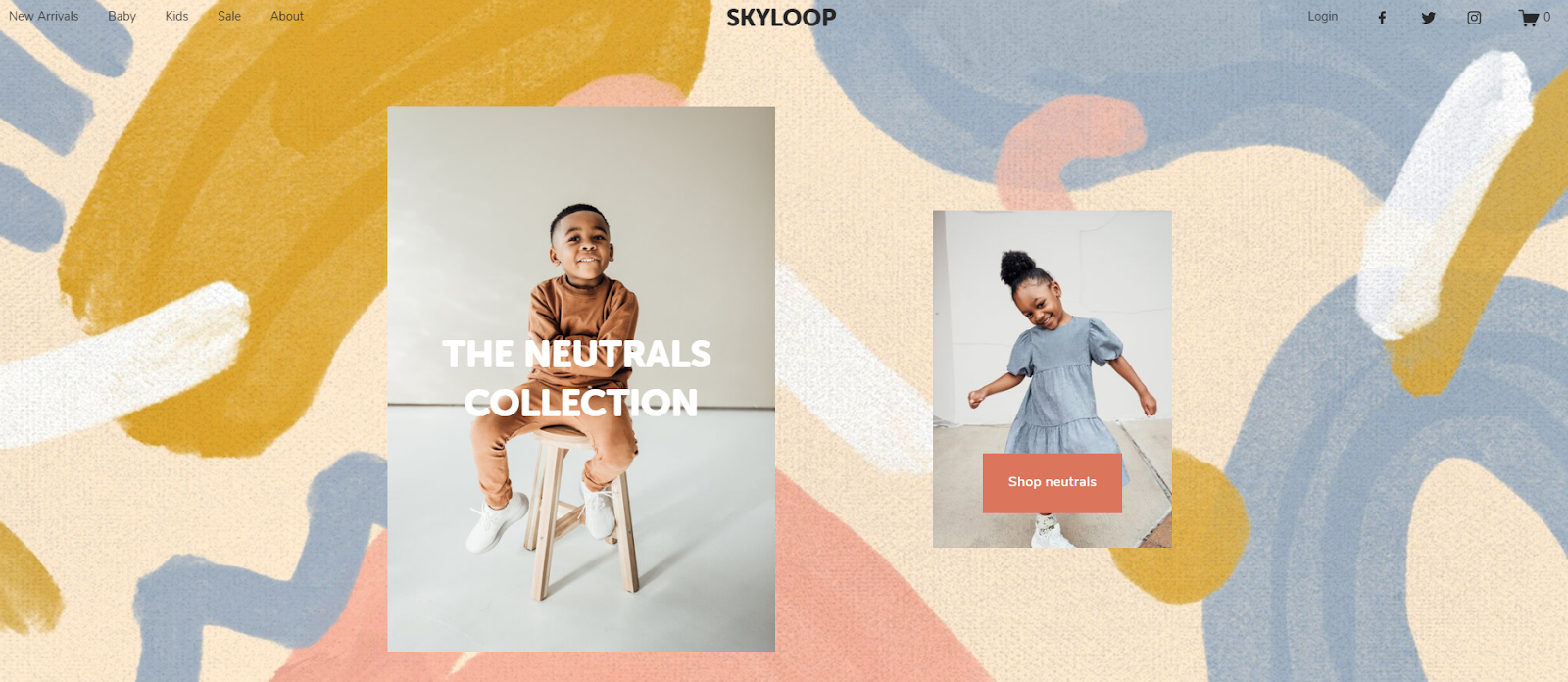 While Wix's design capabilities are good, being unable to switch up your website template when it's time for a rebrand isn't ideal. Fortunately, you'll have no such limitations with Squarespace.
You'll get 140+ modern and mobile-responsive designs that you can select from at any time.
Each template is super customizable albeit with fewer options than Wix. There's a reason behind this decision.
Squarespace is fully mobile responsive
, so you give up some customization to ensure your store looks good on all screens.
As more customers choose to shop on the go, this can help convert as many visitors as possible.
Are Dropshipping Websites Still Worth It in 2023?
Dropshipping can be highly profitable, but it's not easy. Your website and branding significantly affect your competitive advantage because you sell the same products as hundreds of other businesses.
That's why Wix is our top recommendation for dropshipping websites.
It offers near-unlimited customization to help you build the brand of your dreams, and you'll get
plenty of e-commerce features
to optimize your dropshipping business. That said, Wix won't automatically make your dropshipping business a success.
You must work hard to design your website, set up your products, and keep your business legally compliant.
I know that can sound intimidating, but don't worry – Wix's intuitive editor and feature suite simplify things, even for beginners.
FAQ
Are dropshipping websites profitable?
Yes! Dropshipping can be highly profitable, but you must ensure your business is competitive. An essential part is building a well-branded website that offers a stellar user experience. That's why I recommend setting up your dropshipping website with Wix. On top of 70+ dropshipping apps, Wix offers near-unlimited customization options thanks to its intuitive drag-and-drop editor.
How much does it cost to build a dropshipping website?
You can start building your dropshipping website for free with Wix. When you sign up for Wix, you'll begin on its generous free plan, giving you all the time you need to design your website. However, as with most website builders, you must upgrade to a premium plan before selling dropshipped products.
What do I need to legally start a dropshipping business?
It varies depending on your location. You may need a business license to sell products in your country or city. I also recommend considering setting up your business as an LLC, as this will keep your business legally distinct from yourself. On top of that, you'll need to have privacy, shipping, and returns policies, plus terms and conditions, clearly available on your website.
Can I build a website from scratch for dropshipping?
You can, but I don't recommend it. If you'd rather not use a website builder, check out our guide to building a website in 2023 for more information on self-hosting your e-commerce store. Using a self-hosted WordPress store for dropshipping isn't as easy for beginners, but it's worth the effort if you want complete control over your website.