Hostwinds or InMotion Hosting
? To help you out, I thoroughly compared both of them based on the key parameters like performance, features, pricing, support, etc. The results revealed that both are equally good, despite slight differences in their offerings.
In short, it'd entirely depend on your needs to choose one from them.
Interested in knowing how I compared
Hostwinds
and
InMotion Hosting
? Continue reading.
1. Plans and Pricing
Hostwinds offers cheaper packages – InMotion Hosting offers more diversified packages
Both Hostwinds and InMotion Hosting touch almost every category of web hosting – from shared hosting, VPS hosting, dedicated server to cloud hosting and reseller hosting. While
packages from Hostwinds are significantly cheaper than those of InMotion Hosting, it doesn't offer specialized WordPress hosting
. On the other hand,
InMotion Hosting offers specialized WordPress hosting
. Also, with Hostwinds, you get to choose cloud hosting while InMotion Hosting offers cloud VPS packages.
A free domain name is included with some hosting plans from Hostwinds
InMotion Hosting Web Hosting
If you're looking for cloud hosting solutions only,
Hostwinds with hourly pricing plans
would be a good option. But in terms of overall features,
InMotion Hosting is what you should go with, it'll cost you more though
.
2. Features
Hostwinds wins – thanks to its versatility
You get a good number of similar features with both these web hosts – use of SSDs, 1-click installer, website transfers, website builder, free domain, among others. However,
the biggest advantage of using Hostwinds is you can choose between Linux and Windows when it comes to VPS hosting while InMotion Hosting doesn't support Windows hosting
. See this table to compare Hostwinds and InMotion Hosting yourself.
Hostwinds
InMotion Hosting
Hosting Types
Shared hosting (WordPress optimized), VPS hosting, Dedicated server, cloud hosting, reseller hosting
Shared hosting, WordPress hosting, VPS hosting, reseller hosting, dedicated servers,

cloud VPS, bare metal

Free Domain
✓
✓ (on all plans except Lite)
Free SSL Certificate
✓
✓
Disk Space
Unlimited
10GB – Unlimited
Bandwidth
Unlimited
Unlimited
Automatic Backups
Daily (paid)

Backup Manager available

Control Panel
cPanel, Cloud Control Portal
cPanel
Email accounts
Unlimited
1 – Unlimited
Free CDN
✓
✓
Free Site Migration
✓
✓
Money-Back Guarantee
30 days (annual onwards), 48 hours (monthly to semi-annual)
90 days (annual onwards), 30 days (monthly)
3. Performance
Hostwinds with a rare 99.9999% uptime guarantee wins
While both these providers use performance-enhancing features like SSDs, CDNs, etc, the biggest difference lies in their uptime guarantees.
With InMotion Hosting, you get a 99.99% uptime guarantee while Hostwinds offers an unbelievable 99.9999% uptime guarantee
so you can rest assured of getting an excellent network redundancy. However, when I conducted a performance test,
Hostwinds
came out with reasonable results while
InMotion Hosting
stood out with impressive figures.
In terms of data centers, Hostwinds has three of them and all are Tier IV which means they've got the most redundant components. On the contrary, InMotion Hosting has two Tier I data centers
, both of which sit directly on internet exchange points
.
Hostwinds offers a paid service namely Windspeed to improve your server's speed and performance while InMotion Hosting lets you choose a data center based on your needs
.
4. Security
Both take good care of the security aspects
InMotion Hosting offers a comprehensive security suite equipped with a wide array of security features, ranging from standard to advanced. These include complimentary SSL certificates, DDoS protection, malware safeguarding, Web Application Firewalls, SSH access, and access to HIDS security. Conversely, Hostwinds not only provides standard security features but also presents the option to enhance server security through a paid security service known as Windshield. Furthermore, you have the opportunity to elevate your site's security by acquiring a paid SSL certificate from Hostwinds.
5. Support
Both offer a good range of support options, but may not be useful
You get 24/7 support from both Hostwinds and InMotion Hosting through a number of channels – from phone and email to live chat and support ticket
. We tested their support services by trying different options including live chat, email, etc. As you can see in our
Hostwinds review
, we got an instant response on live chat, the agent failed to provide an appropriate answer though.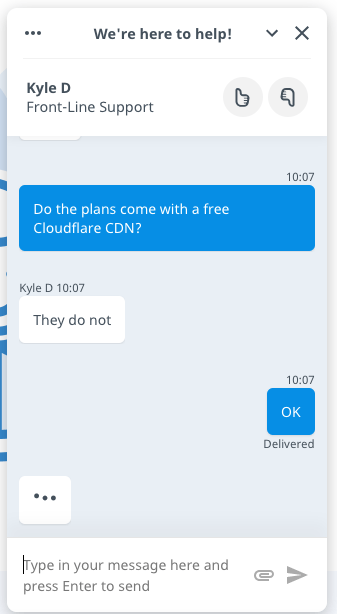 In the case of InMotion Hosting, we experienced a better than average response time but they also didn't seem to be highly knowledgeable.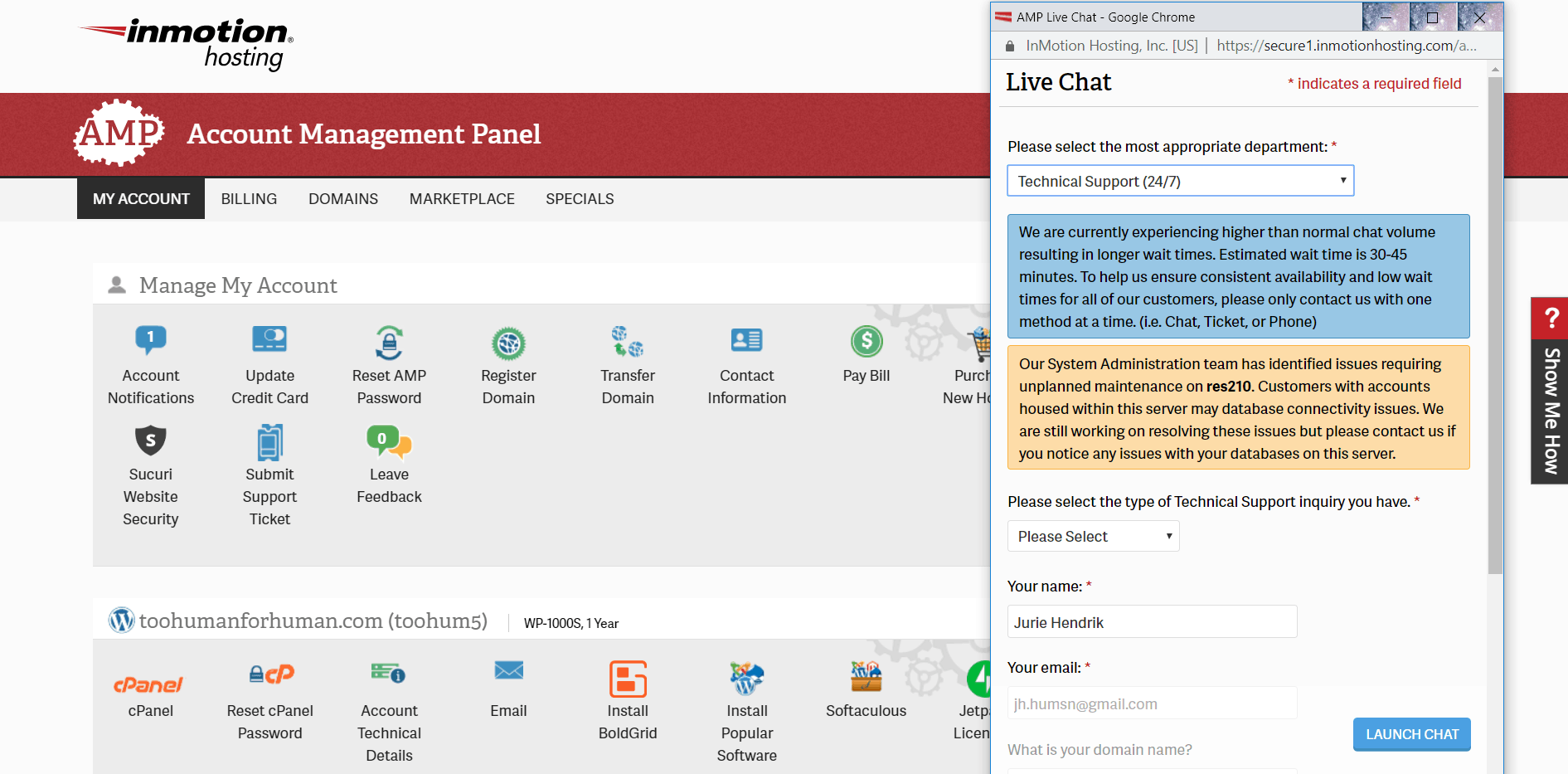 However,
in terms of knowledgebase, InMotion Hosting with a massive collection of guides and articles is much more useful than Hostwinds
.
Choose the One That Caters To Your Needs in the Best Possible Way
As it's clear from the above
Hostwinds vs InMotion Hosting
battle,
Hostwinds would be an ideal option
 if you're looking to get a more affordable range of packages and the freedom of choosing the OS along with more reliability.
On the other hand
, InMotion Hosting comes with a more diversified range of packages including specialized WordPress hosting, they cost more though.
Both these providers offer the flexibility of scaling as your business needs grow. Therefore, choosing a particular one comes down to your specific requirements. You may also note that while InMotion Hosting has made it into our list of
top 10 web hosting services
, it's important to check that list out to see your other available options before signing up with a particular one.
Comparison Table
Hostwinds
InMotion Hosting
Plans and Pricing
Prices are more affordable
Significantly more expensive than Hostwinds, but offers specialized packages
Features
Unlimited storage space and bandwidth along with flexibility to choose OS
Available u
nlimited storage space and bandwidth, good number of industry-standard and advanced features
Performance
Offers an excellent 99.9999% uptime guarantee
Offers a 99.99% uptime guarantee together with some performance-enhancing features
Security
Offers industry-standard and advanced security features
Offers industry-standard and advanced security features
Support
Offers 24/7 support via phone, email, live chat, and support ticket, and a good knowledgebase
Provides 24/7
/365 U.S.-based
support through phone, email, live chat, and support ticket, and an excellent support center together with access to community support
FAQ
Is Hostwinds better than InMotion Hosting?
Both can help you meet your goals in their own way. So, you need to chalk out your specific needs before taking your pick. If you want to check out some more options, be sure to take a look at our list of the best web hosting services.
Does Hostwinds offer WordPress hosting?
Hostwinds offers shared hosting solutions that are optimized for WordPress. If you're searching for specialized WordPress hosting solutions, you can check out our list of the best managed WordPress hosting providers to make an informed decision.
Does InMotion Hosting offer VPS hosting?
Yes, InMotion Hosting offers both managed and unmanaged (cloud) VPS hosting solutions. If you want to see some more options before signing up with them, take a look at our list of the best cheap VPS hosting services.