HostMonster has a large fan base, but does that really mean that it's going to deliver the performance you need? And are the claims that GoDaddy makes in its massive advertising campaigns about being the best host for everyone actually true? After digging through the propaganda, I can tell you that
GoDaddy is the better choice – especially when it comes to VPS (virtual private server) hosting.
That said, neither one of these hosts would be my top choice. Personally, I'd check out
Hostinger's affordable plans
 before making any decisions. To compare GoDaddy vs HostMonster head-to-head,
I signed up for their hosting services myself.
I used online tools to test out their performance and tried out their customer support. Read on to find out what I learned.
Performance
Unacceptable Loading Speeds from Both Providers
Google recommends that your website loads in under three seconds if you want your visitors to stay and not click away to a competing site that loads faster. You can lose around 50% of traffic with a website that is slow to load, so part of my testing process is always to look at page loading speeds.
When putting web hosts to the test, I use my own test websites or choose sites that are configured similarly in terms of WordPress plugins and content. With my test sites, I utilize the speed-boosting tools the hosts provide, such as caching tools and CDNs (content delivery networks), to demonstrate how these value-added features can make a big difference for page loading speeds.
To make this comparison fair, I tested GoDaddy's and HostMonster's shared hosting plans for performance, as these are the most affordable (and popular) plans for these hosts.
It's important to remember, though, that both sites also offer VPS and dedicated server hosting plans if your website needs more resources and processing power.
You can see the results of my speed tests in the screenshots below. Neither GoDaddy nor HostMonster delivers the fastest speeds (compared to other shared hosting providers like
Hostinger
and
SiteGround
), mainly because there are no built-in speed-boosting features such as a CDN or caching tools.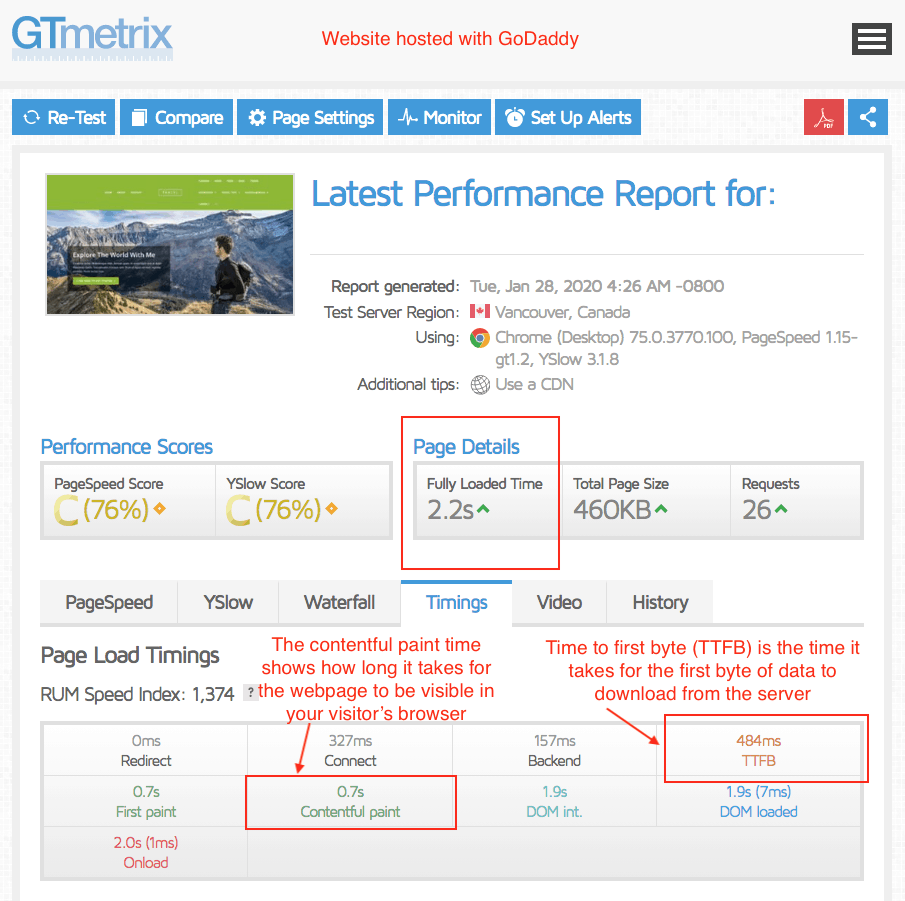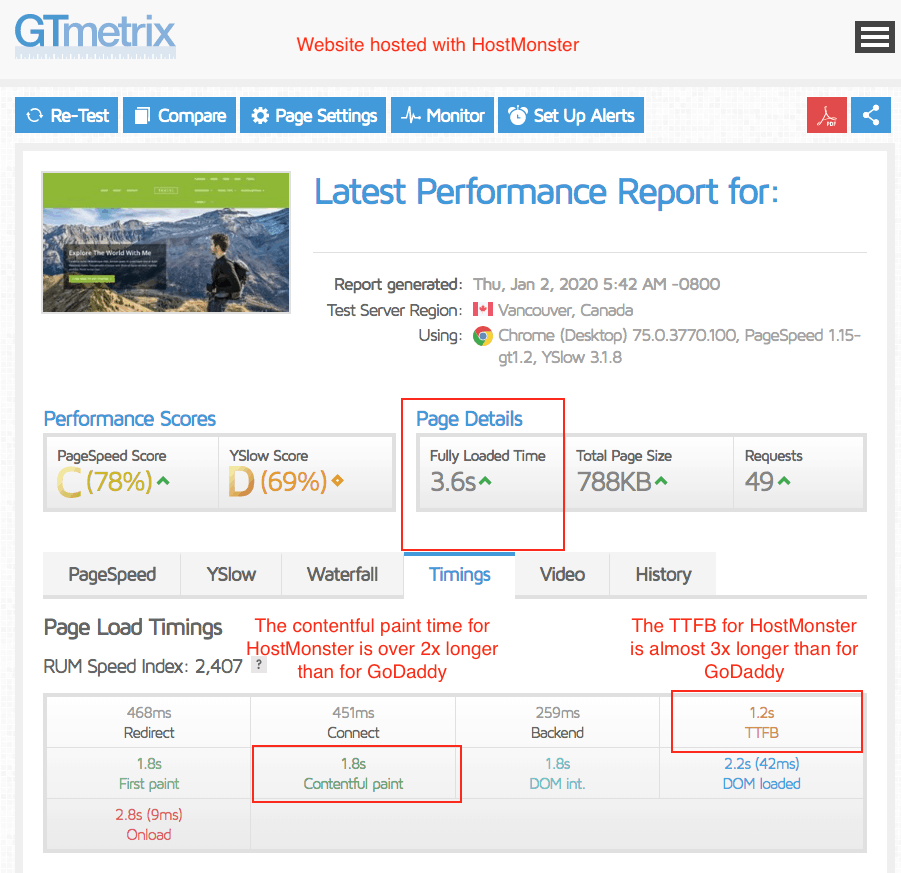 As you can see, HostMonster fails to meet the 3-second maximum that Google recommends, while GoDaddy manages to fully load the webpage in 2.2 seconds.
GoDaddy's TTFB (time to first byte) is also much better due to a faster server response time. Performance is more than just about speed, though. Reliability is also important – you can have the fastest-loading website around but still lose traffic if your website host frequently has server outages.
GoDaddy has a 99.9% uptime guarantee that will give you account credits if it has more than 44 minutes of downtime in a monthly period.
HostMonster, unfortunately, doesn't have an uptime guarantee
– and its hosting agreement acknowledges that some server outages can take "several hours [or] as much as a day to get your server back up and running." You won't get any account credits if HostMonster's servers go down.
Plans and Pricing
HostMonster Looks Cheaper, but Is It Really?
Both HostMonster and GoDaddy have a variety of hosting plans to choose from, and although the prices are similar,
GoDaddy looks to be slightly more expensive on the surface.
There are plans for shared hosting, VPS hosting, and dedicated servers, with plans to meet almost every need. GoDaddy offers managed and self-managed VPS hosting, as well as self-managed, managed, and fully managed dedicated server hosting plans.
If you opt for self-managed VPS from GoDaddy, you'll pay half as much as you'd be paying HostMonster for a very similar hosting plan.
HostMonster doesn't offer managed VPS hosting at all, and only offers self-managed plans for dedicated servers. With GoDaddy and HostMonster VPS and dedicated server plans, you can pay monthly, every three months or every six months (in addition to the usual 12, 24, or 36 month plans) – but the shorter your plan length, the higher your monthly equivalent price.
GoDaddy also offers managed WordPress hosting (which includes automatic updates and servers configured for WordPress), but HostMonster doesn't.
If you're considering GoDaddy but you're not sure which plan is right for you, take a look at our
expert GoDaddy review
. Web hosting pricing can be more complicated than it looks, especially with shared hosting plans. Those prices emblazoned on the sales pages aren't necessarily what you'll end up paying: Many web hosts like to lure you in by advertising super-low prices – then hit you with conditions and automatically selected "extras" when you reach the checkout. Both GoDaddy and HostMonster are guilty of this tactic. I've put the details in a table to make it easier to see exactly what happens when you reach checkout.
| | | |
| --- | --- | --- |
| Tactic | HostMonster | GoDaddy |
| Plan-Length Pricing | To get the advertised price, you have to purchase three years of hosting upfront. Choose a shorter plan, and the monthly equivalent price will increase by up to 40%. | To get the price on the sales page, you have to purchase three years upfront – but if you choose a one- or two-year plan instead, the monthly equivalent increases by up to 17.5%. |
| High Renewal Prices | At the end of your initial term, the renewal price increases significantly – you will pay double the amount on renewal if you choose the three-year plan. | At the end of your promotional plan, the renewal cost increases, up to 33% (for the three-year plan). |
| Automatically Added "Extras" | When you get to checkout, additional features (Domain Privacy + Protection, CodeGuard Basic, Site Backup Pro, and SiteLock Security) are automatically selected. You have to deselect these items if you don't want your price to more than double. | During checkout, you'll be presented with a range of additional features, but only one of these – Website Backup – is pre-selected. Although this adds an extra cost to your hosting, it's much less than the pre-selected extras in the HostMonster checkout. |
Features
Standard Features from Both GoDaddy and HostMonster Fail to Impress
I'm not going to spend much time on the features that GoDaddy and HostMonster offer, mainly because they're so similar and neither has any features that really stand out.
The major difference between the two is that HostMonster provides free Let's Encrypt SSL certificates for every domain you have on your account,
while GoDaddy doesn't support the auto-configuration of Let's Encrypt.
GoDaddy only offers free SSL certificates on the Ultimate (first year only) and Maximum plans for shared hosting.
You do get free SSLs from GoDaddy on dedicated and VPS hosting plans, however. You
can
use free Let's Encrypt SSL certificates with GoDaddy, but you have to issue a new certificate manually every 90 days and update it in your control panel. If you forget to do this every 90 days, your website will show security warnings in your visitors' browser. So you can see what GoDaddy and HostMonster have to offer, I've put the details in an at-a-glance table.
| | | |
| --- | --- | --- |
| Shared Hosting | HostMonster | GoDaddy |
| Storage Space | 50 GB to unlimited (depending on the plan) | 100 GB to unlimited (depending on the plan) |
| Bandwidth | Unmetered (but subject to fair usage policy) | Unmetered (but subject to fair usage policy) |
| Free Domain Name | Yes, for the first year on annual plans | Yes, for the first year on annual plans |
| Free SSL | Free Let's Encrypt SSL certificate on all plans | Free GoDaddy SSL certificate on selected plans |
| Backups | Provided only with the highest-priced plans via CodeGuard | Not included – available for an additional monthly fee |
| One-Click App Installation | 100+ applications | 125+ applications |
| cPanel | Yes | Yes |
| Email Accounts | Five on Basic, unlimited on all other plans | One free Office365 email address for the first year |
| Free Website Builder | Yes | Separate website builder hosting packages |
| SSH Access | No | Yes |
| PHP 7 | PHP 5 by default, but PHP 7 is supported on some servers | Yes, but must be requested |
| VPS Hosting Features | Free domain name Instant provisioning Guaranteed server resources Enhanced cPanel Root access Cloud technology Up to 3 TB data transfer per month Up to 8 GB RAM Up to 120 GB storage | No free domain name Expert instant provisioning Guaranteed server resources cPanel/WHM Root access No cloud technology Unmetered data transfer (subject to fair usage) Up to 8 GB RAM Up to 400 GB storage |
Security
Protecting Your Website from Malicious Traffic Comes at a Cost
It's more common than ever for web hosts to see essential security features as a means of getting more money from you without actually increasing the advertised pricing.
Features like malware scanning, firewalls, and protection against malicious traffic are bundled into "extras" (which I mentioned in the plans and pricing section).
Both HostMonster and GoDaddy charge extra for protection,
and it's something that really annoys me about budget shared hosting plans. Protecting your website against malicious traffic shouldn't be an optional add-on! I've been a victim of hacking, and my websites have been infected with malware in the past due to not paying for the add-on security features. The hosting company charged me more than double the cost of my hosting plan just to have the malware cleared after they suspended my website because of it. Even if you don't pay for the add-on security bundles, hosting companies still manage to get more money out of you!
HostMonster offers SiteLock Security – Essential (for malware protection and firewall features) and CodeGuard Basic (for backups) as extras
– although CodeGuard Basic is included in the Choice Plus plan and above. Both of these features are pre-selected in the checkout, but they are considered optional. To learn more about these features, read our
full HostMonster review
.
GoDaddy offers Website Backup with basic security (pre-selected in the checkout process) and Essential Website Security.
The Website Backup add-on includes malware scanning and security monitoring, while the Essential Website Security add-on provides daily malware scans and guaranteed automatic malware removal.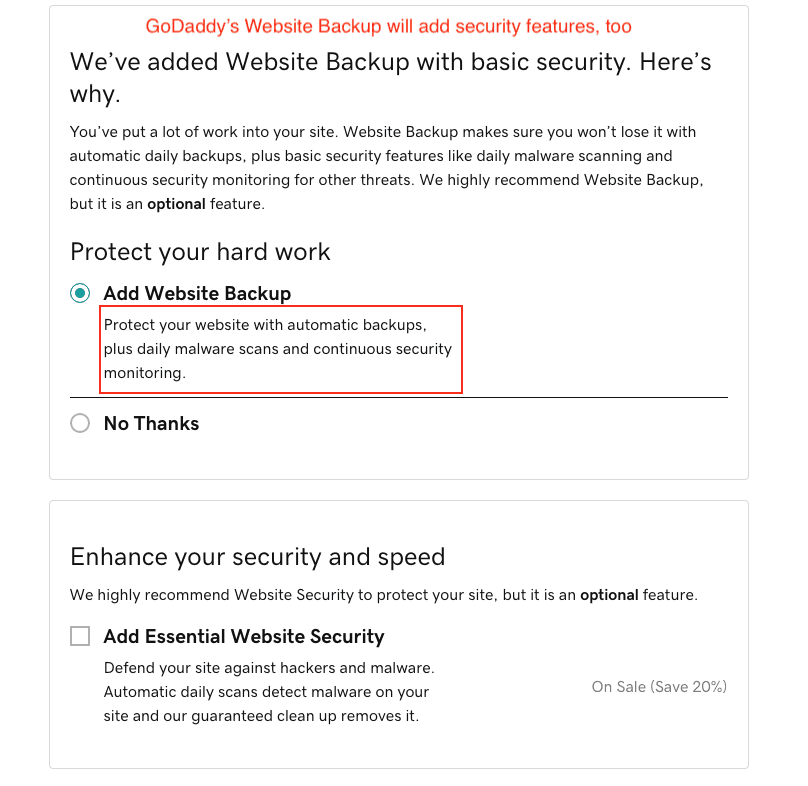 Support
HostMonster's Support Failed to Answer My Questions – GoDaddy's Support Is Better
Customer support is something we all hope we'll never need to use, but inevitably, something will go wrong at some point. I've tried out the customer support for a
lot
of hosts and I've learned that 24/7 availability is less important than having support agents who can actually help resolve problems.
For example, HostMonster's live chat and phone support are available 24/7 worldwide for technical support, but GoDaddy's live chat and phone support is only 24/7 in certain countries.
There's a whole directory of global support numbers with available times on GoDaddy's website. For availability, then, HostMonster is superior.
But when it came to actually getting support, HostMonster really let me down.
I was connected quickly to a support agent, but it was five minutes before I got a response to my question. Then, the support agent copied-and-pasted an answer from the help center (which didn't actually answer the question). When I asked for more information, they simply didn't answer. The chat was closed "due to inactivity" before I could even get a screenshot! By contrast, GoDaddy's support agent was helpful in explaining the security features and quickly gave me the answers I needed. In the past, GoDaddy's support was slow, but it's definitely improved.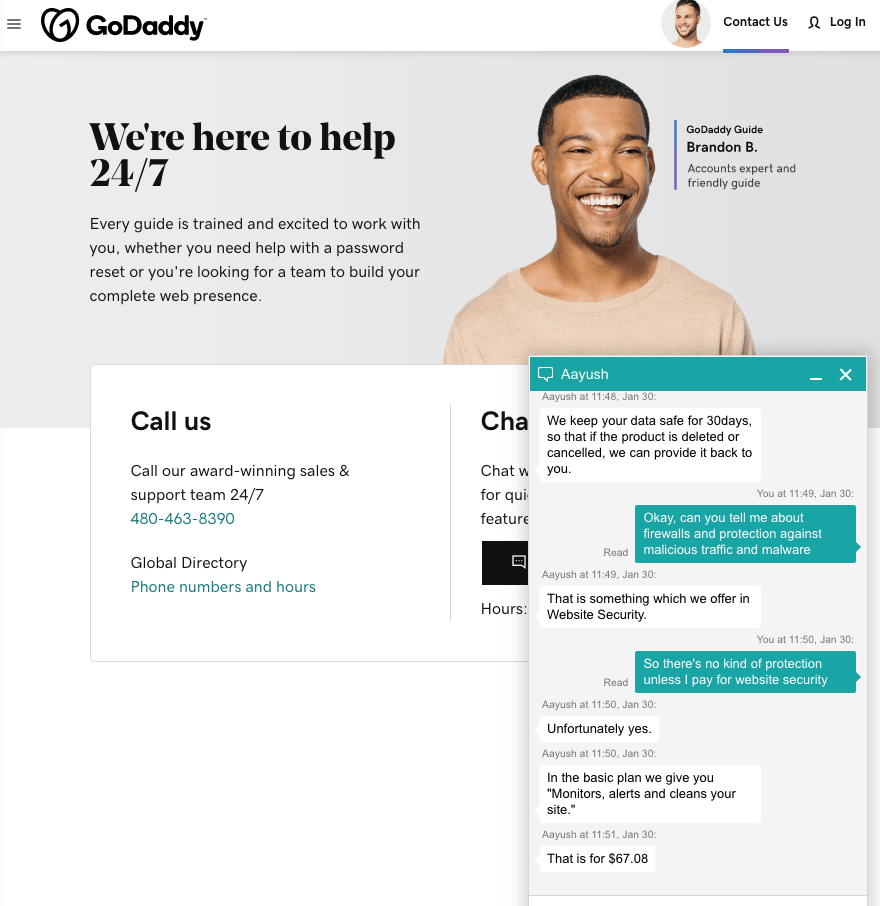 GoDaddy and HostMonster May Look Similar, but GoDaddy Wins
GoDaddy is the clear winner in this comparison
. It performs better, offers cheaper security features, and support tends to be more helpful. That said, GoDaddy's lack of an easy free SSL certificate is a big downside – this is included with virtually every other top web host.
While GoDaddy won this comparison, there are far better options available. Hostinger is less expensive with better performance
, and plans include an extensive security suite, with SSL. Backups won't cost you any extra either. 
Before making a final decision, I recommend taking a look at
our list of the top web hosting services
.
| | | |
| --- | --- | --- |
| | HostMonster | GoDaddy |
| Performance | Fails to meet Google's recommended maximum of three seconds for web page loading speed | Page loading speeds are better than HostMonster's, but no speed-boosting features |
| Price | While the introductory rates are fairly low, you can expect to pay up to twice as much when it's time to renew – and the extras pre-selected in checkout can more than double the cost of hosting | Inflates prices on renewal, but not as much as HostMonster, and pre-selected extras won't add as much cost to your hosting plan |
| Features | Most of the standard features are included for shared hosting – but you also get free SSL certificates on all plans | Plans include most of the standard features you'd expect with shared hosting, but you don't get a free SSL on lower-priced plans |
| Security | Website security is an optional extra – but will cost more than GoDaddy's similar extras | Website security is an add-on – but you can get backups and basic security for a low monthly price |
| Support | Support is available 24/7, but the quality of support is pretty terrible, and my questions were never answered | Support has improved, with shorter waiting times and a better quality of support, but it's not 24/7 worldwide |
| | | |
FAQ
Is GoDaddy the best host?
I wouldn't say so. GoDaddy has issues: performance is poorer than much of the competition, basic security is only available as a premium add-on, and support is not always responsive. Many of the hosts on
our list of the best web hosting services
offer much better value for money.
Is HostMonster a good host for WordPress?
HostMonster does offer one-click WordPress installation, but it isn't the best choice for your WordPress site. While many other hosts offer specialized WordPress hosting and even managed WordPress hosting (click here for a list of the best managed WordPress hosting providers), HostMonster does not have these options. This means you'd be missing out on a lot of cool features that can make your WordPress site load faster and perform better.
How much does GoDaddy cost?
While GoDaddy can be budget-friendly, the price rises significantly upon renewal.
Hostinger is significantly cheaper
in both the short and long term, while offering stronger performance. And you may be able to save even more money with the latest deals on
our coupon page
.
Does HostMonster offer good performance?
HostMonster scored 4.3 on our performance tests, which isn't a great result. If fast speeds and reliable uptime are important to you, you'd probably be better off with a different host, like Hostinger. HostMonster also offers no uptime guarantee, which is never a good sign with a web hosting provider.