Hostinger and InterServer offer a great set of features with prices so low it can leave you wondering what the catch is. I took the time to investigate each host thoroughly, looking at features, performance, security, support, and more. It was a tough decision, but I found that
Hostinger offers the best value for your money overall.
InterServer certainly has its strengths, such as better security features and some extra freebies, but Hostinger is able to beat InterServer's low price point and provide fantastic performance worldwide.
Click here to see Hostinger's latest deals
or keep reading to see how Hostinger won this comparison.
1. Plans and Pricing
Hostinger Offers the Best Value for Your Money
Hostinger and InterServer are very affordable.
Hostinger's pricing is one of the cheapest I've seen,
costing less than InterServer's already reasonable price. Hostinger has three different tiers of shared hosting, cloud hosting as well as VPS hosting. InterServer has a single
Standard shared hosting plan that features unlimited features
, along with Windows asp.net hosting, reseller hosting, cloud hosting and VPS hosting.
A free domain name is included with some hosting plans from Hostinger
Hostinger's basic shared hosting plan offers
a
 free SSL certificate
, one email account, 100GB bandwidth, and 30GB SSD storage, and a
 30-day money back guarantee.
InterServer's Standard plan includes a
 free SSL certificate, free Cloudflare CDN
 (content delivery network), unlimited resources, and a
30-day money back guarantee
. But which host offers the best value? I'd say that Hostinger is the most impressive of the two,
offering an incredibly low price for a generous basic shared hosting plan.
2. Features
InterServer Offers Unlimited Resources at No Extra Cost 
InterServer offers unlimited features with its Standard shared hosting plan, while Hostinger requires moving up to its premium plan to remove limits.
Both hosts also feature LiteSpeed server technology,
which is significantly faster than the older Apache tech. This helps both hosts deliver fast speeds, with Hostinger in particular, offering excellent performance.
Hostinger
InterServer
Hosting Types
Shared, VPS (Linux & Windows), Minecraft server hosting, cloud hosting, WordPress hosting, email hosting, CMS hosting, E-commerce hosting
Shared, Windows asp.net hosting, reseller hosting, cloud hosting, VPS (Linux & Windows), WordPress VPS hosting
Free Domain

✔

(Depending on the plan)

✘

Free SSL Certificate

✔

✔

Disk Space
30GB SSD-300 GB SSD
Unlimited SSD
Bandwidth
100GB-unlimited
Unlimited
Automatic Backups
Only in the premium plan and up
Weekly
Control Panel
hPanel
cPanel
Email Accounts
1-unlimited
Unlimited
Free CDN

✔

(Depending on the plan)

✔

Free Site Migration

✔

✔

Money-Back Guarantee
30 days
30 days
InterServer's Standard plan offers the best starting point –
unlimited features with a guarantee against future price hikes.
3. Performance
Hostinger Delivers Faster Loading Speeds Worldwide  
I used GTMetrix and Sucuri to test the loading speeds. I quickly found that Hostinger's
 speed is one of the fastest I've ever recorded
from a shared hosting provider.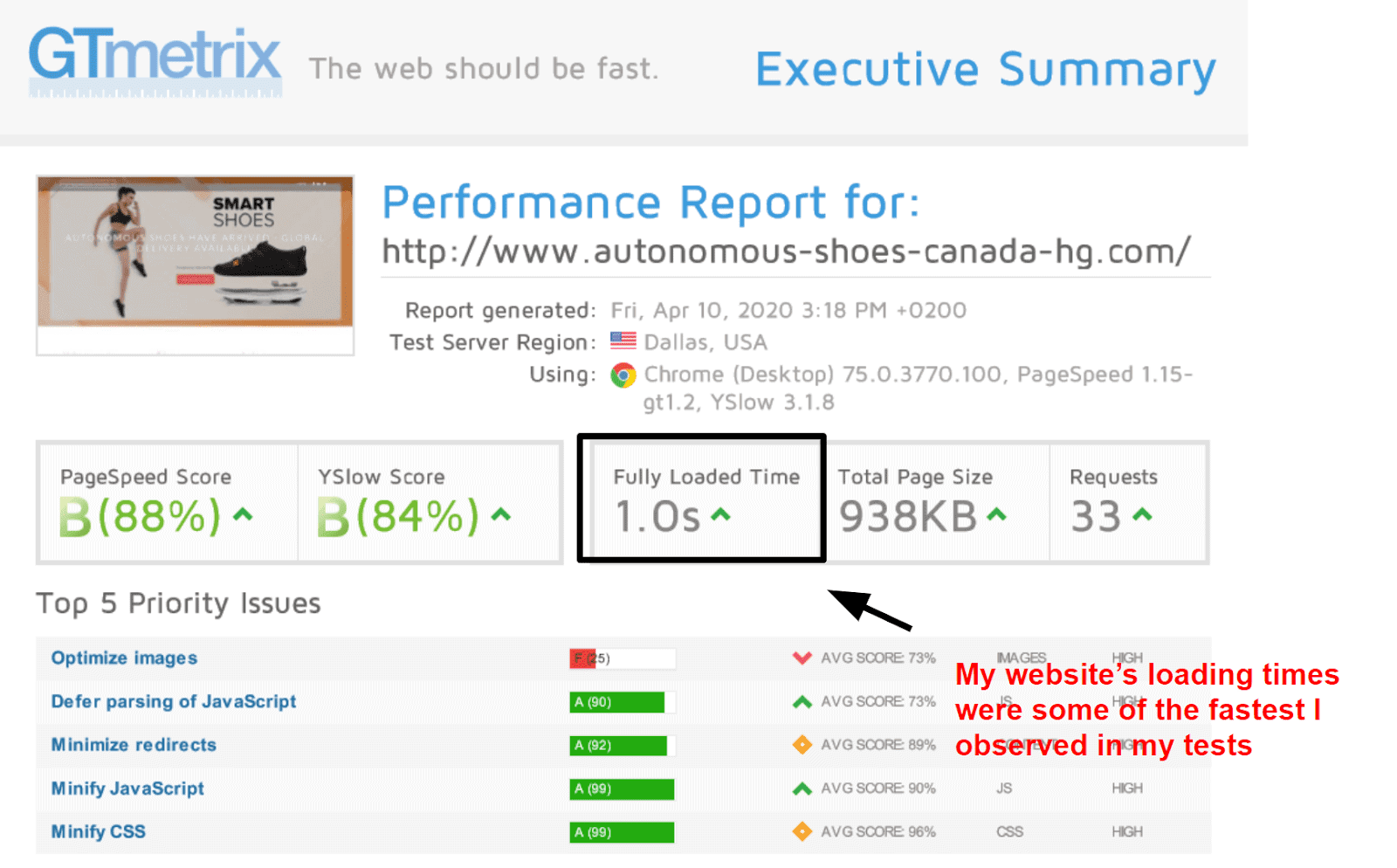 Hostinger managed to reach an impressive average
loading time of 1.56 seconds
, while InterServer set a
respectable time of 1.94s
. For more information,
see our in-depth Hostinger review
.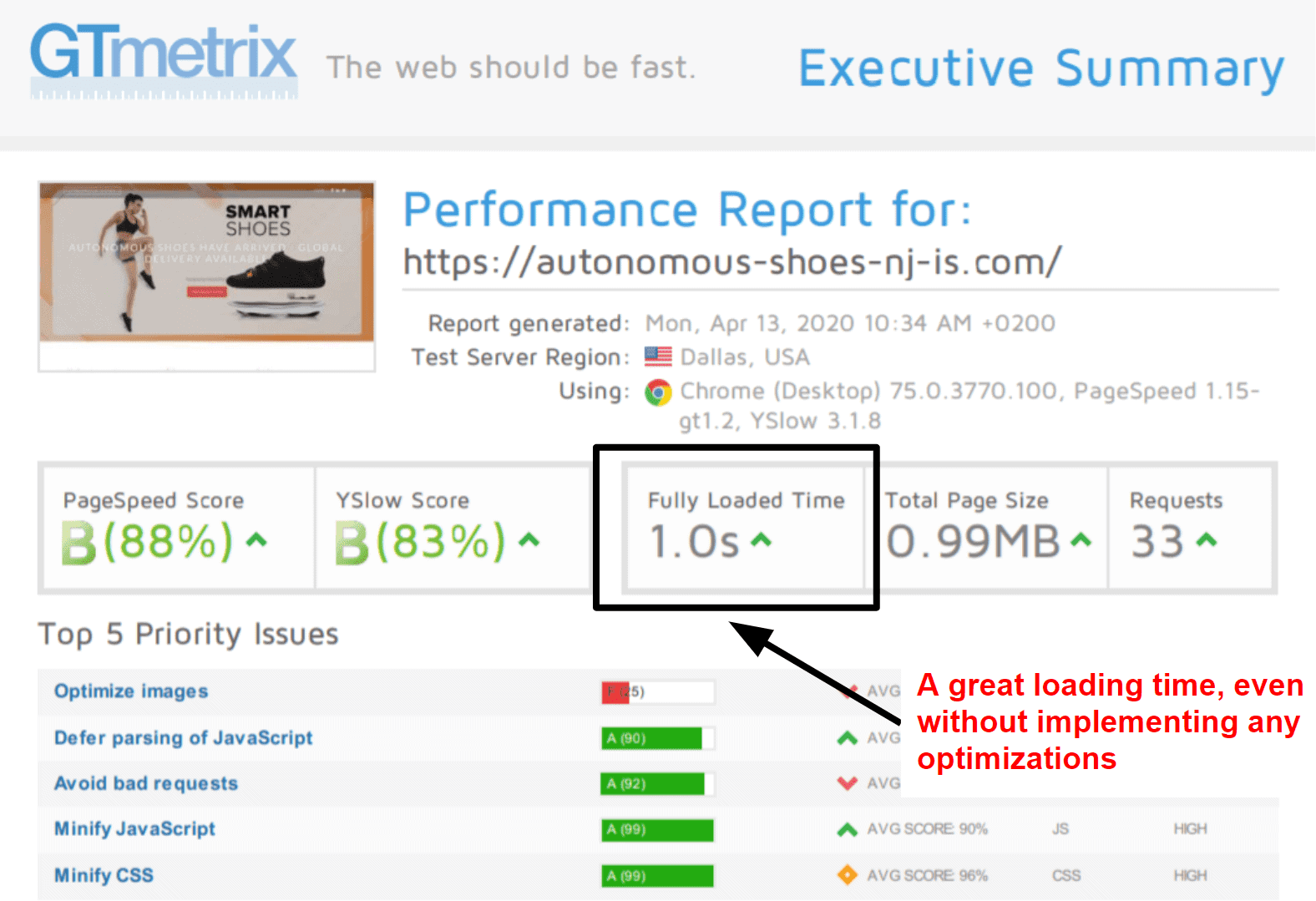 The Sucuri tests made it clear that
Hostinger dominates when it comes to
 speed outside of the US,
setting great speeds across the globe.
InterServer sadly
 struggled outside of the US and Western Europe.
To learn more, read
our full review on InterServer
.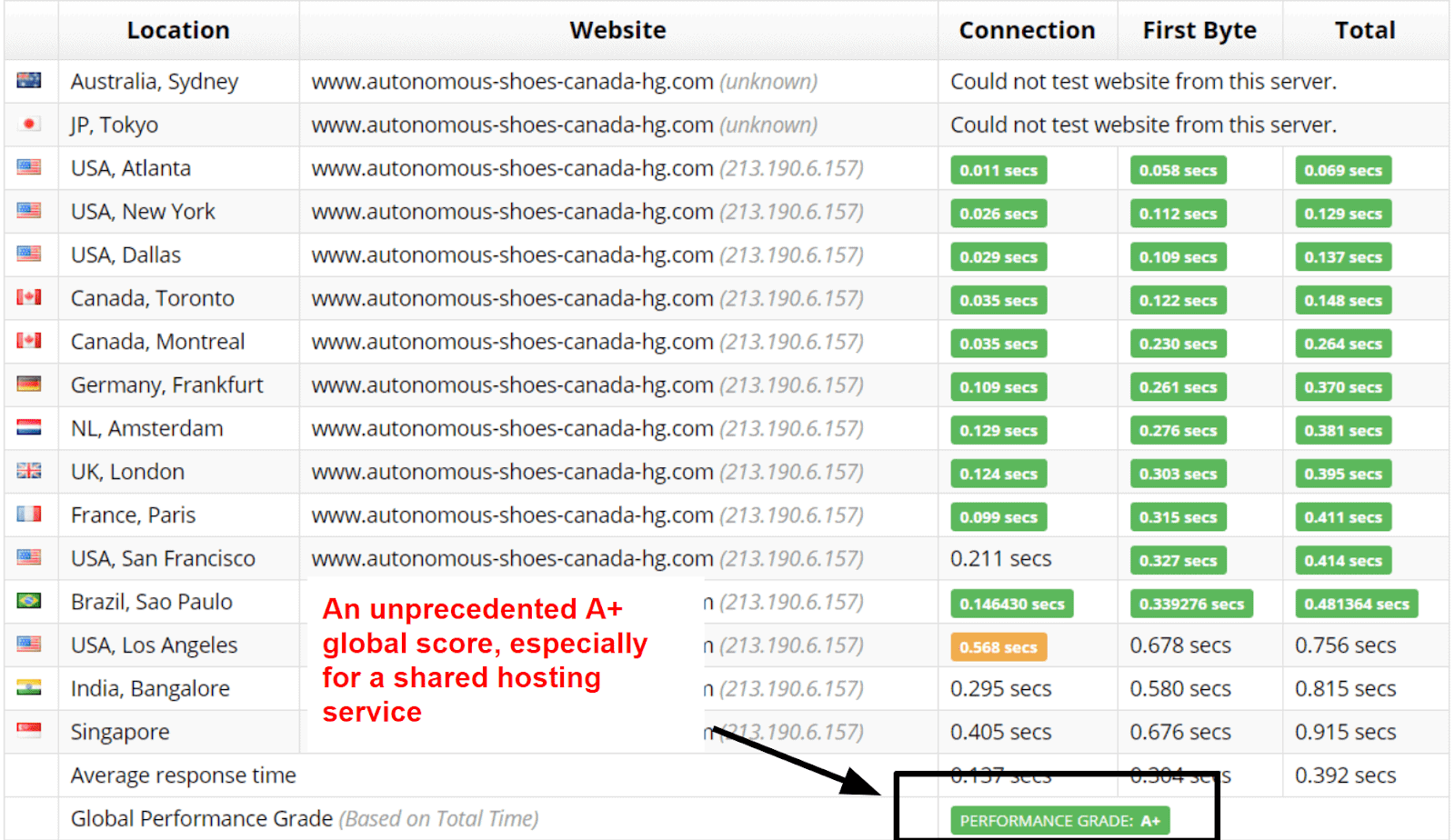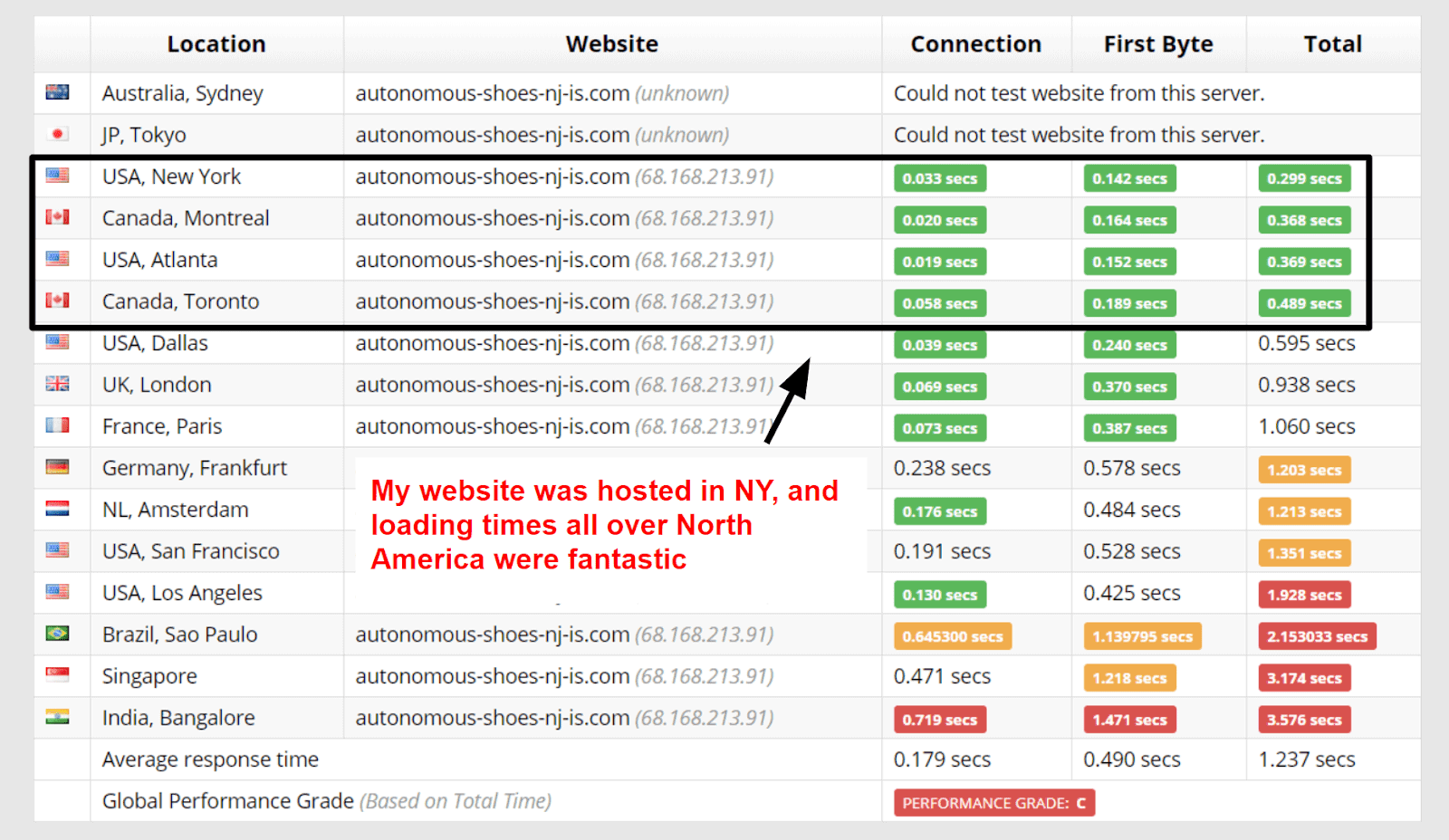 I also tested uptime.
Both hosts achieved 99.9% uptime
 across several months of testing.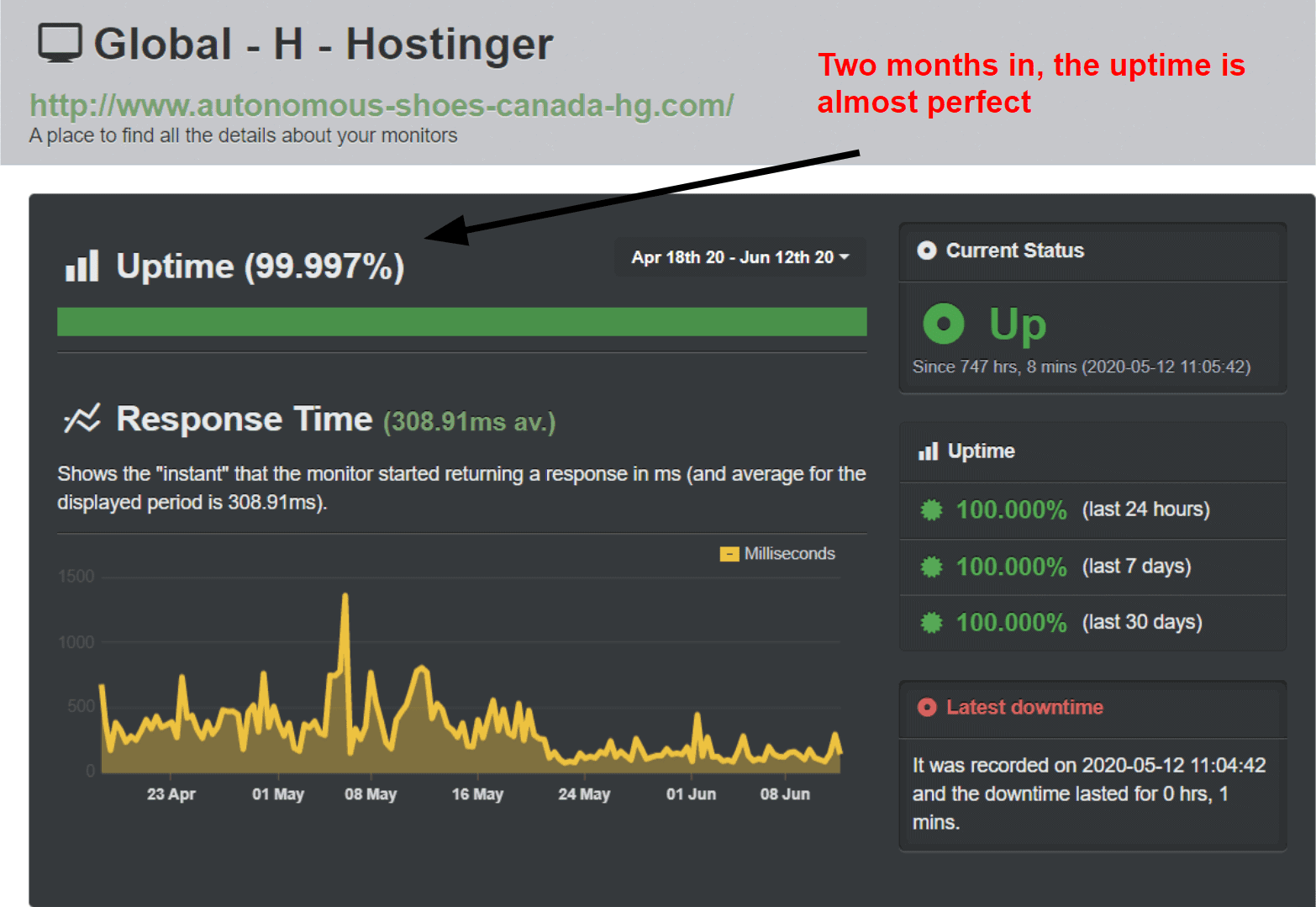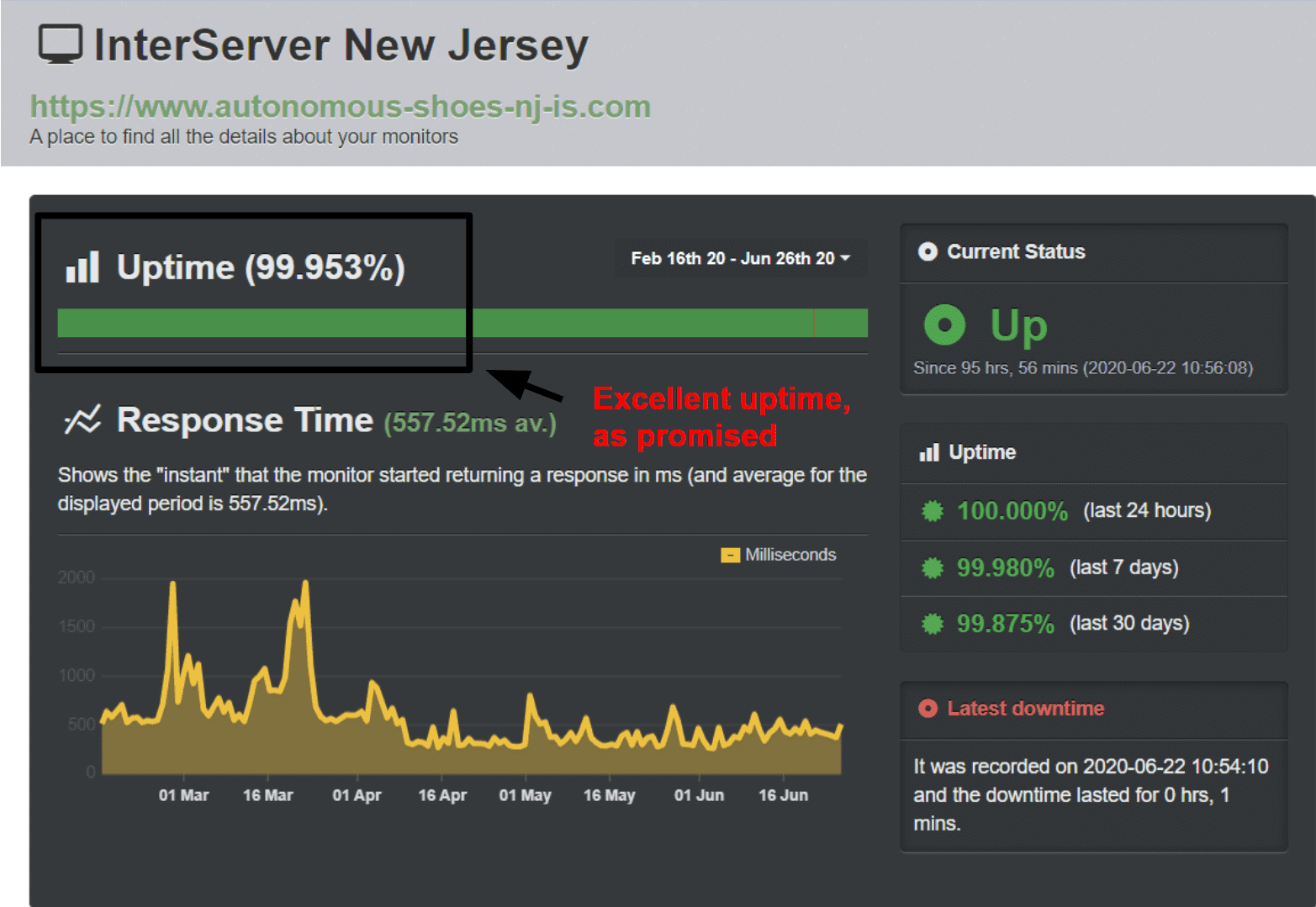 Hostinger is the fastest of the two,
especially outside of the US and Europe.
4. Security
InterServer's Multiple Layers of Security Beats Hostinger
Hostinger includes a
 free SSL certificate
and uses BitNinja or Imunify360 firewalls on every server. It also features DDoS and malware protection, along with custom web server rules. Its servers also run on CloudLinux OS, meaning that
each account is isolated from the other accounts
on the same server. This protects you from any external threats that may be targeting a different account. InterServer offers a
free SSL certificate, alongside InterShield security
, which includes automatic virus scanning, a machine learning firewall, and an in-house malware database. Customers also have access to ModSecurity for another layer of firewall, and Imunify360 for increased scanning capability. Hostinger has a good suite of free security features, but
InterServer provides
much more protection than Hostinger,
 at no extra cost.
5. Support
Hostinger Provides Expert Help, InterServer Outsources Your Questions to Amateurs
Both of these hosts provide
24/7 support in the form of live chat, email, and ticket support
. I tested each host's quality of support, beginning with Hostinger. There were times where Hostinger's
 live-chat wasn't available,
redirecting me to send a ticket instead. Even when it is available, you should expect a long wait time. I experienced a 40-minute delay just to get a reply.
However, the agent did provide quality help, answering my questions and linking me to their fantastic knowledge base.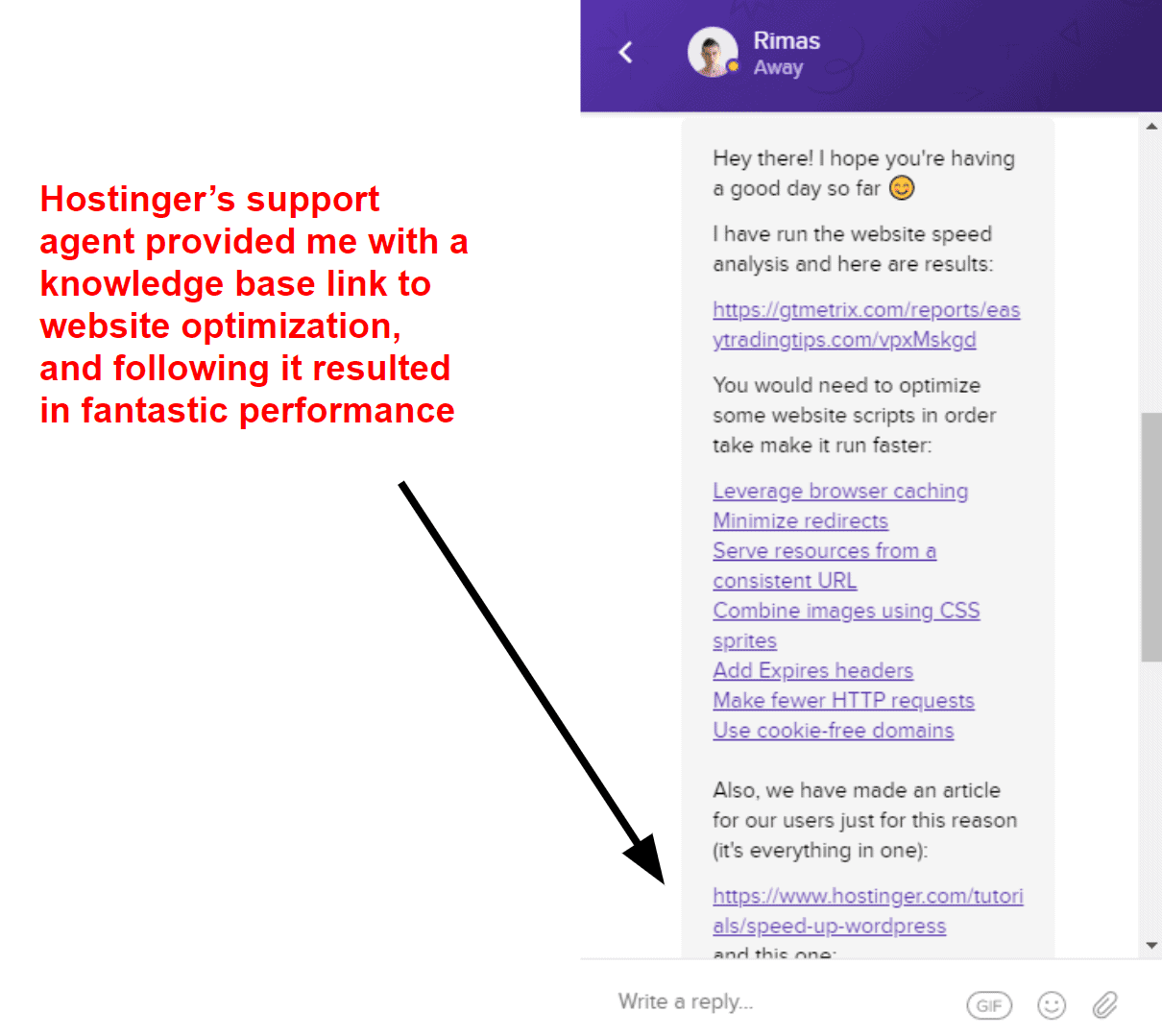 InterServer's live-chat can also be
 unavailable without warning.
Unlike Hostinger, the agents aren't worth the wait. They spoke in
poor English and provided little to no help
.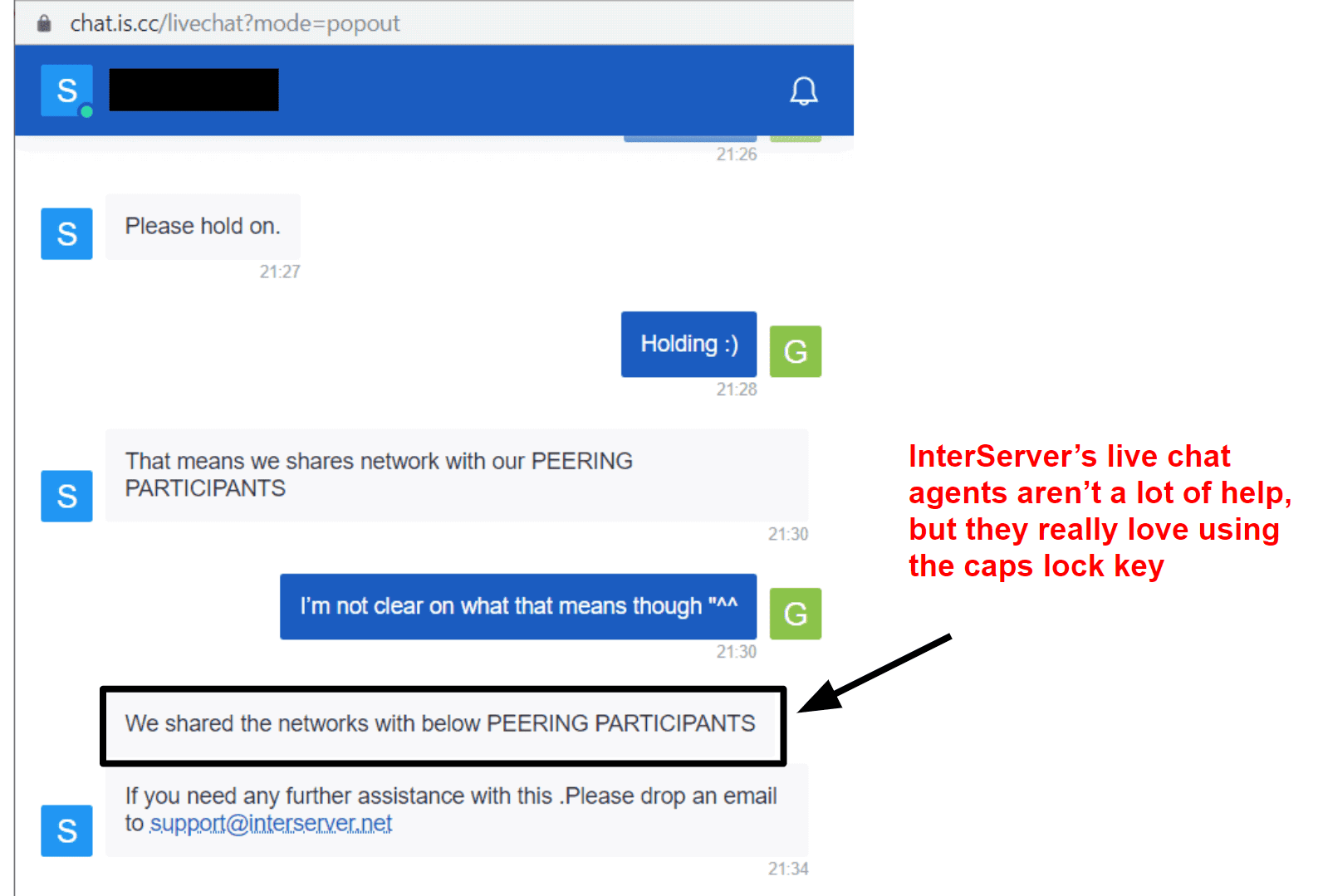 InterServer also has a
knowledge base, but it's completely disorganized and unhelpful.
 The slower method of email and ticket support did eventually lead to professional help, however.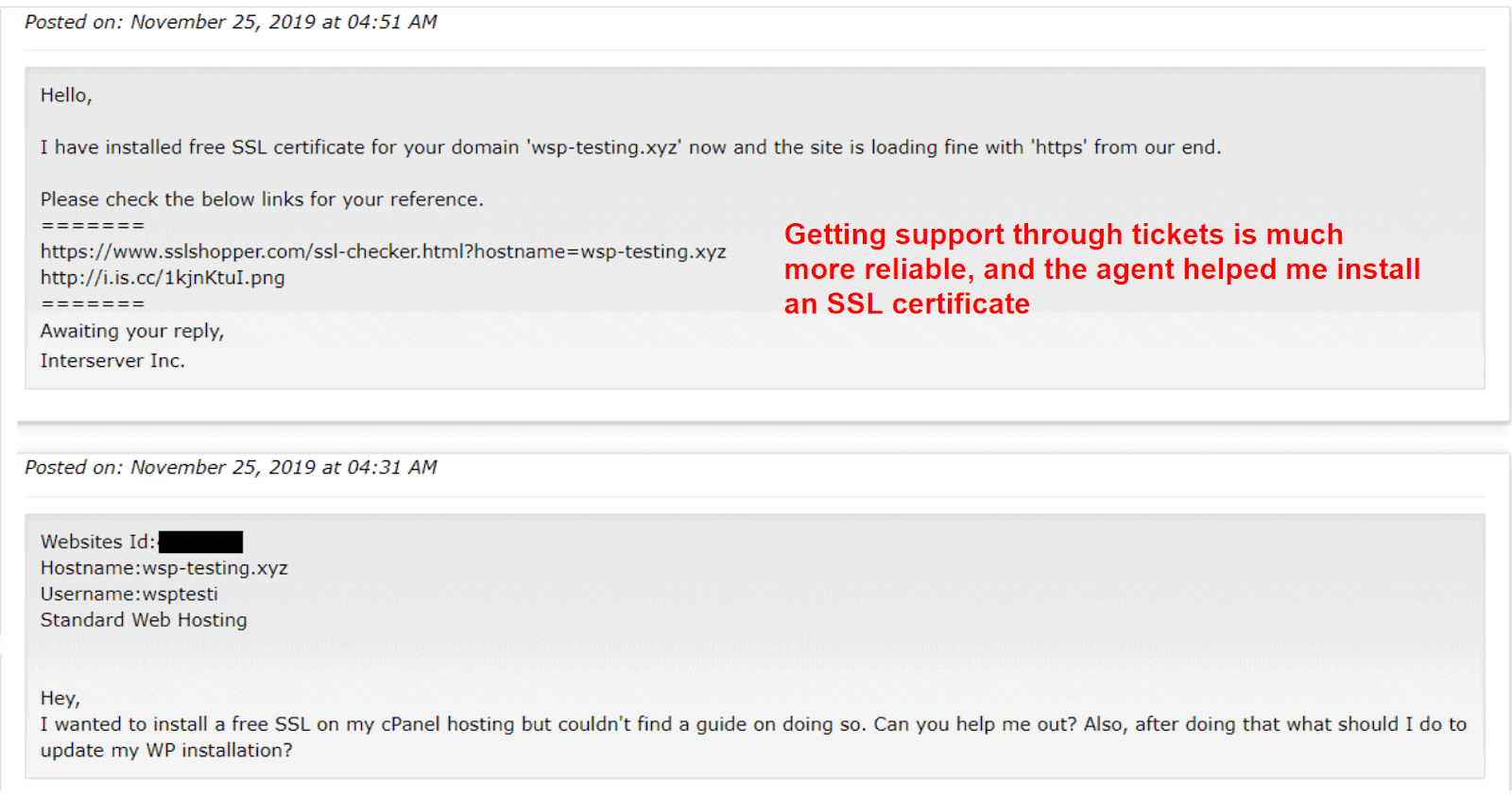 Hostinger is slow, but it still offers significantly better support than InterServer.
Hostinger Wins by a Slim Margin
While this was a very close match, I have to say that
 Hostinger is the ultimate winner. Hostinger's shared hosting plan
 offers incredible value for money, and even if you upgrade to Hostinger's premium plan, it'll still be cheaper than InterServer overall. While Interserver comes at a slightly higher cost, it offers unlimited features without any additional fees, along with free, top-of-the-line security features. However, Hostinger's fantastic performance surpasses that of InterServer. It achieves a remarkable global average loading speed of 0.499s, outperforming numerous reputable hosts, including InterServer. Hostinger not only won this comparison, but it also holds the #1 spot on our
list of the best web hosting services!
Plans and Pricing
Incredibly cheap basic plan, and premium plan is still extremely affordable and offers a free domain name
Slightly more expensive, but offers unlimited storage, bandwidth, and websites
Key Features
Free domain with some plans, free site migration, free SSL (with annual plans), unlimited resources within the premium plan and up
Unlimited resources along with a free CDN, free SSL, weekly automatic backups, but no free domain
Performance
Fastest average loading speed of 1.56s worldwide, free Cloudflare CDN, SSD storage with all plans
Respectable 1.94s average loading speed, great speed in the US and Western Europe but slow elsewhere, free CDN, unlimited SSD storage with all plans
Security
Good offering of free security solutions with BitNinja or Imunify360, including intelligent firewall rules on switch level, malware protection, Wanguard anti-DDoS traffic analyzer, CloudLinux OS, custom web server rules, daily and weekly backups
Fantastic security services for free with InterShield, including automatic virus scanning, machine learning firewall, a malware database,  ModSecurity, Imunify360, weekly automatic backups
Support
Live-chat isn't always available and replies can be slow, agents provide useful help, fantastic knowledge base
Live-chat puts you in touch with amateurs, email and tickets are the only way to get good help, poor knowledge base
FAQ
Does Hostinger have cPanel?
Hostinger includes its own proprietary control panel called hPanel. While you can swap this out for cPanel if you wish, hPanel is a perfectly functional control panel. You can check out other high-quality control panel solutions in our list of the best cPanel alternatives!
Does InterServer use SSD?
InterServer uses SSD within all of its plans, including shared hosting as well as VPS hosting. You can get unlimited storage with its Standard shared hosting plan, but not with its VPS plans, though your allocated SSD storage can be scaled to fit your needs. Feel free to take a look at our article detailing the five best SSD Hosting services!
Is Hostinger good for cloud hosting?
Hostinger provides cloud hosting with (almost) unlimited features; the only limit you will run into is storage space, with a max of 200GB SSD space available. However, you may find that a VPS could better suit your needs – read our Cloud vs VPS Hosting comparison to find out which would be best for you.
Which host is better, Hostinger or InterServer?
I'd say that Hostinger is the better option due to its excellent performance worldwide and super-cheap plans. However, InterServer may be a better choice if you're looking for tighter security and unlimited resources. I'd recommend checking out our InterServer review
and our Hostinger review
 to learn more about what each host has to offer. You should also check our list of
the best web hosting services of 2023
before you make any decisions.