Good, fast, cheap. In the business world, they say you can only pick two. And in this battle of Hostinger vs 1&1 IONOS, only one of these website hosts lets you pick two. The other lets you have all three. Yes, really! Hostinger tops our list of the
best web hosting services
, thanks to its low cost, excellent performance, and included security features. So of course
Hostinger is my choice in this fight between two bargain website hosts
. Read on to see why 1&1 IONOS just can't keep up. In this expert review, I've put 1&1 IONOS vs Hostinger in five head-to-head rounds, looking at:
Performance and Reliability
1&1 IONOS' Downtime Is Double Hostinger's
Hostinger uses SSD drives on its servers
– which instantly boost speeds. It also has a cache manager that improves page loading speeds when handling static content and full support for a Cloudflare CDN (content delivery network). A CDN improves page loading speeds by storing a copy of your website on servers around the world. So when someone visits your website, your website pages are loaded using the server that is closest to them.
1&1 IONOS also uses SDD drives, but there's no built-in cache manager
, and a CDN is only available on the (most expensive) Expert plan. 1&1 IONOS has different performance levels that affect the speed of your website depending on your hosting plan – but that's not even an option with 1&1 IONOS' basic plan. The Business plan starts at performance level 1, for up to 2.5 GB RAM, while the Expert plan's performance level 3 gives you up to 9 GB RAM. You are able to upgrade to level 5 at any time, for an additional cost, which gives you up to 19 GB RAM. Hostinger also has different levels of processing power – but these are 1x, 2x, and 4x, depending on the plan. However, Hostinger's RAM allocations are much smaller than 1&1 IONOS'. The basic level (1) offers 256MB RAM, with 2x equating to 512MB and so on. Then there's the server response time. In tests,
Hostinger's server response time is almost twice as fast as 1&1 IONOS
, as the graphs below demonstrate.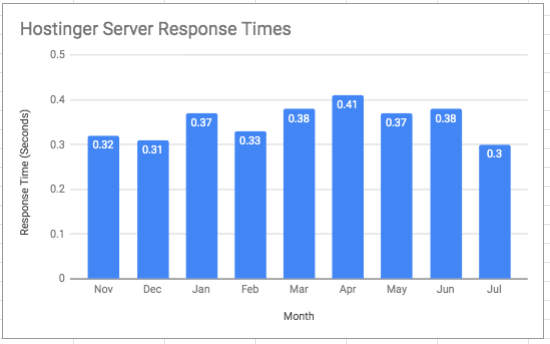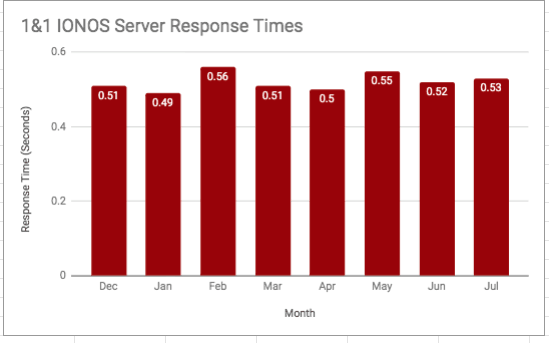 Over eight months, Hostinger's server response time averaged 359 ms, compared to 1&1 IONOS' server response time average of 525 ms.
Hostinger's servers are around 68% faster than 1&1 IONOS
. Another good way to measure a host's performance is its uptime.
Hostinger's uptime scores leave 1&1 IONOS behind.
Hostinger's average uptime was 99.95% during an eight-month span – well within its 99.9% uptime guarantee. 1&1 IONOS, however, had an average uptime for that period of 99.90%. While only a 0.05 percentage difference, over the course of a month, this equates to a big difference in downtime. For Hostinger, it's an average of 22 minutes, while 1&1 IONOS' servers are down for an average of 43 minutes.
When I tested both 1&1 IONOS and Hostinger, I noticed a distinct difference in page loading times.
While 1&1 IONOS doesn't allow you to choose your own data center, Hostinger does, meaning you can choose the data center closest to your target audience for improved speeds.
And the winner is:
Hostinger. Better server response times and a better uptime record make Hostinger the obvious choice if the performance of your website is important to you. 1&1 IONOS' performance isn't terrible, however, so if performance isn't a deal-breaker for you, it may still be the right web host for you.
Pricing
Hostinger's Prices Are Low – But 1&1 IONOS Doesn't Make You Pay for a Long Contract
Hostinger's prices for a single website are hard to beat
– but the advertised prices require you pay upfront for two years. While this is a common tactic among web hosting companies, 1&1 IONOS offers
contract-free hosting plans
 that run month to month with no massive up-front costs.
You can pay monthly with Hostinger, too, but it will cost you up to 8x more overall than paying upfront for two years.
Consider investing for longer and you'll get better value for money. Sure, 1&1 IONOS' offers you some great features like a free domain name for one year and a free wildcard SSL certificate, but that doesn't make it the outright winner.
Hostinger also offers value-added features that 1&1 IONOS doesn't provide.
For example, Hostinger includes its own free website builder with its web hosting, whereas you'll have to pay extra for one with 1&1 IONOS. Both Hostinger and 1&1 IONOS have a 30-day money-back guarantee. However, 1&1 IONOS' cancellation process is not easy. To cancel with 1&1 IONOS, you must submit a written cancellation request at least three working days before your renewal date. Your cancellation will not go into effect until it has been confirmed in writing. In some cases, users have waited months for cancellation requests to be confirmed.
And the winner is:
1&1 IONOS. With the inclusion of a free domain name, wildcard SSL, and contract-free pricing, 1&1 IONOS has a slight edge over Hostinger in this round. However, if you already have your own domain name – or you want to use a website builder with your web hosting – then Hostinger is still a good choice.
Security
Hostinger Gives You Added Security – 1&1 IONOS Charges for It
Having protection against malware, hacking attempts, and other kinds of vulnerabilities is a must when you have a website.
Hostinger's shared hosting packages use BitNinja security,
 which gives your website protection against DDoS (distributed denial of service) attacks and also protects you from:
Malware
Hacking attempts
Botnets
Brute force attacks
Script injection
Hostinger is also equipped with support for the latest PHP versions and allows you to change your PHP version easily. You can see the PHP configuration options on the 'Advanced' tab (below). New accounts are automatically set up on PHP 7.2 but also support PHP 7.3 for better levels of security.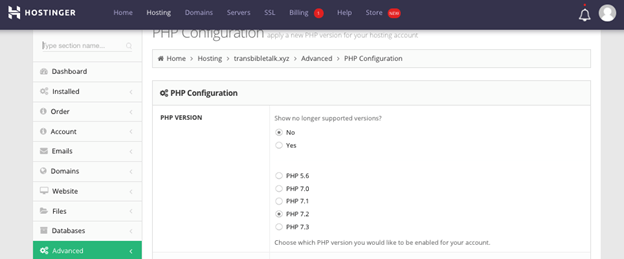 With 1&1 IONOS, security features are provided by SiteLock
– but you only get malware protection on the Expert plan and above. The lack of built-in security means that to fully protect your web hosting space, you need to purchase an add-on like SiteLock Premium – which you can try free for 30 days but will then incur an additional monthly fee.
1&1 IONOS offers server-level DDoS protection and also supports PHP 7.2 and 7.3.
However, if you want to change your PHP version, you will have to contact customer support, as 1&1 IONOS only allows you to change the PHP version yourself on domain names that aren't connected to a website.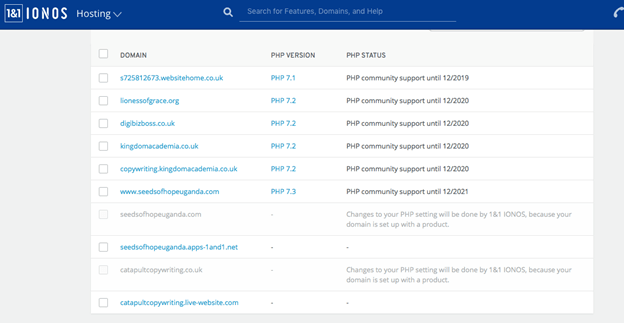 And the winner is:
Hostinger, which automatically enables BitNinja security on all plans, doesn't require you to pay extra for the safety and security of your website. It also provides you with complete control over your website's PHP version.
Features
Hostinger Offers More Tools to Simplify Website Hosting
Below, I've set up a table that directly compares Hostinger vs 1&1 IONOS on the most common web hosting features.
Feature
Hostinger
1&1 IONOS
Bandwidth
100 GB on Single website plan, unlimited on all other plans
Unlimited on all plans
Data Storage
20 GB SSD to 300 GB SSD, depending on your plan
10 GB to 500 GB, depending on your plan
Domains
Free for one year on Premium plan and above
Free for one year on all plans
cPanel
Yes – Hostinger uses cPanel, with a custom theme to make navigation simple
A custom control panel that's complex and difficult to navigate
Migrations
Free – the customer support team will help you migrate your website from another host
Not included
Backups
Weekly on all plans except Expert, which offers daily backups
Daily, but these are only available for a maximum of six days
Other Included Features
Unlimited email addresses on Premium plan and above
GIT access
1-click install of apps
Cache manager
Zyro website builder
Easy PHP configuration
Between 10 and 500 email addresses depending on the plan
GIT access
1-click install of apps
And the winner is:
Hostinger. Although 1&1 IONOS gives you more storage space (on most plans) and unlimited bandwidth on all plans,
Hostinger has a slight edge due to its free migrations
,
easier-to-use control panel, unlimited email addresses, cache manager, and included website builder
. Unless you want to host a lot of multimedia files, Hostinger's included storage space is more than enough for most websites.
Support
Hostinger Offers Live Chat Support, While 1&1 IONOS Uses Phone Support
Both Hostinger and 1&1 IONOS have 24/7 customer support
, but you'll have very different experiences with each of them. Since 1&1 merged with IONOS, the company has been offering a "personal consultant" service, which is designed to ensure you get personalized one-on-one customer support when you need it. In my experience, despite this, the customer support is still the same, and there's still no live chat support option.
You're only able to get support via phone with 1&1 IONOS
– either by calling directly or requesting a callback. There isn't even an option to submit a support ticket. By contrast,
Hostinger provides support only via live chat
. There's no phone or ticket support, but you do get really fast responses when you start a live chat, and issues are resolved quickly. It's also possible to purchase priority support as an add-on, and if you need support in a different language, they'll do their best to accommodate you too.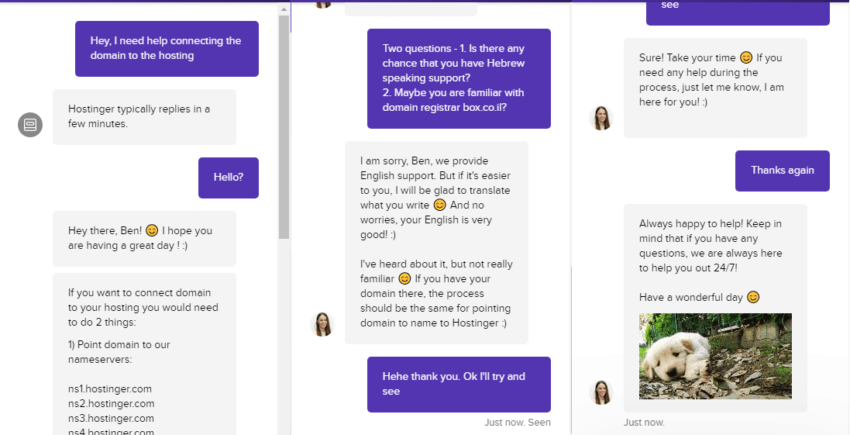 Both 1&1 IONOS and Hostinger have excellent knowledge base articles, but Hostinger has the edge with a large range of tutorials that walk you through all kinds of technical issues, including WordPress, SSL, DNS (Domain Name Systems), and more.
And the winner is:
It's a tie. Who wins for customer service in this round largely depends on whether you prefer phone support or live chat!
Hostinger Is the Top Choice in Most Areas
Hostinger
takes three out of the five rounds, making it our clear winner.
Sure, it sounds like a close call, but 1&1 IONOS only took the prize on the pricing round. Low-cost 1&1 IONOS hosting, with its complicated control panel and added fees for security, will end up costing you a lot more in time and frustration. 
Our Recommendations
If you're running a business and need top-class performance and security, then Hostinger is most definitely for you. If you want to find out more about Hostinger, why not check out our Hostinger review?
If storage space is vital for you – for example, if you're putting a lot of large video files online – then 1&1 IONOS might work well. However, most users won't need that much space and you'll be better off with Hostinger's simple cPanel, free migrations, and included website builder. For a more in-depth exploration, head over to our expert 1&1 IONOS review.
Performance and Reliability
Server response time up to 68% faster than 1&1 IONOS
Average uptime of 99.90%. That means you'll experience twice as much downtime as you would with Hostinger
Pricing
Free website builder included in all plans
Free domain name for one year and wildcard SSL certificate included with all plans
Security
BitNinja security includes protection against spam, hacking, botnets, brute force attacks, malware, and script injection
SiteLock malware protection with the Expert plan and above
Features
More overall features, like cache manager and unlimited email addresses
More storage space, but control panel is disappointing
Customer Support
Support only available via live chat, but lots of knowledge base tutorials
Support only available via phone, even though you get your own personal consultant