Even though both HostGator and JustHost operate under the same parent company (the infamous EIG), each one offers its own services. The right choice for you will depend on your hosting needs. For this reason,
I tested both services across five main categories to make a fair comparison.
I found a few interesting differences: for instance, JustHost doesn't offer as many hosting types as HostGator. HostGator offers free website migration, but with JustHost, you're on your own. JustHost does have cheaper package renewal rates, but HostGator offers more competitive discounts. Either way, if you want my expert advice –
I wouldn't choose either one of these hosts. I'd go with InterServer instead.
Since it's not an EIG company, you won't have to deal with some of the common issues, like slow loading speeds or poor customer support. For a fixed price of only
$
2.50
per month, you get better features and even a few freebies.
Click here to see InterServer's latest deals
, or read on to learn more about the pros and cons of JustHost and HostGator.
1. Plans and Pricing
Both Hosts Are Affordable, but HostGator Gives You Better Value
Since JustHost doesn't offer as many hosting types as HostGator (more info in the features section), I'll compare the hosts' shared hosting options.
A free domain name is included with some hosting plans from JustHost
If we're going to judge these two hosts based only on their prices, note that JustHost has a slightly cheaper package renewal rate (except for monthly subscriptions) than HostGator. However, you get your money's worth with HostGator. Both vendors offer unlimited bandwidth, free SSL certificates, and a free domain name with annual subscriptions. But
HostGator offers $100 Google Adwords credit and $100 Bing credit with all shared hosting packages
, while JustHost offers the same, but with high-tier plans only. HostGator also offers free WordPress and cPanel site migration, but JustHost doesn't. HostGator offers a 45-day money-back guarantee, whereas JustHost only gives you 30 days.
Which host would I choose? Neither. I'd rather go with InterServer.
 With its price-lock policy, there's no need to worry about any renewal fees. Plus, it offers overall better value for money.
2. Features
JustHost Has Many Limitations, HostGator Offers a Better Variety
HostGator offers a wider range of hosting solutions, while JustHost has only Linux shared hosting, VPS, and dedicated servers.
HostGator has three shared hosting plans for Linux
– Hatchling, Baby, and Business. The smallest plan (Hatchling) comes with one hosted website, unlimited disk space, unlimited bandwidth, and unlimited email accounts. HostGator also offers two Windows hosting packages (JustHost doesn't have Windows hosting at all).
JustHost offers four shared hosting plans
– Basic, Plus, Choice Plus, and Pro. The Basic plan includes 50 GB disk space, 1 hosted website, unlimited bandwidth, and 5 email accounts. Take a look at the following comparison table to get a better idea of what each host has to offer.
| | | |
| --- | --- | --- |
| | HostGator | JustHost |
| Hosting Types | Shared (Linux and Windows), cloud, WordPress hosting, reseller, VPS, application hosting, dedicated servers | Shared, VPS, dedicated servers |
| Free Domain | ✔ | ✔ |
| Free SSL Certificate | ✔ | ✔ |
| Disk Space | Ranges from 120 GB to Unlimited | 30 GB – Unlimited |
| Bandwidth | Ranges from 1.5 TB to Unmetered | 1 TB – Unmetered |
| Automatic Backups | Weekly | Courtesy daily, weekly,and monthly backups (legacy plans only) |
| Control Panel | cPanel, Plesk | cPanel |
| Email Accounts | Unlimited | 5 – Unlimited |
| Free CDN | x | x |
| Free Site Migration | ✔ | x |
| Money-Back Guarantee | 45 days (none for dedicated servers) | 30 days |
3. Performance
JustHost Is Good, but HostGator Is Better
HostGator promises a 99.9% uptime guarantee, while
JustHost doesn't make any clear promises regarding its uptime
. However, when tested, Hostgator showed an average of above 99.98%, whereas JustHost averaged out at 99.97%. Even though
both HostGator and JustHost only have servers inside the US
, JustHost has only one data center in Utah. HostGator has servers in both Utah and Texas, giving it a slight edge over JustHost when it comes to website loading speeds from different locations. However, if your target audience is outside the US, this probably won't make much of a difference.
4. Security
HostGator Takes Security More Seriously Than JustHost
By default, both HostGator and JustHost secure their servers with DDoS protection. In addition, both include free SSL certificates with their packages. However, SiteLock (which protects your website from malware) is available as a paid add-on with both providers. Up until this moment, it may have seemed like a neck-and-neck challenge, but all that changes when it comes to website backup policies.
While HostGator provides a free automatic weekly backup for all its services, JustHost offers courtesy daily, weekly, or monthly backups
with its Legacy plans only, which isn't good enough to protect your website's data, in my opinion. Although I prefer automatic daily backups to weekly backups, HostGator is more proactive about security than JustHost. Nevertheless, if you're a security-concerned user like me, then you'll find InterServer's security measure (e.g., free InterShield Security firewall that protects you from external threats) more valuable.
5. Support
Both HostGator and JustHost have informative websites, though HostGator is easier to navigate. HostGator's knowledge base content is also better organized and covers more topics compared to JustHost. In addition, HostGator has an entire section for video tutorials.
You can get in touch with HostGator's customer support through live chat, phone, or fax, and all options are available 24/7.
 I went straight for the live chat option. First of all, it took me almost 10 minutes to get through to an agent and even then, the agent wasn't as knowledgeable as I expected.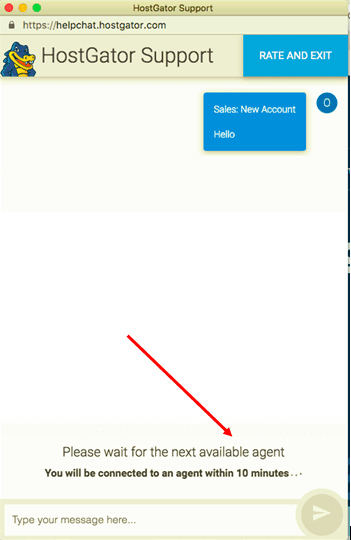 JustHost offers 24/7 live chat support in addition to phone and email support. Unlike HostGator, when I tried JustHost's live chat, I got an almost instant response with all the necessary information. The winner? Despite its slow live chat support, HostGator offers excellent self-help resources and different communication channels. That's why it wins the support round.
HostGator Offers More Resources and Hosting Solutions
JustHost
loses out to
HostGator
 in this comparison, mainly due to its limitations and narrow hosting range. HostGator does offer more attractive promotional discounts, but its packages renew at a higher cost. However, you get plenty of resources, solid performance, and decent customer support. There's a reason neither host made it onto our
list of the best web hosting services
. I still recommend
InterServer
instead – you get more features and better performance, and you never have to worry about renewal rates.
Plans and Pricing
Slightly more expensive package renewal rates. $100 Google Adwords credit and $100 Bing credit. Offers a 45-day money-back guarantee.
Cheaper package renewal rates. Higher-tier plans come with $200 in ad credits. Offers 30-money-back guarantee.
Key Features
Free domain, unlimited storage, free site migration, and unlimited email accounts.
Free domain, and unlimited storage and email accounts (with higher plans only).
Performance
99.9% uptime guarantee, 99.98% tested uptime, two server locations, faster loading speeds
No uptime guarantee, 99.97% tested uptime, only one server location, slower loading speeds
Security
Free SSL certificates, DDoS protection SiteLock (paid add-on only), free automatic weekly backups
Free SSL certificates, DDoS protection SiteLock (paid add-on only), daily/weekly/monthly backups (with legacy plans only)
Support
Knowledgebase, video tutorials, 24/7 live chat, phone, and fax
Knowledgebase, 24/7 live chat, phone, and email.
FAQ
Which is better, HostGator or JustHost?
It all comes down to what you're looking for in a hosting service. If cloud or WordPress hosting is what you need, then HostGator is suitable. If you don't mind some resource allocation restrictions, but want cheap subscription renewal rates, then it's JustHost. Nevertheless, neither one of them has made it to our list of the best web hosting services.
Who owns HostGator and JustHost?
Both HostGator and JustHost are owned by Endurance International Group (EIG). As a parent company, EIG is in charge of HostGator and JustHost's billing and transaction information. EIG has headquarters in the US and the UK.
Does HostGator use SSD?
Not with all packages. HostGator offers SSD storage only with Power (512 GB SSD) and Enterprise (1 TB SSD) plans for dedicated servers. But, if you're looking for a fast and budget-friendly web hosting service , check our list of the best SSD hosting services.
Is JustHost good for WordPress hosting?
Unfortunately, JustHost doesn't offer specialized WordPress hosting. Instead, it offers a one-click WordPress software installer and others for popular CMS applications including Drupal, Joomla!, and Tiki Wiki. However, I recommend any of these managed WordPress hosting providers.