GoDaddy is the king of cheap domains, but is it the best fit for all situations? Google Domains is run by the king of search engines, but does that make it a good fit for domain registration? I set out to find out by comparing these two giants on a variety of features, including pricing, privacy, web hosting capabilities, and more.
GoDaddy Has Great Initial Pricing But Raises Your Domain Fee
GoDaddy is famous for offering dirt-cheap domain names, primarily for .com addresses. If you want an alternative address, such as .xyz, you may also find excellent deals. However, there's a big caveat to this domain pricing. The cheap pricing is only for the first year; afterwards, your pricing may increase dramatically. You can control some of this by registering your domain for 2+ years, but each year after the initial year will be billed at the full rate.
Google Domains doesn't offer dirt-cheap domains, but pricing is still reasonable. Also, when it's time to renew, you're not going to experience sticker shock, as you'll pay the same to renew as you did to register.
If you're looking for alternative domains such as .pub, .restaurant, or even .investments, compare GoDaddy's renewal pricing with Google Domains before registering. While your first year may be cheaper, Google Domains may offer better pricing in the second year and beyond.
Google Protects Your Privacy – GoDaddy Holds It Ransom
If you're new to web design, you probably don't know that your personal information (name, address, phone number, and email address) is available to the public through your website's WHOIS information. Often, this information is collected by third parties and used to spam via phone or emails.
Google Domains offers privacy protection when you register a domain. Your information is replaced with a third-party provider's, protecting your identity. GoDaddy offers a similar service, but charges an annual fee for it.
GoDaddy's basic "Privacy Protection" plan offers the same service like Google, but it effectively doubles the standard domain fee. They also offer a "Privacy & Business Protection" plan that prevents accidental domain expiration or malicious transfer and also automatically conducts regular malware scans on your domain.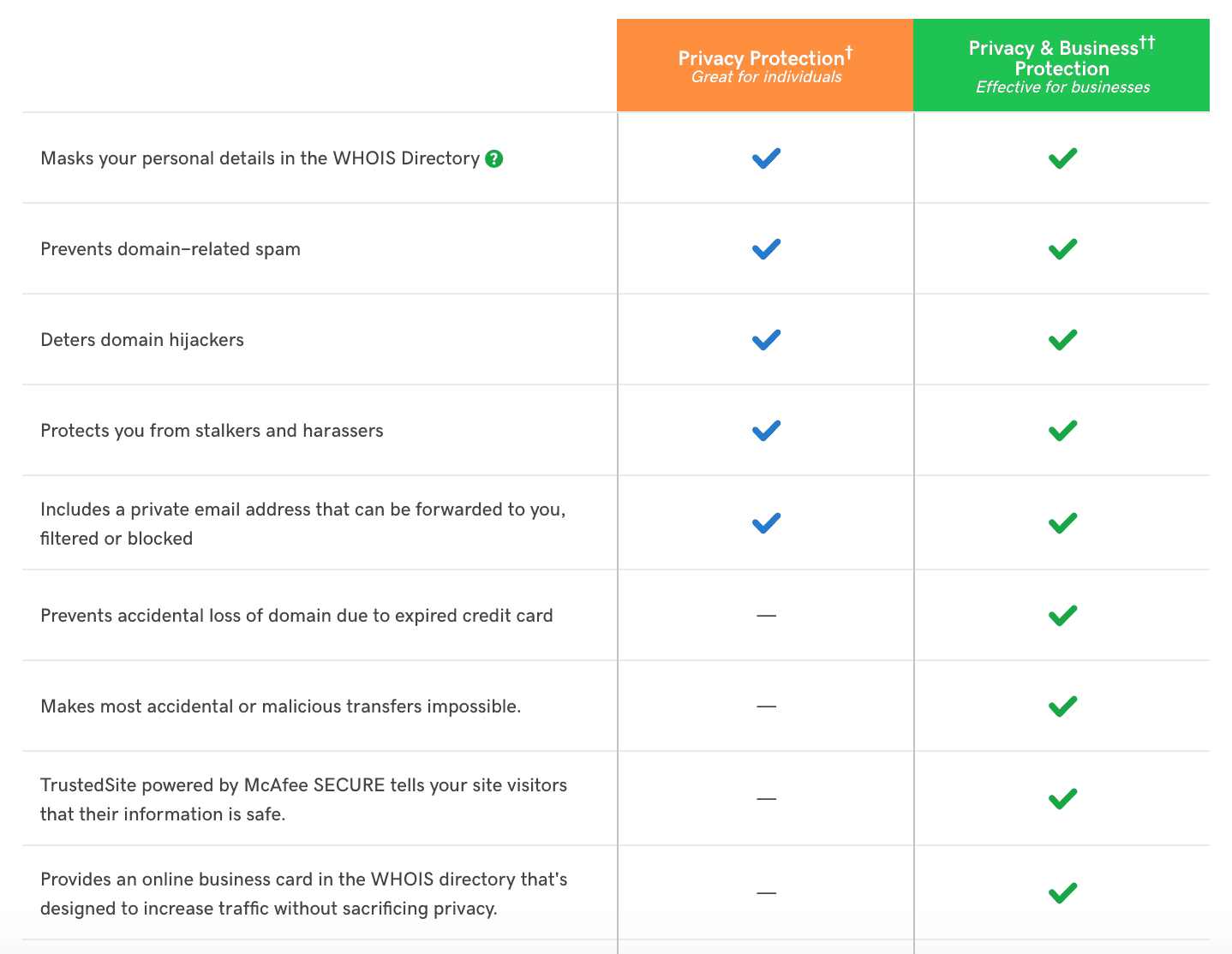 Google Forwards Your Emails – GoDaddy Offers Email Services
One advantage of having your own domain is setting up a professional email address. Both Google Domains and GoDaddy allow you to give off a professional email presence, but how they work is starkly different.
With your Google Domains domain, you can create up to 100 email aliases that will forward to an email address of your choosing. By contrast, GoDaddy provides a true professional email setup, but for a fee.
GoDaddy offers three email plans, with their smallest plan offering 5 GB of email storage along with the ability to sync email, calendars, and contacts across all your devices. For those who want a separate email plan rather than using Gmail or their personal email, this is a solid alternative but does incur a monthly fee.
GoDaddy Offers Website Hosting – Google Domains Gives Referrals
Google Domains offers a simple control panel allowing you to manage your domain and related services. You can control your DNS, website nameservers, email settings, and other general settings from one location. However, Google Domains doesn't offer website hosting. They're partnered with several website builders you can use to create your website, but that requires that you manually configure your hosting and Google Domains.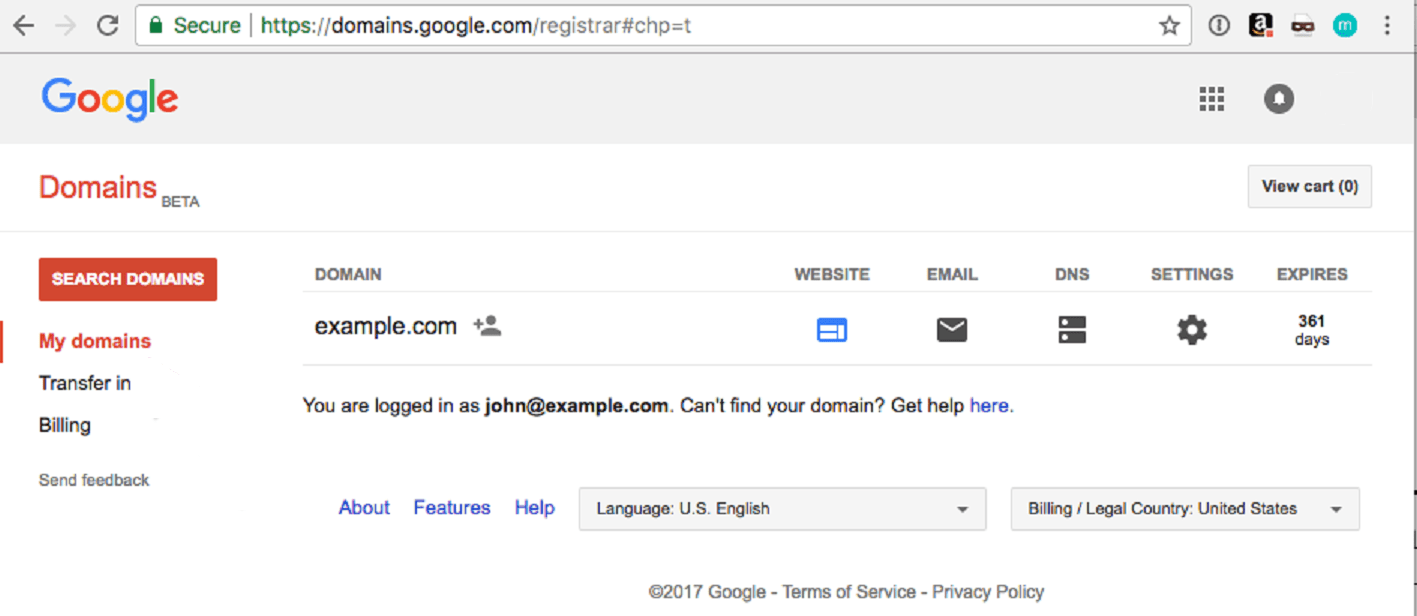 For those new to website building and domain management, GoDaddy makes things much easier. During the signup process, you can opt-in for a free trial to GoDaddy's GoCentral website builder. Afterward, you can sign up for service and use GoDaddy as your hosting provider. When you do so, your domain is automatically added and updated to your hosting, with no extended configuration needed. Read our review on GoDaddy's GoCentral Website Builder.
Regardless of whether you use one of Google Domain's partners or GoCentral, you have to pay for hosting. For beginners, GoCentral is going to be the easiest way to go, but GoDaddy's Managed WordPress Hosting also offers a simple way to get started!
Google Domains Offers a Wider Variety of Support than GoDaddy
Google Domains outshines GoDaddy in the support arena. If you need help with an issue, you have multiple options for support. First, there are extensive help articles that cover most questions about Google Domains. And if you need additional help, you can contact a support agent 24/7 by live chat or email. You can even request to have a technician call you back.

GoDaddy also offers you multiple support options, but they're not all 24/7. You can search their help documentation for answers, contact them via live chat, or you can give them a call. They have support lines in over 50 countries, and most with 24/7 support. Their live chat is available only on weekdays from 5am to 6pm U.S. Pacific Time.
Google Domains Is Great for Domains Registration – GoDaddy Is Better For Beginners
The decision of whether to go with Google Domains or GoDaddy boils down to your general needs and experience levels. Here's a quick head-to-head comparison:
Pricing
Reasonable pricing and no price hikes at renewal
Cheap .com domains, but significant price hike at renewal
Privacy
Provides WHOIS masking as part of domain registration service
You must pay a fee for privacy services
Email
100 email aliases that point to your personal or third-party email
Paid email plans with a professional email address and 5 GB or more of storage
Website Hosting
Does not offer website hosting; offers you partner services
Provides hosting with a free trial of GoCentral at registration
Support
24/7 live chat, email, or callback
24/7 phone support, and live chat on weekdays from 5am to 6pm PT
Who is Google Domains good for? It's ideal for those looking for basic domain registration and have the skills necessary to connect their domain to their hosting. Google Domains is also a good option for those looking for no-nonsense pricing on their domains and not looking to pay extra for simple services like privacy.
Who is GoDaddy good for? GoDaddy is best suited for beginners and those looking for a one-stop shop for their domain and website hosting. It's also good for those who want to save a little money on their initial website hosting. For example, if you're starting a webstore and want to see how things go for a year, buy a cheap domain by GoDaddy and cut down on your startup expenses. To learn more about GoDaddy's hosting services, read our expert review.
And whatever you do, make sure to take the time to crunch the numbers and comparison-shop between the two services to see which better suits you in terms of prices and services offered. Picking the right provider will save you time and money on your domain services now and for the foreseeable future.
FAQ
Is Google Domains any good?
Google Domains is great on a technical level. The free privacy features, steady pricing, and 24/7 support make Google Domains an ideal registrar for anyone who's running a business. It's also great for techy people in general, and provides features that the expert user will find handy.
If you do decide to go with Google Domains and need hosting, check out our review of Hostinger, which is one of the best cheap hosts around.
Are GoDaddy domains good?
While I can't really say that
GoDaddy
has the "best" domain service around, it's one of the old guard, and has lasted this long for a reason. That's because it works. While you may have to pay extra for some features that other companies include by default, you can't deny that GoDaddy has been a reliable source of domains for decades.
Plus, there are more than a few extra features to help you get your website up and running, such as hosting, plus GoDaddy's own website builder, which you can read about in our expert review.
Is Wix or GoDaddy better?
Speaking of site builders, GoDaddy's main competitor in that arena is Wix, which also provides its own domain registration service. And well, the answer depends on what you want. If you want a domain registrar that will let you configure your domain name a hundred different ways,
go with GoDaddy
.
If you want to keep things simple, and want a site builder with a lot more design variety, and a lot more precise control over how your site looks, go with Wix. Wix will also help you with things like SEO and marketing; it's just better that way.
If neither site builder seems right for you – or you want to look around a bit more before making a decision – check out our list of the top site builders in 2021.
Which is cheaper: Google Domains or GoDaddy?
That depends on a variety of factors. While domain prices are semi-standardized, domains with popular keywords and letter combinations can be
very
pricey, to begin with. That said, there is one thing to take careful note of:
GoDaddy generally provides cheaper initial prices, but that price can go up by a lot after the first year (or your chosen renewal period). With Google Domains, things are a bit more standardized, and what you see is what you get. While GoDaddy might be better for quickly trying out a new website idea; Google Domains could be better in the long run.
Either way, you can get your domain (and possibly your hosting) a bit cheaper by visiting our coupons page.