GoDaddy is well-known for offering cheap domain names, alongside providing a wide array of web hosting services, but is it spreading itself too thin? Google Domains is run by the king of search engines, but does that make it a good fit for domain registration? What happens if you want more than just a domain name?
We compared these two giants on features, pricing, performance, and more. To cut a long story short, GoDaddy may be the better of the two overall, but
neither are particularly great options.
There are much better options available for both domain registration and web hosting.
For example,
Hostinger offers cheap and easy-to-manage domain name registration that can be automatically connected with its top-quality shared hosting
. It offers superior service and pricing to both GoDaddy and Google Domains — but if you'd still like to learn more about how these two providers compare, keep reading.
Pricing
GoDaddy Has Great Initial Pricing But Raises Your Domain Fee
GoDaddy offers initially low prices on domain names.
Many popular domain name extensions, such as .com, benefit from a huge discount for your first year
. However, you can only take advantage of this deal if you purchase a 2-year plan or longer. Once your first few years are up, you'll lose this discount – and GoDaddy will renew your domain name for a significantly higher price. Google Domains doesn't offer any form of discount on your first few years, but prices are still reasonable.
A major advantage of Google Domains is that you'll pay the same price to renew as you did to register
.
So, in short: GoDaddy is cheaper in the short term, whereas Google Domains offers better value in the long term. However, it's worth noting that
Hostinger offers a free domain name for a year
with its affordable Premium Shared Hosting plan.
Email
Google Domains Offers Free Email Aliases, but GoDaddy Has Cheaper Premium Options
One advantage of having your own domain name is the ability to set up a professional email address. Both Google Domains and GoDaddy can empower you with a professional email presence, but how each works is starkly different.
With your Google Domains domain name, you can create up to 100 email aliases
that will forward to an email address of your choosing. This option costs you nothing (provided your chosen email addresses are free Gmail accounts or something similar) and from the sender's perspective, your email aliases will look entirely like professional email addresses.
GoDaddy doesn't natively support email aliases – if you want to use a professional email address, you have to purchase one of its email hosting plans
. There are three to choose from, with the smallest offering 10GB of email storage along with the ability to sync email, contacts, and calendars across all your devices.
Google Domains also offers premium options, allowing you to purchase a Google Workspace account that includes email hosting for your domain
. As with GoDaddy, there are three plans to choose from. Even the most basic comes with some nice freebies, such as 30 GB of cloud storage for each user.
While Google Domains technically allows you to have a professional email presence for free using aliases, it's significantly more expensive than GoDaddy if you're looking for a premium solution. That said, Hostinger offers free domain-based email hosting
 with every shared hosting plan.
This gets you web
and
email hosting for the same price as GoDaddy's cheapest email plan.
Website Hosting
GoDaddy Offers Website Hosting – Google Domains Gives Referrals
Google Domains offers a simple control panel allowing you to manage your domain
and related services. You can control your DNS, website nameservers, email settings, and other general settings from one location. However,
Google Domains doesn't offer website hosting
. They've partnered with several website builders you can use to create your website, but that requires that you manually configure your hosting with Google Domains. There is Google Sites, but this is only really suitable for very basic websites – and configuring your domain to work with Google Sites is more complicated than it should be!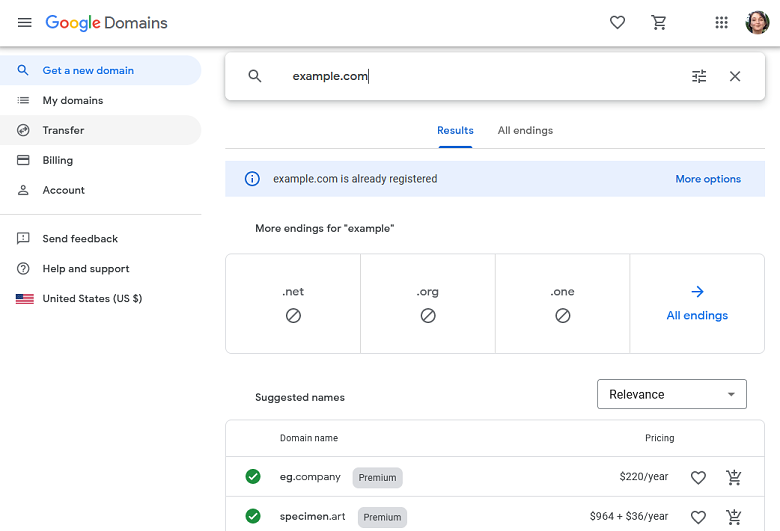 For those new to website building and domain management, GoDaddy makes things easier.
During the signup process, you can opt-in for a free trial to GoDaddy's site builder. Then, if you choose, you can sign up for a plan and use GoDaddy as your hosting provider. 
If you do so, your domain is automatically added to and configured for your hosting plan – no technical tasks are required on your part.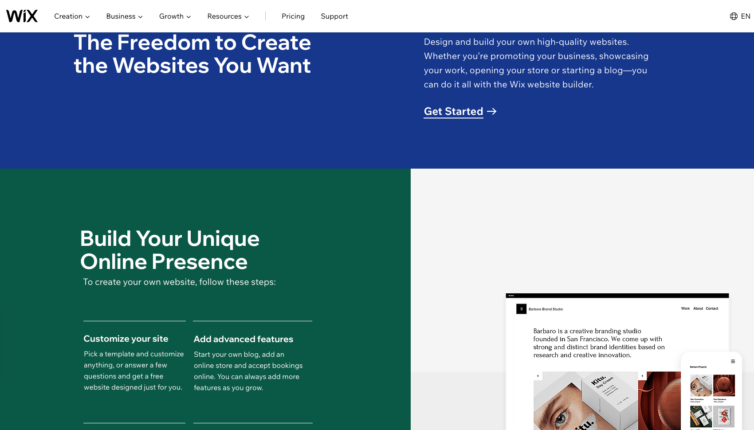 Out of the website builders Google Domains partners with, Wix is the most beginner-friendly and one of the most affordable.
While Wix's support team can't actually point your Google Domains domain name to your Wix site for you, you can get help from the knowledgebase. 
Although most annual Wix plans include a free domain, purchasing your own domain with Google Domains is often cheaper. Plus, this means you can take advantage of flexible monthly billing without missing out (great if you're on a tight budget!).
If you prefer not to use a website builder, then you could sign up for one of GoDaddy's WordPress hosting plans. If you pay for a year or more up front, you get a domain name free for the initial term of your hosting. The domain name will be automatically connected and configured for you.
However,
GoDaddy's WordPress plans are relatively expensive – if you're looking for WordPress plans, you can easily get a better deal elsewhere.
Check out
our top-rated hosts for WordPress
to learn more.
Support
Google Domains Offers Quality Support – GoDaddy Just Looks to Upsell
Google Domains outshines GoDaddy with regards to support.
If you need help with an issue, you have multiple options – first, there are extensive help articles that cover most questions about Google Domains. And if you need additional help, you can contact a support agent 24/7 by live chat or email. You can even request to have a technician call you back.
We decided to test the Google Domains support team to see how they fared with some basic domain-related questions.
Google Domains' live chat support answered our query quickly and definitively in a polite and friendly tone
. We were left very happy with the level of service.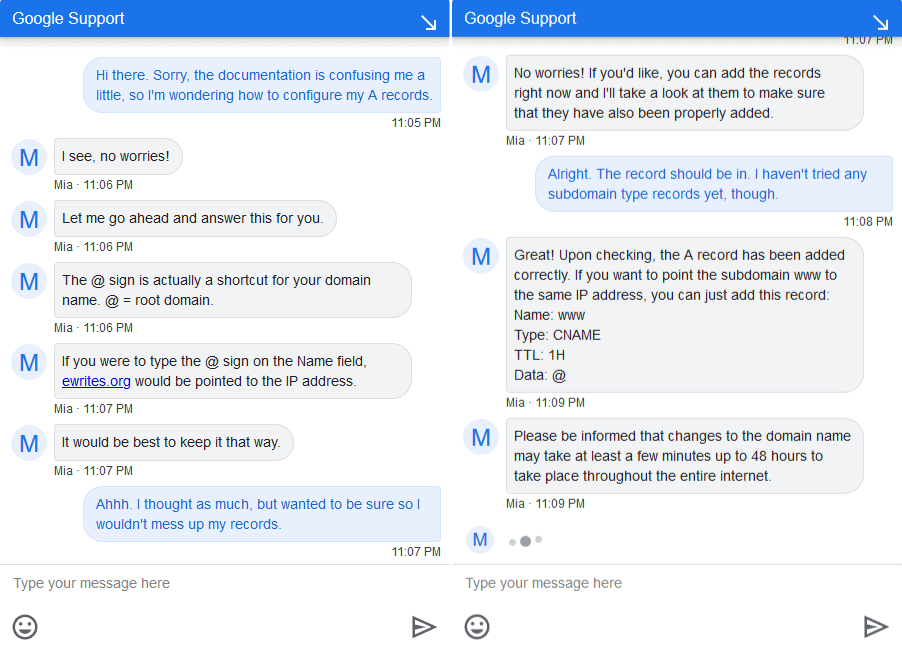 GoDaddy also offers you multiple 24/7 support options
. You can search their help documentation for answers, contact them via live chat, or you can give them a call. They have support lines in over 50 countries. 
As with Google Domains, we decided to test its live chat support with some very basic questions regarding its web hosting. Sadly, our experience wasn't a positive one.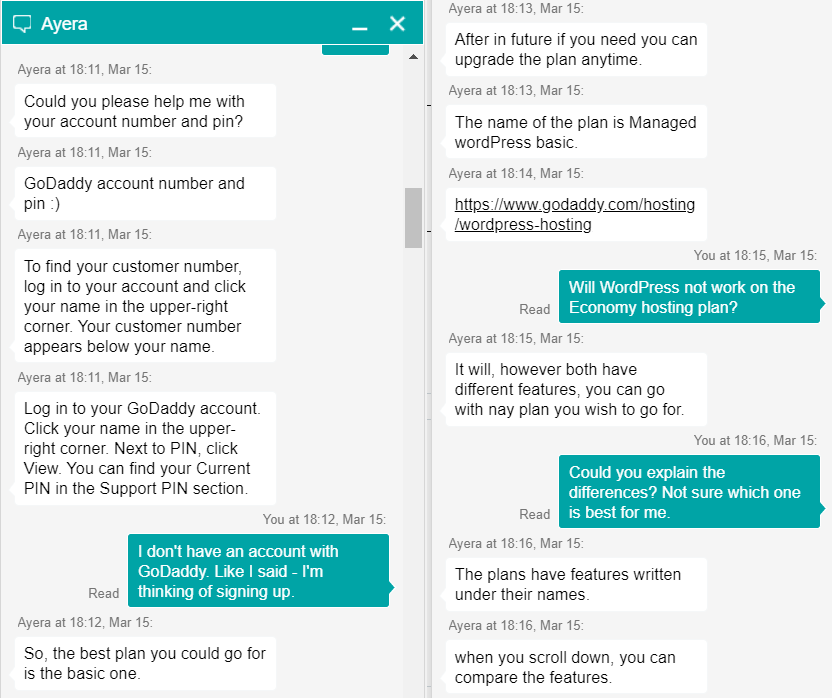 It didn't seem like the GoDaddy support agent even read our initial question
, repeatedly asking for an account number and pin that we didn't have. Once we explained this, the support agent immediately started upselling us to expensive hosting plans with no regard to what we wanted or actually needed. 
When we asked what the differences between this expensive plan and the cheaper ones were, we were told to compare the features ourselves. Our questions remained completely unanswered. There's no comparing the support teams of these two providers –
Google Domains' support is just better in every way
.
Google Domains Is Great for Domain Name Registration – GoDaddy Is Better for Beginners
The decision of whether to go with Google Domains or GoDaddy boils down to your general needs and experience levels.
GoDaddy may be a better option if you're looking for the easiest setup for your domain name and hosting plan, as it is automatically configured for GoDaddy's web hosting services. There's a free trial available for the site builder if you'd like to see if this option will work for you.
That said, Google Domains will save you the most money on your domain in the long-term, but as it does not offer web hosting, you will need to manually configure your domain for a third-party host. However,
Hostinger offers the best of both worlds
: the best-performing budget web hosting we've ever tested, available with free domain registration for a year.
That's why Hostinger is our top recommendation. Many of the hosts on
our list of the best web hosting services in 2023
also offer better domain and web hosting services at affordable prices.
If you're considering staying with Google Domains or GoDaddy, check out the quick side-by-side comparison below: 
| | | |
| --- | --- | --- |
| | Google Domains | GoDaddy |
| Pricing | Reasonable pricing and no price hikes at renewal | Cheap .com domains, but significant price hike at renewal |
| Email | 100 free email aliases, premium email hosting available through Google Workspace | No free email aliases, but premium email hosting is slightly more affordable |
| Website Hosting | Does not offer website hosting, must be connected with third-party services like Wix | Provides a range of hosting services, with a free trial for GoDaddy Website Builder at registration |
| Support | 24/7 live chat, email, or callback with knowledgeable and helpful support agents | 24/7 live chat and phone support, but agents are generally unhelpful and like to upsell |
| | | |
FAQ
Is Google Domains any good?
Google Domains is great on a technical level. The free privacy features, steady pricing, and 24/7 support make Google Domains an ideal registrar for anyone who's running a business. It's also great for techy people in general, and provides features that the expert user will find handy. If you do decide to go with Google Domains and need hosting, especially for a WordPress-based site, check out our list of the best web hosting services in 2023

for our top recommendations

.
Are GoDaddy domains good?
GoDaddy has been around for a long time and has proven to be a reliable source of domain names. While it does offer very cheap initial prices and an easy-to-use platform, it lacks value in the long run. 
Google Domains is more expensive initially, but it'll be the significantly cheaper option in the long term. That said, its platform is harder to work with – you'll have to manually connect your domain to your chosen web hosting provider, unlike GoDaddy
.
Is Wix or GoDaddy better?
GoDaddy's main competitor in terms of website builders is Wix, which provides its own domain registration service. GoDaddy's own site builder doesn't quite live up to Wix, which offers several times more templates, hundreds of click-to-add apps, and better SEO tools.
Additionally, a domain name with Wix will cost you less than it would with GoDaddy if you plan to use it for two or more years.
Which is cheaper: Google Domains or GoDaddy?
That depends on a variety of factors. While domain prices are semi-standardized, domains with popular keywords and letter combinations can be very pricey, to begin with. That said, there is one thing to take careful note of: GoDaddy generally provides cheaper initial prices, but that price can go up by a lot after the first year (or your chosen renewal period). With Google Domains, things are a bit more standardized, and what you see is what you get. While GoDaddy might be better for quickly trying out a new website idea; Google Domains could be better in the long run.