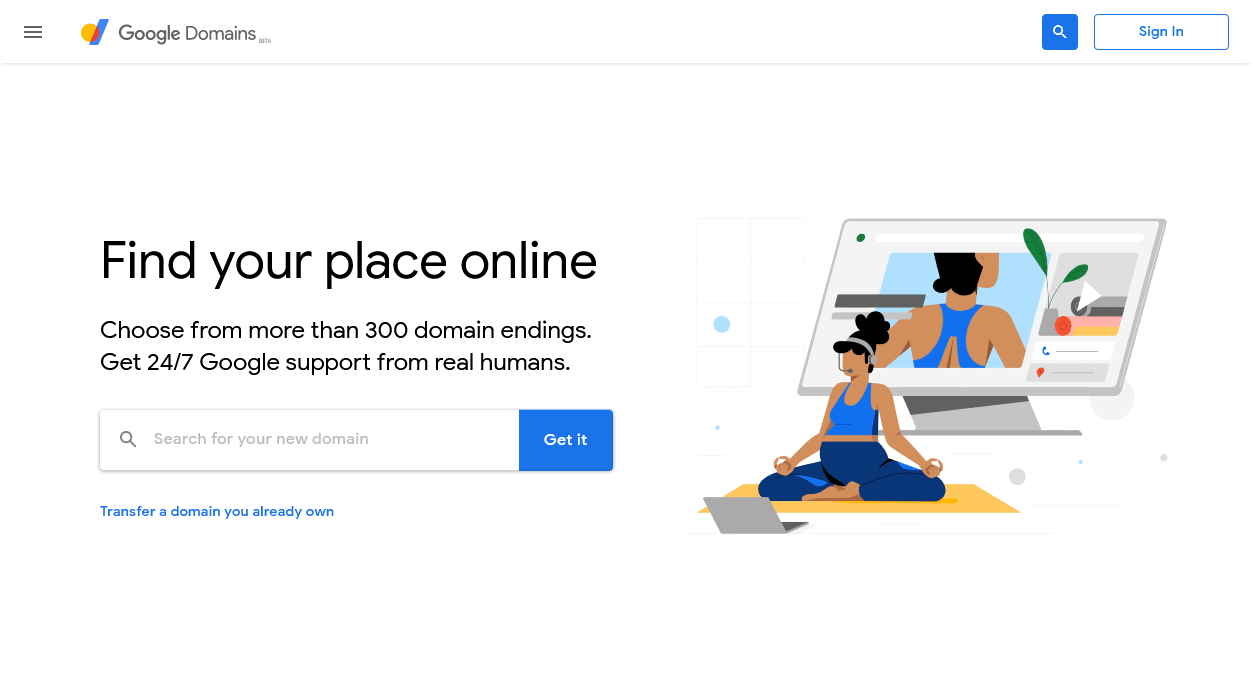 Google, as a company, needs no introduction I think. And
Google Domains is just one more thing in a long, long line of products and services that Google offers because…
why not?
 It may as well. It certainly has the money lying around to do whatever it wants. And apparently what Google wants is for you to
buy your domain on its own dedicated domain registrar.
 The main target audience seems to be businesses and professionals, and Google customers in general, but is it right for you? I bought a domain, and hooked it up to a test website to find out. Note: If you're unfamiliar with how domain names and DNS work, please check out our
beginner's guide to everything domain-related
.
Features
Google Domains is Fantastic for Existing Google Customers
In terms of features, Google Domains is just like any other domain registrar, but with that typical Google-style, designed-by-engineers flair.
 Okay, it's not
that
 badly designed, but Google only seems to bring the real UI experts to the table once one of its products gets super popular. But, as long as you know what you're looking for, you'll find all the usual domain registration amenities. Search for and buy just about any domain you like. Set up URL forwarding, email addresses, and generate free SSL certificates (if your host doesn't already do that). You can use nameservers to connect your domain to
Hostinger
or
GreenGeeks
, write your own A records, and even set up your own nameservers, on your own hosting. Mind you, some things cost extra.
Specifically, setting up an email address on Google's services, to use with Gmail.
If you have your own mail server, you can still point your domain to it for free, no problem. Most web hosts have this by default, so this isn't a big deal. But if you want to have an address at
[email protected]
, and use Gmail's interface? That's gonna cost you.
Integration With Google Sites, Google Cloud Platform & G Suite
While setting up an email might not be free, it's worth remembering that this
is
 a Google service, so it's tied into every other Google service you might need a domain for. You know, like Google Plus, but it doesn't suck.
So if you've created a site with Google sites, there's a way to just go ahead and connect your domain to it.
 If you haven't, you can start a site from scratch, right from the Google Domains dashboard: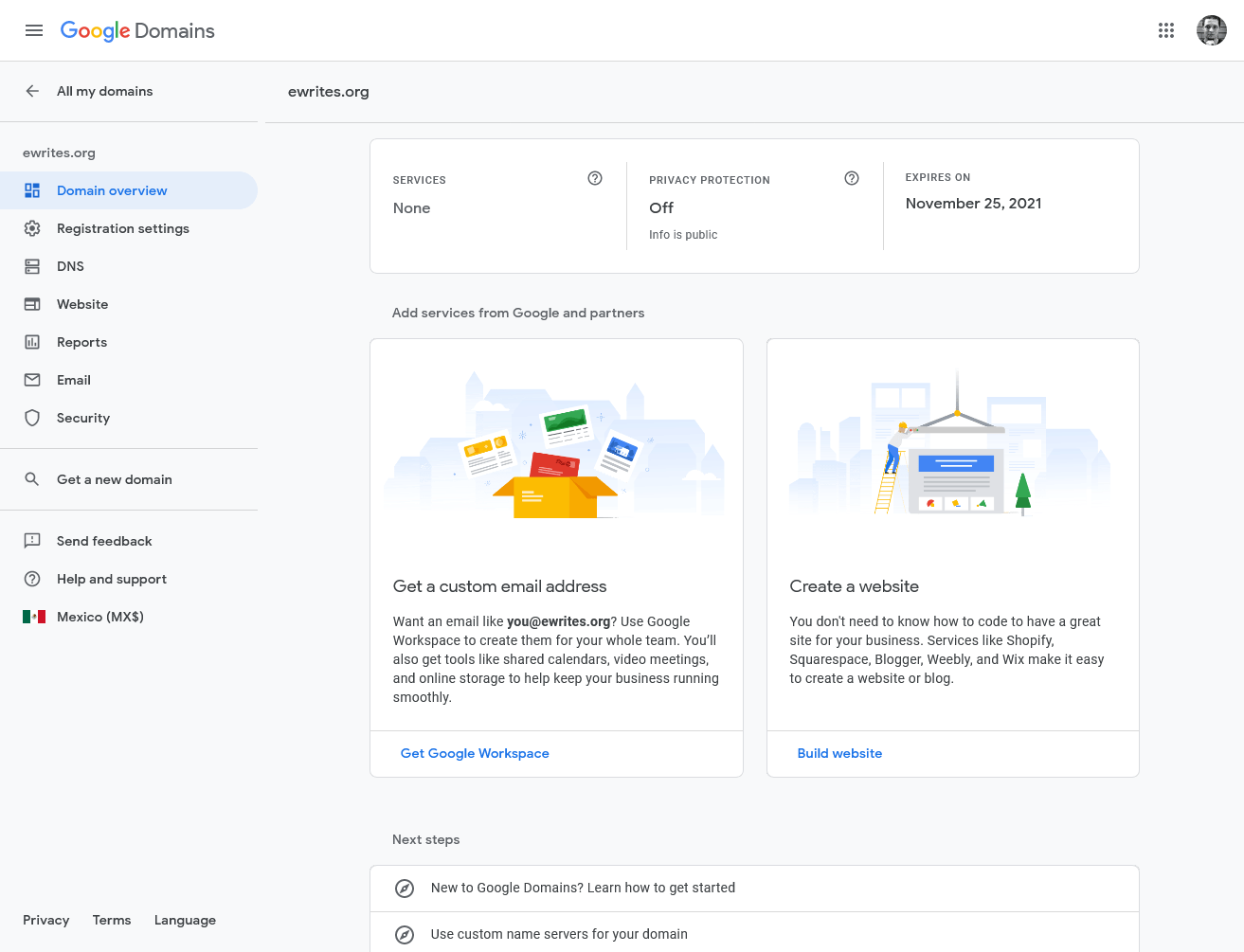 Naturally, you can also easily connect a domain to any site or app you run on the Google Cloud Platform hosting service, and integrate your domain with G Suite. You can do all of this with any other domain registrar, of course, but it'll take more work and manual configuration.
DNSSEC Protects Your Domain
Oh, this is a hard one to completely understand if you're not a programmer (and I'm
not
), and so it's also sort of hard to explain… but here's the upshot:
 something something blah blah blah, encryption. Look, it's a good thing.
Having DNSSEC enabled and configured means that it's a lot harder for hackers to use DNS spoofing attacks to direct people away from your website, and onto one of their own. In other words, they can't pretend to be you. Hurray for avoiding digital identity theft!
Reports
Want to get an idea of how people are finding and using your site without installing a full analytics suite on your site? Just want some extra information on your users?
Well, the Reports feature is just that. It provides automatically generated reports that can tell you:
How often your site showed up in search results
How many clickthroughs to your site there have been
Search queries that lead to your site
Where your users come from
The devices they're using to browse your site
A lot of this information seems to come from the Google search engine, so it may not provide a complete picture of your site's users. Nonetheless, it;s a cool and useful thing to have.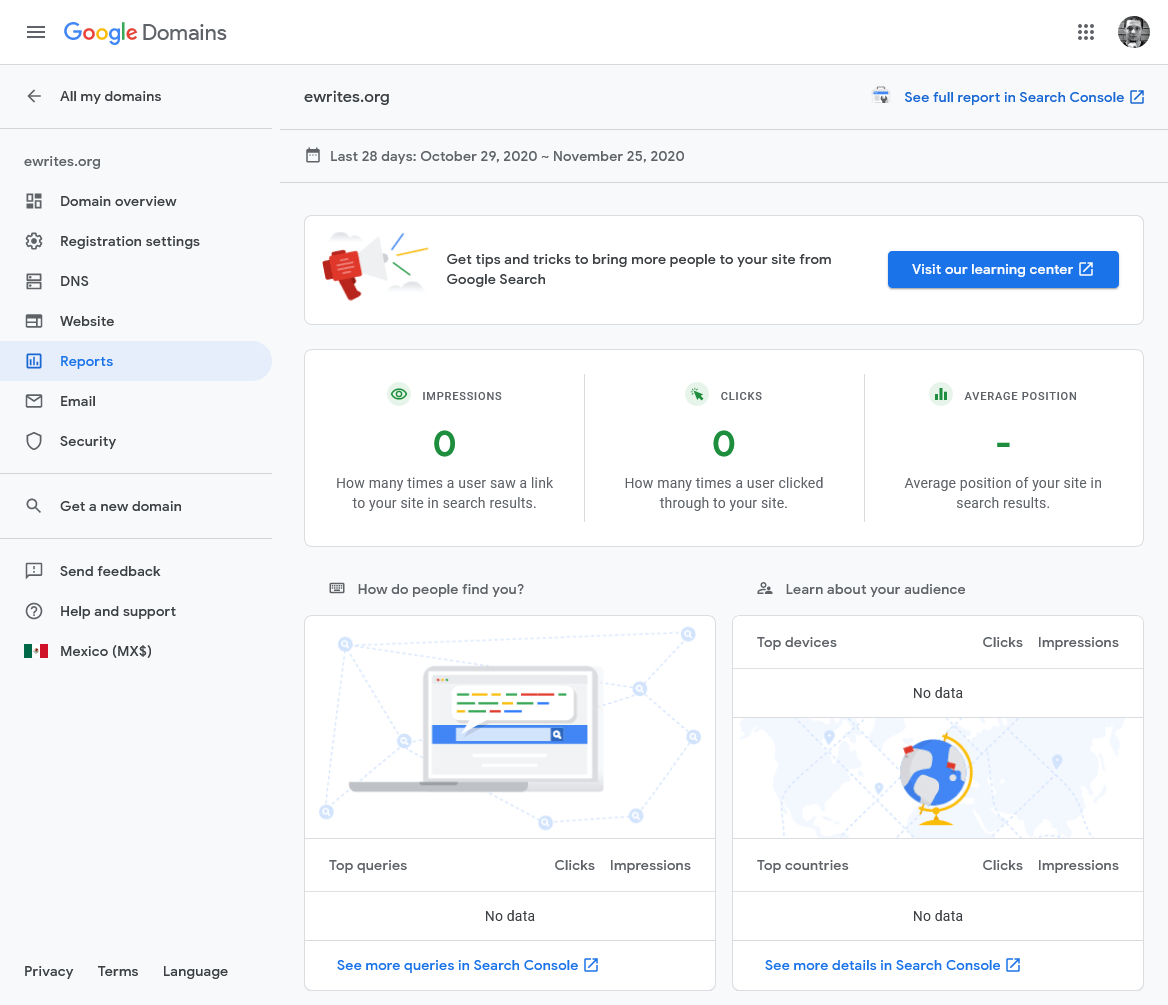 Ease of Use
It's a Service Designed for Pros… Mostly
Okay, actually buying your domain is simple enough
. Search for a domain, shake your head at the inflation of domain prices, and then buy one. Simple stuff. You can pay via most major credit cards, and I had absolutely no issues with my actual purchase.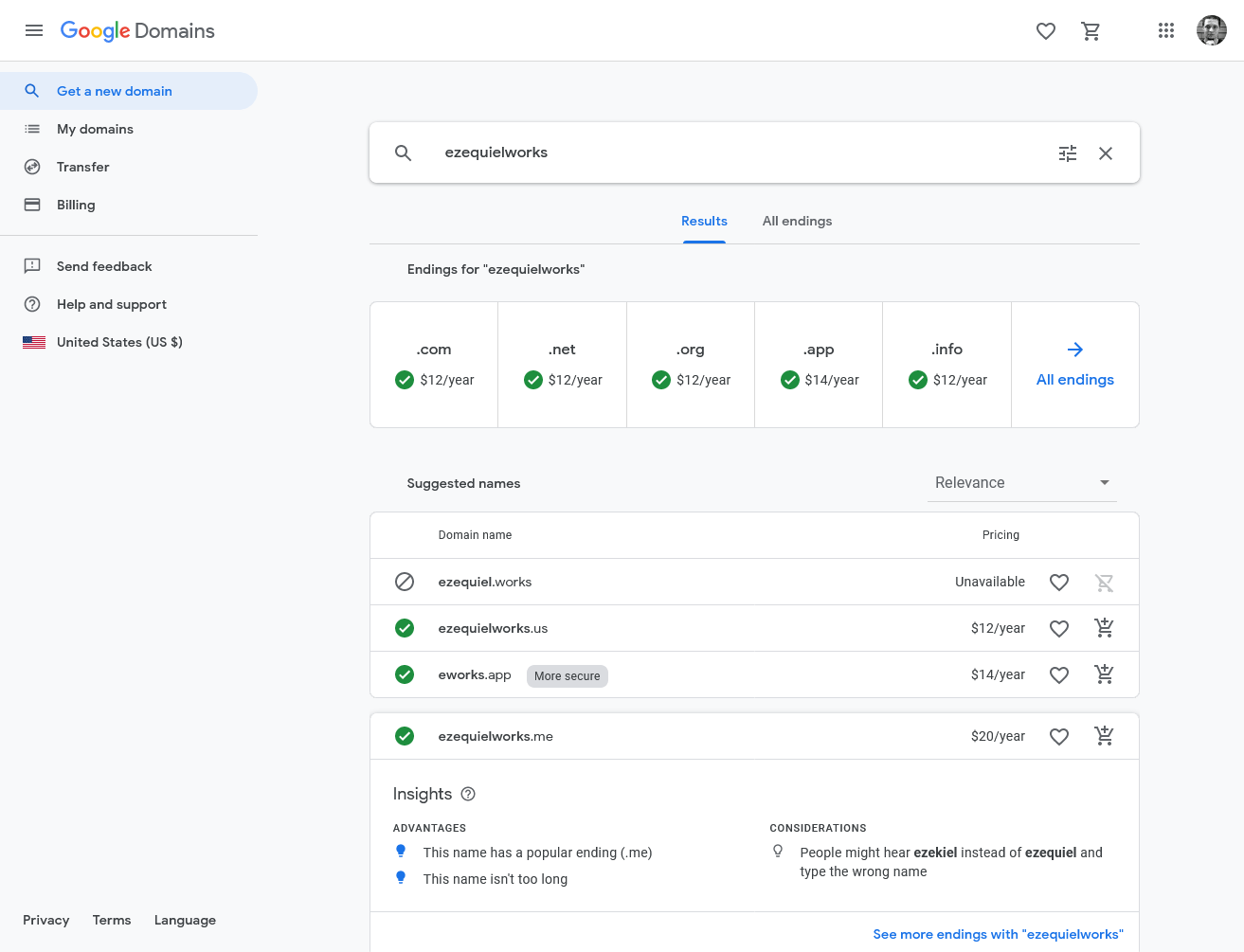 Once you've bought your domain, you'll need to know more or less what you're doing.
 Enough to put in your host's nameservers, at least. However, if you want to configure your domain for use with Google's other services, that's not as complex. You have options for intra-Google integration right on the dashboard: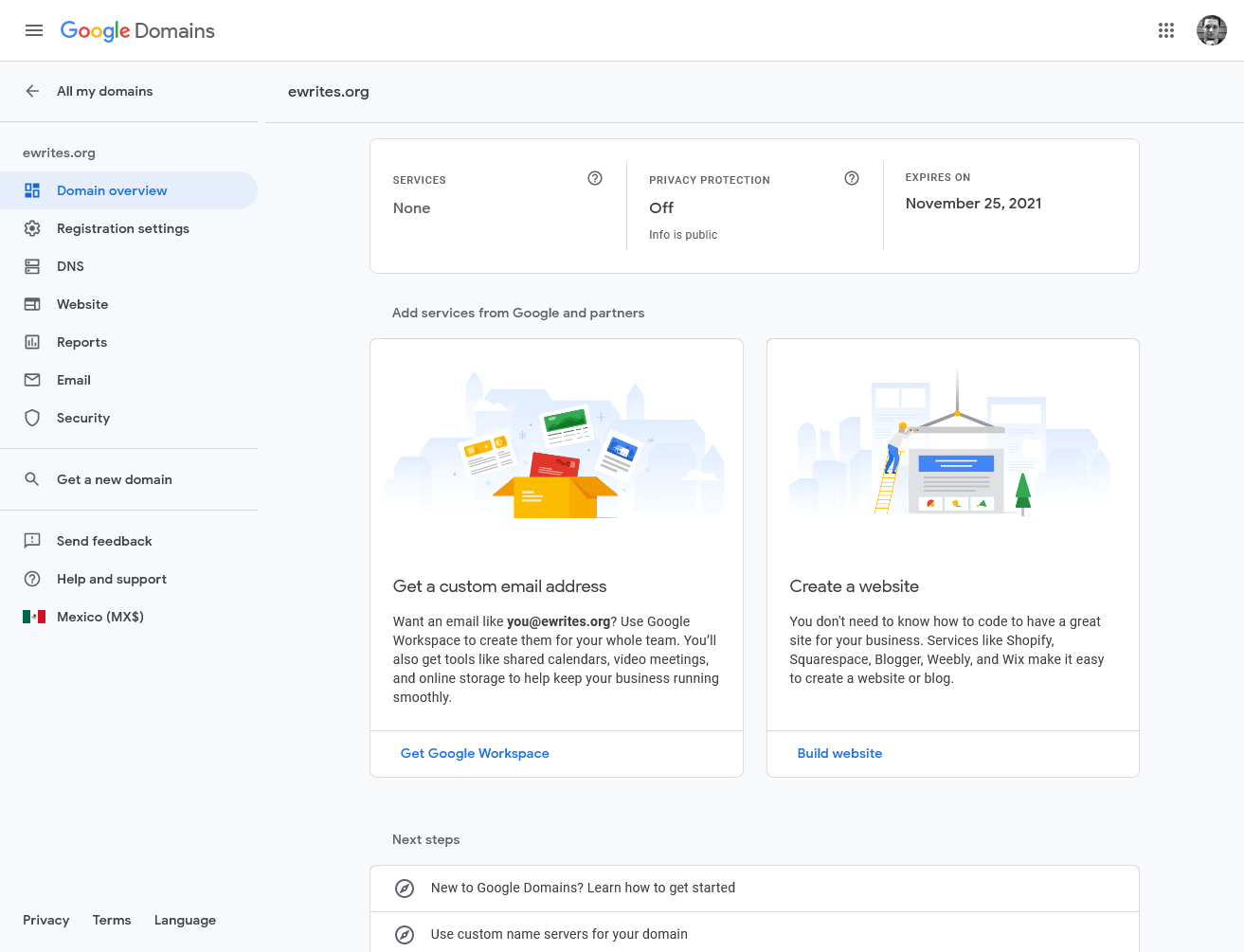 My experience with the service was nearly flawless. It took me a minute to figure out the process of writing A records, because that's still, like, a new thing for me. But once I did have things figured out (with a little help from support), I got a disappointing message:
Changes to your domain can apparently take up to 48 hours to apply. That is very, very slow… and mostly not true, thank God.
 Look, Google is covering its corporation-sized behind with that statement, and my changes actually updated in about half an hour. With my test site in place (it loaded quite fast, by the way), it was time to see what kind of customer support I could get from, you know, Google.
Support
This, I think, is the first time I have ever contacted Google's support about anything. I've used many of the company's free services since I was a teenager, and got unreasonably hyped when Gmail first launched, but it's never actually occurred to me to actually
contact
 the "Google People", you know? It just seems too big to talk to.
 Well, my support experience was thankfully pretty good.
First up, Google Domains has some pretty decent documentation. However, it is
not
 aimed at beginners. It's aimed at people who know something about domain names, and just need to get familiar with Google Domains itself. If / when you decide that you need a human being to step in and simplify your life, you can contact the support team via both live chat, and email, right from the dashboard. You can also manually select the language you want support in, which is very cool. Seriously, I've never seen that anywhere else.
Live Chat
The live chat agent I talked to got to me quickly, was helpful, and all around wonderful.
 I had that problem where I wasn't sure how to write my A records (the documentation said to use the "@" symbol in one of the form fields, and I wasn't sure why).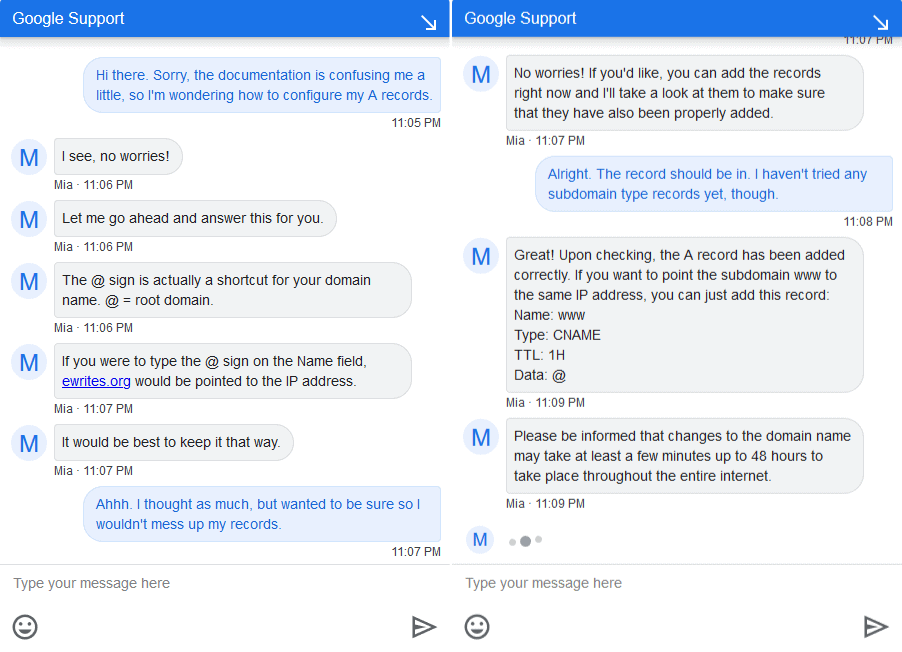 The agent told me how to write my A records, then went and double checked my work for me, and explained the whole "@" symbol as shortcut thing. I'm extremely happy with the chat people.
Email
My experience with the email support was kind of mixed by comparison, though I'm not sure that's anyone's "fault" as such.
 Here's the thing: When you buy a domain, you can choose the currency you see prices in; though I live in Mexico, I prefer to see prices in US dollars. Unfortunately, changing the currency settings also changes your "region" settings, so when I selected USD as my currency, I was asked for a US address at checkout. I wrote in to see if there was any way to see USD based prices without having to go back and change my region before checkout. This was the email I got in response: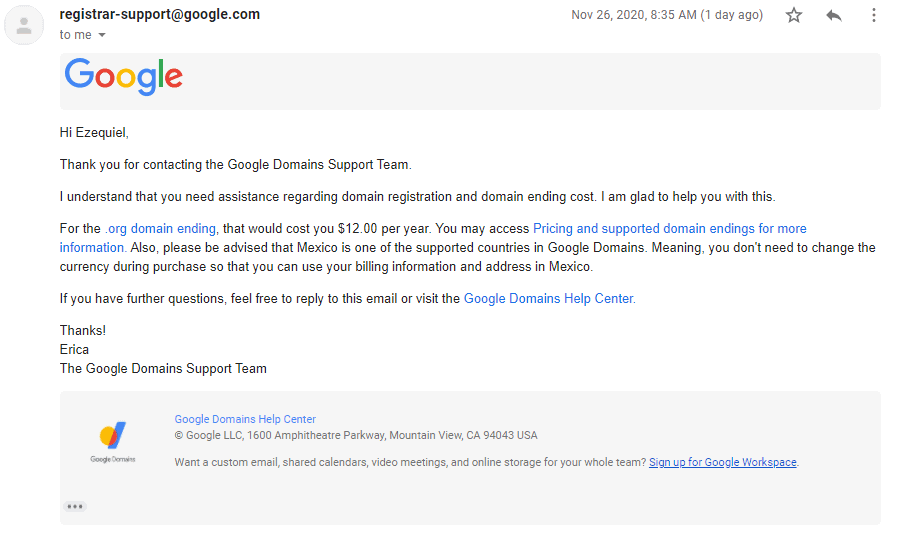 That response didn't exactly answer my question, and I'm not sure my question was fully understood.
 Even so, the agent clearly went out of their way to be helpful, and did their best to answer. That information, while not quite what I asked for, is still helpful. So, you know, I'm not mad. Just vaguely disappointed, like I have been with almost every single Hulk movie so far. I'm not crazy, right? They could do a lot more with the character, I'm sure of it.
Pricing
Compared to some domain registrars, who offer domains starting at $1 for the first year, Google Domains is kinda expensive. But not totally. Let me explain. 
See, Google Domains includes a lot of things that other domain registrars tend to charge extra for (like privacy protection and DNSSEC). It promises there are no hidden costs, too. But the biggest reason why Google Domains looks expensive but isn't really is
because those folks that advertise domains at $1 will raise the prices massively when it's time to renew, and Google Domains, well, won't.
Google Domains is Peak Google
This is a fairly simple, specialized service that does exactly what you'd expect, and little more.
Those are the best Google services, and Google Domains does not disappoint in that regard. If you're already a Google customer at the business level, it makes sense to go with Google Domains for the sheer ease of integration with Google's other services.
However, if you just want a domain, try out
Namecheap
. Or even my personal favorite, Porkbun
. Those are all more specialized companies, where domains are essential to their business model. 
Also keep in mind Google's long, long history of shutting down its little side projects.
Google Domains may not be around forever, or even half that long.
FAQ
How does Google Domains work?
Mostly the same as any other domain registrar. Search for a domain, choose the one you want, and then pay for it with any major credit card.
If you've ever bought a domain before, the process should be familiar to you.
And if you haven't, it's not a hard process to learn. Just take it for a spin. It costs nothing to just look at domains you want.
Is Google Domains free?
Well, no. There are no free domains here.
The pricing, as far as I've seen, is fairly industry standard, but not the cheapest. You'll find much better deals on other domain registrars, such as Namecheap
.
You'll generally find more comprehensive domain-related sets of features as well. Google Domains mostly just does what it has to. Other companies dedicated to domain registration do it a bit better, and often cheaper.
If you want to get a good deal on domain names (and hosting) check out our coupons page.
Does Google Domains offer hosting?
Well… Google does, after a fashion. You can build a simple site with Google Sites,
or go nuts and build a huge application on Google Cloud Platform. But Google Domains, as a service, offers no hosting.
If you'd like a few recommendations, check out Hostinger
, MochaHost
, GreenGeeks
, and InMotion Hosting
. We have full reviews of each one, and a whole lot of other hosts, too.
Is Google Domains safe to use?
Google is one of the better companies in terms of sheer infrastructure and technology. Simply put, Google is (mostly) secure because it has what is probably one of the biggest security budgets out there.
It's as safe as any other online service, if not more so.
Just follow the usual precautions if you can. Be careful who you give passwords to (ideally that would be no one), enable two-factor authentication, and be smart about it.