GoDaddy might be a big name on the web hosting scene, but TMDHosting brings more game.
Not only are TMDHosting's shared hosting plans cheaper, but you also get more essential features for free with all plans.
In order to make a fair comparison between GoDaddy and TMDHosting, I've tested both hosting services across five main categories.
 In terms of value for money and a boatload of features, TMDHosting is the winner of this battle. But if you want my personal advice, I recommend you choose InterServer instead. It combines remarkable performance with affordable prices – and no renewal fees.
Click here to see InterServer's latest deals
, or read on to see if one of these shots could be the better choice for you.
1. Plans and Pricing
TMDHosting Is Cheaper and Offers Better Value for Your Money
GoDaddy and TMDHosting offer an array of hosting solutions and plans for small to medium-sized websites and businesses at an affordable cost. However,
only one of them gives you your money's worth – TMDHosting.
 Let's compare their shared hosting plans, since it's a popular choice.
A free domain name is included with some hosting plans from TMDHosting
GoDaddy Hosting Web Hosting
A free domain name is included with some hosting plans from GoDaddy Hosting
You get pretty much the same resources with TMDHosting's smallest plan as GoDaddy's Ultimate package, but at a ridiculously cheaper cost. TMDHosting's prices for annual subscriptions are cheaper and even renew at a cheaper rate than GoDaddy. Both services offer a free domain for the first year on annual plans.
TMDHosting offers free website migration, but GoDaddy doesn't.
 You also get freebies with all TMDHosting's packages, such as a free SSL certificate, a free CDN, and SSD storage. In contrast, GoDaddy offers these free extras with certain packages only. GoDaddy's money-back guarantee is 48 hours or 30 days (depending on your subscription period), but
TMDHosting offers a 60-day money-back guarantee.
That said, TMDHosting easily wins the pricing round. But if you're worried about package renewal prices,
go for InterServer
. It offers fixed prices (no renewal fees, thanks to its price-lock policy) and even more value-added extras.
2. Features
TMDHosting Beats GoDaddy's Features
Both GoDaddy and TMDHosting offer shared hosting plans for Linux and Windows supported by cPanel and Plesk control panels.
GoDaddy offers four shared hosting Linux plans
 (Economy, Deluxe, Ultimate, and Maximum), whereas
TMDHosting offers three Linux packages
(Starter, Business, and Enterprise). TMDHosting's Starter plan comes with unlimited SSD storage, unlimited bandwidth, 1 hosted website, and unlimited email accounts. GoDaddy's Economy plan includes 100 GB storage, 1 hosted website, and unlimited bandwidth. TMDHosting offers the Weebly site builder for free with all shared hosting packages. The
GoDaddy Website Builder
 is a separate product, not offered with its standard hosting plans. Take a look at the differences between GoDaddy and TMDHosting:
| | | |
| --- | --- | --- |
| | GoDaddy | TMDHosting |
| Hosting Types | Shared (Linux and Windows), business hosting, reseller, WordPress hosting, VPS, dedicated servers | Shared (Linux and Windows), WordPress hosting, reseller (Linux and Windows), cloud, VPS (Linux and Windows), dedicated server, application hosting |
| Free Domain | ✔ | ✔ |
| Free SSL Certificate | With certain plans | ✔ |
| Disk Space | 20 GB – Unlimited | 30 GB – Unlimited |
| Bandwidth | Unlimited | 400 GB – Unlimited |
| Automatic Backups | Daily | Daily |
| Control Panel | cPanel, Plesk | cPanel, Plesk |
| Email Accounts | 1 Free | Unlimited |
| Free CDN | With WordPress hosting only | ✔ |
| Free Site Migration | x | ✔ |
| Money-Back Guarantee | 30 days for annual plans and 48 hours for monthly plans | 60 days |
The winner? TMDHosting wins for offering more unlimited resources and a lot of extras, like SSL certificates, a website builder, SSD storage, and Cloudflare CDN.
3. Performance
TMDHosting Can't Beat GoDaddy's Solid Performance
TMDHosting promises an uptime of 99.99%, while GoDaddy has a 99.9% uptime guarantee for most of its services. While GoDaddy maintains stable and consistent performance, TMDHosting users sometimes report downtime. As for loading speeds,
both hosts showed quite impressive loading speeds when tested from several locations
, but the overall results tilted slightly towards GoDaddy. This is somewhat surprising, given that TMDHosting has a larger network of servers (including 6 global locations) than GoDaddy (3 global locations). This unexpected result shows that GoDaddy keeps a closer eye on its servers than TMDHosting.
With less downtimes and faster loading speeds, GoDaddy overtakes TMDHosting when it comes to performance.
4. Security
TMDHosting Is All About Keeping You Safe
While TMDHosting provides free SSL certificates with all its plans, GoDaddy only offers them with certain packages. Both vendors secure their servers against cyber threats with DDoS protection and Web Application Firewall (WAF).
TMDHosting also secures its servers with two systems – Cisco and Barracuda –
which are responsible for the protection against malware in addition to all types of DDoS and Brute Force attacks.
All of TMDHosting's accounts come with BitNinja preinstalled.
 It detects IP addresses with any suspicious behavior such as accessing the same web page in short intervals or filling in an incorrect password multiple times. The winner? It's quite clear that TMDHosting goes the extra mile to protect your website while GoDaddy only focuses on the basic security measures.
5. Support
You Get Better Support with TMDHosting
Both GoDaddy and TMDHosting maintain websites filled with valuable information. However, TMDHosting outshines in terms of website organization, facilitating seamless information retrieval. Furthermore, TMDHosting surpasses GoDaddy in the comprehensiveness of its knowledge base.
GoDaddy offers 24/7 support via live chat and phone. Unfortunately, there's no email or ticket support.
 I went for the live chat and asked a few basic questions. To my disappointment, the response time was one of the worst I've come across. Even though some users reported a faster response than others, the overall experience was unsatisfactory.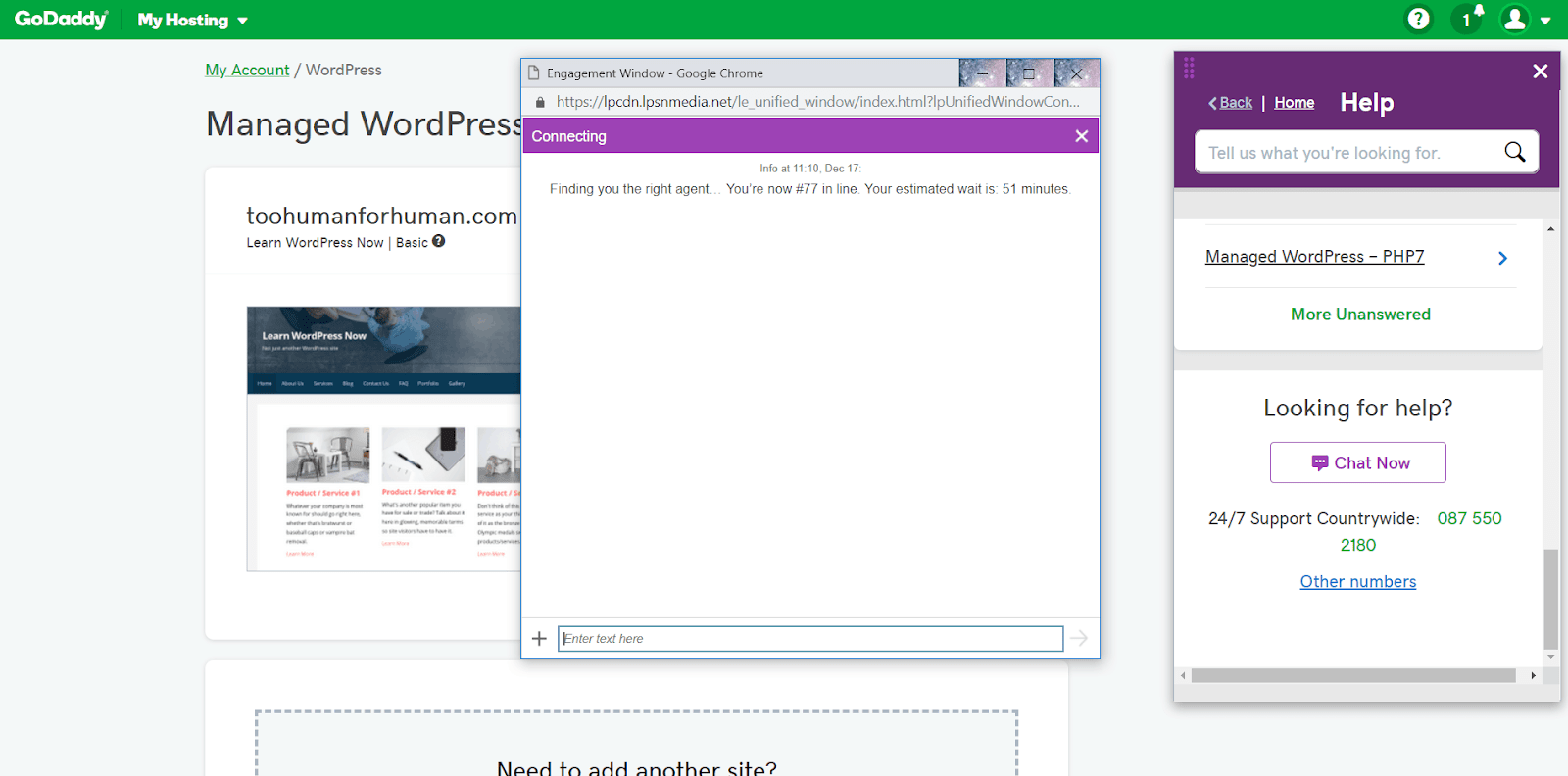 TMDHosting's support, on the other hand, can be contacted via live chat, phone, email, or support ticket.
 Both live chat and email channels are highly responsive and were a great help when I contacted them for both basic and more technical questions.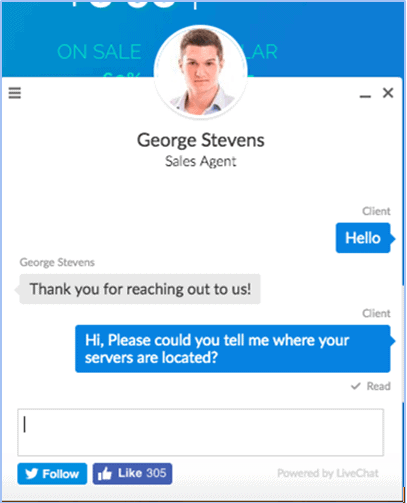 Another win for TMDHosting.
TMDHosting Outshines GoDaddy
As you can see, TMDHosting outperformed Godaddy in almost every way. It offers better security, better value for your money,  better support, and better features that you can actually benefit from.
Click here to see TMDHosting's best deals
.
TMDHosting certainly isn't bad, but I'd still
choose InterServer
, which offers excellent performance and great prices. It has even made it to our
list of the best web hosting services
, unlike the other two hosts.
Plans and Pricing
More expensive plans. Offers 48 hours and 30 days money-back guarantee.
Cheaper prices. Offers a 60-day money-back guarantee.
Key Features
Free domain, unlimited storage with higher-tier plans
Free domain, free site migration, unlimited storage, unlimited email accounts
Performance
99.9% uptime guarantee with lower downtimes and faster loading speeds worldwide
99.99% uptime guarantee with more downtimes and slower loading speeds worldwide
Security
Free SSL certificates with certain plans only, DDoS protection, WAF
Free SSL certificates with all plans, DDoS protection, WAF, Cisco, Barracuda, BitNinja
Support
24/7 live chat and phone, low responsiveness
24/7 live chat, phone, email, support ticket, high responsiveness
FAQ
Does GoDaddy use SSD?
Not with all packages. GoDaddy offers SSD storage with its VPS and dedicated server packages. The VPS plans come with disk space that ranges between 20 GB and 400 GB and RAM from 1 GB to 32 GB. If GoDaddy isn't quite right for you, take a look at these fast and cheap SSD hosting services.
Does TMDHosting offer fast hosting?
TMDHosting offers pretty good loading speeds and a 99.99% uptime guarantee. However, it's more focused on security that's why you'll find that the loading speeds are inconsistent and they're only fast across Western Europe. See how our experts carry out a proper web hosting server performance test.
Is GoDaddy good for an online store?
GoDaddy doesn't offer WooCommerce hosting plans (more efficient for online stores than shared and WordPress hosting). Instead, it has recently partnered with WooCommerce to provide a pre-installed online store powered by WooCommerce through its Ecommerce WordPress hosting plan – GoDaddy's most expensive WordPress hosting package. Check out these hosting services that specialize in WooCommerce hosting for online stores.
Is TMDHosting owned by EIG?
No. TMDHosting isn't owned by the infamous Endurance International Group (EIG). TMDHosting is owned by Peter Darazhanski, who founded the company in August 2007. TMDHosting grew from a small company to a large business that serves thousands of customers worldwide.