A word of advice:
The GoDaddy website builder has plenty of good features, but it comes with a ton of hidden costs. The advertised prices go up significantly after the first year, and none of the plans include a custom domain. 
If you're looking for a builder that offers everything great about GoDaddy – and one where you know what you're paying for –
I recommend Squarespace.

Like GoDaddy, Squarespace offers an intuitive and elegant editor. But u
nlike with GoDaddy,
the prices always remain as advertised, and you get a free domain for the first year.
If you're not sure about switching, you can use Squarespace's 14-day free trial
 to decide if it's a good alternative.
On the face of it, GoDaddy's pricing structure
seems like it couldn't be simpler or more straightforward
: just four paid plans, each aimed at a well-defined target group. However, this limited choice means
you may not find a plan that's
exactly
 what you need
 – you might choose the one that seems like the right fit only to realize later that it's too restrictive for your needs, or, conversely, that you're paying for more features than you really want.
You should consider that
there are a bunch of hidden costs to watch out for.
In the end, GoDaddy's prices are neither as simple nor as straightforward as you would hope.
So… what's the real deal here? To save you time and frustration, I've done a deep dive to bring you the most transparent guide to GoDaddy's pricing. By the end of this article, you'll know exactly what you'll get for your money and whether this website builder is right for
you
. 
But, honestly?
You might be better off with a builder that's clear about its pricing from the beginning.
If you're looking for a great builder with no hidden costs, check out
our review of the best website builders in 2023.
GoDaddy Price Plans & Options: Less Is More?
Let's dive straight into the big question: How much do the plans cost? Thankfully, this part is fairly simple.
Disclaimer: As with most website builders, GoDaddy's prices vary from country to country. For this comparison, I'll be talking about the plans and prices offered in US dollars to customers in the US.
GoDaddy has a free plan and four paid plans to choose from
, ranging from
$
9.99
to
$
29.99
per month (when billed annually – more on that later). The price increases are simple: You'll pay just $5 more per month each time you move up a plan. By default, you'll start with a free plan to build your website (
jump down to learn more about the free plan
). At any point, you can choose to upgrade if you want more features. However, it's worth noting that
there's no way of reverting back to the free plan once you upgrade
. Unless you want to start over with a completely new website, you'll be locked into paying a monthly fee for your website.
GoDaddy Pricing: An Overview
GoDaddy states plainly what type of website each plan is intended for, but in reality things are rarely this simple. Let's dig below these taglines to work out which plan is
really
right for you.

For example, your "personal website" might require some features that only come with the Premium plan. Or you might find that your small online business doesn't need everything that comes with the Ecommerce plan. The most important thing to know is that
the two highest-tier plans each unlock an additional package of features designed for specific types of websites.
The Premium plan gives you access to online appointment tools
 – letting website visitors book and pay for appointments directly from your website. And
the Ecommerce plan lets you accept payments and fulfill orders
. So if you need either of these functionalities, you have to buy one of these plans.
A Deep Dive into the GoDaddy Pricing Structure
OK, time to delve into the details of GoDaddy's pricing. This section will tell you what's included in the plans and who should (and shouldn't) use each one.
Free – A Good Starting Point for Personal Websites
Cost: Free
GoDaddy's free plan is good-enough.
 Besides one website with hosting, you get access to all of GoDaddy's templates, site analytics, and 24/7 customer support.
However,
your website will display GoDaddy branding at the top, and you won't be able to create or connect a custom domain.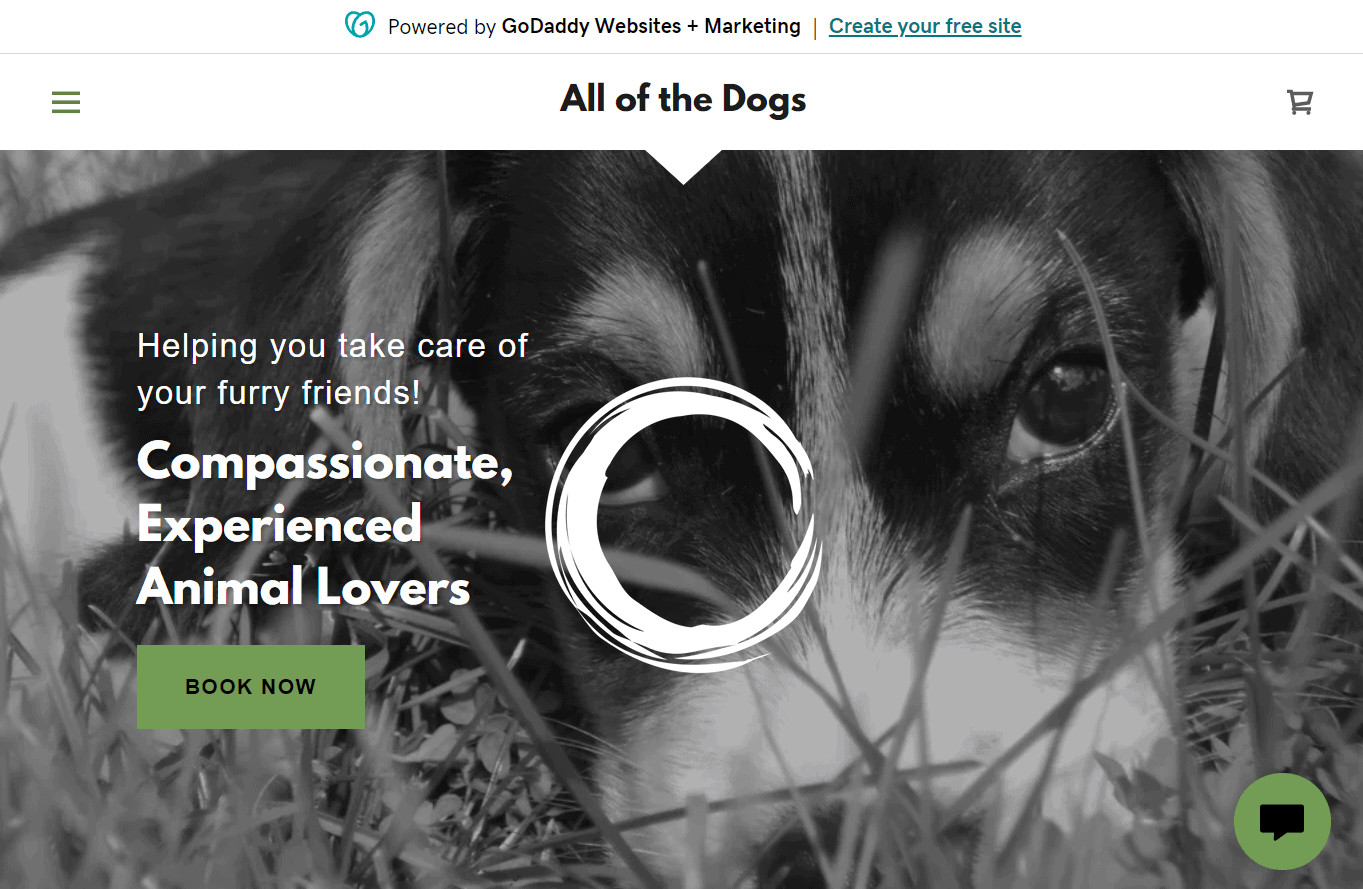 The free plan is advertised as coming with "limited social and email marketing," a term that's about as clear as dishwater. After probing GoDaddy customer support for clarity, I discovered that the free plan lets you connect one social media platform to your website. You can also send an unlimited number of marketing emails, but since your website does not have a custom domain name, they will display as coming from your personal email address. Not bad (the unlimited part especially), but you might not want to share your personal email address with your whole subscriber list! You don't get access to more advanced features, like the built-in search engine optimization (SEO) tool, but the fact that you get any marketing tools at all is pretty rare in the world of free website builder plans. Basically, the GoDaddy free plan is great for personal sites or if you're experimenting with creating your first website. If you want to be taken seriously, however,
you really need a custom domain
. And for that, you need to upgrade to a paid plan.
Basic – For Simple, Professional-Looking Sites
Cost:

$

9.99

per month
The major difference between the Free and Basic plans is that the Basic plan
allows you to remove GoDaddy branding and connect a custom domain
 – a must-have if you want your site to look trustworthy and professional. You also get access to a few extra features, including:
A free business email address for one year
The option for a PayPal button to accept payments or donations through your site
Up to 5 social posts and 100 marketing email sends per month
Your customers can book one-time appointments directly from your website
These features make the Basic plan a great choice for portfolio or CV websites where you need a slick, professional look.
 The addition of the PayPal button means it could also work well for nonprofit websites or any site that wants to accept donations. And with some social posts and email sends included, this plan is enough for you to get a fairly decent marketing mix up and running. However, if you're running a business and want to get more marketing tools, be able to sell products, or let your site visitors book recurring appointments (or pay for appointments via your website), this plan isn't right for you.
Standard – Get Your Professional Site Found Online
Cost:

$

14.99

per month
The Standard plan's major selling point is that it gives you access to GoDaddy's SEO tools
, which help you get your website found on Google search results. These tools cost $6.99 a month if purchased separately, while the Standard plan is only $5 extra per month. So if you're on the Basic plan and decide you want SEO tools, this upgrade is a no-brainer.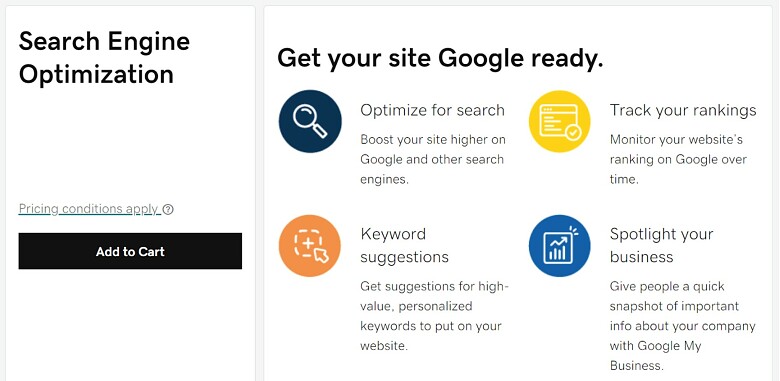 The GoDaddy Standard plan also allows you to connect your site to up to three social platforms, manage them directly from the GoDaddy dashboard (with up to 20 posts and replies per month), and send up to 500 marketing emails. Truth be told, though, these numbers aren't much in the grand scheme of things… so apart from the SEO tools,
this plan isn't a massive step up.
Premium – Start Scheduling Appointments
Cost:

$

16.99

per month
The Premium plan is where you get a big leap in functionality
. Along with all of the features included in the Basic and Standard plans, you get:
Unlimited connected social media platforms
Unlimited social media posts and replies from your GoDaddy dashboard
Up to 25,000 marketing email sends per month
Advanced appointment scheduling tools
This plan allows your customers to book more kinds of appointments on your website.
This functionality includes:
Recurring appointment bookings

One-time group-event bookings

Ability to take payments (for services, not products) with credit cards, PayPal, and Apple Pay

Email and text appointment reminders
This functionality can be great for service businesses that need to offer more than just one-off bookings.
Ecommerce – (You Guessed It) Best for Online Stores
Cost:

$

29.99

per month
As the name suggests, the GoDaddy Ecommerce plan is the
only plan that lets you launch a full-fledged online store
. For an extra $5 a month, you get everything included in the Premium plan as well as all of GoDaddy's e-commerce tools, including:
Product listings
Ability to accept payments for products as well as appointments/services
Sync and sell your website products across multiple channels, including Amazon, eBay, Etsy, Walmart, Facebook, and Instagram
Shipping options such as free shipping, flat rate shipping, and carrier-calculated rates
The ability to offer discounts and promotional features, like sale price adjustments
A nice perk is that
GoDaddy doesn't charge sales commissions for purchases on your site
 (although the payment processors themselves do charge a small transaction fee). Another bonus: Thanks to its partnership with PayPal,
GoDaddy offers some of the lowest PayPal transaction fees around (2.7% + 30¢)
. For a quick comparison, here's a side-by-side look at the five plans:
| | | | | | |
| --- | --- | --- | --- | --- | --- |
| Plan | Free | Basic | Standard | Premium | Ecommerce |
| Storage | Unlimited | Unlimited | Unlimited | Unlimited | Unlimited |
| Connect a custom domain | ✘ | ✔ | ✔ | ✔ | ✔ |
| PayPal button (e.g., for donations) | ✘ | ✔ | ✔ | ✔ | ✔ |
| Built-in SEO tool | ✘ | ✘ | ✔ | ✔ | ✔ |
| Social media platforms | Connect 1 platform | Connect 1 platform | Connect 3 platforms | Unlimited | Unlimited |
| Social media posts | Unlimited posts directly from GoDaddy | Post 5x/month directly from GoDaddy | Post 20x/month directly from GoDaddy | Unlimited posts directly from GoDaddy | Unlimited posts directly from GoDaddy |
| Email marketing | Unlimited sends/month from your personal email address | 100 sends/month | 500 sends/month | 25,000 sends/month | 25,000 sends/month |
| Appointment booking | None | Customers can book one-time appointments from your site | Customers can book one-time appointments from your site | Customers can book one-time and recurring appointments from your site | Customers can book one-time and recurring appointments from your site |
| Accept payments for services | ✘ | ✘ | ✘ | ✔ | ✔ |
| Ecommerce tools | None | None | None | None | Product listings; ability to accept product payments |
Hidden Costs to Be Aware Of
Now let's get into the nitty gritty… because it's easy to
end up paying more than the advertised price
. To avoid unpleasant surprises, read on to understand all of GoDaddy's hidden costs before you commit to a plan.
1. GoDaddy's Advertised Prices Are Based on Annual Subscriptions
GoDaddy won't tell you this until you're already signed up and well on your way to creating your website, but you have to pay for the whole year upfront to lock in those low "monthly" prices. If you want to
actually
 pay monthly it'll cost you a
 lot
more. A good reason to pay monthly would be to take advantage of GoDaddy's "cancel anytime" offer – which allows you to
cancel your GoDaddy subscription
 from one month to the next without being locked in. I had to go all the way through the signup process and try to upgrade to a paid plan before I got a full cost breakdown. So I'll save you the time and trouble, and show you the difference between paying monthly and annually:
Basic
Standard
Premium
Ecommerce
Price per month (paid annually)

$

9.99

$

14.99

$

16.99

$

29.99

Price per month (paid monthly)
$14.99
$19.99
$24.99
$29.99
Paying monthly costs you
50% more
33% more
25% more
20% more
The lesson here?
 Paying annually is definitely worth it,
but it'll hit your pocketbook a lot harder than the homepage makes it seem.
2. GoDaddy's Hefty Discounts Don't Last Forever
Not that you'd expect a promotional price to last forever, but it's important to calculate what your costs will be after that first year when prices are at their lowest. So here's how signing up for a GoDaddy website builder plan works: Regardless of which plan you want to use, GoDaddy makes you start out on the free plan. You can spend as much time as you want working on your website and then, when you're ready, upgrade to a paid plan. At that point, you go to the upgrade page and – hey, look at that! – GoDaddy offers you a big discount. Of course, it's always good to save money when you can. But
this is where you have to be careful:
 After a year (or sometimes less), you'll have to pay full price for your plan… And you'll be stuck because
you won't be able to migrate your GoDaddy website anywhere else
. So make sure you're OK with the price you'll have to pay
 after
 the special offer period is up. You don't want to have to rebuild your site from scratch a year down the line.
3. GoDaddy Business Email Addresses Expire after One Year
All GoDaddy annual plans for customers in the US come with a free Microsoft 365 business email address for one year – a great professional touch that's definitely worth having. But what happens when the year is up?
GoDaddy offers a range of Microsoft Office and Email plans so you can keep your address.
 The cheapest is $0.99 per month – but this will only get you a single business email address and web-only versions of Excel, Word, and PowerPoint. A better option would be the Business Premium plan for $8.99 per user per month. It lets you install Microsoft Office 365 on up to five devices, gives you HIPAA-compliant email, and provides 1TB of online storage. The highest-tier plan is $16.99 and adds on advanced security features and archiving. Since you definitely can't just let your business email drop after a year, it's worth calculating in advance how much you'll need to pay for this feature.
4. Buying a Custom Domain Complicates Things
You may have noticed that GoDaddy's paid plans let you
connect
a custom domain.
Connect
is the key word here.
A free custom domain is not included in your plan
 – something I find downright strange, considering that GoDaddy is supposed to be a one-stop shop for web building and domain registration – and that plenty of its competitors
do
offer a free domain with their paid plans. You can, of course, purchase a custom domain through the Domains section of the GoDaddy website, but this is an entirely separate transaction from the website builder signup process, with – you guessed it – an extra price tag attached. So if you haven't already bought a domain, you'll need to factor in that additional cost. For reference, I was quoted $0.42 per month for the first year as a special introductory price, and then $17.99 per year thereafter, but the exact price depends on the value of your desired domain name. If you're not sure how to choose a domain name, check out our
useful guide
.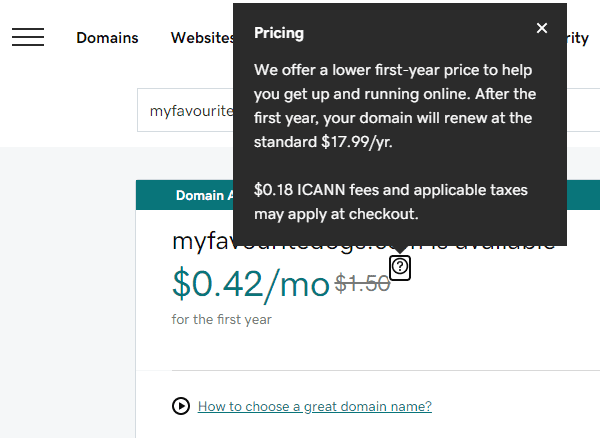 How Do GoDaddy Plans Measure Up to the Competition?
Free
As I said above, the GoDaddy free plan
 is pretty good, as far as free plans go
. Of course, your website will display GoDaddy branding, and you can't accept payments – but that's pretty standard stuff for a free plan.
That being said, some of
GoDaddy's competitors offer a bit more in the way of features
– and still without costing you a penny. Wix, for example, includes basic SEO tools with its free plan (something you have to pay for with GoDaddy). Wix also offers tons of creative freedom
.
Which is simply not matched by
any
of GoDaddy's plans.
Still, Godaddy's unlimited storage on its free plan could make it a good option, for, say, photographers or artists who want to upload a lot of high-resolution images to an otherwise basic site.
Basic
Compared to the competition,
GoDaddy shoots pretty much bang in the middle with the cost of its starter paid plan
– the main perks of which are the ability to connect your own domain and get rid of the GoDaddy banners.
GoDaddy isn't the least costly website builder available, nor is it the priciest. My overall view is – similar to its pricing – quite balanced.
GoDaddy wins some points with the appointment booking tool
, which isn't offered by any of the competition at this price. Most other site builders require you to install an extra app or add-on to get appointment booking functionality.
For cheap booking, GoDaddy's definitively an option to consider.
Standard
The only real difference between the Basic and the Standard GoDaddy plans is the offer of some basic SEO tools – but since most of the competition starts offering these on lower-tier plans, you have to ask,
why would you choose the GoDaddy Standard plan?
If you're looking to save time and exert greater control over your social media presence right from your GoDaddy dashboard, the Standard plan could be the perfect fit for you. This plan enables you to connect a higher number of social media platforms, schedule an increased amount of social posts per month, and send a greater volume of marketing emails.
For a little less per month, however,
you could get a
Squarespace personal plan.
Not only does Squarespace offer some outstanding SEO tools, it also comes with fantastic templates, intuitive editing, and an emphasis on visually striking sites. 
If marketing's your thing, you can exponentially increase your site's marketing functionality with Squarespace extensions. To find out more, check out our in-depth Squarespace review.
Premium
GoDaddy's Premium plan costs
$
16.99
per month, a price point where
most website builders start offering e-commerce functionality.
Wix, Weebly, Squarespace, WordPress.com, and SITE123 all let you, at the very least, list products and take payments, but
this is not possible on the GoDaddy Premium plan
. So, what else is it offering? Well,
more advanced appointment scheduling tools
 – which, to reiterate, can end up costing you a lot extra on other website builders' plans. You also get unlimited social media platform integrations, posts, and replies. But my research shows that this isn't a huge perk, since both Wix and Squarespace let you do this across all of their plans anyway.
Ecommerce
At $29.99
 per month,
Ecommerce is the priciest GoDaddy plan
, but it's the only one that gives you e-commerce functionality.
WordPress.com, Squarespace, and Wix all offer starter e-commerce plans priced a little below GoDaddy's
, while their premium e-commerce plans, which are priced similarly to the GoDaddy Ecommerce plan, come with extras like ad vouchers, customer accounts, and logo creators.
Wix offers advanced store features, highly customizable design, and unlimited products.
Unlike GoDaddy, the Wix Business Basic plan
 offers true flexibility to sell anything from physical products to tickets and memberships.
GoDaddy: A Worthy Contender
GoDaddy outshines the competition in several ways. Its free plan offers unmatched benefits, including unlimited storage, making it an excellent choice for individuals seeking to create image-rich personal or portfolio websites. Additionally, it provides exceptional appointment-booking features at a more competitive price compared to its rivals.
GoDaddy does not fall into the category of being the cheapest or the most expensive website builder available. My overall impression of it is that, similar to its prices, it is quite average.
There are plenty of things that the GoDaddy editor does well that other builders just do better.
And plenty of things that other editors do and GoDaddy flat out doesn't. You can read

our

in-depth GoDaddy website builder review
 to see how it stacks up against the competition.
If you need a site editor that offers a bigger variety of features for better functionality, I'd suggest checking out competitors like Squarespace or Wix, which offer more powerful tools. Like GoDaddy, Wix has a free plan
, and Squarespace has a free 14-day trial
, so it's well worth giving each of them a go before taking the plunge.
FAQ
Is GoDaddy Website Builder free?
GoDaddy Website Builder has a free plan that gives you everything you need to start building a basic site, including a large number of templates, analytics and guidance, limited social and email marketing, 24/7 customer support, and an SSL certificate for website security. However, GoDaddy Website Builder is limited in functionality compared to other free builders. Before you make any decisions, don't miss our list of the best (totally free) website builders in 2023.
How much does GoDaddy Website Builder cost?
In addition to the free plan, GoDaddy offers four paid plans, ranging from

$

9.99

per month to

$

29.99

per month when you pay annually. Which one you'll need depends on what features you want. For example, you can only build an online shop on the most expensive plan, while appointment scheduling is available on the Premium plan, priced at

$

16.99

per month. You also have to factor in the cost of a domain name and possible add-ons. Of course, you can – and should! – check out our coupon page for all the current deals.
Is Wix cheaper than GoDaddy Website Builder?
It's hard to directly compare the cost of the two website builders because they have such different pricing structures: Wix has nine different plans to GoDaddy's four. While both Wix and GoDaddy have free plans, Wix's cheapest paid plan starts at

$

16.00

a month (paid annually), which is a bit more expensive than GoDaddy's equivalent plan but includes more perks. For a better comparison all of your options, head over to our expert review of the best website builders in 2023.
Does GoDaddy Website Builder offer any discounts for nonprofits?
GoDaddy doesn't offer a discount for nonprofit organizations. For your best options, check out our expert analysis of the best (really free) website builders for nonprofits in 2023.