FastComet and HostGator are both US-based web hosting providers that offer a wide range of hosting plans at reasonable prices – or so it seems. Even though there are a lot of similarities between the two services,
the differences between them are larger than you might think.
To faily compare FastComet and HostGator, I've tested them in terms of pricing, features, security, performance, and customer support.
FastComet came out as a winner in most categories.
 It offers more frequent backups and cheaper WordPress hosting plans. However, I wouldn't choose FastComet or HostGator – I'd go for InterServer instead. With no hidden charges, budget-friendly prices, and feature-loaded hosting packages, it's definitely worth checking out.
Click here to see InterServer's best plans
, or read on to see if HostGator or FastComet could be the right host for you.
1. Plans and Pricing
FastComet Offers Better Value for Your Money
FastComet and HostGator offer a variety of hosting solutions and impressive feature sets that are suitable for personal websites and blogs as well as small to medium-sized businesses.
But don't be fooled by their promotional prices.
While both vendors offer attractive discounts, their packages renew at an expensive rate. However, HostGator's shared hosting packages renew at a cheaper cost than FastComet. So how does FastComet offer better value for your money, you ask? HostGator offers separate plans for shared and WordPress hosting – which are more expensive, whereas
FastComet offers three cloud shared hosting plans that come with all WordPress hosting features and cost less than HostGator's WordPress hosting plans.
Both HostGator and FastComet offer a 45-day money-back guarantee.
HostGator also offers a free domain name on annual subscriptions and free site transfer. On the other hand, FasComet doesn't offer a free domain, but will transfer your website for free. HostGator offers $100 Google Adwords credit and $100 Bing credit with all shared hosting packages, whereas FastComet offers $75 Grasshopper credit. The winner? HostGator may look cheap, but you get your money's worth with FastComet. My advice? I recommend InterServer. Its price-lock policy ensures that you won't be charged with any renewal fees for your subscription.
2. Features
FastComet Offers More Useful Web Hosting Features
There are several similar features on FastComet and HostGator's shared hosting plans (for Linux), such as unlimited websites (depends on your package), unlimited email accounts, unlimited subdomains, one-click WordPress installation, Softaculous app installer, and the latest cPanel version. However,
FastComet leads this round by offering some important features such as free automatic daily backups
as opposed to HostGator's weekly backups. Unlike HostGator, all of FastComet's plans are also backed by SSD drives, which perform faster than traditional drives. Discover more differences between FastComet and HostGator in this head-to-head comparison:
| | | |
| --- | --- | --- |
| | FastComet | HostGator |
| Hosting Types | Cloud Shared and managed WordPress hosting, cloud VPS, dedicated servers | Shared (Linux and Windows), cloud, WordPress hosting, reseller, VPS (Linux only), dedicated servers, application hosting |
| Free Domain | x | ✔ |
| Free SSL Certificate | ✔ | ✔ |
| Disk Space | 15 GB – 640 GB | 60 GB – Unlimited |
| Bandwidth | 2 TB – Unlimited | 600 GB – Unlimited |
| Automatic Backups | Daily and Weekly | Weekly |
| Control Panel | cPanel | cPanel, Plesk |
| Email Accounts | Unlimited | Unlimited |
| Free CDN | ✔ | x |
| Free Site Migration | ✔ | ✔ |
| Money-Back Guarantee | 45 days | 45 days |
The winner? FastComet definitely offers more value-added features than HostGator, making it the winner of the features round.
3. Performance
HostGator Beats FastComet by a Hair
Both FastComet and HostGator guarantee 99.9% uptime. While users of both hosts have reported downtime, FastComet's downtimes seem slightly longer. While
FastComet has a global network of servers (US, Frankfurt, London, Amsterdam, Singapore, and Tokyo)
 and it offers a free Cloudflare CDN (speeds up your website's performance), HostGator has servers in the US only. FastComet also offers RocketBooster with its FastCloud Extra package to increase your website's speed. That said, you'd assume that FastComet has higher loading speeds than HostGator, but you're in for a surprise.
When we tested HostGator's page loading speeds, all tested locations showed impressive results. Find out more in our
expert HostGator review
. In contrast, FastComet's loading speeds were very good, but some locations were slow. See which ones in our
in-depth FastComet review
.
Even though both vendors have acceptable performance levels, HostGator wins this round by a thin margin.
4. Security
FastComet Is More Devoted to Keeping Your Website Secure
HostGator offers free a SSL certificate with all its plans, secures its servers with DDoS protection, and offers SiteLock (anti-malware tool) as a paid add-on. However, this is pretty much where HostGator's security features end. On the other hand, besides offering free SSL certificate and the DDoS protection,
FastComet secures its accounts with BitNinja, which detects any IP addresses with suspicious behavior.
 It also implements a Web Application Firewall (WAF) and isolates each account on the server via CloudLinux to protect it against any external threats on other accounts. Both vendors secure your website data with automatic backups, but
while HostGator only has free weekly backups, FastComet backs up your data on both a daily and weekly basis
. It's quite clear that FastComet takes its customers' security more seriously by applying more advanced security measures by default making it a more secure hosting provider than HostGator.
5. Support
It's Easier to Get Help with FastComet
FastComet and HostGator have polished, information-packed websites. You won't have any problems navigating either website. You can easily get access to their knowledge base sections and scroll through numerous articles and video tutorials. You can reach HostGator's customer support through live chat, phone, or fax (a less efficient form of communication these days). Unfortunately,
it can take up to 10 minutes to get connected to a live chat agent.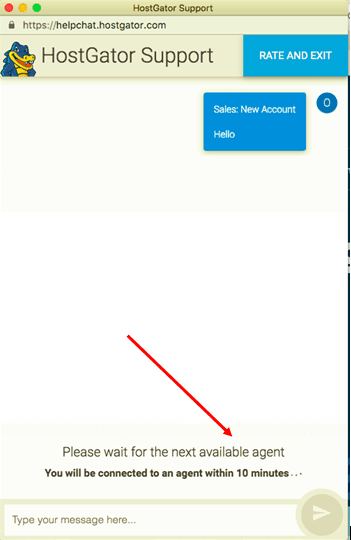 You can contact FastComet's support via live chat, phone, email, and support ticket.
I found that FastComet's support team is much more responsive and knowledgeable than HostGator's.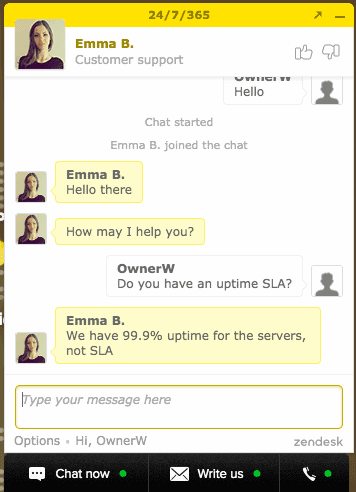 Both FastComet and HostGator have 24/7 support, but FastComet offers more communication channels and they're more responsive, so it's an easy win for FastComet.
FastComet Beats HostGator
Although both FastComet and HostGator offer a variety of hosting plans at affordable prices,
FastComet has an edge over HostGator in terms of money's worth, effective features, security, and support options.
Therefore, it comes out as the winner in this FastComet vs HostGator comparison.
Click here to see FastComet's latest deals
.
That said, I wouldn't choose either of these hosts. I'd rather
go with InterServer
, knowing that I'll get high-quality hosting without package renewal fees. Want to explore more web hosting options? See our
list of the best web hosting services
.
Plans and Pricing
Higher shared hosting package renewal rates, but cheaper than HostGator's WordPress plans. Offers 45-day money-back guarantee.
Cheaper shared hosting subscriptions, but sells more expensive WordPress hosting. Offers 45-day money-back guarantee.
Key Features
Free site migration, unlimited email accounts, and up to unlimited hosted websites.
Free site migration, free domain, unlimited email accounts, and up to unlimited hosted websites.
Performance
SSD storage, global server network, free CDN, 99.9% uptime guarantee, fewer downtimes, slower loading speeds
Servers in U.S. only, 99.9% uptime guarantee, more reported downtimes, faster loading speeds
Security
Free SSL certificates, DDoS protection, BitNinja, WAF, daily and weekly backups
Free SSL certificates, DDoS protection, SiteLock (optional paid add-on)
Support
Knowledge base, video tutorials, 24/7 live chat, phone, email, ticket support, highly responsive
Knowledge base, video tutorials, 24/7 live chat, phone, fax, slow response
FAQ
Does FastComet offer good performance?
FastComet offers pretty good performance, but it doesn't live up to its name given its array of speed boosting features (e.g., global server network, CDN, RocketBooster, and SSD drives). It only offers good speeds across Europe, the US, and Canada. If you're looking for fast and reliable hosting, I recommend taking a look at our list of the top web hosts.
Does HostGator use SSD?
It does, but not with all its hosting services. You can get SSD storage only with HostGator's Power (512 GB SSD) and Enterprise (1 TB SSD) packages for dedicated servers. However, if that's not suitable for you, check our list of the best SSD hosting services.
Does FastComet offer VPS hosting?
FastComet offers four cloud VPS hosting plans with SSD storage from 50 GB to 320 GB, 2 GB to 16 GB RAM, 2 TB to 8 TB bandwidth, and unlimited hosted websites. You also get free cPanel and Softaculous, SSH access, and 7 days money-back guarantee. FastComet isn't right for you? Take a look at these cheap VPS hosting services.
Is HostGator owned by EIG?
Yes. HostGator is owned by Endurance International Group (EIG) and it's in charge of its billing and transaction information. EIG is infamous for taking control of many popular hosting brands and reducing their hardware qualities and putting so many customers on the same server.