DreamHost and GoDaddy are both widely popular web hosts. However, popular doesn't always mean better, and this extensive comparison proves it. When I tested DreamHost and GoDaddy, I was shocked at the awful performance results and disappointed that the best features are only available on the most expensive plans. For example, you only get email accounts as a paid add-on with DreamHost, and GoDaddy only provides free SSL certificates with higher-value plans. On the other hand, you can get a wide range of premium features, excellent performance, and robust security with affordable hosts like Hostinger.
Click here to get Hostinger's latest deals
, or keep reading to find out why DreamHost and GoDaddy fail to win this comparison.
1. Plans and Pricing
GoDaddy Has More Plans, but Both Hosts Are Overpriced
DreamHost has shared hosting for Linux, WordPress hosting, WooCommerce, VPS, cloud hosting, and dedicated servers. GoDaddy offers shared hosting for Linux and Windows, reseller hosting, WordPress hosting, VPS, and dedicated servers.
GoDaddy has four shared hosting plans
for Linux and three for Windows, while DreamHost only has two shared hosting plans for Linux.
A free domain name is included with some hosting plans from DreamHost
GoDaddy Hosting Web Hosting
A free domain name is included with some hosting plans from GoDaddy Hosting
With DreamHost, you can choose to be billed monthly, annually, or triennially. GoDaddy has the same options as well as a biennial billing period. Even though DreamHost has slightly cheaper prices than GoDaddy, both services have high package renewal fees when considering the generic features and unimpressive performance (more details below). DreamHost provides a free domain (with long term plans), free website migration, and a generous 97-day money-back guarantee. With GoDaddy, you get a free domain with annual plans. It also offers a 30-day money-back guarantee with long term plans and a 48-hour money-back guarantee with monthly subscriptions. You only get free website migration with GoDaddy's WordPress hosting packages. Even though I like DreamHost's extended money-back guarantee policy, I honestly wouldn't choose either host. Both DreamHost and GoDaddy have high renewal fees considering the standard feature sets. You get better value with
Hostinger, which offers cheaper renewal fees
(with long term subscriptions), better-discounted rates, and more premium freebies with its plans. If I had to choose a winner for this round, GoDaddy just slightly scrapes ahead on value for money, especially with its WordPress plans.
2. Features
GoDaddy's Features Are Too Generic, DreamHost Throws in a Few Worthy Freebies
With DreamHost's two shared hosting plans (Starter and Unlimited), you get 50 GB to unlimited SSD storage, 1 to unlimited hosted websites, and unlimited bandwidth. You can get email accounts at an additional charge. DreamHost for shared hosting also comes with pre-installed WordPress, a custom control panel, a free basic website builder, and automatic daily backups. You'll also get a free SSL certificate with the Unlimited plan. With GoDaddy's Linux-based shared hosting plans, you get from 100 GB to unlimited HDD storage, unlimited bandwidth, 1 to unlimited hosted websites, 10 to unlimited MySQL databases, and one free Office 365 Email for the first year. All plans also come with cPanel and a one-click application installer, but you'll only get a free SSL certificate with GoDaddy's higher-tier plans for the first year. Explore more differences between DreamHost and GoDaddy in the following side-by-side comparison table:
| | | |
| --- | --- | --- |
| | DreamHost | GoDaddy |
| Hosting Types | Managed and unmanaged WordPress hosting, WooCommerce hosting, shared, VPS, cloud, dedicated servers | Shared (Linux and Windows), reseller, WordPress hosting (managed and unmanaged), VPS, dedicated servers |
| Free Domain | ✔ | ✔ |
| Free SSL Certificate | ✔ | With certain plans |
| Disk Space | 30 GB – Unlimited | 20 GB – Unlimited |
| Bandwidth | Unmetered | Unlimited |
| Automatic Backups | Daily | ✔ |
| Control Panel | DreamHost Control Panel (Custom) | cPanel, Plesk |
| Email Accounts | 0 – Unlimited Paid | 1 Free |
| Free CDN | ✘ | Only with WordPress hosting |
| Free Site Migration | ✔ | Only with the fully managed WordPress hosting plans |
| Money-Back Guarantee | 97 days | 48 hours or 30 days |
Even though DreamHost has some nice freebies, I'd still recommend going for Hostinger if you want value for money.
3. Performance
Both Hosts Perform Poorly
While DreamHost only has one server location in the U.S.A., GoDaddy has servers in both the U.S.A. and India. GoDaddy has an advantage when it comes to global server locations. Both hosts only use SSD storage with specific plans and instead rely on HDD storage for the majority. SSD storage performs much faster in processing website data, reflecting on your site's loading speed and overall performance. Another performance-boosting feature is the CDN or Content Delivery Network. A CDN improves your website's loading speed from different locations around the world by placing it on a global network of cloud servers. Unfortunately, DreamHost doesn't include a free CDN with any plans, and GoDaddy only has it with its WordPress hosting plans. DreamHost promises an optimistic 100% uptime guarantee, and GoDaddy promises a more realistic 99.9%. Even though both hosts reported a few downtimes, GoDaddy was still able to exceed its promise, while DreamHost failed to uphold its unrealistic commitment. With GoDaddy's more dispersed server locations, I expected to see impressive loading speeds. Unfortunately, this wasn't the case. GoDaddy's page loading speeds are disappointing in almost all locations around the world.
See the numbers for yourself in our expert review of GoDaddy
.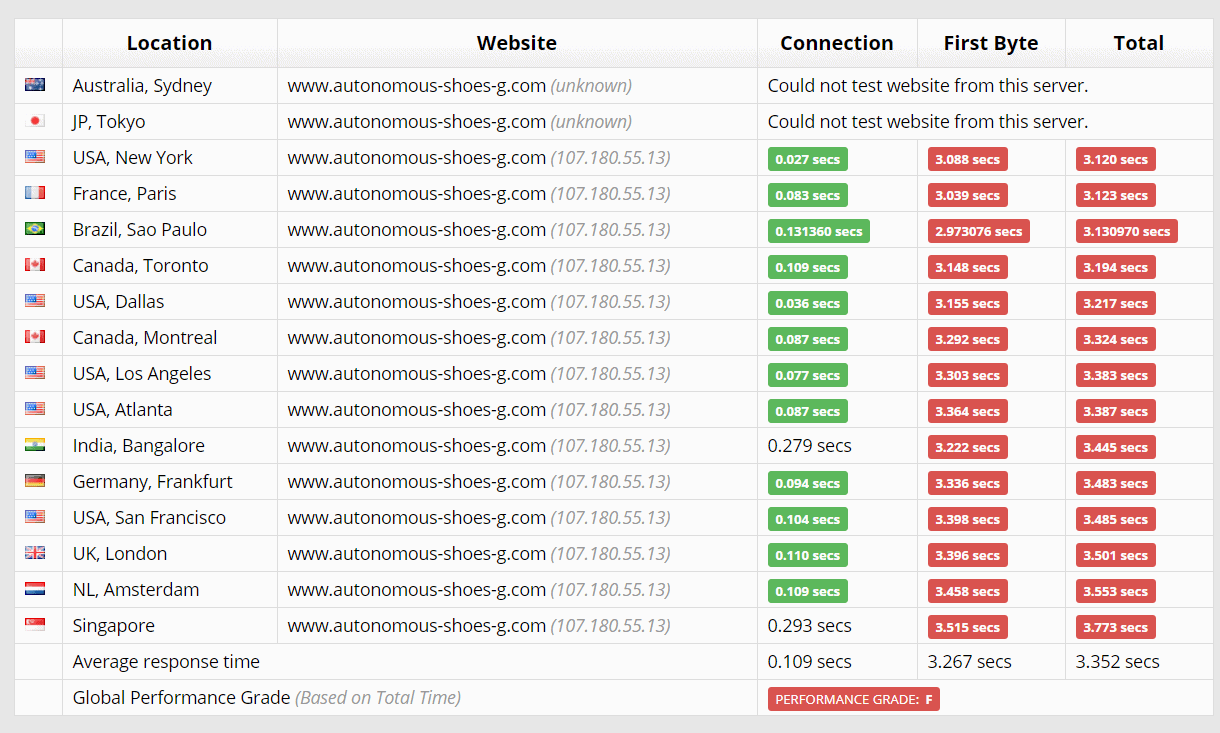 Unfortunately, DreamHost's loading speeds aren't any better than GoDaddy's. If anything, some locations showed even slower loading speeds.
You can find all the detailed performance test results in our review of DreamHost
.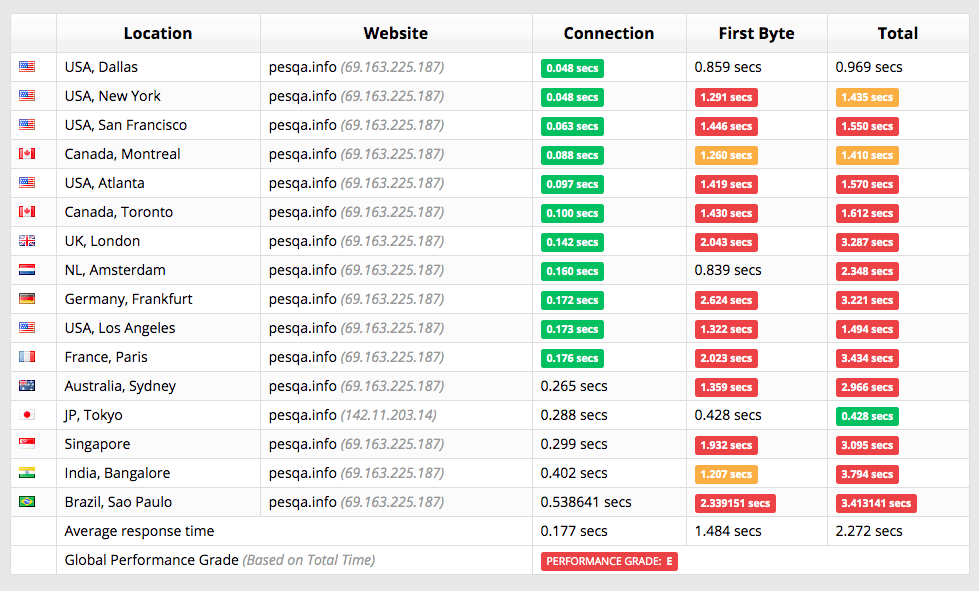 Both DreamHost and GoDaddy offer a limited range of performance features, which is undoubtedly a contributor to the poor speed scores. If you're looking for a true performer, I would recommend going with one of the bigger names, such as Hostinger.
4. Security
DreamHost Provides More Security Features
The security features that come with DreamHost's plans include free ModSecurity and a Web Application Firewall (WAF) that filters and blocks known malicious HTTP requests. These requests include several types of Brute-force, Cross-Site Scripting (XSS), Remote Execution, and SQL injection (SQLi) attacks. On the other hand, GoDaddy has limited security features, including 24/7 server monitoring, advanced firewalls, and DDoS/Brute-Force protection. You get free SSL certificates and automatic daily backups with all of DreamHost's plans, but only with higher-value GoDaddy plans. Given its inclusive features, it appears that DreamHost takes the security of your website more seriously than GoDaddy. Still, if you're looking for a secure web host with great value plans, I'd check out Hostinger.
5. Support
Both Hosts Have Limited Support Options
Both DreamHost and GoDaddy have comprehensive and organized knowledgebases with numerous articles and tutorials. You can contact DreamHost's support via live chat or email. However, only the email channel is available 24/7, and the live chat is open during working hours (Mon – Fri, 8 am – 4 pm Pacific Time). I used the live chat, and the agent was polite and very helpful.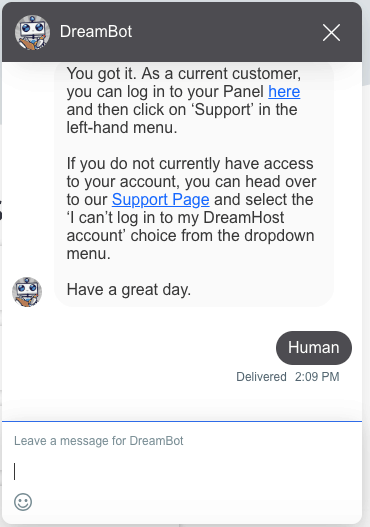 GoDaddy's support, on the other hand, is available 24/7 via live chat and phone. The phone channel is available through several global call centers serving different regions and languages. I went for the live chat, and unfortunately, the agent wasn't as helpful as I hoped. There were apparent knowledge gaps.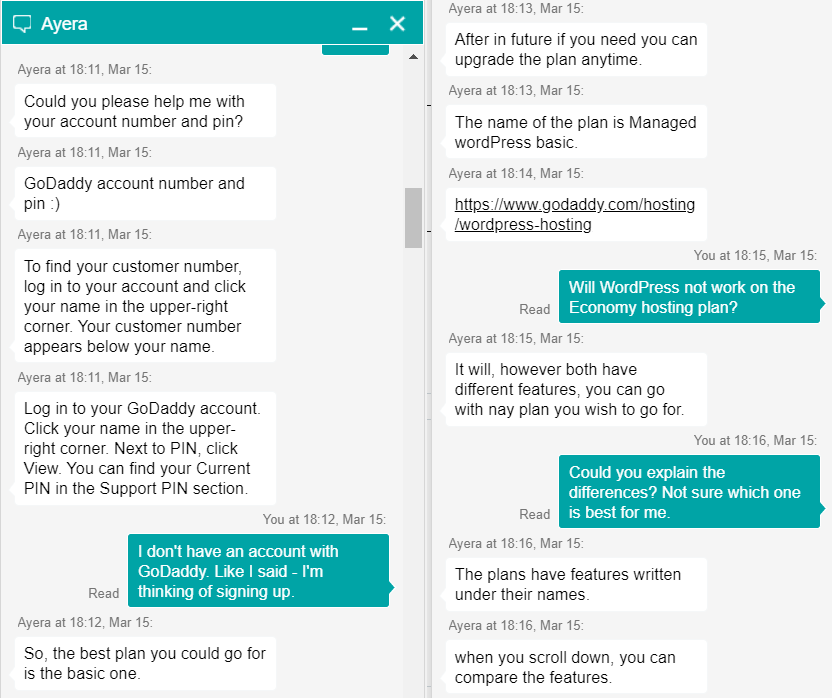 Both hosts possess limited communication channels; however, it's worth noting that DreamHost's support team boasts slightly superior training. In simple terms, between the two hosts, DreamHost offers more proficient support.
No Winners in This Comparison
Compared to GoDaddy, DreamHost offers more affordable prices, useful features, and slightly better security. However, does it make it a reliable host compared to
the best web hosting services
 in the market today? The answer is no. Despite its few perks, DreamHost has terrible performance and several limitations compared to more quality and budget-friendly hosts like
Hostinger
.
Plans and Pricing
Cheaper, but offers fewer plans. 97-day money-back guarantee
More expensive with more plans. 48-hour and 30-day money-back guarantee
Key Features
SSD storage, free website builder, free domain, free site transfer, free SSL with higher-value plans, email accounts at an extra cost
SSD storage with specific plans, free domain, free site migration with certain plans, free SSL with higher-value plans
Performance
Fewer server locations, 100% uptime guarantee, some downtimes, slow loading speeds
More server locations, free CDN with specific plans, 99.9% uptime guarantee, some downtimes, slow loading speeds
Security
ModSecurity (includes several security measures), free daily backups
DDoS protection, 24/7 network monitoring, daily backups with specific plans
Support
Comprehensive knowledgebase, 24/7 live chat and phone (global call centers), support team aren't helpful
Comprehensive knowledgebase, 24/7 email support, live chat (available during working hours), the support team is very helpful
FAQ
Does DreamHost offer WordPress hosting?
Yes. DreamHost offers basic unmanaged WordPress hosting, managed WordPress hosting, and VPS WordPress hosting. DreamHost isn't quite right for you? See my top recommended managed WordPress hosting services.
Does GoDaddy offer VPS hosting?
Yes, it does. GoDaddy has four Standard RAM packages and four High RAM packages. The RAM across all packages varies from 1 GB to 32 GB. If you're looking for more trusted VPS alternatives to GoDaddy, check out our list of cheap and reliable VPS hosting services.
Does GoDaddy use SSD?
Depends on your choice of plan. You can get SSD storage with GoDaddy if you sign up for the VPS or dedicated server plans. Looking for better options than GoDaddy? Take a look at our exhaustive list of the fastest and cheapest SSD hosting services.