Registering a Top Level Domain (TLD) name that's easy to remember and ranks well on search engines will bring in a steady stream of visitors and customers
. Having a name no one will remember? Well, just ask Dresta. One element in selecting the right website name is choosing the proper web suffix, also known as a domain extension. The
best hosting websites
offer you the ability to register your domain name in the standard .com suffix along with a wide variety of alternative suffixes. If you choose an obscure suffix or one that's difficult to remember, you risk your website becoming as obscure as Gee Dawg 'n' Joe Boy.
While alternative suffixes serve a purpose, they may not be the best solution for your website
. Find out more about alternative suffixes and why the right suffix matters for your site.
Why So Many Suffixes?
When you start the process of selecting your domain name, you'll notice that there's a myriad of choices for domain suffixes.
The most commonly used alternative suffixes used are .net and .org, but there's a wide range of generic suffixes such as .pizza
. There are also country-specific domain names, such as
.uk
or
.us
and even brand specific domain names like
.apple
and
.comcast
. So why do people use alternative domains for their websites?
The most common reason is that the .com version of their website is not available
. Sometimes, the .com, .net, .org and other TLD suffixes generally used for domain names are taken, leaving one no alternative but to choose an alternative suffix. A question we encounter frequently is whether a domain suffix really matters for a website. The short answer, is yes, the type of suffix use makes a significant impact on the performance of your site.
Visitors Are Trained to Remember .Com
Have you ever stopped to wonder why a majority of the major websites you use every day have a .com extension?
Besides being the primary TLD used around the world, it is the one that most everyone thinks about by default
. When students learn about computers and the internet, most everything they are taught involves .com sites. You can almost view it as the "default setting" for most of the internet. Even your cell phone keyboard has a .com key because the majority of websites that you'll use end in .com.
Interbrand.com conducted a survey in 2014 about address suffixes and found that 94% of those surveyed remembered the .com names of companies over other suffixes
. When given several different choices of a company's domain to select, 62% of users automatically went to the .com version of the site. Later, the same users were given the name of a company without a suffix, and 81% assumed that it was a .com address. Selecting a .com suffix is going to be the best move if the domain is available.
It's what most expected and choosing another suffix may make it harder for customers to find your site
.
Alternative Domains Have a Stigma
There are a wide variety of alternative suffixes that you can use other than a standard .com address, but you may be risking your brand's reputation by doing so.
While internet users tend to trust TLDs such as .com, .net, and .edu, many others are viewed as suspect due to the actions of others in the past
. Some of these alternative domains have a natural stigma by default. Suffixes such as .xxx and .sex fall into this category. Others have
earned a stigma because they have been used either for spam, malware distribution, or other illegal activities
. A domain suffix such as .wtf, .pink, .online, or .room could be viewed as spammy regardless of how clever a domain name you hold.
Google Doesn't Really Care – Sorta

If you're worried that a .net or other form of TLD will hurt your SEO, stop worrying.
Your domain suffix alone is generally not going to significantly impact your ability to rank on Google or other search engines
. With that said, a relevant .com name is going to generally work better than other suffixes because the public is going to trust it more. For example, BuyWindows.com is going to be less suspicious looking than BuyWindows.you and is going to draw in more traffic. Google is going to see this traffic, and the .com site is going to rank better. Other factors may help your ranking.
If you choose a specialized suffix for your website, the keyword and suffix combination can become appealing to users and draw more traffic
. An example would be TourEifel.paris. If you search for "Eifel Tower Paris," this is the top result, even above the Wikipedia entry. Search engines won't penalize you for using an alternative suffix, but like any .com site, you need to provide quality content to rank well.
You Risk Getting Buried by the Main Suffixes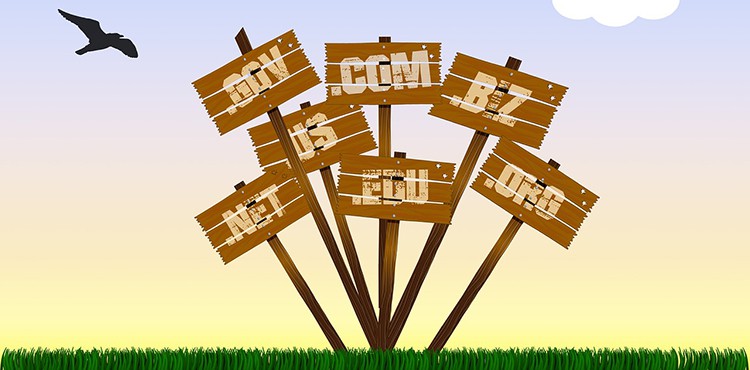 One danger in registering an alternative domain name is getting buried under sites with main suffix extensions
. For example, you are an expert at fixing Apple devices and decide you want to go into business repairing Apple devices. You've picked what you feel is the perfect name for your site – AppleFix. Just one problem. Apparently, your perfect name has been selected by someone else. All of the principal suffixes (.com, .net, .org) and even some of the country-specific suffixes have been scooped up. So, you decide to go with applefix.co. Granted, applefix.co isn't a bad idea for a domain name, but how likely is someone going to remember your site. Furthermore, are you going to be able to perform better in a Google search than the other sites? Maybe eventually you can build yourself to that level, but it may take a while. Even then, as we've pointed out earlier, the .com is the one that's going to be remembered. In this case, you may be better off to pick a domain name where you can select a .com and build that brand rather than attempting to overcome the disadvantage of an alternative suffix.
You Still Can't Go Wrong with a Good .com Domain
Overall, your best bet in creating a domain that is easy to remember, ranks well, and trusted by your customers is to use a .com suffix
. Sure, you can use an alternative suffix and put in the time and effort to make it successful, but why put yourself through that extra effort if a quality .com name is available? While a .com name will give you the best chances to succeed, it is not the only key to success.
You still need to put in the time and effort to develop quality content and stay relevant with best SEO practices
. You can have the best .com name in the world, but even it cannot make up for poor content. If your goal is to attract views and cultivate loyal customers, you should aim for a quality website sporting a unique name that is easily memorable. While various options exist, opting for an alternative website extension is possible; however, the traditional .com remains the optimal choice for accomplishing this task.