An impressive logo design doesn't have to be complex, and
a logo incorporating the first letter of your company is a great choice
. A "D" shape can be incredibly flexible to work with. You can make an uppercase D look like a shield, or even merge the letter with an icon, for example, morphing it into a roaring lion or a sleek black panther. If you already have a vision for your logo, that's great. But in order to bring it to life, it's best to leave the finer details to a professional. The key to finding an expert graphic designer at an affordable rate is knowing where to look. Read on
to find out how to get your logo designed for just $5.
---
9 Best D Logos
My colleague conducted a design experiment with some of the most popular logo design services. His detailed review is a great way to compare the value and performance of each service. Check out his
comprehensive logo design service comparison
 to find out more.
How to Get a $5 Logo Design
It's true, you really
can
 get a professionally designed logo for just $5. All you have to do is look for your designer on freelance platform Fiverr. Fiverr lets you choose from a range of designers, many offering logo design packages from only $5. Finding a designer with a style you like isn't difficult when you have thousands of experts to choose from. Packages can vary depending on the services on offer, but many designers choose to offer a basic package at the affordable entry-level price. If you'd like to get a taste of how it all works,
head to the Fiverr homepage
 to get started. As you can see in the screenshot below, the search results for "D logo" can be a little obscure and bring up results for 2D and 3D options. Instead, I'd recommend searching for "monogram logo" or "initial logo" for better results. Then, take a quick scroll through the profile results to get a feel for the different styles available.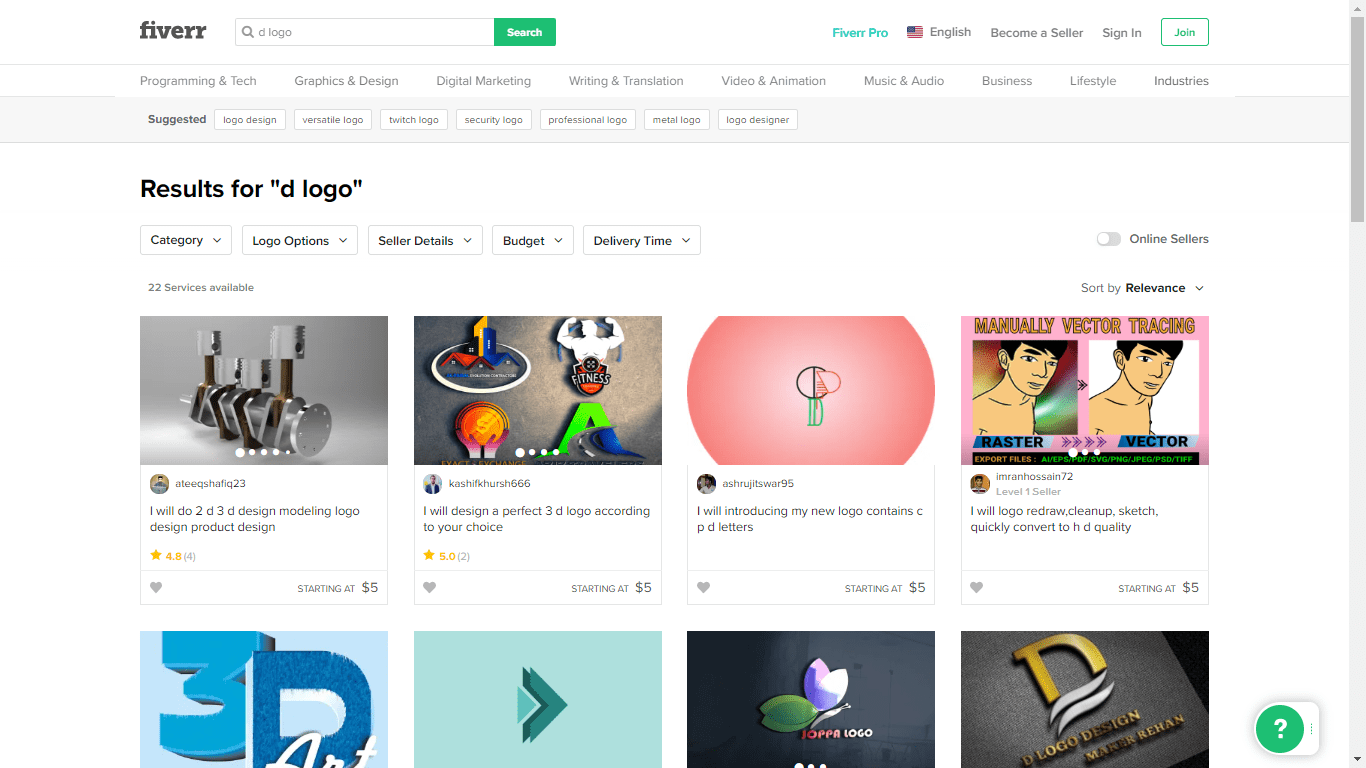 Click on a designer's profile to find more information. Each profile will outline the packages offered, along with the cost. You can also read a designer's "About This Gig" section and even contact them directly through the
Contact Seller
option with any questions. Once you're ready to hire a designer, hit the
Continue
button to go to the payment preview page.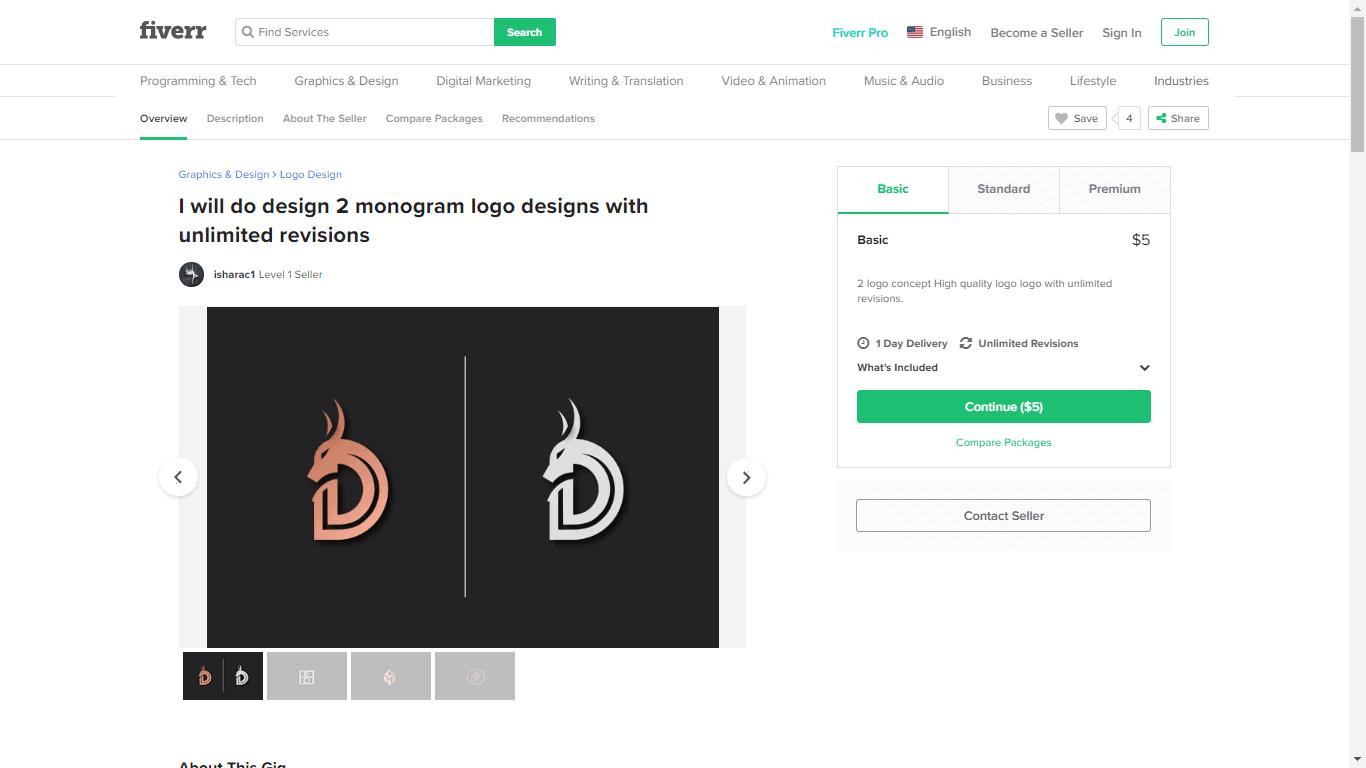 On the payment preview page, make sure you've selected the right package for your needs and check the final cost. Click
Order Now
and enter your details to pay.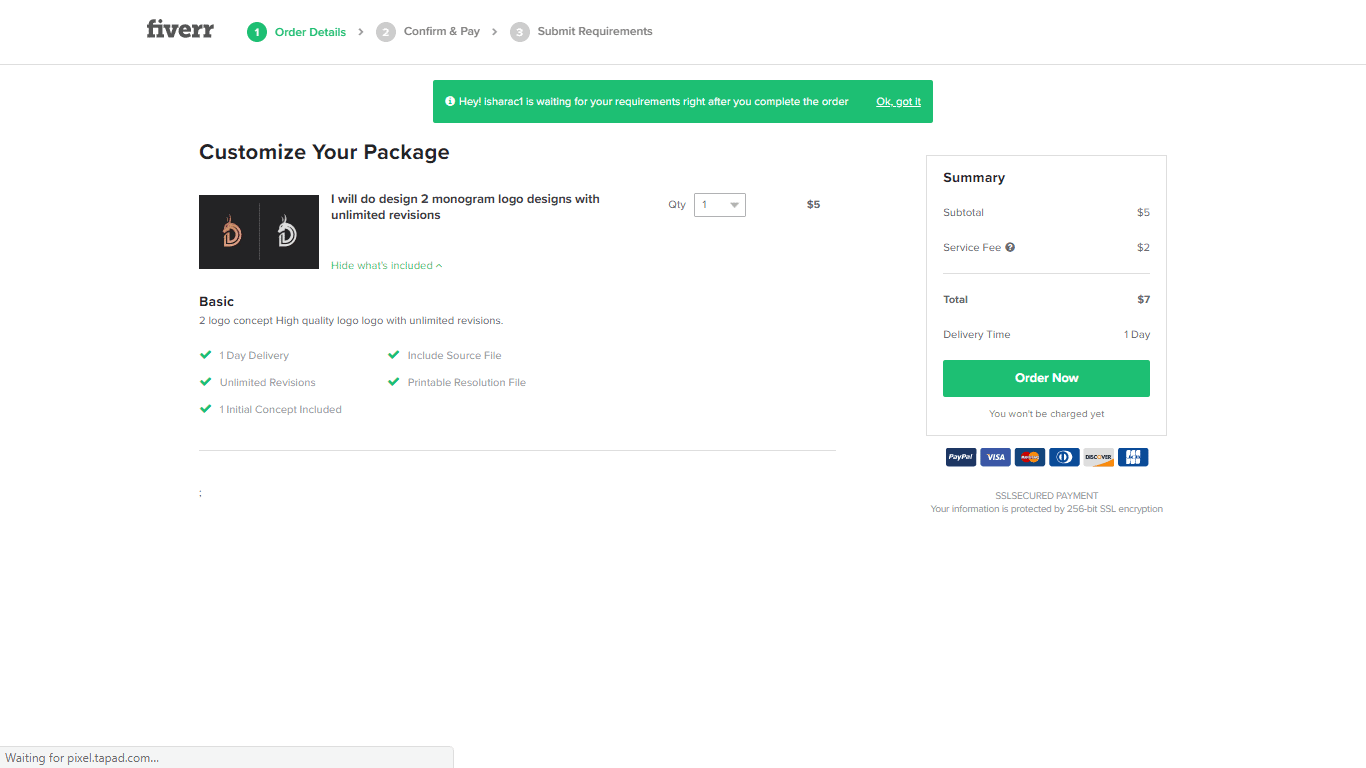 From there, you can liaise with your newly hired designer to communicate your logo vision. And before you know it, your new design will be on its way to you! Here are a few other great perks of using Fiverr:
No-stress payments – Your payment is only released to the designer once you're completely satisfied with your logo.
No surprise fees (ever!) – Because you pay upfront, designers can never overcharge or add costs after they've been commissioned.
Handy search features – Use search filters like budget, logo style, and delivery time to make hunting for the perfect designer much easier.
Seller levels – Sellers are placed in levels based on their time on the site, design quality, and customer feedback. The higher the level of the seller, the more experienced they're likely to be.
Interested in finding a freelancer?
Check out our full Fiverr review
for more tips on hiring designers.
How to Make Your Own Logo
If you'd like to make your own logo, don't bother investing in expensive software or signing up for a complicated design platform. Making your own logo can be simple, you just need to use the right tool. Online logo makers are generally easy to use, but you'll need some type of artistic vision and skill to get a logo that doesn't
look
like a DIY project. I always recommend Wix Logo Maker. This tool has an interactive artificial intelligence (AI) that makes creating your logo a piece of cake. The AI asks you a few questions at the start, then generates customizable logo suggestions based on your answers. Don't take my word for it, though.
Go to the Wix Logo Maker homepage
 and create a profile to see for yourself. Begin by entering your company name and tagline.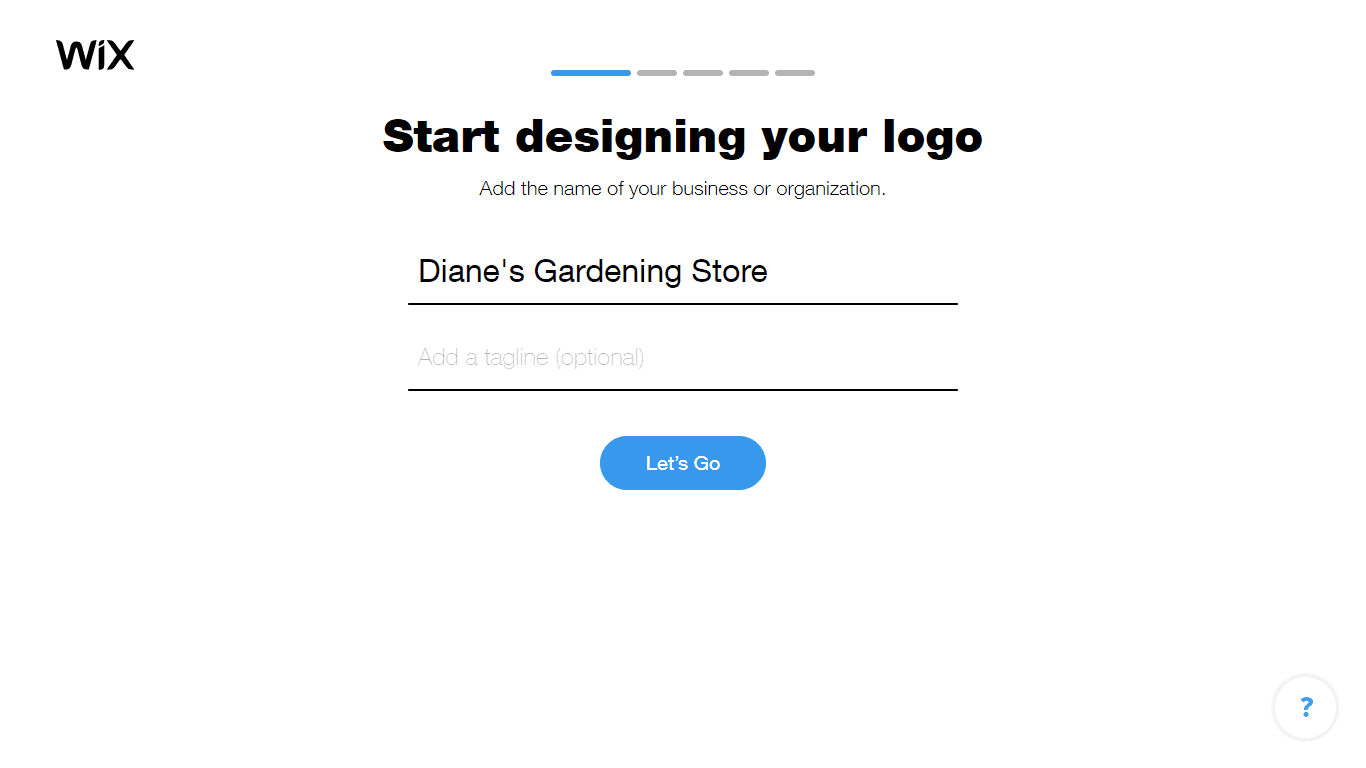 Start typing to pull up industry options in a dropdown menu, and choose the closest option for your business.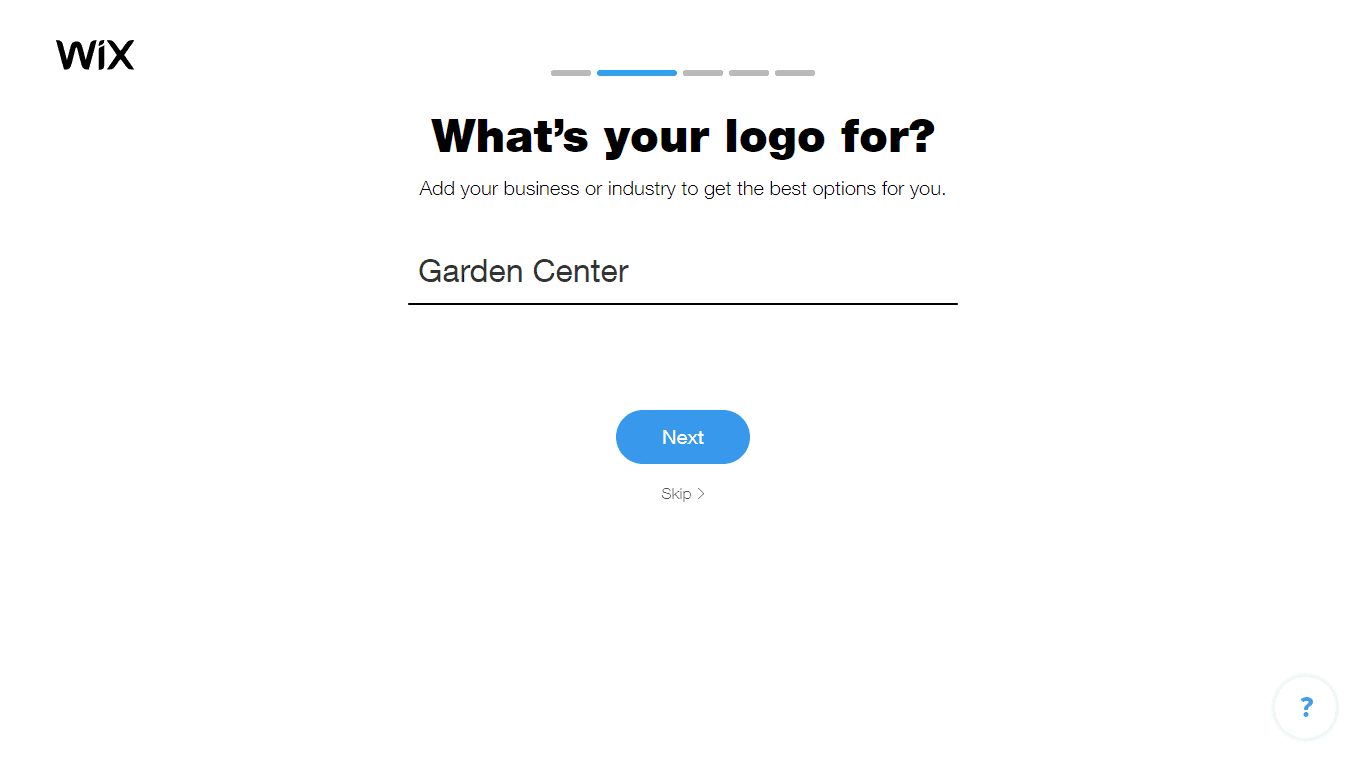 Next, choose a selection of adjectives from the range on offer to explain how you'd like your finished logo to look and feel. It's good to keep your overall brand in mind during this stage – which words match your aesthetic?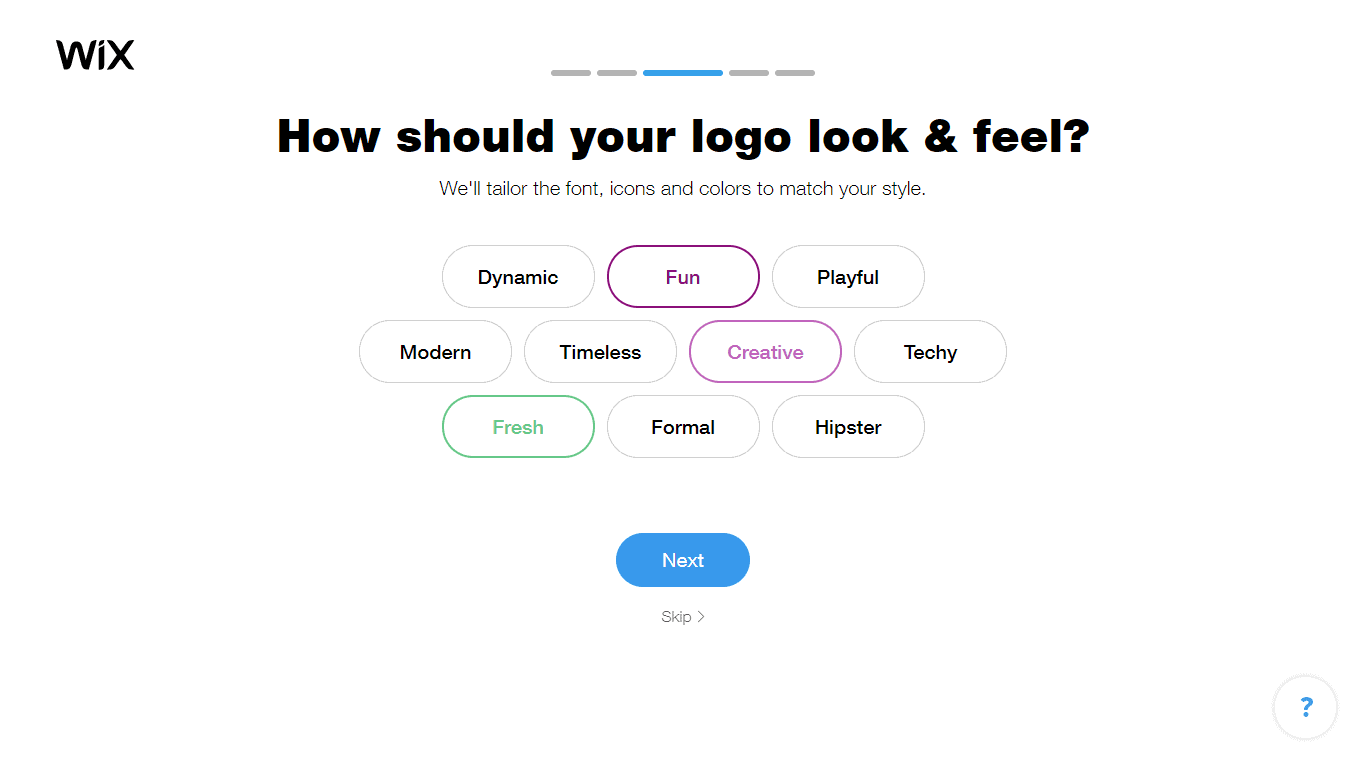 A sequence of logo pairs will pop up next. Each logo represents a different style, and choosing your favorite helps the AI learn your preferences. Choose the logo in each pair that you prefer or click
I don't like either of them
to skip ahead.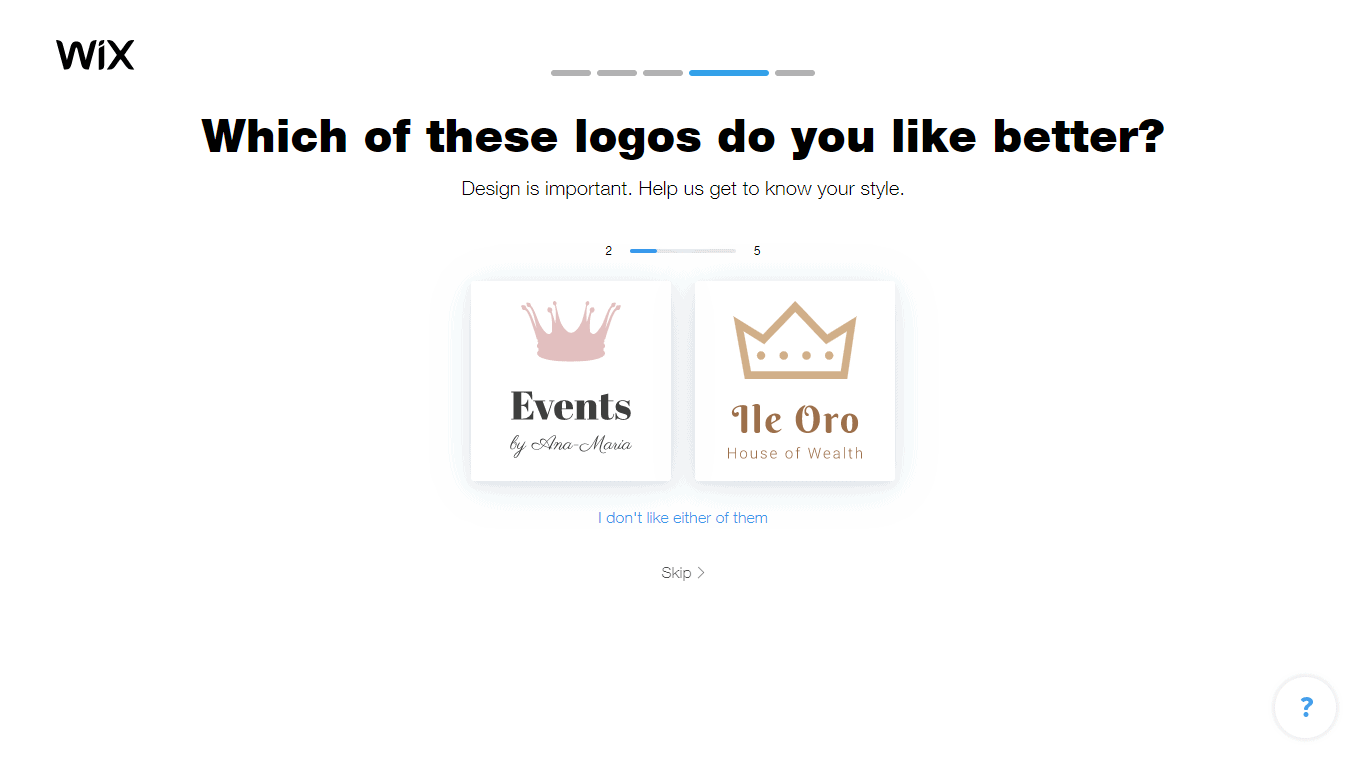 Lastly, tell Wix Logo Maker where you're planning on using your new design. Select from multiple options, such as merchandise, website, and social media.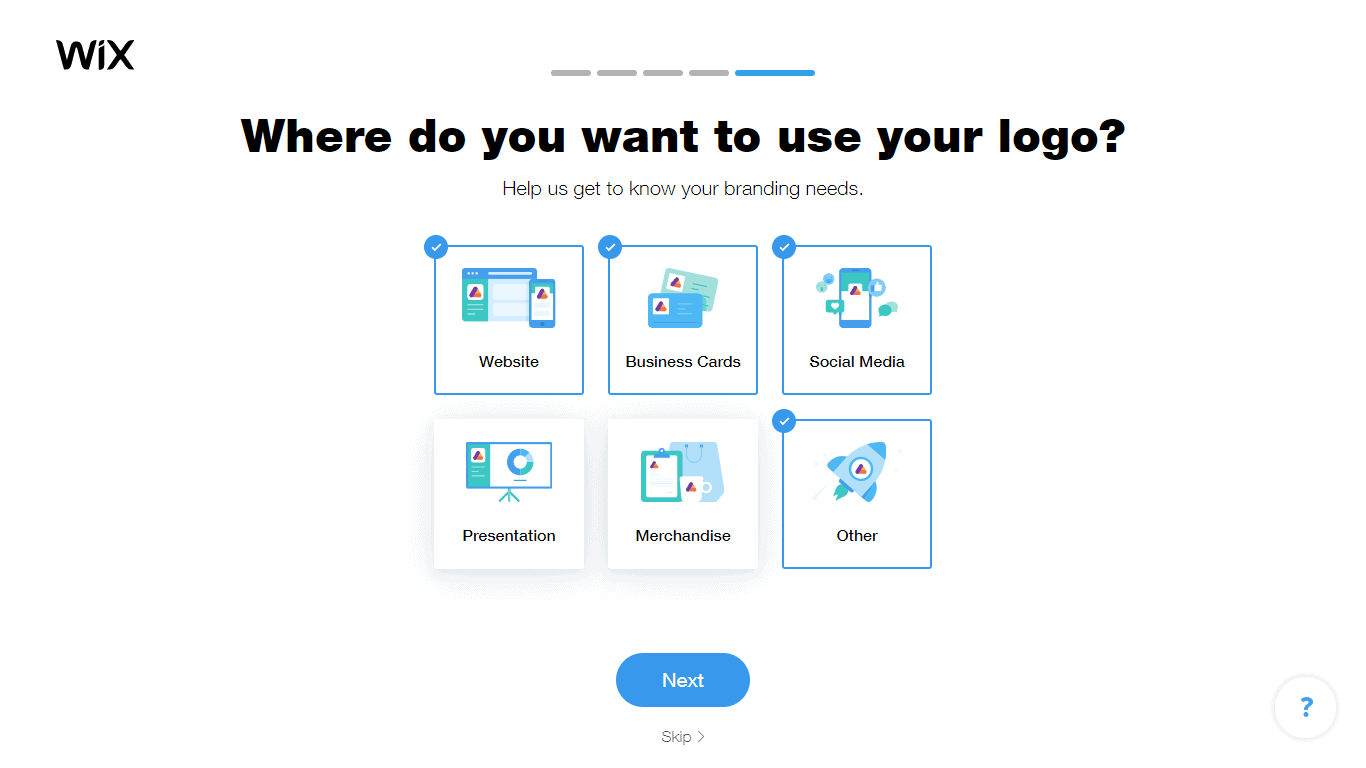 Your logo suggestions will pop up next, based on all of your answers so far. There are always plenty to choose from, so take your time exploring them.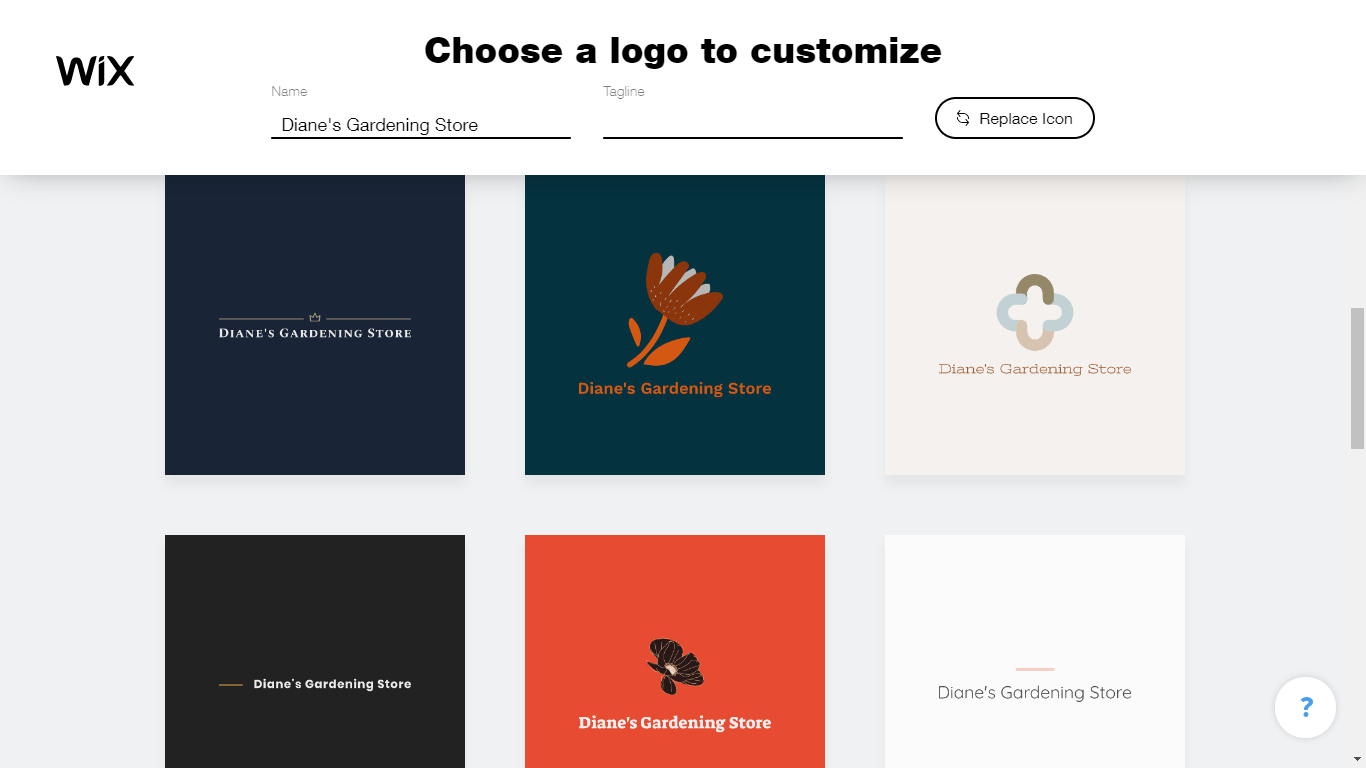 The "D" aspect to your logo will be added in a moment, at this stage you're really just looking at the general style. You might also like to add another icon as well as the D shape. If so, click
Replace Icon
and search for options. For my example, I searched "garden" to bring up images related to my company's industry.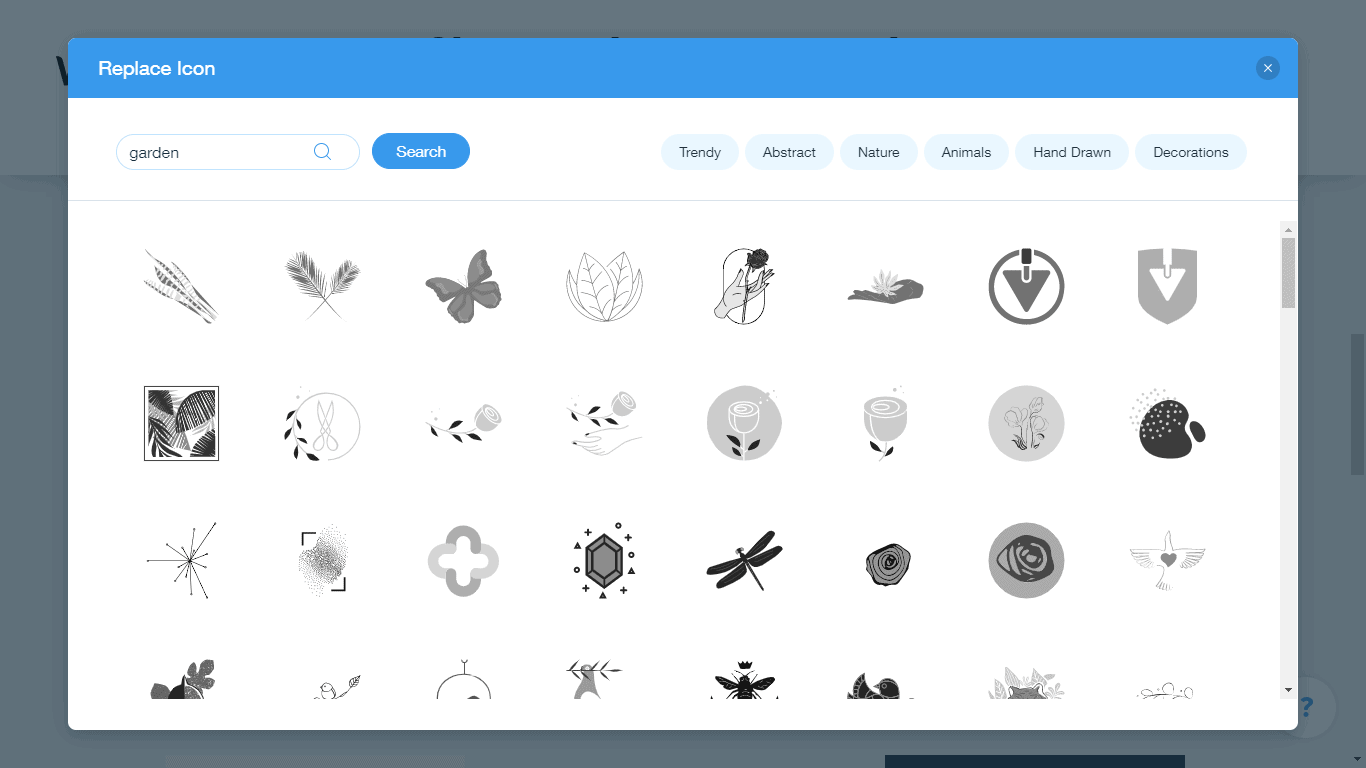 Once you've chosen the logo template you'd like to move forward with, click
Customize
to go into the logo editor. Wix Logo Maker has recently added some cool features to the customization page, so you can now add multiple icons and select from several color palettes. Use the text tool to choose from hundreds of fonts for the "D" in your logo.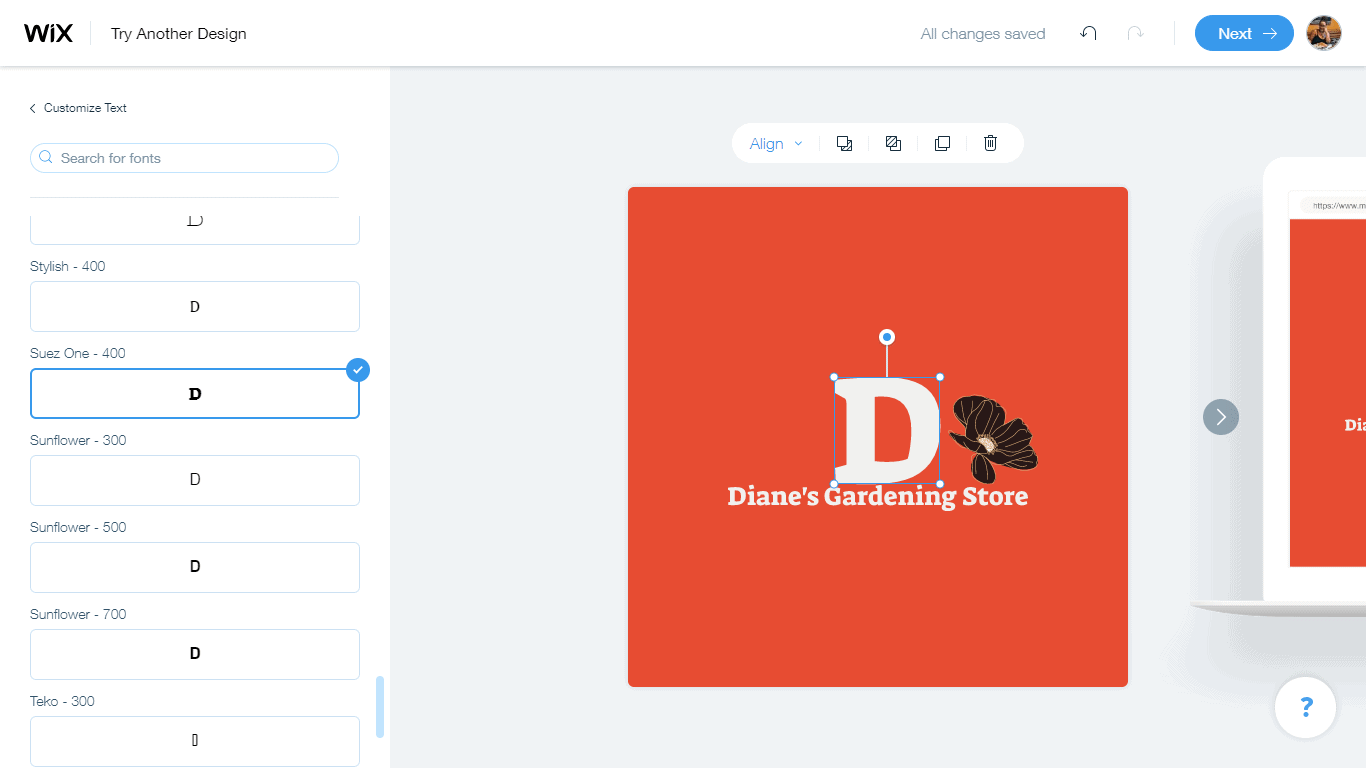 Once I'd chosen the font I liked, I added some blooming flowers and customized the colors to make my logo stand out more.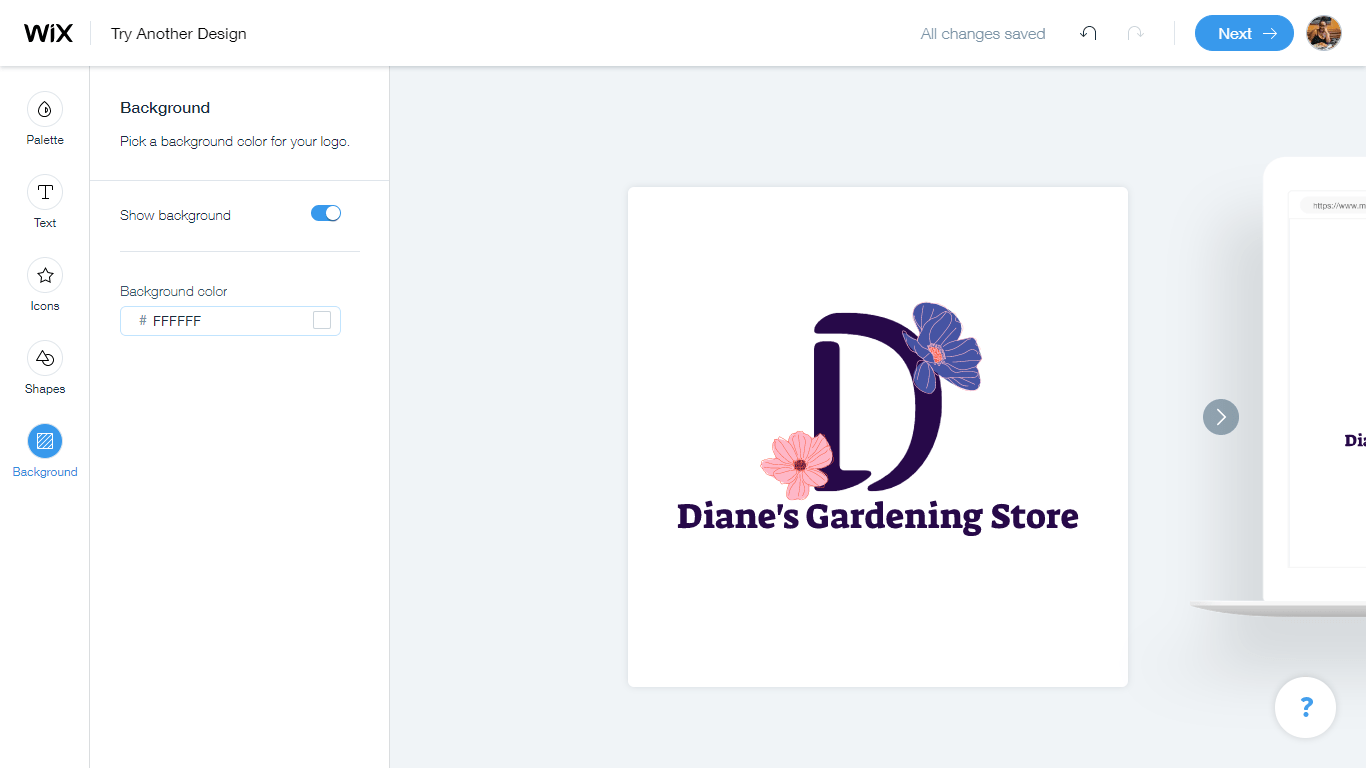 When you've finished editing, click Next to continue. You can then choose a package and make your payment to download the high-res file, or download a free, smaller-sized image for your records.
Wix Logo Maker Alternatives:
Looka – Looka is a great tool for small businesses needing a range of branding materials. You can design and purchase your logo along with extras like business card designs and a social media kit for your company.
Find out more about Wix Logo Maker, including more logo examples, in
our in-depth review
.
Conclusion
Your journey to the perfect "D" logo design doesn't need to be expensive or complicated. My best advice is always to use
Fiverr
 to find a talented designer, for a price that won't make your wallet cry. Forget the notion that low cost equals low quality – you can get a professional design for as little as $5. If you're leaning more towards the creative side,
Wix Logo Maker
 makes the job easy for you. It's the best way to avoid DIY nightmares as it'll help you turn even the most simple logo template into an attractive, customized design. Still searching for the right logo option for you? Take a look at my colleague's
expert logo design service review
 to see how other tools match up in quality and value.