Cloudways vs InMotion Hosting
battle, I decided to compare both of them thoroughly based on factors that matter the most for an end-user – performance, features, security, support, etc. And the results revealed that you should go with the one caters to your needs in the best possible way.
Click here to see InMotion Hosting's best deals
and why it is the most budget-friendly option.
1. Plans and Pricing
Cloudways is a time-saver while InMotion Hosting is a money-saver
Cloudways lets you choose from
five existing infrastructures – DigitalOcean, Linode, Vultr, AWS, and Google Cloud
. On the other hand, InMotion Hosting offers a broad range of solutions –
shared hosting, WordPress hosting, VPS hosting, reseller hosting, and dedicated servers
. Here, you'd get
eight unmanaged cloud VPS packages
. As a managed cloud hosting provider,
Cloudways pricing
s are
pretty high (the initial monthly plan comes at double the price of the initial monthly cloud VPS plan offered by InMotion Hosting)
. But you should understand that InMotion Hosting's plans are unmanaged, which means you need to have a robust understanding of configuring your servers.
InMotion Hosting Web Hosting
One advantage of Cloudways is that it offers
hourly plans
, which would be a good option if you've got short-term requirements.
2. Features
Cloudways offers advanced cloud hosting-specific features, InMotion Hosting brings you diverse features
Despite the dissimilarities in their offerings, I managed to
compare Cloudways and InMotion Hosting
based on their features. Both of them offer similar features like Linux OS support, SSD drives, PHP7 ready servers, automated backups, etc. If your needs revolve around cloud hosting, Cloudways would be great with features like
seamless vertical scaling, Git integration, popular CloudwaysCDN
, etc. But if you're looking for a shared hosting environment, you should choose InMotion Hosting. I created this comparison table to help you understand their specific features at a glance.
| | | |
| --- | --- | --- |
| | Cloudways | InMotion Hosting |
| Hosting Types | Managed cloud hosting | Shared hosting, WordPress hosting, VPS hosting, reseller hosting, and dedicated servers |
| Free Domain | ✕ | ✓ |
| Free SSL Certificate | ✓ | ✓ |
| Disk Space | 25GB-3840GB (with DigitalOcean) | 25GB-640GB (cloud VPS) |
| Bandwidth | 1TB-12TB (with DigitalOcean) | 1TB-7TB (cloud VPS) |
| Automatic Backups | ✓ | ✓ |
| Control Panel | Type not mentioned | AMP (cloud VPS) and cPanel |
| Email accounts | Available as add-on | Unlimited |
| Free CDN | ✓ | ✓ |
| Free Site Migration | ✕ | ✓ |
| Money-Back Guarantee | ✕ | 90 days |
3. Performance
Cloudways follows best practices, InMotion Hosting equips you
Since Cloudways lets you choose the infrastructure, you get to select the chosen one's datacenters. And it has partnered with leading infrastructure providers having
datacenters across the globe
, you can choose exactly the location to serve your target audience the best possible way. With InMotion Hosting, you've to choose from
two U.S.-based datacenters
. InMotion hosting offers a
99.9% uptime guarantee
while with Cloudways, you need to
check out the SLA of your chosen infrastructure provider to get a specific uptime guarantee
. Both these providers offer performance-boosting features like
advanced caches, enterprise-grade hardware
, etc. But Cloudways would be a better option if performance is your sole criteria. It excels with features like a
dedicated environment, Redis support, Breeze WordPress cache plugin
, among others.
Both
Cloudways
and
InMotion Hosting
scored extremely well in my performance test. You can check out the results in detail by following the links.
4. Security
Both Cloudways and InMotion Hosting are equally good
Both InMotion Hosting and Cloudways take care of security to a great extent by offering a comprehensive range of security features including
free SSL certificates, SSH access
, etc. However, there're differences between their offerings. For instance, with Cloudways, you get
two-factor authentication, OS-level firewalls, regular security patching
, etc. On the other hand, InMotion Hosting offers
DDoS protection, Web Application Firewalls, root access (VPS/dedicated server), HIDS security through the Launch Assist project
, among others. In essence, if you prefer professionals to handle all security aspects, Cloudways emerges as the optimal choice. However, if self-management is within your capabilities, opting for the budget-friendly InMotion Hosting would be advisable.
5. Support
Both are outstanding – the winner depends on your needs
Cloudways offers
24/7 support through a three-tier system
. You get to use live chat, online ticketing with their standard (free) plan while the higher packages bring you features like advanced SLA, phone support, a private slack channel, etc. It's also possible to contact them via email.
With InMotion Hosting, you get options including phone, email, live chat, and support ticket
. When testing both of them, I contacted Cloudways through email and received a reply within half an hour.
InMotion Hosting's response was also pretty impressive.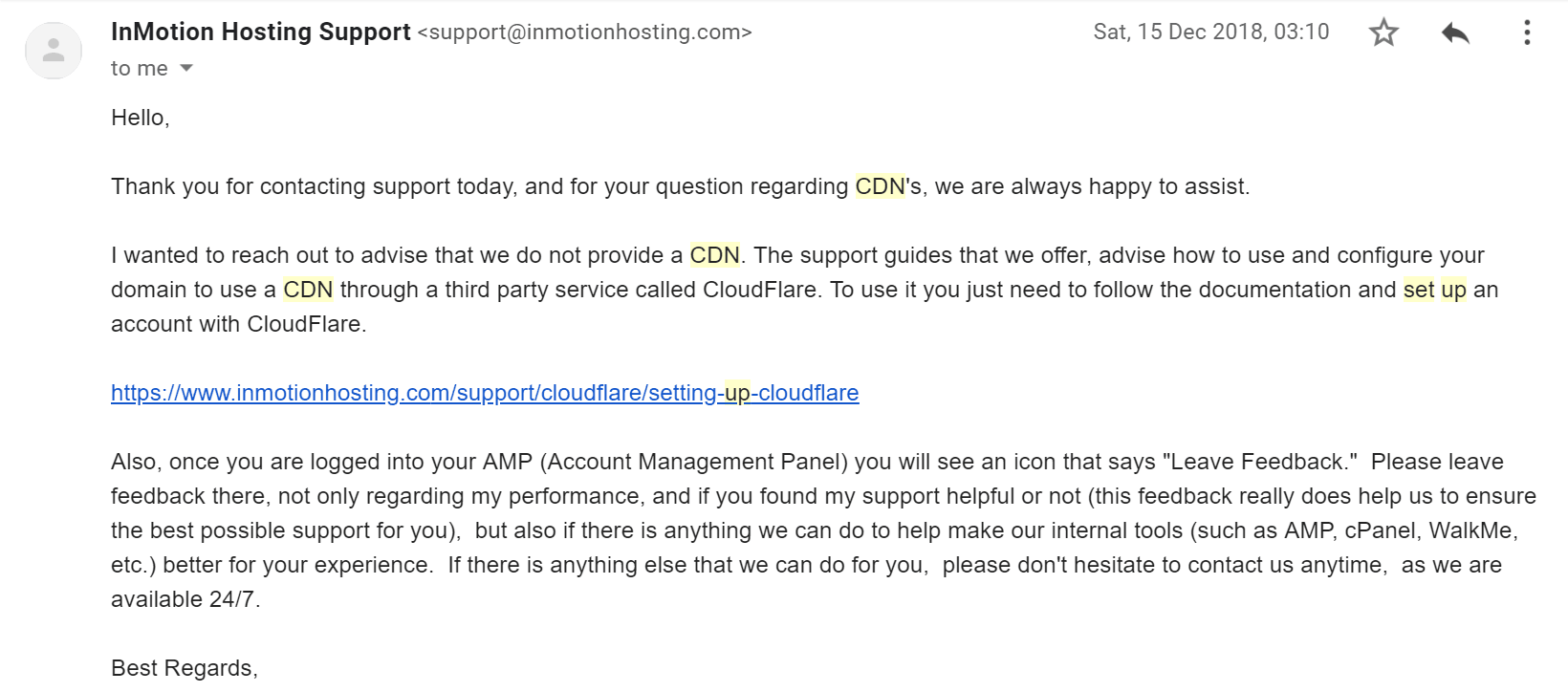 In terms of available resources, though both are extraordinary, I think Cloudways is slightly ahead of InMotion Hosting.
Both Cloudways and InMotion Hosting Excel In Their Respective Fields
As you've understood by now,
both Cloudways and InMotion Hosting are outstanding hosts
. There wasn't a single parameter where I could declare either of them as a clear winner. Let me put it this way – if you are a developer or own a large website with top-performance,
you should go with Cloudways to leverage the power of the cloud
. And since it's a managed hosting solutions provider, you can focus solely on your work or business without having to deal with technical aspects. On the other hand, if you're an individual or a small business with relatively smaller needs,
InMotion Hosting offers an affordable option
 and has made it to our list of top 10 web hosting services.
Comparison Table
Cloudways
InMotion Hosting
Plans and Pricing
Only managed cloud hosting packages that are relatively costly
Different packages including unmanaged cloud VPS packages that come at the half-price than those of Cloudways
Features
25GB-3840GB space, 1TB-12TB bandwidth, good number of advanced features
25GB-640GB space, 1TB-7TB bandwidth – cloud VPS
Performance
Lots of performance-boosting features, datacenters across the globe, uptime guarantee from infrastructure providers
Provides a 99.9% uptime guarantee along with some performance-enhancing features
Security
Offers premium security features (paid)
Offers industry-standard security features
Support
Offers 24/7 support via live chat and support ticket, extraordinary knowledgebase
Offers 24/7 support via phone, email, live chat, and support ticket, and the support center boasts a huge number of articles and guides, access to community support
FAQ
Is Cloudways better than InMotion Hosting?
It entirely depends on your needs because Cloudways is mainly targeted at serving developers and large website owners while InMotion Hosting is ideal for individuals and small website owners to start with. If you need more options, check out our list of the best web hosting services.
Does InMotion Hosting offer WordPress hosting?
You get specialized WordPress hosting plans with advanced features to boost performance. Be sure to review our list of the best managed WordPress hosting providers before committing to one.
Does InMotion Hosting offer VPS hosting?
Yes, it offers both managed and unmanaged (cloud) VPS hosting packages. However, you should check out our list of the best cheap VPS hosting services to take a look at some similar reputable providers.