Vultr may not be perfect, but it was true to its word and allowed me to cancel my
entry-level SSD cloud instance
. The process was completely hassle-free, and I was confident that I would no longer be charged for any services despite being unable to get a refund.
Vultr is a premium cloud host that manages to strike a good balance between ease of use and expert features. With many data centers and happy customers around the world, Vultr is a solid option if you're looking for reliable and scalable hosting. If you're currently a customer, or if you're thinking of trying out the service, it may be helpful to know that
Vultr's pay-as-you-go pricing is backed by a strict no-refunds policy
. So you won't be able to get any money back if you cancel. Aside from that, this article will take you step-by-step through the process of cancelling your Vultr account – and everything else you need to know. For more robust and affordable hosting with lots of server customization options, Kamatera is worth a look.
Kamatera offers much more customizability
 than Vultr – this means you only pay for what you really need (and use).
Quick Guide: How To Cancel Vultr and Get a Full Refund
The first step is to log in to your Vultr hosting account dashboard.
Locate Cloud Instance. Once you're logged in, all the way to the right of the Cloud Instance you want to cancel, you should see three dots. Click on the three dots to open the next menu.
Click Server Destroy. Destroy any servers you have active. Once you've clicked on the three dots, click on Server Destroy at the bottom.
Click the checkbox and Destroy Server. Here, you'll be warned and asked if you're sure you want to proceed. Assume the risk by clicking the checkbox, then click Destroy Server.
Click Support. After you've successfully destroyed any server instances, it's time to head over to the Support section by clicking the link in the left menu bar.
Submit a support ticket. Submitting a support ticket requesting the cancellation and closure of your account is all that's needed from here – it's pretty simple!
Don't expect a refund. Vultr doesn't offer a money-back guarantee or refunds. So, it's unlikely you'll be able to receive one – even for deposits made into your Vultr account. You're better off using your deposited funds up and then cancelling your account.
My Experience: Here's How I Cancelled My Vultr Account
My experience closing my Vultr account couldn't have been any easier. The first step to close your account is to
log in to your Vultr account dashboard
.
Once you've logged in, you should see the Products screen.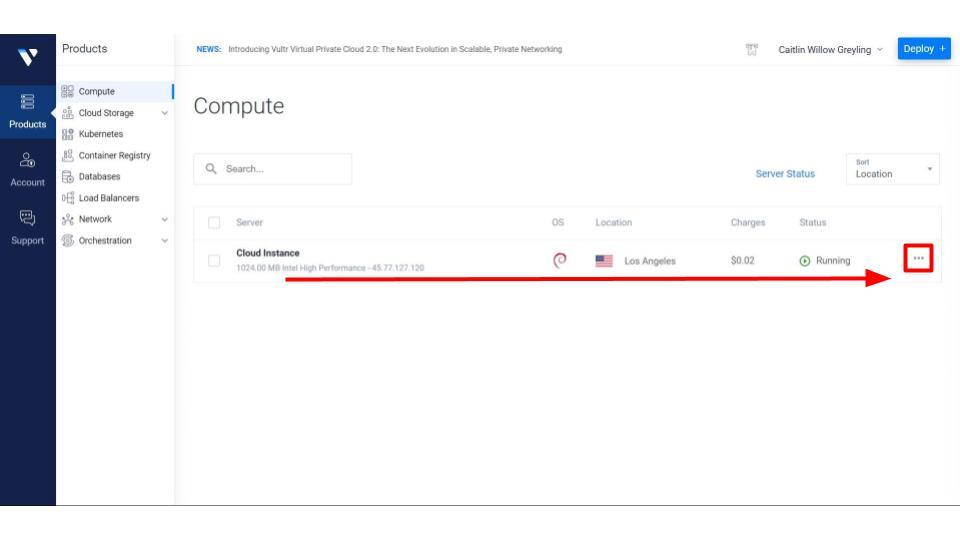 Next, find the
three little dots all the way to the right of your Cloud Instance.
That should open up another context menu.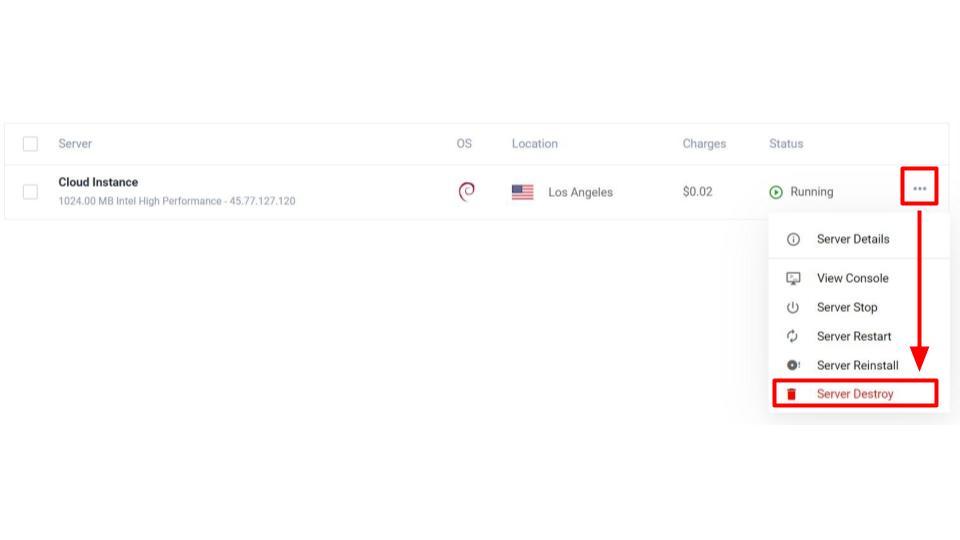 All the way at the bottom of the menu that pops up,
you'll find Server Destroy.
Click on it.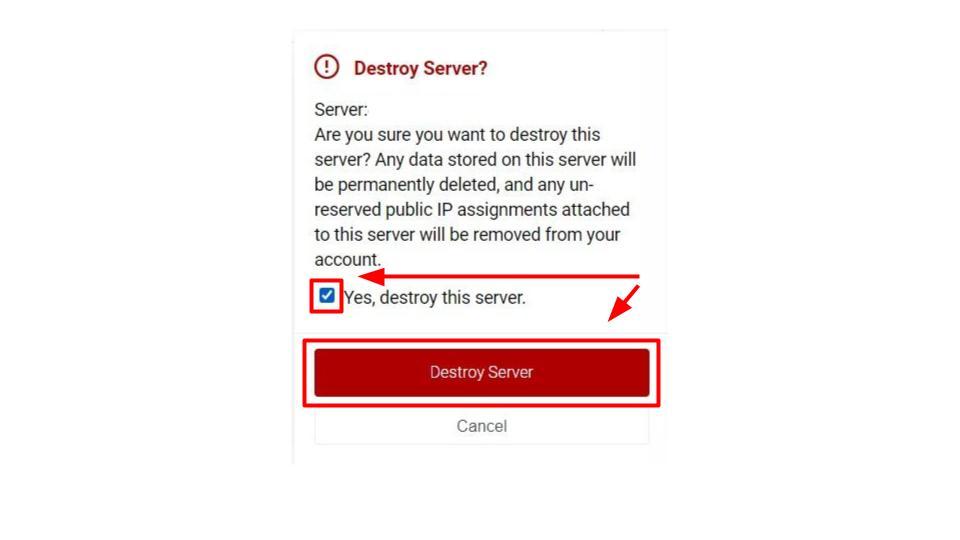 At this point, you'll be asked if you're sure you want to proceed.
Click the little checkbox along with the Destroy Server button
to move on.

Once you've clicked the button, it might take some time to destroy the server.

Once done destroying your server, you should see a pop-up message signaling the successful termination of your instance. After you've repeated the previous few steps for any other servers in your account,
you should see o instances
 active under the Products > Compute section, which signifies the successful destruction of any server instances. But you're not quite done yet – at this point, you've successfully destroyed any server instances,
but you haven't yet closed your Vultr account.
To do that, you'll have to either cancel your account manually, submit a support ticket, or send Vultr an email requesting account deletion. Luckily, it only takes a minute or two to do so!
Delete Your Vultr Account Manually
You don't have to contact Vultr support to get your account deleted
– you can do so yourself, manually. However, there is a trick to it, as you won't find this option in your Vultr dashboard. First, you need to click on the address bar, then type
/billing/cancel
next to
my.vultr.com
and press enter on your keyboard. Doing so will open the Vultr account cancellation page.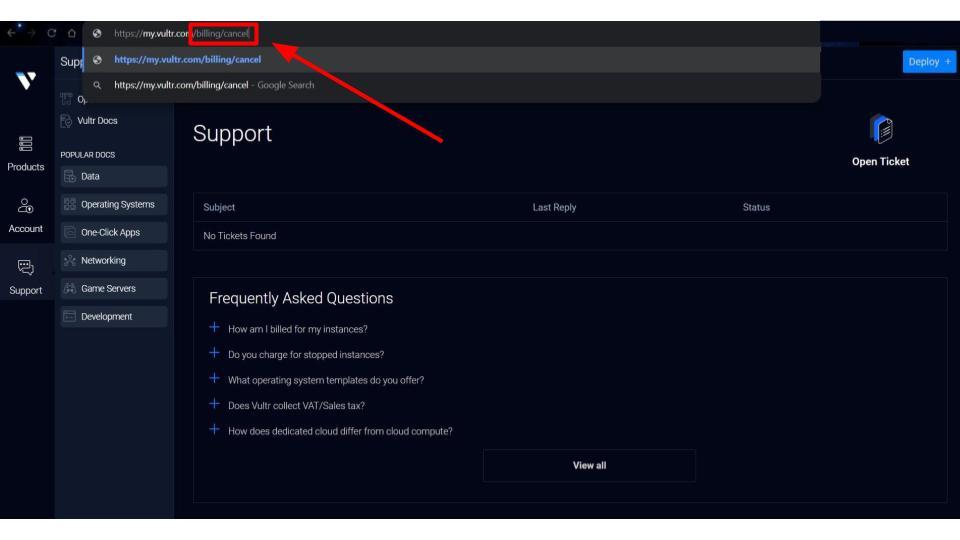 Once you've navigated to the official cancellation page, you need to
click
Continue Closing Account
.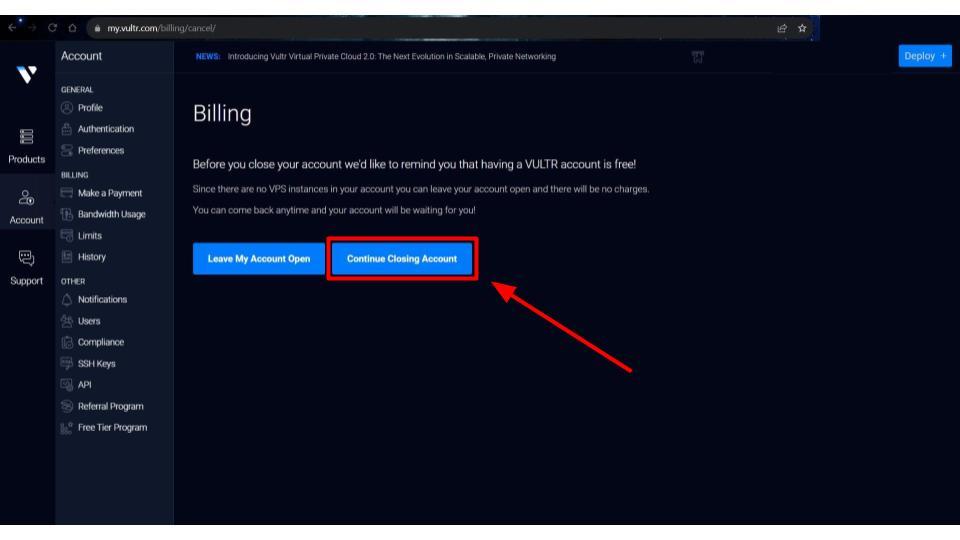 Doing so will open the final Vultr account cancellation page. Choose a reason for terminating your account and
click the
Close Account
button
. Vultr will immediately close your account and log you out, also deleting your associated data and tickets.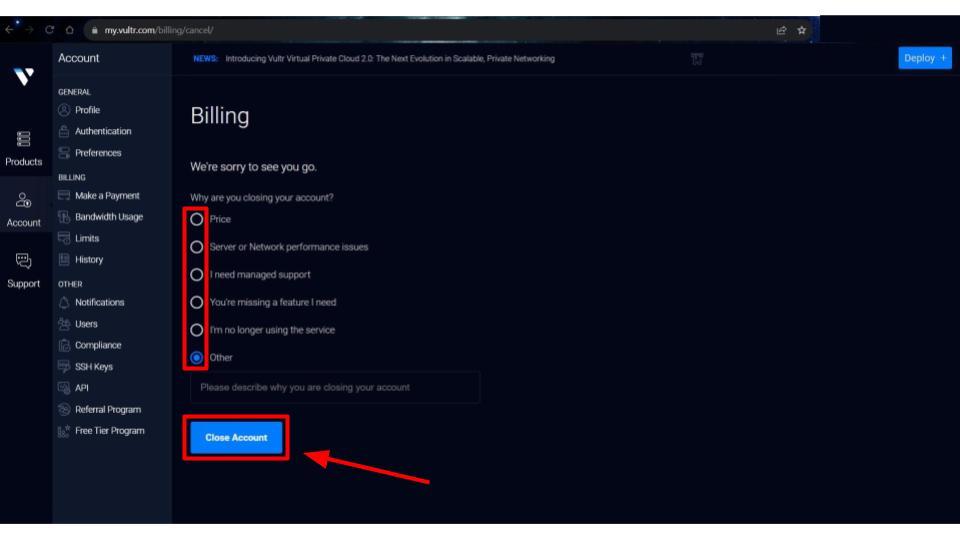 If you have any remaining credit deposited in your Vultr account, it will be forfeited, as well. Because
Vultr doesn't offer refunds
, you may want to consider using any credit up on Vultr services before closing your account.
Open Ticket to Close Vultr Account
You can also request that Vultr support close your account by sending an email to
[email protected]
–
or by opening a support ticket
.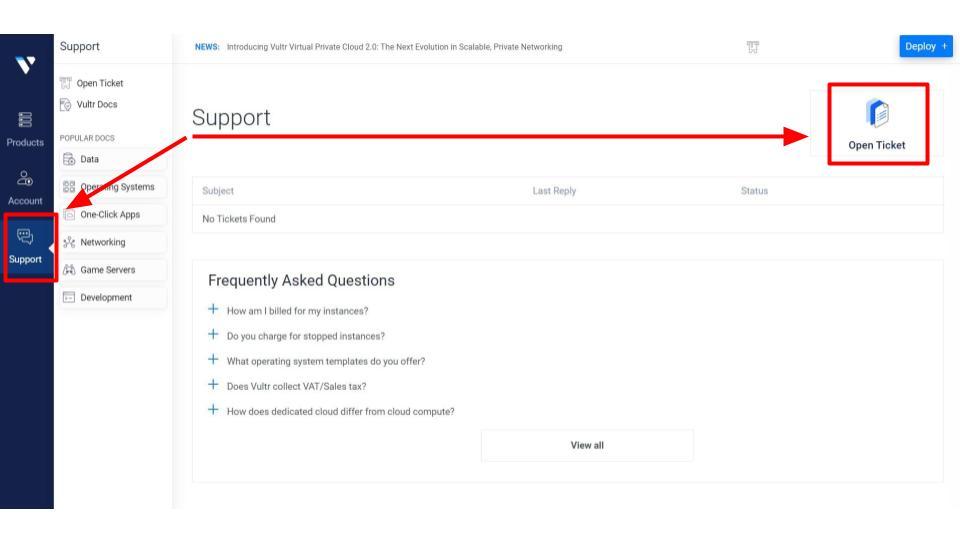 In the left-hand menu bar (around the middle),
click on Support
. Then, near the top right of the screen,
click on Open Ticket
. Vultr will display various FAQs, which you can consult prior to terminating your account. To close your Vultr account,
click the final option: Did you find what you need? If not, click here to open a ticket.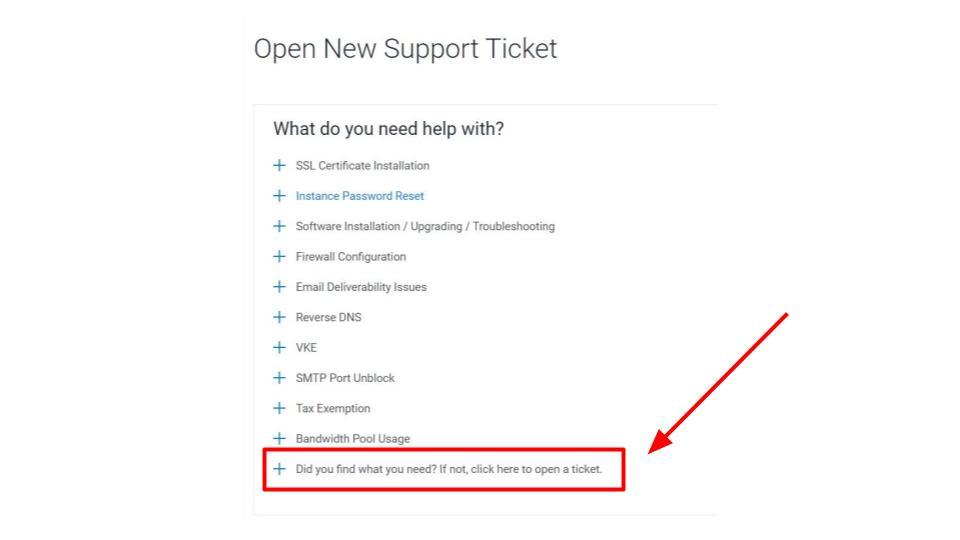 Next,
select Account Cancellation
from the ticket category drop-down options.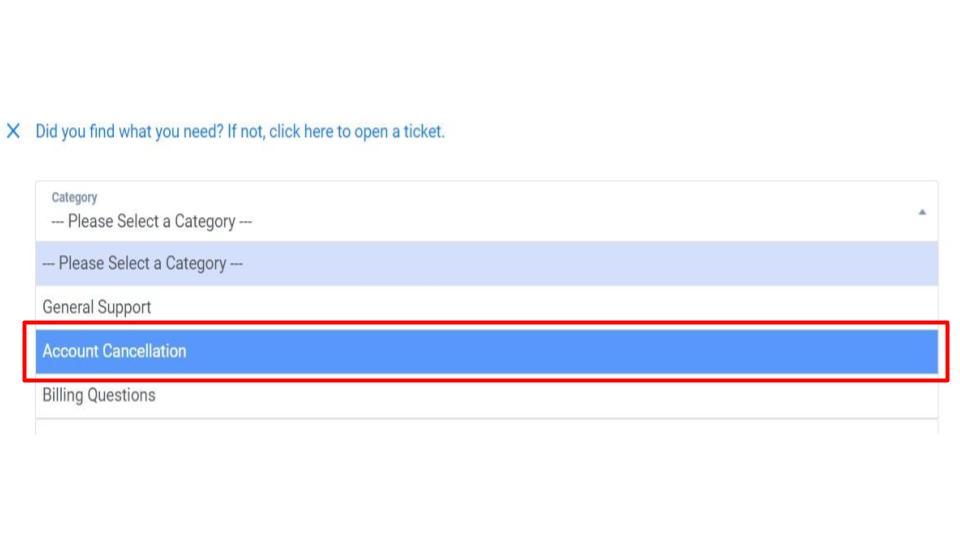 Finally, add a Subject, type your message requesting Vultr account cancellation, and
click Open Ticket.
You can also add a server and files to your ticket if necessary.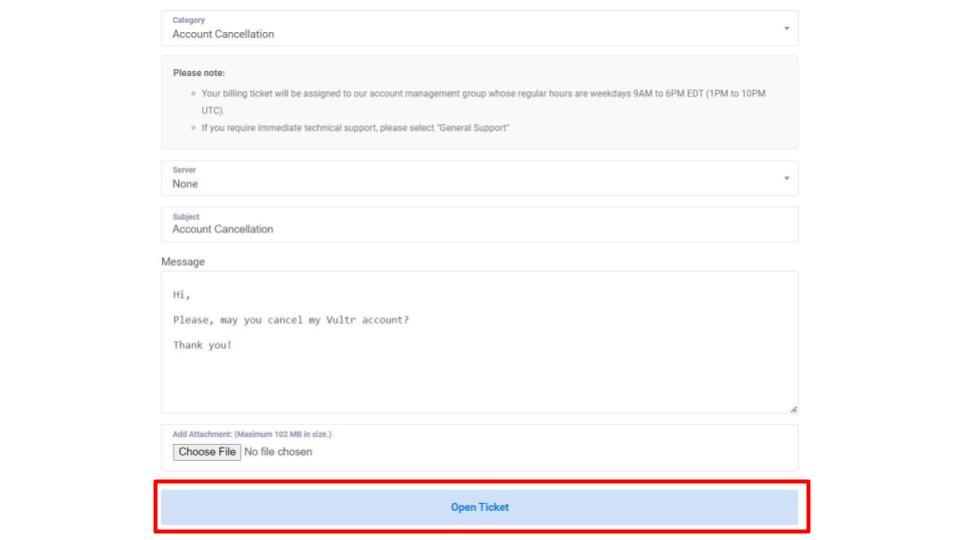 And you're all done! I
t only took about five to ten minutes for someone from support to confirm my account closure via email.
That's pretty impressive, in my experience.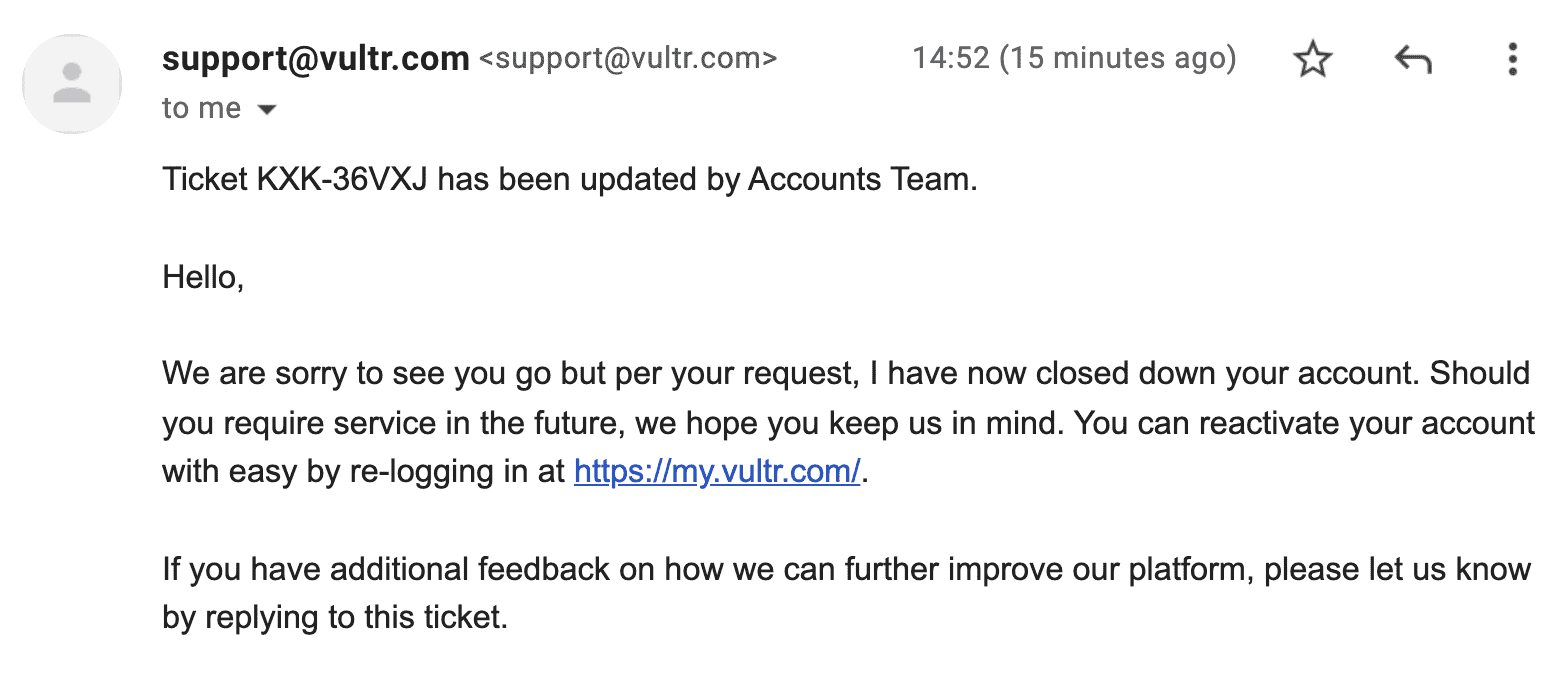 Here's the support message I got confirming my account closure.
4 Best Vultr Alternatives for Cloud Hosting
I've tested all of the following web hosts that have excelled in areas in which Vultr fell short.
When you contemplate cloud hosting,
you'll find Kamatera to excel with its remarkably customizable plans
. The market benefits from its exceptionally competitive rates as well as its 30–day free trial, which allows you to try out a cloud server configuration of your choice, up to $100 in value.
Kamatera empowers you to craft your server precisely to your needs
, enabling you to settle payments solely for your actual usage. Furthermore, effortlessly enhancing your services as your website draws more traffic is an easily achievable feat through Kamatera.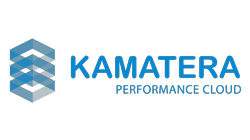 Save 100 % OFF Kamatera for 30 Days!
Get one month FREE for your server configuration and take advantage of Kamatera's high-performance cloud infrastructure today.
64 users used this coupon!
If you're looking for a managed hosting service, Scala Hosting has you covered
. Its cloud VPS plans are not just fully managed – you can also choose from pre-configured plans or customize your own server. Scalability is maximized, offering configurations of up to 24 cores, 64 GB RAM, and 2 TB of storage space. However,
Scala Hosting's entry-level Build #1 plan
– is a little pricier than similar-spec plans from Vultr. So, they're mainly worth it if you need managed support. When using Scala Hosting's services, you're also entitled to a refund thanks to its 30-day money-back guarantee.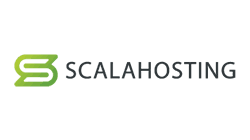 Save up to 53 % on your ScalaHosting plan!
Limited-time offer - Don't miss it!
169 users used this coupon!
InterServer is a web host that offers shared, cloud, and VPS hosting services.
InterServer's basic cloud VPS plan offers more than Vultr's
for roughly the same monthly fee
s
, including one CPU core, and 30GB of storage (which is more than Vultr's). Note, just like Vultr,
InterServer doesn't offer refunds or a money-back guarantee for its VPS plans
, though. You can only claim a 30-day money-back guarantee on InterServer's shared hosting plans.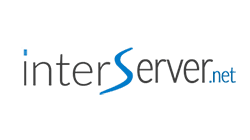 Get your first month of hosting for just $0.01!
Take advantage of this exclusive deal to try out InterServer.
424 users used this coupon!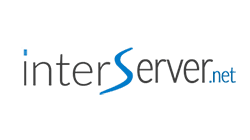 Get your first month of hosting for just
$
0.01
!
Copy and paste this code at InterServer
Hostinger is a low-cost web host offering a wide variety of pre-configured plans, including shared, VPS, and cloud hosting options.
Hostinger's basic KVM 1 VPS plan
offers 1 core, 4 GB RAM, 50 GB NVMe SSD storage, and 1 TB bandwidth for prices comparable to similar-priced plans from Vultr. Plus,
you can claim a full refund for VPS hosting (and other select services) from Hostinger within the first 30 days of service
via its money-back guarantee.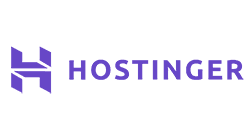 Save up to 75 % on your Hostinger plan!
Limited-time offer - Don't miss it!
7002 users used this coupon!
Vultr Makes It Easy to Cancel Your Services, But You Can't Get Your Money Back
Even though I couldn't get a refund,
it was still easy enough to cancel my Vultr services
. All I had to do was log into my account dashboard, find the advanced settings, and follow the instructions. However, deleting your account might take a little bit more time as you'll have to contact support. Since cancelling my account, Vultr has also introduced a $100 credit, which you can claim and use on select Vultr services and deployments by simply linking a payment method. So
you can try out Vultr before spending anything
. PayPal, credit cards (Visa, MasterCard, American Express, Discover, JCB, Union Pay), crypto (Bitcoin), Alipay, and wire transfers are all accepted.
FAQ
How do I set up a Vultr server?
It's very straightforward to set up a server with Vultr. All you need to do is sign up for an account, add the payment method you'll use for your services, and then select the server configuration you want to deploy. However, cancelling your Vultr account is a little more complex.
How much does Vultr cost?
Vultr has many different server configurations that you can choose from, so it's difficult to predict how much you need to spend for your particular use case. What I can say is that Vultr's services range in price from $2.50 per month for the entry-level plan to over $500 per month. When cancelling your Vultr account, you are also unlikely to get a refund, which is why we suggest going with a less stingy Vultr alternative instead.
Is Vultr billed monthly?
All of your services are charged on an hourly basis and billed to you once a month. A longer-term commitment with another host might be a better option if you're looking to spend less – Liquid Web could be a good alternative option in that case.
Who uses Vultr and who is it best for?
Vultr is a cloud hosting provider so it is best suited for websites that get steady-to-heavy traffic with occasional surges. If you want to compare it with the best-performing web hosts in the industry, we've tested the top 10 providers for 2023 to help you make an informed decision.