We noticed that ever since Hostinger reduced their prices, many users are closing their accounts with Vultr.
Vultr is a premium cloud hosting provider that manages to strike a unique balance of ease-of-use and expert features (read the in-depth review for more information). With servers and customers around the world, Vultr is definitely a good option if you're looking for a solid and scalable host.
However, it won't be right for everyone. Although it is relatively beginner-friendly, it has many more features than most smaller or newer websites require and it's no-refund policy may be too strict for some people. For whatever reason you've decided to cancel your account, this article takes you step-by-step through the process.
To Cancel Your Vultr Account, Just Follow These Easy Steps:
Log into your Vultr dashboard.
From the Instances tab, select the instance(s) you wish to destroy.
In the top right of the page, click the Trash Can icon.
Click the box "Yes, destroy the server" and click Destroy Server.
Open a support ticket requesting to cancel your account.
Wait for confirmation from customer service.
My Cancellation Experience:
As is usually the case with cloud hosting providers, you only pay for the resources you use. While it's not particularly unusual for this type of host, it is something to consider before you sign up with Vultr.
This means you're billed on an hourly basis, up to a maximum of 672 hours per month. On one hand, this means you'll never pay for more than you use, but on the other, it means you need to adhere to a strict no-refunds policy.

If you decide to cancel, you need to open a support ticket. I did so, asking for the team to cancel my account and whether it would be possible to get a refund. As I'd only be billed a few cents during my time with Vultr, it wasn't a huge deal either way.
As my customer service experience with Vultr had been excellent throughout the process (despite negative online reviews to the contrary), I knew this would be a breeze. True to form, I received a polite and well-informed response within two hours.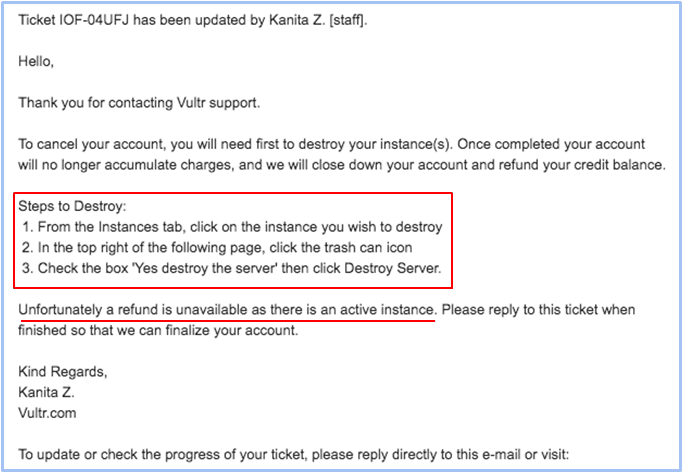 As I had an active instance running, I was advised to login to my dashboard and destroy it before the cancelation could be completed. After that was done, I could contact support and the cancelation would be completed.
As per the email instructions, I logged into my server and selected the Trash Can. After confirming I wanted to delete the instance, I hit Destroy Server. It only took a few seconds and it was done.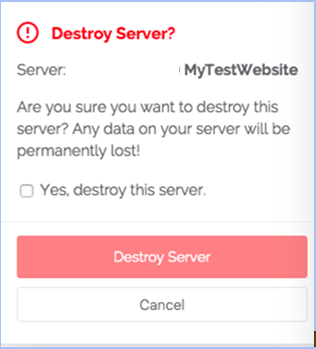 My next step was to respond to the ticket to advise the agent that I had deleted the instance. Within a couple of hours, I received a reply from confirming the cancelation had been completed. It was all very straightforward but it did take a bit of back and forth to get the job done.
As I'd anticipated, I wasn't able to claim any refund. For me, it wasn't a huge problem, as I'd only spent a few cents testing the service, plus it had been really clear in the terms and conditions that the usage was non-refundable.

Best Vultr Alternatives:
If you're looking for a new host, here are our top Vultr alternatives:
Are you just starting out? GoDaddy offers excellent introductory prices and helpful customer service.
Are you tired of managing your own server and ready to have the experts take over the day-to-day server configuration? Head over to Liquid Web to learn about its managed hosting plans.
If you're ready to take your website to the next level with a more advanced hosting solution, but you didn't like Vultr, DigitalOcean could be an excellent alternative for scalable cloud hosting.
Simple to Cancel, but Impossible to Get a Refund
The cancellation process was easy, but I couldn't do it without help from customer service. If I'd have known to destroy the instance first, it likely would have reduced the number of email interactions. Nevertheless, the agent didn't try to upsell me or convince me to stay, which is always a refreshing change.
I've enjoyed my time with Vultr – read more about it here.