Bluehost might be more popular than DigitalOcean, but in terms of advanced hosting solutions, it is very limited.
 Bluehost's VPS plans are significantly more expensive than DigitalOcean's Droplets, yet fewer features are included per plan and performance is mediocre at best.
By contrast, DigitalOcean offers cheap cloud hosting with lots of add-on services.
 The only drawback is that its Droplets are self-managed, so while you can create them with the control panel, you'll have to configure and manage them via a command-line interface. It's not the most user-friendly service, but it's ideal for developers and tech-savvy website owners who want to keep costs low.
Alternatively, you can buy DigitalOcean Droplets through managed cloud hosting from Cloudways.
You get the same performance, stability, and scalability that comes with DigitalOcean, but Cloudways takes care of server setup and maintenance for you.
Click here to see DigitalOcean's best deals
, or keep reading to find out why I don't recommend Bluehost.
1. Plans and Pricing
DigitalOcean Is Cheaper and More Flexible Than Bluehost
DigitalOcean focuses entirely on cloud hosting, whereas Bluehost has shared, VPS, and dedicated server hosting.
 To keep the comparison fair, I've matched DigitalOcean's Droplets (self-managed cloud servers) against Bluehost's VPS solutions (also self-managed). With Bluehost, there are only three VPS setups to choose from. For example, the entry-level Standard plan includes 2 vCPU, 2GB of RAM, 30GB of storage, and 1TB of bandwidth.
It's not a bad configuration, but you can get the same with DigitalOcean at a much lower cost.
A free domain name is included with some hosting plans from Bluehost
Following renewal, Bluehost will cost you roughly twice as much as DigitalOcean for the same configuration.
With DigitalOcean, you pay on an hourly basis and only for the resources you actually use.
 No upfront commitment, no steep renewals, and no upsells.
It's also worth noting that DigitalOcean
has dozens of cloud configurations on offer versus Bluehost's very limited options.
 With Bluehost, for example, you can only get up to 4 vCPUs and 8GB of RAM (on the Ultimate plan), whereas DigitalOcean lets you add as many as 40 vCPUs and 256GB of RAM per Droplet.
2. Features
DigitalOcean Has Plenty of Add-Ons – Bluehost Barely Covers the Basics
Bluehost's VPS plans come with close to no extra features.
 You do get a free domain name for one year if you buy at least one year of hosting, but security is not included by default, and aside from an enhanced version of cPanel (which you must use) there are very few tools to help you set up your VM.
DigitalOcean's VPS hosting is much better in this respect.
For one, it gives you a one-click installer for Docker, LAMP (a server stack consisting of Linux, Apache, MySQL, and PHP), cPanel, Plesk, WordPress, and other useful software that you need to set up a VM. A usage monitor is also included in the dashboard, so it's easier to keep track of your resources.
To this, you can add a cloud firewall, team management tools, automated backups, load balancers, floating IPs, block storage, and other useful services.
Here's a side-by-side rundown of Bluehost's and DigitalOcean's most important features:
| | | |
| --- | --- | --- |
| Feature | Bluehost | DigitalOcean |
| Hosting type | Shared, VPS, dedicated servers | Cloud VPS |
| Free domain? | ✔ | ✘ |
| Free SSL certificate? | ✘ | ✘ |
| CPU cores | 2 – 4 | 1 – 40 |
| RAM | 2GB – 8GB | 1GB – 256GB |
| Disk space | 30GB – 120GB | 25GB – 7TB |
| Bandwidth | 1TB – 3TB | 1TB – 10TB |
| Automatic backups | ✘ | Available for an extra fee |
| Control panel | enhanced cPanel | cPanel, Plesk, CyberPanel, and more |
| Free site migration | ✘ | ✘ |
| Money-back guarantee | 30 days | No, but there is a free trial |
3. Performance
DigitalOcean Is Faster and More Reliable Than Bluehost
Both hosts offer SSD storage throughout, which can drastically improve performance.
 But this is where the similarities end.
DigitalOcean has a 99.99% uptime guarantee backed by an SLA (service-level agreement), so you're entitled to compensation for every hour of downtime.
 Meanwhile, Bluehost makes no promises in terms of uptime, which is a pretty big deal. In addition, Bluehost has yet to disclose the exact location of its data center, so there's no way to find out where your website or app is physically hosted.
DigitalOcean has eight data center locations around the world, including the US, Canada, the Netherlands, India, Singapore, and others.
Bluehost did poorly during our performance tests. Find out what went wrong in our
in-depth Bluehost review
. DigitalOcean did considerably better. You can read more about its performance in our
expert Digital Ocean review
. Since both DigitalOcean's Droplets and Bluehost's VPS plans are self-managed, you're in charge of server caching and optimizations. That said, you can get
Cloudways to manage your DigitalOcean Droplets for you
. Cloudways preinstalls an optimized caching stack for you, speeding up your website or app with minimal effort.
4. Security
DigitalOcean Has a Free Cloud Firewall, While Bluehost Makes You Pay Extra
Both DigitalOcean and Bluehost will require you to secure your own VM, but DigitalOcean makes this easier.
Regardless of the configuration you choose, you get a proprietary cloud firewall for basic protection against malware.
 The firewall is built into your dashboard, so it's easy to activate. Bluehost includes no free security tools in its VPS plans.
The SiteLock add-on for malware scanning and removal is available, but it'll cost you extra.
 You can also add domain privacy and protection if you register your domain with Bluehost, but again, this will increase the overall cost. While DigitalOcean's security is better than Bluehosts', for even better security that's all managed for you, Cloudways is a better (albeit pricier) option.
5. Support
Neither Bluehost nor DigitalOcean Have Decent Customer Support
Bluehost offers 24/7 customer support through live chat, tickets, and phone, but agents are not always available and communication is slow, to say the least.
 For instance, when I wanted to know whether there was a way to open live chat straight from the dashboard, I had to sit through this interaction: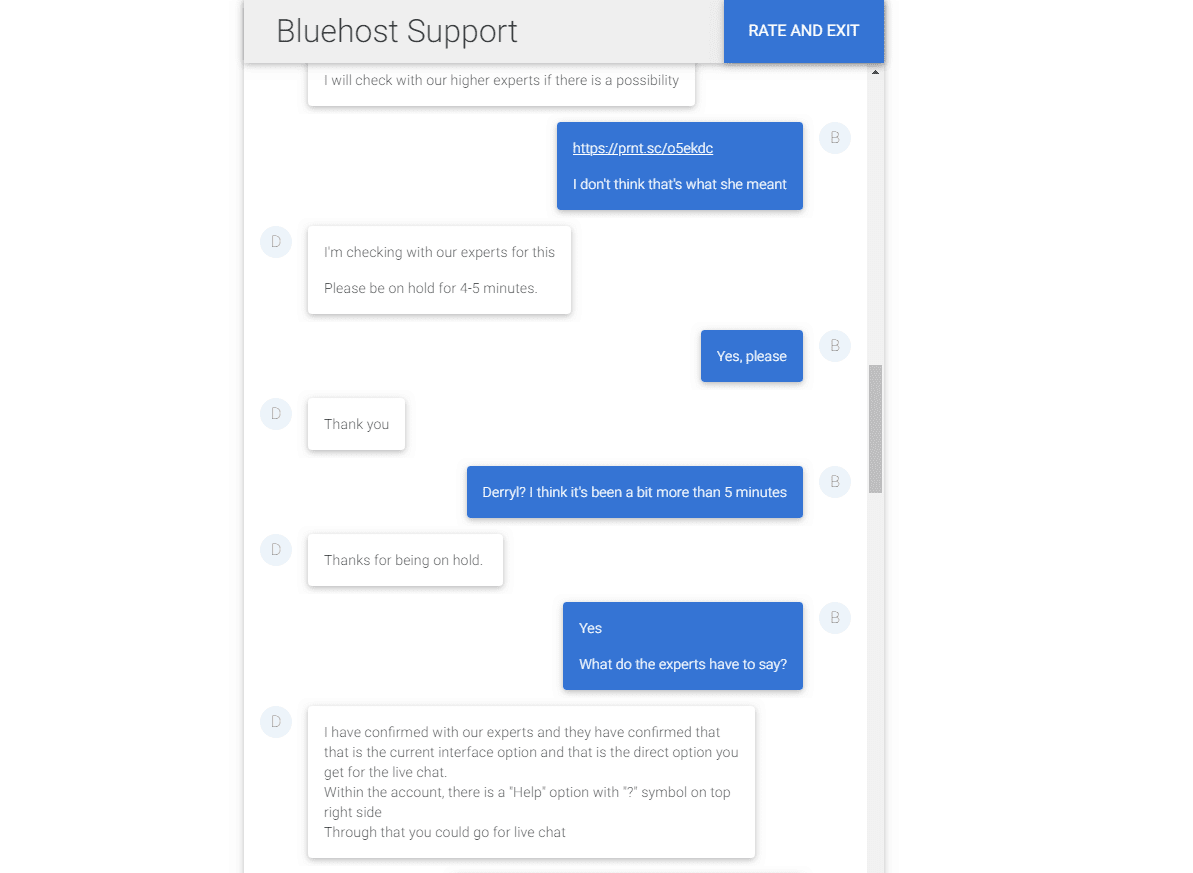 Unfortunately, DigitalOcean's support isn't much better. In fact, it's probably worse.
There's no live chat or phone option, so you can only get in touch through tickets –
if
the platform works. In my case, it didn't, so I couldn't even send my question: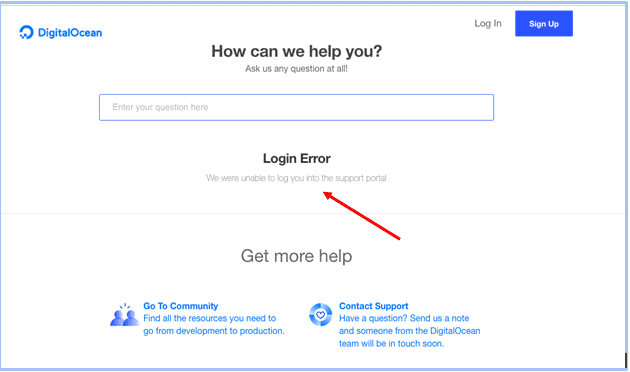 That said, DigitalOcean has an extensive knowledge base with useful DIY guides, which is more than I can say about Bluehost. If the idea of being left without support troubles you, then opting for
Cloudways managed cloud hosting
would be a better choice.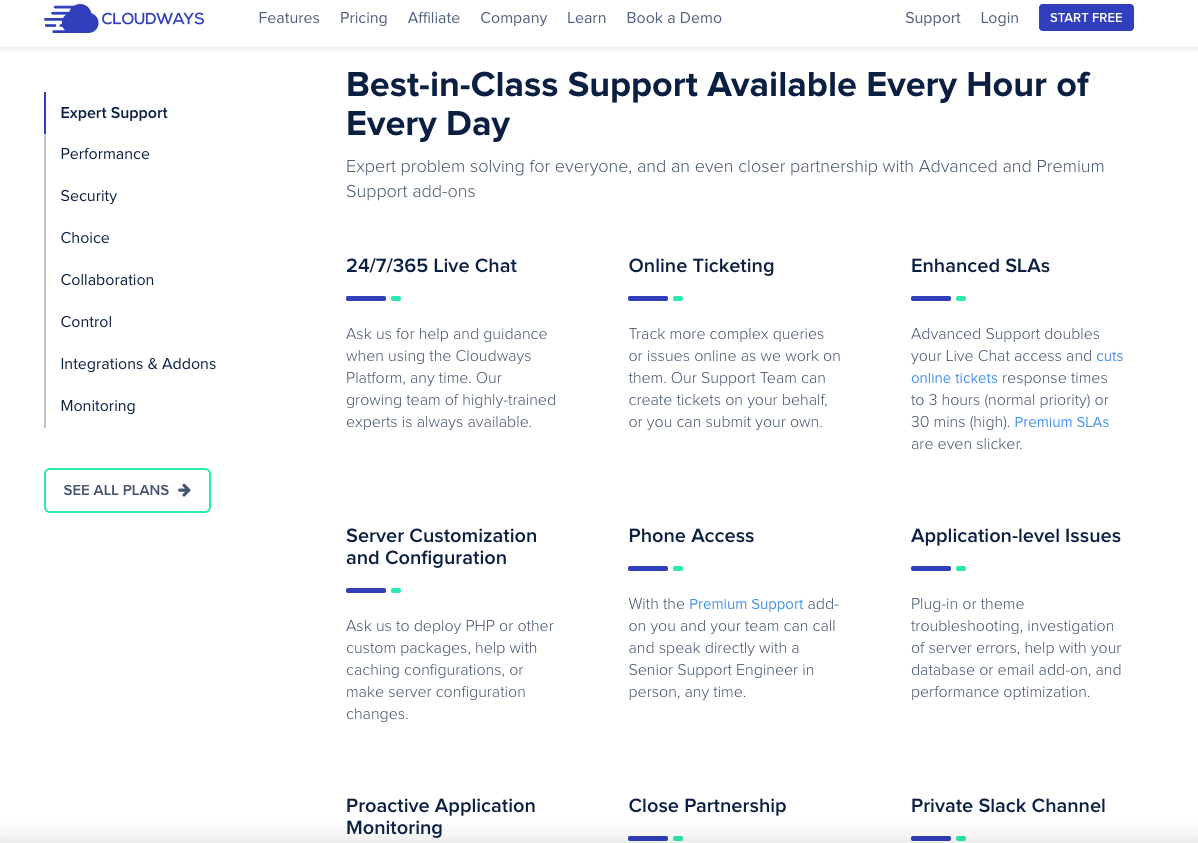 DigitalOcean Is Better Than Bluehost, but There's a Third Option
DigitalOcean owns a comfortable lead in pricing, features, performance, and security, which makes it the clear winner of this matchup.
In terms of VPS hosting, Bluehost is more expensive, less reliable, and not as flexible as
DigitalOcean
. That said, neither Bluehost nor DigitalOcean made our list of
the best web hosting services
. DigitalOcean has its flaws. Customer support is terrible, and setting up a Droplet can be difficult if you're unfamiliar with the command line. If you want to take advantage of DigitalOcean's high-performance cloud infrastructure, but you don't want to manage it yourself,
you're better off buying a Droplet through Cloudways
.
Not yet decided? Here's a quick summary of Bluehost vs DigitalOcean:
Bluehost
DigitalOcean
Cloudways
Plans and pricing
Expensive VPS plans with fairly limited CPU and RAM allocations
Cheap cloud hosting in the form of Droplets, more CPU and RAM for a lower price
More expensive than getting droplets from DigitalOcean direct – but it's worth it for the managed features
Features
Free domain name for the first year
One-click installer, lots of add-on cloud services
Fully managed service with automatic backups, free SSL certificates and more
Performance
A single data center, SSD storage, no uptime guarantee
Eight data centers around the world, SSD storage, load balancers, 99.99% uptime guarantee
Uses DigitalOcean's infrastructure so benefits from the same performance
Security
SiteLock for an extra fee
Free cloud firewall
Dedicated firewalls and automatic security patching
Support
24/7 support via live chat, tickets, and phone
Support is only available through tickets (and can be difficult to access)
24/7 support via live chat and tickets, with advanced support add-ons available
FAQ
Which is better, Bluehost or DigitalOcean?
If you're looking for an advanced hosting solution, DigitalOcean's Droplets are cheaper and more generous than Bluehost's VPS plans. Customer support is almost nonexistent for DigitalOcean, but you can buy Droplets through Cloudways if you need help setting everything up. DigitalOcean doesn't offer any entry-level shared hosting plans, so I wouldn't recommend it for a simple website. That said, I've tested Bluehost's shared hosting and the results were mediocre at best. If you want a faster and more reliable low-cost provider, check out our list of the best web hosting services.
Does DigitalOcean offer managed WordPress hosting?
No. DigitalOcean's Droplets are entirely self-managed. You can run WordPress on them, and there's even a one-click installer for WordPress, but no other features are included. If you want automatic updates and backups, built-in caching, and other optimizations, you should take a look at these WordPress hosting providers instead.
Is Bluehost reliable?
Since Bluehost was acquired by EIG, lots of customers have complained about unreliable performance and support, so I wouldn't trust it with my website. There's no uptime guarantee either, which means that the best you can do is cross your fingers and hope your site stays online. We also tested Bluehost's entry-level plan and the results were disappointing. You can read more about this experience in our in-depth Bluehost review. There are much better – cheaper, faster, and more reliable – hosts that we recommend, such as Hostinger and A2 Hosting.
Does DigitalOcean have cPanel?
Not by default. You can install cPanel on a DigitalOcean Droplet, but you have to buy a license to use it. Alternatively, you can buy a Droplet through Cloudways, and a proprietary control panel will be installed for you. This will let you manage your domains and websites without having to use the Linux command line interface. You can read more about Cloudways in our expert review.