Building and running a website to supplement your real estate business is a must to stay competitive and build your brand and customer base. In this day and age, a website is a must-have to be seen as an established and reliable professional. And of course, the advantages of reaching a potentially limitless audience online and making your services available to them are obvious.
However, as a real estate agent and not a web developer/designer, the prospect of creating your own website might terrify you. Wix is one of the best website builders if you want to create a real estate website. This is largely due to the fact that it provides some fantastic real estate templates that give you a headstart on building and hosting an attractive and functional business website.
Why Choose Wix for Your Real Estate Website?
Pricing
Wix is one of the most affordable website-building platforms out there. Even its most expensive plan will be affordable to most people while still being suitable for large businesses.
Wix's Unlimited plan is the most popular option because it takes away all Wix branding and advertisements (which is important if you want to promote yourself as a professional service) and adds the Form Builder app and Site Booster app for free. Forms are a great way to get potential clients to contact you, and the Site Booster app will help you increase traffic to your website.
Search Engine Optimization
Maximizing the number of potential customers who come to your website is just as crucial for real estate agents as it is for any other business — though arguably more so, considering how competitive and time-sensitive the real estate market is.
Wix does provide some out-of-the-box tools to improve your website's SEO. However, its real power lies in providing access to purpose-built SEO-boosting apps through the App Market.
One prime example is the the SiteBooster app that you get for free with the Unlimited plan (there's also a free version). There is also Rabbit SEO, which helps you create higher-ranking webpages and provides info on your SEO performance.
Apps and Tools
Wix also provides a number of other tools and features (mostly provided through its apps) that will allow you to create an even better and fully functional real estate website. Some of the apps that real estate agents will find most useful include:
Wix Pro Gallery. This App allows you to create stylish and functional galleries and even provides some touch-up tools. This is great to create galleries for properties.
Build a Customer Base. In the real estate business, it's vital that you get as many leads as possible. You can use Wix Forms or Wix Get Subscribers to create mailing lists of potential, current, or past customers.
Organizational Tools. There are many apps on Wix that provide organizational tools like calendars, booking widgets, and event creation tools. You could use these to collaborate with colleagues or even just organize open house viewings for clients.
The Wix App Market has many more apps that provide access to even more varied tools and features.
3 Best Wix Real Estate Templates
Wix just might be the website builder with the highest number of templates in its library: over 500 — all for free. There are a number of templates to choose from for just about any niche or business, and real estate comes as no exception.
You can choose from 14 real-estate-specific templates that come with complete designs and even separate webpages as well as the most essential apps. You then also have the option to let ADI, Wix's artificial intelligence platform, design a website for you.
Templates come in a variety of styles and niches to suit different tastes, needs, and markets. To give you an idea of what they offer, here are some of the ones I think are the best:
Real Estate Company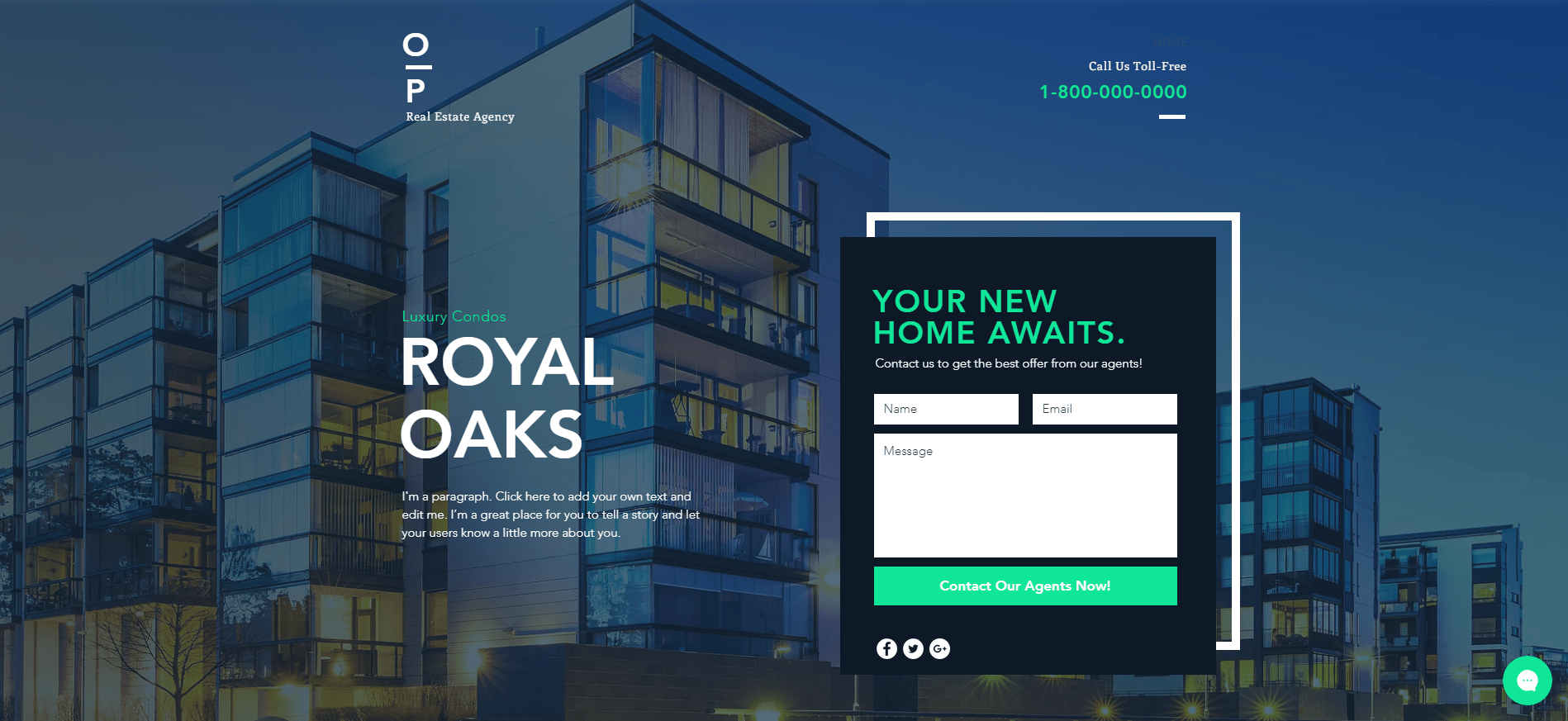 With a relatively simple, yet effective design, the default template is a one-page website aimed at building subscribers for a mailing list. It makes great use of alternating full-width images and white spaces with blurbs to present the information and show off the properties. It's a very sleek and modern design that's perfect for a professional, higher-end market.
Real Estate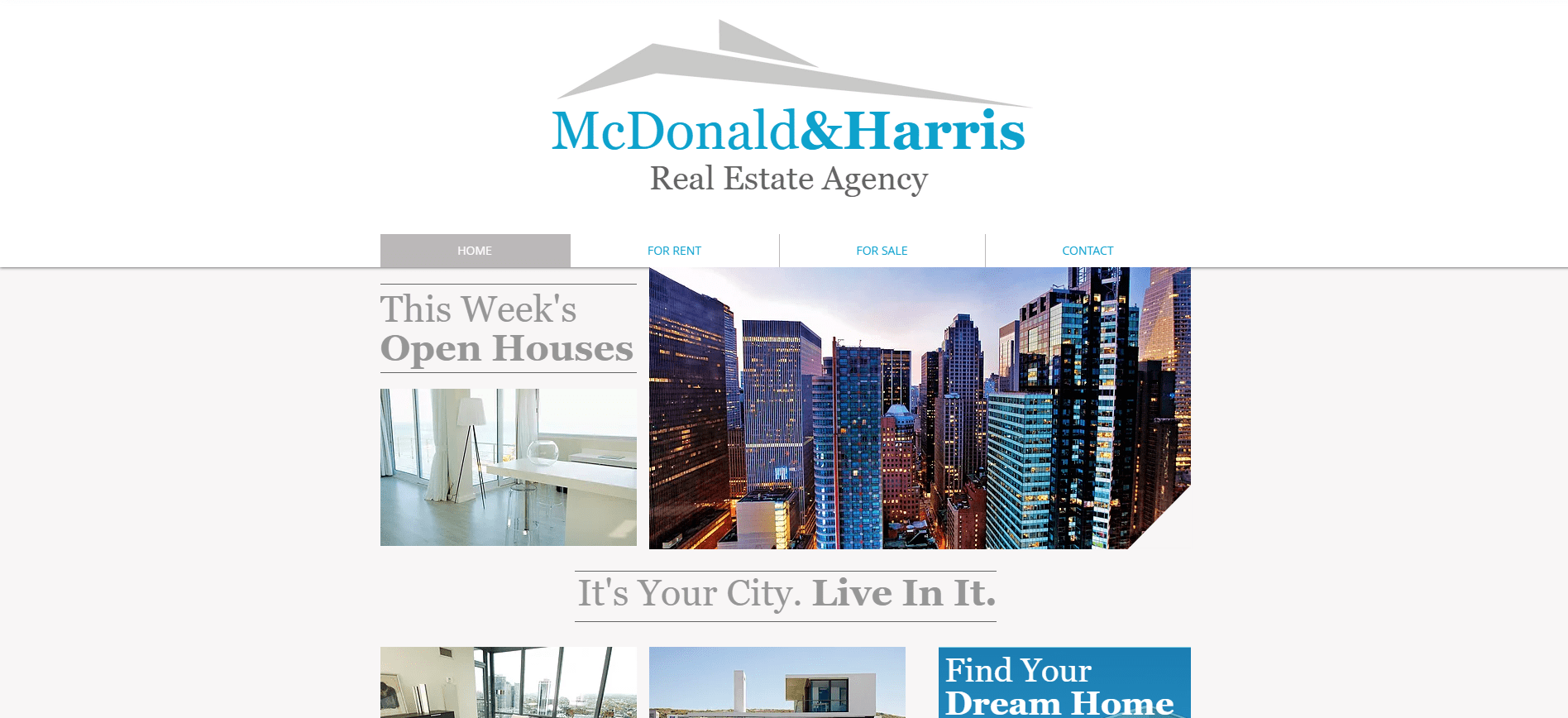 This template is perfect for those who rely on a blog for some of their website SEO as well as a value-added aspect of their business or website. The homepage is basically a blog archive webpage with links to articles and listings for properties that are presented in much the same way. A highly convenient feature for visitors is the ability to scroll through the images for the listings on their thumbnails.
Real Estate Company 2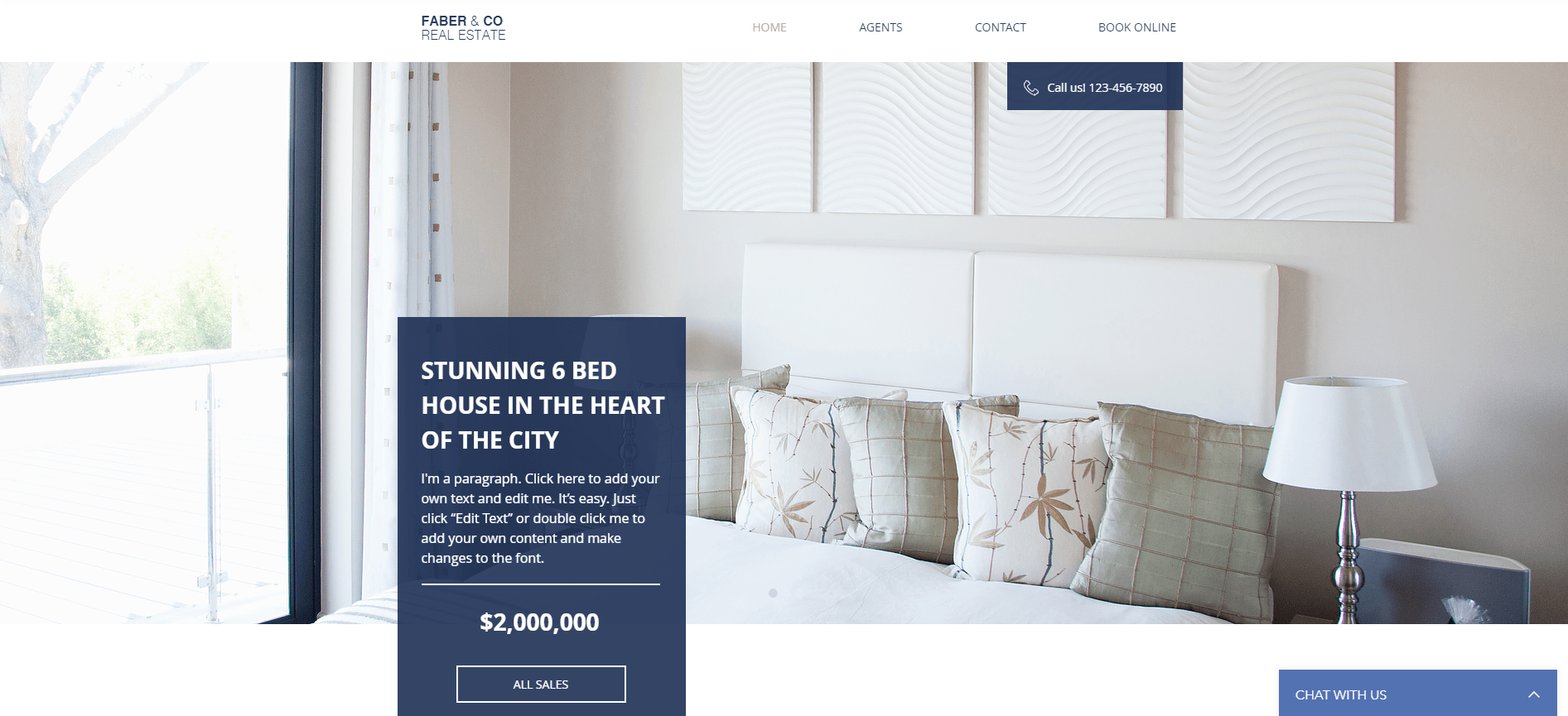 This template is a real estate agency's or broker's dream. It's meant to show off highly sought-after properties as well as enable visitors to directly contact agents for quick conversions. It comes complete with listing webpages for properties, agent bio pages, booking and scheduling widgets, etc. The design is also minimalist and professional.
It's worth mentioning again that all these templates are fully customizable using the Wix Editor. So, you will be able to tweak any of these templates to suit other niches or types of real estate businesses with some work.
In short, Wix templates are suitable for real estate agents because:
They are all mobile optimized
They have modern and attractive designs
They are all fully customizable
There are niche-specific templates for different real estate markets
Setting Up a Real Estate Website With Wix
Let's look at just how quick and easy it can be to set up a real estate website using Wix:
Step #1: Sign Up With Wix
First of all, you need to create an account. This is extremely easy, as you can either use your Facebook or Gmail account to sign up, or create a new account using just your email and a password.
Wix will then ask you a series of questions that are optional and doesn't affect the rest of the process. Next, Wix will ask you to choose between designing your own website or letting ADI do it for you.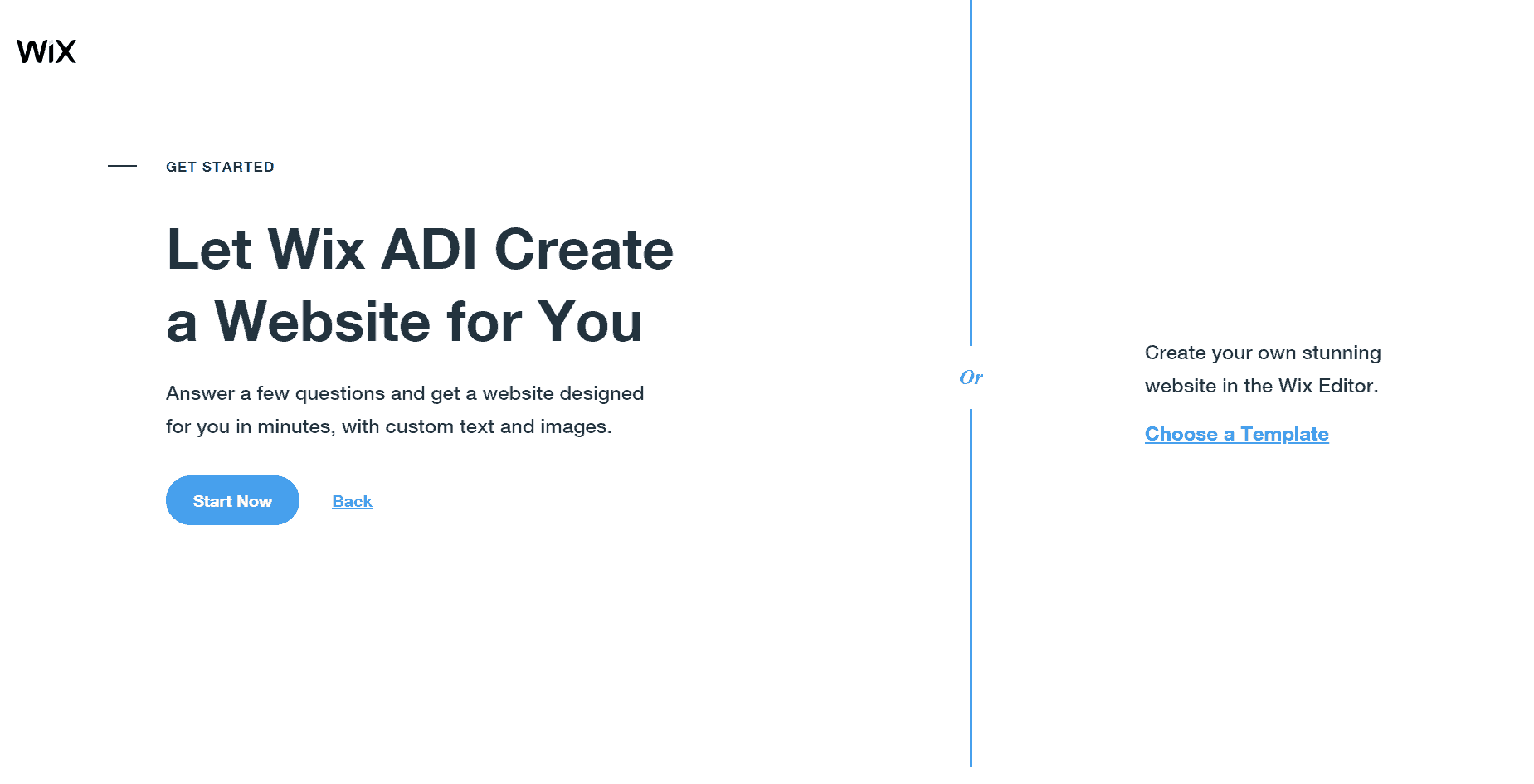 Step #2: Choose a template
Don't feel pressured to use the same templates above; most of the templates are great in their own right. If you're comfortable using a website builder to design and build a website, you could even go with one outside of the real estate niche and tune it to suit your purpose. You can preview a website before selecting it. Once you do, you can start editing the template.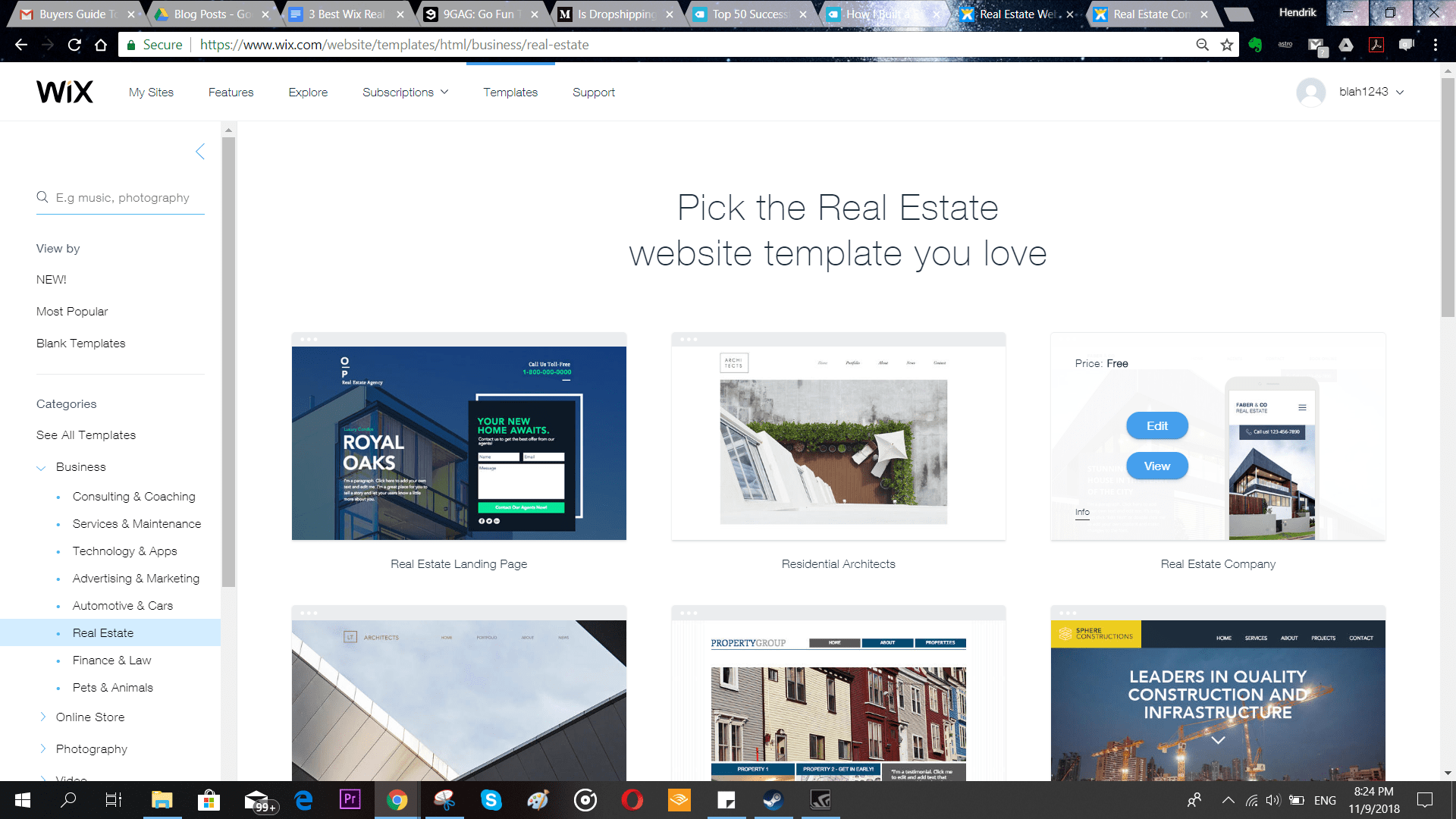 I chose the Real Estate Company template, as it has most of the features I want. Once you select a template, give Wix a moment to put together your website.
Step #3: Customize your website
You will be taken to the Wix Editor where you can customize almost every aspect of your website. The most important options are:
Menus & Pages. Here you can create, remove, or swap which pages you are editing as well as control which webpages show up in your main menu.
Add Apps. This will open up a Wix App Market dialog where you can look for and add apps from the marketplace.
This is an example of how you would access an app, in this case, bookings, to change its settings.
Save & Publish. Once you publish a webpage, it will go live on your website for customers to view. Do this only when you're ready to receive visitors. The first time you save your webpage, you'll be given the option to choose the URL for your webpage and the website will be listed in your dashboard.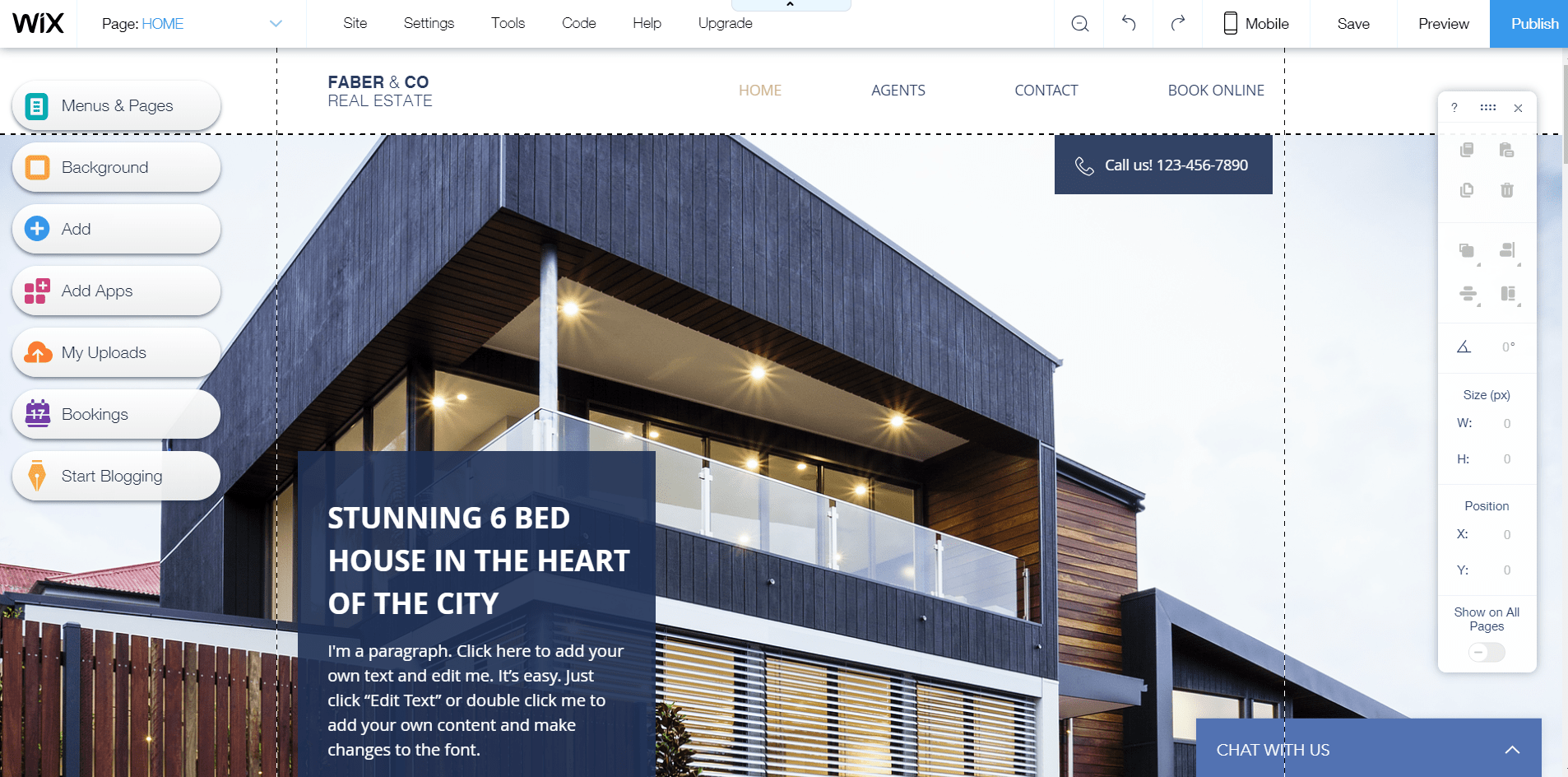 Step #4: Choose a Wix Pricing Plan
You can sign up for a Wix pricing plan at any time by going to your account dashboard and clicking on the Upgrade to Premium link. This will take you through a short process of selecting your pricing plan and providing your payment details.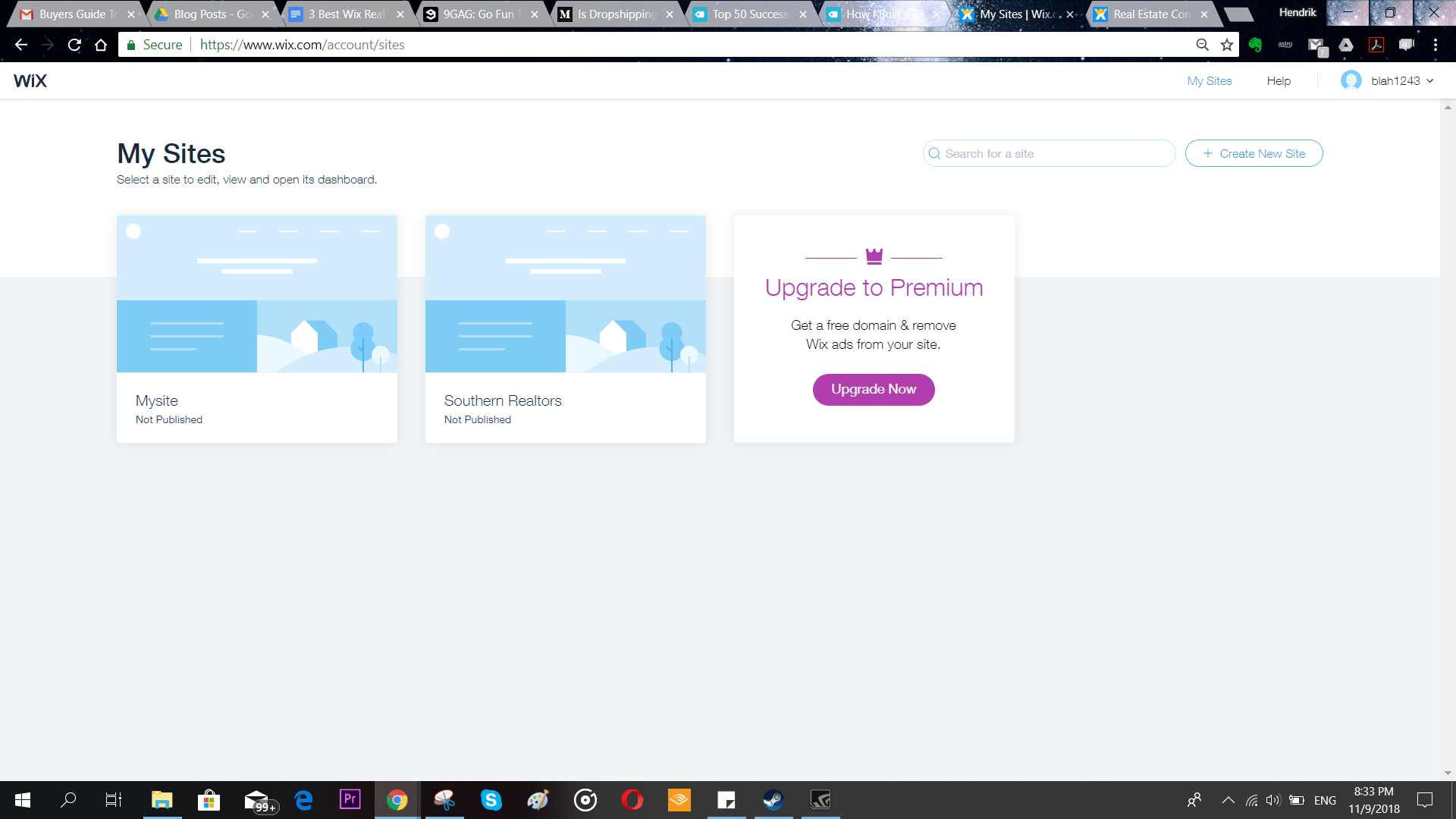 Give Your Real Estate Business a Boost With Wix
As you can see, it's super simple with Wix to quickly create an attractive, professional, and working real estate website. Wix's great selection of templates contributes massively to this fact, as you'll be able to choose a design that suits your niche, purpose, and style. You can easily add any functionality you need via Wix Apps on the App Market.
Once you've gone through the steps above, adding in your own content, contact information, and branding assets (logos, taglines, etc.) should only be a formality, as the builder is extremely easy to use. However, it's powerful enough to allow you to customize every inch of your website with a drag-and-drop webpage builder.
All of these factors combine to make Wix one of the quickest and easiest platforms to build out your own business website, real estate websites included.