most free web builders display ads on your site, which doesn't contribute to a professional look
. Blasting your site's visitors with ads won't help you build an audience and get more traffic, which may end up costing you more than a paid website builder. After researching the most popular platforms,
we found 6 website builders that don't force ads onto visitors
. Most of these builders also have free versions, but they unlock the best features, such as advanced SEO and marketing tools, on paid plans. Of these,
Wix emerged as the best ad-free option for beginners and experienced users alike
. Wix offers plenty of creative freedom while staying easy to use and reasonably-priced. Read on to find out more.
Short on Time? These Are the Best Website Builders Without Ads in 2023
Wix – Great balance between creative freedom and ease of use.
SITE123 – A simple, quick, and affordable way to get online.
Squarespace – Stunning templates and effective social media tools.
What We Look for in the Best Website Builders Without Ads
Aside from being ad-free, a website builder should provide an effective set of tools to help you create and promote your website. Here's what I focused on when compiling my list:
Attractive and customizable templates. All builders on my list offer good-looking templates that you can customize as you see fit. This gives you a choice of various layouts and the ability to create an authentic website that reflects your brand.
User-friendly interface. You'll want to focus your time and energy on creating a compelling website, not on figuring out how to use a website builder. That's why all builders on my list have intuitive editors and features that are easy to find and use.
Built-in tools. These builders have an efficient set of native tools, such as marketing, SEO, blogging, e-commerce features, and more, allowing you to manage everything from a centralized place.
App market. In addition to built-in features, having easy access to third-party integrations can help you extend your site's functionality.
Scalable and flexible. A website builder should be flexible enough to adapt to your needs. For instance, if your site needs more storage space as your company grows, you can easily upgrade your plan.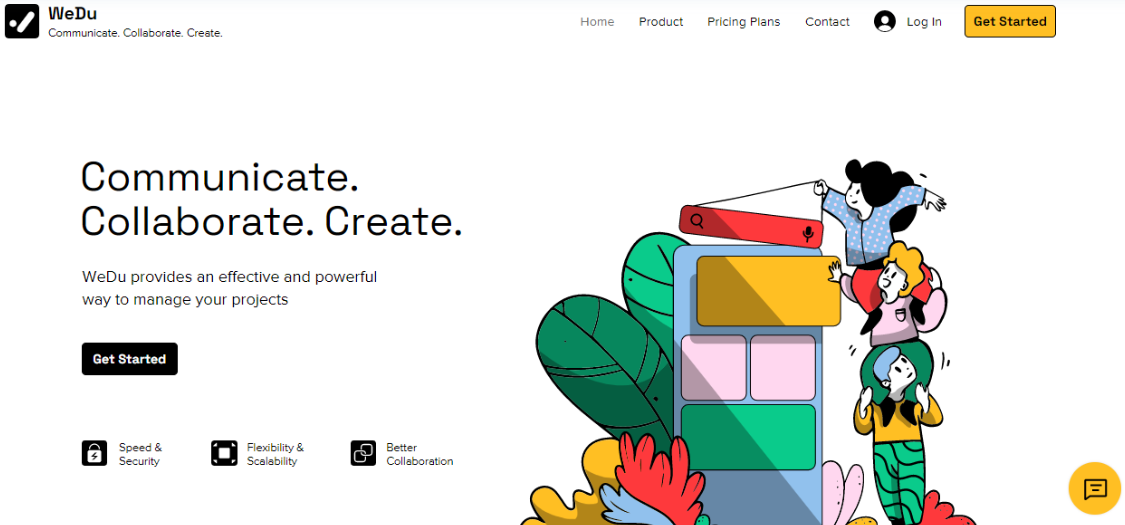 Wix manages to hit the sweet spot – it offers tons of features and customization options while staying beginner-friendly.
Wix's large template library counts over 800 designs, so it's easy to find something that suits you regardless of your industry
. Best of all, Wix's templates come with useful features built in, such as Google Maps, booking tools, and social media integrations. All templates are fully customizable, with
Wix's intuitive drag-and-drop editor
 allowing you to move elements around freely to create your ideal layout. If you want even more features, you can turn to
Wix's extensive app marketplace with 300+ integrations available
. I personally rely on standout apps like Wix Chat so that clients can reach me 24/7 and Wix Pro Gallery for uploading high-quality photos. Wix's free version displays ads on your site, but paid plans remove them and provide plenty of functionality at affordable prices. For any type of business,
Wix's Unlimited plan will likely be more than enough
. You'll get unlimited bandwidth, 10 GB of storage, and one hour of video. And, instead of advertising the builder, you'll get free ad vouchers for promoting your own site on Google and Bing results pages.
Wix offers a 14-day money-back guarantee
with every Premium plan, provided you pay by credit card.
Features
Complete guide to SEO. Wix has a strong set of SEO tools that let you customize meta tags, URLs, and even control how your pages look when they're shared on social media. To ensure you get the most of these features, you also get Wix SEO Wiz, a step-by-step guide on optimizing your site for search engines.
Ascend Business Tools. Wix's powerful business tools can help promote your website, including a social post builder, a video maker, and an email marketing aid.
Online payment options. Wix offers over 50 payment providers, including its native tool Wix Payments, plus other popular choices like PayPal, Stripe, and Square.
Wix ADI. If you're in a hurry, the Wix ADI (artificial design intelligence) tool can generate a compelling website within minutes. All you have to do is import your own text and images, and you're good to go.
Want to learn more? Read our
expert Wix review
.
Templates
800+
Free domain for one year
Yes
Storage space
500 MB to 50 GB; 30 min to 5 hours of video
Starting Price

$

16.00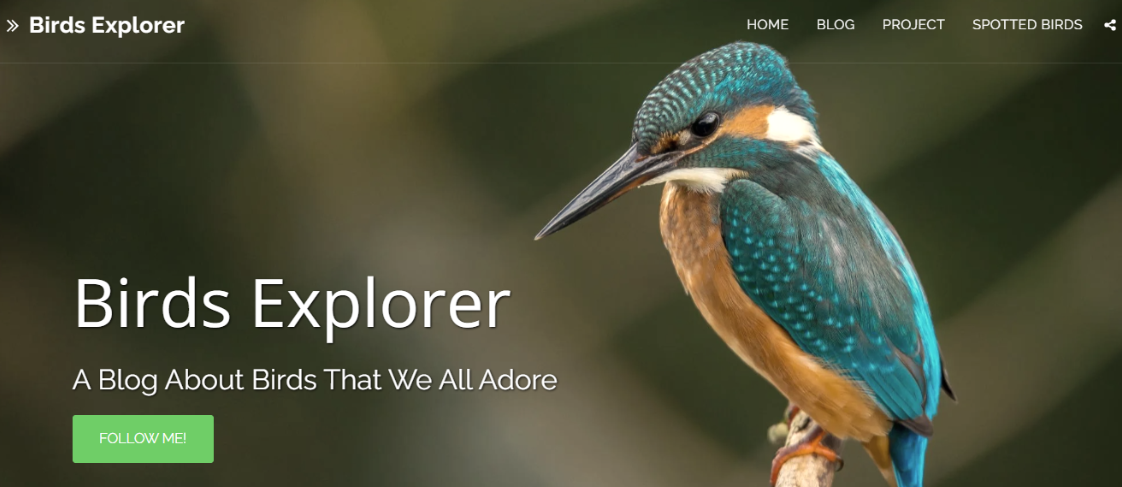 SITE123 is one of the most beginner-friendly website builders I've tested
, so making edits is a simple and quick process. You won't get the same amount of creative freedom as with Wix, but I could easily change colors and fonts, add sections such as FAQs and testimonials, and change my site's structure from single-page to multi-page.
SITE123 is a great option if you want to cater to an international audience
. You can
display your website in up to five languages
, and there are built-in multilingual SEO features to help you rank higher on search engines in your chosen languages. SITE123 has a free plan, but it displays ads on your site and doesn't let you connect a custom domain.
Upgrading to the Premium plan removes the ads
 and gives you 10 GB of storage, multilingual features, e-commerce functionality, and a free domain for one year.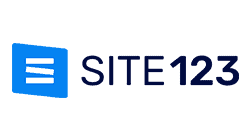 Get 40 % OFF SITE123
Save 40 % when you sign up for SITE123's annual plan
76 users used this coupon!
Features
Robust App Market. SITE123's App Market contains plenty of useful integrations, such as maps, Google Analytics, and Zendesk Chat.
Free image and icons library. Access free images and icons to put a unique spin on your site's design.
Multilingual live chat support. SITE123 offers 24/7 live chat support in English, and in 16 other languages at various times
Custom form builder. The built-in form builder allows you to choose from various form layouts and customize fields, create auto-reply messages, and more.
For more details, read
our in-depth SITE123 review
.
Templates
180+
Free domain for one year
Yes
Storage space
250 MB to 10 GB
Starting Price

$

12.80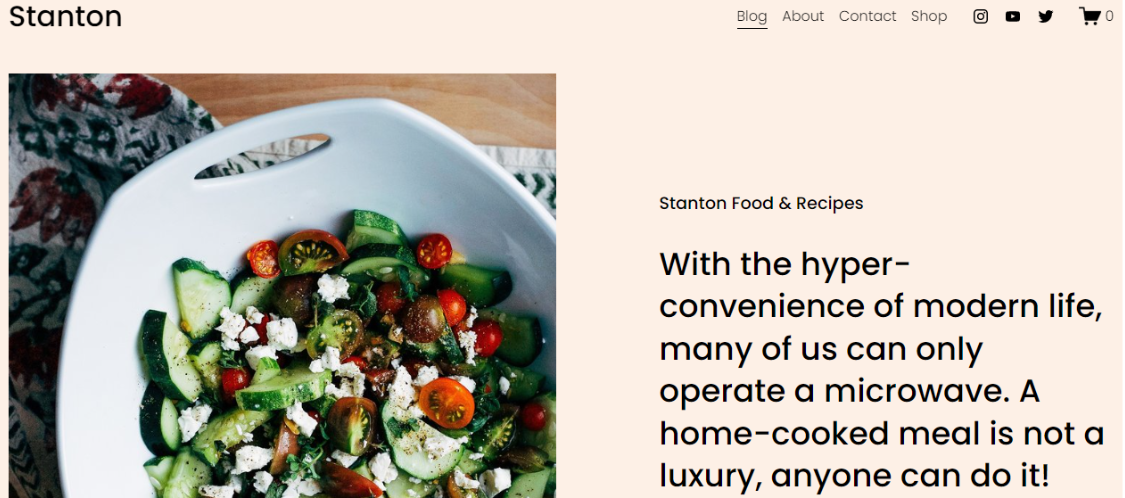 Squarespace has stunning, mobile-responsive templates with simple navigation and clear CTA buttons
, so visitors can get around your site easily. I really liked that I could customize any template to match my style by adding content blocks such as image galleries and social media feeds. Speaking of social media,
Squarespace offers effective content creation tools
to share and promote your services. For instance,
Squarespace's free video maker
 allows you to create engaging and on-brand videos, while the Unfold mobile app provides custom Instagram story templates for eye-catching social media content. Squarespace's Personal plan is a solid option for most businesses, as it includes features like SSL security and unlimited bandwidth and storage for images. However,
upgrading to the Business plan will allow you to accept online payments, get a professional email from Google, use pop-ups, and more
. You can use Squarespace's 14-day free trial to test the platform before you decide to commit.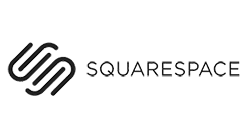 Get an additional 10 % OFF any Squarespace plan!
This exclusive offer is only available for your first purchase.
43 users used this coupon!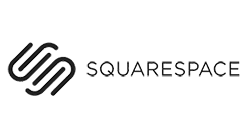 Get an additional 10 % OFF any Squarespace plan!
Copy and paste this code at Squarespace
Features
Squarespace Extensions. Squarespace has some useful integrations, such as a paid scheduling tool and Weglot Translate Extension, which automatically translates your content into any of 100+ languages. Also, its affordable email marketing add-on lets you create campaigns to easily keep your clients up to date
Blogging platform. If you plan to launch a blog, you can use Squarespace's beginner-friendly blog editor to create compelling content and let readers share your posts on social media.
Free logo maker. Squarespace's completely free logo-making tool can help people recognise your business more easily.
E-commerce. If you plan to sell online, Squarespace lets you create a fully-featured online store. You can offer discounts, get automatic tax calculations, sell on social media, and more.
Curious to learn more? Read
our expert Squarespace review
.
Templates
140+
Free domain for one year
Yes
Storage space
Unlimited for images, 30 minutes of video
Starting Price

$

16.00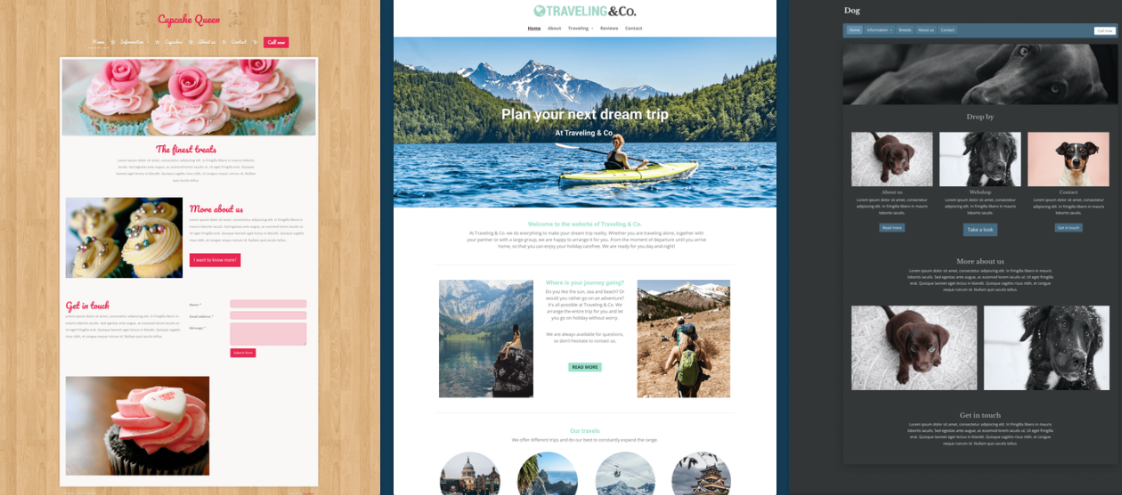 Webador's aim is to create simple but effective sites, and its incredibly responsive editor lets you do just that.
You can drag and drop any element onto your page, and it will automatically snap into a grid, ensuring your layout always looks clean and attractive
. Though you can create any type of website,
Webador is particularly useful if you want to sell a small range of products
. I liked that the e-commerce dashboard includes tools to track orders, add tax information, create checkout forms, manage custom discounts, and more. Best of all,
Webador doesn't charge transaction fees
, which is a rare offer, even among dedicated e-commerce platforms. Both
Webador's free and entry-level plans
 display ads on your site, so
you'll need to sign up for the Pro plan to go ad-free
. Still, for just
$
7.50
/mo, you get a free domain name (price included in your plan), e-commerce functionality, the ability to add contributors, create custom forms, and more, so you get great value.
Features
Multi-purpose templates. Webador doesn't categorize its templates, but it shows you a variety of published websites that are currently using each template. That way, you can get an idea of the different styles you can create.
Great media sharing tools. Webador has a variety of widgets for file sharing and media streaming, such as audio and video players and a document-sharing system.
Rating system. You can add a five-star rating system anywhere on your page, which is a great way to engage with your audience, especially if you're selling products.
Comments everywhere. Webador lets you add a comments box anywhere on your site, which means you can add a section for visitor discussions wherever you like.
Read
our in-depth Webador review
to learn more about the platform.
Templates
50+
Free domain for one year
Free forever
Storage space
Unlimited
Starting Price

$

7.50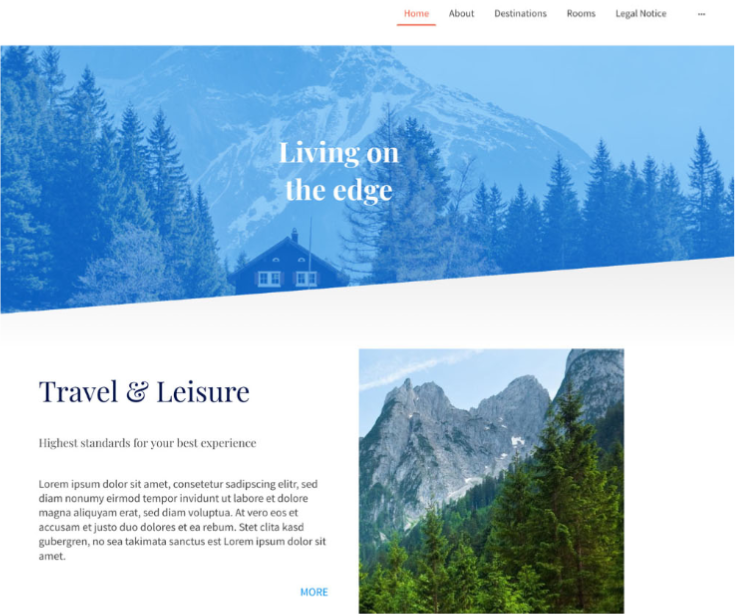 IONOS MyWebsite Now is a simple website builder with very low prices and no ads, regardless of your subscription. It's a great option for beginners looking to get online quickly. However,
the amount of functionality you get depends on the plan you choose
. With MyWebsite Now Starter plan, you get prebuilt page sections and color palettes, as well as limited typography options. You'll be able to create a good-looking website, but if you want more creative freedom and better features,
MyWebsite Now Plus plan is worth a try
. You get more sections and font types to choose from, plus the ability to add custom code. Both plans come with free professional email, a free domain for one year, and SEO features. However, MyWebsite Now Plus also provides 50 GB of webspace, an online scheduling tool, and an AI text generator (Beta version) to speed up content production.
Whichever IONOS plan you choose, you can test it risk-free with a 30-day money-back guarantee
.
Features
Integrated photo editor. Crop, resize, or add overlays to photos directly in the editor, so you have full control over how your images will appear to site visitors.
Competitor monitoring. This built-in tool allows you to track your competitors' social media and Google activity, so that you can always be on top of current trends.
RankingCoach and ListLocal. RankingCoach is a tool that will help you optimize your site for SEO and learn more about it in the process. ListLocal also helps increase your ranking by listing your company details in the most important online directories.
Built-in privacy tools. On both plans, you get IONOS's ready-made cookie banner to keep your site transparent and show that you care about your visitor's data protection.
Want to learn more? Read our
expert IONOS Website Builder review
.
Templates
23
Free domain for one year
Yes
Storage space
Unlimited
Starting Price

$

6.00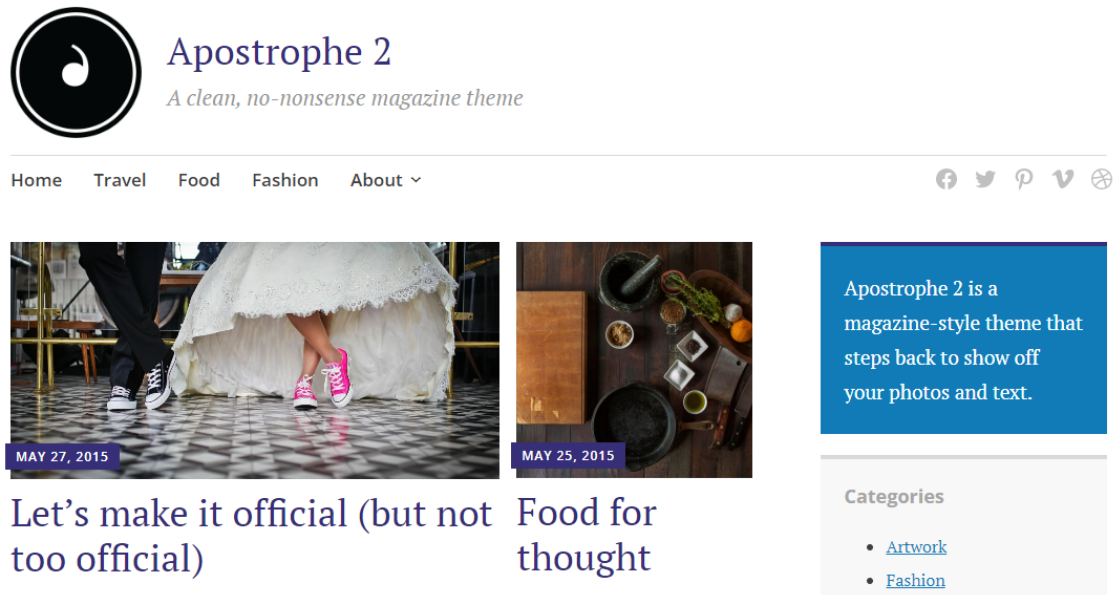 WordPress.com has hundreds of professional, customizable, and mobile-responsive themes, but you'll need a Premium subscription to get access to the best designs.
If you upgrade to the Business plan, you can even incorporate themes from third-party marketplaces
like ThemeForest or TemplateMonster, so your options are practically limitless.
WordPress.com was primarily built for blog-focused websites, so it has an intuitive editor for pages and blog posts
. I found it easy to create my desired layout by adding and rearranging content blocks for images, videos, forms, and other page elements. That said,
some WordPress.com themes also have a separate theme editor to modify a site's overall appearance
. Switching between the two editors might lead to confusion; however, WordPress remains a viable choice because of the flexibility it provides. Its ad-free paid plans allow you to link a custom domain and get access to premium templates, numerous plugins, and additional features.
Features
Extensive third-party plugins. On the Business plan or higher, you get access to WordPress.com's library of over 50,000 free and paid plugins, for everything from galleries and online booking to virus scanning.
Earn money from ads. With the Premium plan or higher, you can monetize your website with ads by connecting with publishers like Google AdSense, Facebook Audience Network, and more.
Sell online with WooCommerce. If you plan to sell online, you can install WooCommerce, an ecommerce plugin designed specifically for WordPress. It allows you to add a shopping cart and checkout process, accept payments, and more.
Jetpack essentials. These tools provide you with faster-loading pages and SEO optimization to help you rank high on search engines.
Want to know more?
Read our expert WordPress.com review
.
Templates
Hundreds of native and third-party themes
Free domain for one year
Yes
Storage space
1 GB to 200 GB
Starting Price

$

4.00
Pick the Best Website Builder Without Ads to Develop Your Brand
All these creators allow you to form a visually pleasing and useful website without annoying ads that limit your capacity to appear professional and convey your distinctive message. The most suitable choice for you will hinge on your requirements and preferences. If you want a balance between ease of use and powerful tools,
Wix is my top recommendation
. Wix templates come with its best features built in, but you can always add more through its extensive app market. On the other hand, if speed and simplicity are your top priorities,
SITE123 has what you need
. It's incredibly easy to use and an excellent choice for multilingual websites. It's also one of the most affordable options on this list. Or, if you rely on social content to help you attract clients,
Squarespace is a great option
 thanks to its built-in social media tools. It also has top-notch templates that will ensure your website looks professional and modern, leaving a great first impression. If you're still unsure which solution to choose, here's a quick comparison of the different builders I tested.
Free Plan
Best Feature
Best For
Starting Price
Wix

✔

User-friendly yet tons of customization options
Beginners and experienced users that need plenty of functionality

$

16.00

SITE123

✔

Beginner-friendly editing
Multilingual websites

$

12.80

Squarespace

✘

Best-in-class templates
Creatives focused on social media content

$

16.00

Webador

✔

Well-rounded and cheap e-commerce tools
Beginners looking to build a small online shop

$

7.50

IONOS

✘

Built-in SEO and data privacy tools
Simple, but good-looking sites on a budget

$

6.00

WordPress.com

✔

Wide choice of themes and plugins
Content-rich websites that need extensive third-party functionality

$

4.00
FAQ
Which website builders offer ad-free plans?
Nearly every website builder on the market offers ad-free options, which are typically paid plans. For instance, Squarespace doesn't display ads on any of its plans while providing plenty of functionality, such as free SSL security, a professional email, and the ability to accept online payments.
Can I upgrade from a free plan with ads to an ad-free plan later?
Absolutely! Many site builders offer free plans to let you test their features. For instance, you can sign up for Wix's free plan to get a feel for the platform. Then, when you're ready, upgrade to Wix's Unlimited plan to get unlimited bandwidth, 10 GB of storage, and free ad vouchers to promote your site.
What kind of customer support is available for ad-free website builders?
In addition to support documentation, most ad-free website builders offer direct support channels, including live chat, email, and phone support. For instance, SITE123 offers 24/7 live chat support in English, as well as multilingual support in 16 other languages.
Can I use my own custom domain with an ad-free website builder?
Yes, ad-free website builders allow you to connect your own domain, which looks more professional and contributes to creating a unique website and brand identity. For instance, Webador offers a free domain on all its paid plans, which are quite affordable.