You need a builder that doesn't sacrifice functionality just for a pretty template
. Some builders provide excellent marketing tools as part of the package, and give you an easy way to take online orders through your site.
I tested the top website builders out there and discovered five that have everything you need to bring your bakery online.
In a Hurry? These Are the Best Website Builders for Bakeries:
Wix – Has beautifully designed templates specifically made for bakeries
Squarespace – Provides plenty of options to customize your image gallery and online store
SITE123  – Offers a simple site editor ideal for beginners
What We Look For in the Best Website Builders for Bakeries
Bakery templates: Templates specifically designed for bakeries make your life easier. They come with all the essential features built-in, including photo galleries, menu pages, an embedded map, and more.
Online store options: If you're looking to take orders and manage them online, a website builder with a good e-commerce platform is a must.
SEO tools: When a customer is looking for a bakery online, you want yours to be the one they find. Website builders with effective SEO tools will help you rise to the top of search engine results.
Social media integration: The builders on this list will integrate your existing social media accounts with your website so that you can easily spread the word about your bakery.
With its easy-to-use drag-and-drop editor and a variety of stunning templates made for food-based businesses, you can build the bakery website of your dreams in no time with Wix.
Many of these templates come fully loaded with everything you need: pre-designed menu and location pages, photo galleries, simple social media integration options, and effective e-commerce tools.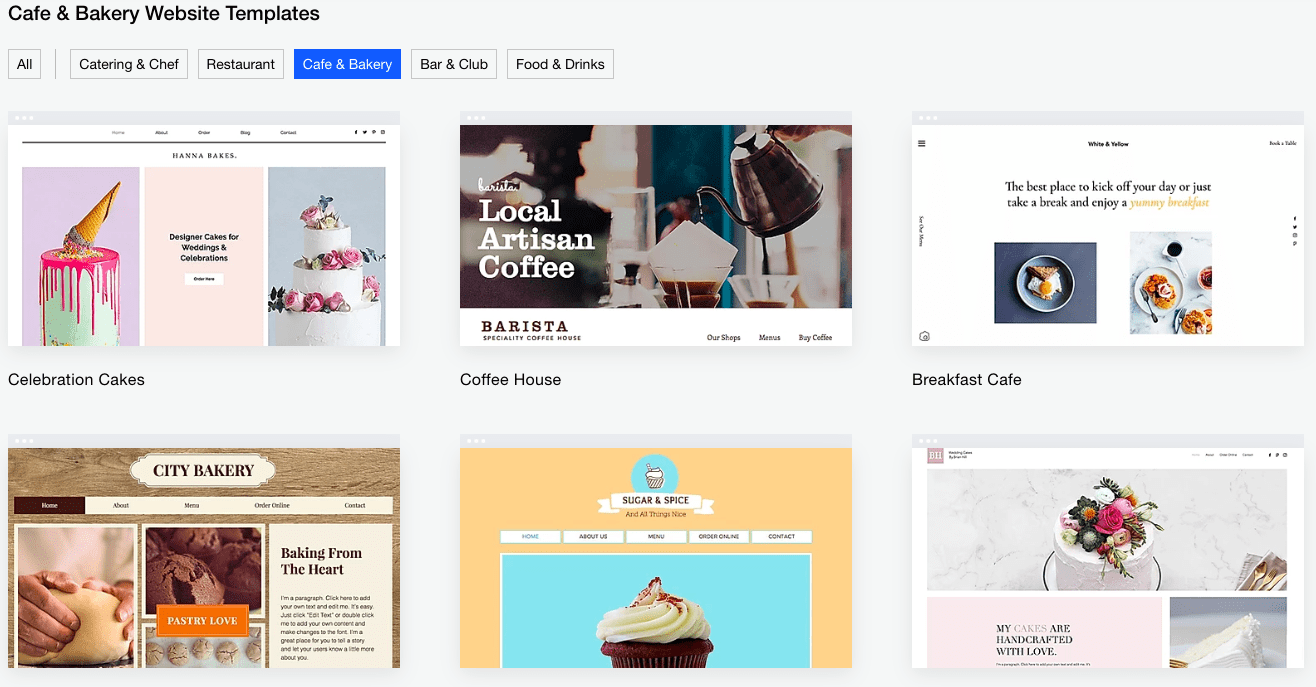 Wix has the largest selection of templates for bakeries
Wix has a great free plan
 that allows you to create a functional website. The free plan has limited storage space, includes Wix branding on your website, and does not include e-commerce tools, but you can easily upgrade at any time. All Wix templates come with a mobile-friendly version, but keep in mind that the templates are not automatically mobile responsive. This means that if you make major changes to the desktop version of your site, you may have to use the mobile view editor to make sure your site will look good on mobile devices. Curious about what else Wix has to offer? Take a look at some of its best features:
Online store: Wix's e-commerce features give you plenty of options for selling and promoting your products. You can customize your product gallery to make your treats pop and accept payments through credit card or PayPal.
Wix SEO Wiz: This is an effective, easy-to-use tool that builds a personalized SEO plan for you to help your bakery website rank higher in search engine results.
Seamless social media apps: Head to the Wix App Market to install helpful social media tools. Instagram Feed lets you display your feed on your website. Restaurant Social Bar encourages site visitors to follow you on your social channels. MyReviews will display your recent Yelp, Google, or Facebook reviews right on your website.
Learn more about these features and others in our
full Wix review
.
Starting price

$

0

Bakery templates?
12 templates in the Cafe & Bakery category
Online ordering options
Yes, create an online store to take orders
Of all the website builders I tested, Squarespace's gallery layouts were the most well-designed.
You have a lot of control over the display of your images, and they are automatically adjusted to look their best on all devices. If you have high-quality photos of your delicious treats, then a Squarespace website is a good place to show them off. That being said, there are no templates made specifically for bakeries, but
 there are restaurant templates with features similar to those you might need for your bakery,
including menu pages, a reservations page with a customizable booking form, and a map to display your bakery's location.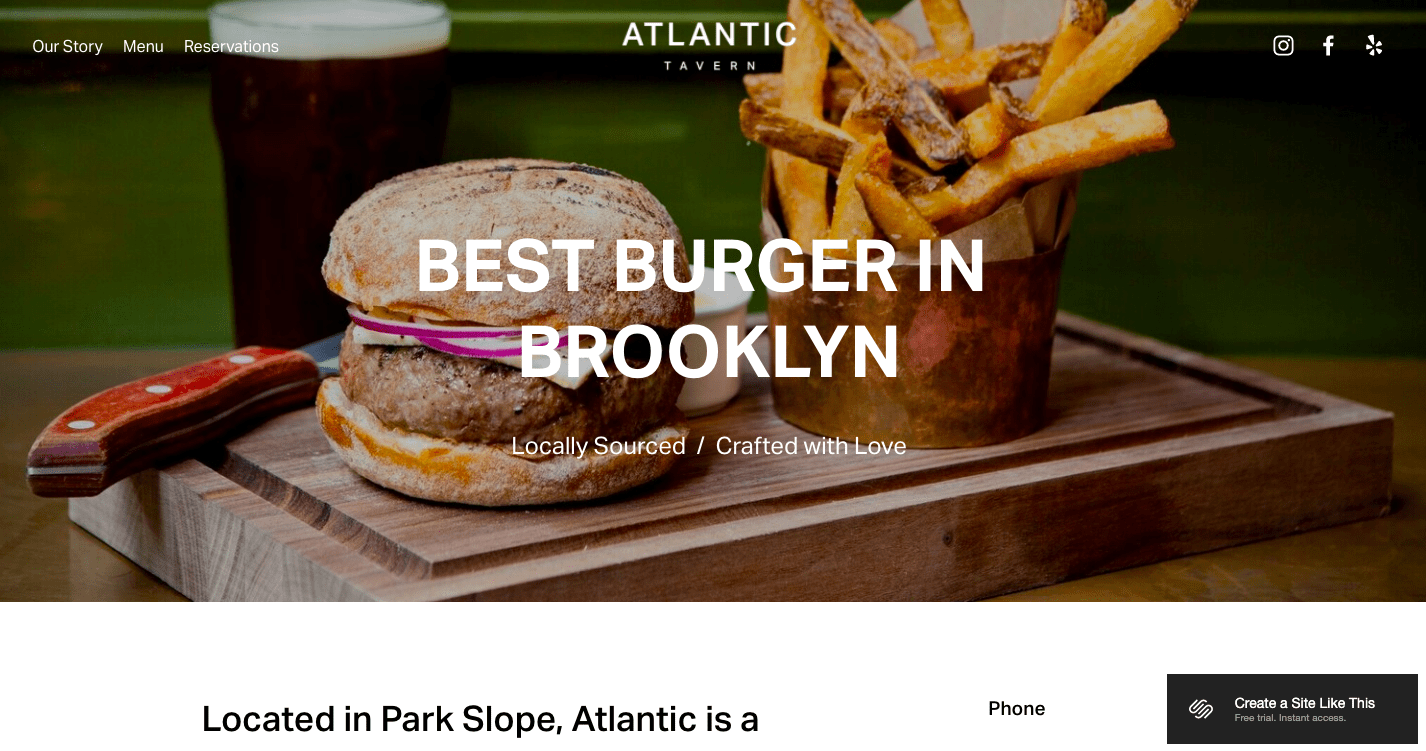 Squarespace has customizable restaurant templates
Since Squarespace is partnered with payment processor Square, there are extra perks you'll get when you use this website builder.
You can keep your in-store inventory and customer data synced with your online store, and collect mobile, cash, and credit card payments in person as long as you have Square hardware. This can be especially helpful if your bakery is participating in a pop-up or local event and you don't want to move your entire sales system. Squarespace has some other great features for your bakery website:
Attractive gallery displays: Squarespace offers a variety of gallery layouts. You can add multiple blocks to each gallery and organize them by category, like cakes, cookies, cupcakes, etc.  You can also add a title and description for each item.
Integrated social sharing tools: With Squarespace, you can pull content from your social media feeds, such as Instagram or Facebook feeds, and share on your site. You can also push content from your website, such as blog posts or new bakery products, to your social channels. You can easily add Share buttons to your pages and keep track of the traffic you get from your social media profiles.
Customizable online store features: You have control over almost every aspect of your Squarespace store, including the layout of product pages, shipping options, checkout forms, coupons, and more. You can even automate emails to send to customers when their online orders are ready for pickup.
You can learn more about Squarespace's advanced e-commerce features in our
expert Squarespace review
.
Starting price

$

16.00

Bakery templates?
No, but restaurant templates can be easily modified
Online ordering options
Yes, great online store features
If you're a total beginner at building websites, then SITE123 is a great place to start.
If you're looking to get your website online quickly without much fuss, SITE123 will help you do that. This website builder is very easy to use and employs a simple point-and-click editor. You can easily add or remove sections and customize the design and overall look of your site. There are only a few bakery-specific template options, but
you can choose any one of SITE123's 180+ templates and customize it to fit your needs.
 While all the templates are functional, I found them to be a bit generic compared to Wix. That being said, there are some big benefits to love about SITE123:
Great restaurant features: You can put your menu online with prices and pictures. You can also add your bakery's hours and location with Google Maps. If your bakery caters to sit-down clients, SITE123 has a reservation tool where clients can book a table through your website.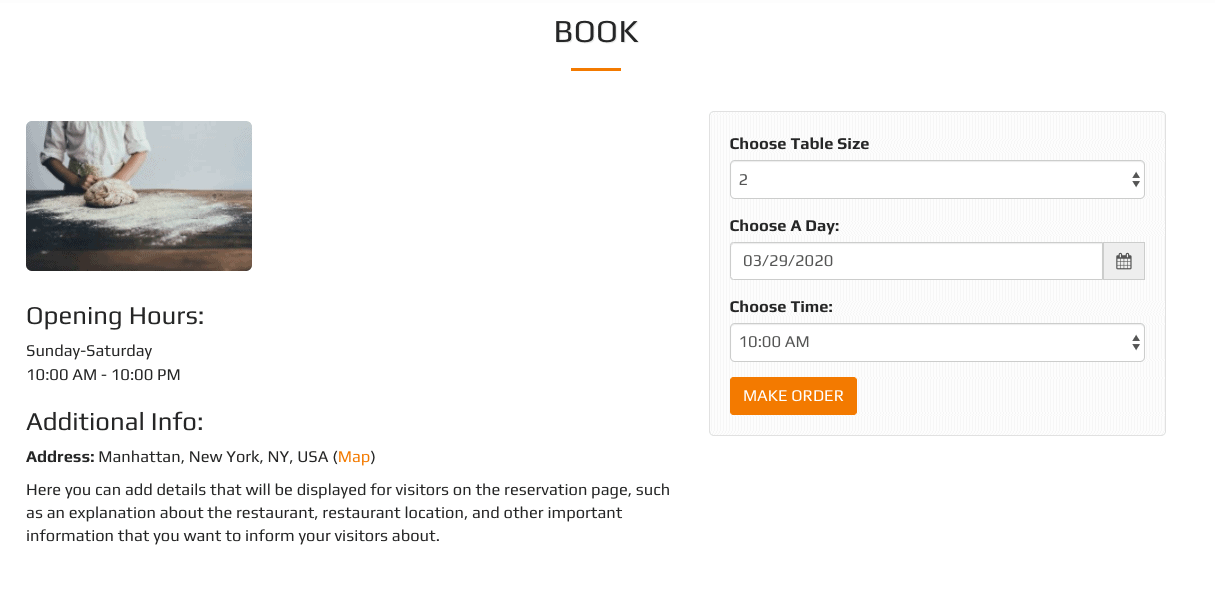 SITE123 offers an online reservation tool
Blogging made simple: If you're looking to share new cake creations or drool-worthy recipe details, SITE123 makes it quick and easy to add a blog to your website. You can add images to each post, allow visitors to comment, and share your posts on your social media channels.
Easy online ordering: SITE123's e-commerce feature allows you to add an online store to your website to take orders from clients. You can accept payments online, manage your orders, and provide delivery and pick-up instructions for your customers.
Still curious? Read our
in-depth SITE123 review
for more details.
Starting price

$

0

Bakery templates?
Yes, but only six options
Online ordering options
Yes, take orders online with ease
While Weebly's themes (templates) are eye-catching, the selection isn't as big as what other builders offer and you won't find any themes that are bakery-specific. However, it is easy to modify an existing theme by adding new sections, like forms, maps, and image galleries.
 I recommend starting with a theme from the Online Store or Business category and customizing it to suit your needs.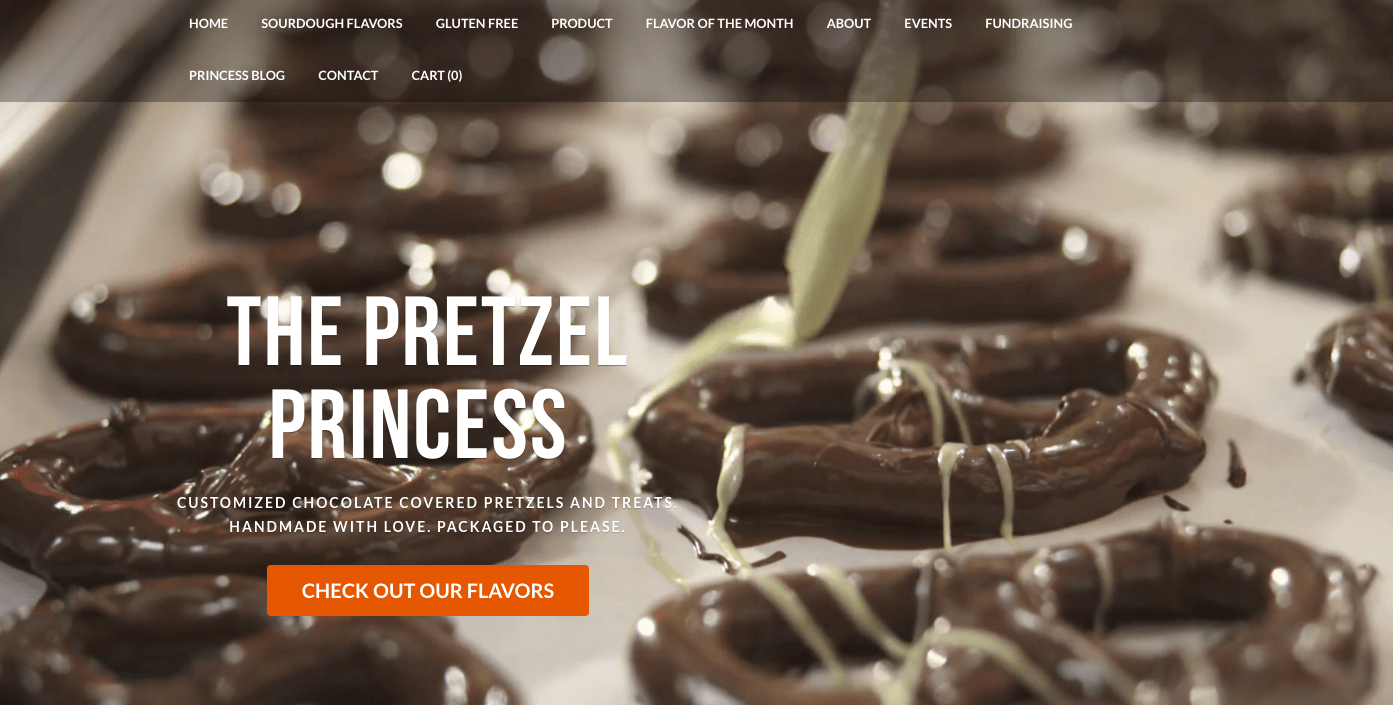 You can easily customize any Weebly theme
Where Weebly really shines is its e-commerce features. If you just want to try selling a few baked goods on your website to see how it goes, you'll be happy to know
Weebly is one of the only website builders to offer e-commerce on its free plan
(depending on your location). The free online store features are a bit limited, but you can upgrade your plan at any time for increased access. Let's take a look at a few more of Weebly's standout features:
Simple SEO tools: Weebly offers all the basic SEO tools you need to make sure customers find your site when they search for it. You can add a sitemap, customize page titles and descriptions, and add alt tags for images. New to SEO? No problem. Weebly provides you with an easy guide to follow.
Beautiful photo galleries: Weebly lets you add your photos to a slideshow, add effects, and even add captions with details about ingredients or allergens. Once you upload your images, you can edit them right within the builder and apply a variety of effects.
Store integrations: Weebly's App Center offers several great integrations that can enhance your online store. With the Ecwid Online Store app, you can easily sell your products on multiple channels, such as Facebook and Instagram. Additionally, the Restaurant System app enables you to provide a menu for online orders and facilitates online table reservations.
Learn more in our
detailed Weebly review
.
Starting price

$

0

Bakery templates?
No, but you can customize the restaurant themes
Online ordering options
Yes, you can take orders online
WordPress.com is a powerful website builder that gives you plenty of options when designing your bakery website.
This website builder doesn't offer a drag-and-drop editor, and it can be a bit trickier to use.  However, once you learn how to navigate WordPress.com and use its interface, you'll find it straightforward enough. WordPress.com has a few free restaurant and cafe templates you can choose from. There are also plenty of other third-party themes you can purchase on marketplaces like
ThemeForest
, but you'll need to upgrade to the Business plan or higher to install them.
The free "Pique" theme is a good choice for a bakery website
WordPress.com has other noteworthy features that make it a great option for your bakery website:
Large selection of plugins: WordPress.com's Business plan includes access to a wide variety of plugins for anything you might need to add to your bakery website, like SEO tools, contact forms, or email subscriptions. Yoast, for example, improves SEO on all your website's pages, and Elementor can provide you with a drag-and-drop editor for WordPress.
Blogging made simple: If you want to have a blog on your website, it doesn't get much better than WordPress. You can easily share new recipes, promote events, and post updates about your bakery. You can categorize your posts so they're easy for visitors to find, and write and schedule posts to go live ahead of time so your customers never miss an announcement.
Share to social media in one click: WordPress.com has integrated social sharing features, making it simple to share a fresh blog post from your site to your social networks. Include buttons in your posts to allow guests to distribute your content as well.
Read our
in-depth WordPress.com review
for some tips and tricks on how to get the most out of this platform.
Starting price

$

8.00

Bakery templates?
No, but there are plenty of third-party bakery themes available
Online ordering options
Yes, you can take orders online
Which Website Builder Has the Recipe for Success?
Just like choosing the best ingredients, when it comes to choosing a website builder for your bakery, keep it smart and simple.
 You don't want to waste too much time building your website, but it should be captivating enough to convince your online visitors to visit your bakery in person.
Overall, I recommend using Wix for your bakery website.
 Wix offers the largest selection of bakery templates, which means you can get started quickly without having to make too many modifications. Wix SEO Wiz and the selection of social media apps can help you reach a broader audience online. If you want a quick overview of all the website builders on this list, take a look at the table below:
| | | |
| --- | --- | --- |
| Builder | Best feature | |
| Wix | Simple drag-and-drop editor for plenty of customization | |
| Squarespace | Many options for a beautiful photo gallery | |
| SITE123 | Integrated food service features | |
| Weebly | Online store included in free plan | |
| WordPress.com | Customizable blog | |
FAQ
How do you choose a website template for a bakery?
When browsing for the best templates for a bakery website, try to choose one that includes as many of the pages and features as you'll need. Aside from considering design options like layouts and image galleries, the type of content and pages included in the template are also important to review. Here are a few things you should look for in a website template for a bakery: -About Us page -Menu page -Blog to share recipes and company updates or announcements -Page or section to show hours of operation, location, and contact details -Contact form and/or table reservation form -Online store where customers can place orders for pick-up or delivery -Pages to feature promotions or specialty items, such as gluten-free baked goods or holiday goodies
How do you build a bakery website?
When you use a DIY website builder like the ones recommended above, it's easy to build a bakery website. Follow the simple steps below, and you'll have your bakery online in no time. -Start by selecting one of our recommended website builders then choose a custom domain name so your website is easier for visitors to find. -Select the most appropriate template for your bakery and customize it by adding your own title and text, uploading images of your products, and adding any other pages you think you'll need. -Create content to provide your customers with all the necessary information about your bakery. -When you're ready, click Publish and your website will be live.
How much does a bakery site cost?
You can build your bakery website on any budget. It just depends on what you want and need out of it. If a client comes to your bakery and asks, "How much is a wedding cake?" you'll have a few questions they need to answer before you're able to give them a quote. The cost of a wedding cake depends on the number of extras a customer wants it to have, and the same goes for building a website. The cost of your site will depend on how many features you want and which subscription plan you choose. You may  have to spend more on things like third-party templates and tools or subscriptions to additional apps and integrations. At the end of the day, the cost to build a bakery website depends on your preferences, but it is possible to find a suitable option for any budget. Learn about more about website builders' pricing and value for money in our detailed comparison of the best website builders.