Java applications and websites can eat up a lot of resources, so your best bet is a VPS or a dedicated server. These plans are usually more expensive than shared hosting, but the good news is that you don't have to break the bank to sign up for one. In fact, many of the providers on my list are super cheap.
To find the best web hosting services for Java, I've researched and tested dozens of possible options. Many providers didn't make the cut. Some didn't fully support essential Java software like Tomcat, GlassFish, or JBoss, while others were just too expensive.
The hosts that did end up on my list are not only fully compatible with Java, but they also have lots of developer-friendly tools that will make your life easier. Plus, they're all generous with resources, so you'll have enough CPU and RAM to properly power your app.
What We Look For in the Best Web Hosting Services for Java
During my research, I've prioritized these features:
Performance. I chose hosts with a track record for consistent speeds and reliable uptime. I've also made sure that there's enough CPU and RAM to run a Java app without hiccups.
Managed services. If you want to focus on your app and let someone else handle the backend server stuff, you should consider a managed solution. You'll find several options on my list.
Java support. To host a Java app, you need a servlet container like Tomcat or a Java EE certified web application server like GlassFish. I've selected hosts that support these and make them easy to install.
Developer tools. These providers give you a powerful control panel, a convenient one-click installer for dozens of scripts, and full root access to your server through SSH and FTP.
Pricing. I've mainly considered VPS, cloud, and dedicated servers with enough power to run a Java app, but some of the options on my list are almost as cheap as shared hosting.
If you're after the very best Java hosting that money can buy, Liquid Web is it. Its high-performance VPS solutionsfully support Java and other software that you'll need in order to run your app, including Tomcat and GlassFish. You'll have full root access to your server, so you can customize it to suit your requirements.

Liquid Web isn't cheap, so it might not be the right solution for a small Java app that you've developed as a hobby. However, if you have a complex app or website and you need a powerful server to host it, Liquid Web is more than worth the cost.
As a fully managed VPS host, Liquid Web takes care of all server maintenance tasks for you. The host also monitors your app or website, suggests performance optimizations, and creates regular backups for your VM (virtual machine). And if you ever need help setting up a servlet container or an app server for Java, there's 24/7 live chat, phone, and ticket support.
Click here to find out more about Liquid Web's features in our expert review.
Features:
Premium control panel. Liquid Web is the only host on my list that includes a premium cPanel, Plesk, or InterWorx license on all VPS plans. Choose your favorite and deploy your Java app within minutes.
Git integration. Improve your workflow and coordinate with other Java developers using Git. The software is preinstalled on all of Liquid Web's VPS plans.
Staging server. Play around with your Java app or website without risking the integrity of the live version. Simply clone your server using Liquid Web's staging environment and test any new changes before going live.
Free trial. Liquid Web doesn't offer a money-back guarantee, but you can try the service for free for 14 days, no credit card required. Give it a whirl to see whether it's a good fit for your Java app.
Like Hostwinds,InMotion Hosting has managed and unmanaged VPS plans with root access, so you can install and run Java on either. Unlike Hostwinds, however, InMotion's managed VPS is significantly more expensive, so if you know your way around a server, you can save a lot of money by opting for a self-managed plan.
You can get a VPS with 1 CPU core, 1GB of RAM, and 25GB of SSD storage at a pretty low cost, but keep in mind that a control panel is not included. If you want to use cPanel, for example, you'll have to pay extra for a license.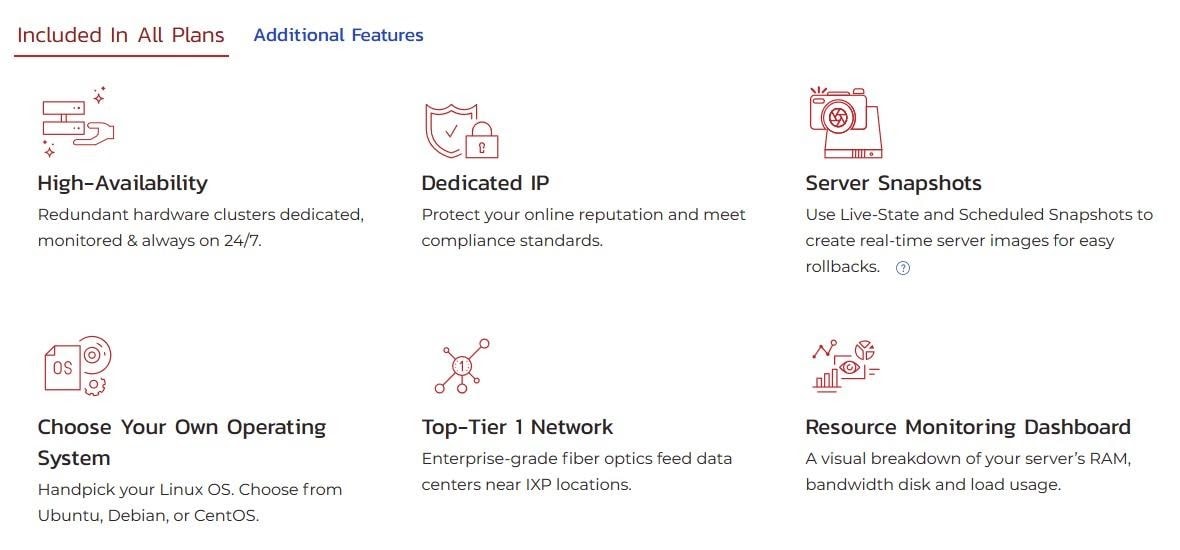 The advantage with InMotion is that all of its VPS plans are cloud-based, so you can expect better performance and more stability compared to a traditional hosting environment. Cloud hosting also comes with additional flexibility, so it's easier to scale your resources as you need to. Discover more about our experience with InMotion Hosting in our expert review.
Features:
Data centers near IXPs. InMotion Hosting has two data centers, one on each US coast, and both are strategically located in close proximity to Internet Exchange Points. Your Java app will be faster, especially when accessed by US users.
On-demand support for Java. For an extra fee, you can get tech support to help you set up your hosting environment. You can also ask them to optimize and secure your server, but this service isn't cheap.
Automatic server snapshots. These aren't turned on by default, but you can quickly schedule them yourself for safe and easy rollback of your Java project.
Resource monitoring. InMotion provides a neat dashboard to help you keep tabs on your CPU, RAM, and bandwidth usage. You can also use it to add more resources in order to keep your Java app running smoothly.
If you're comfortable handling your own server, A2 Hosting's self-managed VPS plans are a great budget solution for Java apps. A2's Runway 1 configuration comes with one CPU core, 1GB of RAM, 150GB of SSD storage, and the Webuzo control panel.
Granted, the plan doesn't have a lot of RAM, but it's enough for a small Java app. Besides, you can add more resources to your VPS at any time without being forced to upgrade to a more expensive package.
If you want cPanel instead of Webuzo, you can select that at checkout – but since cPanel started charging for each licence, opting for cPanel will add a hefty fee to your hosting plan (almost double the cost of the hosting in some cases!)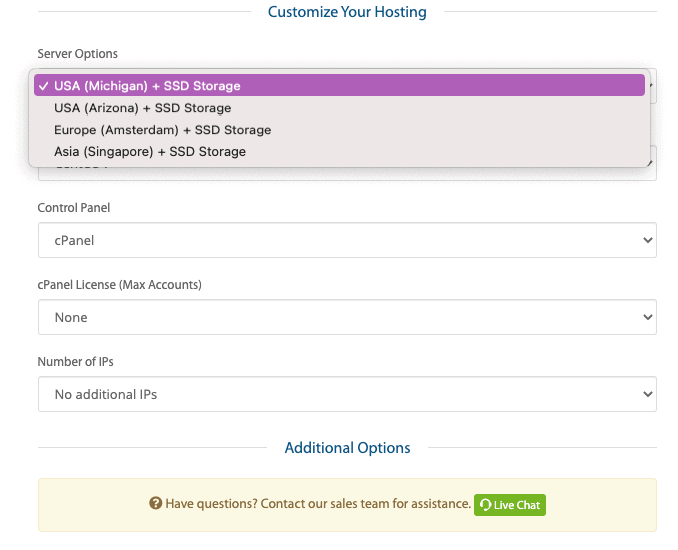 There's also an "anytime" money-back guarantee, so you can experiment with Java as a hobby then ask for a prorated refund if you want to cancel your plan. Click here to see more about A2 Hosting in our expert review.
Features:
Customizable distro. When you sign up, you can choose between multiple Linux operating systems, including the latest versions of CentOS, Debian, Ubuntu, Fedora, and more. Pick your favorite and jump right in.
Turbo servers. Choose this upgrade if you want better performance for your Java app or website. The LiteSpeed web server (and several layers of caching) will be installed for you, but beware the steep increase in price.
Four data centers. The best way to speed up your Java app is to host it closer to your target audience. A2 Hosting lets you choose between four global locations, including the US (Michigan and Arizona), Europe (the Netherlands), and Asia (Singapore).
Seamless upgrades. You can add up to 12 CPU cores and 32GB of RAM to your VPS, but if your Java project needs even more power, A2 will migrate your account to a dedicated server without any service interruptions.
Hostinger's offers for yearly VPS contracts are unparalleled in the industry. If you're willing to pay up front for four years of hosting, you can get a VPS with 1 CPU core, 1GB of RAM, and 20GB of storage space at a ridiculously low price. Renewals are higher, but still pretty cost-effective.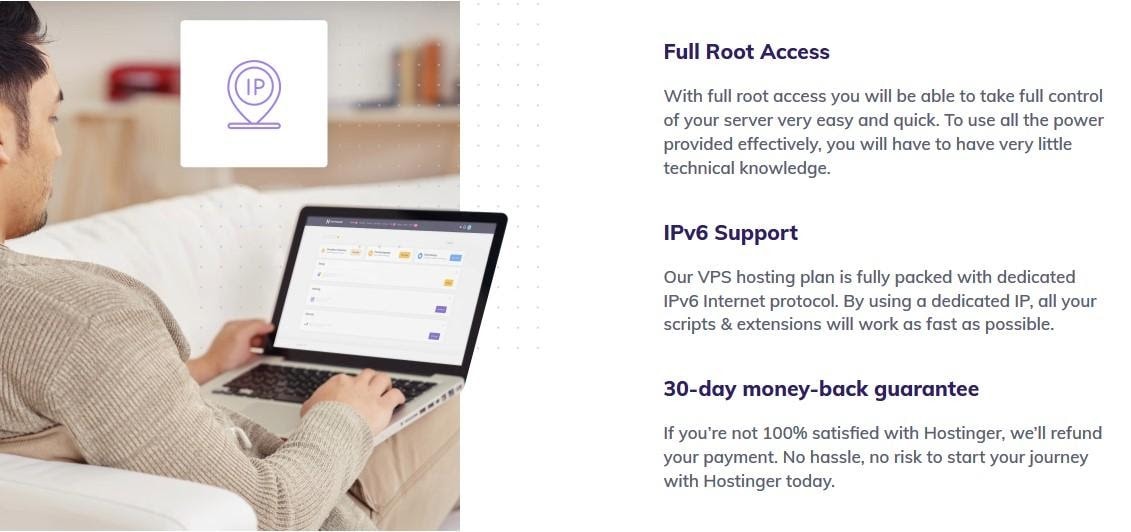 Like A2 Hosting, this is a self-managed VPS solution, but a proprietary control panel and auto-installer are included to help you set everything up. There's also 24/7 live chat support, but don't expect much. The tech team will help you with OS installations, but that's about it.
Then again, you can't have it all. You won't find a cheaper VPS hosting solution that fully supports Java, so if you know your way around a server and you don't mind browsing through the knowledge base, Hostinger could be the perfect choice. See more about Hostinger's features in our expert review.
Features:
Easy OS installer. A vast selection of Linux distros is available, and it includes templates that already contain most of the OS configuration. You can install your favorite distro and save the time you would have spent setting it up.
Full root access. You have complete control over your server, so you can set up everything you need for your Java project.
IPv6 enabled. Using an IPv6 address means faster and more secure connections to your Java app or website. You also get a dedicated IP, which is safer and more flexible.
State-of-the-art infrastructure. Hostinger uses the latest Intel CPUs and SSD storage throughout, so you can expect blazing speeds for your app. In fact, Hostinger is the fastest low-cost host that my colleagues and I have tested.
Most web hosts let you install Java only on their self-managed VPS plans. Others, like Liquid Web, give you full root access on managed VPS, but are very expensive. Hostwinds is affordable, and it has Java-ready, managed VPS plans with full root access – the best of both worlds at a low price.
For instance, you can get a VPS with 1 CPU core, 1GB of RAM, and 30GB of SSD storage with managed support at a cost that rivals A2 Hosting's self-managed offers. That's pretty cheap, by any standards.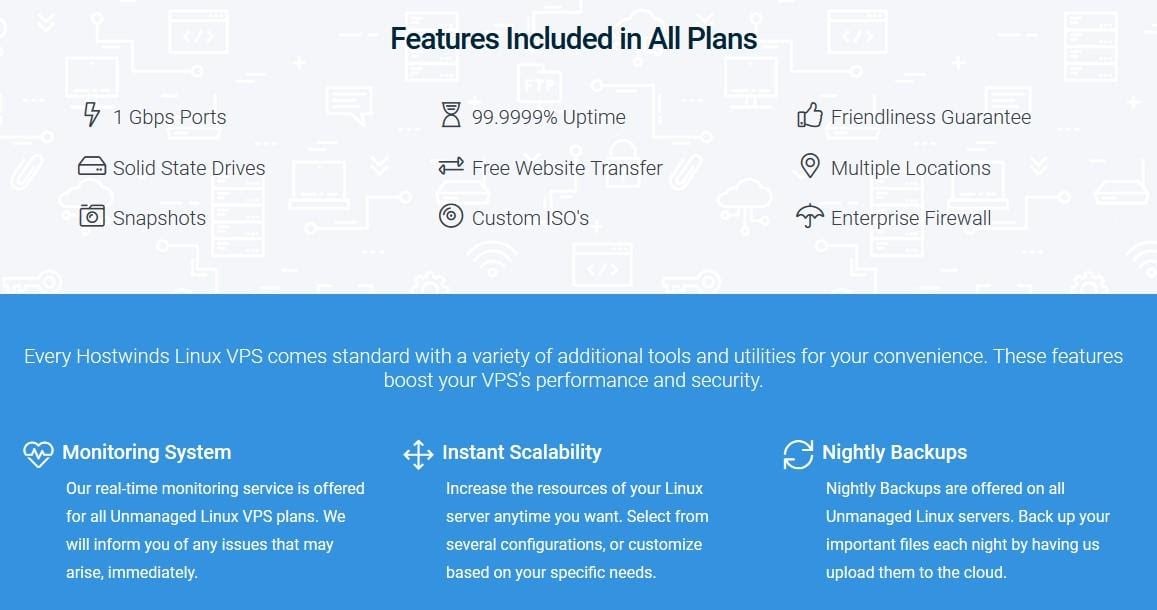 The downside is that support will only be available for OS installations and a few system updates. It's useful to have, but it doesn't hold a candle to a fully managed service like Liquid Web. Plus, if you can handle these things yourself, you're better off with one of Hostwinds' unmanaged VPS plans, which are even cheaper.
See more about Hostwind's features and performance in our expert review.
Features:
Java support. Although Hostwinds doesn't have a one-click installer, you can ask the tech team to set up Java for you. You can also get help to install Tomcat or a web application server.
Fully customizable. You're not limited to Hostwinds' selection of Linux distros. If you have your own custom ISO, you can upload it to the server alongside any other software you might need for your Java project.
Gigabit port. While it is unlikely that a single connection will ever require an entire Gb of bandwidth per second, this port will be a godsend if your Java app gets a lot of traffic from many users.
Generous RAM. Java apps are notorious for using lots of RAM, but Hostwinds has you covered. You can add up to 96GB of RAM to your VPS before you have to upgrade to a dedicated server.
InterServer has the best low-cost VPS configurations on my list, and its servers are all Java-ready. You can get a VPS with 1 CPU core, 2GB of RAM, and 30GB of SSD storage for a small Java app, and it won't cost you any more than a regular shared hosting plan.
However, unlike a shared hosting plan, you'll have root access to your server so you can fully customize your environment. And if you're worried about managing your own VPS, don't be. InterServer gives you tools to make this easier, even if it's your first time deploying an app.
InterServer's VPS offering may be cheap, but it can easily support complex apps. Depending on your needs, you can provision a high-performance VPS with up to 16 CPU cores, 32GB of RAM, and 480GB of storage. Just don't expect the same level of support you'd get from Liquid Web.
Click here to see more about InterServer's features in our expert review.
Features:
Free Webuzo. With this tool, you can quickly configure your VM (virtual machine) to suit your Java requirements. You can also use it to automatically install Java, a servlet container or app server, and other essential software.
Java-ready. InterServer is fully compatible with JVM (Java Virtual Machine), as well as popular IDEs (integrated development environments) like NetBeans, and more.
Enhanced support. If you provision at least 4 CPU cores (or "VPS slices"), you'll get enhanced support from InterServer, which includes help with OS installations, security patches, control panel issues, and even some debugging.
Easy (and cheap) scalability. You can start with one VPS slice for a small Java project, and add more CPU and RAM as your app develops. It's just as easy to scale down if you no longer need the resources.
These Are All Great Web Hosting Services for Java, but Which One Is the Best for You?
Choosing the best web hosting service for Java depends on your priorities. Do you want a cheap VPS that will help you save money in the long run? Or are you looking for a managed service that will include server maintenance?
These are my recommendations:
If you're not on a tight budget, Liquid Webhas fully managed VPS hosting that will allow you to focus entirely on your Java app or website. The tech team will not only help you set up Java, but they will also optimize, secure, and monitor your server for you.
Alternatively, InterServer is a budget-friendly solution with several tools that make Java development easier. You don't get the same level of support, but all VPS plans come with the Webuzo control panel, so you'll be able to install essential software like Tomcat with just a few clicks.
If you want the cheapest possible VPS for a small Java app, Hostinger is a decent option. You'll have to manage your own server, but Hostinger won't break your budget, and you won't have to compromise on performance, either.
Finally, if you need lots of (cheap) RAM for a massive Java app or website, I'd go with Hostwinds. You can choose between managed and unmanaged VPS plans, and add up to 96GB of RAM to your machine. The Gigabit port is a sweet bonus.
FAQ
What is the best hosting for Java applications?
How much does Java hosting cost?
Can you get free hosting for Java?
Can you host Java web applications on shared hosting?