Who among us can say that their blog is as good as it possibly can be?
*Sound of crickets*
That's what I thought.
No matter how great of a writer you are, the amount of traffic you have, or the number of social shares you get on a regular basis, there is always room for improvement.
This could mean anything from increasing the emotional impact of your headlines to uncovering new content ideas and images that grab your audience's attention and don't let go. Remember, if you can't keep them engaged, someone else will.
We've scoured the market to bring you this list of the most valuable tools available—for free—that will undoubtedly take your blog to the next level. We cover everything from the initial research phase, to the actual writing, and project management. And, just for fun, we've also included tools for social sharing and analysis.
Let's jump right in.
#1: Research and Brainstorming Tools
You can't post ongoing relevant content without creative idea generation. If you need help finding topics that are original and deliver value to your readers, then the following tools may be just what you are looking for.
UberSuggest
The brainchild of B2B marketing genius Neil Patel, UberSuggest works as a perfect alternative to Google's Keyword Planner (which you now have to create an ad campaign to use).
On this incredibly user-friendly platform, all you need to do is type a word into the search box that's appropriate for your niche (for example: "self-improvement").
UberSuggest will tell you how popular it is, how much the cost per click is, and how your competitors are using it.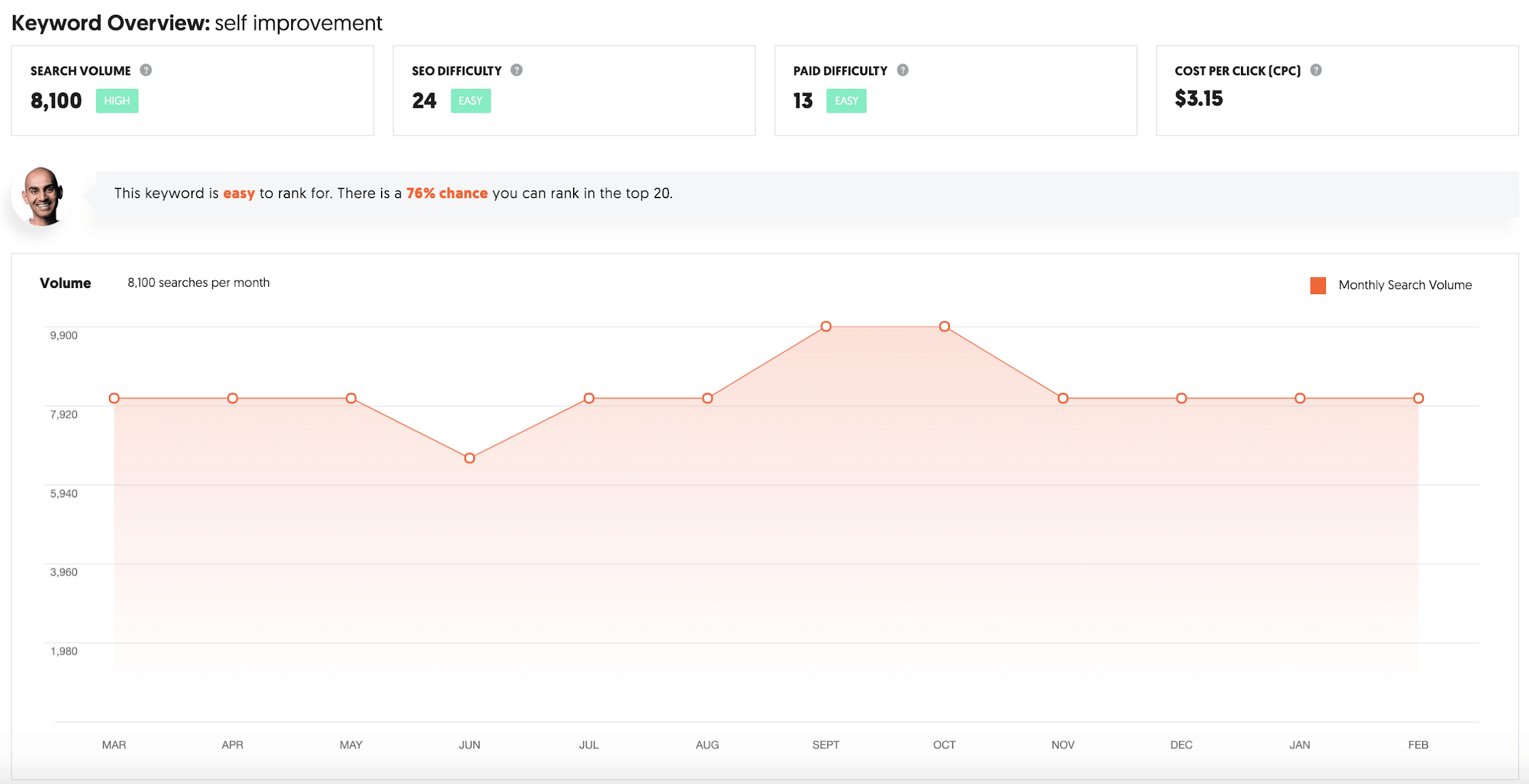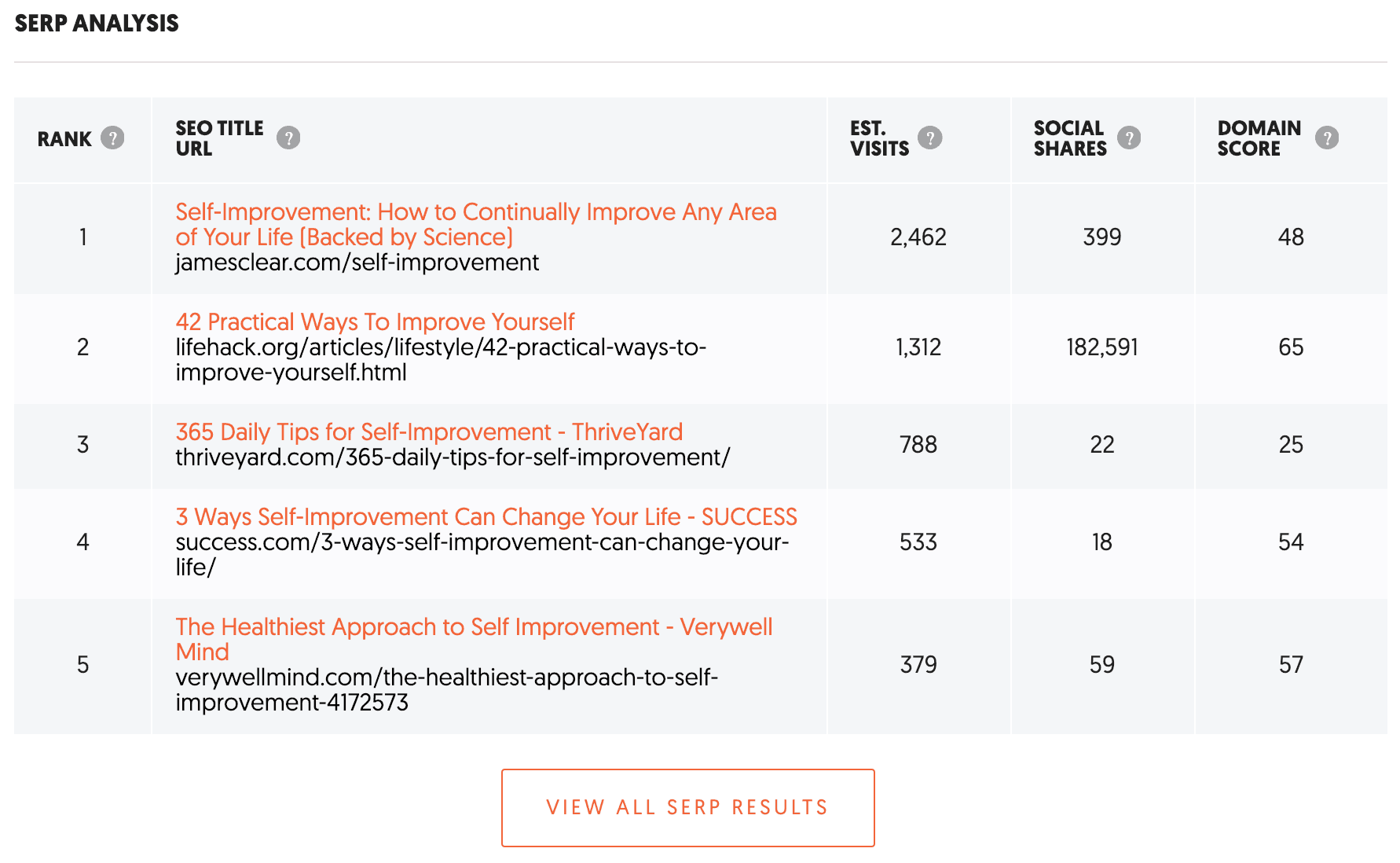 UberSuggest will also generate associated keyword ideas that you can either use for future topics or incorporate into your current blog post. This is ideal for boosting your SEO score.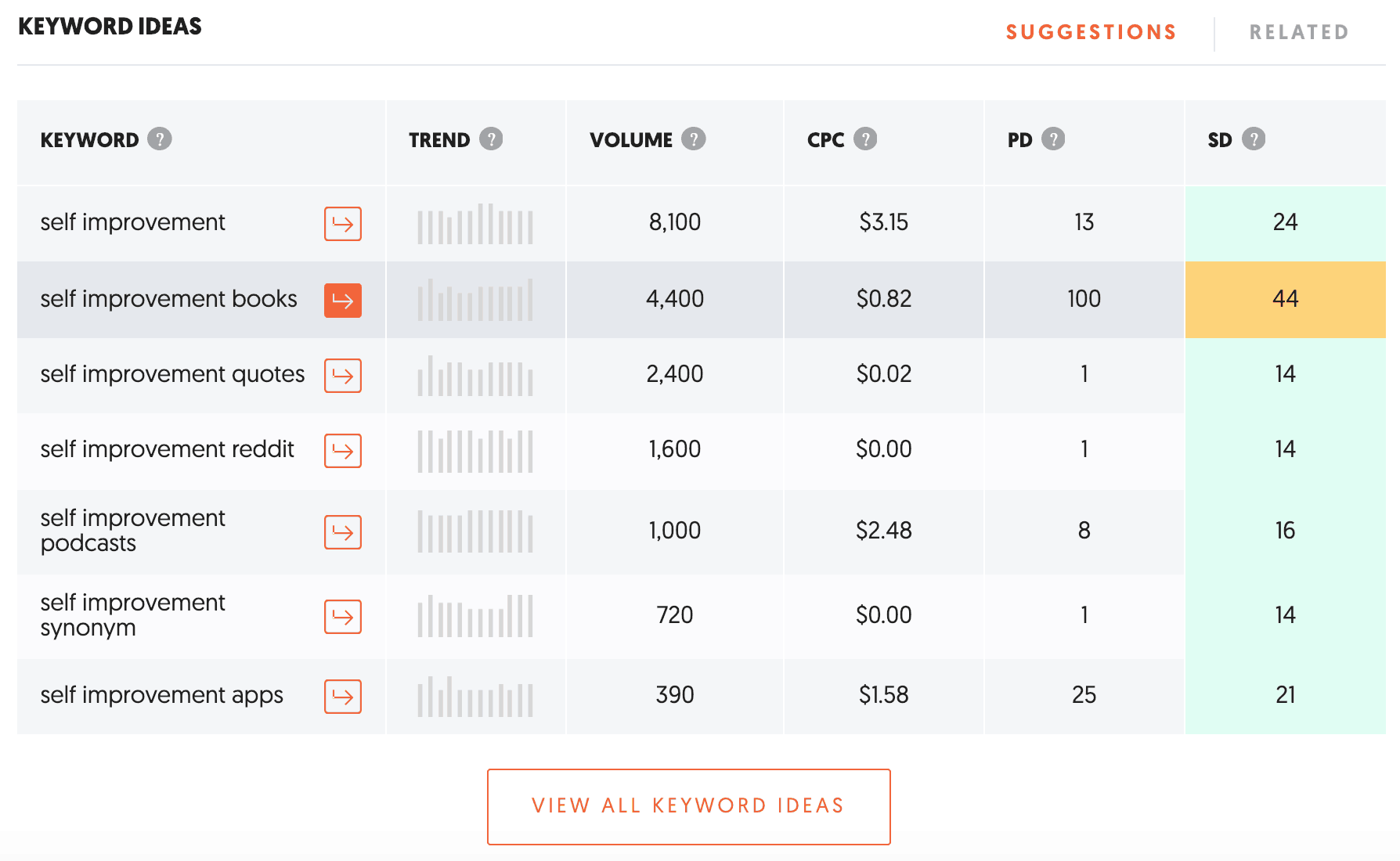 AnswerThePublic
One of the more complex free tools, AnswerThePublic is great for idea generation thanks to its categorized search results. Once you've popped your term into the box, this tool will deliver related searches, questions, prepositions, comparisons, and alphabeticals.
For instance, the term "self-improvement" prompts a huge number of creative starting points in the following categories:
Question: e.g., "where does motivation for self-improvement come from"
Preposition: e.g., "self-improvement in business"
Comparison: e.g., "self-improvement or self acceptance"
Alphabetical: Lists the terms from A-Z, e.g., "self-improvement apps" to "zen self-improvement"
Related: e.g., "self-improvement quotes"
Should you go pro? Read our extensive AnswerThePublic review to answer that question. (Hint: the answer is "yes")
AnswerThePublic gives you a multitude of blog post ideas and keywords in visual form. Not a visual learner? No problem! You can easily switch to "Data" form.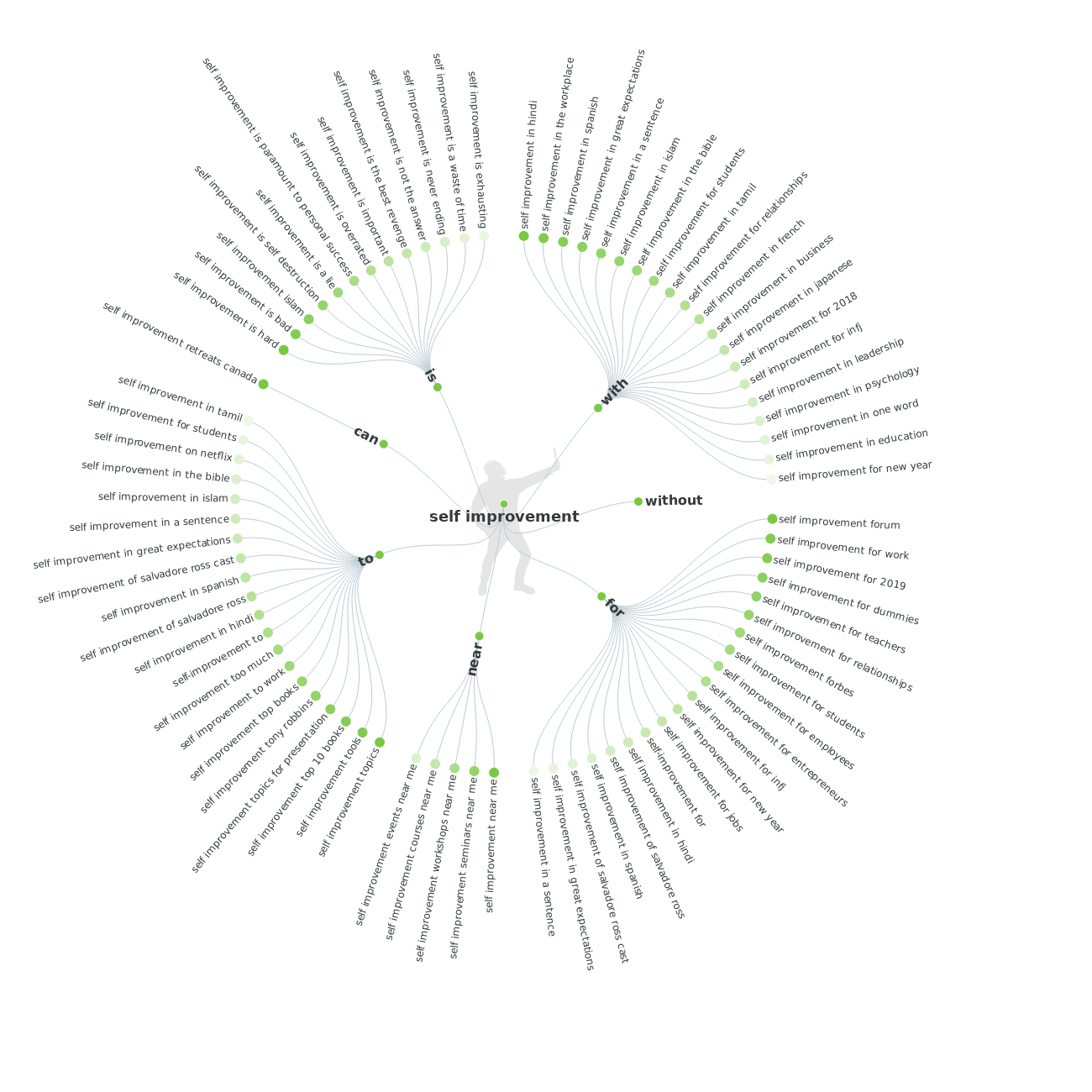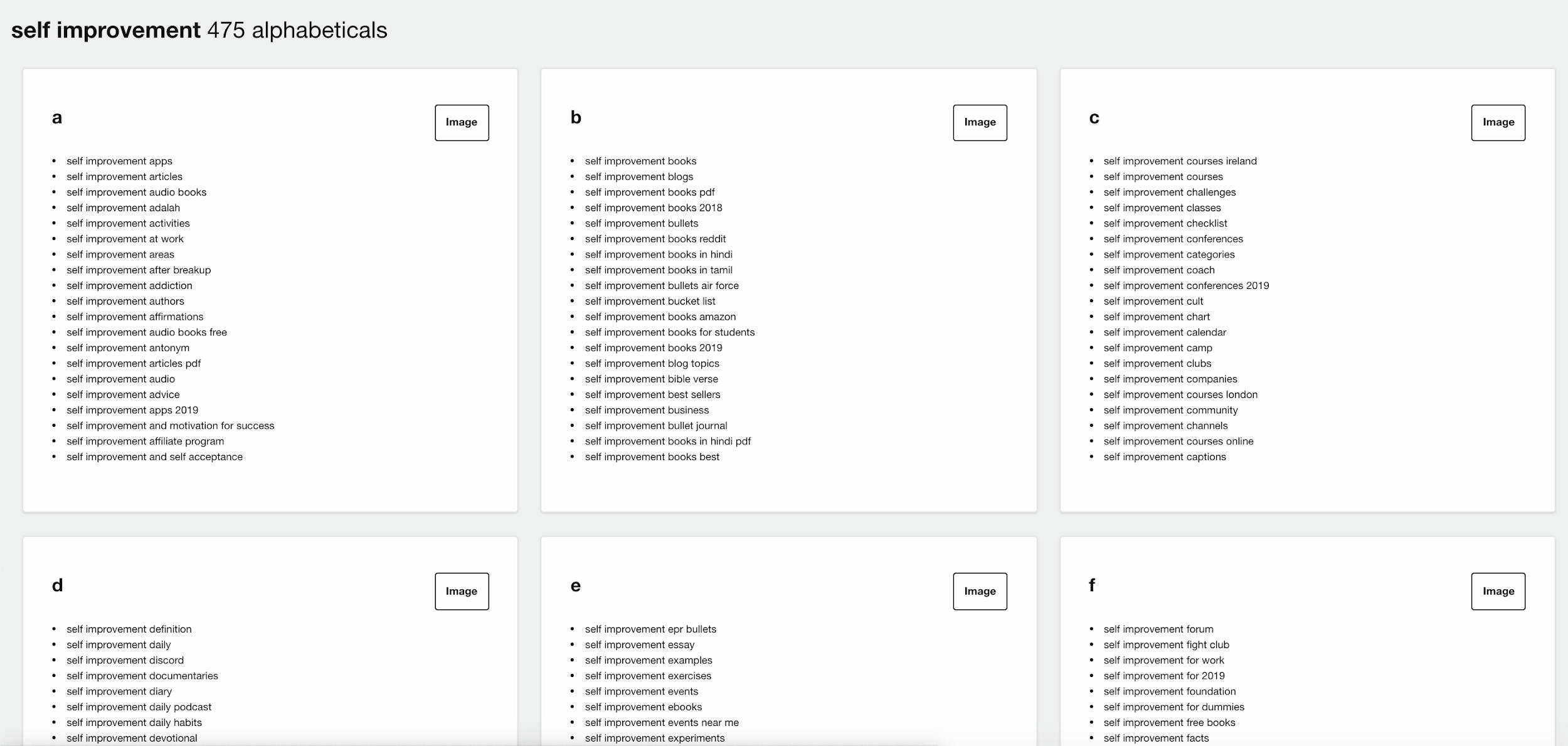 BuzzSumo
BuzzSumo helps you scout out the potential of a specific topic by analyzing which blog posts have performed best for your top competitors in terms of social shares.
Simply enter your search term or a competitor's web URL and you'll get a list of blog posts. These have been ranked according to the number of shares across social media channels such as Facebook, Pinterest, Twitter, and Reddit. You'll also see the total number of engagements for each.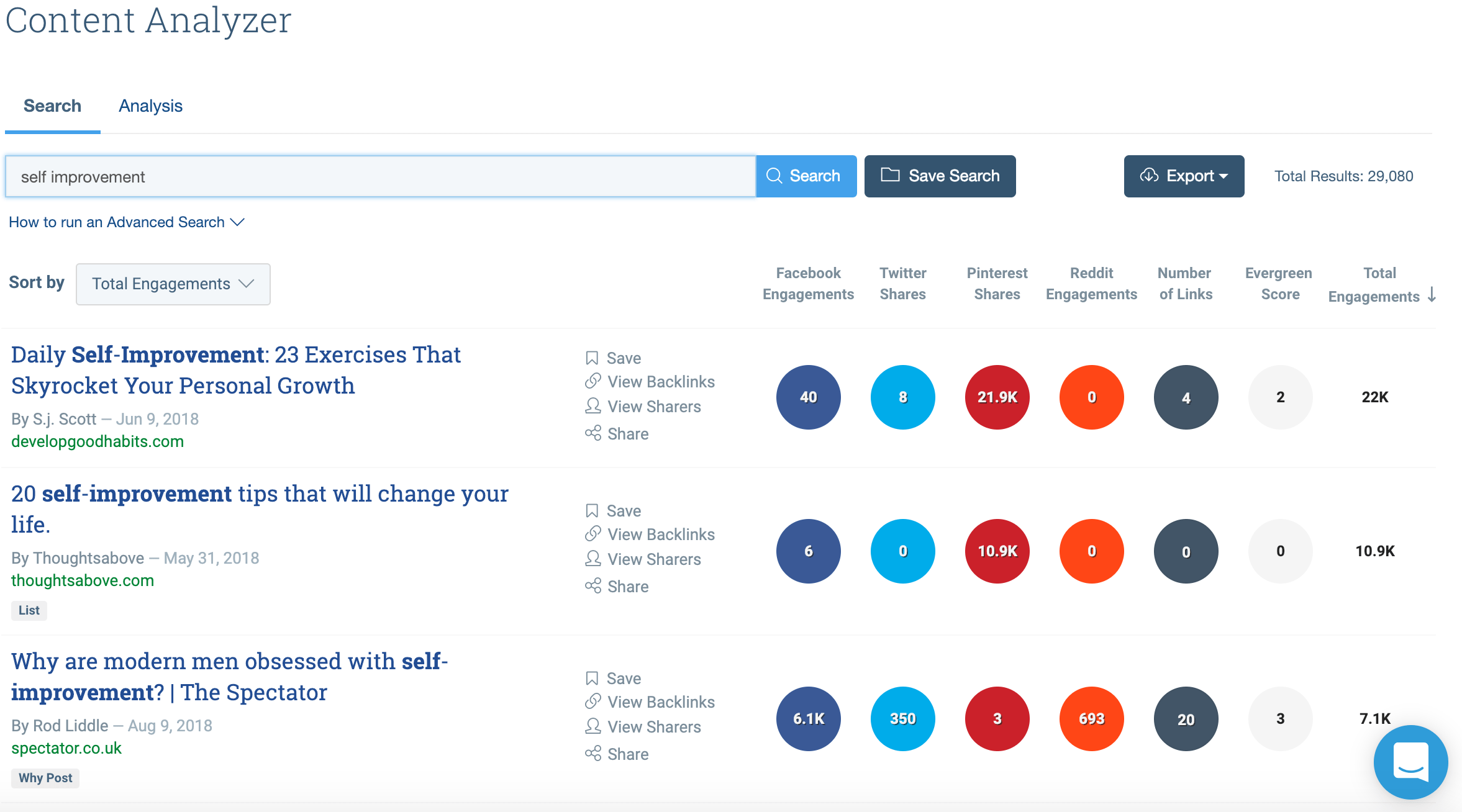 Needless to say, this is an effective comparison tool that can help you learn more about topics that have the potential to go viral, while ensuring that you stay relevant to readers.
#2: Project Management Tools
Maybe your problem isn't too little idea generation, but too much! With all of your innovative blog post ideas and the need to deliver consistent content to your readers, you'll need to stay organized if you want to be successful. Top project management apps can help you with all the necessary preparation and planning.
Asana
Popular with businesses and individuals alike, Asana is a wonderful tool to help you stay productive and on-task, especially if you have a team working on various aspects of your blog.
As well as being able to track the process of blog posts through task lists, team establishment, and deadlines, you can also comment on each task and mention a team member as an easy method of communication.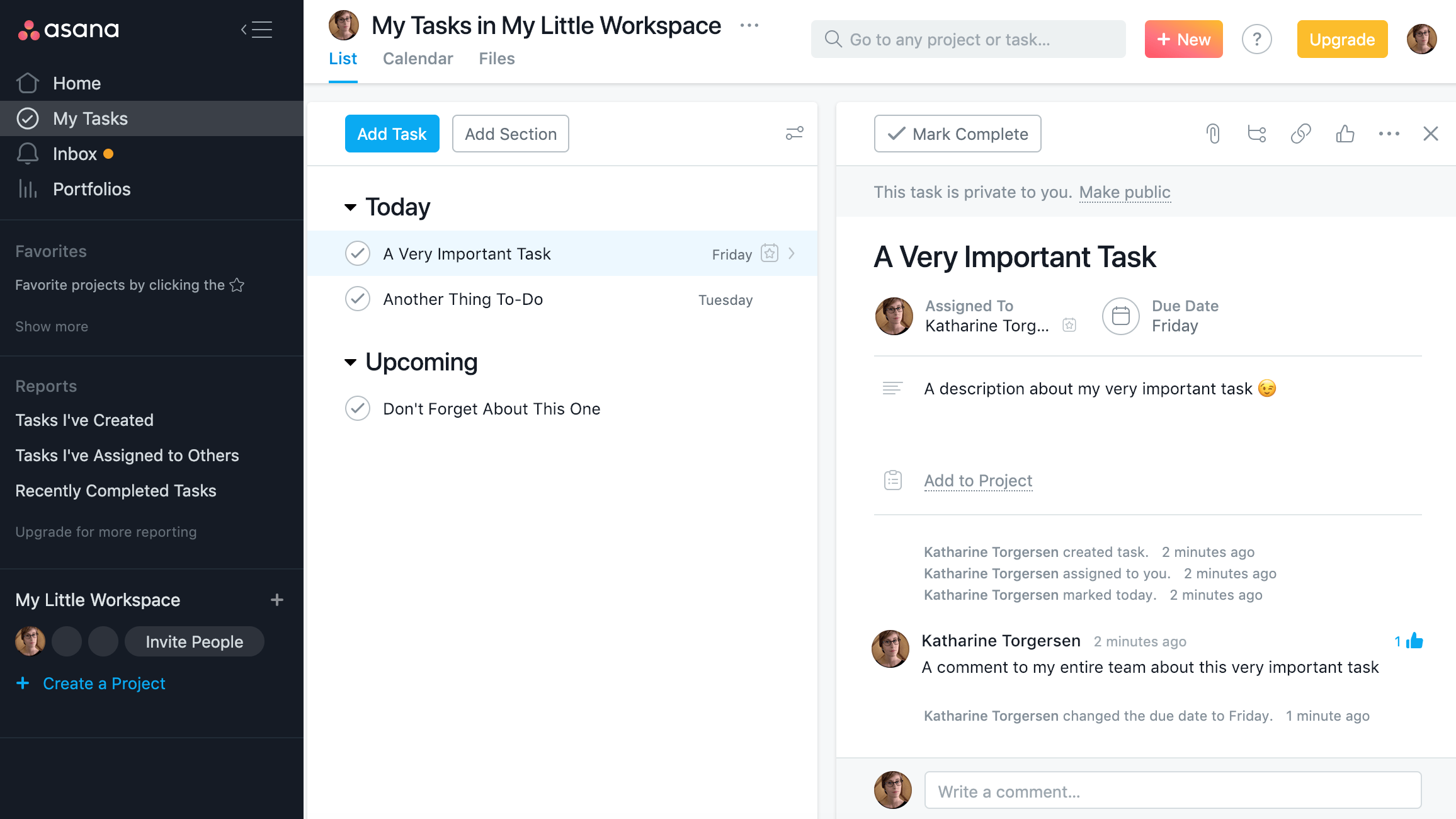 Trello
Trello is particularly useful for content planning. You can break down each blog task into columns, lists, and boards so you can visualize (as well as organize) your priorities. It's this visual element that also makes Trello so helpful for blog owners.
Need to delegate tasks to other members of your blog team? Not to worry—you can assign collaborators to each board and comment on them as a way of keeping in touch regarding the task at hand.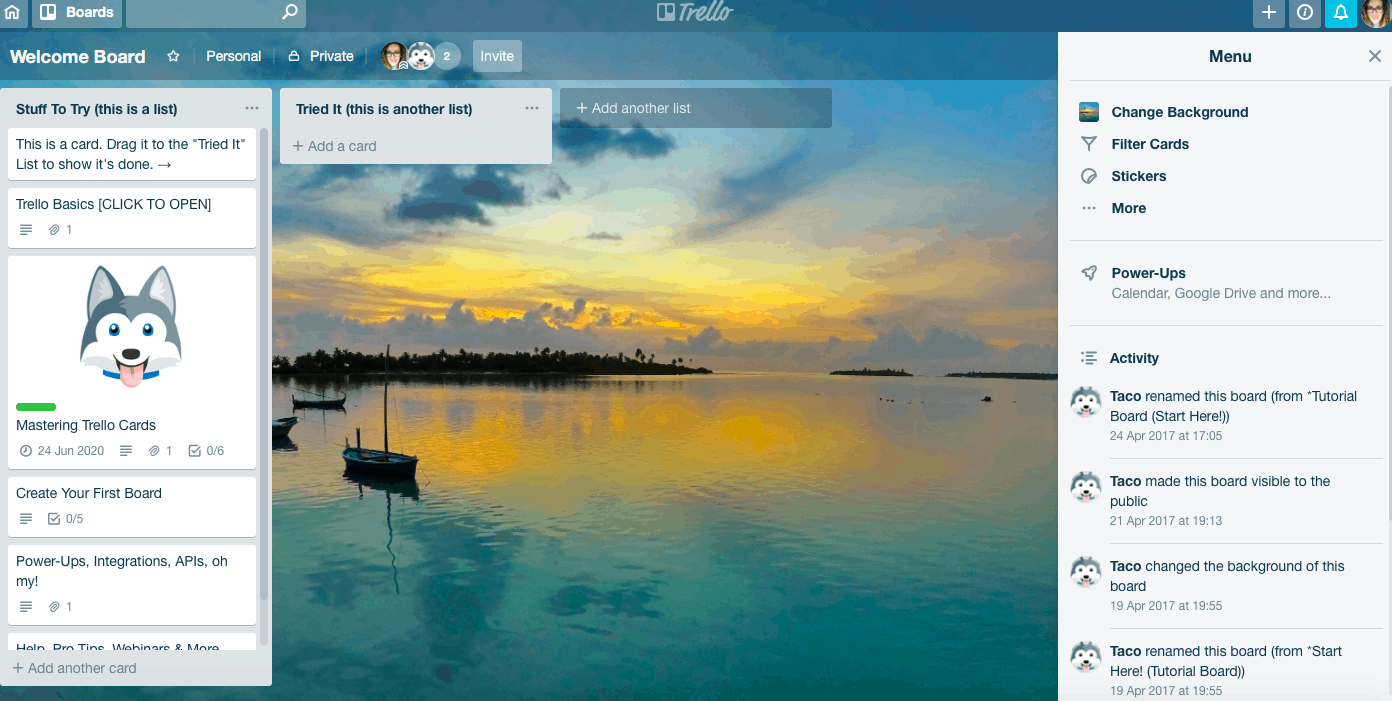 CoSchedule
Almost like it was created with bloggers in mind, CoSchedule can be described as an all-in-one editorial calendar where you can plan, promote, and execute your content marketing strategy in one place.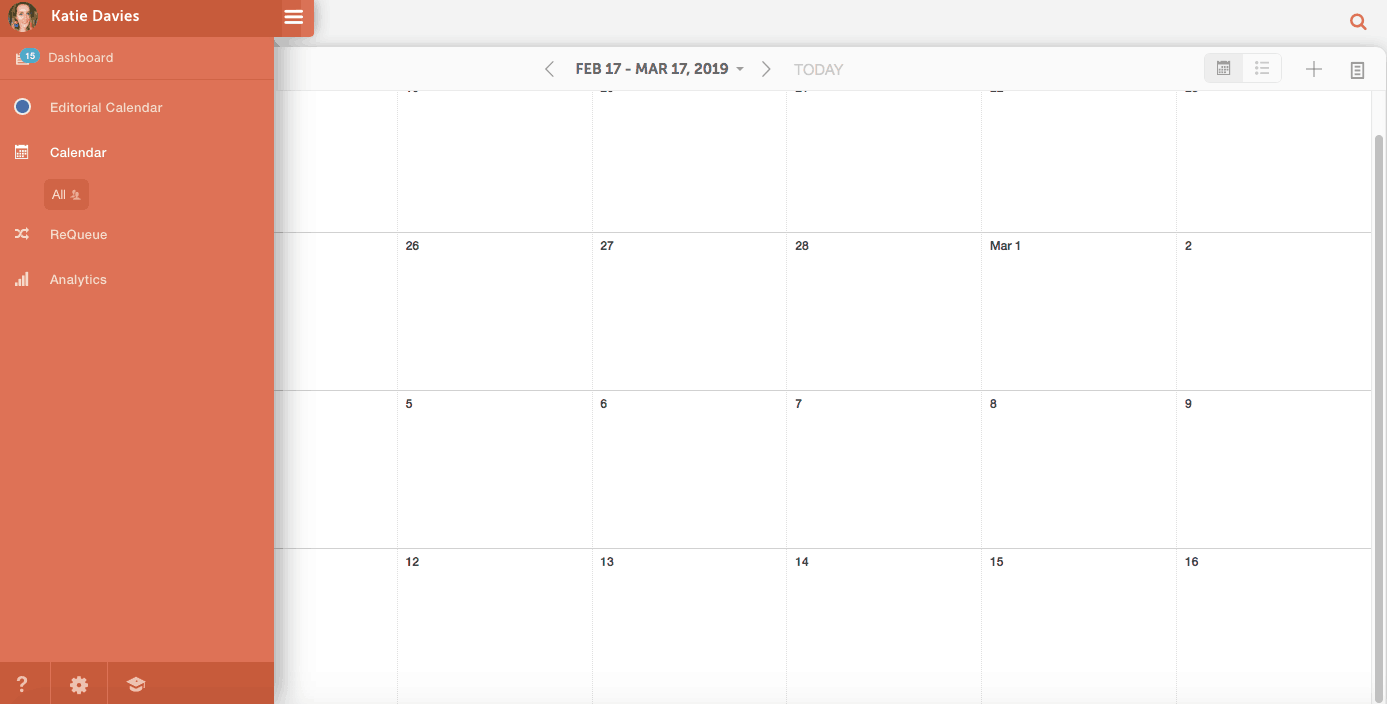 As well as being able to schedule social media posts, you can manage your workflow through the drag-and-drop function. This can be extremely useful for prioritizing blog posts or pushing them back due to conflicting deadlines.
You can also add collaborators to specific tasks and use the commenting feature for communication.
#3: Headline Analysis Tools
A click-worthy headline must be intriguing and punchy enough to capture a reader's attention and make them want to read what you have to say. If it doesn't quite hit the mark, then you won't be able to drive as much traffic to your blog. Luckily, there are some free tools available that will help you create captivating headlines.
CoSchedule Headline Analyzer
Super quick and easy to use, CoSchedule Headline Analyzer assesses the quality of your headline ideas. You can play around with different versions until you find the one that will best drive engagement.
All you need to do is enter your draft headline in the box along with a few details describing you and your blog, and then hit "Analyze Now."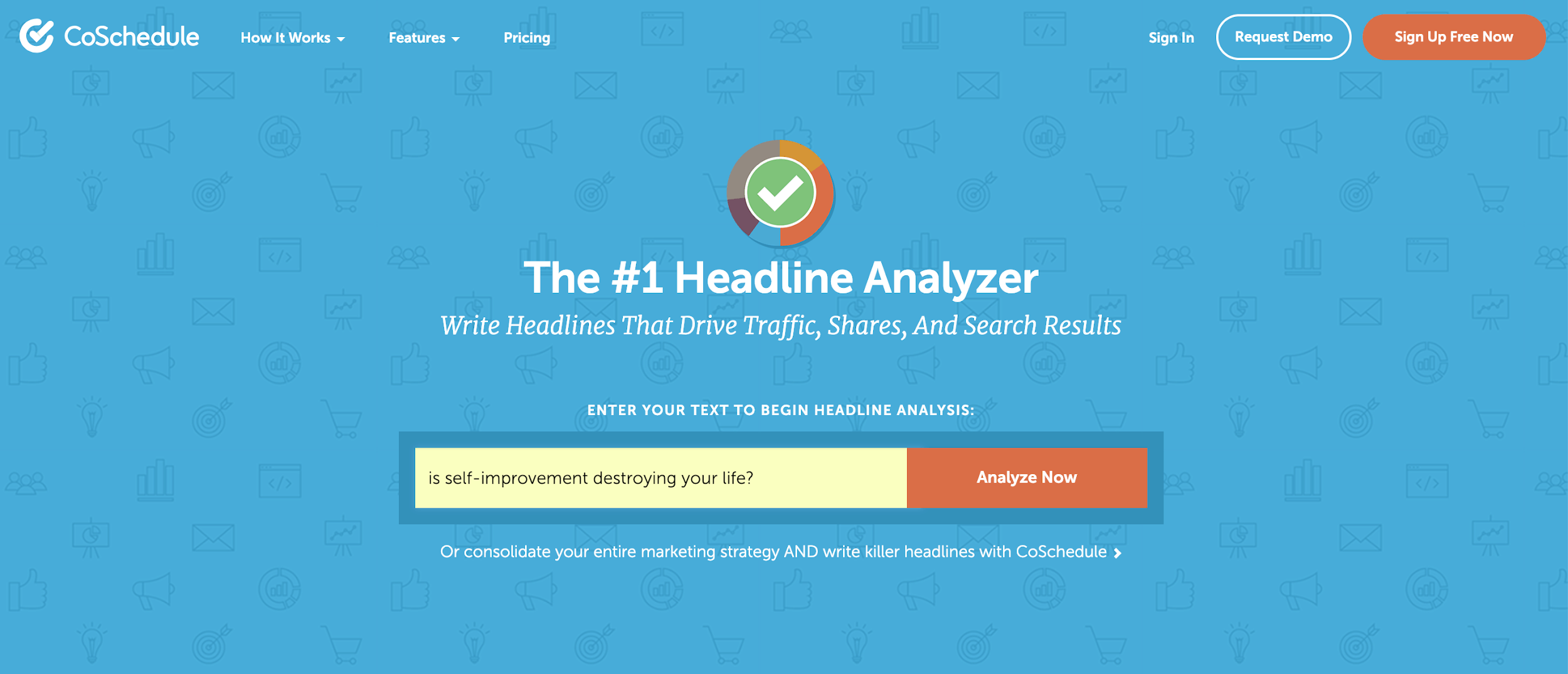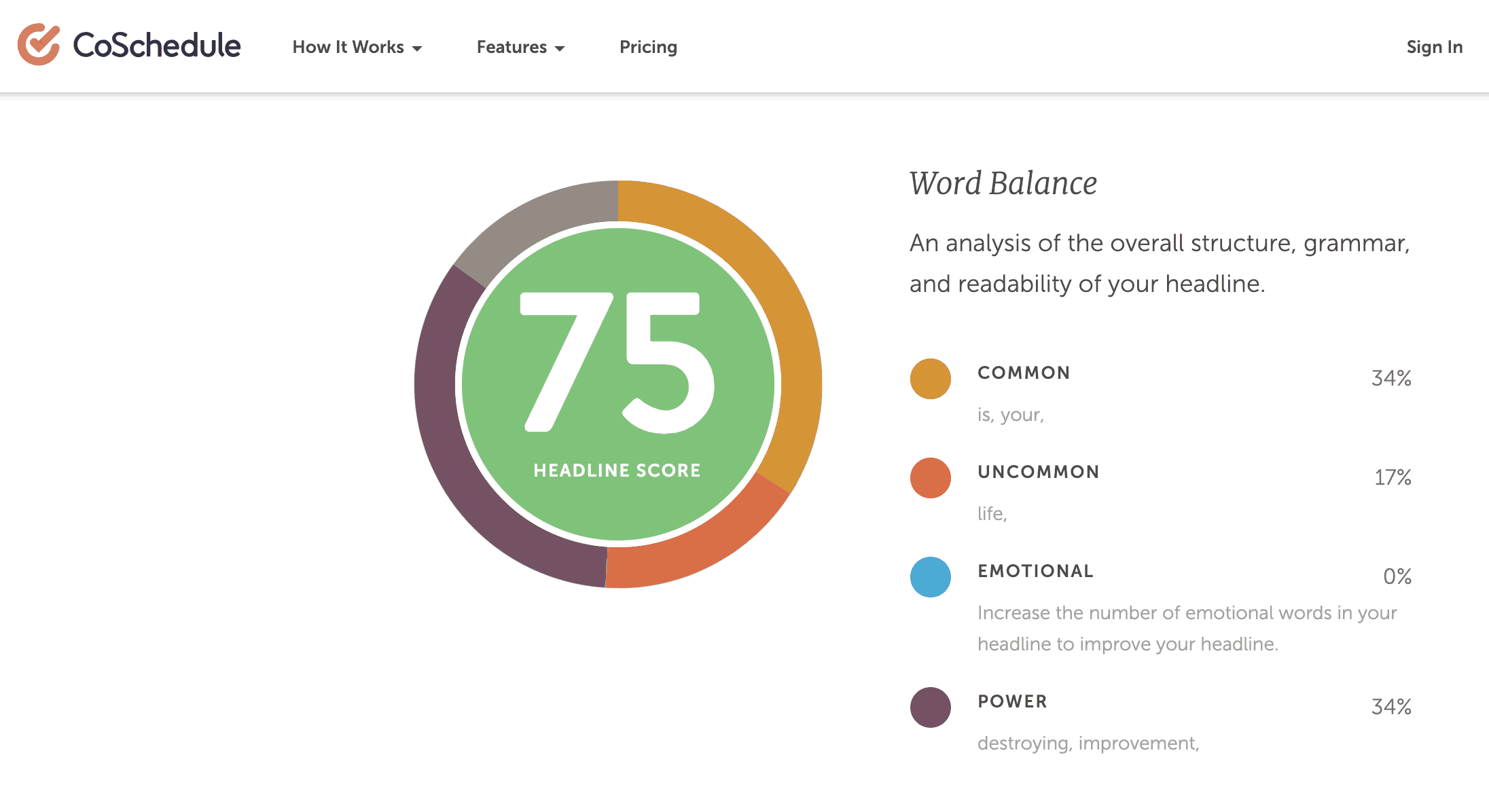 The tool will then show you a score on a scale of 0-100 based on the number of common, uncommon, emotional, and powerful words in your headline. You'll also get a length analysis of your headline, in terms of characters and words.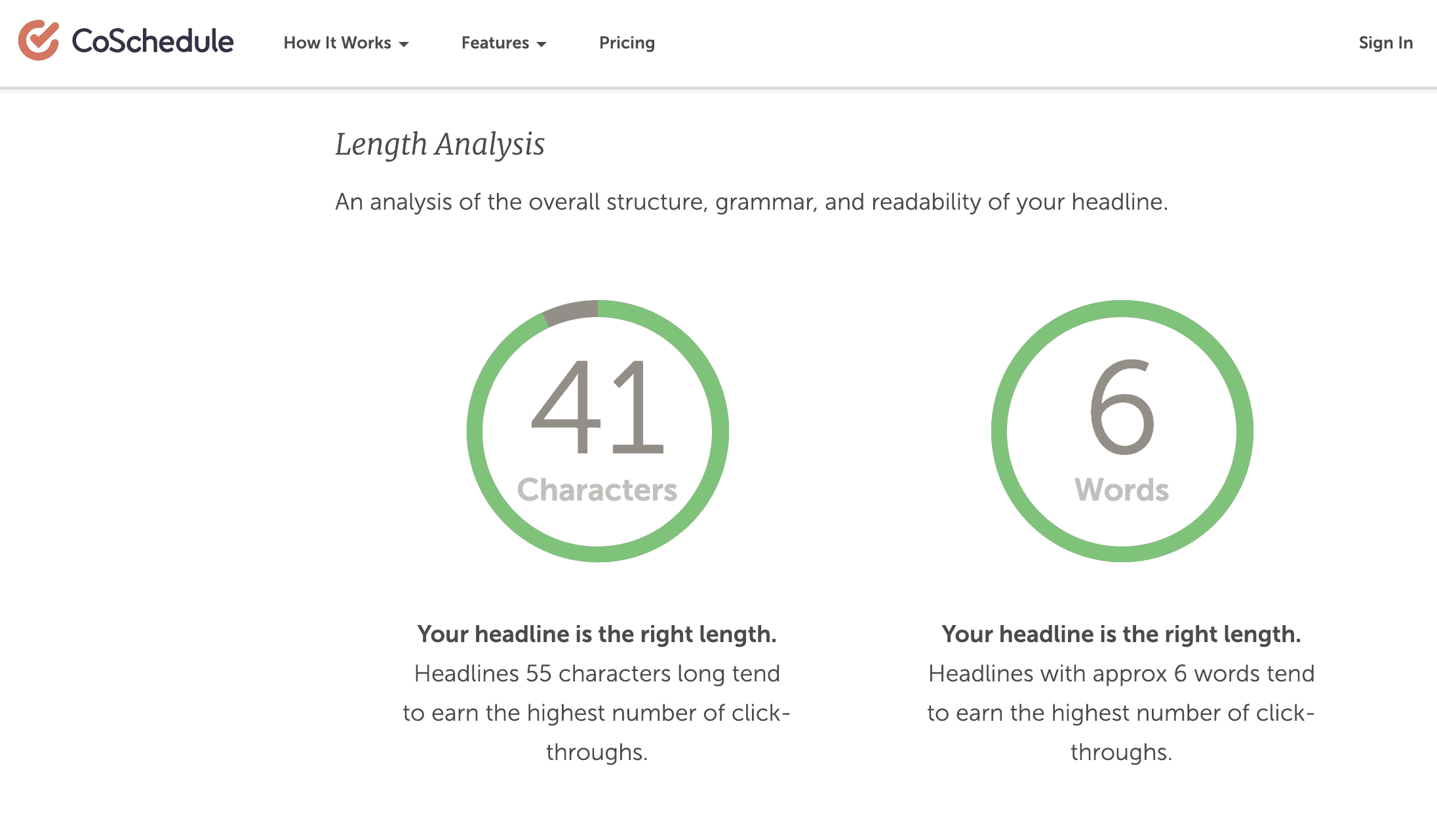 BlogAbout by IMPACT
Slightly different from CoSchedule Headline Analyzer, BlogAbout by IMPACT is an innovative, unique, and really fun blog title generator that helps you come up with ideas based on your main keyword.
As you go through the process, just click the heart icon if you find any title ideas that you particularly like. The tool will then transfer these to a notebook, which you can email yourself later.


Don't like a specific title idea? That's okay—just click the refresh icon and keep going until you do!
Emotional Marketing Value Headline Analyzer
Effectively creating an emotional response is very important in content marketing as a way of influencing purchasing decisions. This no-frills tool is incredibly useful for checking the emotional weight of a particular headline.
All you have to do is enter your headline and choose the appropriate category. You will then be given an EMV score as a percentage, which demonstrates the emotional impact of your post headline.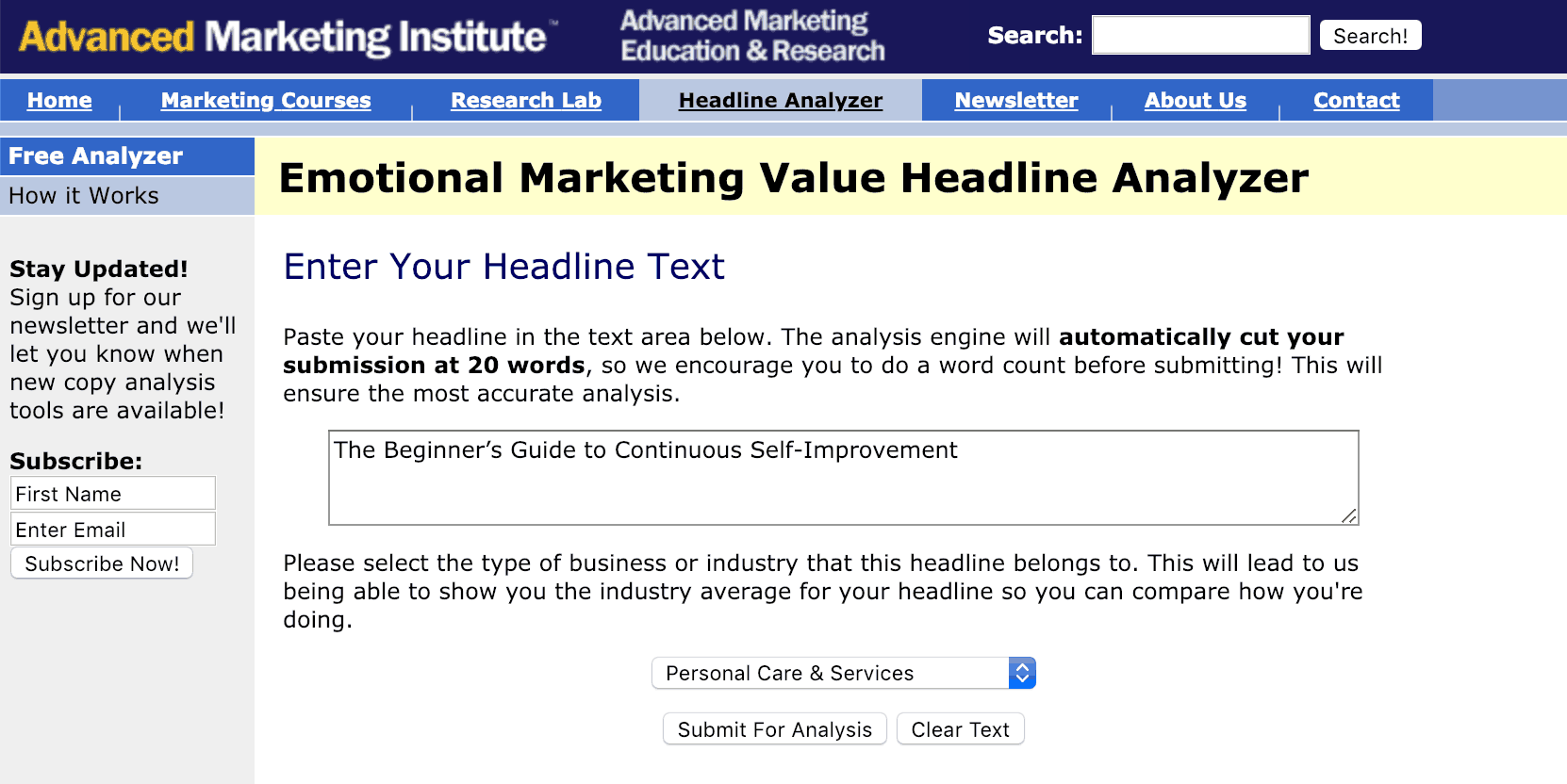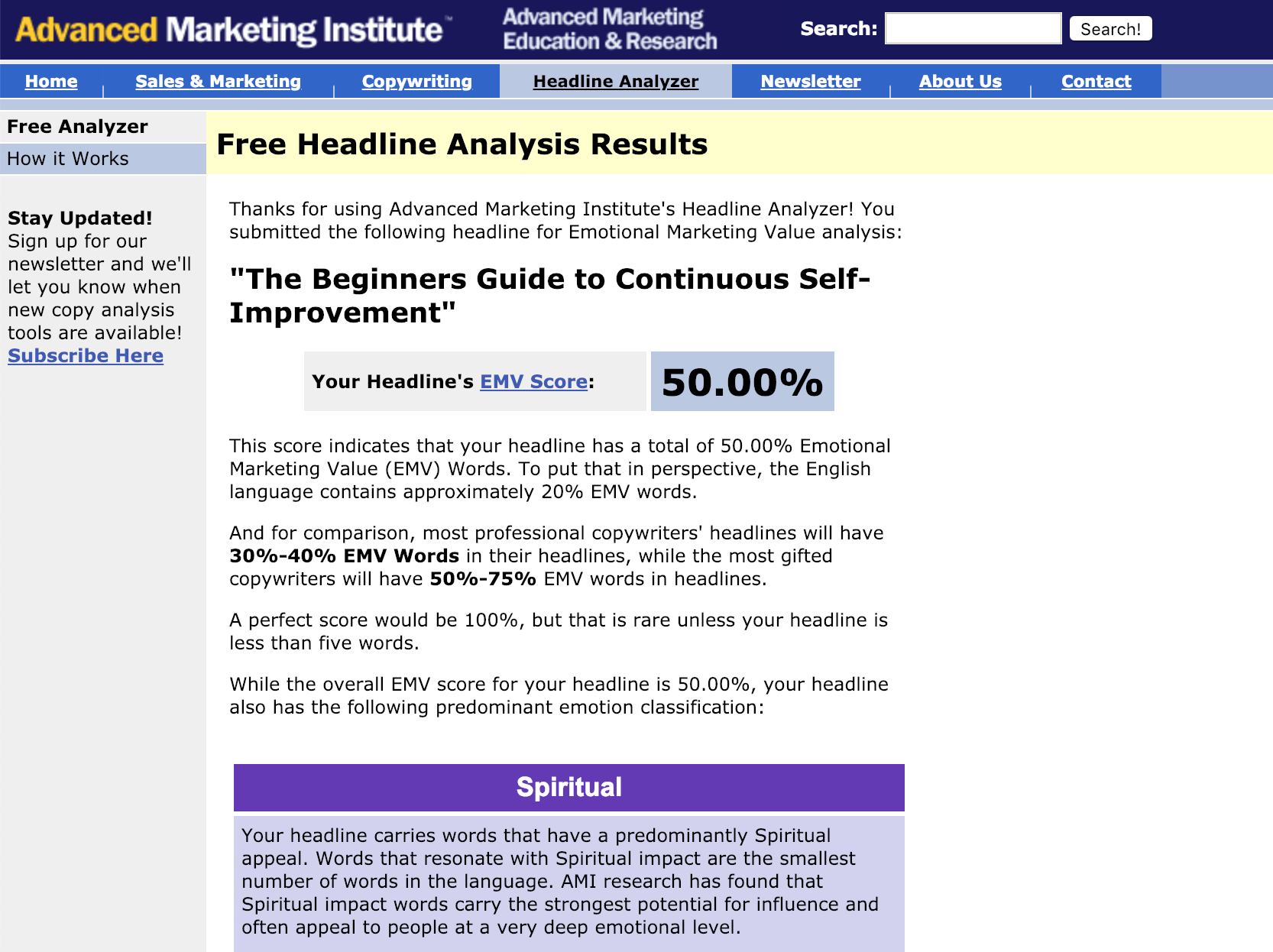 As a general rule, anything at 50% or above is considered a high score. If at first you don't succeed, try, try again!
#4: Writing Tools
It doesn't matter how great your idea or headline are if your blog post is filled with errors, or—even worse—if you can't focus for long enough to write it. In order to stay on task and craft easily digestible and grammatically correct blog posts, try using the following writing tools.
Hemingway App
A constructive way of improving the clarity and power of your blog writing, the Hemingway App allows you to copy and paste sections of text into the editor to be analyzed.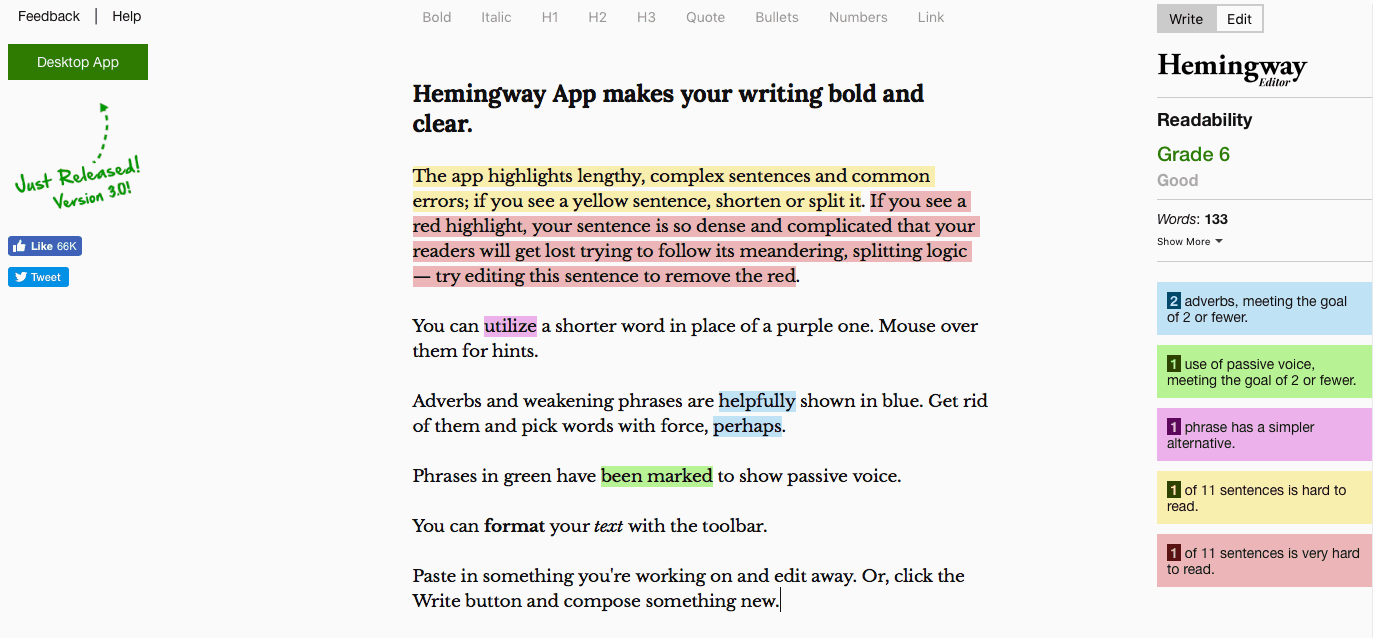 In addition to highlighting hard-to-understand text and grammatical errors, this tool will also prevent you from overusing the passive voice to ensure your writing is technically sound.
Not a fan of the online editor? Simply download the desktop app.
Grammarly
This is a life-saver for any blogger who needs a quick proofreading tool that works automatically as you type. Just install the handy browser extension for free and rid your content of grammatical errors and spelling mistakes.
Not feeling the browser extension? No worries—just use the free Grammarly online grammar checker instead.
Learn more about how Grammarly can help you in our extensive Grammarly review.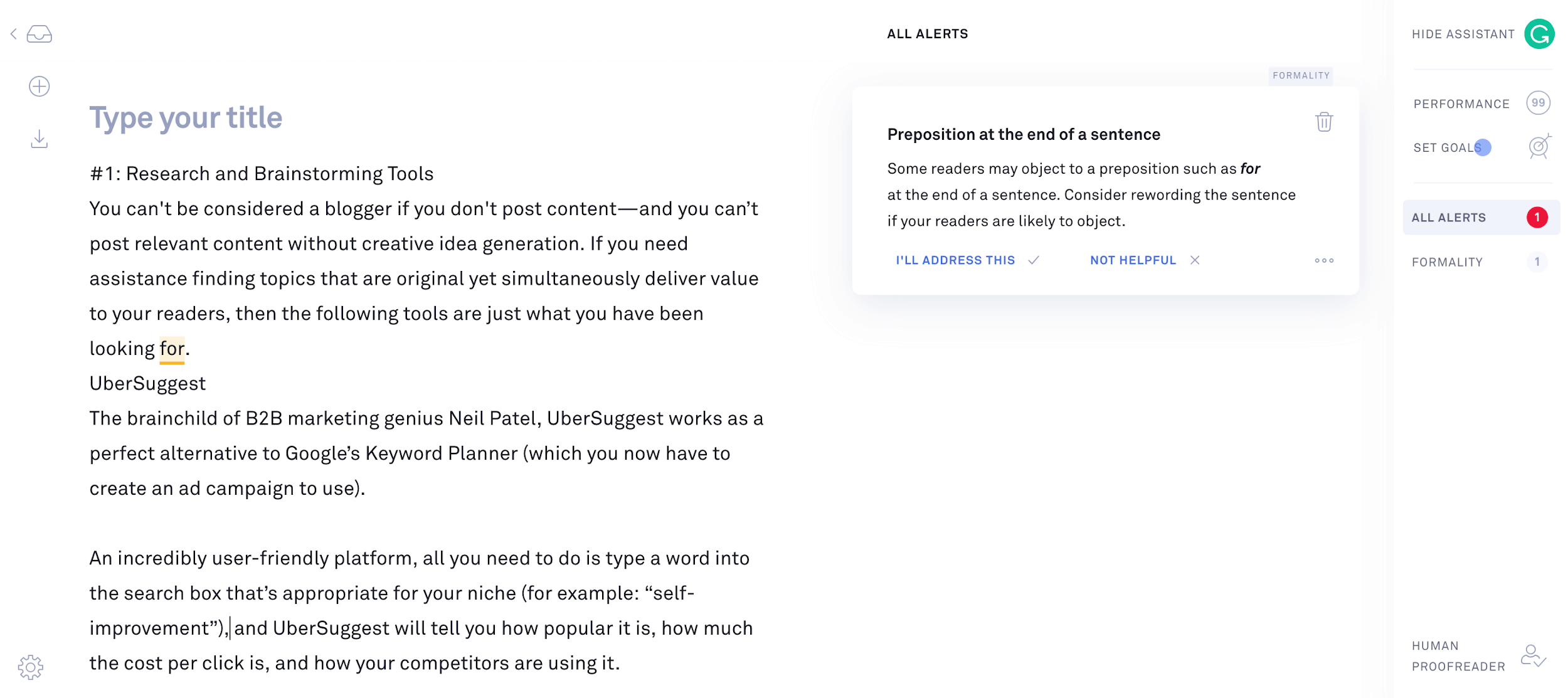 StayFocused
Maybe your problem isn't grammar and punctuation. Perhaps you just have trouble keeping yourself focused and on-task.
StayFocused is a Chrome extension that allows you to block or limit your time on different websites. If you have serious issues with distractions, there is also a "Nuclear Option," which means that there is no way for you to change the allowed/blocked settings unless you successfully complete a tedious typing "challenge."
So, if you keep finding yourself sitting down to work on your newest blog post, only to realize ten hours later that you've wasted yet another day watching cat videos on Facebook, this is an option worth checking out.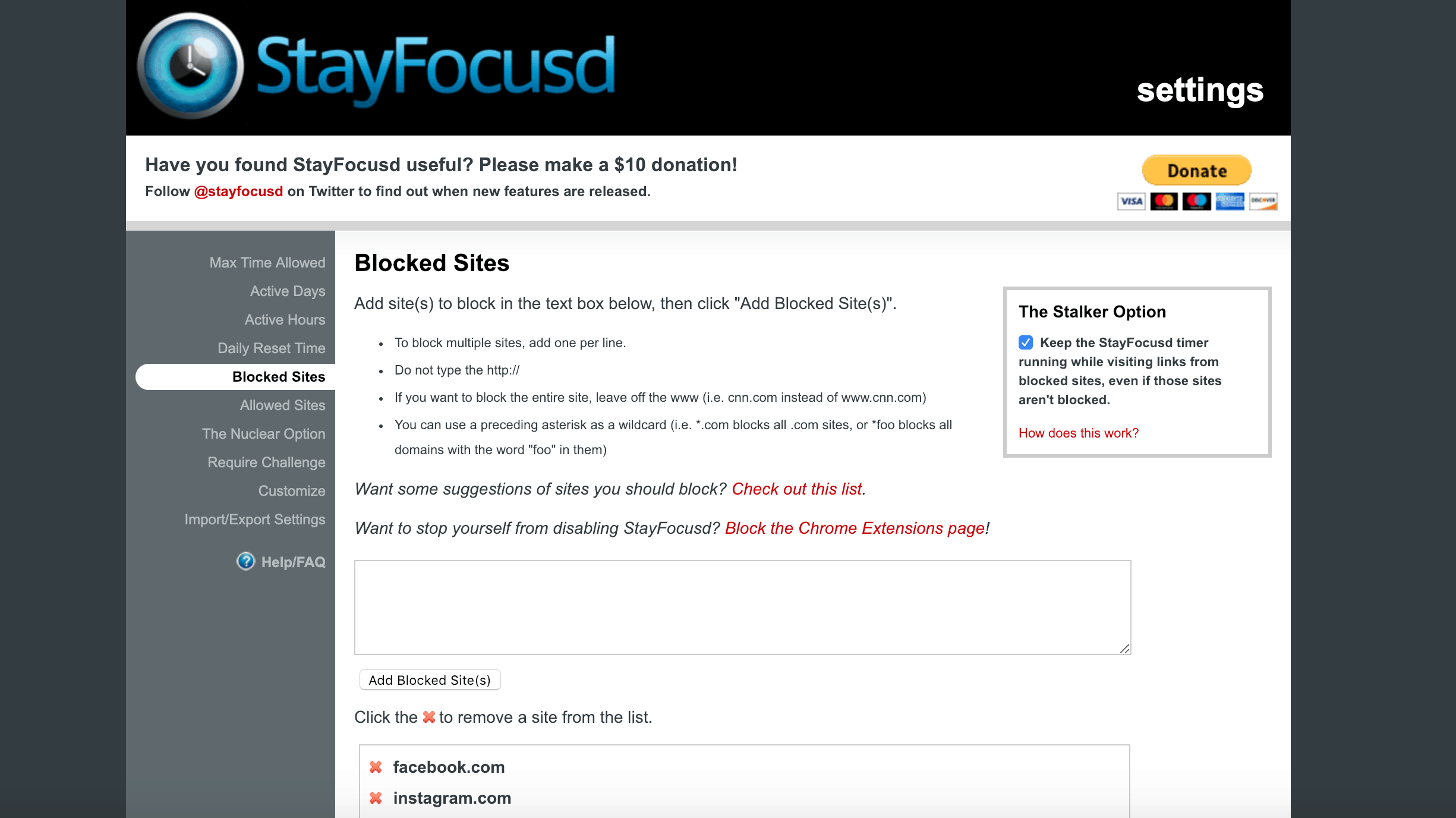 #5: Stock Photo Galleries
Often, words aren't enough when it comes to creating valuable and compelling blog content—your posts need to be visually impressive as well. To find both relevant and engaging images for your blog posts, you can rely on the best websites for free stock photos.
Pixabay
Renowned as one of the largest free stock photo websites, Pixabay is home to 30,000 photographers that frequently contribute to the collection of more than 1.6 million photos, illustrations, and graphics.
The super high-quality images on Pixabay have no copyright restrictions. You can use them for any purpose, including commercial.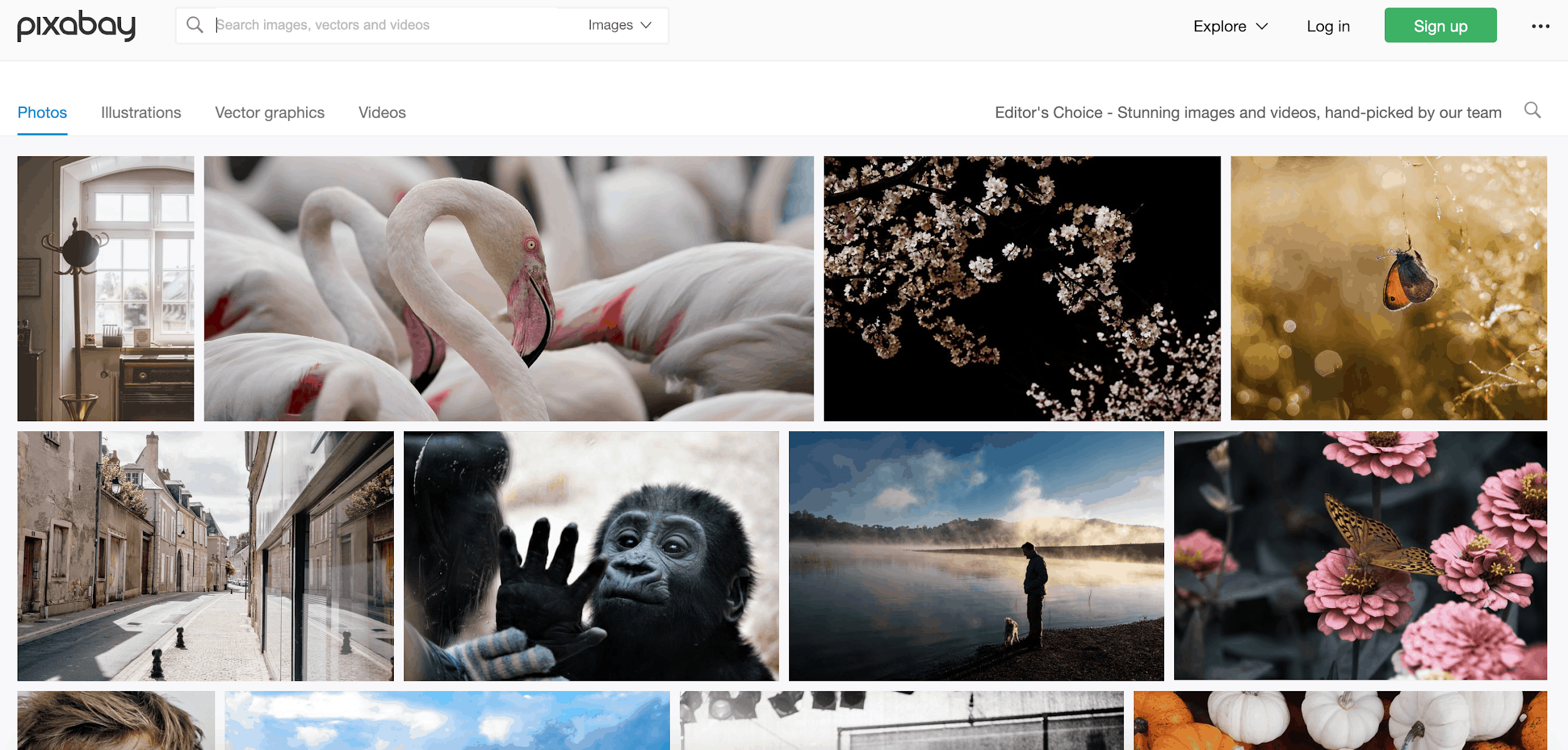 Unsplash
Unsplash is considered to be one of the best free stock photo websites. You can find just about anything you're looking for in the diverse image collection.
Providing over 400,000 photos by nearly 65,000 photographers, this platform is loved by professionals and amateurs alike. You'll find endless relevant and attractive images, in a variety of different styles. Unsplash will also make recommendations for different categories based on your search terms.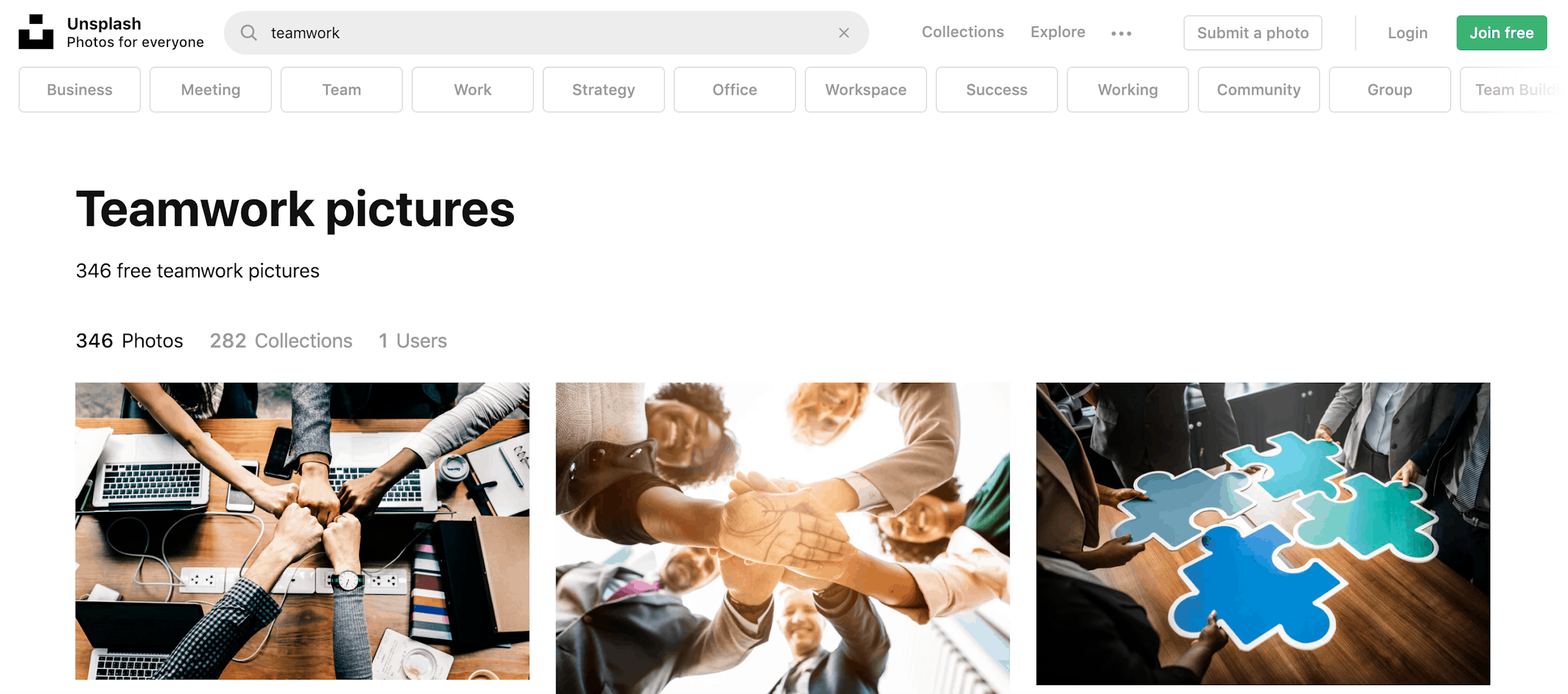 Pexels
Another fantastic free stock photo source, Pexels' vast collection is used daily by bloggers, designers, and other creative industries. Like Pixabay and Unsplash, you're allowed to use their images and modify them for any purpose.
However, unlike the others, Pexels also offers free stock videos, which can bring a unique edge to your blog posts. After all, videos are a fantastic way of engaging your readers and getting them to spend more time with your content.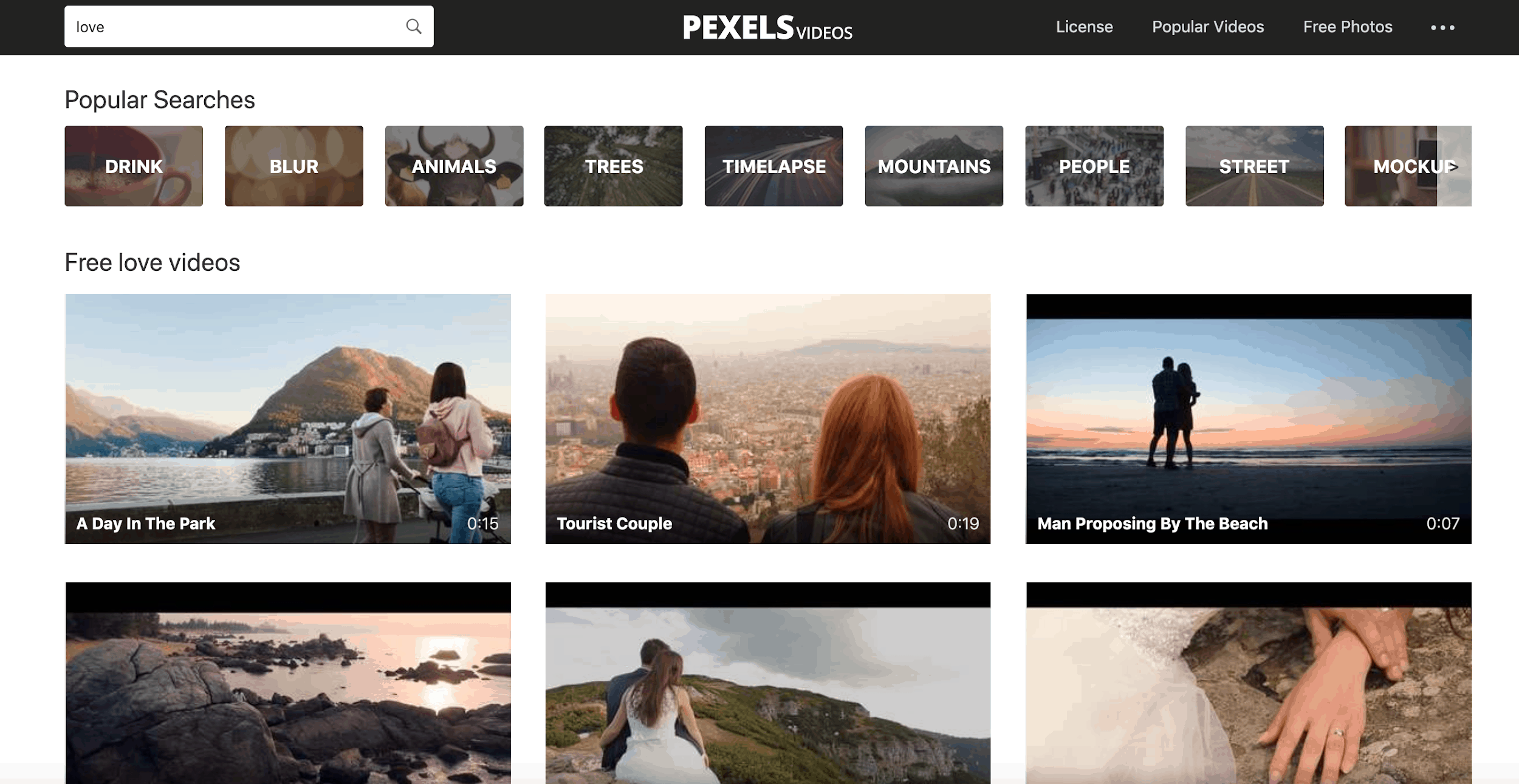 Bonus Tools
Once you have your blog post organized, researched, and written to the highest quality, you can use these tools for social sharing and analysis.
Social Sharing Tools
The most effective social management tools help you schedule blog post promotion ahead of time and then publish content according to the optimal times for your audience. Try the following options.
Hootsuite: This platform makes it easier to find, schedule, manage, and report on blog promotional content, for up to three social profiles at once. It's simple and user-friendly for bloggers who want to promote their posts across multiple platforms without coming across as spammy. However, you can only auto-schedule 30 messages in advance with the free version.

Sprout Social: While not free, Sprout Social does offer a 30-day free trial. This platform is ideal for planning and publishing blog promotional content, as well as syncing your strategy across five social media channels. The extensive analytics tools also give you interesting data, metrics, and customized reports so that you can see what's working and what needs improvement.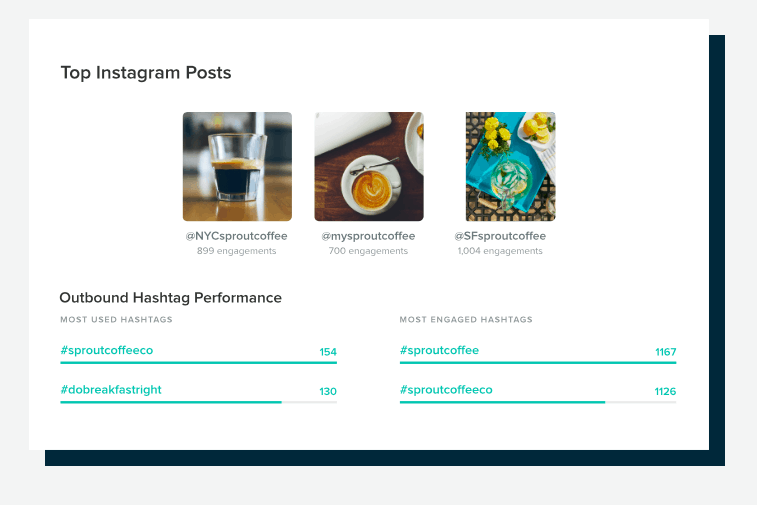 Buffer: Just like Hootsuite and Sprout Social, you can use Buffer to schedule your blog's promotional content across various social media platforms. This is perfect if you often find yourself stressed about forgetting to post at the right time. You can also A/B test your headlines and view a bunch of useful analytics.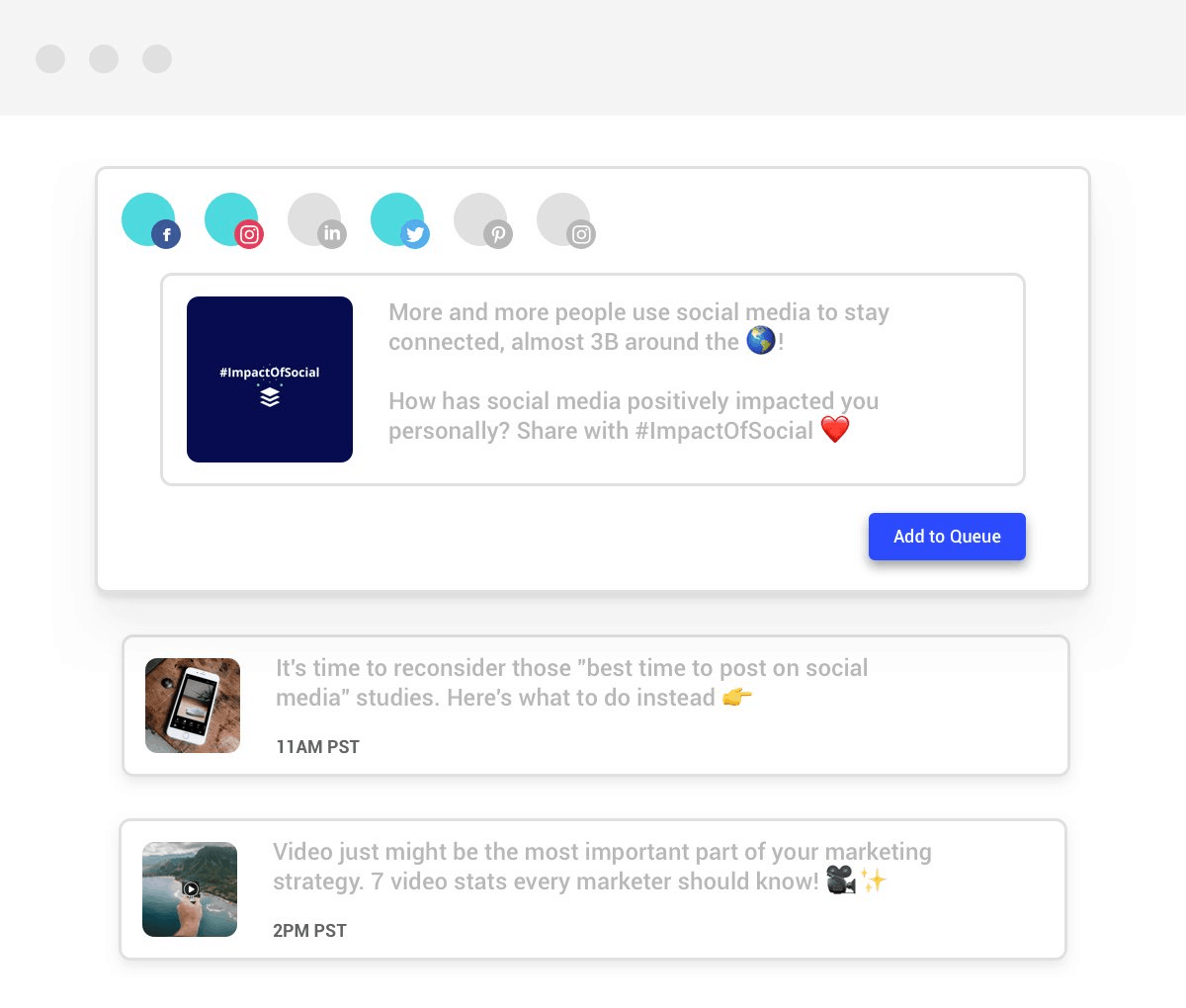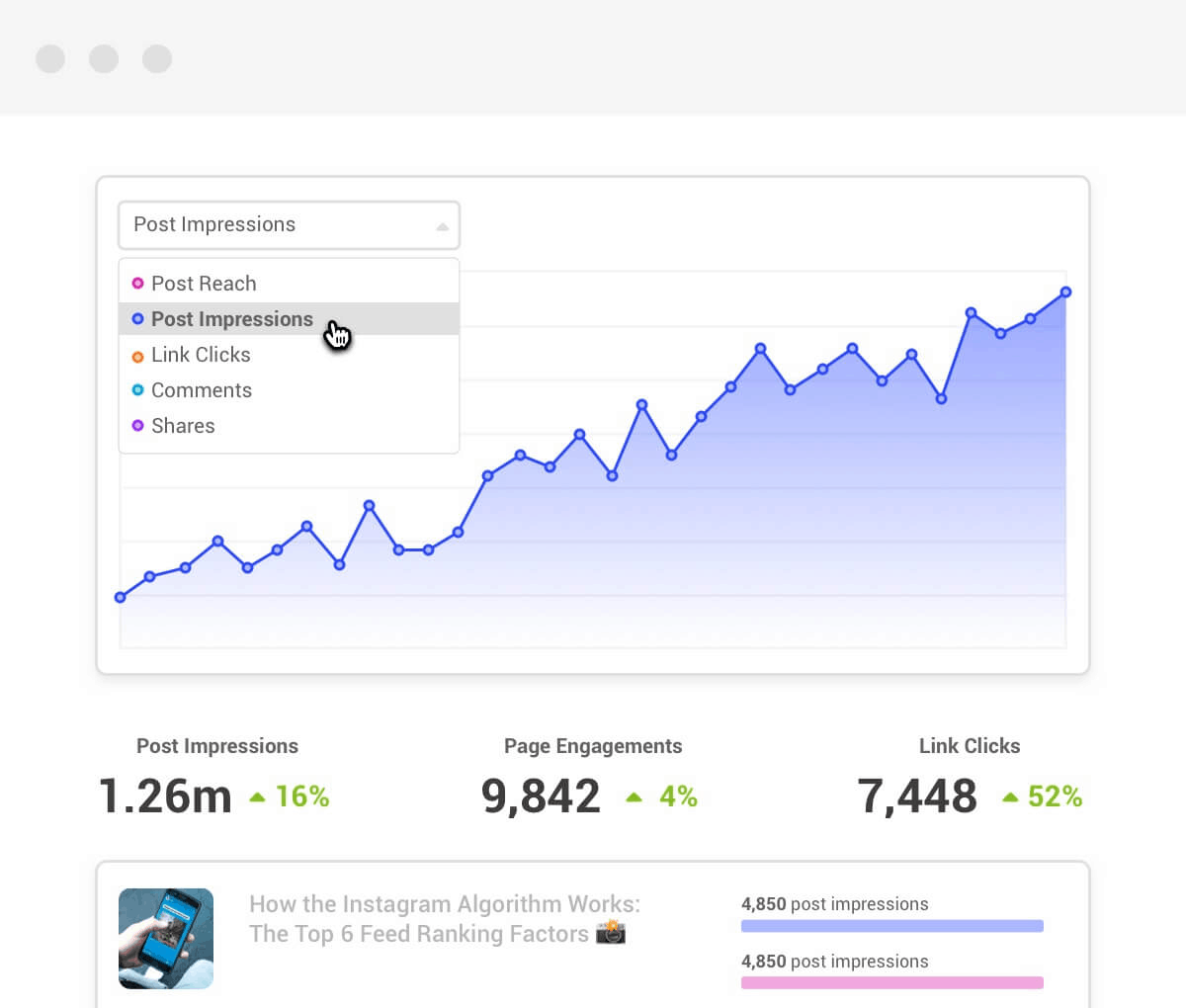 Analysis Tools
Monitoring and tracking your website traffic, engagement, and audience data—and making gradual improvements—is important if you want to be a better blogger. You can easily do this through one of the following tools.
Google Analytics: How many visitors does your blog get? How do they find your content? What are their demographics? You can find out all the answers to these questions and more with this valuable tool's key reporting and insights, which will help provide direction for your communication strategy.
Haven't mastered Google Analytics? Our guide will help you learn the ropes!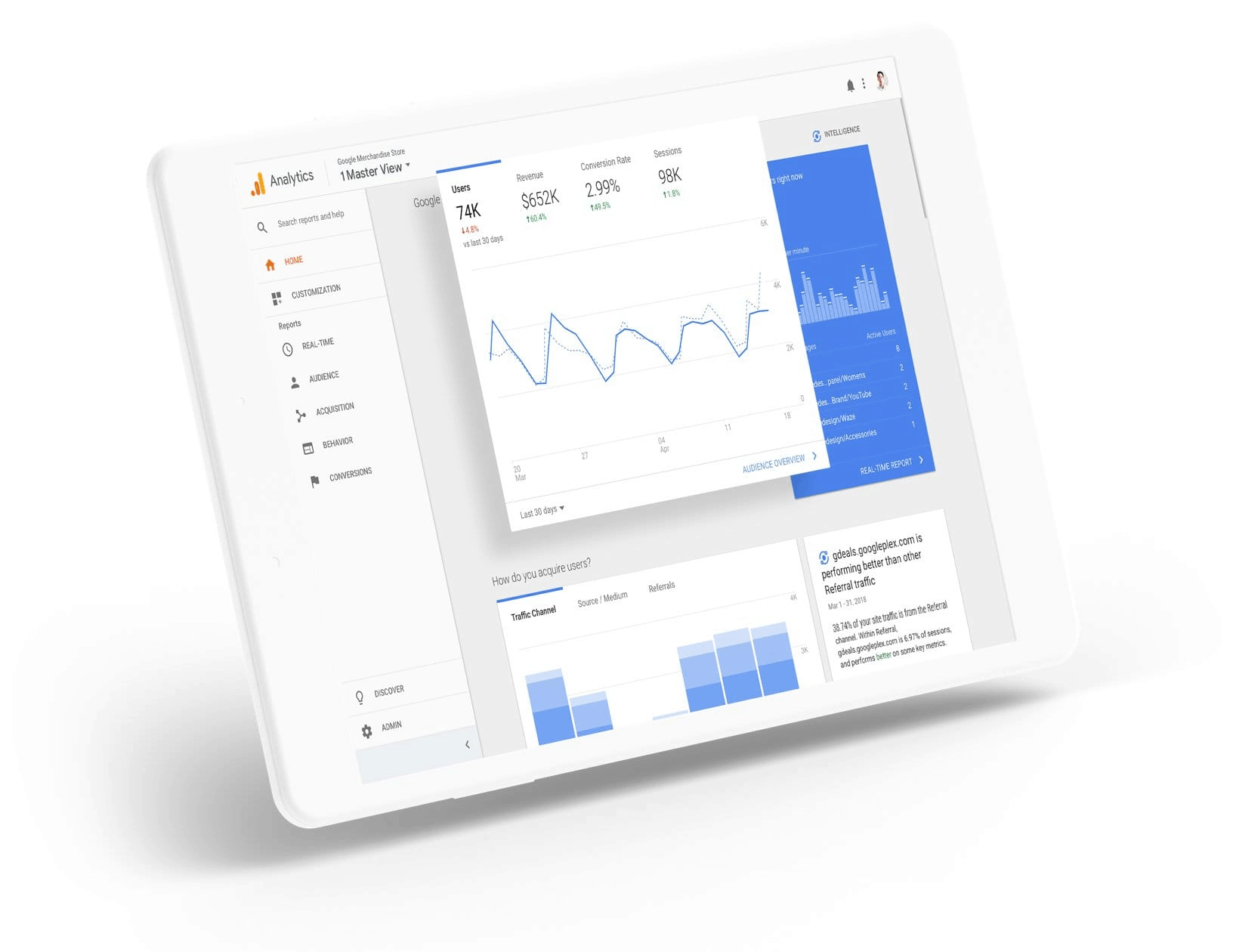 Moz: If you just want to look up your Domain Authority (DA), Page Authority, and Moz Rank, use this tool as a quick, reliable, and straightforward option. Its major benefit is that you can check up to 10 URLs at once. If your DA is only average, or lower than your competitor's blog, you might want to consider guest posting to increase your number of backlinks.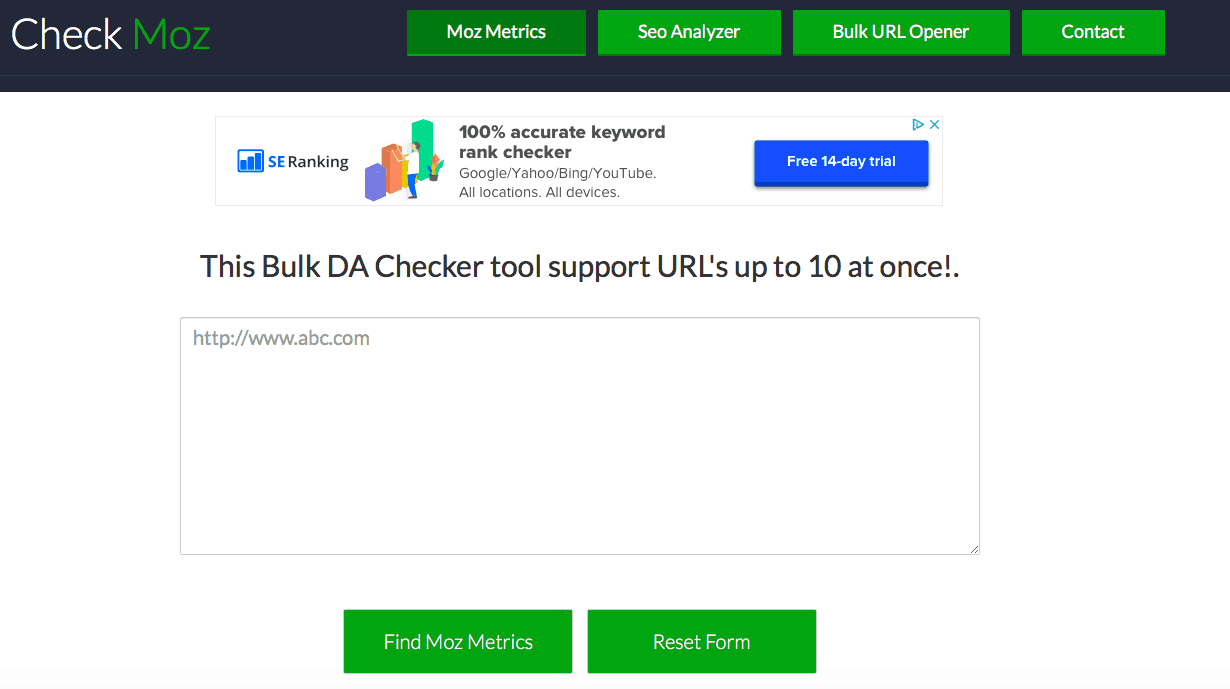 Momently: If you use WordPress for your blog, then you should absolutely be using this plugin. Alternatively, you can add a snippet of code to your site. The tool allows you to analyze things like your blog's most popular categories or authors, and see how much of your content visitors are reading. The free version is perfect if you have fewer than 3,000 page views a month. Otherwise, you'll need to upgrade.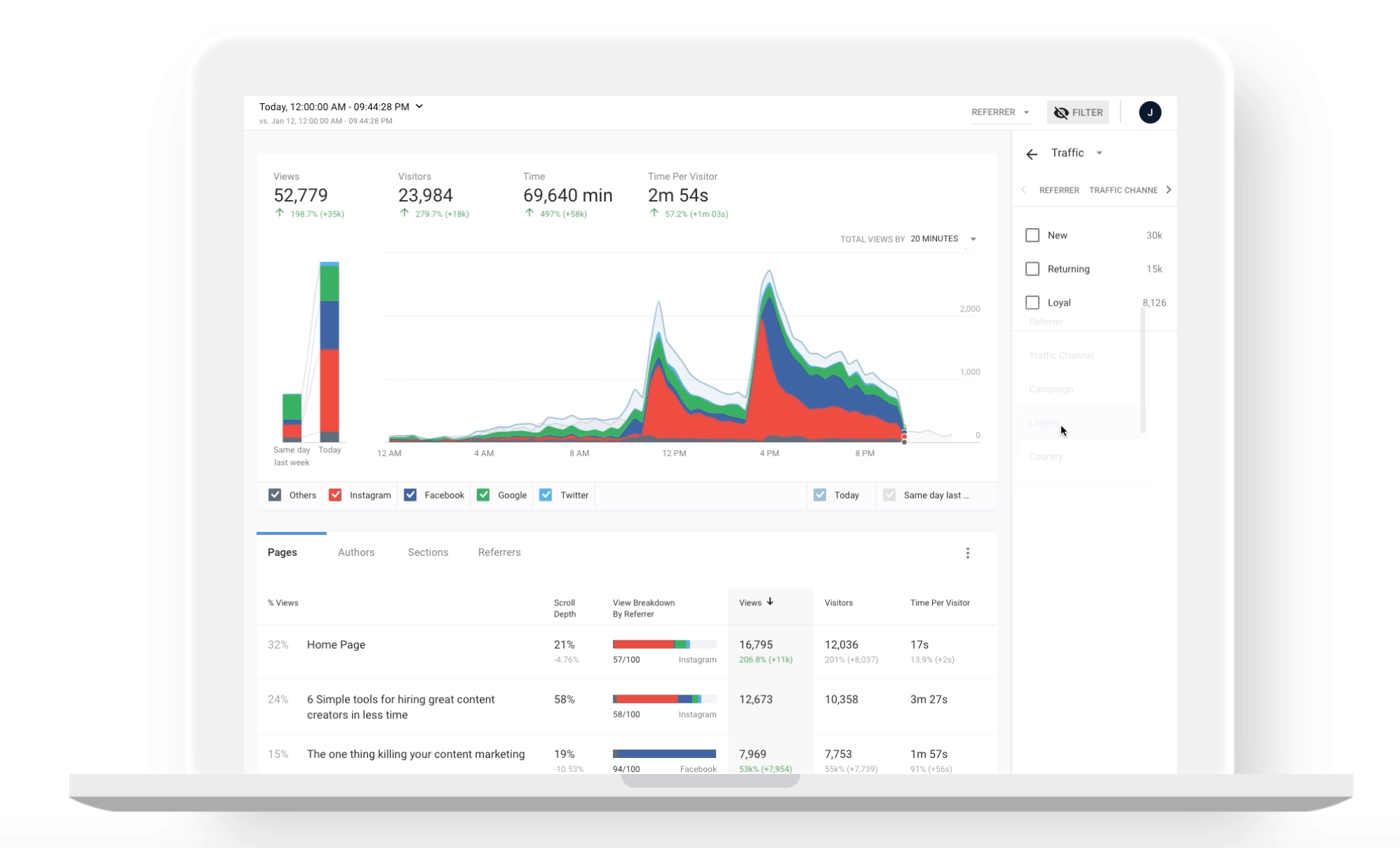 Making Use of Free Tools to Improve Your Blog
When you use the right tools to build upon your existing skills, you stand out from the sea of competition.
Each of these tools are essential for bloggers who want to improve the look, feel, and content of their blog while still being cost-effective.
If you ever feel the need for more advanced features, your budget increases, or your traffic suddenly grows astronomically, the good news about these tools is that you can upgrade to the paid versions with minimal fuss.
---
Sources
https ://contentmarketinginstitute.com/2015/10/tools-boost-blog/
https ://www.jeffbullas.com/23-free-blogging-tools-will-make-better-blogger/