Businesses often need to gather data in order to know how to best serve their customers or make necessary changes to the company. One of the best ways to do that is through an online survey, and lucky for you, many of these services are free. Our top ten choices each have unique features that can meet any of your needs or objectives.
#1: Survey Monkey
Survey Monkey offers a robust free version of their service. You can either elect to create your survey from scratch, or you can choose from dozens of existing templates in a number of different categories, including HR, non-profit, business, and education. Not all of the templates will be available in the free version of Survey Monkey, however, there is a question bank that offers lots of ideas to get you started.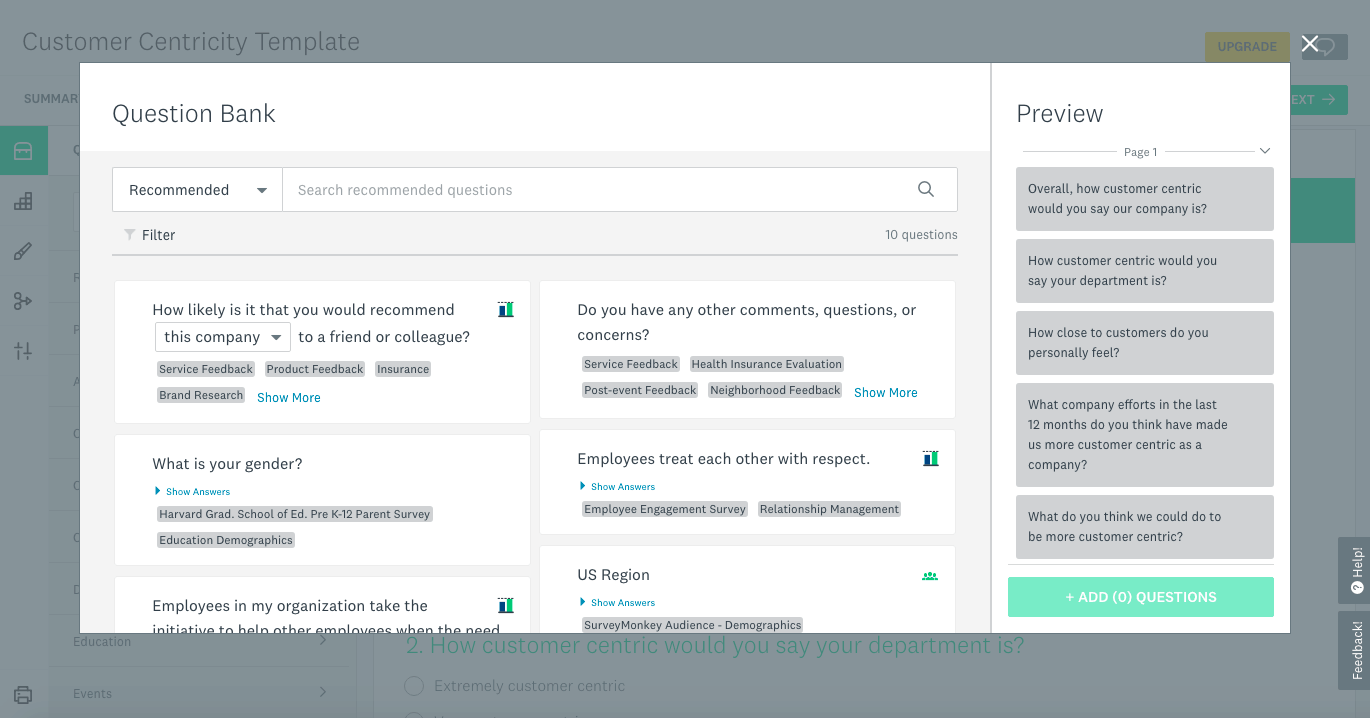 Overall, the interface is intuitive and user-friendly. These are some of the additional features that you can enjoy with a free account:
100 responses per survey
Drag and drop designer
Image and video question elements
Purchase survey responses
If you buy one of Survey Monkey's paid plans, you can receive unlimited responses, custom feedback, A/B testing, the ability to export data, and more. But no matter what plan you choose, Survey Monkey is a well-rounded survey tool equipped to handle any number of business needs.
#2: Google Forms
Unsurprisingly, Google Forms is another free, reliable option for creating surveys. Like many services, they offer various layout templates or the option to build your own: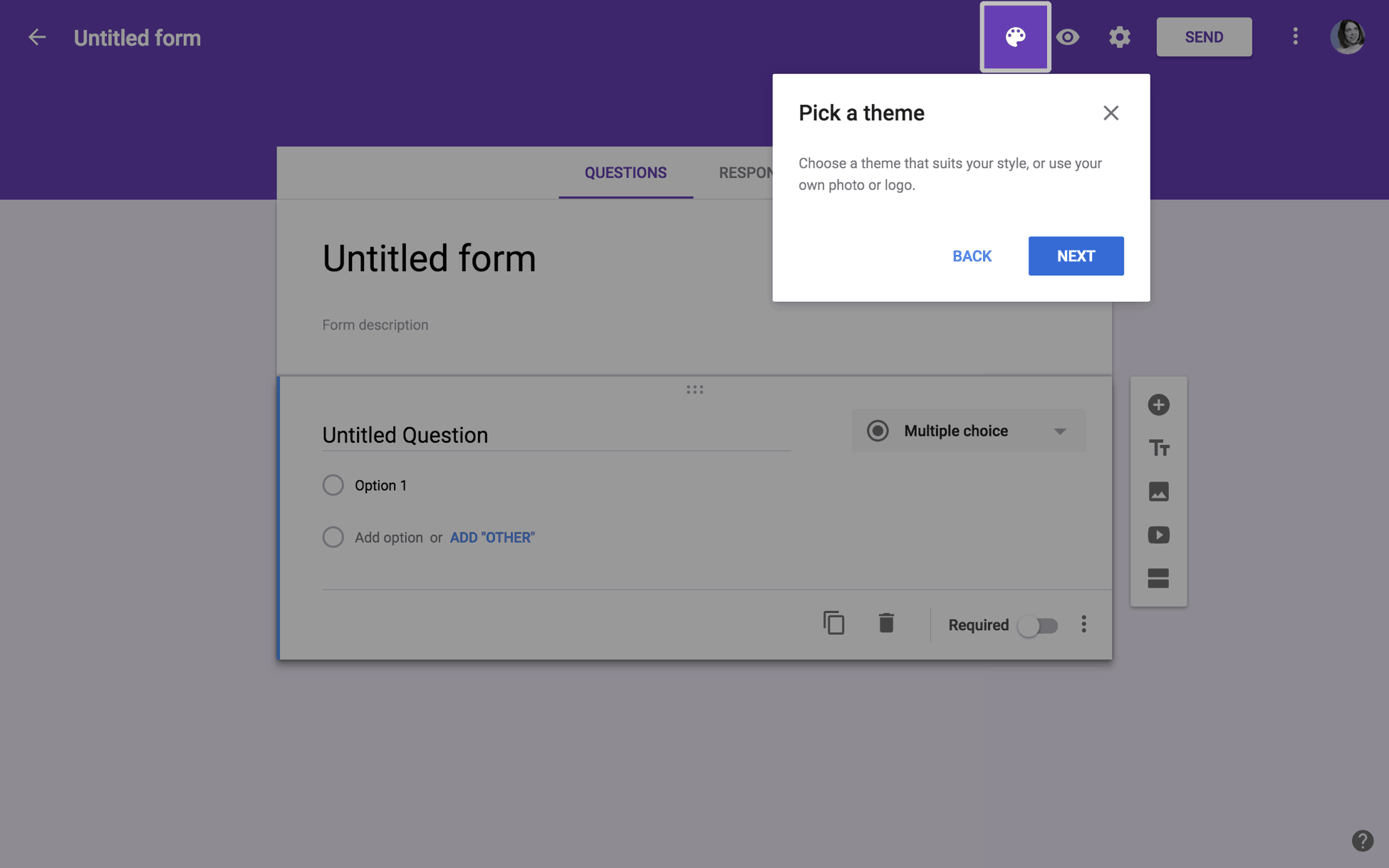 They have one of the most intuitive form builders available today, and their guided tour makes it easy to get started.
One of the best things about using a Google-based survey builder is that you are able to collect email addresses and limit to one-response per Google account. You can also:
Add media to your forms
Build quizzes with point values for each question
Shuffle question order
Show progress bar
Add a theme to your forms
Store responses in a spreadsheet
#3: Typeform
Typeform is another leading online survey website that provides a long list of tools for free. Like most of their competitors, they allow you to either use templates or start from scratch.
If you decide to work off of a template, the copy and design are easy to edit. If you are building your own, there are a number of fun question types to choose from, including a star rating, opinion scale, and picture choice. However, some question types, like hidden fields or logic jump, are only available to paid accounts.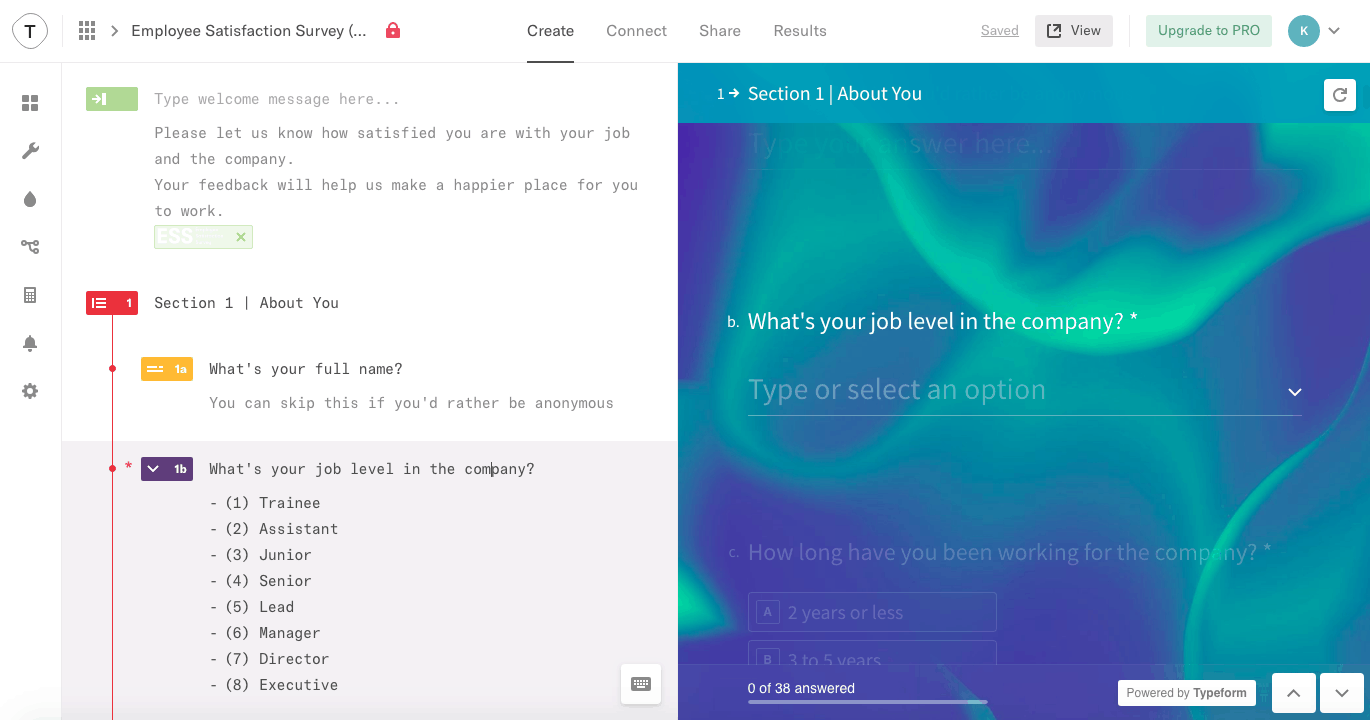 Other features include:
100 responses per month
10 questions for each form
Keep data for an unlimited amount of time
Integration with outside sites like Google Sheets and Zapier
Set variables
Embed capability
Various premade layouts available
There are a couple of different paid plans available that allow you to collect more responses and have more customization when it comes to survey design. However, depending on your specific needs, the free version may be more than sufficient.
#4: Survmetrics
The standout feature for Survmetrics is its visual components. Each question in your survey is placed on its own page, with its own background image.
The "Build Your Own" option shows you your survey layout before you even add any questions.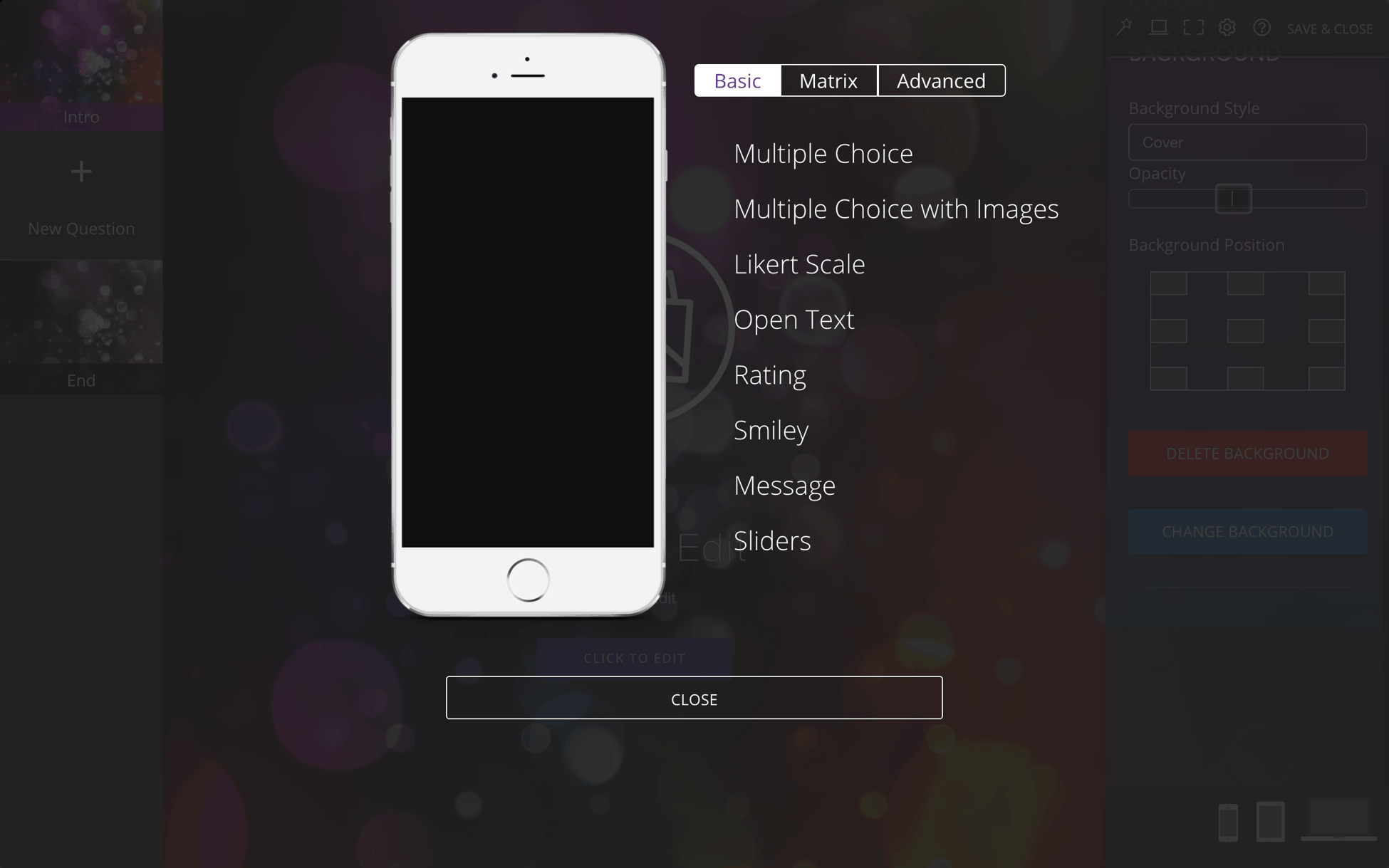 Other features include:
Drag and drop functionality
Seven types of questions
Mobile device preview
Downloadable charts
Unlimited questions
This is a great choice for anyone who wants a visually focused survey. However, the free version is rather limited, and you might find that the file size limit (1MB) is hard to work with. If you choose to opt for a paid version, you'll get many more question types available (40+), advanced data analysis, and other features such as the ability to add geolocation and a sample size.
#5: Crowdsignal
Crowdsignal (formerly PollDaddy) is directly tied to WordPress; the Polls and Ratings plugin was developed specifically for this platform, so surveys are easy to design and embed right on your website. The question types are pretty similar to others listed in this article, and include options such as multiple choice, matrix, rank, etc.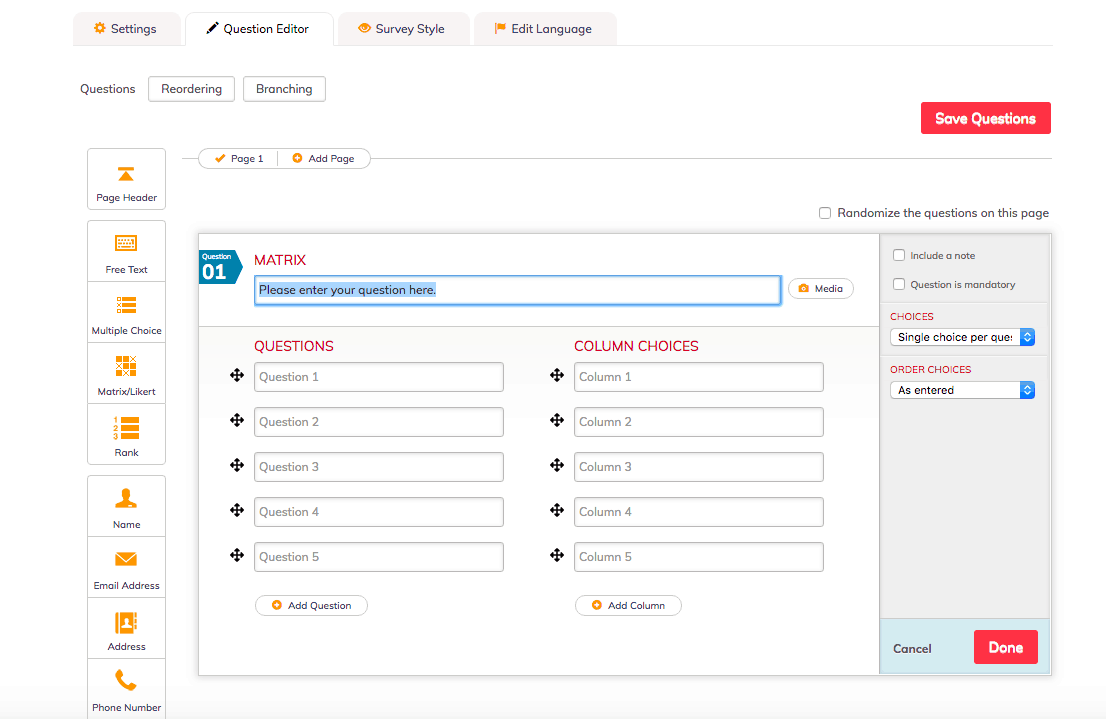 What sets Crowdsignal apart from the herd is that it offers unlimited responses with your free account, as well as the ability to embed media from YouTube and other outside sites. With a free account, you are also able to modify the language of embedded polls. For example, you can choose from over a dozen different languages for a direct link on the survey sharing page, making this a good option for international companies and target audiences.
#6: SurveyNuts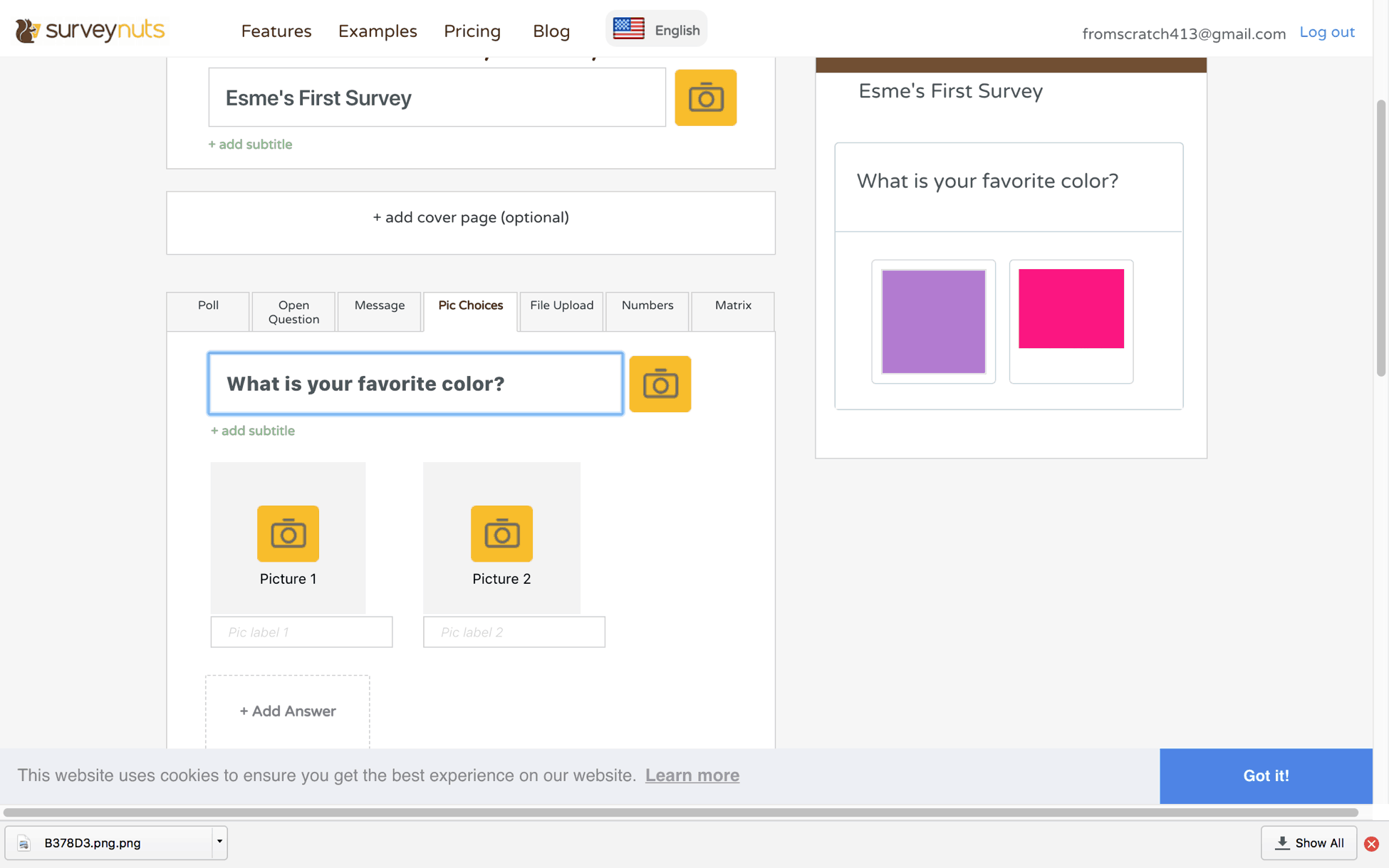 SurveryNuts is a good option if you are just looking to quickly create a basic survey without any frills or fancy functionality. The website makes signup and creating a survey fast and easy and the free version allows for up to 10 questions per survey and 100 responses.
Additional features include:
Preview in real time as you type
Easily add images to questions
Apply conditions to questions with a click (several answers/must answer)
Apply design themes
#7: SurveyMethods
At SurveyMethods, you can create online surveys, analyze data, or design newsletters. With their basic plan, you can create as many surveys as you'd like and receive up to 500 responses every 30 days, which is a lot more than what many others offer on this list. Other features include:
Language options: English, French, Spanish, German
100 design options in 19 categories
Simple, easy-to-understand design tools
One of my favorite features is that they have more than 15 question types to choose from, each of which they clearly describe and provide an example for. This is a great perk if you don't have a lot of background designing surveys and are unsure of the question type that will give you the most insightful response based on your individual goals.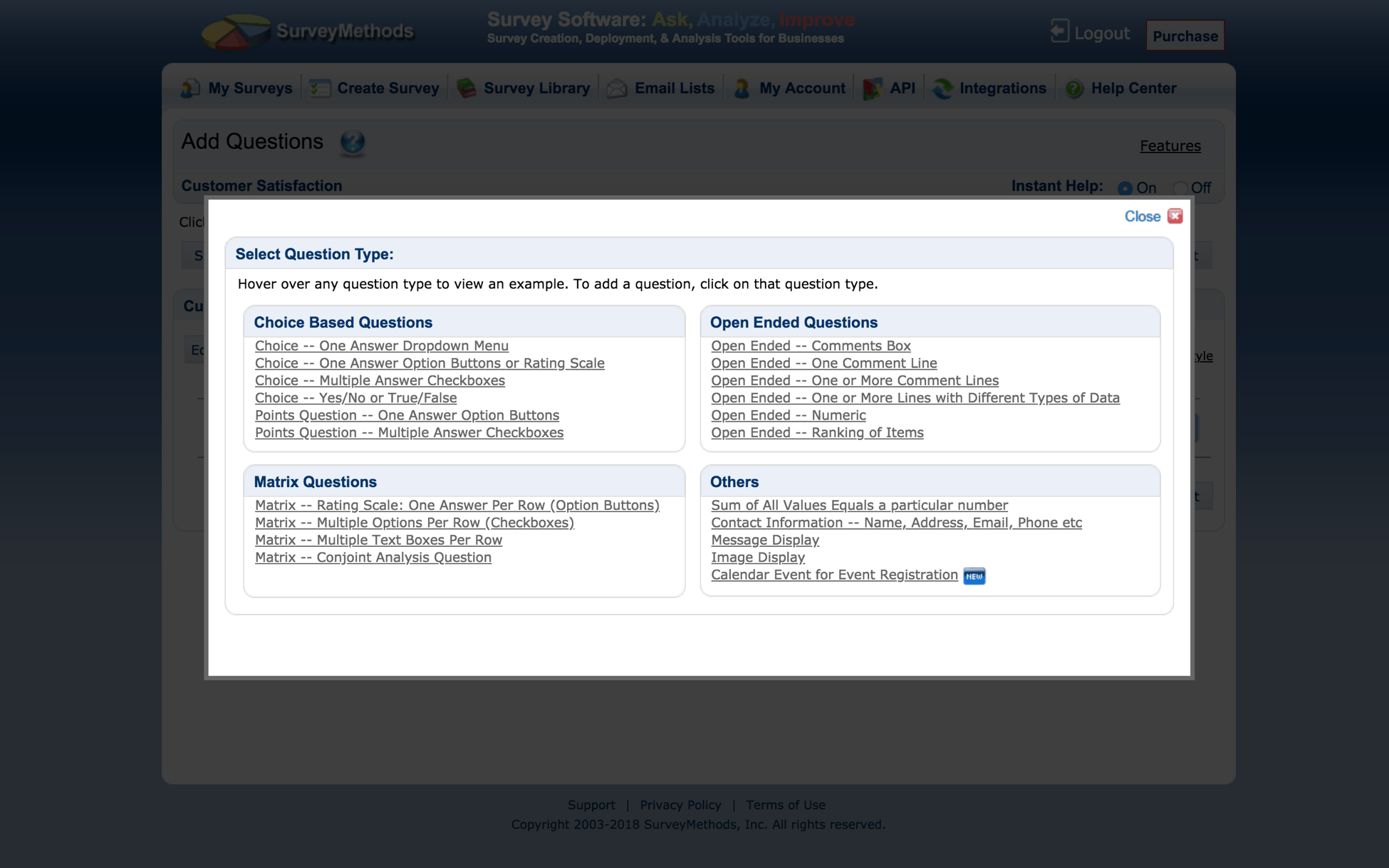 #8: Survs
You can receive up to 200 answers per survey (unlimited surveys) with a free Servs account. Other features include mobile optimization and 29 preset survey languages.
Survs are simple to edit. The platform also includes a lot of templates that are particularly helpful for business and market research, including customer satisfaction, concept testing, employee exit, event evaluation, and more. One downside that I quickly noticed is that they don't allow anyone on a free plan to upload files, which, depending on your objectives, could be a deal breaker.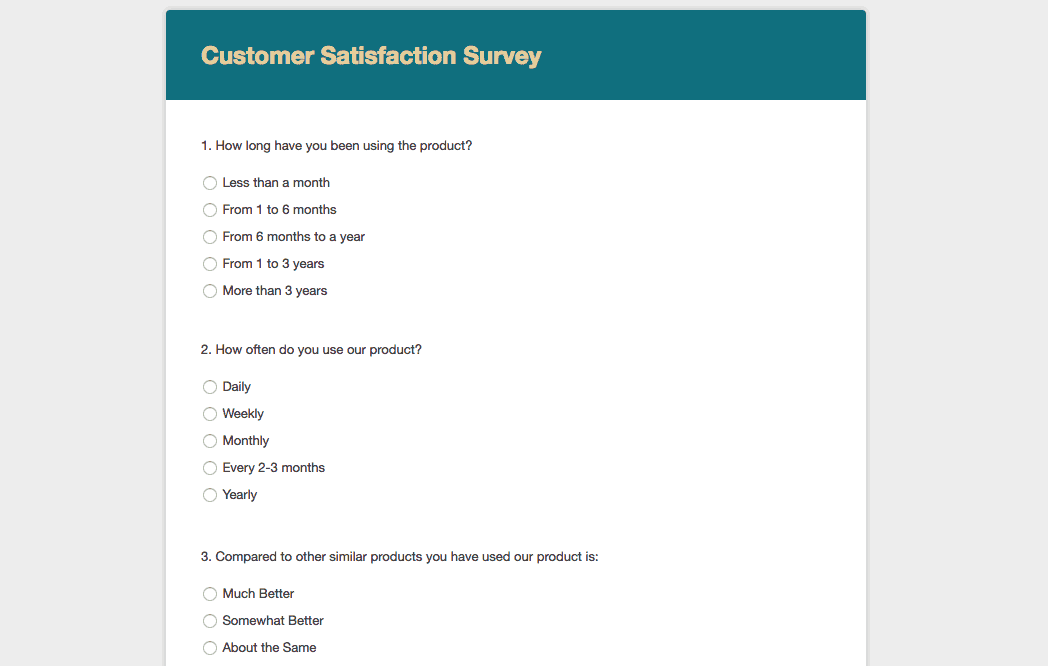 #9: QuestionPro
You can create a survey with QuestionPro in minutes. They offer premade surveys on specific topics that you can customize, such as website design. With the free version, you can create unlimited surveys with ten questions each, and receive up to 100 responses a month.
A big downside is that they, like Survs, also require you to have a paid account in order to upload media. However, if you don't have that as a requirement, this could still be a good option for you. There are plenty of question options that can ensure that you still create a fun and unique survey for your audience. While QuestionPro has its limitations, there is still a lot of opportunity to build a detailed survey with a basic free account.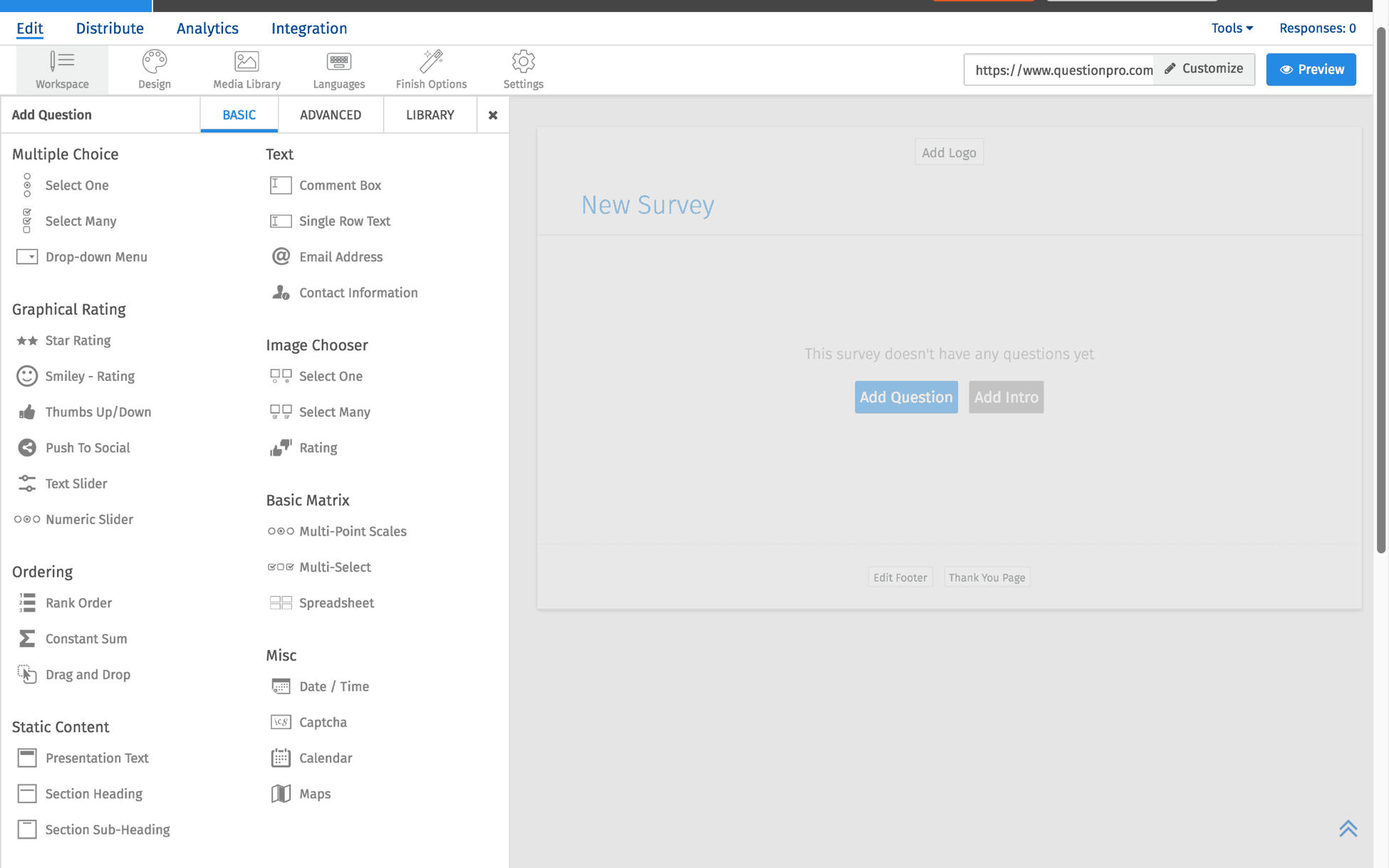 #10: SmartSurvey
SmartSurvey allows for up to 15 questions for free surveys, a pretty good number that is above most of the competition. They also have 50+ premade survey templates across 10 categories for "Business." You can preview a full template before you start to edit. However, you will not have access to advanced survey questions or custom branding unless you sign up for a paid account.
When you build your own survey, the "Add Question" screen is quite simple. If you upgrade your account, you also have the option to pick questions from a library, which can be a really helpful resource if you are new to designing surveys. However, the free version does offer you a sample for each question type, which is great direction if you are unsure how to get started.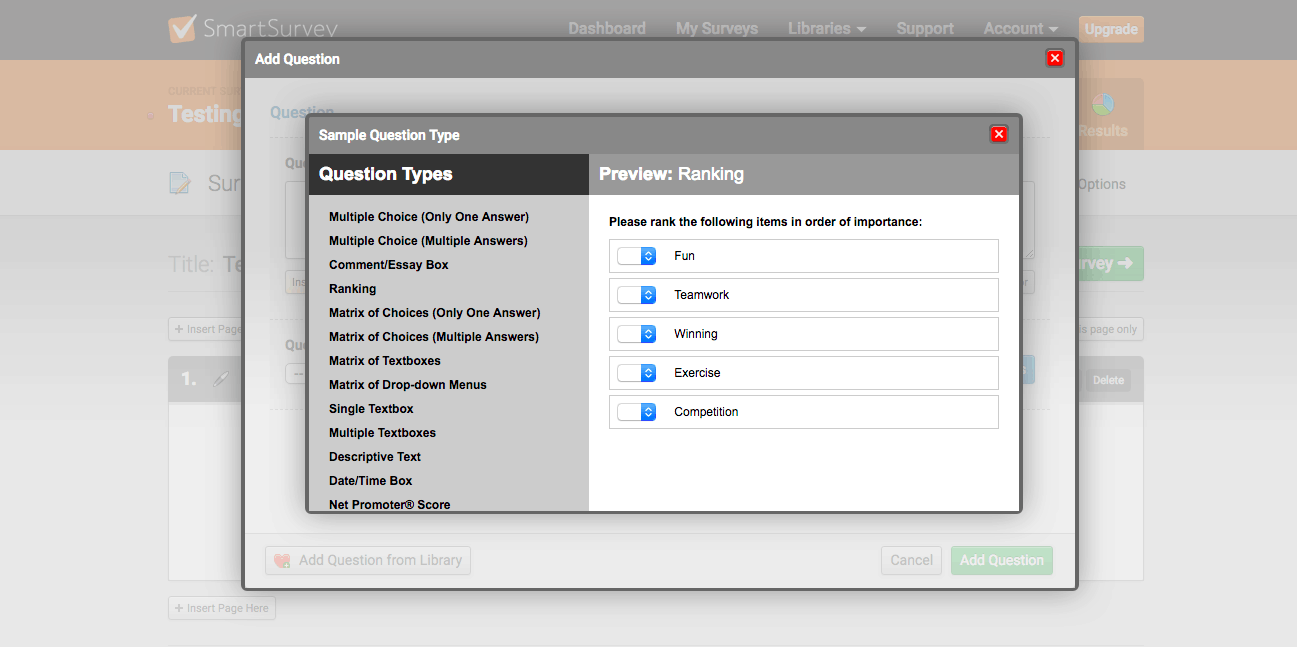 Which Tool Is Best for You?
As you can see, there are plenty of free online survey options to choose from. Before you decide on the right service for you, consider your goals and what sort of insight you are looking to get out of the survey. This will help you determine what sort of questions should be included and what design makes the most sense. There are options on this list that have more language services than others, others that are more visually focused, and ones that can help you create a survey for you in seconds if you are on a tight deadline. By having a strong and clear understanding of what you want your survey to accomplish, you can make sure you get the data you need every time.