the smarter tools will be gathering demographic information that you can use to improve your marketing and communication strategies, without asking users for it in the form itself.
But how do you get all this info without blowing your entire budget? This is where online survey tools – sorry,
free
online survey tools – come in handy. With so many different tools available, how do you know which one is right for your needs? Well, that's where we come in. We've tested all the top free tools to bring you this list of the very best. You can use any one of these to better understand the ideas, opinions, and feedback from the voices that are important to your organization. Let's take a look.
Our Top Survey Tool Picks for Businesses and Nonprofits
What We Look For in the Best Survey Tools
Flexible design capabilities: Your surveys should reflect the design and branding you want. These tools offer customization options so you can choose elements like color palette, fonts, and layout design.
Simple survey builders: Building a survey shouldn't be overly complicated. These platforms provide easy-to-navigate tools that help you incorporate intelligent questions, logic, and question branching.
Easy embed and share options: Get your survey in front of your audience. These tools give you a plethora of survey sharing options, from embedding them on your website to posting a custom URL on social media to emailing out your survey.
Templates and questions: Sometimes, we're not sure what to ask or how to ask it. These tools offer pre-designed survey templates and themes, and some even provide libraries of pre-written questions that correspond to your survey goals and purposes.
Google Forms – The Survey Tool with the Most Value
Google Forms is part of the G Suite platform. While this tool is
technically
a
form builder
, you can also use it to create surveys, polls, questionnaires, and quizzes. On
Google Forms
, you can build surveys with more than ten types of questions (from multiple choice to linear scale to file upload), embed images or YouTube videos, and see your survey results in real-time. You can also have responses automatically exported to Google Sheets, where you can analyze and evaluate them. However,
since Google Forms is a 100% free tool, it is also quite limited.
For instance, it doesn't offer very many templates or pre-written survey questions. Most businesses will probably be better off with a different tool that offers better features.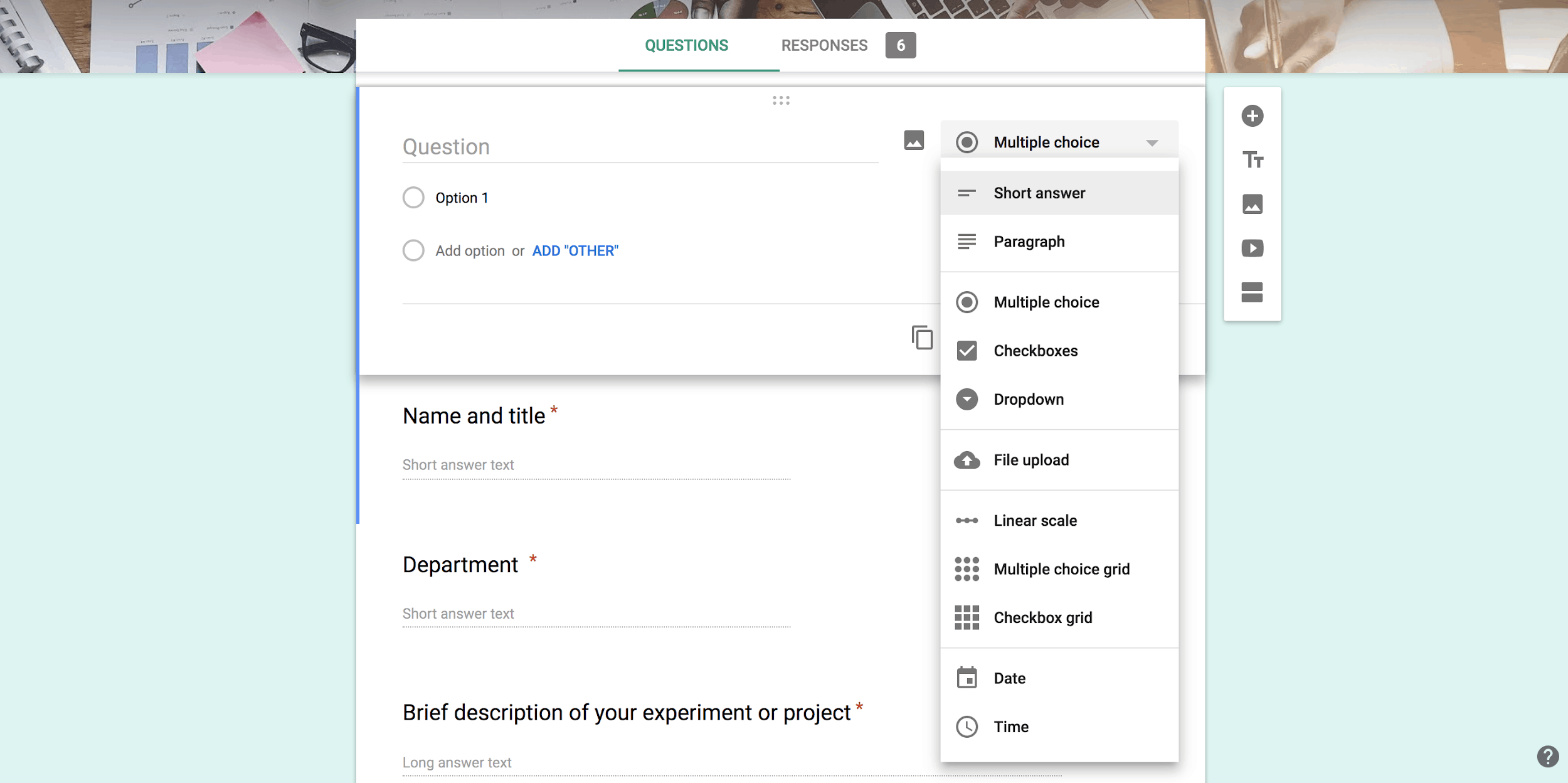 Features
Build unlimited surveys with unlimited questions and receive unlimited responses
Upload your logo, and Google will pick a matching color palette – or choose from a list of curated themes
Create surveys that can be easily answered on desktop and mobile devices
Share your surveys via email, with a survey link, through embedded HTML, or on social media – wherever your audience is
| | |
| --- | --- |
| Survey response limits | Unlimited |
| Data export | To Google Sheets or CSV file |
| Free support | Check out Google Drive Help and the Help Community |
| When to upgrade | Never! Google Forms is free, forever |
SurveyMonkey – Perfect for Survey Beginners
SurveyMonkey is one of the most popular free online survey tools. It's also very beginner-friendly. When building a new survey, you can start from scratch or have
SurveyMonkey
build it for you. If you choose the latter option,
SurveyMonkey pulls together suggested questions based on your survey audience and purpose.
You can also access the Question Bank, which is SurveyMonkey's database of hundreds of pre-written survey questions organized by question intent – including everything from fundraiser feedback to customer satisfaction. The Question Bank also recommends any of SurveyMonkey's dozens of pre-designed templates based on the questions you choose. SurveyMonkey's free Basic plan is pretty limited: you can only ask up to ten questions (out of 13 question types) and receive 100 responses per survey. Moreover, to customize your survey, add your branding, or export your survey results, you'll have to upgrade to the Standard plan. However, SurveyMonkey does offer
discounts for teams of three or more.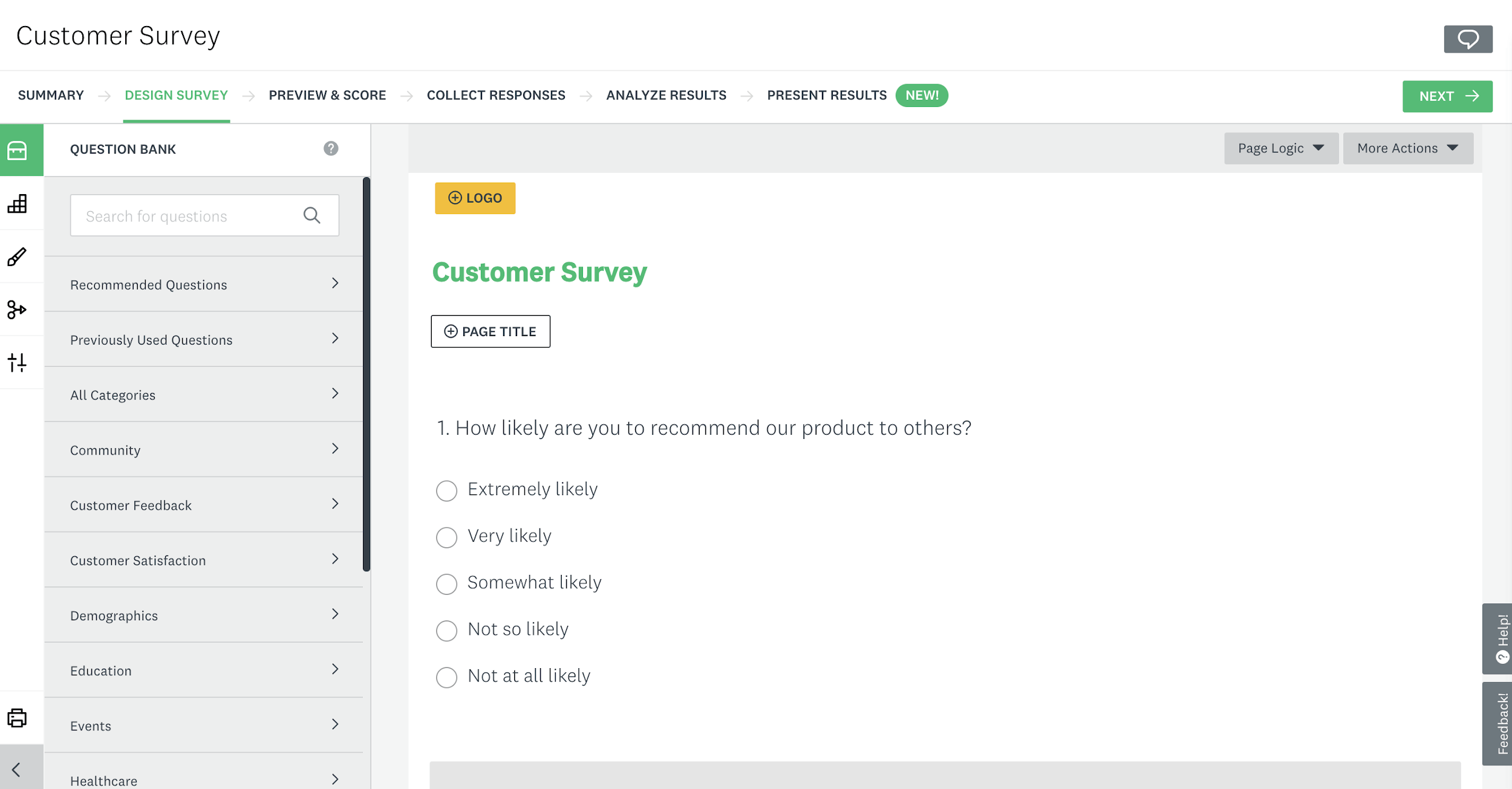 Pro Tip:
If you don't have a website for your nonprofit yet, Survey Monkey is a great choice since it has integrations with most of the
best website builders for nonprofits
. This can make implementing the surveys you create into your website easier than ever.
Features
Receive 24/7 email support, even with the free Basic plan
Upload your logo, customize your layout, or choose from SurveyMonkey's library of survey themes
Create your survey with 58 supported languages
Password-protect any survey you'd like to keep private
| | |
| --- | --- |
| Survey response limits | 100 per survey |
| Data export | Only with paid plans |
| Free support | Access 24/7 email support or the SurveyMonkey Help Center |
| When to upgrade | If you need more than ten questions and/or 100 responses per survey, want to completely customize your survey, or need to export your survey results |
Typeform – The Prettiest Survey Platform
With a motto that says "Asking questions should be easy, human, and beautiful," Typeform leads this bunch with the most intuitive, design-centric survey builder on this list. On 
Typeform
, surveys are called, well, typeforms. The free Basic plan allows up to 100 responses per month and ten questions per typeform – not much compared to some of the other options in this article. You can create typeforms with a handful of basic question types, embed your surveys on your website, and integrate Typeform with dozens of other tools you may use (like Google Sheets or
Mailchimp
).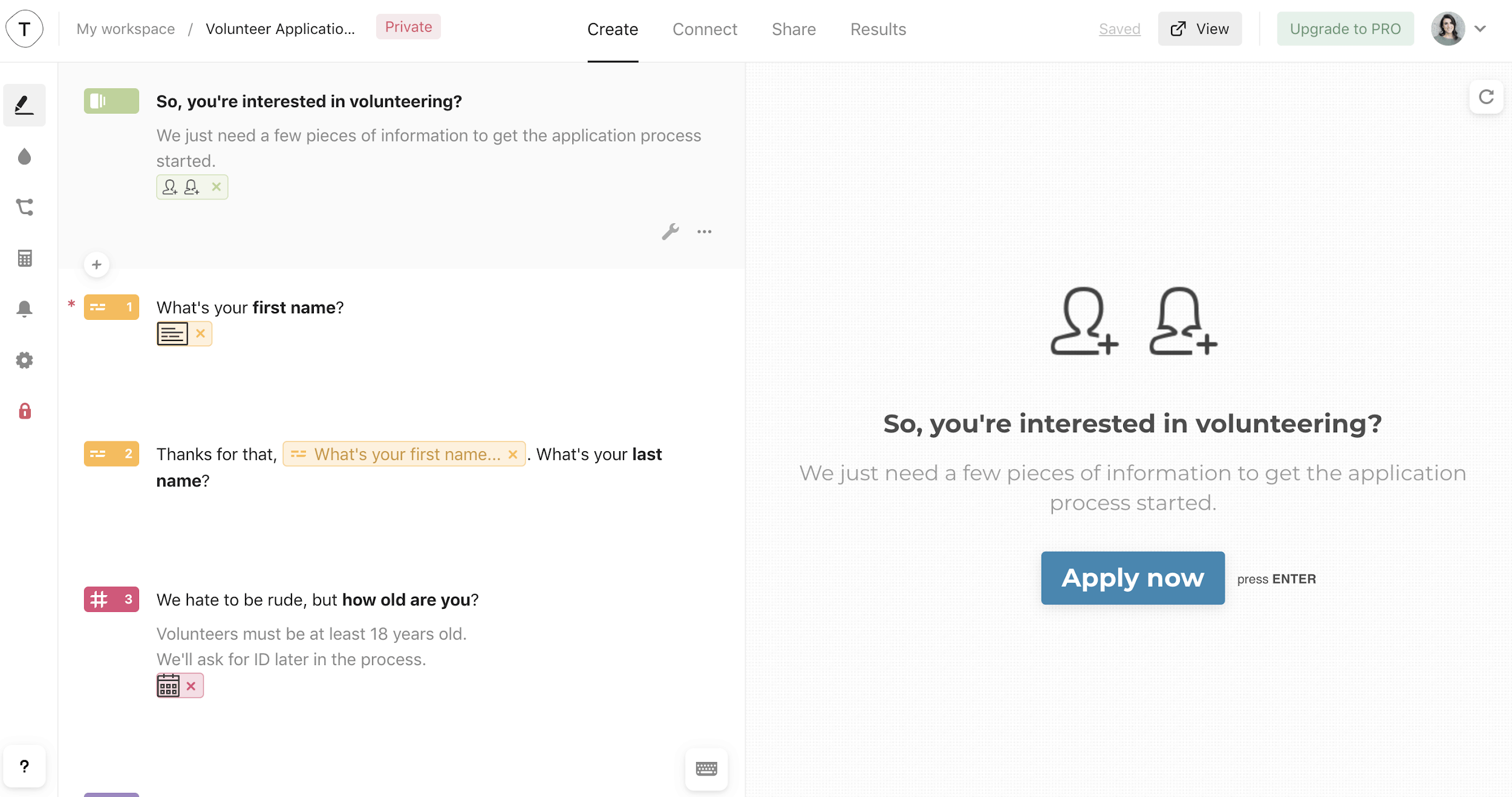 When you create a new typeform, you can either start from scratch or choose from Typeform's gallery of templates, which are organized by format (such as survey, poll, or quiz). The designs are great, but you really have to work for them. Compared to some of the other options on this list – especially Google Forms or SurveyMonkey – Typeform's survey builder can be quite difficult to use. Adding and designing new questions can feel like a pretty in-depth process.
Features
Receive an email when a respondent completes your survey
Create custom themes to apply to all questions and surveys
Apply your typeform answers to other questions with the Recall feature
Integrate your typeform data with more than 500 Zapier applications (and HubSpot)
| | |
| --- | --- |
| Survey response limits | 100 per month |
| Data export | To Google Sheets or a Zapier application |
| Free support | Use the Typeform Help Center or reach out with questions |
| When to upgrade | If you need more than ten questions per survey or 100 responses per month, to incorporate question logic jumps, or create a custom Thank You screen |
SurveyPlanet – For the High-Volume Surveys
SurveyPlanet is a simple, straightforward survey builder. It's a highly-regarded tool due to the extensive list of features you can access – even with just its Free plan.
With SurveyPlanet, you can build unlimited surveys that have unlimited questions and gather unlimited responses.
You can also add opening and closing messages to better engage your survey recipients. You'll also get access to more than 90 pre-created surveys
and
a library of pre-written questions that you can easily add to in.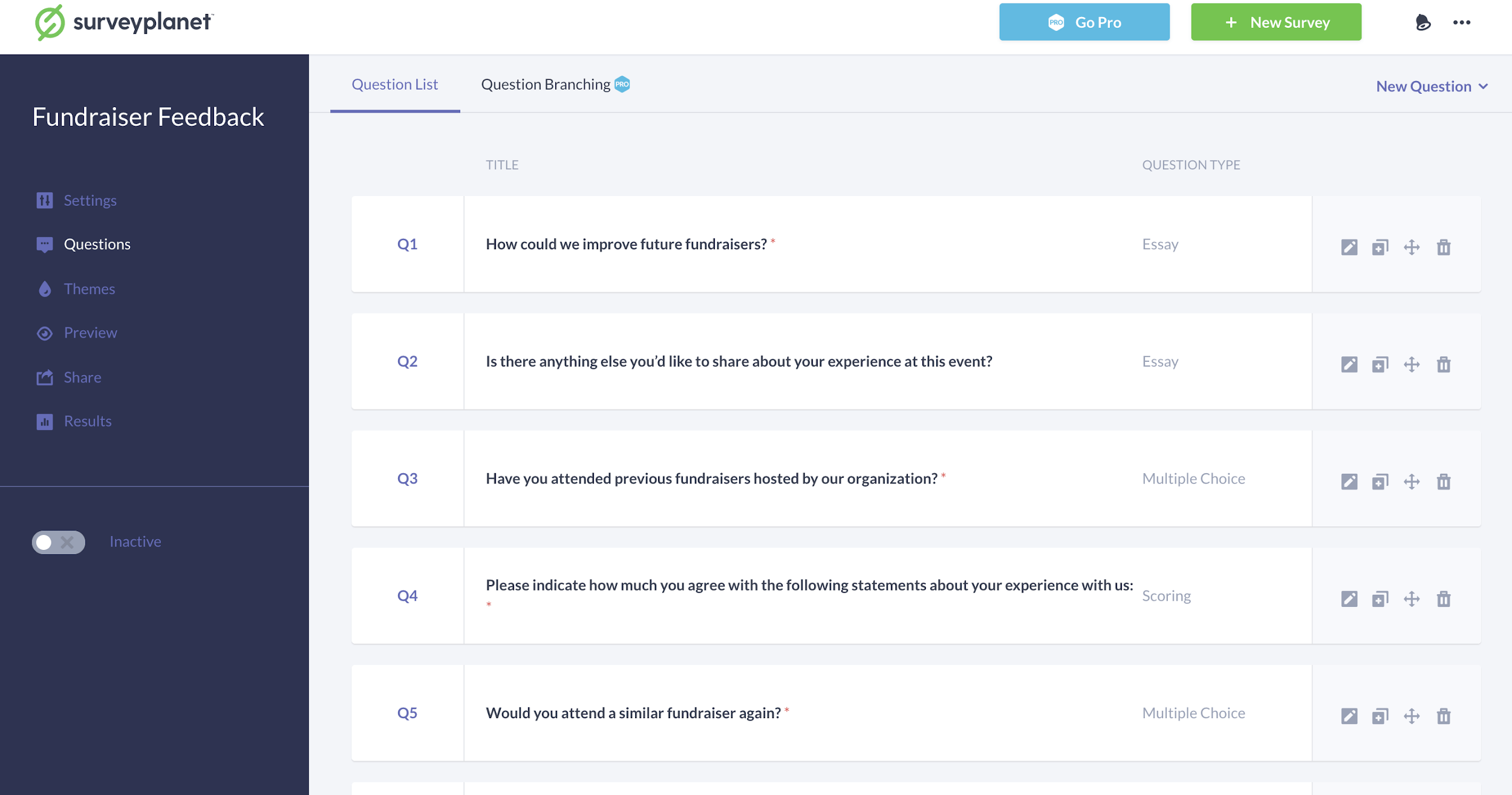 SurveyPlanet's survey builder is super easy to navigate but it does have some drawbacks. For starters, the surveys aren't as easy to create as they are on Google Forms and they aren't as pretty to look at as the ones on Typeform. But this tool does the trick – and you get to survey as many people as you want.
Features
Create surveys in more than 20 languages
Share surveys via email or on social media – wherever your audience is
Embed your surveys on your website or landing pages
Access an extensive library of pre-written questions that are organized by survey type
| | |
| --- | --- |
| Survey response limits | Unlimited |
| Data export | Only with the Pro plan |
| Free support | Use the SurveyPlanet Documentation Base or send an email |
| When to upgrade | If you'd like to export your survey results, add custom formatting to your survey, or incorporate question branching |
Crowdsignal – Best for Simple Polls and Surveys
Crowdsignal is an excellent tool for simple, straightforward surveys and polls.
Crowdsignal
was created by the people at
WordPress
, so you have to have a WordPress account to login and use it.
Crowdsignal's drag-and-drop survey builder is incredibly intuitive and easy to navigate
. You can add and personalize over a dozen types of questions while also integrating question branching to create a more engaging survey experience. Additionally, you have the option to modify the survey style, adjust survey settings such as changing the URL, and view your sharing options, all from the same screen. The survey builder houses the survey results, allowing you to access them at your convenience (note that exporting may require an upgrade).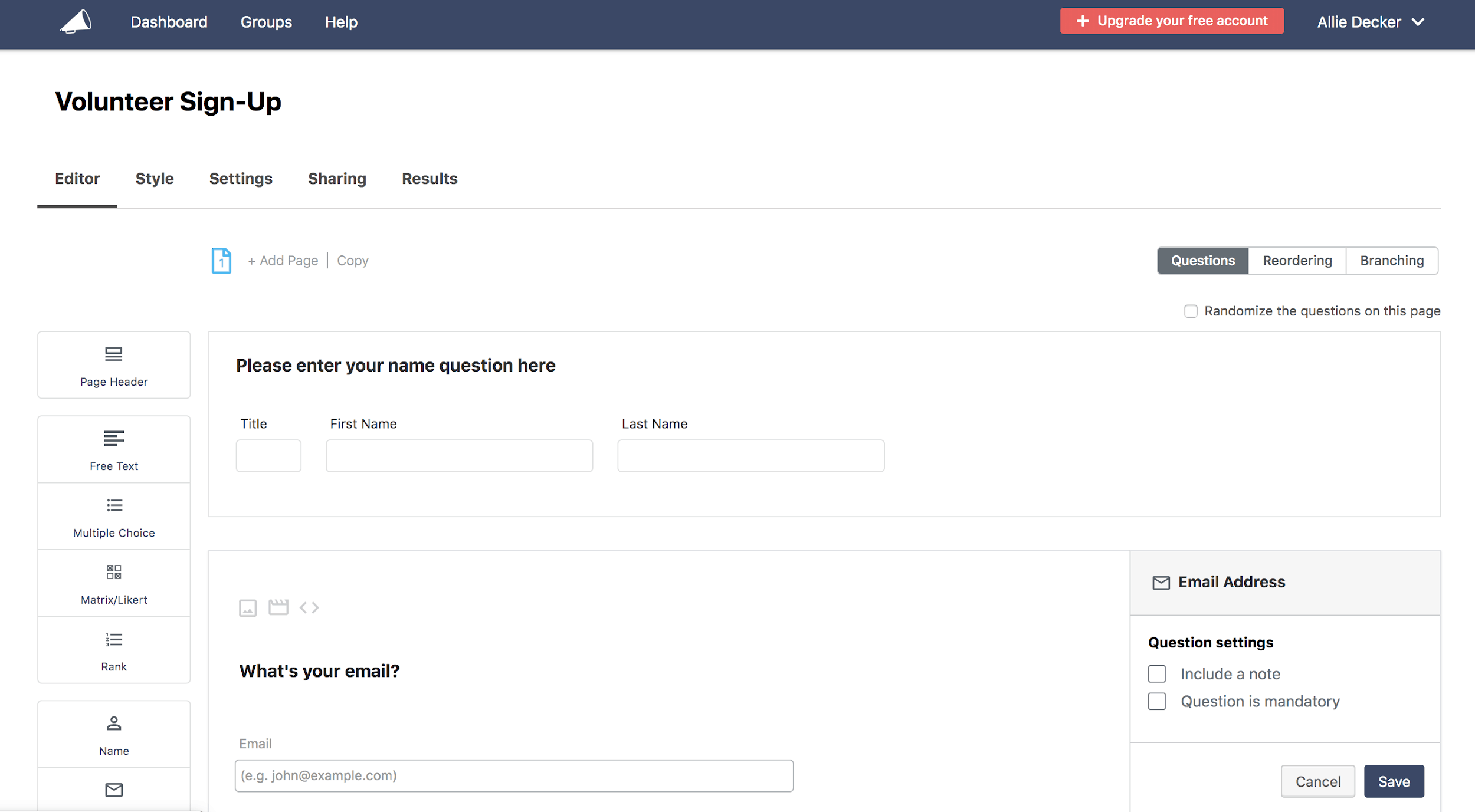 Where Crowdsignal really pulls ahead is with its no-nonsense polls and ratings. If you're looking to give your audience a one-question survey or use a simple rating scale to get feedback on a blog post or video, Crowdsignal is for you. The tool provides
lots of ways to customize both ratings and polls
so you can gather the most accurate feedback from your audience.
Features
Run unlimited polls and surveys with the Free plan
Access a separate Crowdsignal iOS app to survey your customers or donors on-the-go
Share your survey using eight different digital methods (including popup slider, banner, and QR code)
Customize your survey settings by changing the URL, adding a progress bar, or changing the language on embedded surveys
| | |
| --- | --- |
| Survey response limits | Unlimited |
| Data export | Only with the Pro plan |
| Free support | Access the Crowdsignal Knowledge Base and online support |
| When to upgrade | If you want advanced reporting, to export responses and reports, or customize the design of your surveys (using CSS) |
And the Survey Says…
There are a lot of online survey tools to choose from, and they all have their strengths and weaknesses. Wondering which is best for your business or nonprofit organization? Well, that depends on your needs.
If you need to survey a large audience, either Google Forms or SurveyPlanet will work.
If you want your survey tool to create the survey for you (and provide 24/7 support while doing so), choose SurveyMonkey.
If your priority is gorgeous, engaging surveys that reflect your company's branding, go with Typeform.
And, if you're interested in simple, one-question polls or ratings, Crowdsignal would be the best choice.
Here's a comparison table to help you decide.
| | | | |
| --- | --- | --- | --- |
| Online survey tool | Best for… | Not so great for… | Survey limits |
| Google Forms |  Collaborating on surveys and exporting the results | Templates and pre-written questions | Unlimited |
| SurveyMonkey |  Getting started, with access to hundreds of pre-written questions | Exporting survey results | Ten questions and 100 responses per survey |
| Typeform |  Creating gorgeous, intuitive surveys | High-volume survey responses | 100 responses per month |
| SurveyPlanet |  High-volume survey responses | Needing an intuitive survey builder | Unlimited |
| Crowdsignal |  One-question polls or ratings | Customizing your surveys | Unlimited |
Because all of these tools are free (or offer free trials), it's easy to test them out. We'd recommend choosing a simple set of questions and walking through the steps of how to create a survey on each platform. This will help you see how you can navigate each survey tool and which one
best serves your team and organization – and your audience
.