As a real estate agent, you help people find the perfect home, and making the right impression is vital. In today's digital age, many home buyers turn to the web to find their next home. The more information they can find on home listings online, the more likely they'll contact you for a showing.
That's why it's essential to build a quality real estate website that can adequately showcase your listings and help generate leads. Fortunately, several website-building platforms allow you to set up your real estate website for free, and they offer affordable hosting should you decide to upgrade.
Wix
Wix offers multiple mobile-optimized templates that are perfect for real estate businesses and related businesses such as construction companies, architect companies, and even interior design companies. What I like about the real estate templates is that you can set up your website with everything you need to show listings, have potential customers contact you about listings, and even book appointments for showings.
Two of the best template options in Wix are the Real Estate Company template and the Property Group template. The Real Estate Company template is set up to show specific properties and all the forms needed to have customers contact you about listings or to schedule showings. The Property Group template is similar, but it's geared toward rental properties.
Wix allows you to set up a wide array of features via its App Center, including the ability to add video to give your customers a virtual walk-through of properties.
The free plan can get your website online, but your options are going to be limited. If you want to host your own domain, you have to upgrade to the Connect Domain plan. For features such as property videos, you have to use the Combo plan. The Unlimited plan is probably going to be your best option, as you can put up an hour of video and have 10 GB of storage, which will allow you to post plenty of HD-quality photos of your properties.
WordPress
WordPress offers numerous free templates that you can modify for real estate. For my tastes, I'd choose the Gateway template, as it's ideally set up to introduce your business and to feature listings. Since the template is set up similar to a blog, you can dedicate an entire section exclusively for listings. You can add photos, videos, and even a direct contact form on each listing.
The Radcliffe 2 template from WordPress is the perfect beginner's template and can be easily modified for a real estate website. It has a simple tab setup that you can use to introduce your business, the services you provide, and even provide links to social media. If you wish, you can add a section for your home listings.
The best part about WordPress is that it offers 3GB of storage for the free plans, provided you don't mind using a subdomain. If you want a personalized domain, you will have to upgrade to the Personal plan. However, I recommend upgrading to Premium because you then get the ability to customize your templates. You'll also get access to Premium templates, which will enable you to use templates that are specifically targeted to real estate websites.
Weebly
Weebly doesn't offer templates optimized explicitly for real estate, but you can modify several existing templates to fit your business perfectly. One template that has the greatest potential is actually a photo portfolio template.
The Darin Smalls – Birdseye 2 template is perfect for Weebly users wanting to show their listings. On the main webpage, you can give an introduction to your business. The My Adventures section can be reconfigured for your home listings. You can provide a quick rundown of each property and then show a portfolio of images for each listing. The My Story can be reconfigured for contact information for your business or redesigned to become a bookings page.
Regardless of which template you choose, you can customize it using apps from the Weebly App Center. Add videos and HD images to your site, contact forms, booking forms, live chat, and more.
The free plan can get you online, but you're stuck using a Weebly subdomain with 500MB of storage. Upgrading to the Starter package gets you a free domain name, $100 in Google Ads credits, and unlimited storage.
Site123
Site123 has a selection of templates appropriate for real estate businesses, but none specifically targeted to individual home sales. Most of the templates are geared for rental properties, but they are still more than adequate for other forms of real estate.
My favorite real estate template offered by Site123 is the Premium Lodges template. While geared toward rentals, it can easily be modified for home sales. There are several sections that define features that can be easily modified to show individual listings. There are also sections for services offered, a section to describe your business, and even a contact webpage. Google Maps is also integrated into the template to help your customers find your office faster.
If you're involved with rentals, you can use the Premium Lodges template or the Luxury Apartments template. This one is set up similarly to the Premium Lodges template but with a layout more suitable for apartment sales.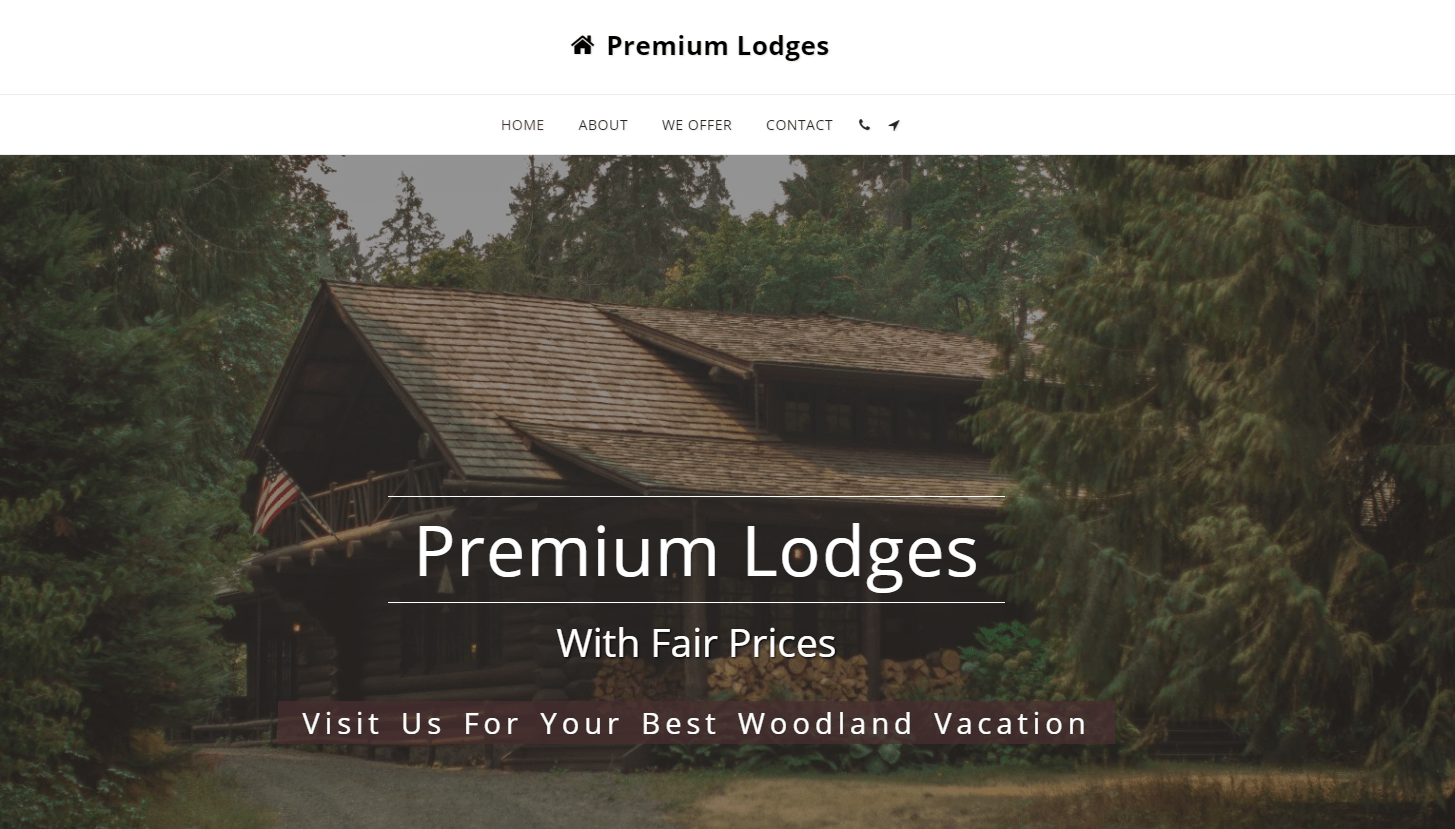 There is a whole section of customizable templates in the real estate section of the website. Also, you can use the Site123 App Market to add other features such as social media sharing, customer videos, testimonial webpages, and even live chat support where you can have customers contact you online about listings.
The free plan gets you only about 500MB of storage along with a subdomain. Upgrading to Premium will get you 10GB of storage and a free domain for a year.
Jimdo
Jimdo can be used to build your real estate website, but it doesn't offer any pre-configured real estate templates. That doesn't mean you're without options. Several templates can still work for your business, provided that you're willing to be a bit creative.
If you're looking for a primary contact webpage for your real estate business, the Dubai template is an excellent choice with options for contacting your company, listing your services, and even links to social media pages.
For Jimdo has a beautiful layout that will allow you to display properties directly from your homepage. It also includes sections about your company and a contact section.
You can also opt to start with a blank template and build your website from the ground up, designing it as you see fit. You can add photos and videos to your website to show off individual properties. Also, Jimdo allows you to customize your template's HTML and CSS to add your own elements.
Note that the free account gives you an ad-driven subdomain. Upgrading to Pro will provide you with 5GB of storage, a free domain, and the ability to fully optimize your website for all mobile devices. There are more expensive options, but Pro should be adequate for most real estate businesses.
Picking the Right Real Estate Template Will Help You Sell More Homes
You already know that making the right first impression is vital in selling a home, and picking the right real estate website template is the first step in generating more leads for your listings. The best templates will help you showcase your listings and allow customers to contact you for more information or schedule a walk-through. By choosing a top website builder and the right real estate template, you will generate more sales and help your customers find the home of their dreams.