Not all website builders were designed with creative professionals in mind.
Some website builders claim to be the perfect solution for photographers, but in reality, they have poorly designed templates, ugly portfolio pages, or ineffective marketing features. That's not going to work if you want to win new clients. The good news?
 I've extensively researched and tested the major website builders, looking for features designed specifically for photographers, and compiled my findings here
. These builders can help you manage a high volume of images, attract new clients, and even sell your photos online.
Short on time? These are the best website builders for photographers in 2023:
Wix – extensive gallery templates and e-commerce features to enhance your photos and promote your business
SITE123 – designed to get you up and selling, fast
Squarespace – professionally designed, image-forward templates
What We Look For in the Best Website Builders for Photographers
Most website builders are designed for a variety of purposes and industries, so I narrowed down our criteria to a handful of features that are essential to a good photography website. Here's what I looked for:
Photography templates: Your website needs to put your work front and center, so I found builders offering templates that present your photos in the best possible light.
Image editing options: Some of these builders have their own built-in image editing tools, so if you need to make any minor changes before publishing them online, you can do it right in the editor.
Online store features: All the builders on my list have e-commerce capabilities, so you'll be able to sell prints and digital downloads.
Plenty of gallery options: These builders come with lots of options for gallery and album layouts to set your site apart, and in some cases, you can upload images in bulk. Some even give you the ability to create password-protected client galleries, giving clients easy, secure access to their images.
Marketing features: Many of these builders have marketing tools to help you attract new clients. You'll find marketing integrations for social media and email marketing, as well as SEO features to boost your Google ranking.
Wix has the biggest selection of photography website templates
. It's so big, in fact, that they're divided into three categories: Events & Portraits, Commercial & Editorial, and Travel & Documentary. The Wix editor is easy to use and you can customize just about everything: you can position any button, image, or text block wherever you'd like on a page (as opposed to other builders' editors where the images snap to a grid). The templates in the photography category come with the Wix Pro Gallery app pre-installed, and you'll have access to additional gallery layouts and animation features.
You can manage your images from the Wix mobile app, and visitors can "heart" the photos they love.
 You can also set up password-protected albums so clients can view their photos privately.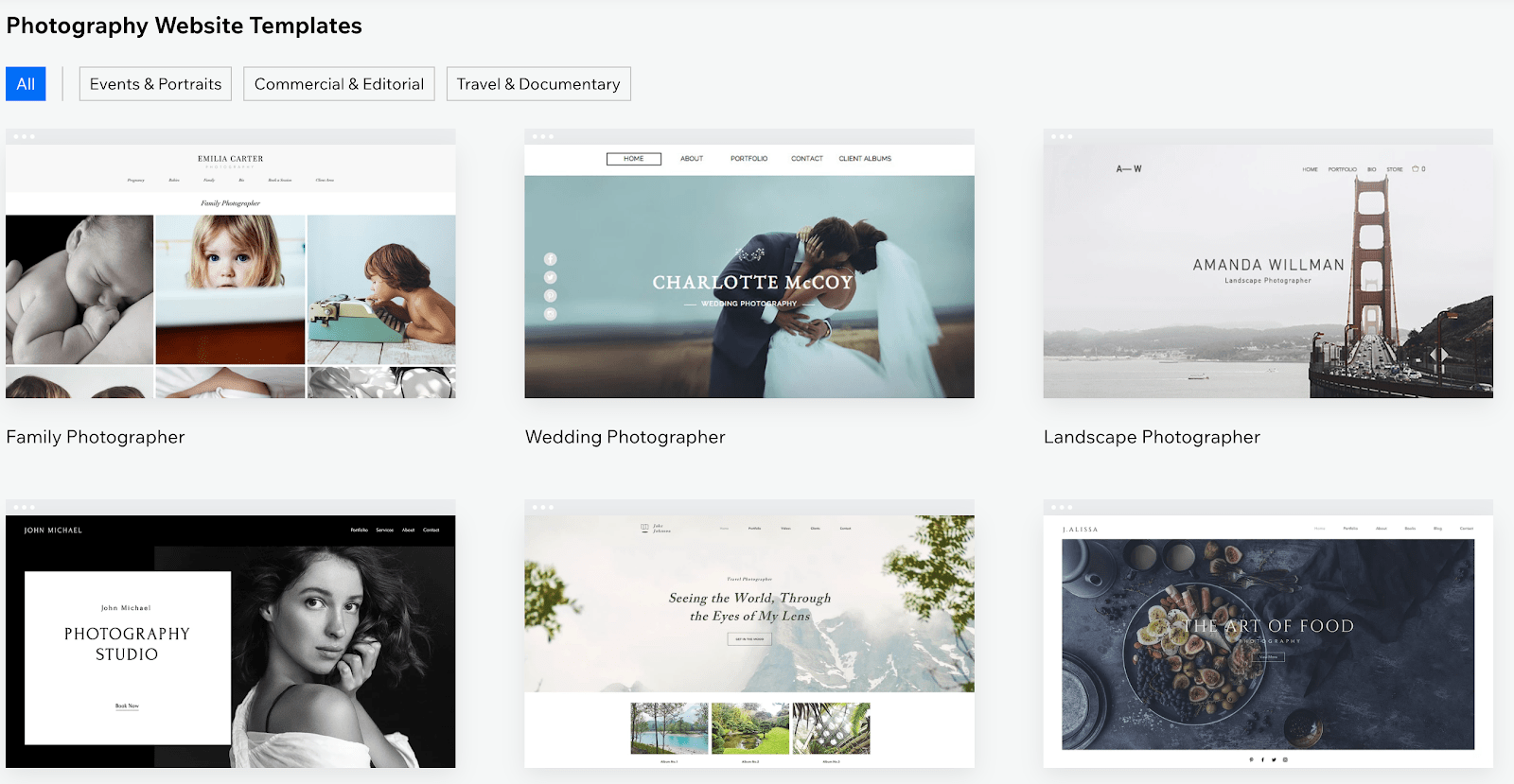 With the Wix Art Store app, visitors can go a step further and purchase the images they love directly from the gallery. It's like a simplified version of Wix's powerful e-commerce features that's made especially for artists. But if you want the scoop on everything that a Wix store can do,
read more about Wix's e-commerce capabilities in our expert review
. You'll only be able to sell photo licenses (including custom ones) and digital downloads with Wix Art Store. If you want to sell prints or printed merchandise, like mugs or tote bags, you can use the Printful app, which is easy to use but requires the full-featured Wix Stores app too.
some basic image editing tools
 for quality and sharpening, but these are minimal compared to Squarespace's options. If you're using Wix Art Store, though, you can edit images to display a watermark. Most of these features are available on
Wix's free plan
, but
you'll want to upgrade to access additional storage as your image galleries grow.
On a paid plan, you can also access analytics and accept online payments through your site.
Photography templates
~50
Storage space on cheapest paid plan
3GB
E-commerce options
Digital, print (fulfilled through third-party), and more
Starting price

$

16.00
In terms of features, SITE123 isn't as impressive as some of the other website builders on this list, but it's a simple and cost-effective option that still gives a lot of flexibility to photographers.
There's a good selection of both photography templates and gallery layouts
, although they are a bit more basic than what you'll find on Squarespace or Wix.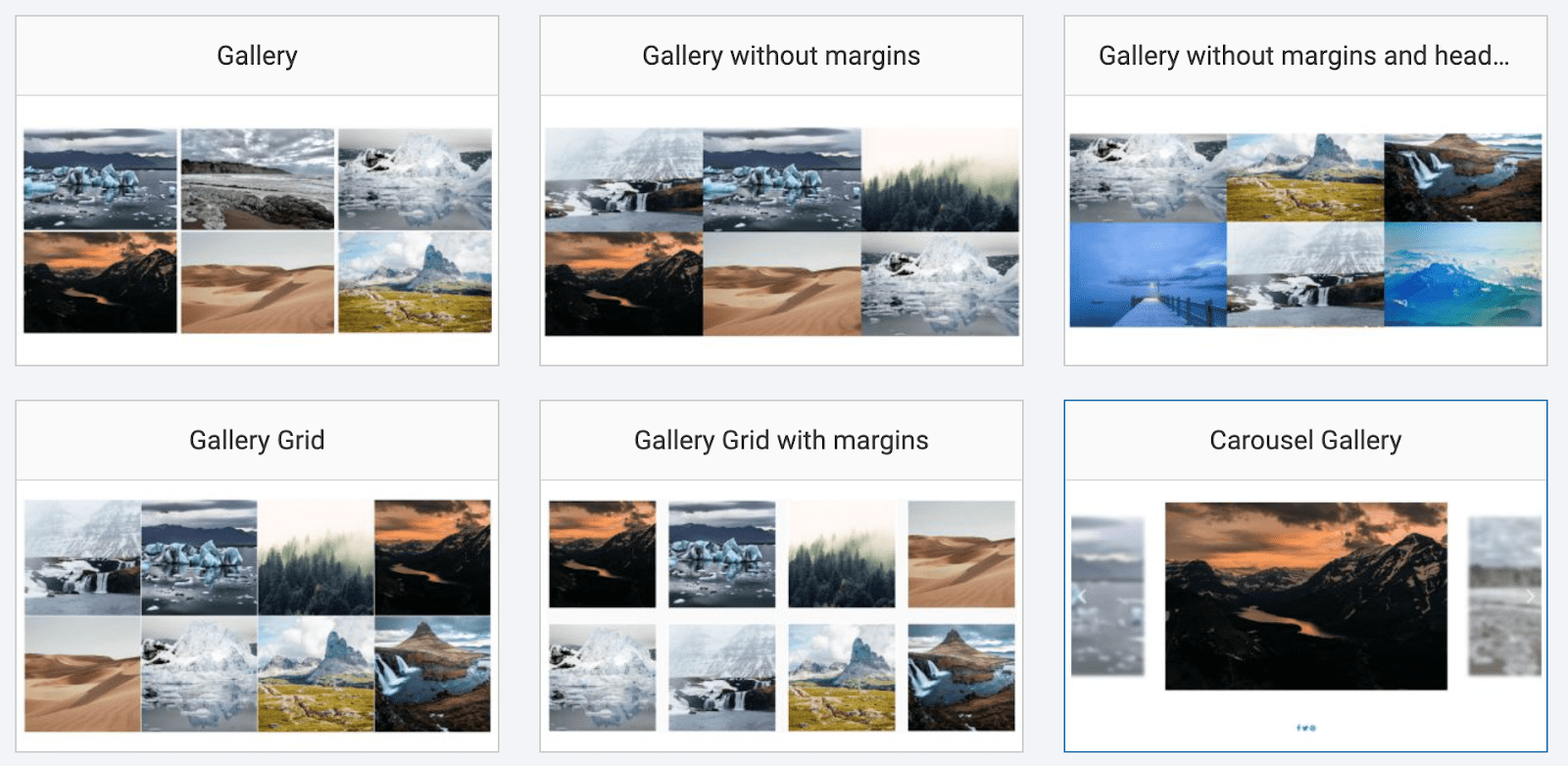 You can sell both digital and print products with a SITE123 store, but you'll have to add any watermarks on your own. You'll also be responsible for fulfilling your own print orders. There are some built-in email marketing features, like newsletter setup and email templates, so you can keep prospects and past clients up to date on your latest work.
For SITE123's full set of features, check out our expert review
.
SITE123 is one of the more affordable builders on this list
, and the paid plan gives you access to all the e-commerce features and a lot more storage and bandwidth. It's not unlimited, but it should be sufficient for most photographers' needs.
Photography templates
12
Storage space on cheapest paid plan
10GB
E-commerce options
Digital and print (self-fulfilled)
Starting price

$

12.80
Squarespace is often praised for its striking templates, and its
photography template category
 is no exception.
These templates come with the space to present your photos in their best light
, and you could even choose a template that's not specifically designated for photography but still has an image-focused layout. The block editor lets you choose from a series of page layouts and gives you some freedom to customize the look of your site.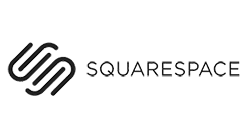 Save up to 30 % on your Squarespace plan today!
Plus get a free domain for one year!
1031 users used this coupon!
Now, if you have your own special layout in mind,
Wix may be a better bet
 than Squarespace, because it gives you more creative freedom. On Squarespace, the page elements (buttons, headers, etc.) snap to a grid, so you don't have complete freedom to place them anywhere you'd like – but there's an upside to this limitation. Squarespace's layouts are well-thought-out, and when you work according to the grid, everything stays neat and aligned, without distracting visitors from the real stars of the show – your photos.
Squarespace has a series of eight different gallery layouts
 to display your photos, and you can also find layouts for appointment scheduling, contact forms, customer reviews, and more.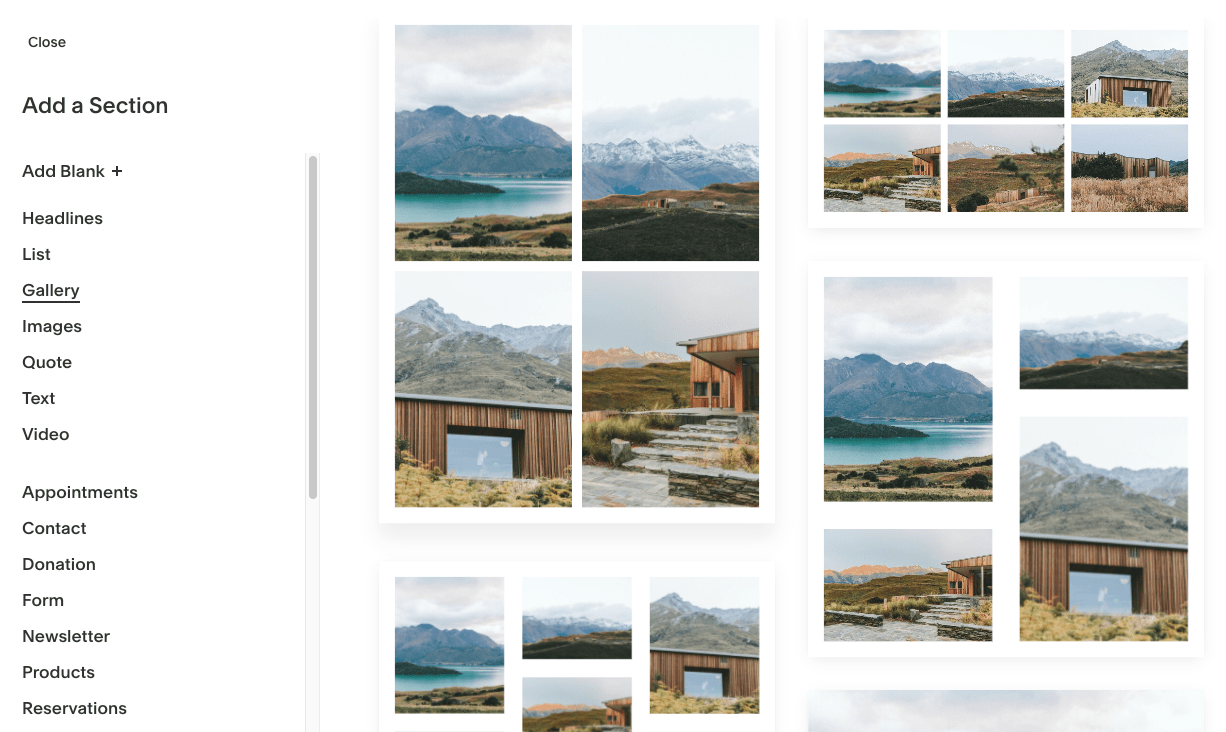 When it comes to editing your photos after uploading them,
Squarespace also boasts the most image editing options
, allowing you to make a range of adjustments (e.g., brightness, contrast, saturation, sharpness, shadows) so your photos look their best. You can sell a variety of products on Squarespace, including prints, digital downloads, your photography services, and even gift cards. You can keep track of all sales from your dashboard.
Read our expert review to learn more about Squarespace's e-commerce capabilities
.
When it comes to marketing your products and services, you can keep everything in one place, too
: Squarespace integrates social media, email marketing, and SEO, and you can manage it all from your account. Unfortunately, there isn't a paid plan, but Squarespace does offer a
14-day free trial
.
Photography templates
12+
Storage space on cheapest paid plan
Unlimited
E-commerce options
Print, digital, and more
Starting price

$

16.00
Zyro may not be specifically made for photographers as such, but it *is* a quick and easy way to put a site together. It offers highly customizable layouts, simple galleries, an online store, and a blog if you want one.
Zyro's templates are relatively small in number, but they're all high-quality.
Plus, you don't have to stick to the "photography" category, as they're all quite customizable. Just pick the closest match for the aesthetic you're going for, and you'll be good to go.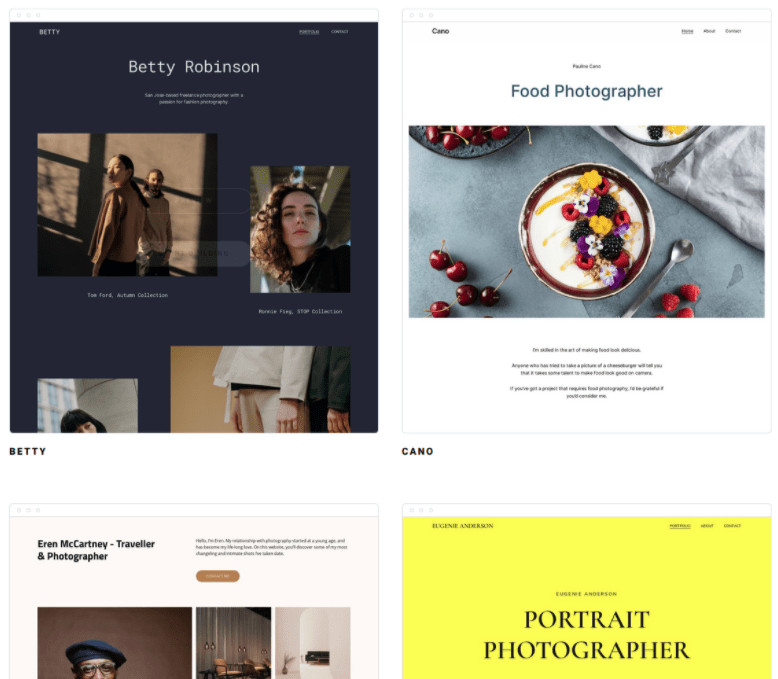 The site editor is a truly drag-and-drop affair that lets you arrange your images in any order and stack them any way you like. Oddly, the actual "image gallery" element is somewhat light on features, though it does let you choose between a grid or masonry layout.
You'll also need to make sure all your image editing is done
before
you upload your photos, unless all you need to do is crop things. Zyro can handle cropping just fine.
When it comes time to sell your wares,
Zyro's e-commerce features allow you to sell both digital and physical goods,
though you'll need to do the printing and shipping yourself. You can also sell via Facebook and Instagram, increase your reach with Zyro's integrated marketing tools, and help people find your site with the SEO toolkit.
Also, if you fancy yourself a much better photographer than you are a writer, you can try out Zyro's AI writer. That's right, Zyro's got a machine-learning-based tool that
will write all of your content for you
– you just have to answer a few basic questions about your site.
Simply put, if you want to build an online photography business without spending a thousand hours on your website, Zyro might be for you.
For the full picture, check out our expert Zyro review.
Photography templates
~10
Storage space on cheapest paid plan
1GB
E-commerce options

Digital and print (self-fulfilled)

Starting price

$

2.61
Pixpa is a website builder designed for photographers and creators, so it has a ton of fancy features to help build your website. The
selection of over 30 templates
 offers options for a variety of professional photography niches, and the gallery layouts are beautifully designed.
Your galleries can be open to any website visitor or privately shared with specific clients.
 The clients can then share their images to social media or order prints and downloads.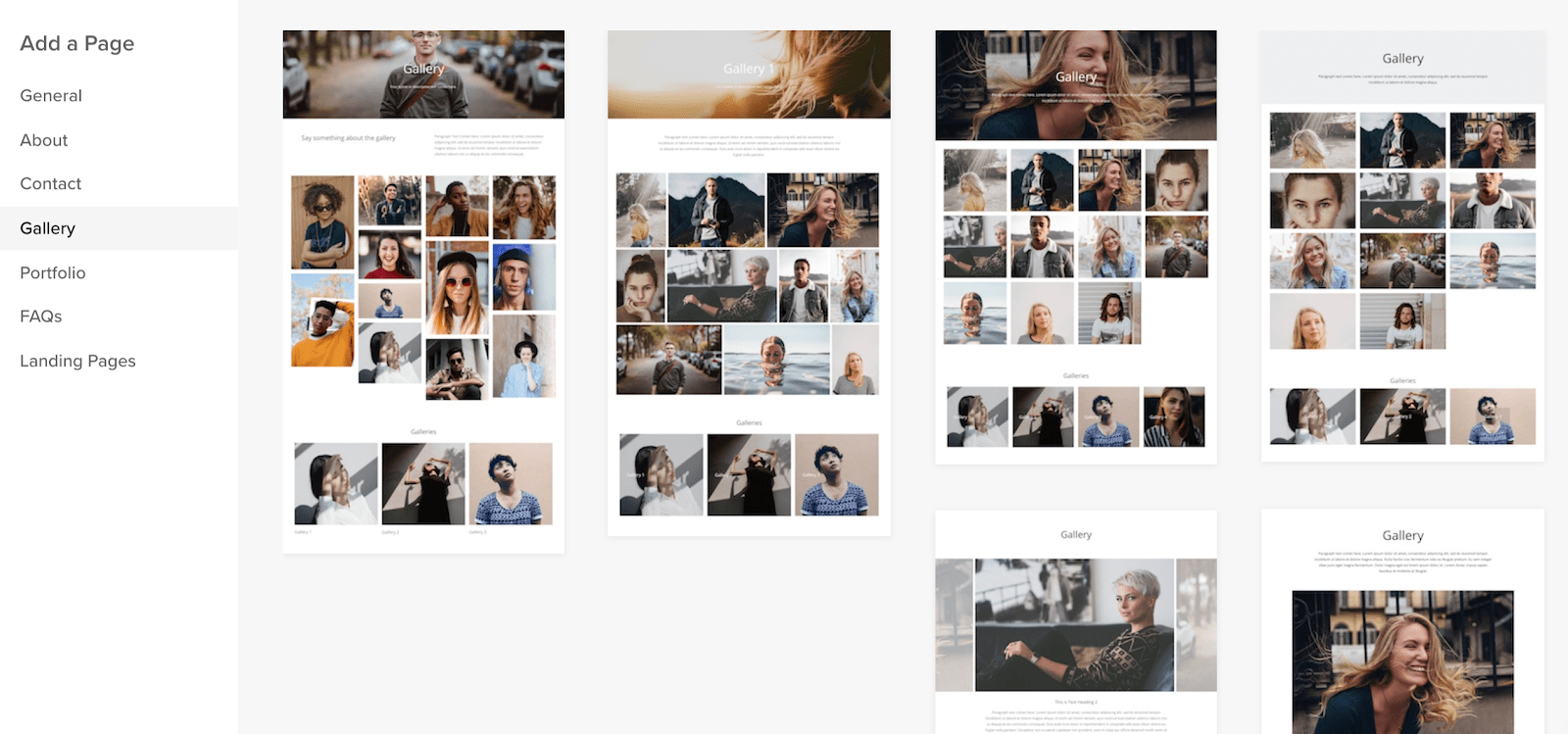 You can also set up e-commerce galleries and sell your work on your website.
Pixpa has a partnership with a company called White House Custom Colour that enables you to fulfill print orders
(although this is optional – you can fulfill your orders however you like). To prevent unauthorized use of your work, you can add custom watermarks to your images and set permissions for downloads as you see fit. Pixpa possesses a few minor drawbacks. For instance, you cannot edit images directly within the platform, which may require you to invest some time in editing and subsequently reuploading photos. Additionally, it's important to note that your image captions function as alt text, which web crawlers use, so whatever you include in the caption will contribute to SEO. Pixpa's marketing features include some email marketing tools, like
auto-generated abandoned cart emails
– so when people fill up their cart but then exit your website without checking out, they'll get a reminder that they've got items ready for purchase. Plus, there are plenty of integrations for email, social media, video, and more.
You can read about the rest of Pixpa's features in our expert review
. Another important thing to note is that Pixpa's cheapest paid plan limits you to just 200 images and 15 site pages, but any other plan will get you unlimited images and pages. If you run out of storage, you can purchase more as needed.
Photography templates
30+
Storage on cheapest paid plan
200 images
E-commerce options
Digital and print (fulfilled through WHCC)
Starting price

$

6.00
What's the Best Website Builder for Your Photography Website?
These website builders make it simple to feature your photography work and give your site visitors the best possible experience.
You'll discover excellent methods to arrange your photos and effortlessly sell prints and digital downloads while still keeping control of your work through watermarks and password security. Overall, I'd recommend Squarespace as the best website builder for most photographers. It has
the best photography templates
 with stunning designs to highlight your work, and there are easy ways to sell photos, book clients, and more. If you're looking for features created with artists and photographers in mind, though, both Wix and Pixpa are worth considering. They have partnerships with 3rd-party vendors that make it even easier to sell prints and other merchandise, as well as tons of gallery layouts to customize. If I had to pick just one of these,
I'd recommend Wix
 – it's a lot easier to use, and it's full of hidden features that just might be helpful.
| | | |
| --- | --- | --- |
| Builder | Standout Features | |
| Wix | Specialized apps for galleries and selling photos, plus infinitely customizable themes | |
| SITE123 | Affordable paid plans and straightforward site editor | |
| Squarespace | Best photography templates, and strong built-in editing and marketing tools | |
| Zyro | Sheer simplicity, flexible website layouts, easy gallery creation | |
| Pixpa | Password-protected client galleries to share images privately | |
FAQ
Is Squarespace good for photographers?
Yes! Squarespace has a ton of image-forward templates and a robust set of tools perfect for professional photographers, including image editing, email marketing, and a suite of e-commerce features. To make sure you get the very best price, check out our Squarespace coupon page.
Is Wix good for photographers?
Wix offers everything you need for a photography website: beautiful templates, plenty of customization options, and even two apps specifically designed for photographers. Wix Pro Gallery has more ways to customize your image layouts, and the Wix Art Store offers e-commerce features for selling prints and digital downloads (with fulfillment for prints offered through a vendor partner). Take a look at the best Wix templates for photographers.
What is the best Squarespace template for photographers?
You have a lot of great options when it comes to Squarespace's beautiful templates. There are dozens of photography and portfolio designs to choose from on the website. To make your decision easier, we've picked the Squarespace templates that work best for photographers –  plus some that don't work so well.
What should I put on my photography website?
A good photography website will have the following components:
Beautiful galleries displaying your best work
A detailed About page introducing yourself and describing your approach to photography
A way for prospective clients to contact you
Your location
Customer testimonials
Most of the best website builders offer templates that will work perfectly for displaying your photography, making sales, and getting in touch with potential clients. By swapping in your content and making a few minor customizations, your site can be up and running in no time.