I tested Squarespace's templates for photographers to find the ones that give you a professional-quality portfolio, plus all the functionality you need to bring in new clients.
You'll find my top picks below, along with a couple you might want to avoid. And because we creatives think outside the box, I've included three more template recommendations from other Squarespace categories. You can easily adapt them for a photography site.
Squarespace Photography Templates I Like
When you go to the
Photography
category on the main
Squarespace Templates page
, you'll initially get ten designs to choose from. However, you can find additional photography templates by clicking on
templates from an earlier version
at the bottom of the page, and then entering "Photography" in the search bar. The templates are mobile-responsive, so you won't have to worry about your site losing its appeal on small screens.
Even better, you can install multiple templates via your Squarespace dashboard, so you can preview, test, and swap out designs any time.
You'll find that some templates offer different features than others, such as booking pages, contact forms, and a blog. So I gave them all a thorough tryout to see how well they meet your needs as a photographer.
Avenue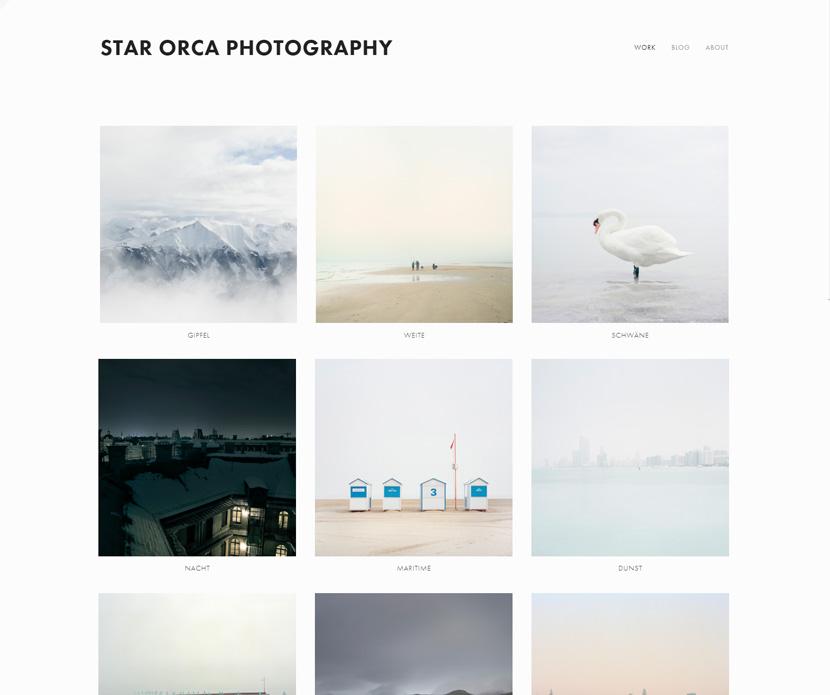 Avenue is a clean and simple – but high-impact – template that shows your images in a uniform thumbnail layout.
This template makes it easy to organize your work into themed mini-galleries.
Clicking on any image or caption takes a visitor to a page highlighting related photos, with space for you to write about the shoot, the style, or any other interesting information. One feature all Squarespace templates have, but is especially beneficial for this one, is a
robust photo editor that lets you determine the focal point of your image
. When your photos are cropped to the square shape in this gallery view, you can still make sure that your subject doesn't get cut out. You can learn more about this feature and others in our
in-depth Squarespace review
.
Flatiron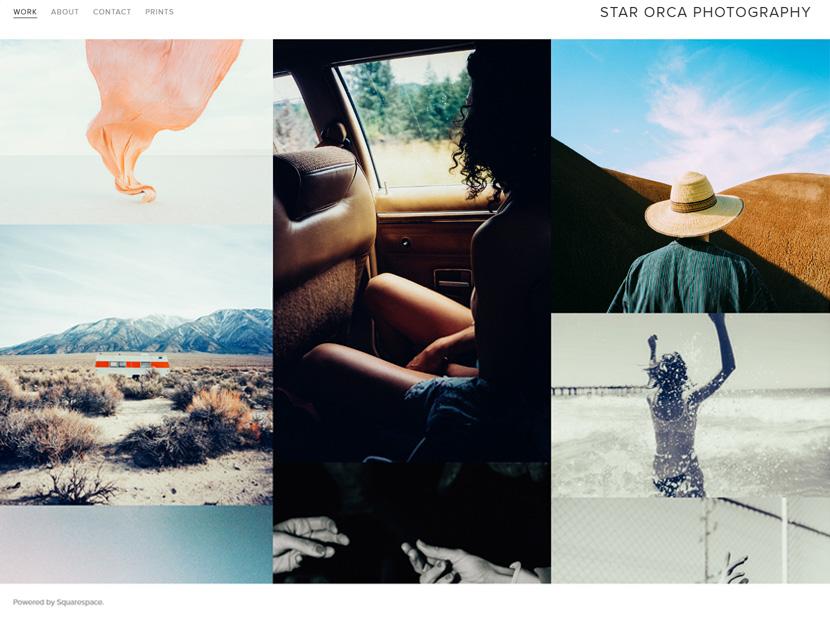 With a mosaic-style gallery layout, Flatiron captures the eyes instantly, highlighting both the quality of your images and your visual creativity.
You can divide groups of images into little "chapters" that let you tell a story in pictures.
Each page features a social sharing button, so your site visitors will become the best promoters of your work. The layout includes clickable arrows to help viewers smoothly navigate through your portfolio. I also like the clean, simple top menu that makes it easy to find your About page and contact information.
Wexley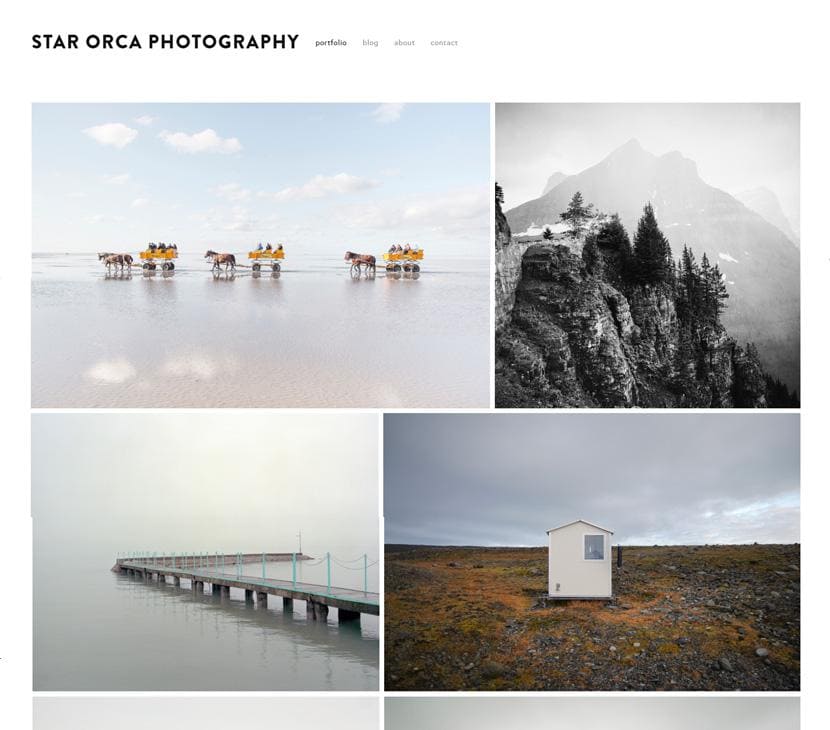 Wexley also presents your images in a mosaic layout, but the white borders help viewers focus more easily on individual photos.
The pages display like a slideshow, keeping all eyes focused on your images,
with simple
previous/next
links. There are also ready-to-customize
about
and
contact
pages. You'll also get a blog section, so you can share in-depth stories about your travels, and the one-of-a-kind moments you've captured along the way. Unfortunately, unlike Flatiron, Wexley doesn't have shopping cart functionality by default. However, it is possible to add that feature.
Squarespace Photography Templates That I Don't Like as Much
I have never come across a genuinely poor Squarespace template, but there are a few templates within the Photography category that require some adjustments to function effectively for your professional website.
If you're comfortable changing some settings or doing some coding, you could definitely smooth out the design issues that bothered me with these templates.
I just wouldn't recommend using them straight out of the box.
Carson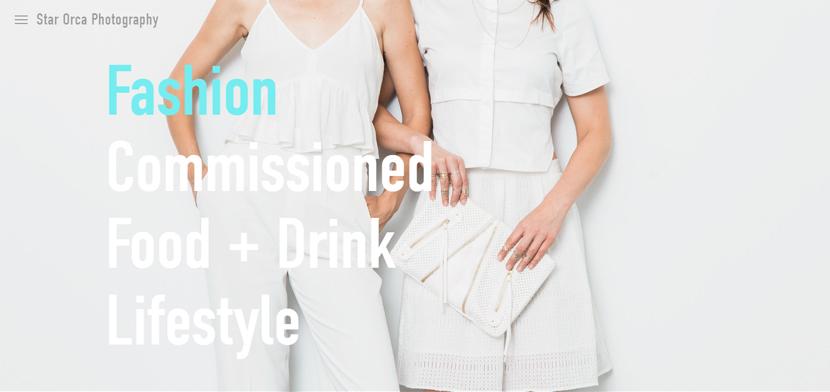 The main issue with Carson is easy to see… or is it? Here's the math: white text + white image + light background = eye strain. So if you use Carson, make sure you set your text and background colors to offer enough contrast for easy readability. If you can get that issue figured out, there's actually a lot to like about Carson. The image-based background puts your best photos front and center.
There's even a cool option to display different images as a visitor hovers over the various category names.
Wells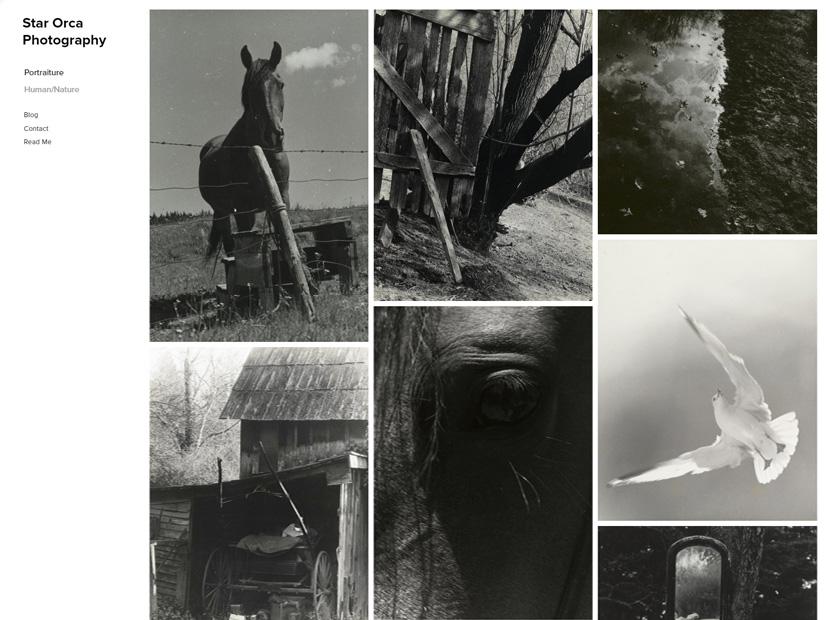 Wells actually works pretty nicely on small screens, but on a desktop,
all that white space in the menu column just swallows up the very small text.
Again, this doesn't mean that the template is awful. But if you're going to use it, you'll have to make some style edits so visitors can easily see, read, and click your menu text. On the plus side, Wells nicely shows off your work in a mosaic format that sort of blends the best of Flatiron and Wexley. Unfortunately,
the menu design issue is one of several problems that make this template less user-friendly overall
than the templates shown above.
Other Squarespace Templates You Can Use for Your Photography Website
If you expand your search across a variety of categories, you'll find dozens of Squarespace templates that you can easily adapt for a photography site.
Some of these templates work particularly well if you specialize in travel or event photography.
Don't allow the category designations to hold you back. If you adore the basic design of a template, there's a good chance that you can customize it to suit your site and personal style.
Anya – Found in the Weddings and Events Categories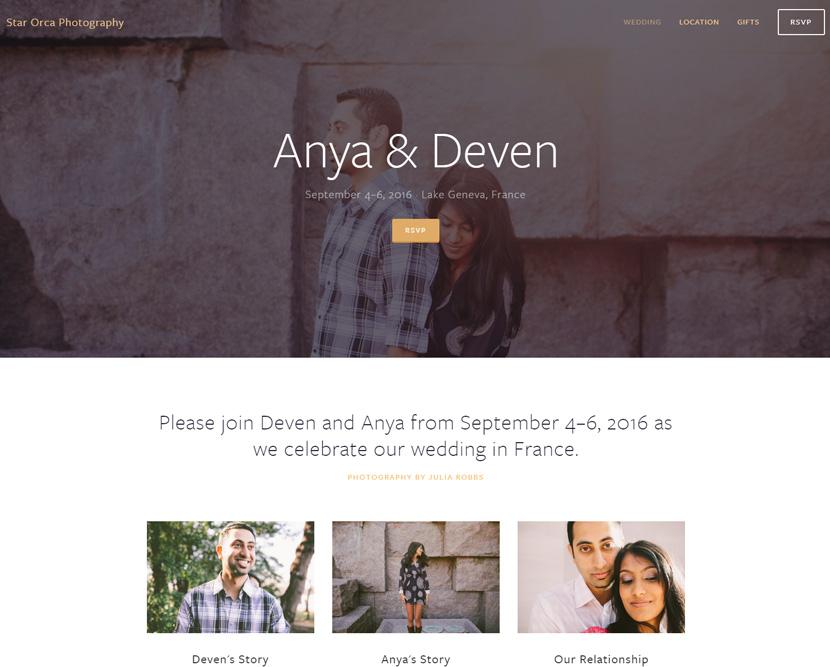 Although Anya was designed for weddings, it's a great pick for any photographer who specializes in portraiture.
The visually striking, yet streamlined and easy-to-navigate design of this template works especially well for sites with just a handful of pages. Anya features a large header image with an optional clickable button – usually for RSVPs, but
you can customize the button to direct clients to your Bookings page
instead. You can also change the default links (
Wedding
,
Location
,
Gifts
,
RSVP
) to more appropriate headings like
About
,
Contact
, and
Directions
to your studio.
Kin – Found in the Weddings Category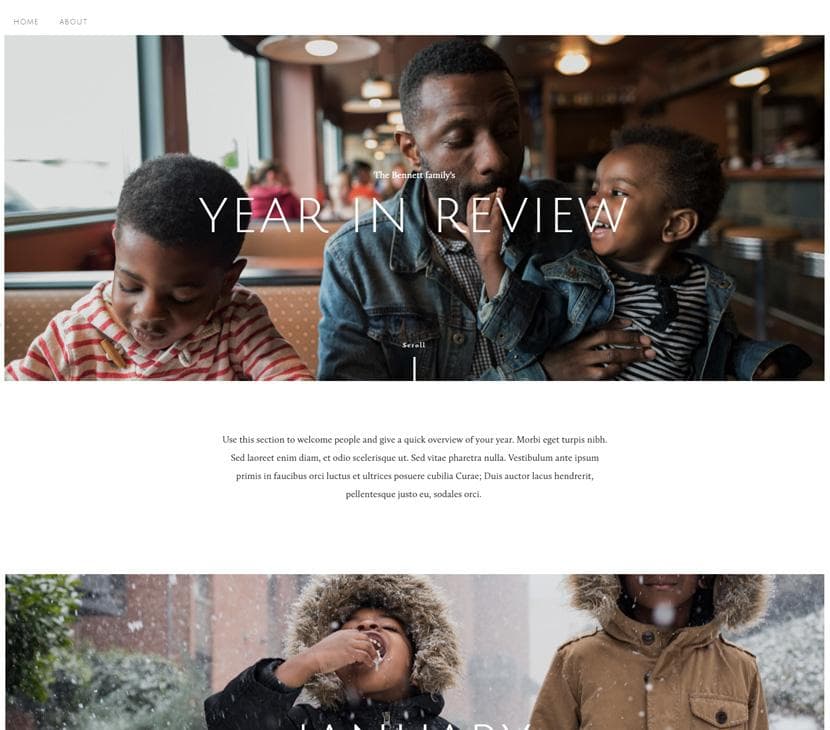 Kin has a newsletter-style layout, with plenty of space to showcase your photographic range.
If you create annual scrapbooks of your work with both images and text, Kin might be a great choice for you.
Kin's single-page design keeps people on your homepage by default, so they don't have to click around to find the images you most want to showcase. You can easily create more pages for additional image galleries, social media links, and a contact form if you wish.
Skye – Found in the Blogs and Podcasts Category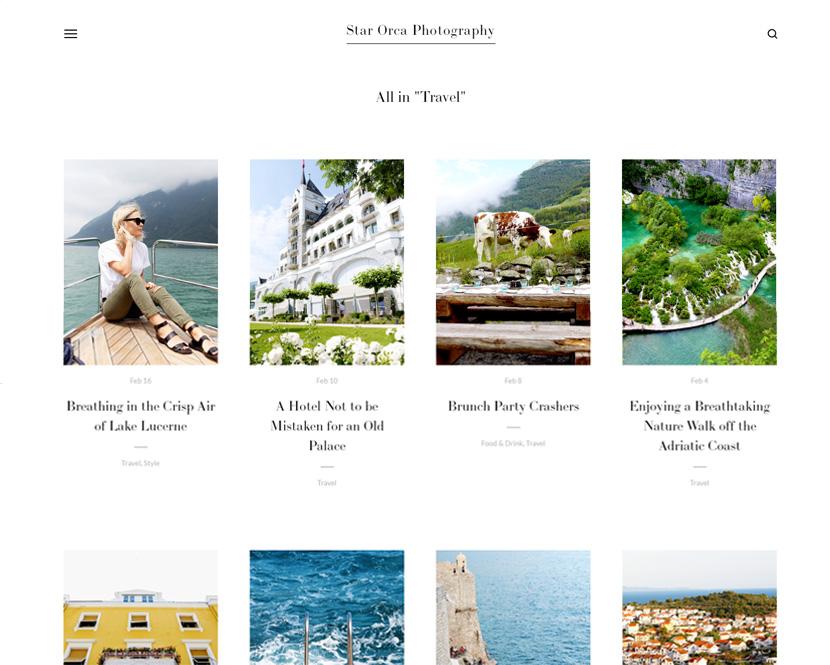 If you love to blog about your photography adventures, Skye is a great choice for you. The magazine-style layout
draws readers in with clickable images and headlines that take them to your blog posts telling the stories behind your photos.
It's easy to add category tags for each blog entry, helping readers find the content that interests them most. By default, the Skye template features a
Subscribe
button at the bottom of the homepage, along with space for social media links to help you maximize your online presence. And appropriately for a travel-inspired template, Skye looks especially slick on mobile devices.
Final Thoughts on Developing Your Image with a Template
(Just so you know, if you've never worked with film, you just missed out on a great pun.) In a photography business, image holds significant importance, but providing an excellent experience to your website visitors also holds great significance. The top Squarespace templates I recommend not only boast an appealing appearance but also provide the necessary functionality to effectively attract new clients. But don't just take my word for it. I encourage you to take your time and test out multiple templates, to make sure you find the one that best sets you up for success.
Most importantly, ask fellow photographers, current clients, and friends to do a trial run of your website before you widely promote it.
Their feedback will be more valuable than any advice I can give you. And remember, Squarespace lets you change templates anytime, so it's never too late to get it right.