One of the largest problems that many freelancers face is the ability to properly manage their time to ensure productivity. With traditional jobs, you'll generally have a manager who will set and oversee your schedule. Although, when it comes to freelancing, you must rely on yourself to create a schedule that will work for you. You need to be careful to allocate enough time (but not too much!) to each day's tasks in order to meet all necessary deadlines and keep your clients happy. While it's true that some of the
best freelance websites
available—such as
Fiverr
,
Upwork
, and
Freelancer.com
—have built-in features to help you manage your clients, projects, and time, it can still be more difficult than it sounds.
Many freelancers end up calling it quits because they are unable to find the necessary time to successfully juggle clients, projects, proposals, and everything in between.
These individuals may just need the structure that's offered by a regular nine to five position, and fortunately, there are plenty of useful tools that can help. These great apps streamline everything from managing your workload, to building your schedule, to even helping you write effective proposals. With the right set of tools, you can greatly increase your chances of freelancing success!
#1: Evernote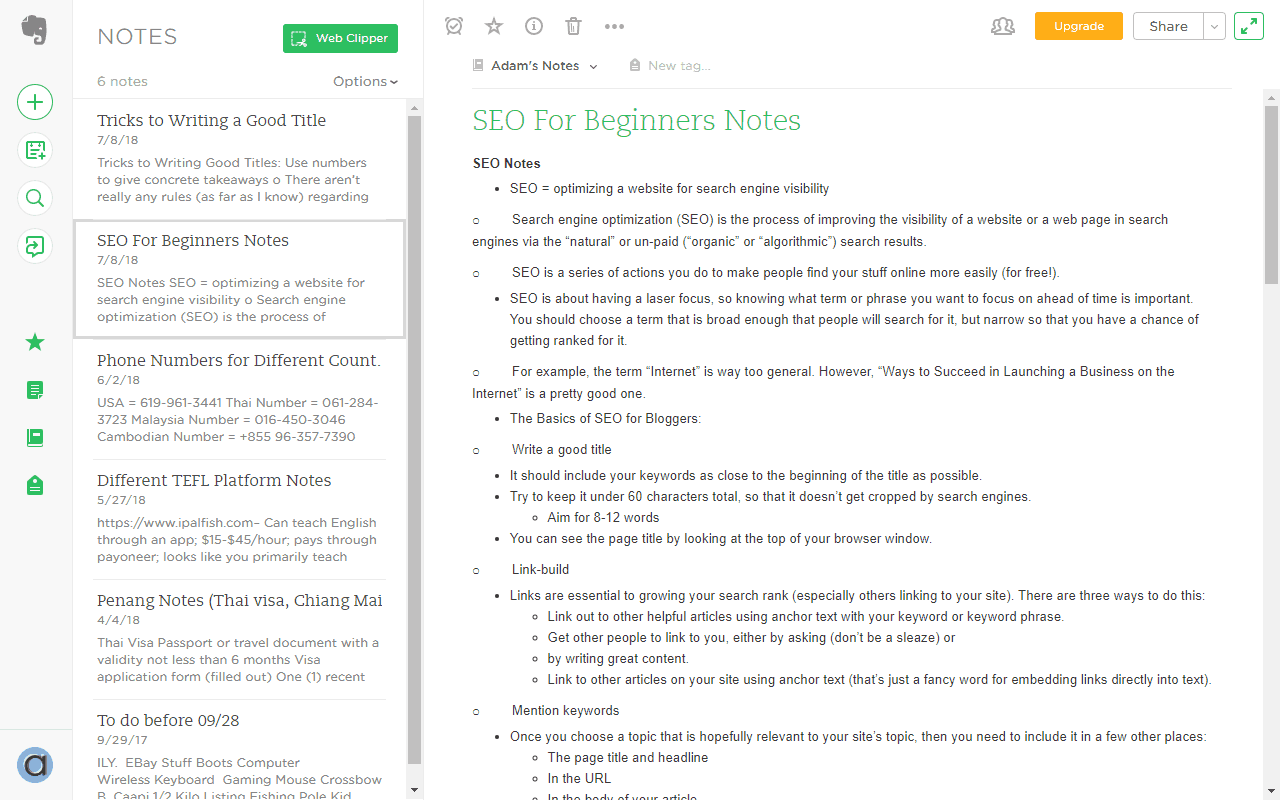 When it comes to keeping all of your important tasks, notes, schedules, to-do lists, and research materials together in one easy-to-access place, few apps are better than Evernote. This cloud-based storage app is one that I personally couldn't live without. When you create a "note" in Evernote, you can rest assured that you'll be able to gain access to it anywhere there's an internet connection.
The app regularly syncs between your desktop and mobile device, and you can visit the website at any time, log in to your account, and instantly have access to all of your important documents.
Another great function is Evernote's Web Clipper, which is a browser extension that allows you to take things that you find across the web, and save them into your Evernote app.
This is fantastic for research, as you're able to "clip" specific pages or articles to different project notebooks
, allowing you to effectively keep all notes and research materials in one convenient location. Finally, Evernote can also be
integrated with many other useful freelancing apps, such as Slack, Salesforce, IFTTT, Smartsheet, and Nozbe
. For example, when the app is integrated with Slack, you'll be able to access, search, and share all of your Evernote documents with your team on the messaging platform. You can also clip conversations and other useful content from Slack into your Evernote notebooks, making this app endlessly useful!
#2: Asana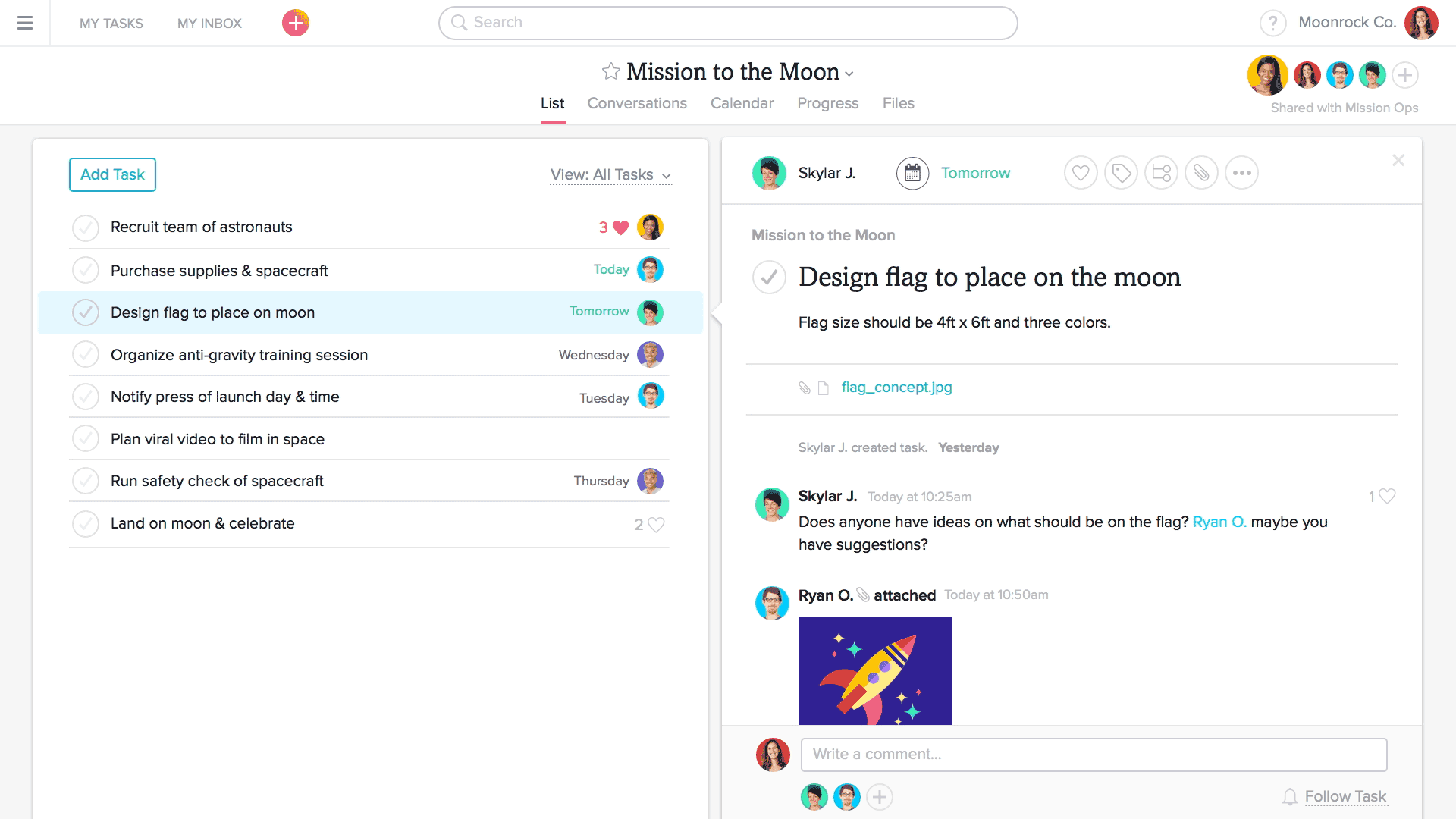 This project management tool is incredible for keeping your work organized, especially when working on a group project. By using Asana, you can connect with your client or team members on each specific project.
Under each task you can easily communicate, set deadlines, share relevant files, direct questions or comments to specific individuals, set reminders, and even create to-do lists.
All that you need to do is create a new task for each project that you take on, and then invite relevant team members to that task.
Asana also allows you to personalize various "stages" for each task, and "assign" the task to the appropriate individual.
One of the greatest things about this app—especially for many cash-strapped freelancers—is that it's absolutely free in most cases. The only time that there's a charge is if your project has a team which includes more than 15 people, in which case there is a small monthly fee.
#3: Toggl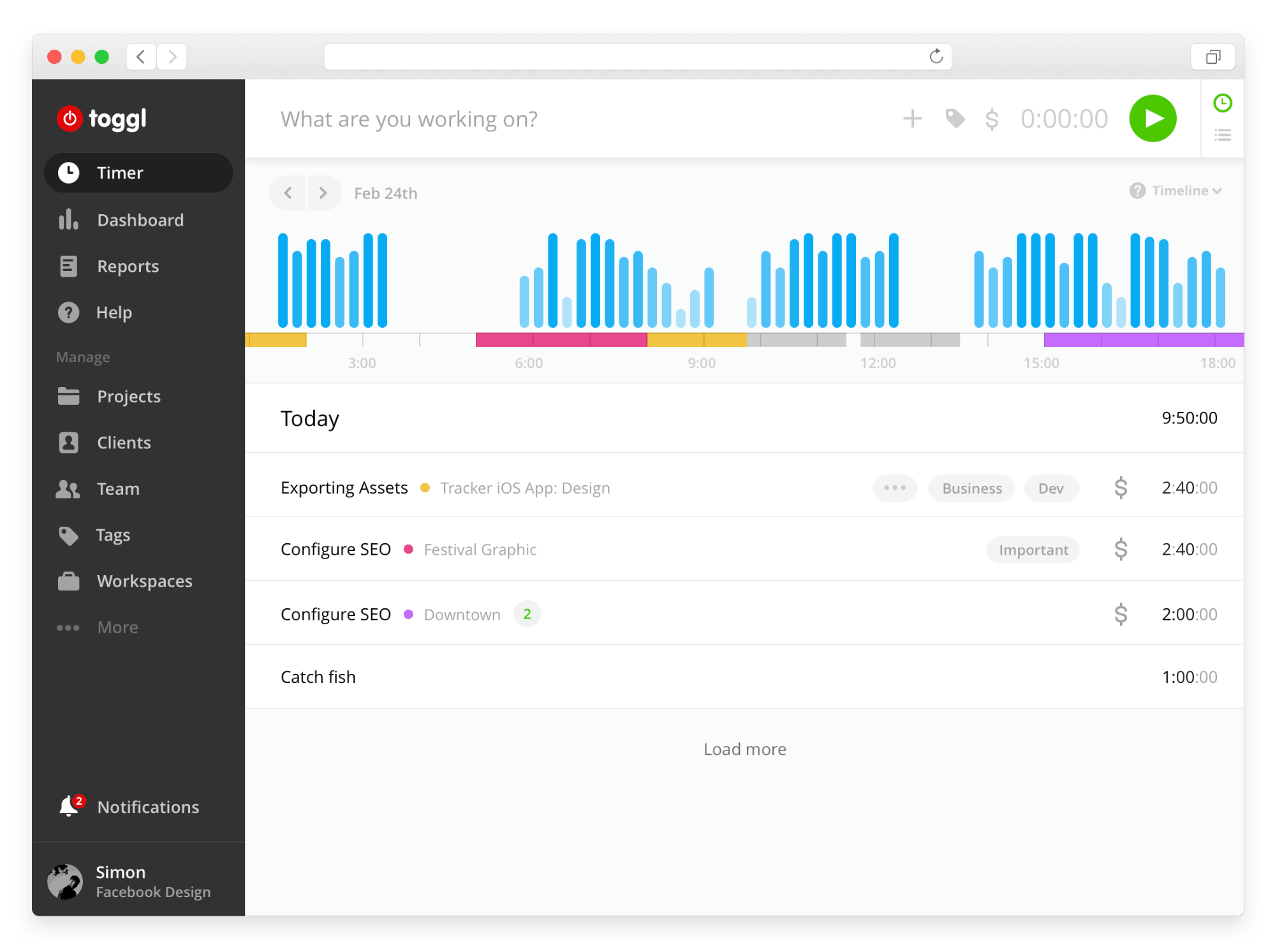 If you're looking for an app to help you keep track of your time, there are few that are better than Toggl. With Toggl, you can easily track the time that you're spending on each task. As the old saying goes, "time is money," and nowhere is this truer than in the freelance market.
As a freelancer, you are likely juggling multiple jobs that are paid by the project, making your hourly rate largely dependant upon how quickly you're able to complete a given task.
With this app, you will have a clear sense of which tasks are taking the most time, and which ones you're completing more quickly. This will help you not only better schedule your days, but also price projects appropriately. Knowing the amount of time that you are dedicating to different clients is essential, particularly if you plan on setting up a monthly retainer. Having this data can also be incredibly valuable when it comes to discussing project scopes and fees with a client.
Transparent reporting ensures clients that your time is being well-spent, and can also help you cover your costs.
#4: Proposify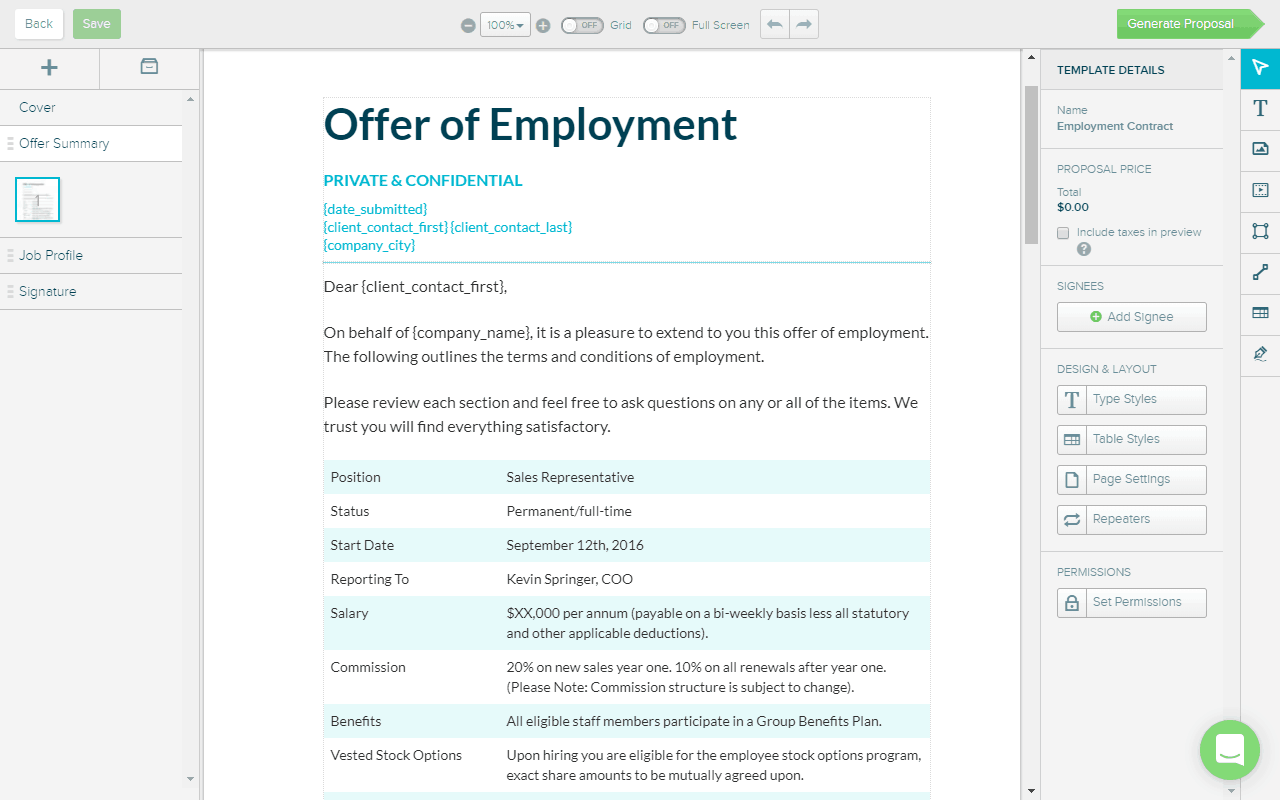 One of the more tedious aspects of being a freelancer is the need to constantly be creating client proposals in the attempt to land new work. Not only is this time consuming, but in many cases you are repurposing old material, so there is also an element of redundancy. This is where Proposify comes into play.
This handy app comes with a variety of tools and templates to help you create, save, and modify proposals with minimal effort.
This will give you more time to spend on daily activities, such as dealing with clients and completing any current projects. Proposify is extremely simple and intuitive to use:
First, you decide on the formatting; you'll have a choice of using either a template that you've previously saved, one of Proposify's premade templates from a number of different categories (e.g., marketing, design, software, contracts, etc.), or to start from scratch
The next step is to input some important information, such as the name of the proposal, client information, and the proposal due date
After this, you'll be taken into the Proposify editor, which gives you a number of options to design and customize your proposal (e.g., add images, text, videos, tables, signature buttons, etc.)
Once your proposal is complete, the final step is to send to the client; you can do so either directly through Proposify, or, if using a platform such as Upwork or Freelancer.com, you can save the proposal as a PDF and attach separately
#5: Trello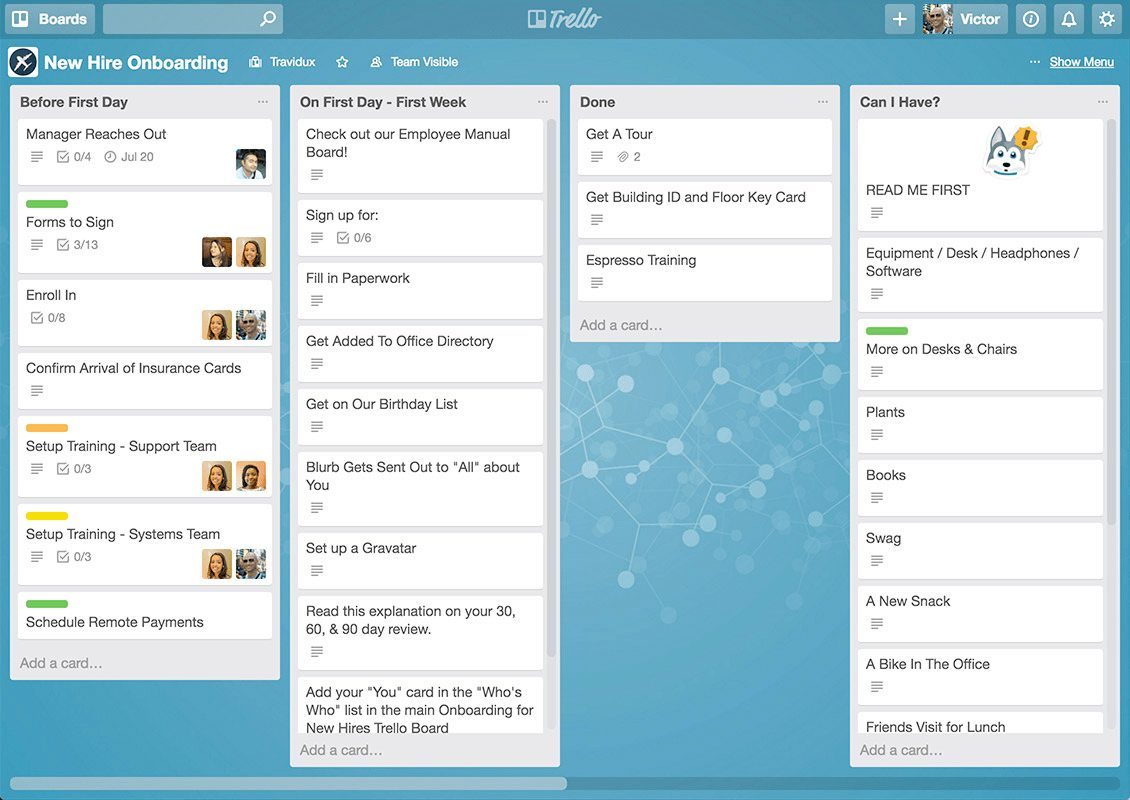 Similar to Asana, Trello represents another project management tool. However, Trello distinguishes itself through its distinct layout and strong emphasis on utilizing cards to effectively organize projects. While Asana also incorporates cards within its dashboard, its layout primarily centers around tasks, arranged based on priority and presented in a less visually oriented manner. Trello has a much more visual approach to managing tasks, meant to mimic a Kanban board. The result is
essentially a virtual sticky note board, on which you can place "cards," and remove them as they're completed.
You can have a variety of boards that represent different stages of a project's completion, and easily drag cards from board to board as the project progresses. This is an excellent option for those who are more receptive to a visual schedule, rather than one that's more task oriented. Trello allows you to set tasks, collaborate with a team, simultaneously run a number of projects, and monitor progress. You can create group or solo projects depending on a job's requirements.
Many people love Trello due to its intuitive layout, visual style, and easy-to-learn interface; that said, it offers many of the same functions as Asana, so which tool you choose is largely a matter of preference.
The Right Apps for Your Personal Productivity
The freelancing field is so diverse, covering many different project types and industries. Each individual will need to figure out the apps that best support their given area of expertise and personal work style.
The important thing is that you experiment, find what works, and stick with it
. With the right tools and a persistent attitude, you'll increase your level of productivity in no time, giving you more opportunity to enjoy
all of the benefits that come with the freelance lifestyle
.