there's your personal niche to consider
: what's right for a graphic designer isn't necessarily going to work for a consultant. As a freelancer, I know firsthand that indecision is the biggest thing that keeps many artists, freelancers, and entrepreneurs from getting started. I also know that having a trusted voice to listen to can be a big help when it comes to getting over that initial roadblock. That's why I wrote this article: to point you toward some standout templates, sure, but also to
give you a better idea of
what
you should be looking for
. Read on to see my absolute favorite WordPress themes and website builder templates. And if none of them seem just right for you, don't worry: I'm also going to share with you my biggest tip for
getting an awesome custom-made theme for a great price
.
Over 75 million sites worldwide use the WordPress.org platform. This open-source CMS system boasts over 55,000 plugins to customize your site to your needs. For those of you already using WordPress.org, there are tons of templates available from third parties. These are my favorites for portfolios and resumes.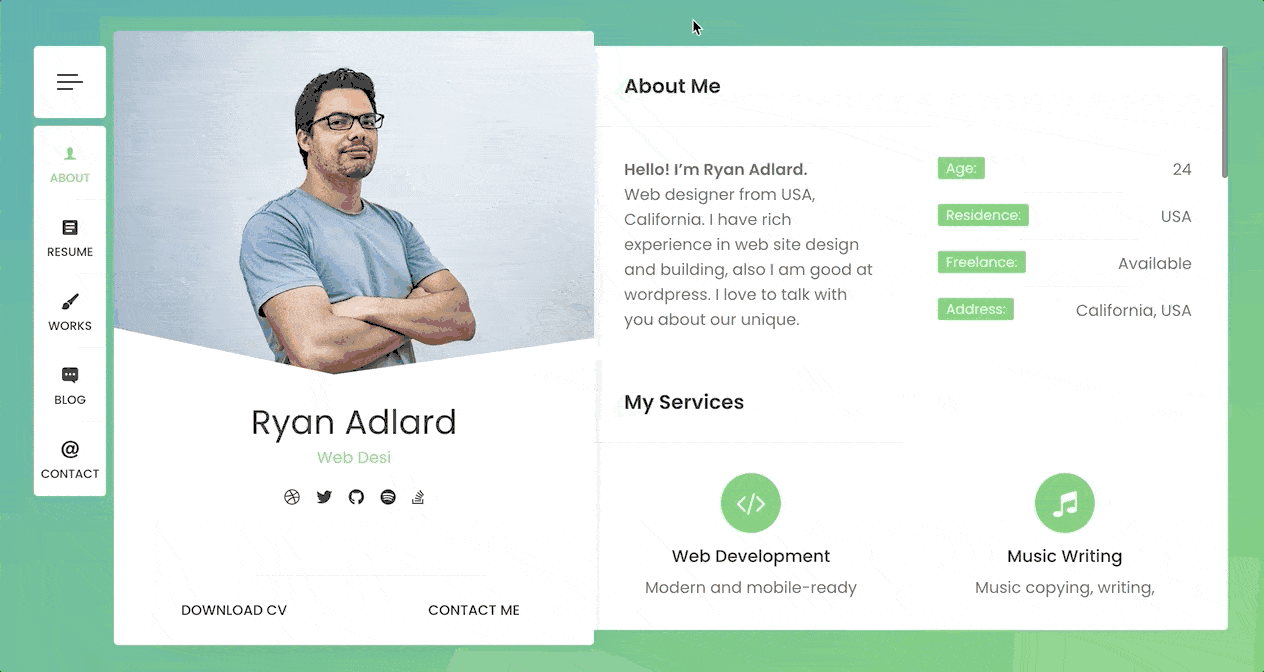 RyanCV
 is quickly becoming one of
ThemeForest
's more popular themes due to its refreshing simplicity.
Some resume templates are overloaded with visual appeal and design but do a poor job at what's most important – highlighting your experience and making it as easy as possible for people to contact you.
RyanCV
puts the focus squarely on you. It's designed as an interactive vCard, a format which is becoming more and more popular these days, and it can be one-page or multi-page, depending on your preference.
Unlike some other vCards,
RyanCV
has a button for showcasing your previous work and makes it clear to your visitors how to contact you.
 It also looks great on mobile devices.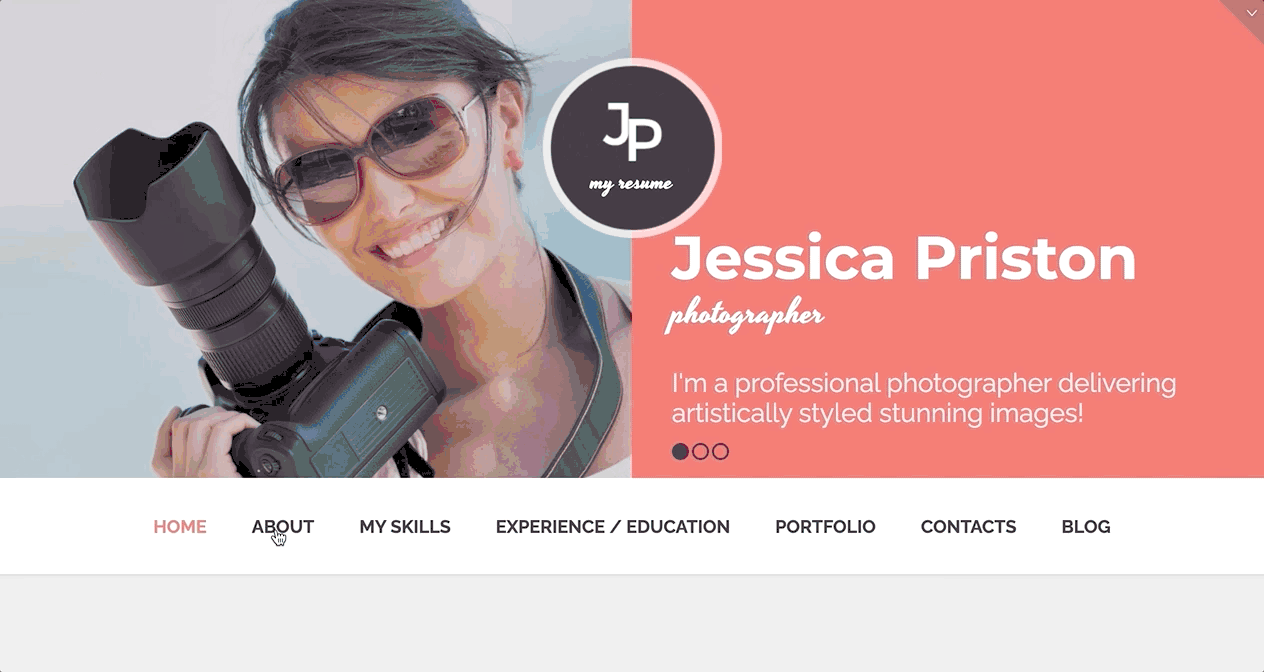 This one-page theme from
TemplateMonster
 has appealing slide-in visuals and puts contact details front and center, where they belong. It also comes with WPML (WordPress Multilingual Plugin), meaning you can display your site in multiple languages to reach more clients.
Visitors can view your portfolio or your professional experience by clicking on buttons in the header.
Plus, your prospects can easily download your CV to read later. What's not to love?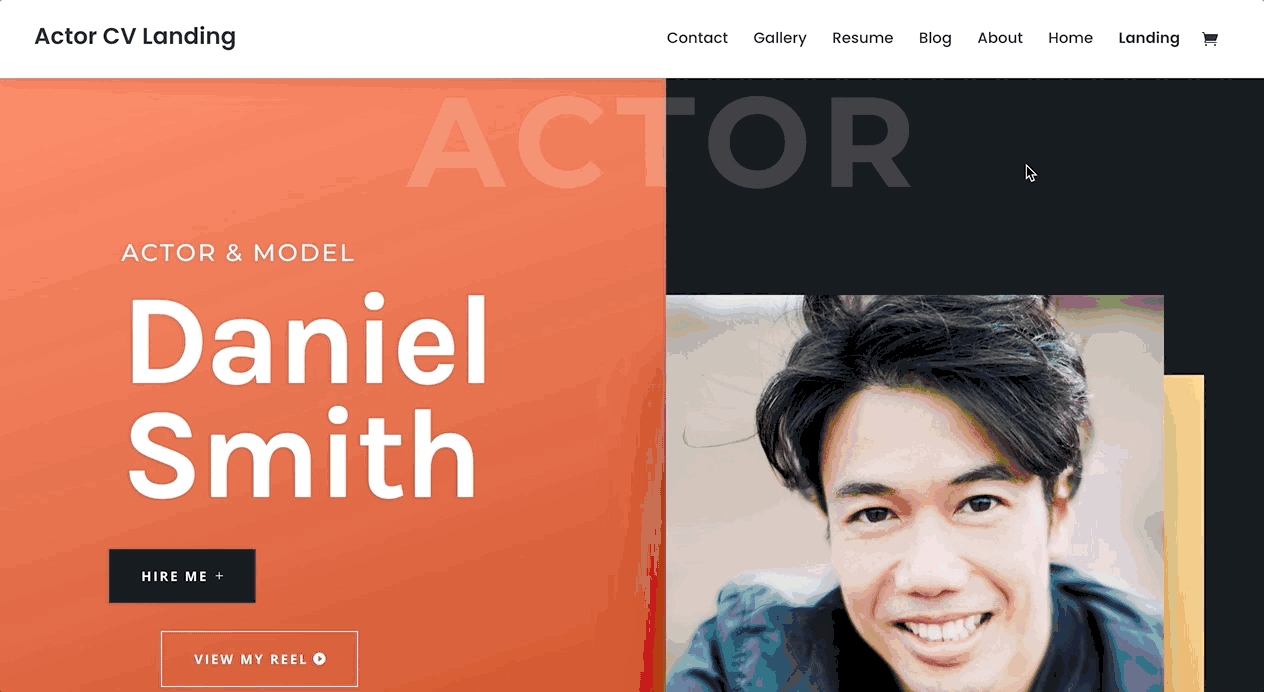 Divi
is Elegant Theme's drag-and-drop website builder for the WordPress platform. It includes almost 200 templates, which they call layout packs. The layout packs themselves contain almost 1500 layouts (think of these as pages). After going through Divi's extensive catalogue, my favorite portfolio and resume layout pack is
Actor CV.
This pack comes with seven customizable layouts (pages) including a resume page, a gallery page for your portfolio, and that all-important contact page. But one cool thing about
Actor CV
is that its landing page layout actually displays all of this information as well. That means visitors can find what they're interested in right away without having to click around your site.
Website Builder Templates
Working with templates offered by established website builders is a great way to go for most people. They come with great customer support,
they're easy to edit and customize,
 and they're designed with your potential employer/client's experience in mind. I've picked out some templates I like from a couple different website builders, including Wix and Squarespace. Check them out and see if you agree!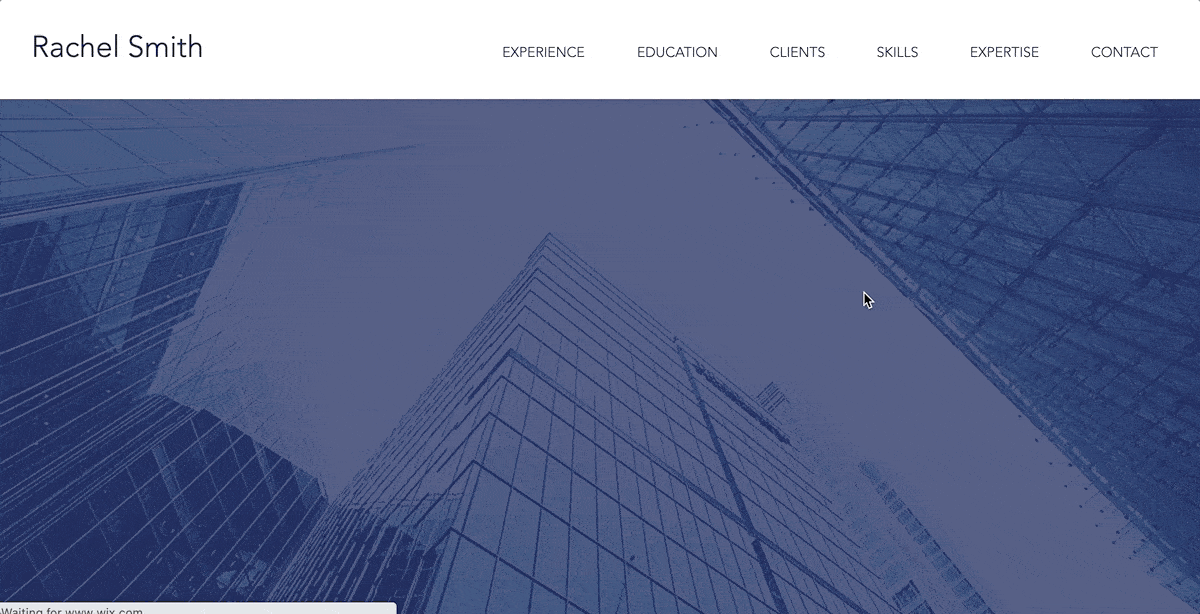 This is a clean, one-page website template with anchor links in the header, which makes for great loading speed. Your picture and contact details are the first thing visitors see, with your experience laid out beautifully just below. I can't help but appreciate the slide-in visuals as well.
This template has a couple of nifty features,
like a contact form in the footer and a live chat feature so potential employers/clients can reach you right on your desktop (or your Wix app when you're on the move). It also looks amazing on mobile. Like
RyanCV
for WordPress,
Professional CV
 from Wix prioritizes impact over flash – and it works.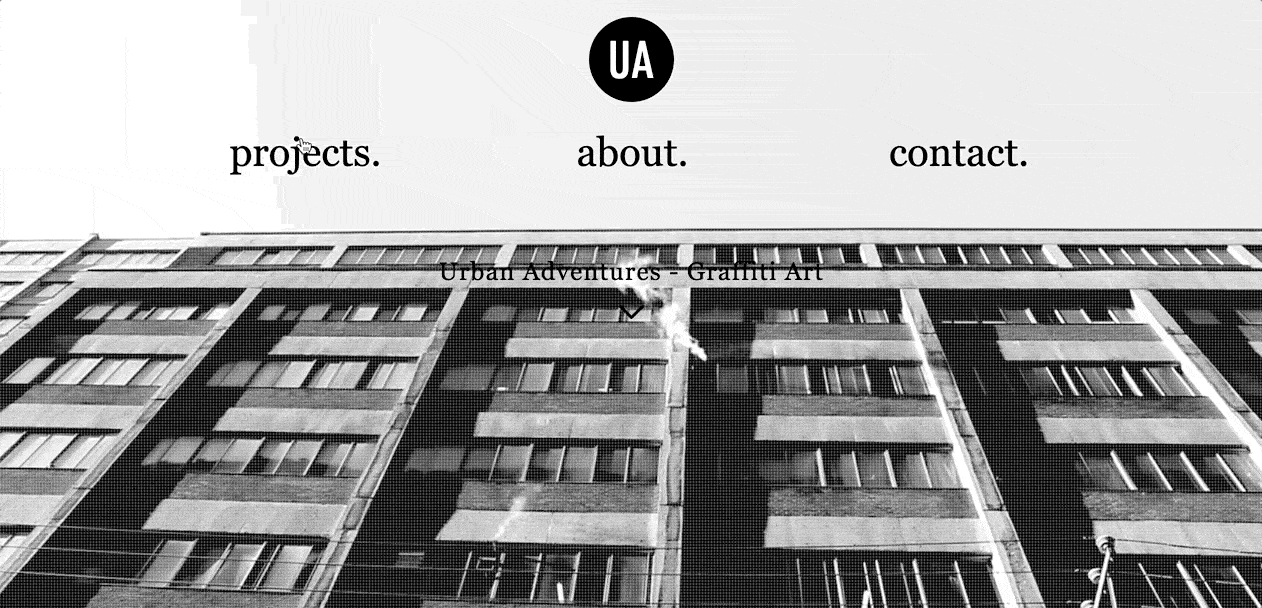 For a portfolio template, you can't go wrong with
Graffiti Artist
 by Wix.
The three prominent jump links in the header
have a unique call-to-action feel and grab future clients' attention
from the minute the page loads.
This is another visually-appealing one-page site template that provides fast loading speed despite its attractive parallax scrolling. And, like
most Wix templates
, it's optimized for mobile devices. That said, if you make any major layout changes, you might have to edit the mobile version of your site separately to make sure it still looks good.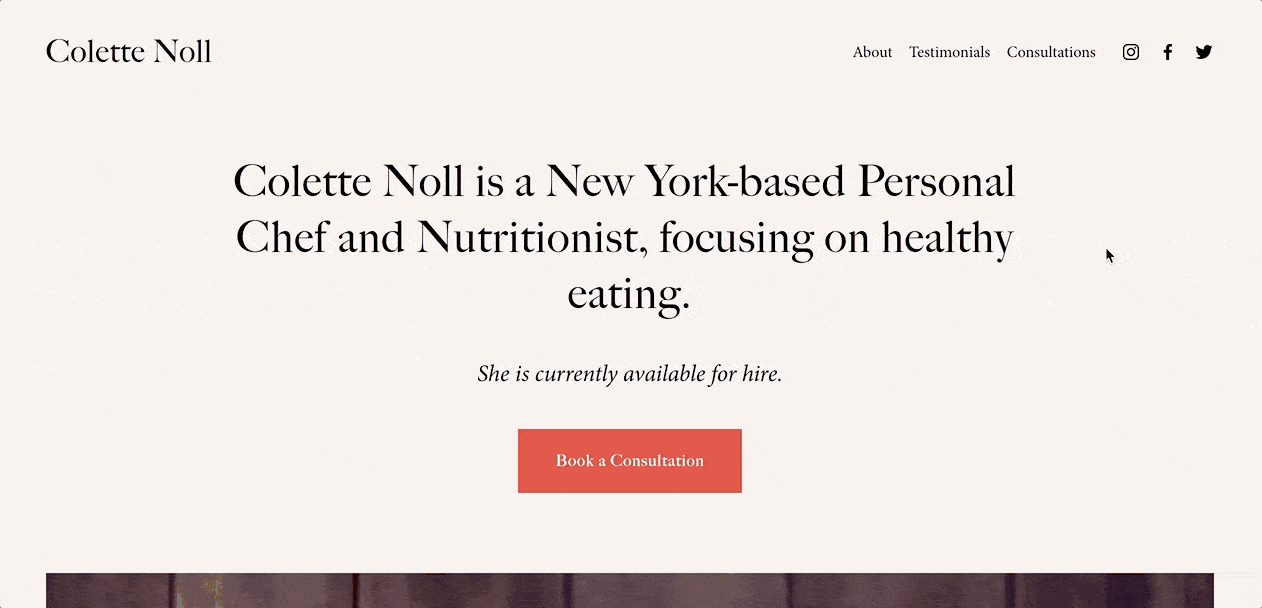 For a resume template, I love
 Noll
 from Squarespace. It's got that all-important call-to-action button front and center, beckoning your potential employer/client to contact you. It also includes a
Testimonials
 button in the header.
The layout pulls visitors into your personal narrative through images and storytelling
, while highlighting your experience along the way. This is "Getting Clients 101", Squarespace-style.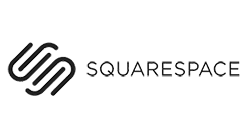 Save up to 30 % on your Squarespace plan today!
Plus get a free domain for one year!
1031 users used this coupon!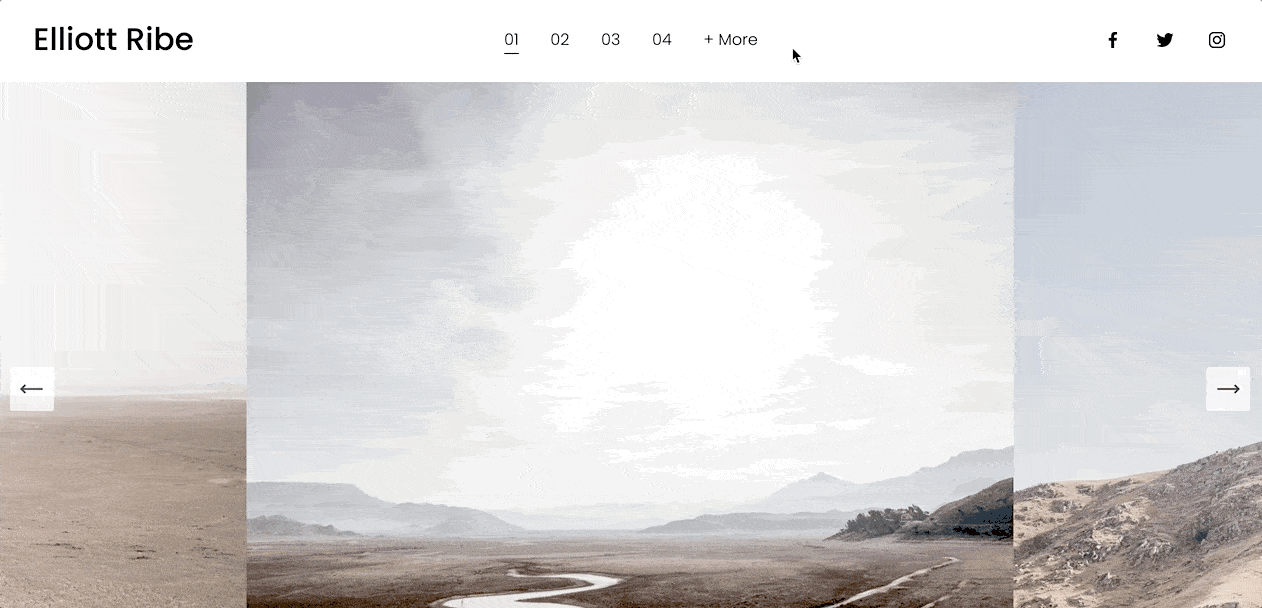 This is my favorite Squarespace template for visual portfolios.
Your work is put on bold display right on the homepage,
so you can take visitors' breath away as soon as they arrive. You can easily add a contact button to the header to convert those first impressions into action. This template looks great on mobile devices and is perfect for photographers and painters.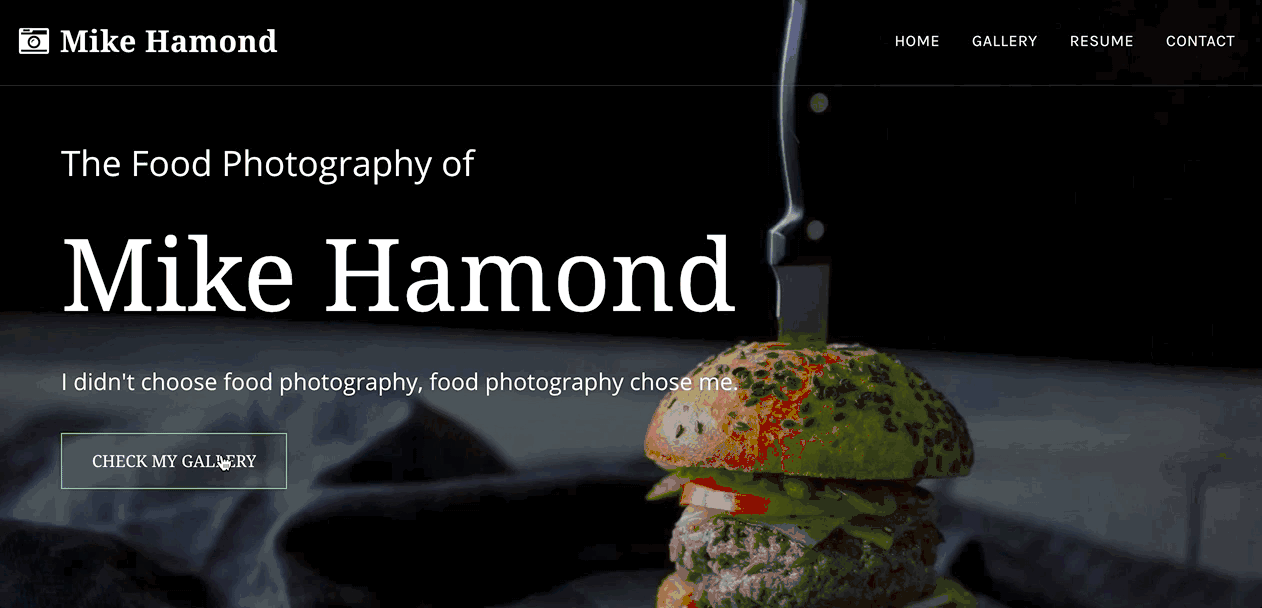 In general, SITE123's portfolio and resume templates are all pretty similar –
but
Mike Hamond
  stands out from the crowd with its parallax scrolling and slide-in effect in the resume section.
This is another fast-loading one-page template that highlights your previous work. Like
all SITE123 templates
, it's optimized for mobile. It also has an inviting contact form built in, so potential employers or clients can get in touch with you straight from the site. Now, if you're thinking "These templates are all nice, but they're just not what I had in mind for
my
website" – no worries! It's easy to get a custom template built just for you. Here's how to do it.
How to Get a Custom Template for a Great Price
Nowadays, you can get a great custom template made for your website without breaking the bank. And that can be a very good idea, for several reasons. First
, standing out is extremely important in the online marketplace,
 especially if you're building a brand – and yes, a personal brand is still a brand. Having a custom template is the easiest way to do that. Second,
website builder templates rarely have the exact mix of functionality you need
 – typically, you'll have to add a few apps and extensions before you go live. If you get a custom template made, you'll be able to use it straight out of the box. So where can you get one?
In a word: Fiverr.
 This a platform where you can hire talented freelancers, including designers who build custom website templates for great prices. One designer, who goes by
Aaliyann
on Fiverr, builds for the WordPress.org platform. Here's a personal-brand site he built that includes a blog, Mailchimp integration, video reels, and an Instagram feed display.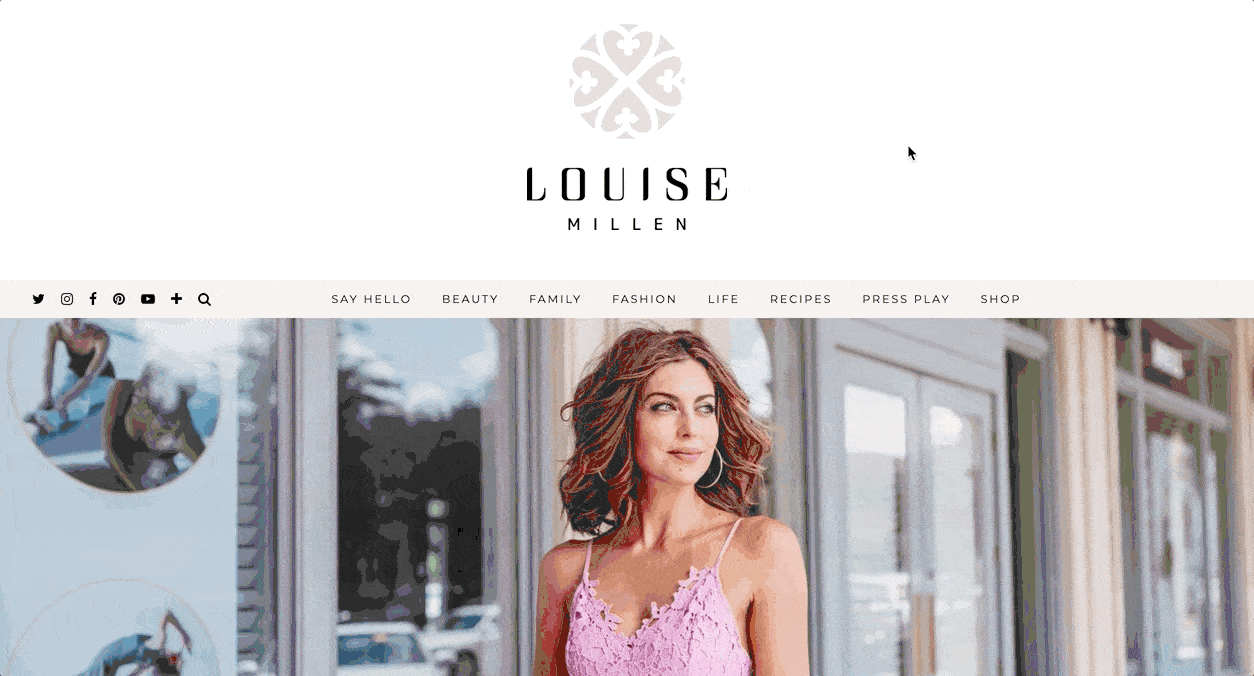 Aaliyann's sites look great on mobile devices, and he can deliver a site in just seven days.
Another Fiverr designer,
Imvadesign
, is a certified Wix Webmaster and builds fully customized sites on the Wix platform. Here's an example of a personal-brand site she built that encourages visitors to book an appointment with the site owner.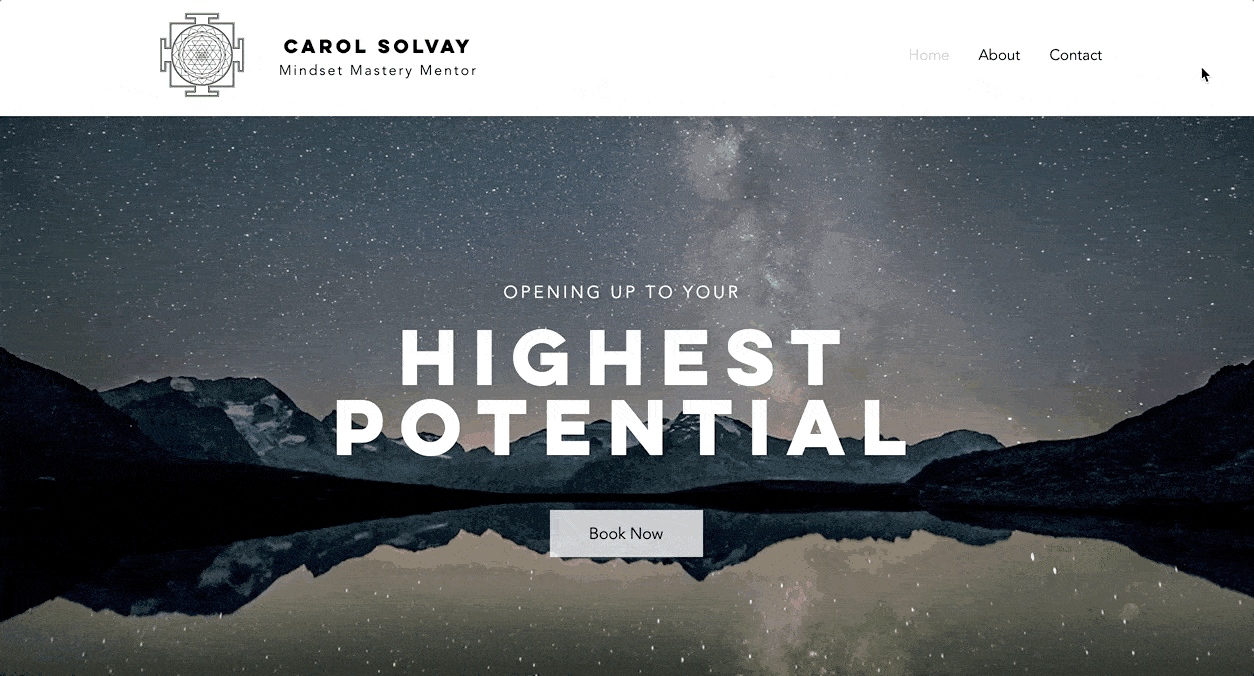 That all-important contact information is clearly visible on every page,
plus there's a contact form in the footer. Imvadesign also offers a seven day turnaround. And even if you decide to go with a regular website builder template, hiring a Fiverr designer to create a logo for you is a great way to give your site that unique touch. So, what's next?
The Choice Is Yours
Choosing a template for your online resume or portfolio holds significant importance. These eight templates will help you showcase your skills and captivate clients right from the beginning. Nonetheless, you might find yourself in need of a slightly different option. Hopefully, though, I've helped you narrow down your choice, or simply given you an idea of what you need in a custom-made site. Now it's time to get creating! If you're still hesitating between a couple options,
Wix
and SITE123 have free plans
 so you can put their templates to the test before committing to a paid plan.
And Squarespace offers a 14-day free trial.
Remember: templates are ultimately meant to make building your website easier, rather than more difficult. So trust your instincts and get building!
FAQ
What's important for a portfolio website?
Two things. First, you need to make it as easy as possible for visitors to contact you. Second, visitors need to see your work as soon as they arrive on your site. Don't underestimate how busy agents and other potential clients really are. If they have to click around to find examples of your work, or how to reach you, it will cost you.
How do I create a website for my resume?
It's easy. Pick a CV template from one of the popular website builders such as Wix, Squarespace, or SITE123 and get creating. These templates are designed to highlight your professional experience and make it easy for people to reach you. Most website builders have free plans or trials available, and they come with great customer support in case you get stuck.
Can I use an HTML template in WordPress?
Yes, but not directly. You'll need to convert the template to a WordPress theme. There are plenty of tutorials available online on how to do that, but you'll have a much easier time picking a WordPress theme from third-party creators such as ThemeForest, TemplateMonster, or Elegant Themes.
How can I host a portfolio website for free?
We've tested the best free website builders for portfolios. These builders allow you to quickly set up and publish a portfolio website for free, but they'll be on the vendor's domain and have advertising built in. A custom domain and an ad-free site are very important if you want to look professional, so it's worth checking out our discount page to see if a paid plan might be for you.