as little as $5
. But the matter of budget raises some important questions for anyone looking to hire.
Do you always have to pay more for higher-quality work? Or can you hire an experienced freelancer on Fiverr and get great work for a lower price?
To get answers, I hired three sellers to do the same design project at different price points. Find out which designer produced the best design or check out my top 10 phone case designer recommendations below.
Hiring 3 Phone Case Designers to Test
Getting a phone case designed should be relatively inexpensive. Fiverr has over 1,000 gigs in this category, and most start at $5, $10, or $15.
 Many of the higher-priced options build on these basic packages by adding multiple designs or source files. However, some sellers have much higher starting prices without offering obvious additional value like extra design concepts. For the sake of experimentation, I hired one of the pricier designers ($100) to see if their work was really worth the investment. For comparison, I also booked two freelancers with more standard rates ($15 and $25).
With a five-star rating and a Level One Seller designation, mourhoostudio stood out from many of the other budget-friendly phone case designers. Their work samples featured a lot of bold, dynamic patterns, which I thought would look great on a phone case.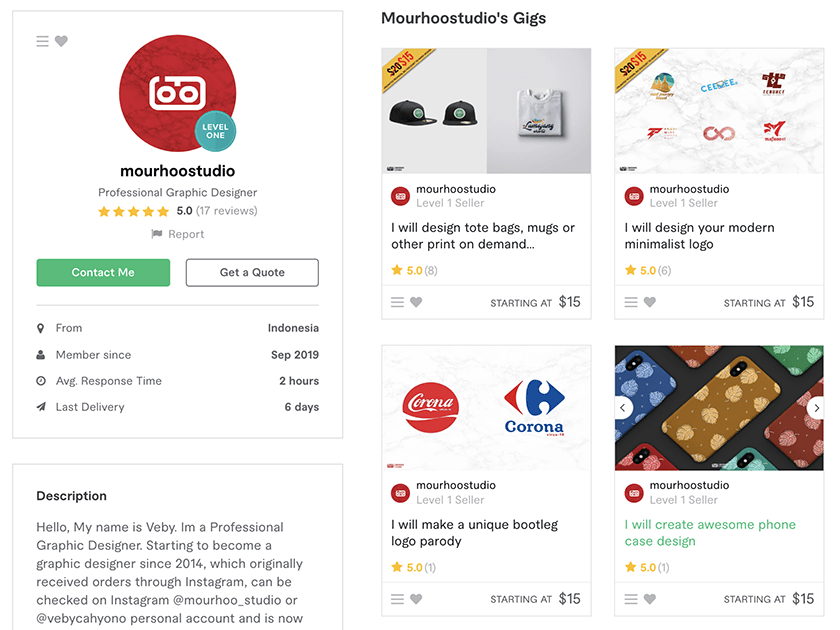 I booked Veby's basic gig
($15), which included one design concept, a mockup, and a source file. If necessary, I could use up to two revisions to fine-tune the design.
 The package also came with a commercial use license
 in case I wanted to sell the final product which I appreciated them including at such a low price.
Like the $15 freelancer, flowpatterns had a five-star rating and around two dozen rave reviews from customers. Although this mid-range seller didn't have a special Fiverr credential – such as Level One Seller status – her profile listed qualifications and seven years of professional design work.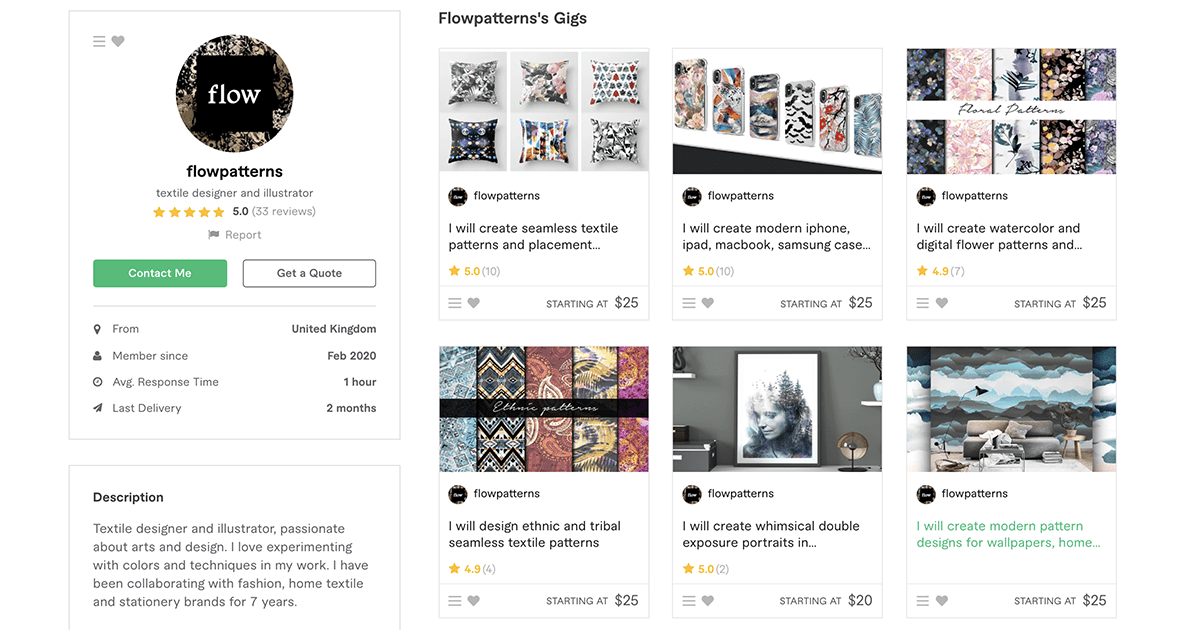 I purchased her basic ($25) package
, which included one concept with a commercial use license. Unlike the cheaper gig, this one didn't include a source file or more than one revision. I would have had to upgrade to her standard ($40) package for those features.
With a Level One Seller credential, dozens of five-star reviews, and a profile that mentioned extensive design experience, blueashes looked similar to the other sellers – though lacking the BA degree and potentially the same level of experience as flowpatterns. I liked her work samples, but I was curious whether her designs or process would warrant the much higher price.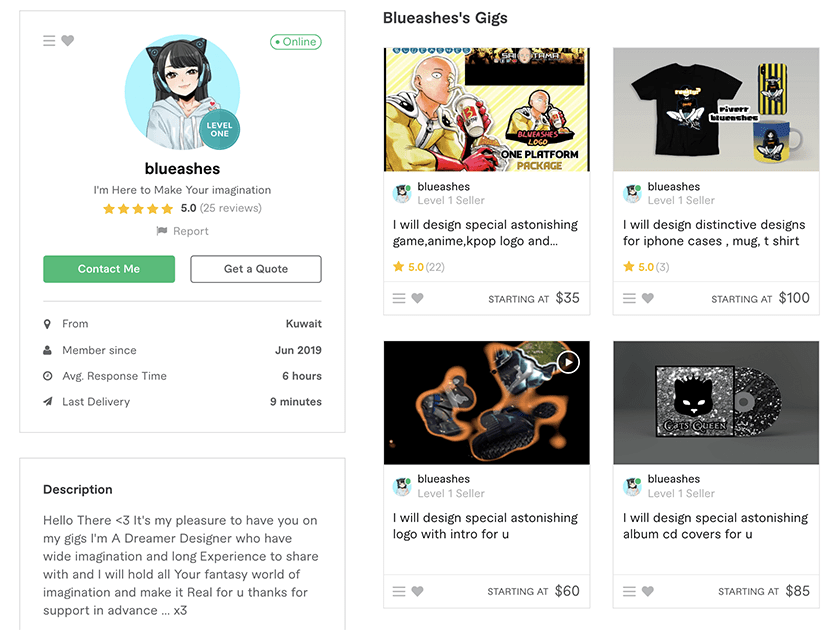 I booked the gold gig
($100), which included one high-resolution file. It didn't come with any revisions or a source file. Although the gig seemed worse value than the other two, I hoped the quality of her work would make up for the big price difference.
My Experience Working With These Fiverr Freelancers
Before booking, I sent each freelancer a quick message to describe the project and explain which gig I wanted to book. My project brief asked for an iPhone 12 phone case design for Website Planet and provided the logo for inspiration. Here's what happened next:
The $15 seller (mourhoostudio): Within about three hours, mourhoostudio, who goes by the name Veby, messaged back, encouraging me to book their gig and prompting me to share any style references or colors I wanted to include. Although I shared the Website Planet logo for inspiration, I neglected to provide the color. This was an oversight on my part and could have caused a bigger issue if the gig hadn't included unlimited revisions (see below).
The $25 professional (flowpatterns): By far the fastest to respond, flowpatterns, otherwise known as Oana, messaged me back in about an hour to ask more about my style requirements. She sent over some examples to clarify the type of pattern she could create for me. Then she provided a link to some planet illustrations that she could transform into her style. Overall a clear and effective way of working which would reduce the need for revisions later on.
The $100 freelancer (blueashes): Almost four hours after my initial message, blueashes responded that she was going to prepare some preliminary designs. I was a little surprised that she would go to so much effort before I'd even purchased the gig, but I appreciated the proactive approach.
Comparing the Final Results
All three freelancers submitted their phone case designs well before the deadline and responded quickly when I had questions or needed revisions. Yet one designer's work stood out as a clear favorite… and it wasn't the most expensive gig.
The $15 Phone Case Design
The $15 phone case creator didn't send any initial ideas or samples, so I was pleasantly surprised when they delivered the completed project a day ahead of deadline.
Although I'd purchased a gig that included just one layout, mourhoostudio delivered two phone case designs.
 (For comparison, their mid-tier design package includes three designs for $40.)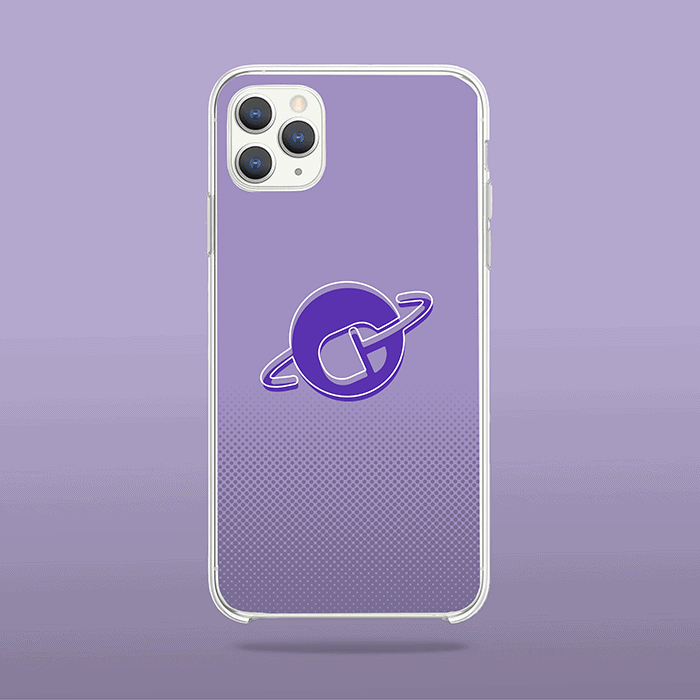 I liked how Veby incorporated Website Planet's logo, but initially, neither of the designs used the brand's distinctive purple shade (the design above was originally green!). I realized I'd never specified a color during the onboarding process, so I used one of the gig's unlimited revisions to request a color change.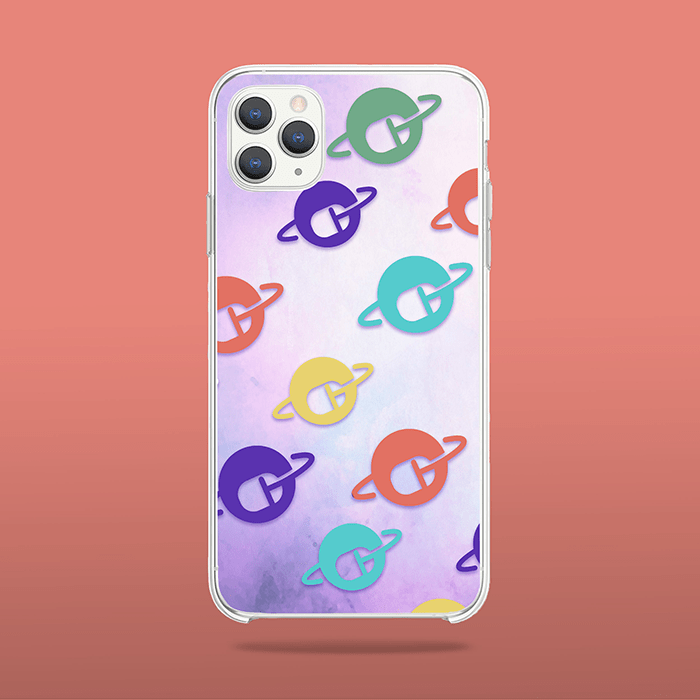 Because the gig only included one design, I thought they might ask me to choose a favorite before sending the source file for the winning option. In the end they sent both, which meant
I received twice the amount of work I expected for the same price. The designs took less than three days to complete, making for an efficient project that delivered tons of value.
The $25 Phone Case Design
About a day after I purchased the gig, the $25 phone case creator sent me the first in a series of works in progress. First, she shared two styles of the basic elements they planned to repeat throughout the design. I told her I preferred the bolder of the two options and asked her to modify the pattern so it featured the Website Planet logo just once.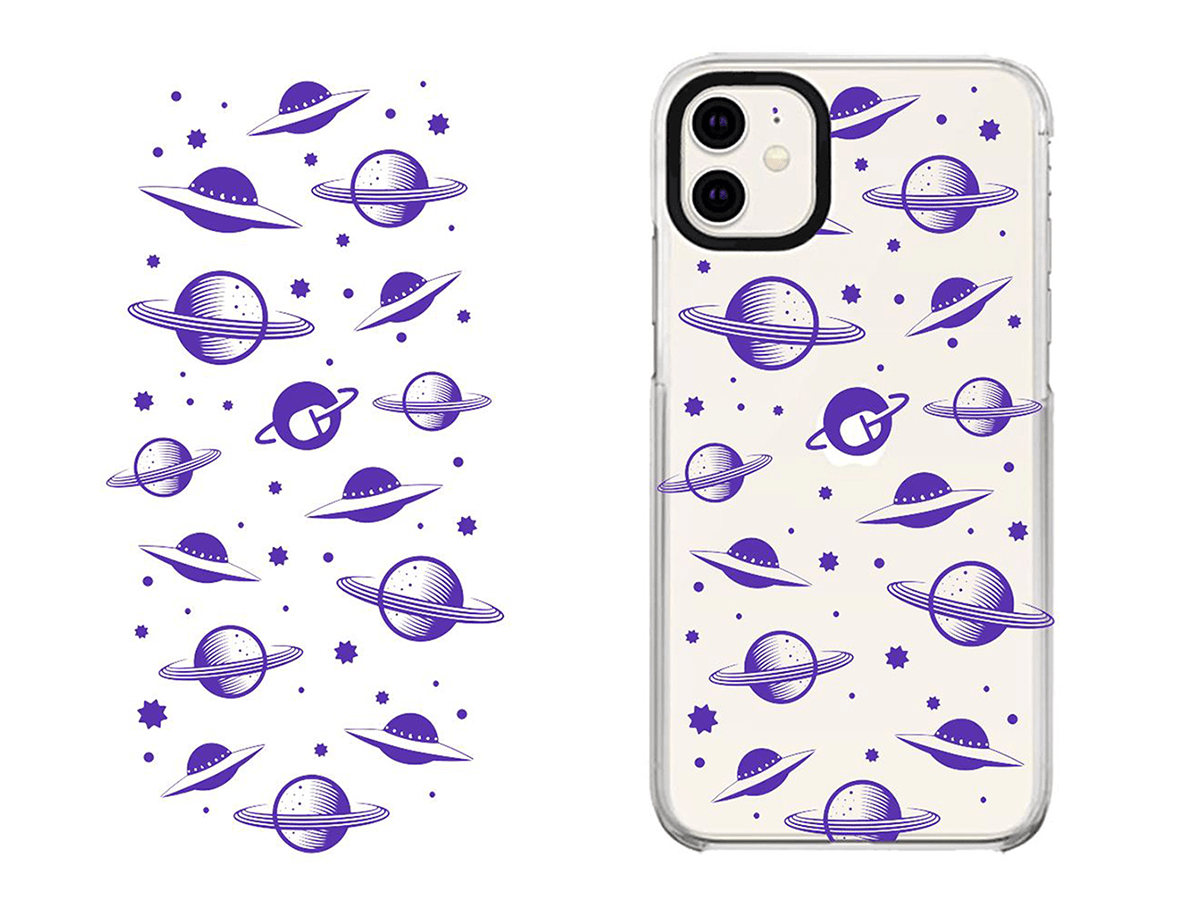 Two days later, she sent me a nearly complete design for approval. I signed off on the design, and she sent the final files about a day later. Altogether, this project took four days to complete.
Like the $15 seller, this designer over-delivered.
 The gig I purchased didn't include a source file, and technically I would have had to upgrade to the $40 package for that.
Yet Oana provided the source file anyway so I could make my own edits to the design if I wanted.
 Although I liked this design best and wouldn't opt to alter it, I appreciated the added value.
The $100 Phone Case Design
The highest-priced designer sent me some initial concepts about 12 hours after my first message. All three had a similar look, so I went with the one that had a square orientation that looked like it would fit best on a phone case. The design looked a bit plain, so I asked about a background and requested something to go with Website Planet's logo color.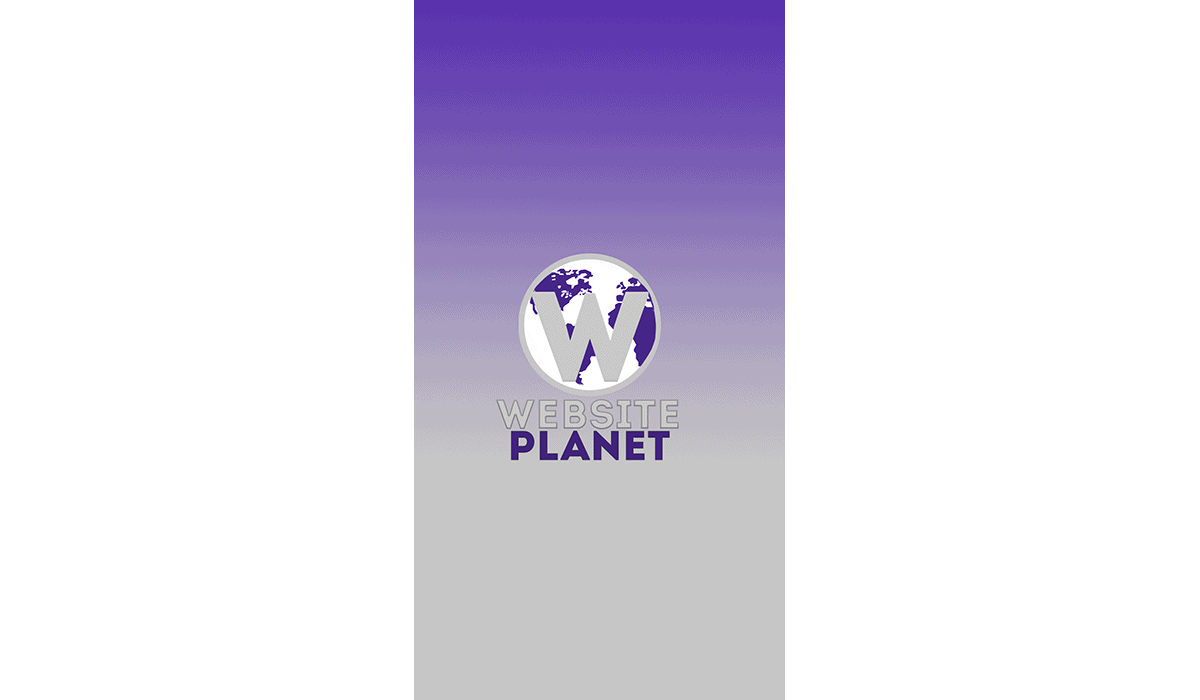 Then she encouraged me to book the gig, and less than an hour later, delivered the final design. Overall, this project took about a day and a half to complete, making it the most efficient.
Yet the design isn't my favorite, and the creator didn't send unexpected extras like multiple designs or a source file. Instead, the cheaper designers provided much more value.
 It's not as visually appealing, engaging or imaginative as the cheaper options, so in this case, for me, the extra cost didn't justify the end result.
Ultimately, it's easy to see that you can get great design work even if your budget is relatively small.
 For high-quality custom design work, paying just $15 or $25 is an excellent deal.
Flowpatterns wins this contest
because of her unique concept, striking design, and collaborative approach, as well as for providing me wth the source file – an unexpected added bonus. Mourhoostudio would be my second choice, thanks to their efficiency and responsiveness to revisions. I'd happily hire these two cheaper designers again.
When it comes to phone case designs, I found that you really don't have to pay a fortune.
 It may make sense to pay more if you need a fast turnaround but the difference in time between these sellers was minimal. I'd recommend hiring a cheaper designer whose style fits your project.
Hiring a Freelancer for Phone Case Design on Fiverr
When you hire a freelance designer on Fiverr, you're getting a lot of perks and benefits too. It's why it's one of our
top freelance websites in 2023
and it's why our expert rated it so highly in
our Fiverr review
. For now though, here's a snapshot of what you'll benefit from:
Connecting with experienced freelancers: When searching for freelancers on Fiverr, you can easily locate individuals with extensive experience. You have the option to search for Fiverr designations such as Top Seller or gigs with hundreds of reviews.
Completing projects quickly: Most Fiverr gigs have relatively short turnarounds of a week or less. If you need something faster, you can filter search results by your preferred deadline – which can be as brief as 12 hours.
Sticking to your budget: Whether you want to spend a little or a lot, you can typically find a freelancer who can work within your budget on Fiverr. Gigs cost as little as $5 in many categories. If you can afford to spend more, you can often hire more experienced professionals or get a higher number of deliverables.
The 10 Best Phone Case Designers in 2023
I looked through hundreds of Fiverr professionals to find the best phone case designer.
My top choice is
flowpatterns
 because of their eye-catching design and excellent communication for a reasonable price. Take a look at the rest of my top 10 phone case designer recommendations:
FAQ
Can you really get a phone case design for $15 on Fiverr?
Not only can you get a great design for $15, but you also have a lot of even cheaper options. Many Fiverr phone case design gigs start as low as $5.
Is the most expensive option always going to provide the best results?
As this test shows, the most expensive option won't always produce the best results. I preferred the cheaper phone case designs over the most expensive one. My colleague also liked the less expensive options in our Fiverr logo design review, and we even ended up using the result as our website logo!
When does Fiverr charge you?
Fiverr charges you when you purchase a gig. You can set up a profile, browse gigs, and message with sellers without paying a fee – we go into this in a lot more detail in our Fiverr review.
Is Fiverr easy to use?
Fiverr has an easy-to-use interface, and you can find what you need quickly. It's onne of the reasons it scored 4.9 out of 5 in our Fiverr review. You can use the dropdown menus to browse popular categories or use the search bar to find more unusual gigs. Then you can sort the results by budget, turnaround time, seller details, and project-specific options like licensing for commercial use. To proceed, click on the gig you like and then click on the green Continue button to purchase.
Which is better – Fiverr or Upwork?
Fiverr and Upwork stand out as two of the biggest online marketplaces for freelancers. Yet Fiverr is better than Upwork for a couple reasons. With Fiverr, you can hire highly qualified professionals for as little as $5. You can browse each seller's reviews and work samples to find the ideal partner for your project. Finding a vetted professional on Fiverr is easy, too. Just look for credentials like Fiverr's Choice or Level Two Seller in freelancers' profiles.