While all the builders on my list will get the job done, my personal favorite is Squarespace. It has the best-looking templates around, and all the tools you could possibly need to build your website, integrated straight into its editor (so you don't have to look for them elsewhere). You can take advantage of
Squarespace's 30% discount on annual plans
 to save on your subscription.
As a graphic designer, you know how much the fine details matter.
Not all website builders can give you everything you need to create a site that really reflects your skills and shows your work in the best light.
In addition to sufficient storage space, you'll want a builder that offers professionally designed templates and gives you the creative freedom to customize your template and make it your own. You might even want to start out with a blank template so you can design your site from scratch. After testing the best website builders on the market, I've picked five that offer the most useful features to help you get your work out there to potential clients.
What We Look For in the Best Website Builders for Graphic Designers
In order to provide you with the most helpful, relevant list, I tested dozens of builders to see which ones can offer the features that are most important for your graphic design website:
Plenty of storage space: You might want to upload a lot of hi-res images to share your work with potential clients, and you don't want to be forced to pick and choose.
Customizable templates: As an expert in visuals and layout, it is essential for you to be able to create a beautiful website that can be easily adjusted to reflect your unique style. If templates aren't your thing, some of these builders will let you start out with a blank template and design your own site.
Advanced gallery features: In order to present your portfolio in an attractive and interactive way, your website builder should provide a variety of gallery layout options, with the ability to view images in full size and scroll between them easily.
Mobile friendliness: You want to make sure that your site and galleries look their best on any device.
Effective SEO tools: In today's competitive market, you need to make sure your site will pop up when people search for graphic designers on Google.
With more than 900 free templates, Wix has several specifically aimed at graphic designers, with built-in galleries for you to showcase your work in an easy and attractive way. It also offers seven blank templates, including one built around a gallery and another around a portfolio.
With Wix's intuitive drag-and-drop editor, all templates are fully customizable, so you can choose your own fonts and color scheme and add and move around text blocks, images, and other elements until everything is just right.
The editor gives you automatic guides (like in Photoshop), so you can make sure everything is aligned perfectly. Just be aware that once you choose a template, you can't switch it later. You can, however, customize it to make it look completely different.

Wix has 20+ templates for graphic designers
Let's dive into some of the other features that made Wix our #1 pick for graphic designers:
Excellent SEO tools: Wix offers great SEO support for beginners, making it easier to get your work out there. The Wix SEO Wiz feature creates a personalized SEO plan for your business.
Affordable options with ample storage: Wix's free plan will give you 500 MB of storage. There are several premium plans that will get you up to 20 GB of storage for a great price.
Extensive App Market: With more than 300 apps – some free, some paid – it's easy to take your website to the next level with advanced features, including social media integration and lots of different image galleries.
Check out more features in our
full Wix review
.
| | |
| --- | --- |
| Free plan available? | Yes |
| Storage options? | 500MB (free), 3GB, 10GB, 20GB |
| Mobile friendly | Yes |
Praised for its sleek and attractive templates,
Squarespace has lots of beautiful options for graphic designers, with an entire section of templates devoted to portfolios.
You can use the intuitive drag-and-drop editor to customize any template, although the customization options are limited compared to Wix.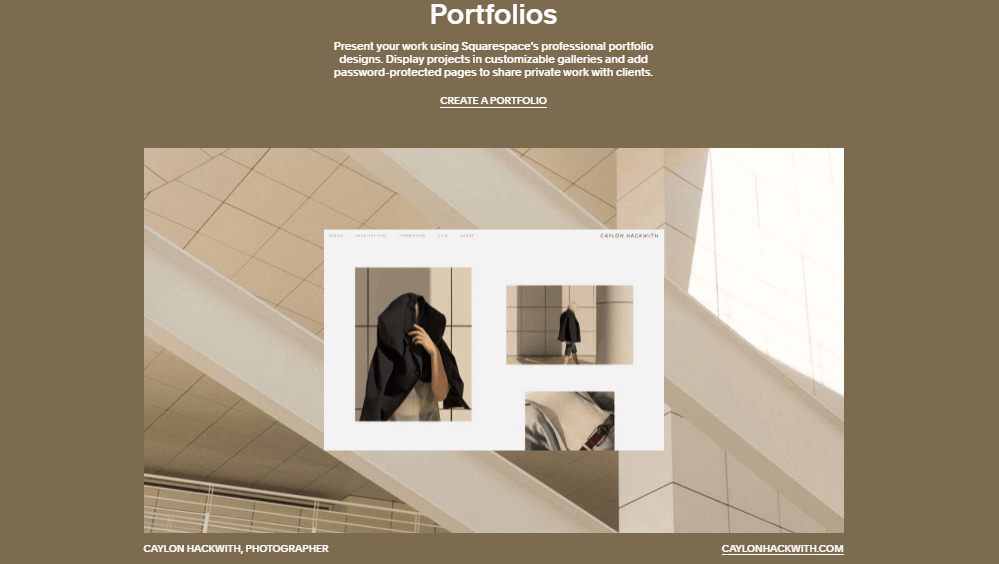 Check out some of the other features that make Squarespace stand out:
Unlimited storage: All of Squarespace's plans offer unlimited storage, so you don't have to think twice about uploading your work in whatever size and resolution you want.
Social media integration: Squarespace allows you to link multiple social media profiles to your site, enabling you to share your work with your followers and potential customers with the click of a button.
Advanced e-commerce: It is easy and fast to set up an online store on Squarespace, where you can sell both digital and physical products directly from the site and through social media.
For more information, check out our
complete Squarespace review
.
| | |
| --- | --- |
| Free plan available? | No, but there's a 14-day free trial |
| Storage options? | All plans offer unlimited storage. |
| Mobile friendly | Yes |
If you need to get your website live fast, SITE123 is your answer. Although it doesn't offer as many templates as Wix, and they may not be as striking as Squarespace's, there are many attractive and well-designed options. You can quickly customize any template with the block-based editor. Just note that the customization options are quite limited compared to other builders, and there are no blank templates.
SITE123 has some templates that could work for graphic designers, including simple portfolios that allow users to view all of your work at once or scroll through the pieces one by one
. Keep in mind that you can't switch templates once your site is live, so choose wisely.
SITE123's templates are simple, yet well-designed
Let's take a look at some of SITE123's other features:
24/7 live chat support: If you're new to the world of web design, SITE123 is not only the easiest platform available, but it also provides real-time help, so you will never get stuck.
Mobile responsive: All templates are optimized for multiple devices, and you can edit the mobile and tablet views to make sure your work always looks its best.
All the basics: If you want a fully functioning site fast, SITE123 will deliver all of the basics for free, but for more robust features – including the full range of fonts and colors or being able to accept payments through your online store – you will have to update to a paid plan or get added plugins.
See what else this builder offers in our
thorough SITE123 review
.
| | |
| --- | --- |
| Free plan available? | Yes |
| Storage options? | 500MB for free, 10GB paid |
| Mobile friendly | Yes |
If you've got some time and technical experience, WordPress.com can help you bring all of your creative visions to life.
With over 250 themes, plenty of built-in features, and an extensive library of plugins, you can customize your site to look and function however you want.
Even though it's aimed primarily at bloggers, WordPress.com has an entire section devoted to specialized portfolio themes, all of which are mobile-friendly.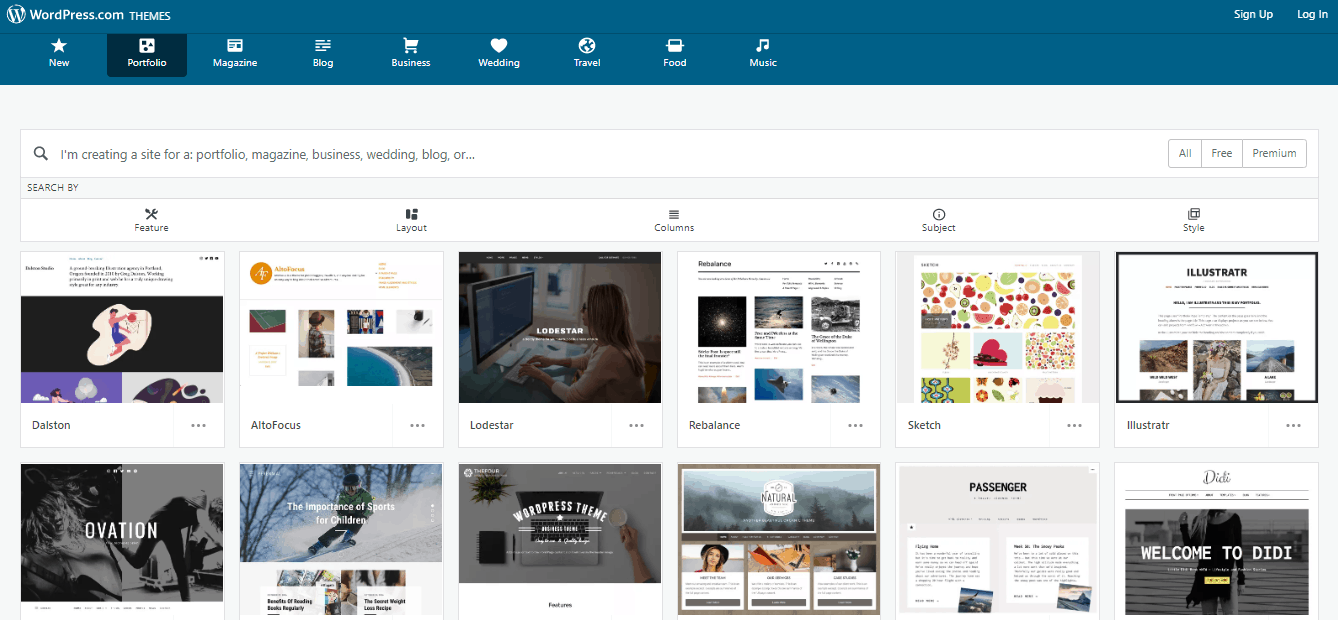 However, what you gain in advanced options you lose in simplicity.
WordPress.com is more complicated than its competitors, lacking the straightforward drag-and-drop interface.
You need to be willing to edit and design your content separately, and maybe even be ready to do some coding if you want to get the most out of this platform. Let's zoom in on some of WordPress.com's best features:
Lots of free storage: com's free plan gives you 3GB of storage, more than its competitors, with the ability to pay for up to 200GB. As a graphic designer, this is a great way for you to ensure an extensive, hi-res portfolio.
Advanced SEO: Even with a free plan, every site built on WordPress.com has essential SEO mechanics. For a more comprehensive option, you can use the Yoast SEO plugin, getting your work to even more potential clients.
Social media integration: With built in social sharing buttons that you can put on each post, WordPress.com allows you to easily share your work with your followers and potential clients.
Discover great tips in our
WordPress.com expert review
.
| | |
| --- | --- |
| Free plan available? | Yes |
| Storage options? | 3GB (free), 6GB, 13GB, 200GB |
| Mobile friendly | Yes |
Pixpa is a website builder designed specifically for you – for graphic designers, photographers, and other creatives.
It speaks your language and focuses on the features that are important to you, with advanced galleries and gorgeous aesthetics. Whereas every website builder has some templates that are geared toward creatives, this is an entire platform dedicated to the industry.
Pixpa has 31 gorgeous themes
 that each offer different ways for you to showcase your work and deliver your projects to clients.
Unfortunately, Pixpa's editor is quite basic compared to other builders, limiting your creative control. It does not offer blank templates or a free plan. Here are some of the the features that make Pixpa stand out:
Smart portfolio: Pixpa offers multimedia galleries created specifically for graphic designers. You can choose from multiple layouts, upload different file types, and edit every detail, from padding and image-fit to light-box and slideshow settings.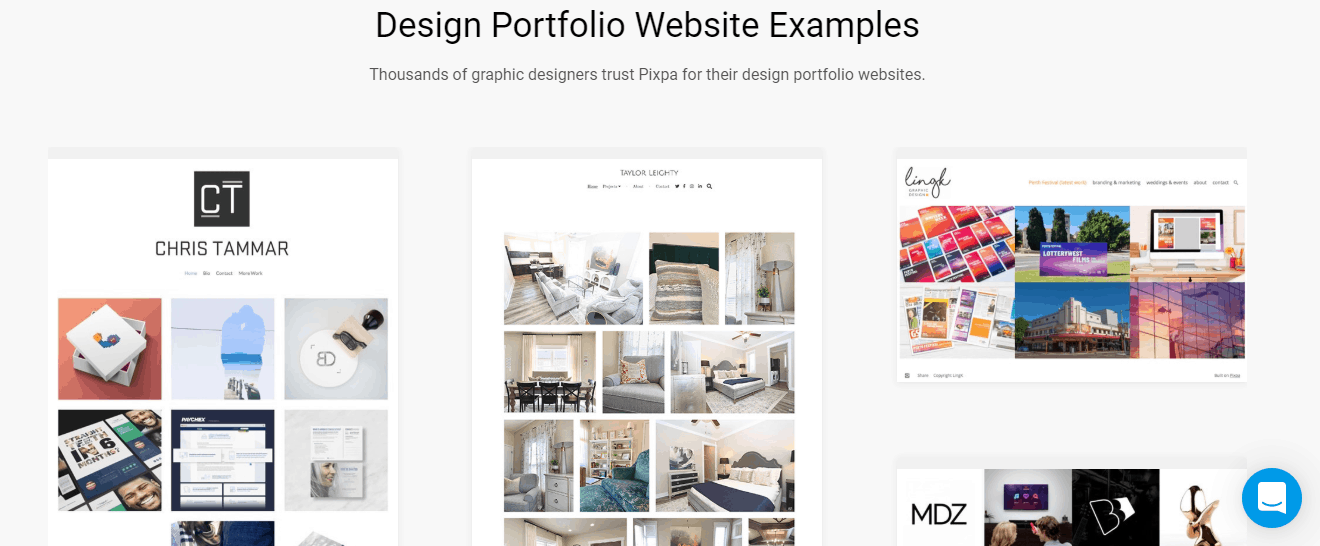 Click here to see Pixpa's template selection
Client galleries: Pixpa enables you to share your projects with clients by utilizing private or public galleries. Each gallery has its own link, landing page, and access rights. Clients can effortlessly mark their favorites, provide feedback, and download files from these interactive galleries.
Advanced e-commerce functionality: Pixpa specializes in e-commerce for artists, allowing you to sell digital products, add information about licensing and usage restrictions, and accept multiple online payment methods.
Deep dive into the features offered in this
detailed Pixpa review
.
| | |
| --- | --- |
| Free plan available? | No, but there is a 15-day free trial. |
| Storage options? | 1GB, 5GB, 25GB, 1000GB |
| Mobile friendly | Yes |
Choose the Right Website Builder, So You Can Use Your Creativity Where You Need It
As a graphic designer, you know better than anyone how to take into account aesthetics, UX, and functionality. So which website builder will best suit your needs and show off your work?
For the best all-round experience that will deliver a professional, customized website, with lots of attractive templates for graphic designers – go with Wix.
For unlimited storage and lots of beautiful portfolio templates, consider Squarespace.
Here is a summary of the best features offered by each website builder:
Builder
Stand-out feature
 
Wix

900+ free templates
Intuitive editor for fully customizable pages

Squarespace

Stylish, professional templates
Unlimited storage

SITE123

Quick and easy
Responsive 24/7 live chat support

WordPress.com

Maximum functionality and customization
Ample free storage

Pixpa

Multimedia portfolios specifically made for graphic designers
Advanced client galleries
FAQ
How much does a graphic design website builder cost?
The cost of a graphic design website depends on the advanced features and the amount of storage space that you need in order to properly showcase your work. Most website builders offer a free option. If it doesn't meet your needs, most builders offer affordable basic plans. To find more detailed information about different website builders and their costs, read our overview of the best website builders.
What is the best website builder for artists?
Most website builders are versatile enough that they will suit the needs of all users, regardless of their industry. With its intuitive drag-and-drop interface and extensive templates library, Wix is an excellent website builder for anyone. If you are looking for something specifically geared towards artists, Pixpa is an excellent website builder, designed for photographers, graphic designers, and other creatives. It offers lots of storage, advanced gallery and portfolio features, and e-commerce, blogging and social media integration, created with artists in mind. If you are specifically looking for e-commerce, check out this article comparing the best website builders for selling art online.
What is the best website builder for a portfolio site?
Known for its aesthetically pleasing templates, Squarespace has an entire section devoted to portfolio websites. These templates offer a wide variety of gallery options and layouts to meet different visual and technical needs. It also uses an intuitive interface and offers unlimited storage, which may be useful, depending on the type of portfolio you are building. Pixpa is designed specifically to build portfolio sites for photographers and other creatives, offering lots of storage, and a wide variety of smart and interactive portfolio features.