Parallax scrolling can help you create a more immersive experience for your site's visitors,
 but not all parallax website templates are created equal. You can easily pick a template that looks good, but slows your website down and leads to people leaving. After testing dozens of them, I've rounded up the best fast-loading parallax templates for WordPress and a few of my favorite website builders. But if you want an entirely distinctive template, feel free to skip ahead to learn how you can
get a great custom template for a very low price
.
WordPress Themes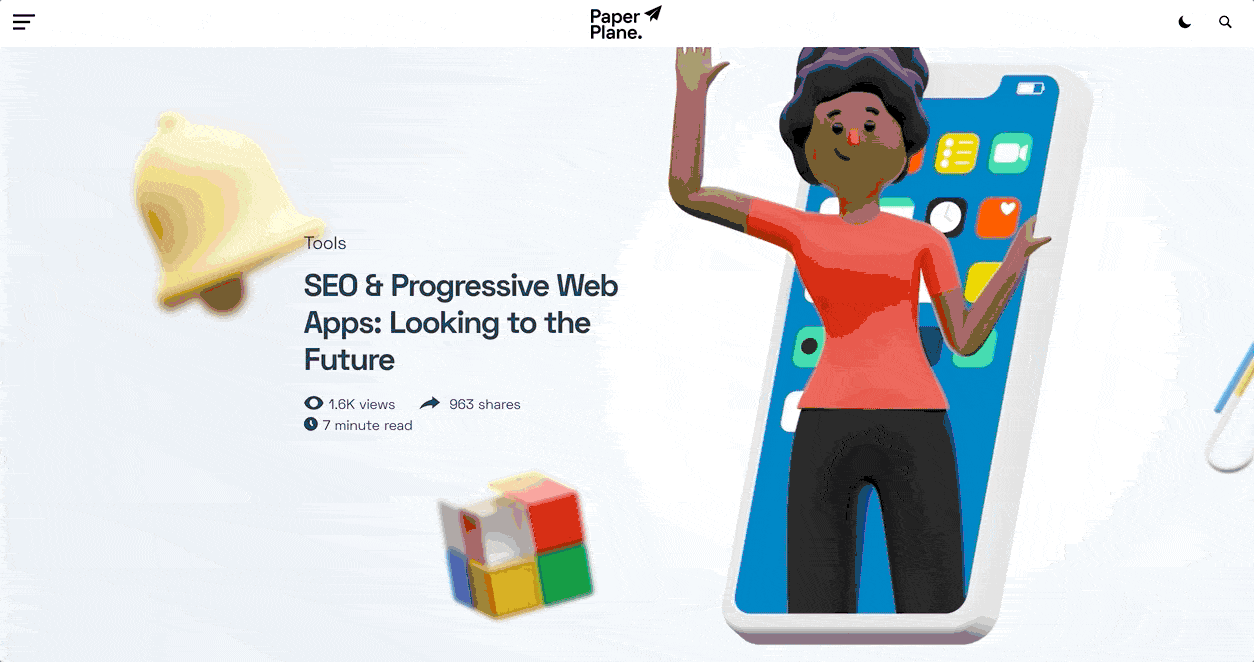 This theme from
ThemeForest
 grabs your attention with its bright colors, contemporary fonts, and smooth scrolling experience. It brings to mind tech companies like Google, which makes it
 a great theme for bloggers in the technology and marketing spheres.
Paper Plane
 is also
really
fast. The Lazy Load module is built-in, which means images are only loaded as they're about to come into your visitor's view. The result?
Better loading speeds
. And that's just one of the performance-boosting features included with the theme.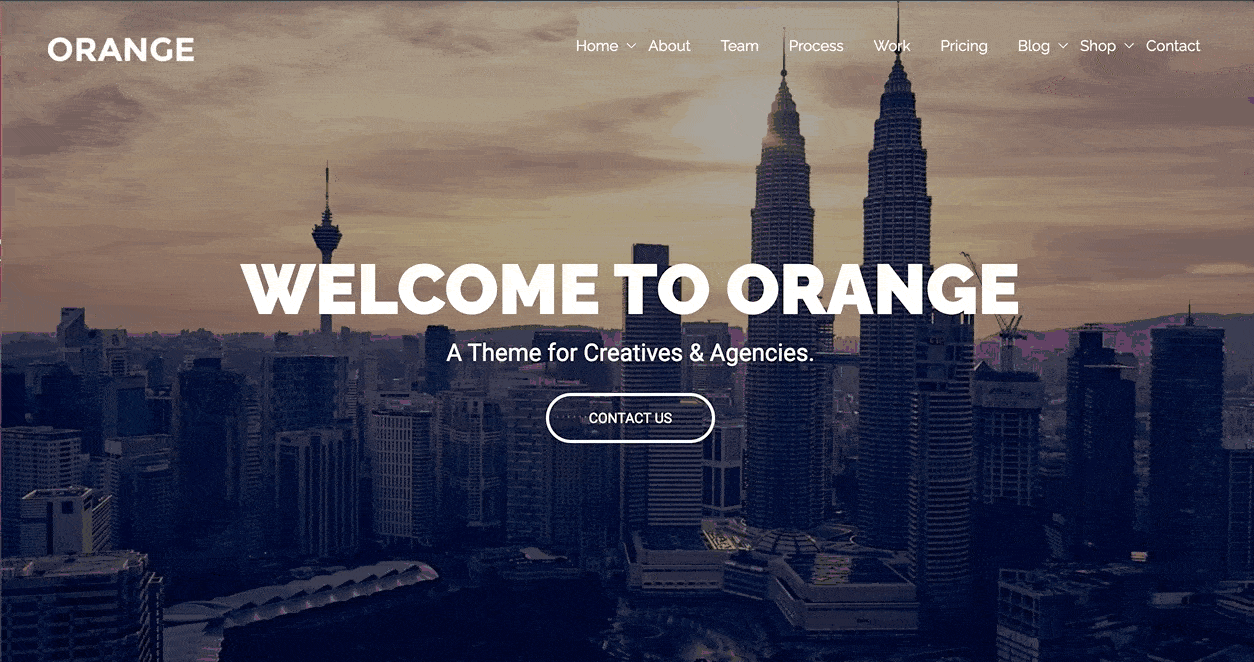 Available from
Template Monster
,
Orange
features a charcoal grey, white, and orange color palette that makes me think of home improvement projects and "getting things done." This, combined with its contemporary fonts, makes it perfect for web design agencies and other creatives.
Orange is a fully-responsive theme, which means it's optimized to work great across desktop and mobile devices.
That being said, parallax scrolling does not work on mobile, which is the norm given the limitations of mobile browsers. It also
 features Mailchimp integration, a working contact form, and a blog
 to keep your clients up to date on your products and services.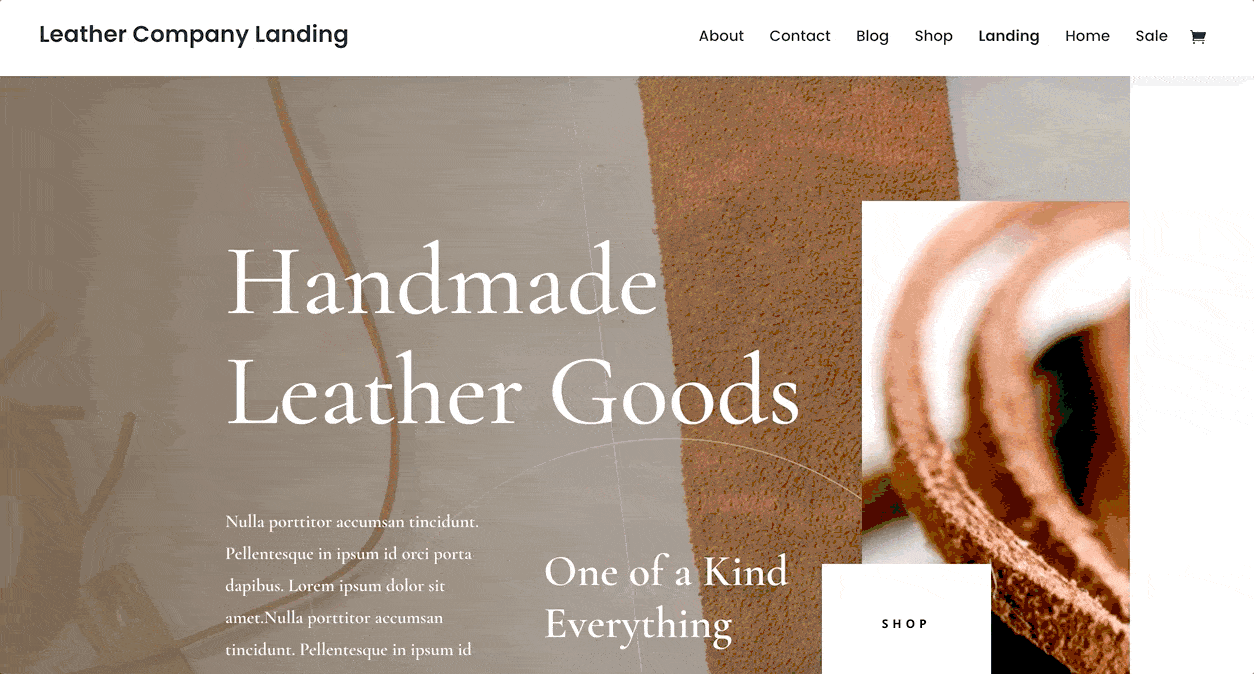 Elegant Themes's drag-and-drop editor for WordPress is called
Divi
. Its templates are referred to as layout packs, and each layout pack contains several layouts – you can think of these as pages. Divi's best layout pack featuring parallax scrolling is
Leather Company
.
Leather Company's
 default color scheme has tones of driftwood, dark grey, and white along with traditional font styles to give it a rugged yet trustworthy feel.
Its parallax scrolling combines with interactive animation to highlight the appearance of any products you may have on offer
 – making it perfect for anyone selling visually appealing items online.
This layout pack comes with seven layouts, including a blog and built-in shop page.
 It's easily customizable without any coding knowledge, and it gives you the freedom to tailor its appearance across devices.
Website Builder Templates
If you haven't started building your site, you might want to consider a website builder instead. Without any coding or tech experience,
 you can have a site up and running in a relatively short amount of time with the help of an easy-to-use drag-and-drop editor.
Also, SEO and email marketing features are integrated into most site builders by default. All of this means less time working on your website and more time promoting it. Here are a few of my favorite parallax templates from website builders: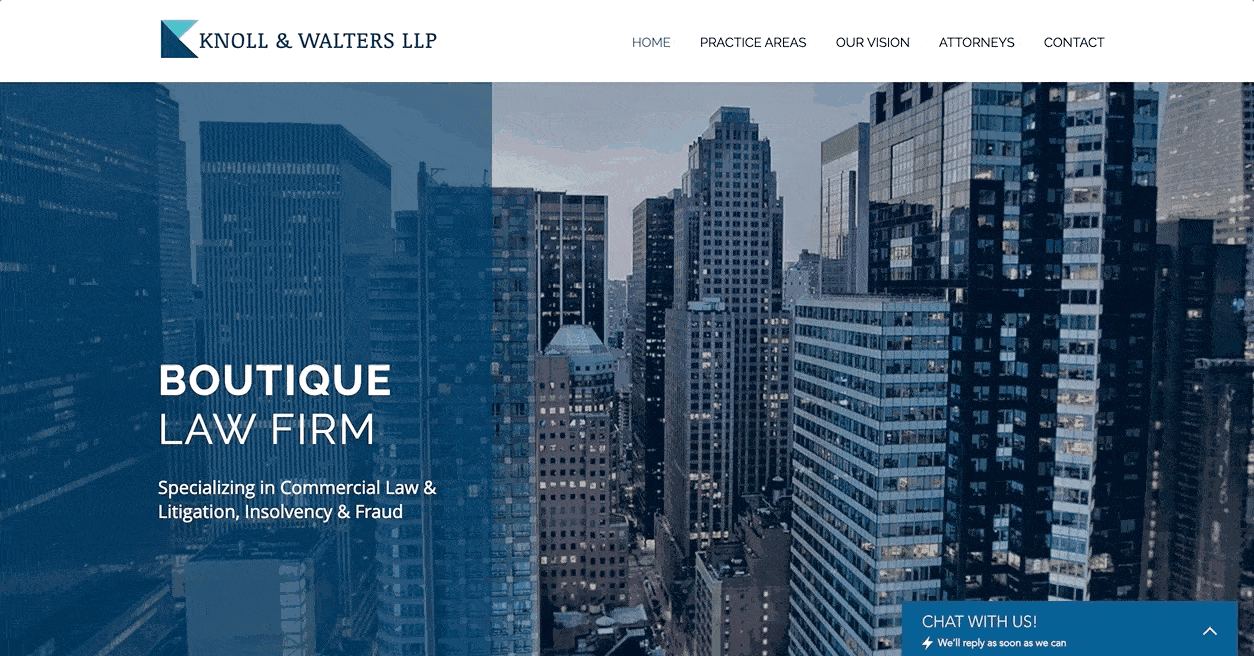 Law Firm by Wix is a template that communicates trust and dependability
with its azure, midnight blue, and turquoise color palette. Its no-nonsense typography and asymmetric layout create
a look that would work for any type of legal, accounting, or business consulting agency.
This template comes with a built-in live chat feature, so your site's visitors can communicate with you in real time. It's a one-page template, so
it loads quickly despite the fade-in visual and parallax effects.
 It also comes with a built-in contact form, and sections to showcase your staff, vision, and the services you offer.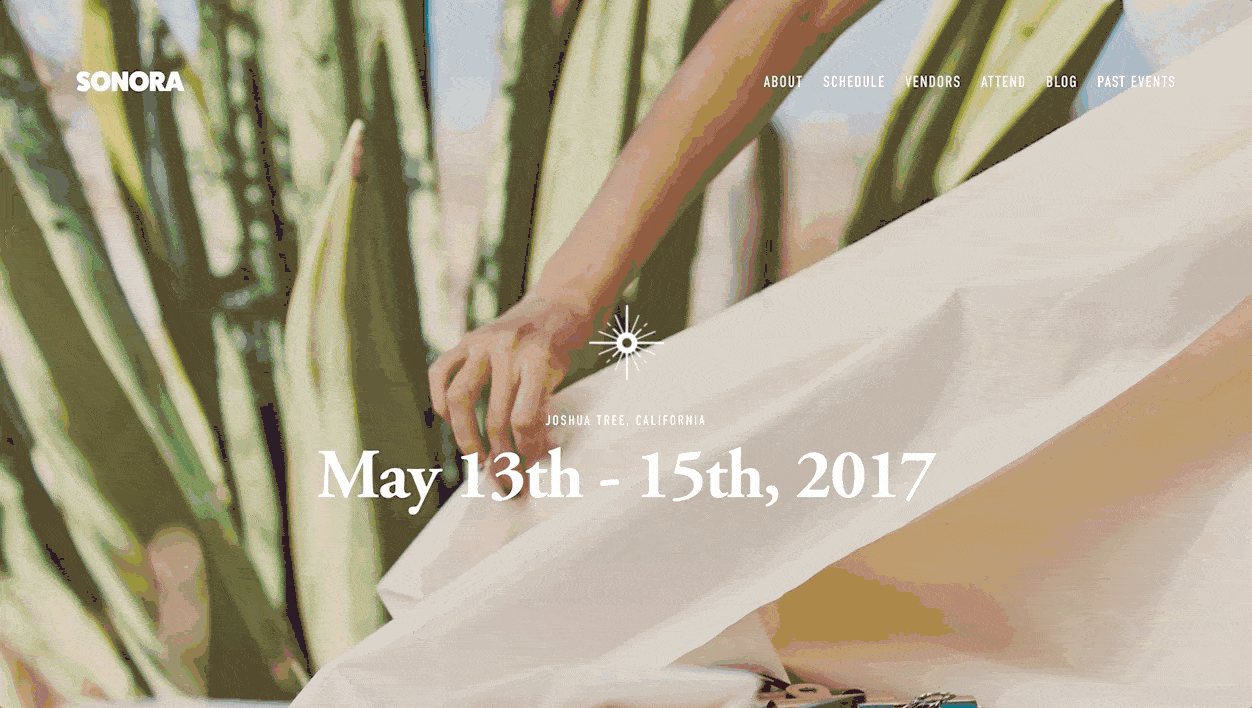 You'll find Sonora among the earlier 7.0 Squarespace templates
as the current 7.1 framework doesn't include parallax scrolling. Its default color scheme is a minimalist smoke black and white, which combines with a subtle typography, so as to not distract from the visuals.
It features large spaces for showcasing images, which makes it perfect for visual artists and photographers.
The template includes a blog and a schedule to showcase upcoming events, as well as a built-in registration form and all the necessary social media links.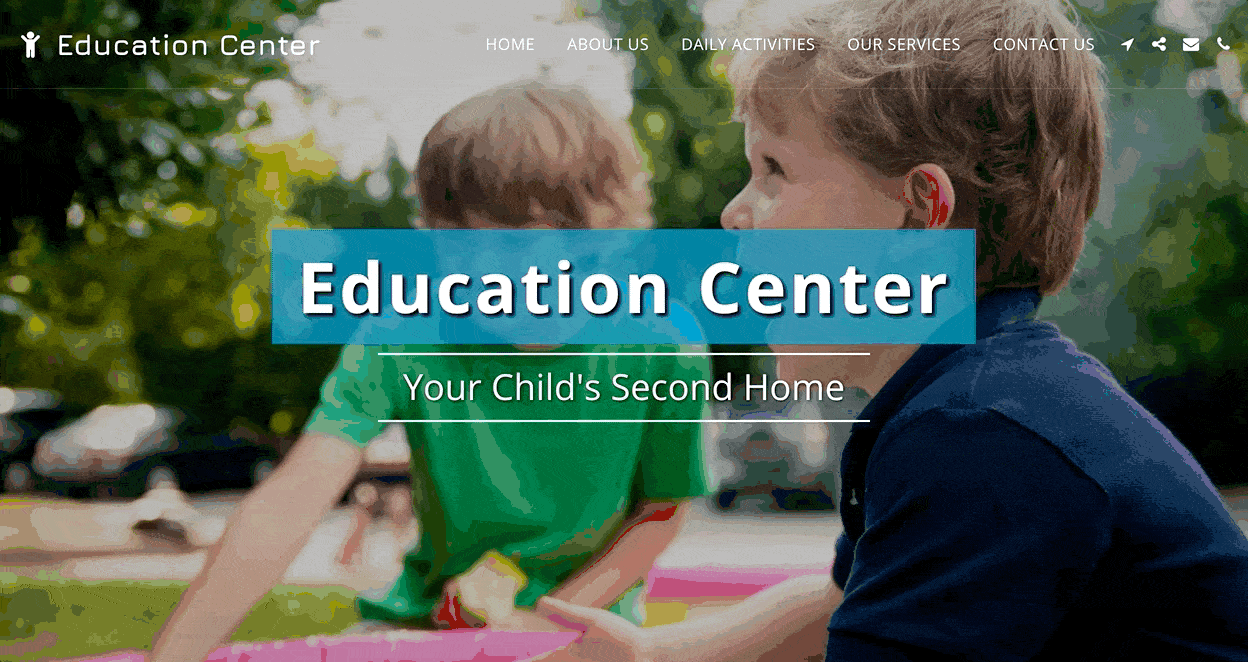 Education Center is a one-page fully-responsive template
 available through SITE123. Its color palette includes tones of shark grey, light blue, and white. This combines with contemporary fonts to create a template that draws attention straight to your services on offer – a section that can easily be used as a blog instead. It's a versatile theme that is ideal for daycares and schools thanks to its regular daily schedule feature, but can be adapted for after school music teachers and educators as well. It also
has a built-in contact form, about section, and a newsletter sign-up to keep your email list up to date.
How to Get a Custom Template for a Great Price
Fiverr is a great website where you can find freelance template designers at bargain prices.
 Having a template designed to your specs from the start can cut down on the time you spend customizing one later. Also, while templates from website builders are great,
a custom template can be designed to be as distinctive as you want it to be.
Here are a couple of great examples of designers on Fiverr who will create a parallax website for you.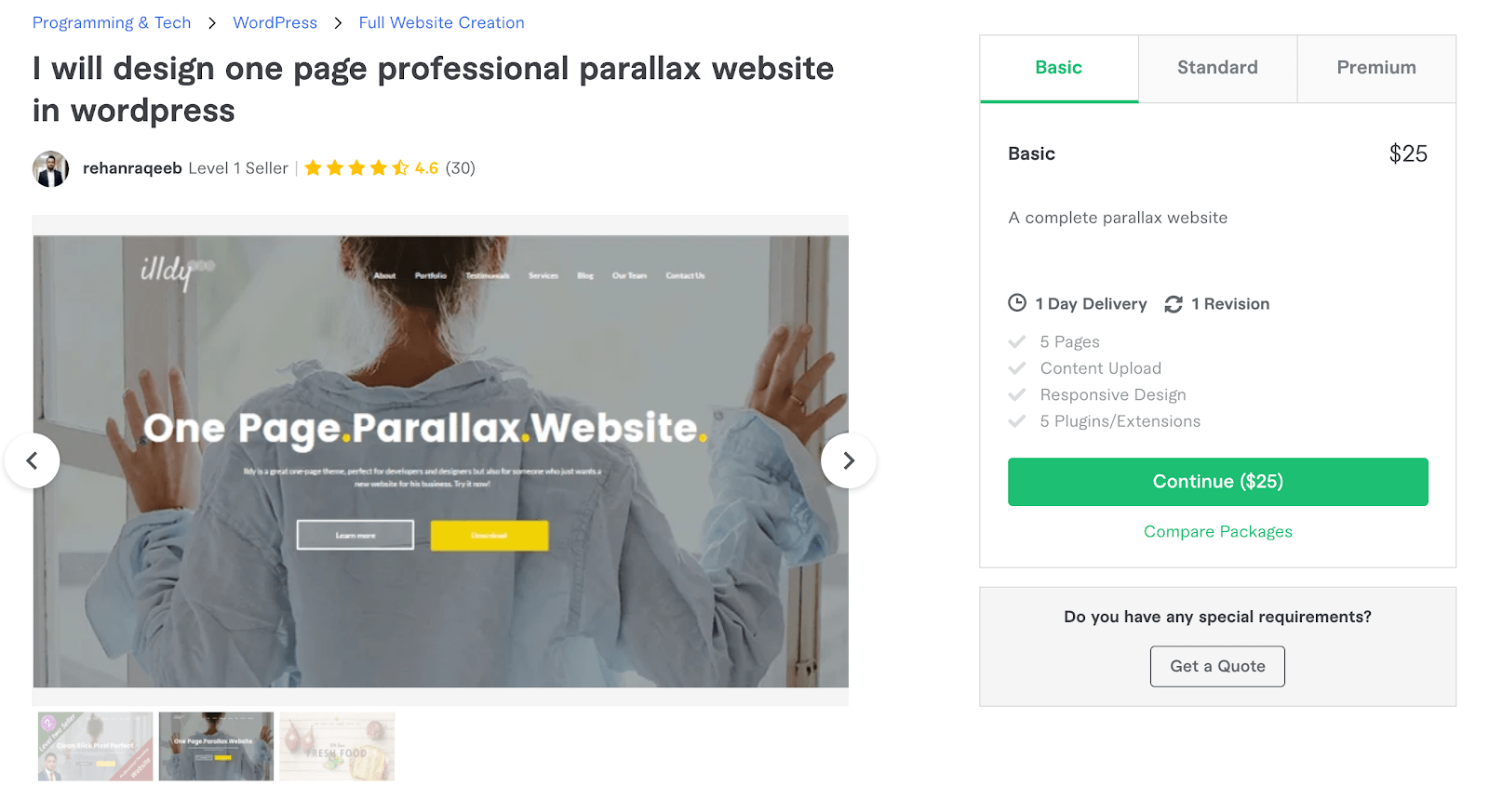 Rehanraqeeb
is a website designer and software developer with over six years of experience, and he has a reputation on Fiverr for his
responsive, one-page, custom-designed parallax WordPress websites.
 He specializes in all kinds of business and non-profit sites, but also builds them for blogs, portfolios, and entertainment. His Basic package is very affordable and includes any content you need uploaded, plus the installation of up to five plugins or extensions.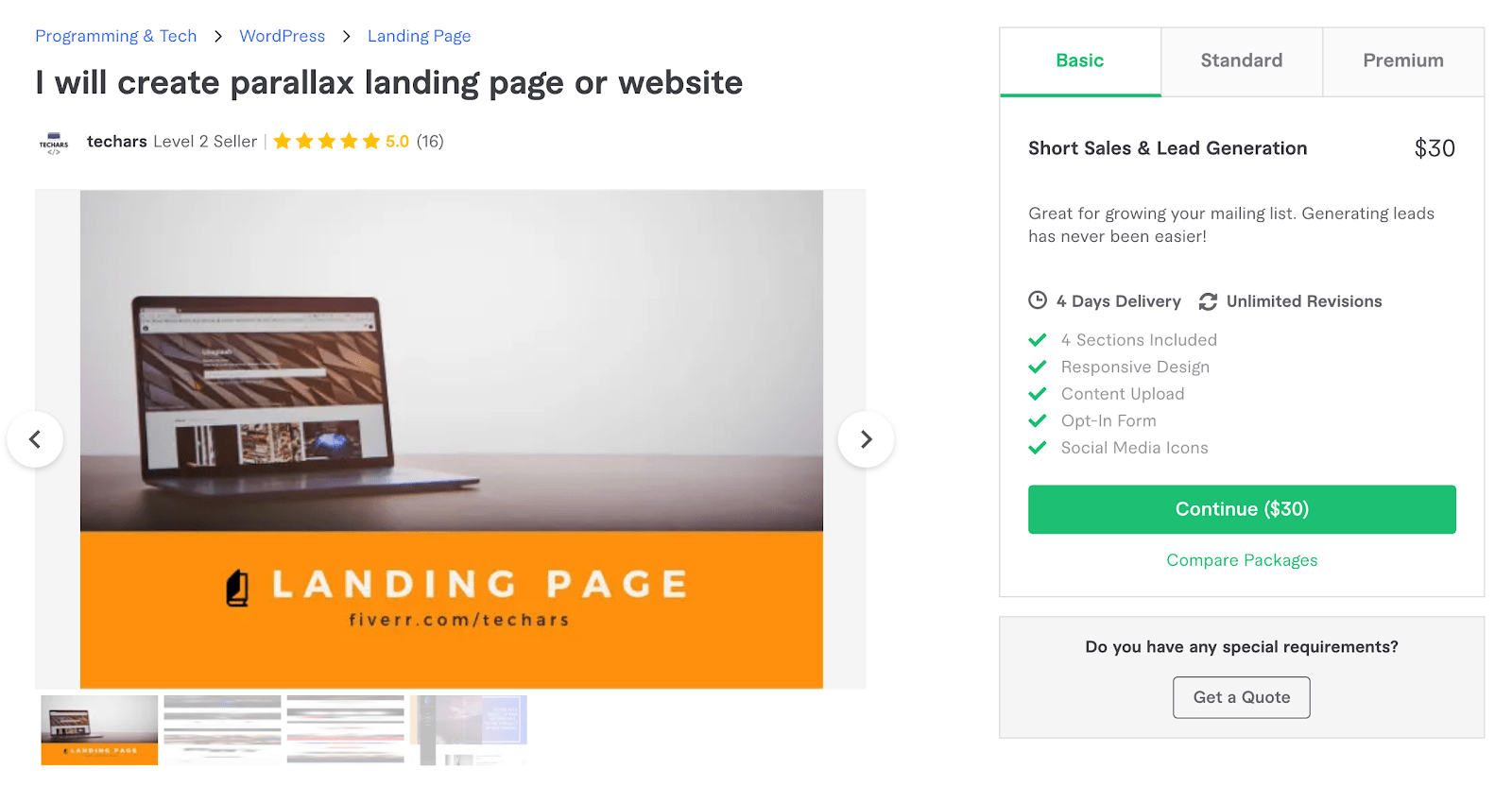 Then there's a Level 2 Seller named
Techars
.
To be granted the title of a Level 2 Seller on Fiverr you need to have delivered at least 50 orders and maintained a minimum 4.7 star rating over 60 days.
Techars
costs slightly , but he creates
 parallax websites with unlimited revisions and support for up to a month after delivery.
His Basic package includes a site with up to four sections, content upload, and social media integrations. A quick look at his reviews shows that
he has a reputation for going above and beyond his clients' expectations.
There's a lot of talent on Fiverr, and even if you decide to go with a pre-designed template, you might want to consider getting a freelancer on Fiverr to customize it for you.
Parallax Templates Can Be Good-Looking and Fast
Parallax scrolling is great for adding depth to a website
and creating a more immersive experience for your site's visitors
. But if you're not careful, it can also slow your site down, cause frustration, and increase your bounce rate. I've included templates on my list that offer visually engaging designs without sacrificing loading speed. Additionally, most of them are fully responsive or can be easily customized for various devices with just a few adjustments using the builder's back-end editor. Or, if you want a distinctive parallax template that can potentially save you time on customization, you now know how to
find a great low-cost designer on Fiverr
 to create one for you.
FAQ
Is parallax scrolling good for websites?
It depends. Yes, it's a great addition for adding depth to your site and creating a more engaging experience for your site's visitors. That being said, if the parallax feature is added to the wrong template, it can lead to slow loading speeds and annoyed visitors. Thankfully, some website builders are better optimized for performance than others. We've put together a list of the top website builders in 2023, and many of them come with fast-loading parallax scrolling templates.
How do you add parallax scrolling?
On most builders, this involves adding a parallax section to your site with the parallax effect already built in. Then, it's just a matter of selecting the background image that you would like for that section. With Wix you can change the background of any page and select parallax from Settings to add this effect (read more about this in our expert Wix review). Many WordPress themes come with parallax scrolling included, but if yours doesn't, you can add it by using a plugin.
How do you remove parallax scrolling?
On Wix, click on Background and select None in the settings to remove the parallax effect. If your SITE123 template includes parallax, simply click on Image in the section of your site where you want it removed, then toggle the Fixed image (parallax) slider to the off position. On Squarespace click on Design, then Site Styles, scroll down and uncheck Enable Parallax. Removing it from your WordPress site will depend on your theme or the plugin you used to add it. If it's unclear how to remove it, contact your theme's support staff, or WordPress customer support.
Does parallax scrolling work on mobile?
With a few exceptions, no. Parallax scrolling isn't usually responsive due to the typical limitations of mobile browsers. Even when it does work, it often lacks the smoothness required to make it worthwhile, meaning that when parallax is included in a template or site design, it's often disabled for mobile devices – for good reason.  
How much does Wix cost?
You can build and publish a Wix website for free, but it will be with a free Wix domain and some Wix advertising included. If you would like to remove Wix ads from your site, connect your own domain, or sell online, you will need to purchase one of Wix's premium plans. If you're considering a website builder like Wix, I recommend checking out some of the great discounts available before signing up to a paid plan.