OVHcloud is undoubtedly cheap, but in this particular case, you get what you pay for. Having tried it over the course of several months, I have to admit that I'm not a fan. It's fast – I'll give it that – but it compromises a lot in terms of customer support and ease of use.
Most of the time, it's just you, the knowledge base, and Google. Customer support is only available during working hours, and even then, there's no live chat service. Consider yourself lucky if an agent responds to your ticket after several days.
As for OVHcloud's control panel, it's one of the worst that I've tested. It makes things unnecessarily difficult, and the navigation is just downright confusing – do you really need a blank loading screen to switch between menu items? This might be OK if patience is truly your virtue, but I wouldn't recommend this setup for most people.
The good news is that there are better options out there, and I've tested dozens of them so you don't have to. Many had the same issues as OVHcloud, but I did manage to find a few services that strike a great balance between pricing, performance, and ease of use.
What We Look For in the Best Alternatives to OVHcloud
My goal was to find web hosts that are just as fast as OVHcloud, and also deliver in key areas where OVHcloud falls short. These were my priorities:
Dependable customer support. Unless you buy into a higher (and much more expensive) level of support, OVHcloud offers little to no help. With a few minor exceptions, the hosts on my list have better support at no extra cost.
Easy-to-use control panel. OVHcloud is not the most user-friendly platform. I've looked for hosts that have a simpler cPanel setup or a more streamlined proprietary dashboard.
Global coverage. OVHcloud has roughly 30 data centers around the world, which is a big plus. The hosts on my list don't cover as many locations, but most have data centers in several continents.
Outstanding uptime. While testing OVHcloud, I recorded an average uptime of 99.37% over the course of three months. Uptime improved during the following months, but even so, it was underwhelming. I looked for hosts with a more reliable record.
The best value for your money. You don't have to spend a fortune to get better hosting. OVHcloud is pretty cheap, but there are cheaper hosts that make fewer compromises. Or you can opt for a premium service and get more value for your money. I've included options for every budget.

Hostinger beats OVHcloud at its own game. It's even cheaper than OVH, and it doesn't compromise on either performance or customer support. It's also significantly easier to use, which makes it an excellent choice for most website creators.
You'll get everything you need on the shared hosting plans. Starting at $1.99, the entry-level plan offers enough resources to host a small website. The servers are optimized for WordPress, and a caching plugin is included by default to help you speed up your site.
As for performance, I tried out Hostinger's cheapest plan, and I was actually impressed. Hostinger is one of the fastest low-cost hosts I've tested, and its uptime was nearly perfect over the course of several months.
Features
LiteSpeed Web Server. Hostinger uses one of the best web servers available for web hosting today. Compared to the older Apache web server, LiteSpeed is faster and more stable during periods of intense traffic.
User-friendly control panel. Hostinger's proprietary hPanel is powerful but still easy to use. There's an auto-installer for dozens of CMSs and scripts, plus file and email management, SEO tools, access logs, cache manager, and more.
Managed WordPress features. Hostinger optimizes its servers for WordPress, and offers automatic core and plugin updates. A website starter wizard and expert support are also included in every plan.
Cheap cloud and VPS hosting. Hostinger is one of the few providers that can rival OVHcloud's prices for VPS hosting, so there's plenty of room to scale. It even offers affordable Minecraft servers with full root access.
Learn more about our tests in our Hostinger review.

In many ways, Kamatera is similar to OVHcloud in that it mainly offers affordable self-managed cloud hosting – but unlike OVH, it has outstanding customer support. Whether or not you buy the managed cloud add-on, you have access to 24/7 support through live chat, phone, and ticket.
Instead of choosing between a few preset configurations (and paying extra for resources you don't actually use), you can fully customize your Kamatera server with exactly as much CPU, RAM, and storage as you need. Dozens of operating systems are available, including Windows and several Linux distros.
You'll get full root access to your server, which makes Kamatera a great option for developers. That said, this isn't the most beginner-friendly service on my list, so it might not be the right option for you if you don't have any experience with configuring operating systems.
Features
State-of-the-art CPUs. Many hosts use older CPUs to cut down on costs. Kamatera doesn't. Instead, it offers the latest Intel Xeon Platinum processors for maximum performance.
Simple management console. Spin up a cloud server within minutes and manage all of your Kamatera services in one place. The console is powerful, fast, and easy to navigate.
Pay by the minute. You only pay for what you use, and even server maintenance is billed by the minute. No advance payments, no long-term contracts, and no risks.
Free trial. There's no way to test OVHcloud without committing to a paid plan. With Kamatera, you can provision a free cloud server and use it for 30 days, so long as you don't exceed $100 in services. If it suits your needs, you can then sign a flexible monthly contract.
Read our full Kamatera review for more features.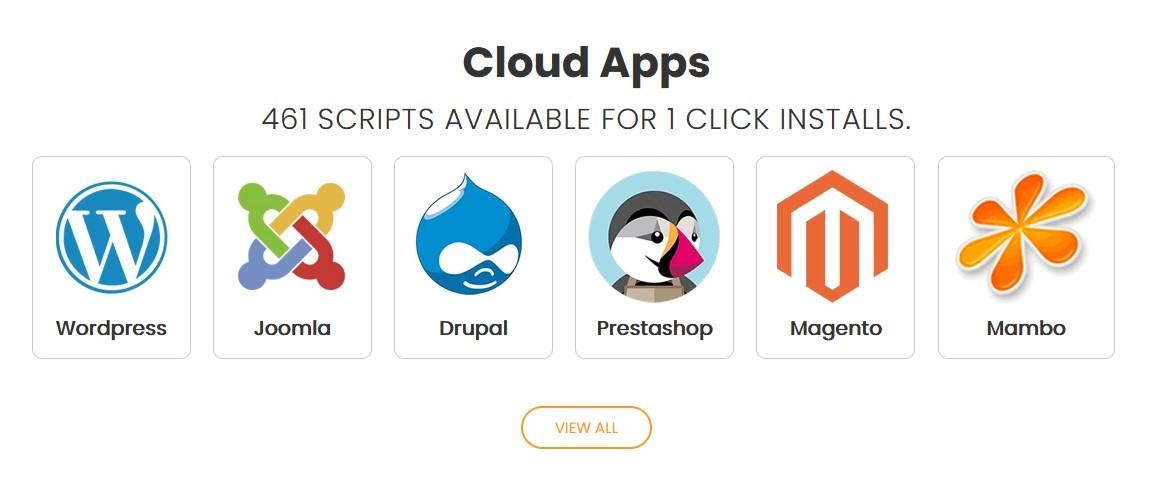 With a single Standard shared hosting plan, InterServer gives you unlimited websites, storage space, bandwidth, and email at a very affordable price. At $2.50 per month, It's cheaper than OVHcloud, and fairly easy to navigate – even for beginners – thanks to the tried and tested cPanel control plane plus Softaculous installer combo.
If you need more power, InterServer's basic VPS setup is just slightly more expensive than the Standard plan, and it comes with dedicated resources. The Webuzo control panel is included, so you can install your favorite CMS and whip up a website without having to write any code.
The downside is that InterServer has just two data centers, both in the US. That's fine if your audience is in the US, Canada, or Western Europe, but otherwise, the other hosts on my list might suit your needs better.
Features
LiteSpeed Web Server and caching. It's easy to optimize your website when all the performance boosters are already configured for you. Just turn on LiteSpeed caching from your dashboard, and you're good to go.
Managed security. The Standard shared hosting plan comes with 24/7 server monitoring, a machine learning firewall, and automatic virus scanning. If your website gets hacked, InterServer will fix it for you.
Monthly plan. Most hosts ask you to pay for several years upfront to get the best deals. For instance, OVHcloud's introductory prices are only available if you buy at least one year of hosting. With InterServer, you can pay monthly and still get a great price.
Price-lock guarantee. You never have to worry about steep renewal fees. What you pay for InterServer's Standard plan will stay the same for as long as you are a client.
For more on InterServer, check out our expert review.

Liquid Web offers a premium hosting service that lets you focus entirely on developing your website. Unlike OVHcloud, Liquid Web manages everything for you – from server optimizations to software updates to security, and more. It's expensive, but it guarantees a level of reliability and support that OVHcloud can't match.
If you want a simple WordPress website, Liquid Web's basic Spark plan is more than suitable. It comes with generous storage space and bandwidth, plus essential features like an SSL certificate, email hosting, automatic backups, and several performance plugins.
No feature is locked behind a more expensive plan, so there's no reason to upgrade unless you get more traffic. More importantly, you don't have to pay extra to get proper help because expert support is included even for the cheapest plan.
Features
WordPress updates. This isn't your run-of-the-mill auto updater. Liquid Web patches your WordPress core and plugin software only after a tech team ensures that none of the updates will break your website.
Streamlined control panel. The dashboard is well organized and intuitive, while the most important functions are readily available – there'll be no more navigating around annoying loading screens like with you-know-who.
Built-in performance boosters. Server-side caching, an image optimization plugin, and a premium CDN (content delivery network) are all integrated into the dashboard, so it's easy (and free) to improve your website's speed.
Managed ecommerce solutions. For an online store, I recommend Liquid Web's managed WooCommerce hosting. The plans are optimized for mobile devices, and they include a set of plugins designed to speed up and secure your store.
Our expert Liquid Web review has more details.

A2 Hosting is my go-to provider for consistent speeds. It's more expensive than OVHcloud and other shared hosting services on my list, but if you can afford it, the significant boost in performance is worth the extra cost.
I tested a pretty standard WordPress website with a few pages, and I got great results with A2 Hosting's cheapest Startup plan. However, if you need more power, I recommend either the Turbo Boost or Turbo Max plan. These run on more advanced, optimized servers with extra CPU and RAM, and you'll have fewer neighbors to share resources with.
The only reason A2 Hosting is not in a higher position on my list is because its customer support is more or less useless. Unlike OVHcloud, A2 Hosting has a live chat service, but don't expect the agents to actually guide you through resolving an issue. The most you'll get is a link to a DIY article. Still, if you're comfortable with little support, A2 Hosting is a viable option.
Features
Staging environment. Instead of taking your website offline to test changes, you can use A2 Hosting's staging tool to clone it. You can then work on the cloned site and activate the new features when you're sure that everything is functional.
A2 Optimized. A2 Hosting developed its own preconfigured installations for WordPress, Joomla, Drupal, and other popular CMSs. Aside from the basic framework, a set of performance and security plugins are also installed, so you don't have to set them up yourself.
Security features. A free SSL certificate, reinforced DDoS protection, a dual firewall, and malware scanning are included in every plan. Higher-tier plans also come with automatic daily backups.
Anytime money-back guarantee. You get the discount for a long-term plan, but none of the risk. At any point during your contract, you can apply for a prorated refund for any unused service.
For more information, see our in-depth A2 Hosting review.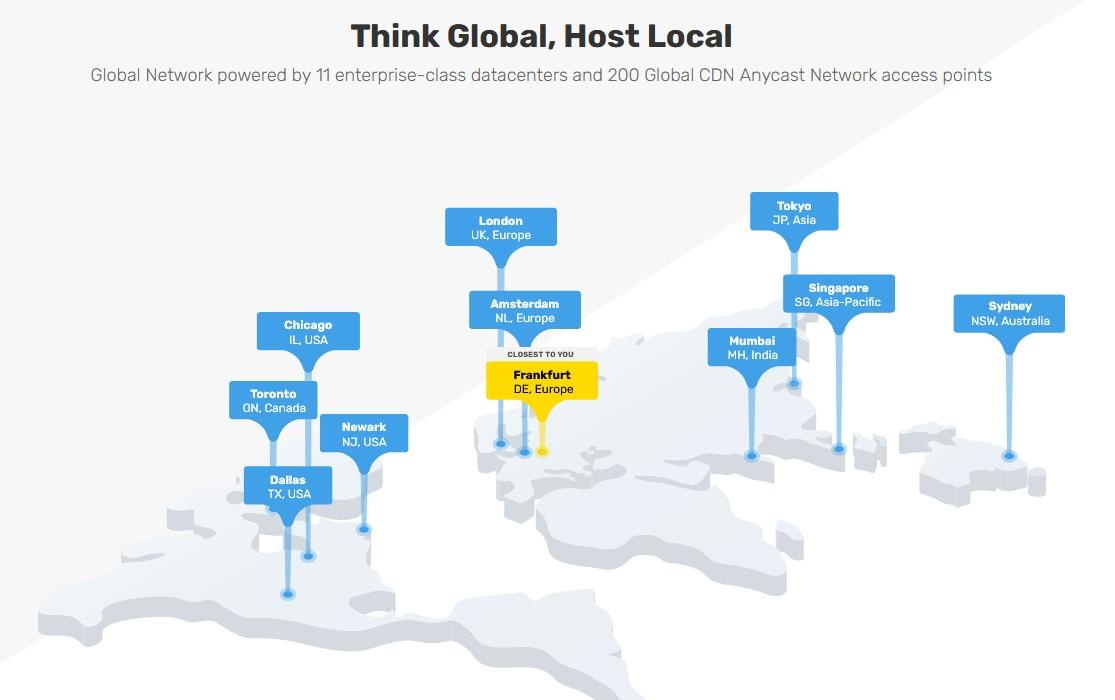 It's not easy to match OVHcloud's global reach, but FastComet does it fairly well. With 11 data centers strategically positioned to serve different regions around the world, FastComet can bring your website closer to your audience without cutting back on other important aspects of hosting.
In my experience, FastComet's live chat service is readily available, and almost always helpful. Performance is good, but not extraordinary, which is why I'd sooner recommend Hostinger for a US or EU audience. That said, if most of your visitors come from India, East Asia, or Australia, FastComet is your best bet.
Features
Isolated accounts. Contrary to their names, the FastCloud plans actually run in a typical shared hosting environment. However, FastComet uses the latest container technologies to safely isolate your account from others. You're guaranteed to have access to a decent amount of CPU and RAM at all times, and security breaches won't compromise your website.
Optimized servers. FastComet uses Cloudflare, browser caching, Gzip compression, and other performance boosters to improve your website's loading speed. These are configured by default on all plans, although FastCloud Extra comes with additional layers of caching.
cPanel + Softaculous. FastComet doesn't have a proprietary dashboard, but that's not necessarily a bad thing. cPanel is still relatively easy to use (at least compared to OVHcloud's dashboard), and Softaculous can help you install hundreds of scripts with a few clicks.
Daily backups. You won't have to worry about recovering a hacked or compromised website with daily automatic backups. FastComet retains up to thirty backups, and you can easily restore your site with a convenient restore manager.
See more of what FastComet has to offer in our review.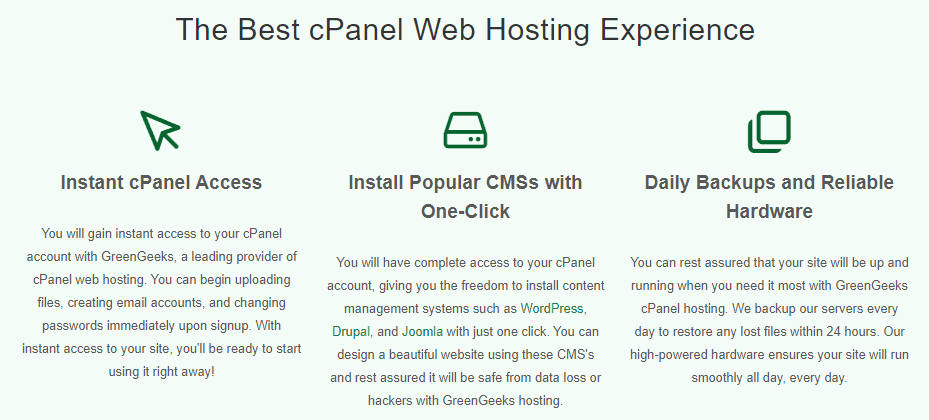 If you want extraordinary customer support, but you don't want to spend a small fortune on Liquid Web, GreenGeeks should be at the top of your list. Performance is also decent, and each plan has enough resources to get you started.
I wouldn't say that GreenGeeks has any out-of-the-ordinary features, but the basics are all included at a fair price. Even on the entry level plan, you get a free SSL certificate, a free domain for one year, email hosting, built-in caching, and a website builder.
What truly sets GreenGeeks apart – and the main reason I recommend it as an OVHcloud alternative – is its fantastic customer support. I tested the live chat service again and again, and the agents were always responsive and eager to help. One agent even optimized my entire website for me. No other host did that.
Features
Unlimited resources. Even the cheapest GreenGeeks plan comes with unlimited storage space, bandwidth, and email. It only supports a single website, but at least there's plenty of room to grow before you have to upgrade.
Built-in scalability. Few shared hosting providers give you the option to scale your computing resources. If you're experiencing performance issues, GreenGeeks lets you add more RAM, CPU, and file usage to your plan.
Free CDN. Cloudflare is neatly integrated into GreenGeeks' dashboard. If you have visitors from multiple regions around the world, the CDN will noticeably improve your website's performance.
Automatic app updates. It's easy to stay safe with GreenGeeks' auto-update software. Whether you use WordPress, Joomla, or any other popular CMS, essential core and security patches are applied for you.
Read more about GreenGeeks' plans in our review.
There's No Need to Settle for OVHcloud: You Have Better Options
Cheap hosting doesn't have to compromise on performance or customer support. Several of the hosts on my list are proof of it. But to choose the best OVHcloud alternative, you have to carefully consider your priorities.
For example, if you have a small to medium website, Hostinger is perfect. It's cheap, easy to use, and very fast, so there's no reason to look further.
That said, if you want a premium service with an equally fantastic performance, Kamatera is a better option. It can get expensive, especially if you want managed servers, but you won't have to worry about performance, security, or software updates ever again.
If your main audience is in North America, I'd go with InterServer. Its entry-level plan offers unlimited resources, which means you'll have tons of time to outgrow your plan. The shared hosting plan also has a unique pricing guarantee, so your fees are locked in as soon as you sign up.
Not sure yet? Here's a quick summary of all the hosts on my list:
FAQ
Which is the best OVHcloud alternative?It depends. If you're willing to pay a bit more for a premium service, Liquid Web is the best alternative to OVHcloud. Aside from fully managed hosting, Liquid Web offers excellent performance backed by a 100% uptime guarantee. InterServer is also a good choice when it comes to performance in North America and unlimited plan resources. If neither of these hosts is the right fit, there are still other options. Head over to our list of the best web hosting services in 2022 to find out more.Are there free alternatives to OVHcloud?Yes, there are free web hosts that you can use for very small projects, but they come with strict limitations. Most give you very little storage space and bandwidth, and some place random ads on your website. In other words, they're not exactly suitable for a professional-looking site. The good news is that quality hosting doesn't have to be expensive. Our most trusted hosts have great deals on our coupons and deals page.How do I cancel my account with OVHcloud?Find the Products and Services section in the OVHcloud dashboard, and navigate to the plan you wish to cancel. Click the three dots next to it, and select "Cancel on expiry date." The plan will remain active until your current term expires, but if you want, you can choose to delete your website right away. OVHcloud will send you an email to confirm.Which is the cheapest and most reliable OVHcloud alternative?Of all the low-cost hosts I've tested, Hostinger came out as the fastest and most reliable. It's even cheaper than OVHcloud, and even though it gives you less storage space and bandwidth on the basic plan, you'll still get enough resources to run a successful website. Plus, Hostinger's uptime record is spotless, and you'll get managed WordPress hosting on the most basic plan. Hostinger is great for beginners, and if you're looking for some expert advice, check out our complete guide to building a website.