If you're reading this article, there's a good chance that you're already familiar with
Wix
, the incredibly popular cloud-based web development tool. Founded over ten years ago,
Wix has grown to become one of the top website builders available, amassing an impressive 110 million users, 3.1 million of whom are paid subscribers
. And it's easy to understand why they are so widely used, with advantages such as:
The option to open a free Wix account
An impressive library of customizable templates
An intuitive design and clean interface
The ability to create your first free site in a matter of minutes
Features that are great for novices and pros alike
If you're interested in learning more about Wix, take a look at our expert review, and read more about their pricing plans to decide which is best for you.
Despite their success, when it comes to building a form on this platform, Wix form builder isn't the only, nor is it even necessarily the best choice available. Therefore, developers often turn to one of the many great third-party Wix integrated form builders on the market. So whether you're looking for a free online form builder option, or you're willing to pay for something with better functionality, when it comes to building a form on Wix there's no shortage of choices.
#1: Wix Form Builder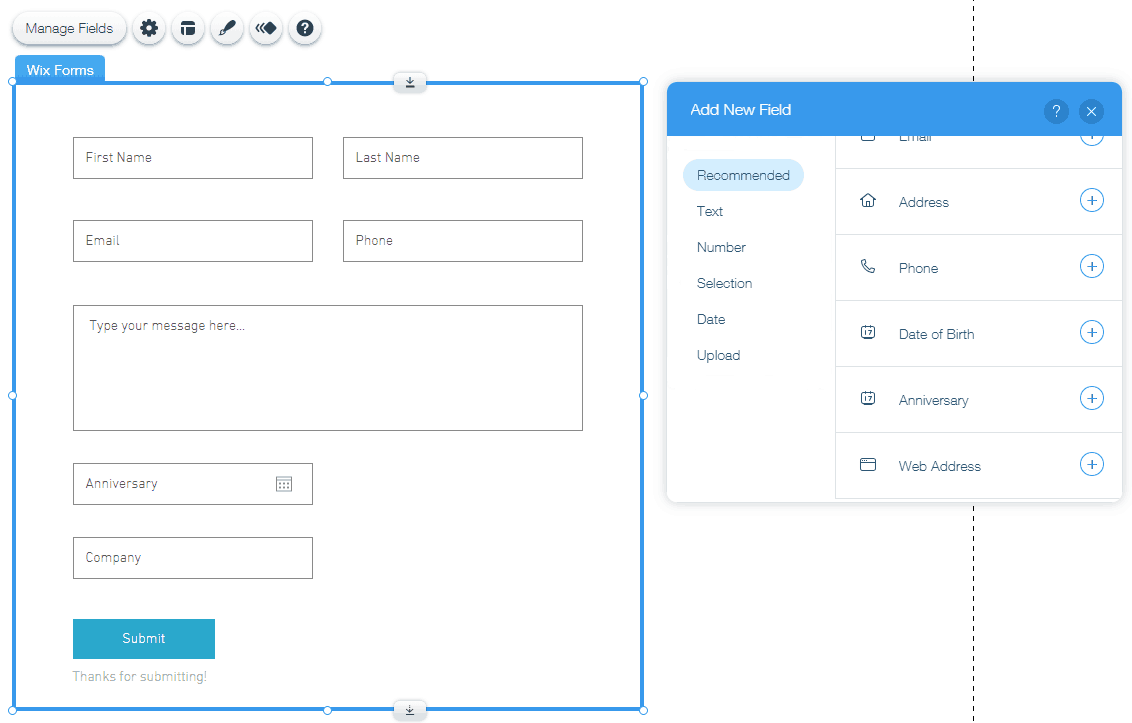 Developed by Wix as their proprietary form building tool, Wix form builder is one of the more commonly used tools for creating forms on this platform.
While it's fairly basic, it's often more than enough for the average user
.
What It Does Well
When it comes to using Wix Forms there's plenty to love. Some of this tool's highlights include:
Developed by the Wix team, so your forms can quickly and easily be added to your website
Free package option that includes up to five different forms, each with as many as ten fields and 100 submissions a month
Reasonably priced premium packages that include unlimited forms with infinite fields, 10GB of storage uploads, and form automation
Ten expertly designed templates covering a variety of form types, or the ability to create customized forms for virtually any purpose
Can include an upload file field within your form
Seamlessly integrated with Wix's customer relationship management (CRM), so all submitted forms are fed directly into your Wix Contacts
Receive notifications via email or mobile when a form is submitted
Compatible with mobile devices
Easy-to-use interface with drag-and-drop functionality
Where There's Room for Improvement
Nothing can be perfect, and this is also true for Wix's form builder. While it's great in a variety of ways, here are some of the things they could improve upon:
No payment integration for accepting money from within your forms
There is currently no form copying function available
Can be buggy at times, leading to frustrating problems; some examples of commonly reported issues include problems with the sending file function and forms that'll inexplicably disappear
#2: JotForm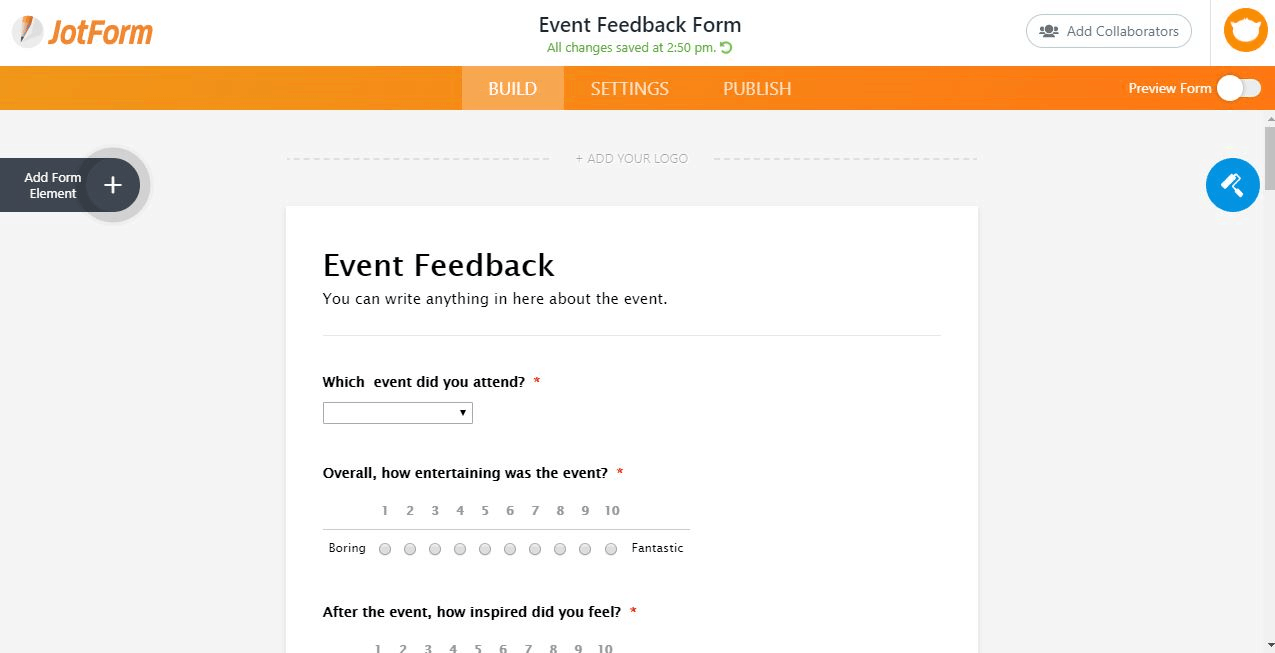 Being among the oldest online form building tools around,
JotForm
has made a name for itself as one of the most popular tools available.
With the ability to quickly integrate forms made using this tool onto your Wix websites, JotForm has certainly earned its place on this list
. For an in-depth analysis of JotForm, check out our
expert review
.
What It Does Well
Some of the advantages of using this impressive form building tool are:
Includes a free starter plan option with limited monthly submissions and a cap of five forms total
Intuitive to use drag-and-drop interface
Includes an option for taking payments through multiple payment processors, including PayPal and Stripe, making getting paid through your forms simple
Forms can quickly be embedded into your Wix created sites
Users that have yet to sign up and make an account are still able to create forms, even from their phones
Edit forms from your smartphone even when you don't have an internet connection
On mobile devices, there are touchscreen capabilities that allow you to easily drag-and-drop fields using your finger
Quickly share forms with colleagues and edit them in real time simultaneously
Includes a revision history function so you can continue to access previous versions
Create customized email confirmations both for you and those who submit a form
An impressive number of templates, all categorized by industry type
Where There's Room for Improvement
While JotForm is probably one of the best available choices for most people, there are still some areas that could be improved, such as:
There have been some user complaints that customer support can take a while to respond by email, although they do have a live chat function
Not the cheapest form building option on the market
#3: Wufoo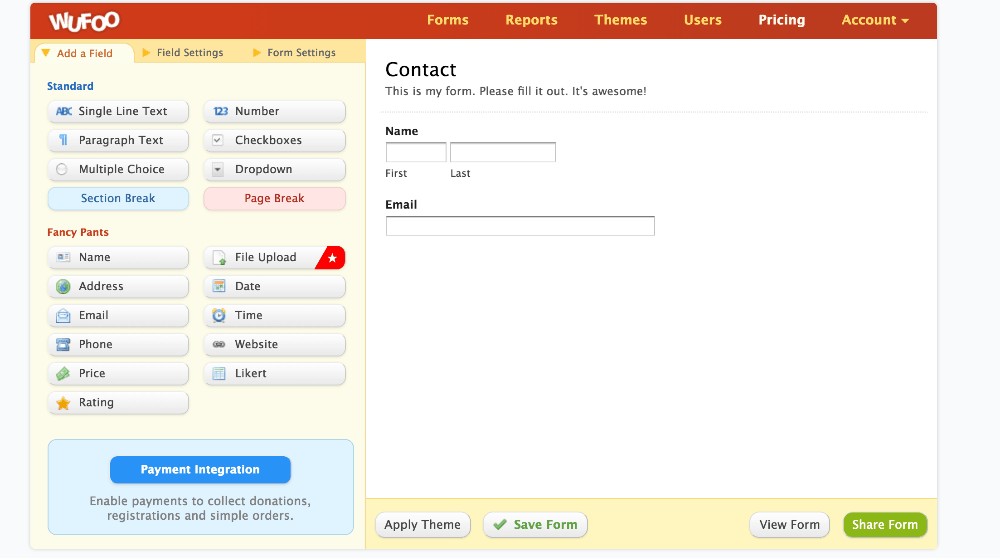 Wufoo has an established reputation as a solid form builder that's especially good for beginners
. They have most of the same great functions you'd expect from any top form builder. While not quite as big or well-known as JotForm, they're certainly still worth considering when creating forms for your Wix sites as, much like JotForm, it integrates really well. If you'd like a deeper look into this platform, feel free to read our
expert review
.
What It Does Well
The benefits you can expect when building your forms with Wufoo include:
Free membership option that includes up to five forms with ten fields each and 100 entries
Reasonably priced advanced membership options
Easy integration with Wix
Well over 400 fully customizable templates and themes
Easy-to-use theme designer allowing you to create beautiful custom forms
Includes a rule builder function allowing you to create forms that react differently based upon preset conditions, such as hiding or showing certain fields or automatically emailing customers
An intuitive drag-and-drop interface that's especially good for the technologically challenged
In-depth form analytics that will give you valuable information such as submissions, amount of time spent on submissions, bounce rates, and more
Fully customizable performance reports
Integrated online payment option allowing you to easily accept credit cards with options including PayPal, Authorize.net, and Stripe
Updates through text, email, or even an RSS feed to inform you of any new submissions or online payments
Great online support
Where There's Room for Improvement
Once again,
Wufoo also has its downsides, although not very many to be honest
. The worst of them being:
Not a huge number of options when it comes to formatting fields
The design options are relatively limited and could be added upon
#4: 123FormBuilder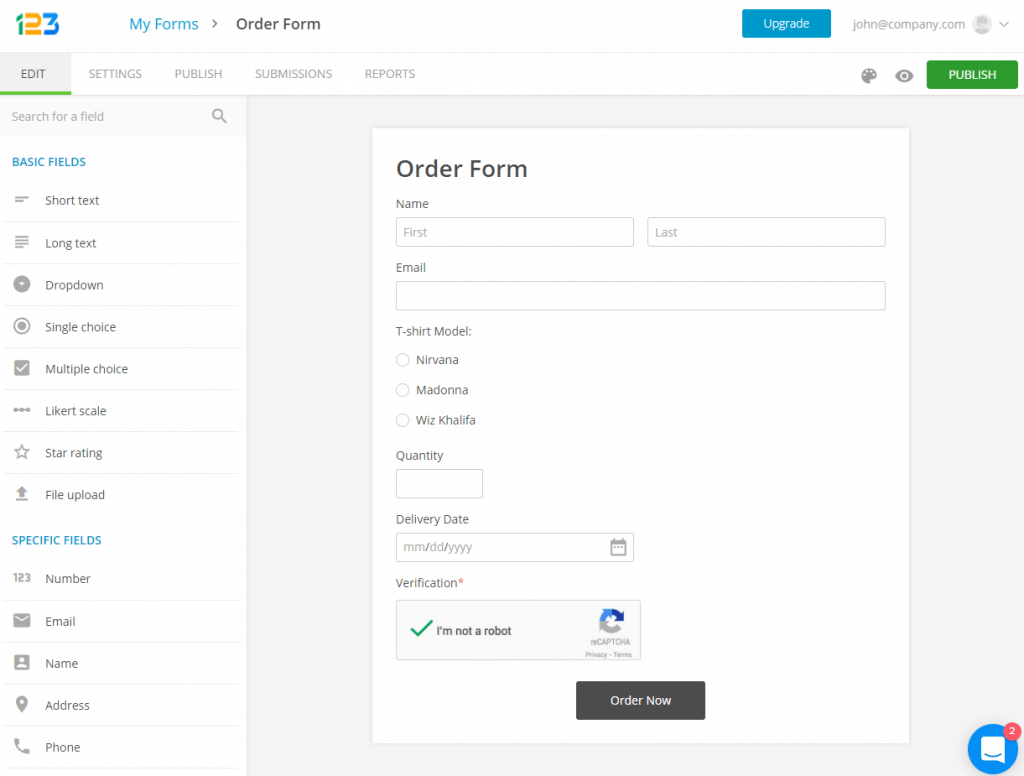 In the realm of Wix integrated form builders, 123FormBuilder stands out as one of the premier options. This app, which has been experiencing rapid growth, has garnered significant popularity in recent years. In contrast to the preceding two builders, this particular one can be accessed via Wix's app market, ensuring its seamless operation within the broader framework of Wix's web design platform. Despite some valid criticisms associated with this builder, recent data affirms its remarkable customer satisfaction rating.
What It Does Well
123FormBuilder is the form building tool of choice for thousands of professionals for the following reasons:
Seamlessly integrated with Wix making it easy to publish beautiful looking forms onto any of your Wix built sites
Free membership option with the standard five free forms with ten fields and 100 submissions apiece
Create personalized forms that match the appearance and style of your site
Design forms in multiple languages for targeting different markets
Library of ready-to-go form templates serving a variety of functions, such as job applications, event registration, appointments, online booking, etc.
Plenty of options for field customization
Can be used to build mailing lists via MailChimp and other popular CRMs
Receive files through your forms by way of your Dropbox account
Build pop-up forms to encourage clients to subscribe to your mailing lists
Form submission notifications that are sent by text message
Accept payments through a variety of means, including PayPal, Stripe, and Authorize.net
Where There's Room for Improvement
While 123FormBuilder may be a great option for Wix, there are definitely some areas that could use some work, for example:
Slightly more expensive paid membership options
Many reports of terrible customer service
Reported issues when it comes to payment processing
Unusually high number of negative reviews in regards to the platform behaving buggy, resulting in a variety of frustrating and difficult to solve issues
Requires one of the more expensive membership options to gain full access to many of their key features
Choosing the Ideal Form Builder
Now that you have several great choices to assist in building the perfect form for your Wix site, you simply need to ascertain which is best for your specific needs. This may sound like a daunting task at first, but
with the prevalence of free membership options available it's easy to give each of these platforms a test run
. See which of these tools have the features needed for your site, while making sure to keep your budget in mind. Through
researching the best online form builders
, and a little trial and error, you'll find the perfect Wix integrated form builder for your site.
---
Sources
https ://expandedramblings.com/index.php/wix-facts-statistics/
https ://websitesetup.org/website-builders/
https ://www.wix.com/app-market/wix-forms/overview
https ://www.sitejabber.com/reviews/jotform.com?rating=1
https ://zapier.com/apps/jotform
https ://reviews.financesonline.com/p/wufoo/
https ://fitsmallbusiness.com/wufoo-user-reviews-pricing/
https ://www.trustradius.com/products/wufoo/reviews?sr=1&sr=3
https ://www.wix.com/app-market/123-form-builder/overview
https ://www.123formbuilder.com/blog/2017/12/2017-year-review-123formbuilder-infographic/
Image Credits
https ://www.wix.com/
https ://d2x3xhvgiqkx42.cloudfront.net/12345678-1234-1234-1234-1234567890ab/9fece466-836a-4dbb-b473-f21bfa85fc71/2018/06/14/c41fd313-4c6c-4574-81bc-9870fdc88a71.png
https ://www.jotform.com/build/83101116616445
https ://d33v4339jhl8k0.cloudfront.net/docs/assets/54dd53ebe4b086c0c0966e7a/images/57e04f87c697911155e4044a/file-BhhKQfTN3G.png
https ://www.payfast.co.za/wp-content/uploads/123FormBuilder-editor-1024×776.png