Since MySQL is open source, you might think cheap MySQL hosting is easy to find. But that's not the case – not if you care about the quality of your hosting. Some MySQL hosts are affordable but neglect performance, and you don't want to have to deal with slow loading speeds or constant downtime.
Other hosts make you pay for a bunch of extra features you don't necessarily need, and then "cheap hosting" suddenly doesn't seem so cheap anymore.
The good news is that there are some excellent options out there – you just have to know where to look. That's why I tested dozens of MySQL hosting services to find the best ones, that actually provide good features and performance for really good prices. I've been in this field for a long time and I have high standards, and I only recommend hosts I'd feel comfortable using myself.
Too busy for a full read? Here are the best cheap MySQL database hosting services in July 2022:
InterServer – Unlimited databases and resources, powerful security features, and a price-lock guarantee (no renewal fees, ever).
A2 Hosting – Five databases on the cheapest basic plan and high-performing data centers in the US, Netherlands, and Singapore.
Hostinger – Probably the cheapest MySQL hosting you can find, and the best performance for shared hosting.
4 other MySQL hosts | Check out our MySQL hosting comparison table | FAQ
What We Look For in the Best Cheap MySQL Database Hosting Services
MySQL databases are offered as part of almost every shared hosting plan, but a cheap plan alone is not enough to get on this list.  The MySQL hosts I'm recommending are more than just affordable. They provide:
Fast and reliable performance – Quality database hosting should come with a near-perfect uptime record and phenomenal loading speeds. I look for powerful hosting that will make your database connections fly.
Storage space – Your MySQL database might not be comprised of files, but all those rows and columns take up space. This all counts toward your storage limit, so I'm looking for hosts that provide generous or even unlimited disk space.
Easy management – Unless you're a data scientist, you probably aren't fluent in SQL (the language used to work with MySQL databases). The hosts on my list provide user-friendly control panels and phpMyAdmin, tools that turn MySQL management into a point-and-click experience.
Auto installers – If you're planning on using your MySQL database to install WordPress or another CMS (content management system), the basic process requires opening up a database, setting users, configuring permissions, and only then running the installer. Not with these hosts. One-click installers automate the whole process for you.
Quality extras – The best database hosts don't skimp on useful features, even if their prices are affordable. Whether it's an SSL security certificate, 24/7 support, or a CDN, these hosts all provide something extra.

There's a lot to love about what InterServer has to offer, but for me what stands out the most is just how fair the company is. While most other hosts let you purchase various add-ons and extra features, InterServer simply includes them from the get-go.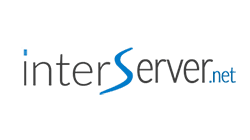 Get your first month of hosting for just $0.01!
Take advantage of this exclusive deal to try out InterServer.
424 users used this coupon!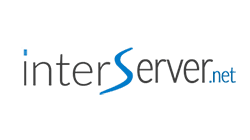 Pay $0.01 for your first month of Web Hosting
Copy and paste this code at InterServer
It's not due to some technical wizardry. Every hosting service can choose which features to enable and which to keep locked behind a paywall. What InterServer did is to simply click enable for most of them. It also eliminated the need to choose between different plan tiers – there's only one shared hosting plan, and it's got everything you need.
Unlimited websites, MySQL databases, and a free SSL certificate? Check. Unlimited SSD space and bandwidth? Check. Advanced security measures and built-in antivirus software? Check. While it doesn't maintain data centers outside of the US, we tested loading speeds and found them to be acceptable even in Western Europe.
Price-lock guarantee – Meaning that the low price you sign up for will always be the price you pay. I haven't seen this with any other host, ever. No renewal fees, no price hikes. Super fair.
Affordable VPS plans – If you're looking to create a customized MySQL project and require complete control, you'll need a VPS. VPS plans with InterServer are not only affordable, but also include a premium license for the Webuzo control panel.
Free CloudFlare CDN integration – Dynamic sites with constant updates will not experience much of a difference in performance, but for mostly static sites a CDN can improve global loading times dramatically.
30-day money-back guarantee – Immediate refunds, no questions asked. I took advantage of the option to check if InterServer was true to its word. It was, and I signed back on.

A2 Hosting has made quite a name for itself in the hosting world. It provides consistent and reliable hosting services, is extremely transparent about what's included, and offers some of the best prices in the industry.
MySQL databases are available on every plan, from shared to dedicated servers. On the most basic plan, Startup, you'll be limited to one domain but still given access to five MySQL databases. The more advanced plans all come with unlimited databases.
Add into the mix a free SSL certificate and the ability to choose a global server that's close to you or your target audience, and you've got yourself a fantastic deal. Just remember that for the best prices, you'll need to sign up for the two-year plan.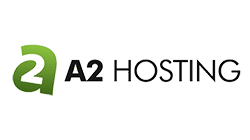 Save up to 72 % on your A2 Hosting plan today!
Get 72 % off A2 Hosting's Web Hosting Plan
138 users used this coupon!
Unlimited storage and bandwidth – The Drive plan and up give you not only unlimited databases, but unlimited resources as well. Even if you host websites for multiple clients, you'll never have to worry about running out of space.
99.9% uptime guarantee – I always like to see hosting providers that commit to reliability. I hope you'll never have to use A2's uptime guarantee, but if you do experience any issues, you'll get a refund for every hour of downtime.
Turbo servers – If you find yourself needing a performance boost, you can always upgrade to one of A2's Turbo plans. They are a bit more expensive, but still on the affordable side, and you get higher speeds and response times. You can see the results of our performance tests in our in-depth A2 Hosting review.
Free and easy site transfer – If you have a MySQL database, or a whole website, hosted with a different company, just contact A2's support crew. They're available 24/7/365 and will be happy to migrate your database for you.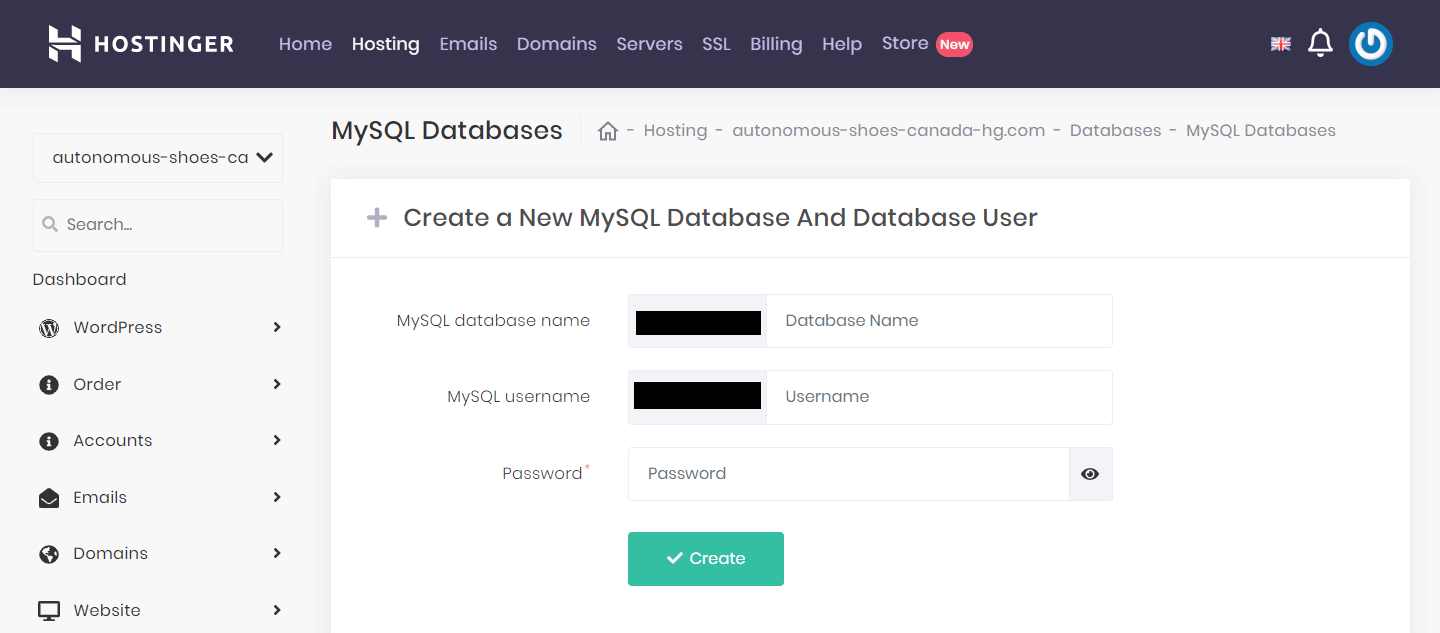 With prices for shared hosting starting at only $1.99 a month, it's easy to think Hostinger couldn't possibly be providing good quality. But guess what – it is possible for a hosting service to be both cheap and good. Really good.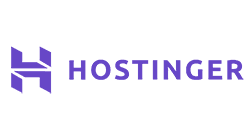 Save up to 75 % on your Hostinger plan!
Limited-time offer - Don't miss it!
7002 users used this coupon!
Hostinger provides excellent loading speeds and a high uptime rate – in fact, when I tested the service for a period of three months, it scored higher in my performance tests than any other shared host. A MySQL database is available starting with the basic shared hosting plan, so no matter what plan you choose, you'll have everything needed to build your website or application.
What's the catch? You don't get data backups on the Single and Premium plans, and there is no dedicated phone support. There is 24/7 live chat support available and the agents are professional, but I found that sometimes the response times can be a bit longer than I'd like.
Host more than one MySQL database – Starting from Premium, one step up from the basic hosting plan, you get unlimited MySQL databases. That means you can host as many MySQL projects as you want on the same hosting plan.
More than enough disk space – The basic plan comes with 30 GB of storage space, and from there it only goes up. Even a product-heavy e-commerce store will have space to grow.
Professional support – Hostinger's support agents really know their stuff. Aided by the company's detailed knowledge base, they managed to answer every question I threw at them. Note that live chat only becomes available after signup.
30-day money-back guarantee – If you decide to quit the service within the first 30 days, you'll get your full payment back. Just log into your cPanel hosting panel and deactivate your account.
Known worldwide for its wide range of hosting services, HostPapa's data centers are actually located in the US and Canada. This does mean that projects hosted with HostPapa will be best served to North American visitors, but the included integration with Cloudflare helps with international loading speeds.
Three shared hosting plans are available, with 25 MySQL databases on the basic one and unlimited databases on the other two. If you plan on signing up for a long period, definitely go with the second plan. The price is almost the same, but it also comes with unlimited SSD space and unlimited websites.
HostPapa's support agents are some of the best in the industry, and are readily available 24/7 to help with all technical issues. When we tested their support, we found that their response times on live chat are immediate. Also, every new customer is eligible for a 30-minutes one-on-one training session with a qualified expert.
Free SSL certificate

– All plans include a free Let's Encrypt SSL certificate. Notice that during checkout you'll be presented with the option to purchase a premium SSL. Unless you're positive that it's needed, stick with the free one.

Advanced security protocols

– HostPapa's server firewall, intrusion detection mechanisms, and powerful defenses against DDoS attacks make it an extremely safe choice for your MySQL project.

Performance upgrade

– If your database is growing and you notice query times are beginning to take too long, you can always upgrade your plan to get four times more processing power and a slew of other perks.

30-day money-back guarantee

– With all plans. The homepage also boasts a 99.9% uptime guarantee, but I was disappointed to see that this promise is not covered by the service level agreement.
A Free Domain is included when purchasing any hosting service from HostPapa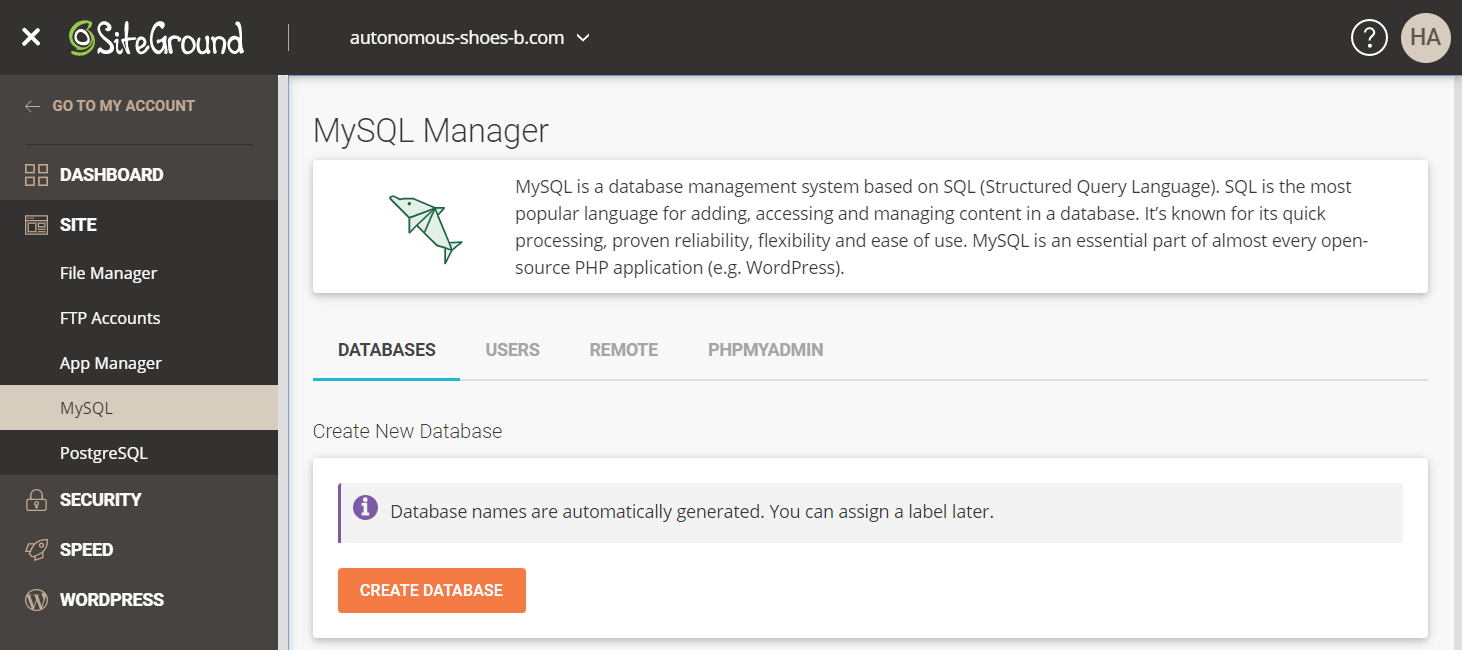 Favored by website developers worldwide, there's a good reason SiteGround became synonymous with quality shared hosting. Even the cheapest plan, StartUp, provides unlimited MySQL databases, and the extras included greatly expand your hosting's capabilities.
SiteGround plans are the most expensive on this list, but you'll still be able to enjoy great prices if you sign up for longer periods. During sales—which happen often—prices are much more in line with the other companies on this list.
Free SSL – Included with all plans. Just log into your cPanel account to activate. It's all point-and-click, as easy as can be.
Daily backups – Keep your data secure with automated daily backups. Whatever happens, you'll always be able to roll back.
CDN – After retrieving data from your database, the server then has to send it to you. For visitors located far from your server, this can cause slowdowns and long waiting periods. Bypass it all using a CDN, a service that promptly forwards your content to the global community.
24/7 support – Once considered the best support in the business, I've found the team to be a bit slower in my recent tests. Still, if you're willing to use tickets and wait a few minutes, you'll be able to chat with professional agents who can help you set up and configure your MySQL database.

Hostwinds is a fantastic company that offers an assortment of hosting solutions, from shared to VPS and dedicated servers. They scored highly both in our tests and in independent user reviews.
All Hostwinds' hosting plans, including the Basic shared plan, come with unlimited MySQL databases. That doesn't mean you can build unlimited websites with Basic, as the number is limited on all but the Ultimate plan, but you can play around with MySQL as much as you want.
While it isn't as cheap as Hostinger, Hostwinds' prices are well within what I'd consider affordable. Basic is available for only a few bucks a month, and performance benchmarks are all extremely positive.
Unlimited space and bandwidth – Coupled with the option for unlimited databases, there really isn't a limit on pure MySQL projects.
Free SSL certificate – Included with all plans. Guarantees the privacy and authenticity of any data retrieved from your MySQL database and sent to your visitors.
Backups – Whatever you're storing on the database, be it custom tables or a WordPress site's content, you do not want to see it lost. Hostwinds offers an automated backup tool to prevent any possibility of a disaster.
Monitoring – Your MySQL database is the heart of whatever you're building, so you want to be sure that any issues will be taken care of immediately. Hostwinds' 24/7 monitoring service does exactly that, notifying the company's engineers the moment something happens.
A Free Domain is included when purchasing any hosting service from Hostwinds

Unlike many other hosting companies that were eager to cash out and join a big hosting conglomerate, InMotion Hosting remains privately owned. As a result, it provides a much more personal hosting experience.
Support is available 24/7 and is operated by knowledgeable and experienced representatives. Every time I contacted them, they were able to recommend an appropriate solution, and they never tried to oversell me.
The hosting itself encompasses everything between shared and dedicated servers, and all plans come with MySQL databases. The basic plan, Launch, includes two databases and can run two website domains. Two domains on the basic plan is very rare to see, and that completely justifies the slightly higher price tag.
Two U.S. data centers – InMotion operates a data center on each coast, providing highly competitive performance to U.S. users. Any MySQL-based application aimed at American audiences will be in good hands with InMotion.
Unlimited resources – Unlimited storage and bandwidth are provided on all plans, and you get unlimited databases on the Pro plan.
Security suite – InMotion protects your project from many online dangers using the combined power of an SSL certificate, hacking and DDoS (distributed denial of service) protection, and an optional automatic backups add-on.
90-day money-back guarantee – With a guarantee period three times the industry standard, you'll be able to test-drive your hosting for a long time and still get a complete refund if you decide to cancel.
InMotion Hosting Web Hosting
Get a Cheap MySQL Hosting Service That Can Still Deliver Results
No matter what you plan on doing, it's important that you don't fall for the first cheap database hosting solution that comes your way. The hosts I've assembled in this list are cheap but also dependable, powerful, and easy to use.
If all you're looking for is to host data on a cheap MySQL database, I'd recommend Hostinger. If you're looking for unlimited databases and can use some extra firepower, consider InterServer.
The following table can help you make a decision. Remember that these hosts are all very affordable, and the "Price" category is about how they compare with each other.
FAQ
Can MySQL databases be encrypted?
While MySQL databases are not encrypted by default, the data contained in them can be encrypted. MySQL Enterprise, a paid service, comes with built-in encryption capabilities. Free options also exist, whether it's by integrating open-source code or by adding custom encryption functions to your CMS. If you're looking to use encryption in order to comply with HIPAA regulations, always consult with a data security specialist first – simply encrypting the database is not nearly enough.
Is there any free MySQL hosting available?
Yes. Free hosting services exist, and some of them even provide free MySQL hosting. That being said, I truly recommend that you avoid them. Free MySQL hosting suffers from almost no resources, resulting in slow or even unresponsive websites. It's also rarely secured, making your website an easy target for online attackers. It's better to skip free hosting altogether and instead choose a quality shared hosting plan that offers great value for money like Hostinger.
Which MySQL host is the fastest?
The final speed of your web project depends on many factors, but the best way to ensure fast MySQL operations is to invest in dedicated resources. While they're slightly more expensive than shared hosting plans, dedicated solutions like VPS machines offer a much more reliable hosting experience. I personally recommend A2 Hosting's Managed and Core VPS plans, both of which provide excellent and consistent performance.
Which MySQL host is the most secure?
By combining a proactive approach and multiple security layers, all hosts on this list have proven to be worthy of your trust – their powerful defense protocols and sophisticated firewall rules are the foundation for a secure hosting experience. Still, dangers exist. Shared hosting entails its own risks, and all it takes is one unsecured website hosted on your server to compromise your entire project. My suggestion is to use a VPS machine and always follow best security practices.
Which MySQL database collation should I use?
Choosing your database collation mainly depends on the type of data you wish to store. If most of your data is going to be in English, utf8_general_ci is a good choice. It's important to understand that it doesn't fully support unicode, and that various characters, like certain emojis, can also get lost. For full unicode support, the utf8mb4_unicode_ci collation is a better choice.
Which MySQL host is best for me?
Think about your needs. Where is your main audience located, and which host operates data centers in the area? Do you require more than one database? What other features, like automatic backups or extra security tools, are important to you? Hostinger provides a good combination of affordability and features, and is an excellent choice if your needs are simple. Hostwinds and A2 Hosting offer better advanced hosting solutions, and can easily accommodate even very demanding projects.