they may neglect the performance of the database storage server. Your websites would then suffer from slow loading speeds, and even downtime.
Other hosts make you pay for a bunch of extra features you don't necessarily need, and then "cheap hosting" suddenly doesn't seem so cheap anymore. The good news is, there are some excellent options out there.
Our top recommendation is Kamatera, which offers unparalleled server flexibility at very affordable rates.
We've also found six other hosting providers that offer standout service for MySQL databases – keep reading to learn all about them.
Short on Time? These Are the Best Web Hosts for MySQL Database Hosting in 2023
Kamatera

– Incredibly customizable cloud hosting for cheap

IONOS – Unlimited 2GB databases with big discounts for new customers
Scala Hosting – Remote automatic daily backups with high redundancy
What We Look For in the Best Cheap MySQL Database Hosting Services
MySQL databases are offered as part of almost every shared hosting plan, but a low price alone was not enough to get on our list. The MySQL hosts we're recommending are more than just affordable. They provide:
Fast and reliable performance – Quality database hosting should come with near-perfect uptime and consistently quick loading speeds. We looked for powerful hosting that didn't neglect database server performance.
Easy DB management – The hosts on our list keep day-to-day MySQL management straightforward and efficient. You'll be able to take advantage of user-friendly control panels and phpMyAdmin to create, optimize, and query your databases.
Auto-installers – If you're planning on installing WordPress or another CMS alongside your MySQL database, you can save a lot of time by using a one-click auto-installer. We chose hosts that offered easy and automatic DB creation and connection for a selection of the most popular CMSs.
Quality extras – The best database hosts don't skimp on useful features, even if their prices are affordable. Whether it's an SSL security certificate, 24/7 support, or a CDN, these hosts all provide something extra.
Storage space – Your MySQL database might not be composed of files, but all those rows and columns do take up storage space. This all counts toward your storage limits, so we looked for hosts that provided generous disk space.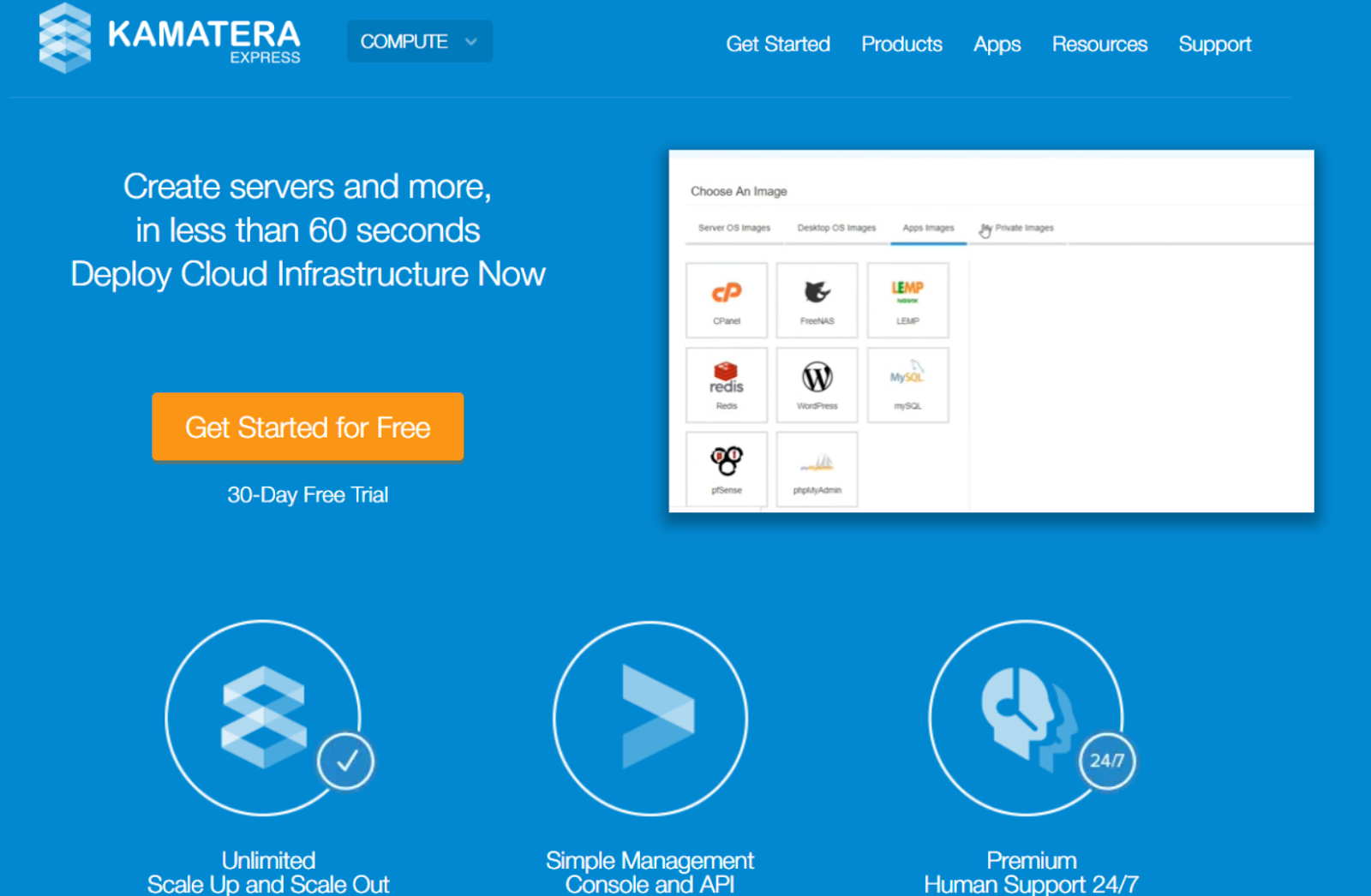 Kamatera is by far one of the cheapest and most customizable cloud VPS hosting providers out there.
Thanks to the power of cloud hosting, you'll be able to set up the exact resource limits you need for any given project. You can choose up to 104 vCPU processors, 500 GB of RAM, and 16 TB of SSD storage for your server, so regardless of the size of your database, Kamatera can handle it and deliver consistently outstanding performance. Beyond that, Kamatera comes with one-click MySQL server-image installation, and tons of reliability features like load balancing, daily backups (for a fee), and full-system recovery.
You can also upgrade or downgrade your resources
at any time
.
This means you'll never have to pay extra ahead of time for fear of running out of space.
If you already know your way around a server
. Unfortunately, Kamatera's extreme level of customization comes at the cost of user-friendliness. If you're willing to give it a chance, however, it could mean an unparalleled level of control over your hosting. You don't have to make any commitments right away, either.
Kamatera offers a 30-day free trial to let you decide if it's the right hosting provider for you.
Features
Instant MySQL deployment. You can automatically deploy MySQL server version 8.0 if you choose Ubuntu Server 20.04 as your server operating system (OS), and versions 5.7 and 8.0 if you choose Ubuntu Server 18.04.
Remote desktop images. If you want a more familiar interface for managing your server, you can install an Ubuntu or Windows 10 desktop OS on your server.
Global data servers. Kamatera offers a bigger number of global data centers than any other host on this list, ensuring top-notch performance around the globe.
Managed options. If you want all the convenience of a cloud service without dealing with all the technical stuff, Kamatera offers fully managed options for an extra fee.
Check out our in-depth Kamatera review for more
.
SSD storage space
20 GB – 16 TB
Money-back guarantee
30-day free trial
Data center locations
5 in the US, 1 in Canada, 7 in Europe, 1 in Asia, 5 in the Middle East
Starting price

$

4.00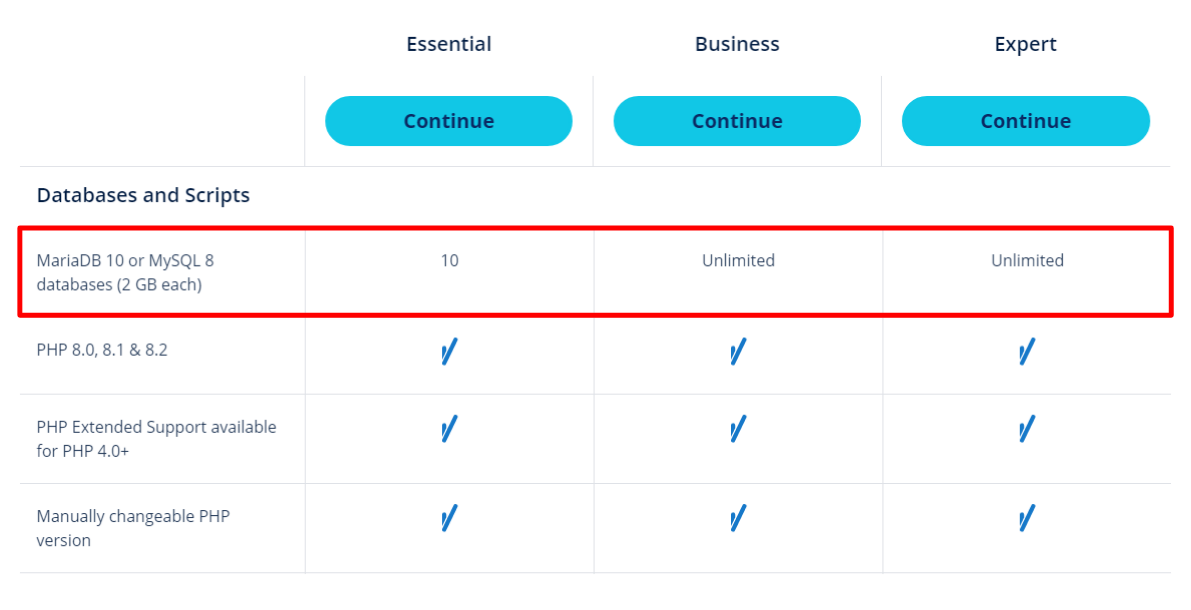 If you're running a project that requires unlimited databases and unlimited sites, IONOS is your cheapest option.
The mid-tier Business plan can often be had for a significant discount if you're a new customer.
Every MySQL database you create can have up to 2GB of space,
giving you plenty of room to work with. You can also temporarily or permanently scale up your plan's performance tier, though this does incur a fee. There are five performance levels to choose from – higher levels increase your available RAM, simultaneous PHP processes, and more. It's important to note that
IONOS creates a MariaDB database by default during your initial plan setup, but don't worry – MariaDB is backwards-compatible with MySQL,
can be used for the same purposes, and generally performs better. You can also opt for a MySQL database if you prefer.
A free domain name is included with some hosting plans from 1&1 IONOS
Features
Dedicated personal support –

IONOS assigns every customer their very own support advisor. All your support queries will go through this advisor (when they are available). They provide help and advice tailored to your particular needs.

Easy-to-use proprietary control panel –

The IONOS control panel offers an intuitive interface, making it easy to manage your websites and databases. Creating and configuring a new MySQL database takes just a few clicks.

Automatic daily backups –

Your website files and databases will be backed up daily. Your last six days of backups are always available for restoration.

Manage hosting on the go – IONOS offers a mobile app that allows you to manage your hosting, monitor performance, and even contact support.
To learn more, read our comprehensive IONOS review
.
SSD storage space
10GB – unlimited
Money-back guarantee
30 days
Data center locations
2 in the US, 4 in Europe
Starting price

$

1.00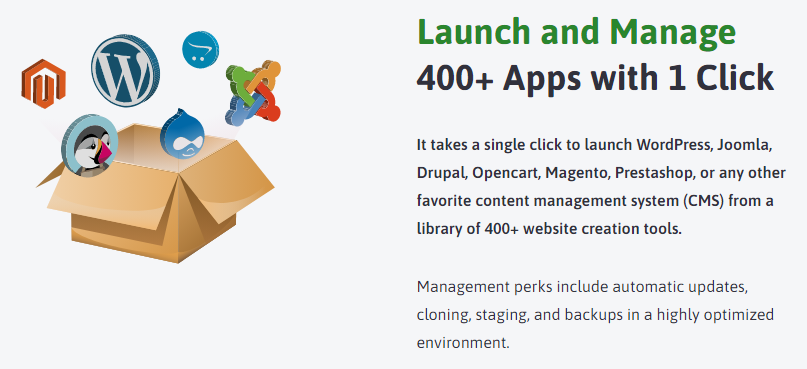 Losing crucial database information to a simple hardware or software failure can absolutely devastate your website or app. Thankfully,
Scala Hosting offers daily automatic remote backups
. You can restore these backups at any time through your control panel – either fully or partially by selecting certain databases or files.
The external hard drives your backups are stored on are kept in a redundant RAID configuration.
This means all your data is mirrored between multiple hard drives, so that even if one fails, your data will be safe on another.
Scala Hosting also offers unlimited MySQL databases,
which gives you a good deal of flexibility even for large projects. My only concern is that Scala Hosting doesn't include its proprietary malware blocking and monitoring service in the entry-level plan. While you can still request support to perform free security scans of your account, this is time-consuming and not nearly as effective.
Scala Hosting Web Hosting
A free domain name is included with some hosting plans from Scala Hosting
Features
NVMe SSD storage in the NY data center – If you choose to host your databases in Scala Hosting's NY data center, they'll benefit from the increased performance of NVMe SSD drives at no extra cost. These offer much faster read and write speeds than regular SSD.
Softaculous auto-installer – In addition to the popular and user-friendly cPanel control panel, Scala Hosting includes Softaculous for free. This offers one-click installations for 450+ apps, including various CMS and MySQL database management tools.
Free hands-on migration – Scala Hosting's expert support will migrate your MySQL databases and websites from another host, free of charge. Your site will suffer no downtime and support will ensure your site is fully functional after the move.
Anytime money-back guarantee – In addition to an industry-standard 30-day money-back guarantee, Scala Hosting also offers prorated refunds for cancellations outside this period. This means you can cancel six months into a 36-month contract and get a refund for the unused service.
Want more details? Read through our Scala Hosting review
.
SSD storage space
10GB – 100GB SSD (NVMe in NY data center)
Money-back guarantee
Guaranteed full refund for cancellations within the first 30 days, partial refunds after this point
Data center locations
2 in the US, 1 in Europe
Starting price

$

2.95

Like most providers, InterServer tries to entice you to sign up long-term for a lower monthly rate, but the discount isn't as impressive as the hosts above. On the contrary, InterServer's affordable monthly plan is what makes it stand out –
its monthly rate is lower than the renewal rates of most of its competitors, making InterServer a good bet for commitment-free value.
What interested me further about InterServer was its focus on security.
Every customer gets the InterShield security solution,
which combines an AI-driven firewall, an in-house malware database, and an automatic virus scanner. If you're using MySQL databases to store sensitive data, all of the above security measures are absolutely critical.
InterServer also promises to restore your websites or databases for free if they are ever compromised.
It will even investigate why the problem occured and fix any vulnerabilities found in the process. The only downside is that InterServer's data centers are located only in the USA, so performance tends to be slightly disappointing in other countries.
Features
Unlimited MySQL databases – Despite the low monthly price, InterServer includes unlimited databases, websites, storage, and traffic. You'll have plenty of room to grow.
Affordable VPS plans – If you're looking to create a customized MySQL project and require complete control, you'll need a VPS. VPS plans with InterServer are not only affordable, but also include a premium license for the Webuzo control panel.
Free CloudFlare CDN integration – Dynamic sites with constant updates will not experience much of a difference in performance, but for mostly static sites a CDN can improve global loading times dramatically.
Free site restoration – If your sites or databases are ever compromised, InterServer's support will restore your infrastructure to its original state. They'll also investigate the vulnerability used in the attack and patch it so that it will not reoccur.
For more information, take a look at our InterServer review
.
SSD storage space
Unlimited
Money-back guarantee
30 days
Data center locations
2 in the US
Starting price

$

2.50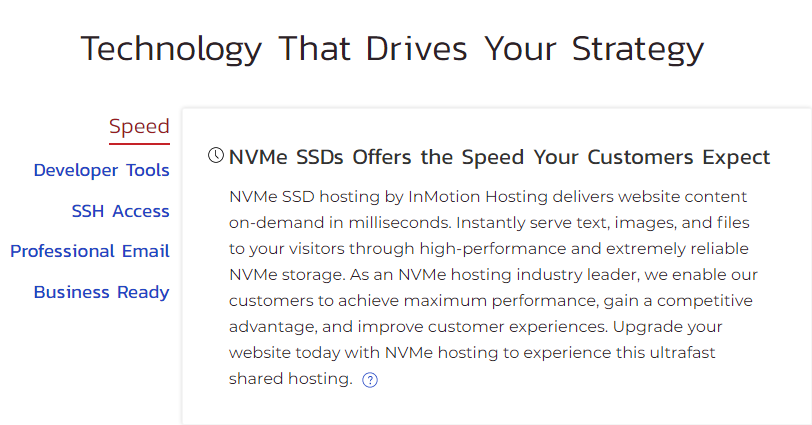 If your databases are running into performance issues, InMotion Hosting may have your answer.
InMotion Hosting's NVMe SSD drives can increase the speed of your databases significantly,
by delivering higher input/output per second than traditional SSD. You'll also benefit from markedly lower latency. While this hardware is usually locked to premium plans with other hosts (if they offer it at all), InMotion Hosting offers NVMe SSDs at budget prices. These aren't available with the entry-level plan, but
the Launch plan offers unlimited NVMe SSD storage, MySQL databases, and websites
for only a slight increase in price. InMotion Hosting is more expensive than the other providers above – especially after renewal. Still, you aren't going to find NVMe SSD storage for a lower price, and it can bring great benefits to projects and sites that rely on database performance, like online stores.
InMotion Hosting Web Hosting
Features
Developer-friendly – You'll have SSH and FTP access, Git integration, and easy access to frameworks for Python, Ruby, Node.JS, and more.
Free domain name – In the Launch plan and up, InMotion Hosting will cover your domain name registration costs for the first year of hosting. To access this offer, register a new domain name with InMotion Hosting or transfer an existing one.
Bonus advertising credits – All plans offer $150 in free advertising credits, helping your site gain visibility online. It's not a huge amount, but it's enough to get a new website off the ground.
90-day money-back guarantee – With a guarantee period three times the industry standard, you'll be able to test-drive your hosting for a long time and still get a complete refund if you decide to cancel.
Want to know more? Read through our InMotion Hosting review
.
SSD storage space
100GB SSD – unlimited NVMe SSD
Money-back guarantee
90 days
Data center locations
2 in the US
Starting price

$

3.29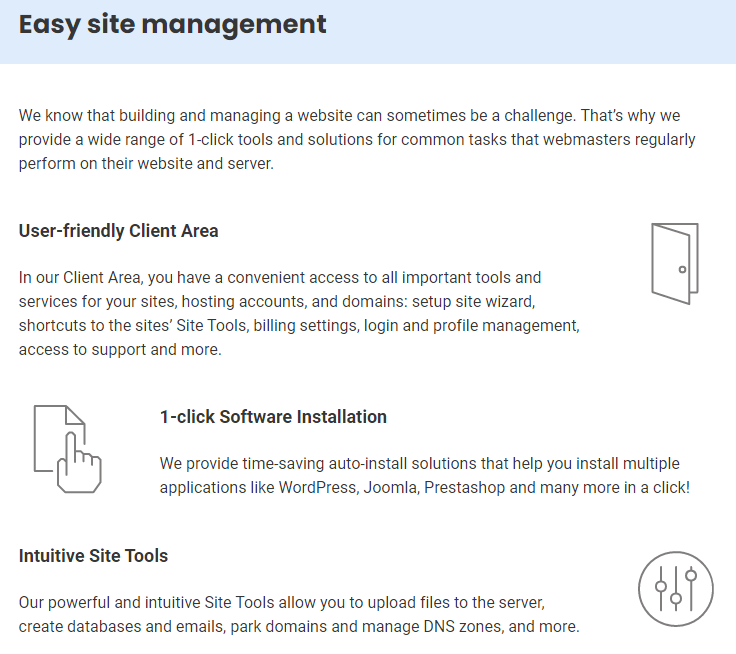 If you're a beginner to MySQL-based websites, SiteGround offers a beginner-friendly environment.
Its proprietary control panel, Site Tools, is responsive and easy to navigate – best of all, it makes database creation easy.
This is further helped by automatic daily backups available in every plan
– if you make a critical mistake, it's easy to roll back. And SiteGround's support team will assist you to set up and configure your MySQL databases. 
That said, SiteGround's plans are rather expensive upon renewal, despite being tight on storage – the basic plan only includes 10GB of SSD space. Even the most advanced plan only offers 40GB.
A free domain name is included with some hosting plans from SiteGround
While you technically have unlimited MySQL databases, you'll have to work within the restrictions of these storage limits – though this will be more than adequate for most websites, and even fairly large databases with tens of millions of entries.
Features
Renewable hosting

– SiteGround is committed to carbon neutrality, matching 100% of its energy consumed with renewable energy.

Easy WordPress site creation

– If you plan to link your MySQL database with a WordPress site, SiteGround makes it easy to get one up and running. By answering a few simple questions, the WordPress Starter wizard will create a basic framework for your site and install any necessary plugins. The entire process takes just a few minutes.

Optimized PHP – The GrowBig and GoGeek plans include a 30% increase in PHP processing thanks to a uniquely optimized server setup. This increases the speed with which your site displays content stored in the database, such as blog posts.
Free CDN

– Visitors located further away from your chosen data center may experience longer page loading times. SiteGround's free CDN helps you avoid this by keeping cached copies of your site's pages and images on additional servers across the world.
Check out our SiteGround review for the details.
SSD storage space
10GB – 40GB
Money-back guarantee
30 days
Data center locations
4 in the US, 4 in Europe, 1 in Australia, 1 in Asia
Starting price

$

1.99

What makes Hostwinds interesting is its potential for performance
.  If you have the technical knowledge to thoroughly optimize your databases and any associated sites, Hostwinds can provide impressive website performance – potentially better than any other host on this list.
Unfortunately, without putting in the time to optimize your database-driven site, loading speeds may be underwhelming.
Hostwinds is a DIY solution that you'll benefit more from as a seasoned web developer.
< Support isn't too reliable either, so there isn't much here for beginners. That said, prices are low, and
every plan
includes unlimited SSD storage and MySQL databases.
 Your total number of domains are limited in every plan besides the expensive Ultimate, but other than this, you'll have an affordable platform to build whatever you wish.
A free domain name is included with some hosting plans from Hostwinds
Features
Free dedicated IP

– Every plan comes with a free dedicated IP address, which you'll need if you wish to create a private network for your database, or use a premium SSL certificate to process e-commerce transactions on your website.

Optional cloud backups

– For free, Hostwinds provides nightly automatic backups; however, you have the option to buy the premium cloud backup service. Unlike the regular backups, the premium service stores your data in multiple cloud instances to ensure maximum redundancy.

99.9999% uptime guarantee

– You are guaranteed no downtime in excess of 31.6 seconds per year. If downtime does occur, you may be compensated with a service credit covering the cost of all days affected.

24/7 monitoring – Your MySQL database is the heart of whatever you're building, so you want to be sure that any issues will be taken care of immediately. Hostwinds' monitoring service does exactly that, notifying the company's engineers the moment something happens.
Want to know more? Take a look at our Hostwinds review.
SSD storage space
Unlimited
Money-back guarantee
72 hours, prorated refund
Data center locations
2 in the US, 1 in Europe
Starting price

$

6.47
Get a Cheap MySQL Hosting Service That Can Still Deliver Results
No matter what you plan to do, it's important that you don't fall for the first cheap database hosting solution that comes your way. The hosts we've assembled on this list are affordable, but also fast, reliable, and filled with great features.
If you want full control over your server, then Kamatera is the choice for you
.
It offers an incredible amount of resources, instant MySQL deployment, and tons of reliability features.
If you'd prefer unlimited databases without having to pay a premium,
try IONOS.
It offers the absolute lowest starting price along with unlimited storage. You won't have to worry about hitting any limits.
If your project requires a robust backup solution, I'd recommend Scala Hosting
. As your automatic daily backups are stored on remote drives in a redundant configuration, you'll be well-protected against data loss.
Still unsure? The comparison table below may help you reach a decision.
Standout Feature
MySQL Databases 
SSD Storage
Starting Price
Kamatera

Full control over server configuration

Unlimited 

20GB – 16TB

$

4.00

IONOS

Unlimited databases available in the Business plan for a highly discounted price

10 – unlimited

10GB – unlimited

$

1.00

Scala Hosting

Daily automatic backups stored remotely in a RAID configuration

Unlimited

10GB – 100GB SSD (NVMe in NY data center)

$

2.95

InterServer

Most comprehensive security solution 

Unlimited

Unlimited

$

2.50

InMotion Hosting

NVMe SSD storage for increased database performance

40 – unlimited

100GB SSD – unlimited NVMe SSD

$

3.29

SiteGround

Great support & easy control panel

Unlimited

10GB – 40GB

$

1.99

Hostwinds

Best potential performance & highly reliable

Unlimited

Unlimited

$

6.47
FAQ
Is there any free MySQL hosting available?
Yes. Free hosting services exist, and some of them even provide free MySQL hosting. That being said, I recommend that you avoid them. Free MySQL hosting suffers from almost no resources, resulting in slow or even unresponsive websites. It's also rarely secured, making your website an easy target for online attackers. It's better to skip free hosting altogether, and instead choose a quality budget shared hosting plan.
Which MySQL host is the fastest?
If you're keeping to a budget, Kamatera offers outstanding server customization. It can also provide incredible performance thanks to its scalable resources, and its NVMe SSD technology can make a real difference.
Which MySQL host is the most secure?
By combining a proactive approach and multiple security layers, all the providers on this list have proven to be worthy of your trust. However, Scala Hosting has the edge, thanks to its redundant configuration and free daily backups. Keep in mind, however, that its (top-notch) proprietary malware blocking is not available on the entry-level plan.
Which MySQL host is best for me?
It depends on your particular needs and budget. I'd recommend comparing all the above hosts to find the solution that best suits your project. If you don't find anything that really works in this article, you may want to try our list of the top ten web hosts in 2023 for more suggestions.