if you're not specifically looking for advanced VPS hosting, you may end up paying a premium for features you don't actually need
. After all, Liquid Web has a heavy focus on providing extensive managed service, which is partly why its plans can be expensive.
If you want to have more freedom to manage your server, Liquid Web isn't going to be your best choice.
There are also plenty of cheaper options out there, but you have to be careful –
not all of them manage to live up to Liquid Web's impressive performance
. That's why I tested dozens of alternatives, cutting it down to the best six web hosts. Read on to find out how they may fit your particular needs.
Short on Time? These Are the Best Alternatives to Liquid Web in 2023:
Kamatera – Fully customizable and scalable Cloud VPS plans.
Hostinger – Good speeds for WordPress at budget prices.
InMotion Hosting – Free advertising credits and a 90-day money-back guarantee.
What We Look For in the Best Alternatives to Liquid Web
In addition to making sure that each of the hosts on my list had similar plan types to Liquid Web such as VPS and managed WordPress, I also looked for these features:
Affordability. Even Liquid Web's cheapest plans carry a hefty price tag. Many of the hosts on my list offer a much cheaper starting point.
Fast and reliable performance. I only looked at hosts that feature speeds and uptime comparable to the standard set by Liquid Web. Some managed to be even faster.
More SSD storage. Liquid Web is particularly tight on storage space. This can cause issues if you're looking to run a site that's big on database space and graphics, like an online store. Many of the hosts I've picked offer much more storage, even on their basic plans.
Global data centers. Liquid Web only offers three data centers – two in the US and one in Europe. This heavily limits the markets you'd be able to comfortably serve, which is why I've considered hosts that offer more data centers throughout the world.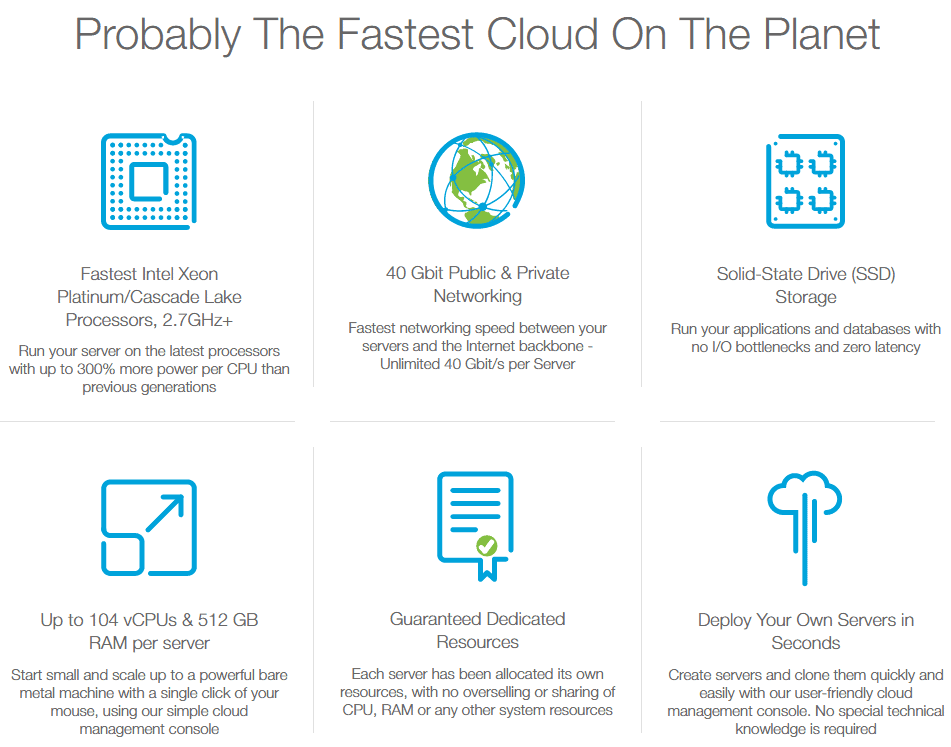 While Liquid Web manages to be quite flexible, it still doesn't live up to
Kamatera's impressive customizability
.
With Kamatera, you can custom-build a cloud VPS from the ground up.
You'll be able to fully configure your server, from the number of vCPUs to the amount of RAM and SSD storage. On the other hand, Liquid Web requires you to upgrade your plan just to increase RAM.
Kamatera retains this customizability past the initial setup process – you can add or remove resources at any time.
Any changes will be instantly reflected in the hourly price of your server, making it easy to keep track of server costs.
Kamatera has a large number of operating systems to choose from.
There are several versions of CloudLinux, Ubuntu, CentOS, Debian, and OpenSUSE available, as well as Windows and Windows Server. While Liquid Web's Windows-based VPS plans run on Windows Server 2019, you can choose the latest version with Kamatera.
Features
High-end servers. Kamatera's servers use speedy Intel Xeon processors, offering great loading speeds. Our expert tests revealed that it managed to be consistently faster than Liquid Web.
Worldwide data centers. Kamatera offers 13 data centers across all major continents, which is significantly more than Liquid Web.
Fast server setup. After signing up, your custom server will be accessible and ready to go in under a minute.
30-day free trial. Unlike Liquid Web, Kamatera offers a free trial for its Cloud VPS, which allows you to create and try a server (worth up to $100 in monthly value) with 1TB of storage and 1TB of traffic. You also get a designated account manager for the duration of the trial.
Read our full Kamatera review for more on performance
.
Money-back guarantee

30-day free trial

Managed?

No, server management is a premium add-on

Data center locations

US, Canada, the Netherlands, Germany, UK, Israel, Hong Kong

Starting price

$

4.00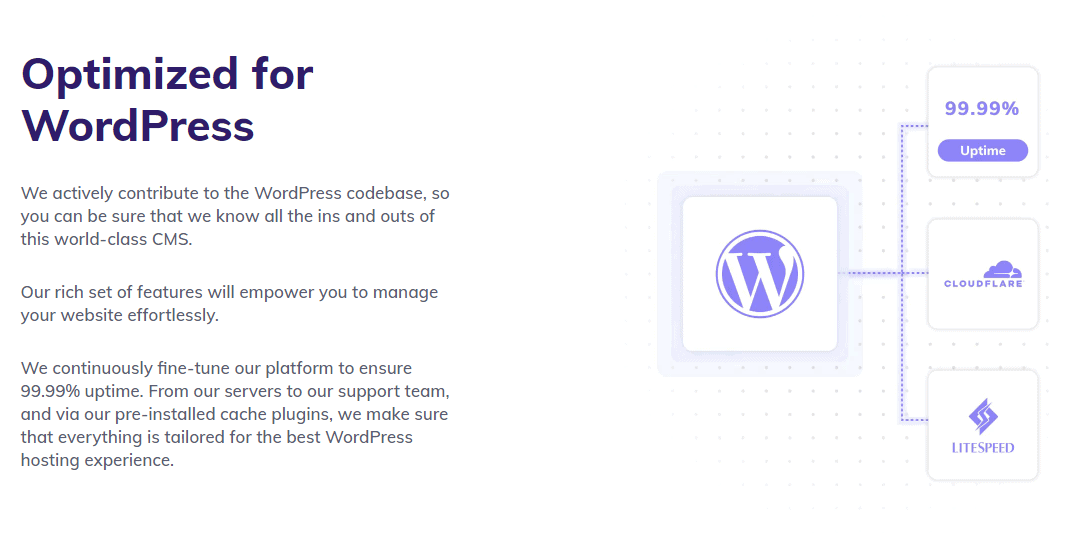 Hostinger is much more affordable than Liquid Web, especially if you're just looking to host a simple WordPress site.
Its managed WordPress plans manage to be several times cheaper while still offering solid loading speeds and uptime. While Hostinger's WordPress plans might lack the premium features and plugins offered by Liquid Web,
they do offer a more generous amount of storage space (30GB versus 15GB on the cheapest plans)
. If you're just getting started with WordPress, or you don't really need any bells and whistles, Hostinger is a great option. One of Hostinger's strengths is its fast loading speeds – and they're pretty impressive, at times reaching just
one second
.
Hostinger uses LiteSpeed Web Server technology for all its plans, including shared hosting, which offers a nice speed boost for your site.
WordPress plans automatically come with the LiteSpeed Cache for WordPress plugin enabled, further enhancing your site's performance.
Hostinger WordPress Hosting
A free domain name is included with some hosting plans from Hostinger
Features
Premium WordPress plans. If you sign up for a long-term plan, Hostinger's most expensive WordPress plan is still less per month than Liquid Web's cheapest plan. The WordPress Pro plan can host up to 300 websites with 200GB SSD storage, unlimited bandwidth and databases, WP-CLI, SSH access, Cloudflare CDN, and daily backups.
Budget VPS. Hostinger's VPS plans also start significantly cheaper than similar plans offered by Liquid Web. While Hostinger's plans have comparable resources, they tend to be slightly slower. Still, it's a good option if you're looking to save some cash.
Site-building wizard. To help you get started, WordPress plans come with access to a simple setup wizard to help build your site. It will help you choose a customizable theme and install essential plugins tailored to your particular needs.
Free site migration. You can use an automated migration service to transfer your site to Hostinger. If you'd prefer, you can also request a free site migration from the support team.
See our expert Hostinger review for more features
.
Money-back guarantee

30 days

Managed?

Semi-managed

Data center locations

US, the Netherlands

Starting price

$

1.99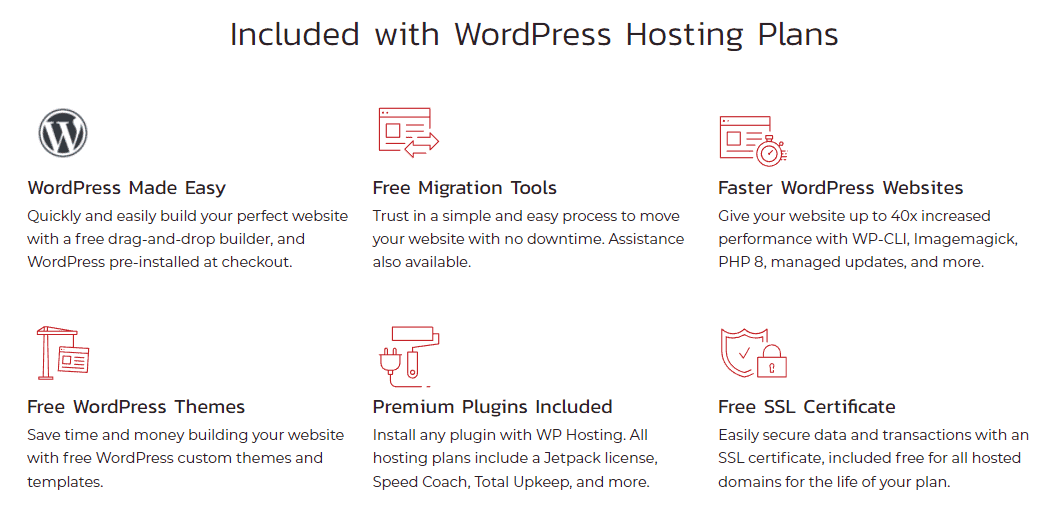 There's a lot to like about InMotion Hosting's WordPress plans, and one feature is its focus on providing your site with free tools that help boost discoverability.
This includes a free $150 in advertising credits, along with an Easy SEO plugin to help your site rank higher in search engines
. InMotion also offers easy methods for developing your site.
You can choose to use the free drag-and-drop BoldGrid site builder, or pay a one-time fee to have a tailored WordPress site built for you.
If you choose the latter, you'll get a free consultation with the in-house design team.
InMotion Hosting offers a 90-day money-back guarantee.
This is three times longer than the industry standard, and far superior to Liquid Web's short 14-day free trial.
InMotion Hosting WordPress Hosting
Features
Generous SSD storage. Even the cheapest WordPress plan includes 50GB of SSD storage, which is significantly more than the amount offered in Liquid Web's basic Spark plan.
Advanced caching and optimization. Like Liquid Web, InMotion makes use of powerful NGINX web servers to increase performance. It also employs speed enhancements such as Varnish advanced caching, Brotli lossless compression, and more.
Free domain. All plans include a free domain credit for a year. This is applicable for both new and transferred domains.
Google Apps integration. InMotion Hosting allows you to easily integrate Google Apps through a simple setup wizard.
Our full InMotion Hosting review has more details
.
Money-back guarantee
90 days
Managed?
Yes
Data center locations

US

Starting price

$

3.29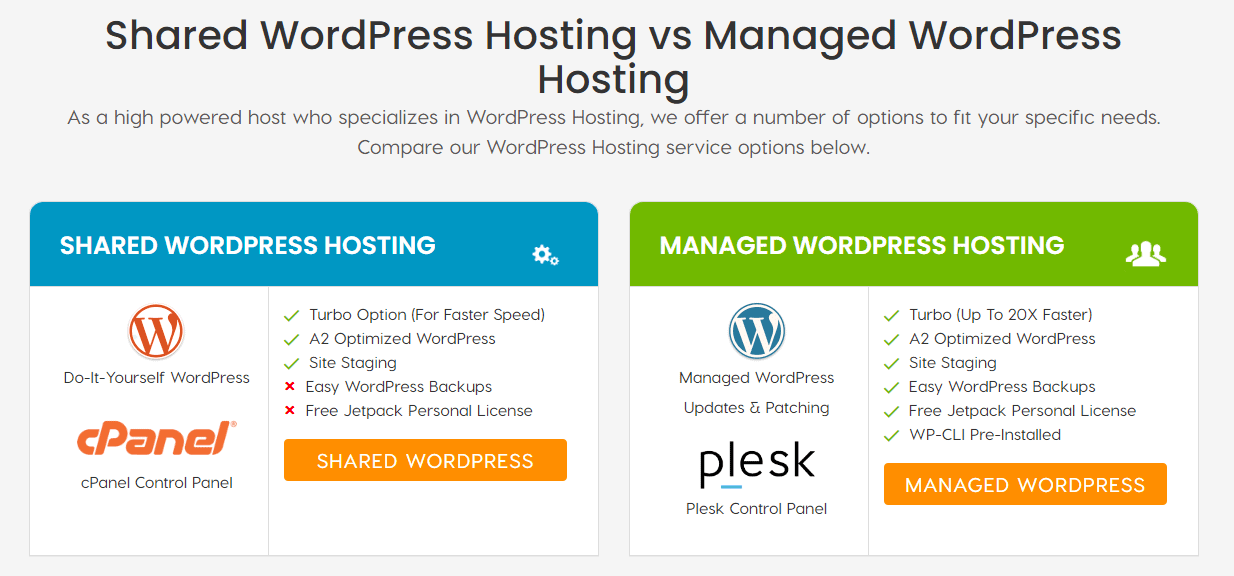 A2 Hosting offers two kinds of WordPress plans
. Shared WordPress hosting is a basic budget option that lacks managed service, whereas Managed WordPress is much more expensive, but includes management features and access to A2 Hosting's Turbo servers. Turbo servers are powered by high-end technology that's on par with Liquid Web's impressive offering.
This tech includes LiteSpeed Web Servers, AMD EPYC processors, and NVMe SSD drives
, which are even faster than standard SSD. All of this results in solid performance.
Thanks to the discounts for new customers, A2 Hosting's managed WordPress plans end up being cheaper than Liquid Web's plans.
Upon renewal, though, it sadly ends up being more expensive. Alternatively, the cheapest shared WordPress hosting plan has 100GB SSD storage space and still offers decent performance.
A2 Hosting WordPress Hosting
Features
Robust security solution. A2 Hosting's Perpetual security solution offers a pack of high-level security features for free, even for shared hosting. This includes a dual firewall, DDoS protection, malware scanning, and more.
Prorated refunds. If you decide to cancel your hosting after the money-back guarantee has expired, you can still receive a prorated refund for the remaining time on your contract. This isn't offered by many other hosts, including Liquid Web.
Preconfigured WordPress installation. A2 Hosting's WordPress installation is preconfigured for maximum performance. You also get the A2 Optimized plugin, which boosts speeds with advanced caching and compression technology.
Highly scalable. A2 Hosting also offers VPS and dedicated servers. If you find that the WordPress plans are no longer cutting it, you can freely scale to these more advanced solutions. You'll be migrated to the new server with minimal downtime.
For more on Turbo servers, see our A2 Hosting review
.
Money-back guarantee
30 days
Managed?

Unmanaged and managed options

Data center locations

US, the Netherlands, Singapore

Starting price

$

11.99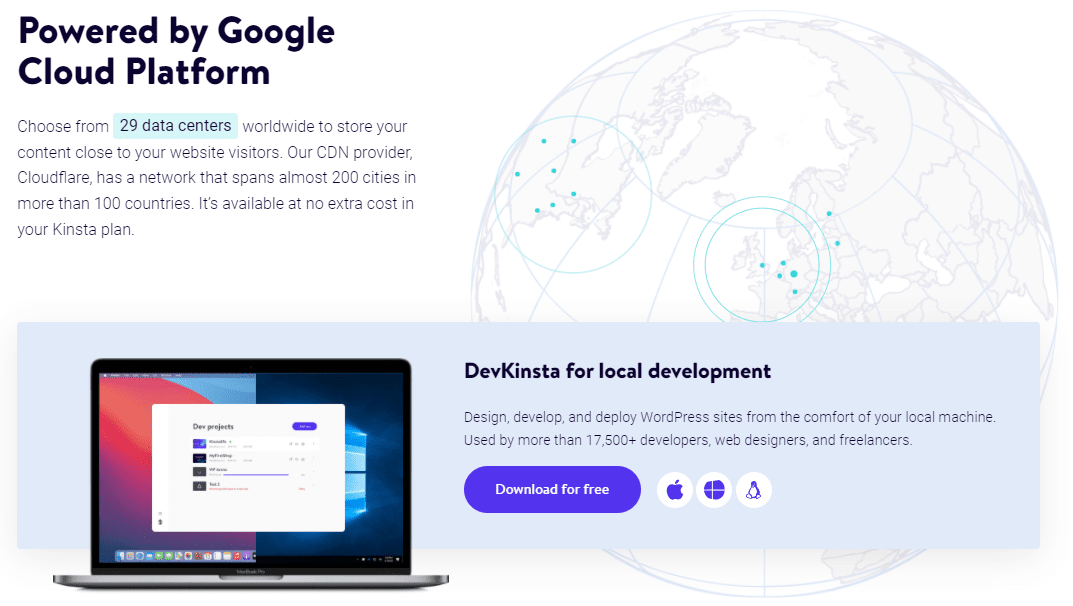 Kinsta is similar to Liquid Web in that it's a premium-priced host with a focus on managed service. However,
Kinsta only specializes in WordPress
, meaning that you'll be limited to that particular content management system (CMS) for your website. This may be an issue if you're looking for a more flexible solution, but
for WordPress sites Kinsta does it best
, and it's one of the fastest web hosts we've ever tested.
My performance tests revealed speeds even faster than Liquid Web, along with a perfect 100% UptimeRobot score over a four-month period.
Kinsta also features an impressive monitoring service.
It checks to see if your site is online every two minutes, and if your site is down, it'll automatically take measures to bring it back online.
All of this carries a heavy cost, though. Kinsta ends up being even more expensive than Liquid Web, but it might be worth it for the premium service and impressive performance stats.
Features
Auto-scaling. If you experience a traffic surge that your plan is unable to handle, your resources will be automatically scaled up. This helps to avoid a performance hit, but you'll incur extra fees every time this happens.
User-friendly control panel. Using Kinsta's control panel is effortless. Unlike the arrangement of Liquid Web, you can conveniently find everything you require in one unified dashboard.
Hack-fix guarantee. In the event that your site becomes compromised, Kinsta's support engineers will remediate your site to the best of their ability. This cleanup service is completely free.
Detailed performance monitoring tool. Every plan has access to the Kinsta APM tool, which allows you to view detailed performance analytics – right down to the speed of database queries and PHP processes.
Read our in-depth Kinsta review for more test results
.
Money-back guarantee

30 days

Managed?
Yes
Data center locations

US, Canada, UK, Taiwan, Hong Kong, Japan, South Korea, India, Singapore, Indonesia, Australia, Poland, Finland, Belgium, Germany, the Netherlands, Switzerland, Brazil, Chile

Starting price

$

24.00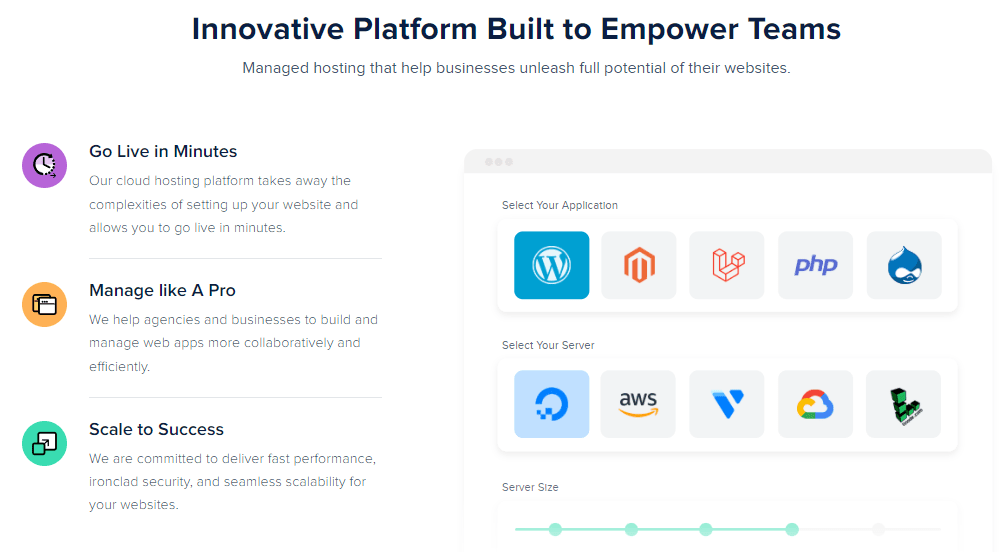 Cloudways is unique in that it doesn't provide its own hosting. Instead, it provides management services for some of the biggest cloud hosts that often lack support for beginners.
Cloudways manages your server
 with hosts like Amazon Cloud Services (AWS) and Google Cloud, allowing you access to powerful infrastructure without the need for technical knowledge
.
You can fully control your hosting through Cloudways by using its beginner-friendly control panel.
Because of this, you won't actually need to deal with your web host. I also found the control panel to be much easier to navigate than Liquid Web's panel. Like Liquid Web,
Cloudways offers support with guaranteed response times
. It's good, but it sadly doesn't live up to Liquid Web's standard. I had a mixed experience when I was connected to an agent via live chat – while extremely willing to help, some of my questions weren't fully answered. Phone support is available but offered at an extra monthly cost.
Features
65+ data centers. The available hosts offered by Cloudways feature many data centers worldwide. You could feasibly offer great loading speeds to any region in the world by choosing a host that has a data center in the area.
One-click WordPress installation. Cloudways is a good host for WordPress. You can install it easily through the control panel, migrate an unlimited number of sites with the free migrator plugin, and take advantage of an in-house caching plugin.
Easy scalability. A benefit of choosing cloud hosting is that it tends to be very flexible. Cloudways retains this flexibility, allowing you to scale your storage, RAM, and CPU independently of one another.
Managed security. Cloudways uses the MalCare security plugin to protect your WordPress site from bots and DDoS attacks. There's also a server auto-healing function. If your site goes down, the server will take automatic steps to get it back online.
Read our Cloudways review for more on price
.
Money-back guarantee

3-day free trial

Managed?
Yes
Data center locations

US, Canada, the UK, Ireland, Germany, Italy, Sweden, Australia, Japan, South Korea, India, China, Singapore, Bahrain, South Africa, Brazil, the Netherlands, Belgium, Finland

Starting price

$

11.00
Which Liquid Web Alternative Is Right for You?
Moving from Liquid Web may seem like a challenging decision. Nevertheless, despite its excellent loading speeds and reliable uptime, all the alternatives on my list not only compete with Liquid Web's offerings but also surpass it in certain aspects. If you're still a little unsure about which host best fits your needs, here are my personal recommendations.
Kamatera offers a much more flexible and customizable solution than Liquid Web, and it starts at a cheaper price.
You'll be able to scale your server's individual resources instead of upgrading to a whole new plan. This way, you're only paying for what you're using and nothing more. On the other hand,
if you're looking for a similar level of managed service to Liquid Web, I'd go with Cloudways.
You'll get guaranteed support and a huge list of data centers, plus the option to easily move from one cloud host to another with practically no downtime.
If you're looking to save some money without losing too much in the way of performance, Hostinger is a great budget option.
Its semi-managed WordPress plans are particularly noteworthy because you'll get more storage than Liquid Web at a fraction of the cost. Take a look at our comparison table for a quick recap.
Standout Feature
SSD Storage
Number of Data Centers
Starting Price
Kamatera

Fully customizable and scalable Cloud VPS

20GB – 4000GB

13

$

4.00

Hostinger

Very cheap long-term plans with solid performance

30GB – 200GB

7

$

1.99

InMotion Hosting

90-day money-back guarantee with $150 in free advertising credits

50GB – 200GB

2

$

3.29

A2 Hosting

Budget plans that can be scaled up to managed plans with performance-enhanced servers

100GB – Unlimited

4

$

11.99

Kinsta

Phenomenal loading speeds that are even faster than Liquid Web

10GB – 250GB

25

$

24.00

Cloudways

Access to powerful cloud hosts through a beginner-friendly platform

25GB – 160GB

65+

$

11.00
FAQ
Which hosts are cheaper than Liquid Web?
As Liquid Web is quite an expensive host, many of the alternatives on my list offer more budget-friendly options. Most notably, Hostinger ends up being several times cheaper, and Kamatera's scalable servers can fit any budget. You can find some great discounts for these hosts, and others, on our coupon and deals page.
Why should I look for alternatives to Liquid Web?
If you don't need Liquid Web's managed service, you may be better off with a cheaper host. Hostinger is a budget option that still offers above average loading speeds and uptime, and it offers plans suitable for all levels of website building. You can choose from several plans, including managed WordPress and VPS. Hostinger is just one of the best web hosts that we've tested – the rest can be found on our list of the best web hosting services in 2023.
Which is better, Liquid Web or Kamatera?
The better host will come down to what you're looking for. While Liquid Web's managed hosting and performance is nothing to scoff at, it's also pricey and limited in customization and scalability. On the other hand, Kamatera is completely flexible, which means that you can build a server to fit your budget. But if you want managed hosting, Kamatera's add-on option is pretty expensive.
Which alternative hosts offer high-quality managed hosting services?
Cloudways and Kinsta offer comparable managed services to Liquid Web. Cloudways allows you to take advantage of the biggest cloud hosts without technical know-how, while Kinsta specializes in managed WordPress. And Kinsta manages to be even faster than Liquid Web.