Hetzner's performance doesn't quite live up to other options on the market, and its outdated control panel can be frustrating to work with.
Don't get me wrong – it's definitely not a
bad
hosting service, but you can get better value for your money elsewhere. Still, switching web hosting providers is a big deal. You don't want to transfer your website(s) across to a new host just to experience the same problems you had with Hetzner. But in a sea of web hosts all promising fantastic performance and features at low prices, how are you supposed to differentiate the good from the bad? So, we tested all the top web hosts to see if they actually live up to their marketing. Spoiler alert: most didn't!
But I found five hosts that managed to exceed Hetzner's offering – usually for similar prices.
Read on to find out which of these providers is the right fit for your needs.
Short on Time? These Are the Best Alternatives to Hetzner in 2023
•
Kamatera
 – Highly customizable cloud VPS with impressive performance worldwide
•
Liquid Web
 – Managed VPS with above-and-beyond support services
•
Hostinger
 – Competitively priced, with better shared hosting performance
What We Look For in the Best Alternatives to Hetzner
•
Fast and reliable performance.
We found Hetzner's page loading speeds mediocre. I only chose web hosts that outperformed Hetzner in our tests.
• European data centers.
If you've been using Hetzner's services because you or your audience is based in the EU region, you can continue to serve your European visitors (as well as many others) with any of the hosts below.
• Ease of use.
The konsoleH control panel is outdated and difficult to navigate, especially in comparison to the commonly-available cPanel. And Hetzner's onboarding process is notoriously slow and time-consuming. I've listed hosts that offer easy setup and an intuitive account dashboard.
• Great value.
Hetzner's pricing is actually pretty good – on the surface, anyway. While it has lower prices than most, it lacks overall value. That's why I chose hosts that give you more features and better performance while remaining similarly affordable.
• Money-back guarantee.
Surprisingly, Hetzner doesn't have a money-back guarantee. All it can offer is a prorated refund if you cancel within the first 14 days. This means you'd still have to pay for the service you've used up to that point. Most of the hosts on my list guarantee a full refund if you cancel within 30 days.
• Uptime guarantee.
Hetzner also doesn't offer a formal uptime guarantee, so if your site goes down, don't expect to be compensated. The hosts I've chosen below guarantee at least 99.9% uptime, and will offer you compensation if this threshold isn't met.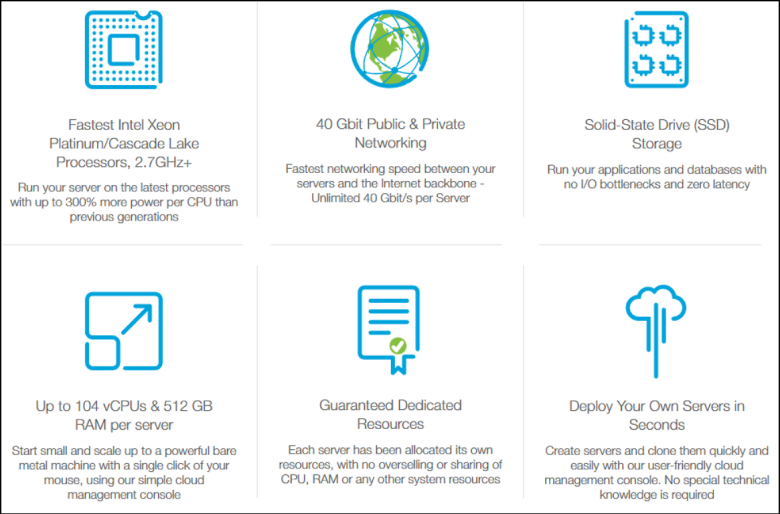 If you found yourself a little underwhelmed with Hetzner's cloud and VPS offerings, I'd recommend Kamatera.
Not only is Kamatera the best-performing host on this list
, it's also the most customizable – you can set the exact resources you need.
Your total vCPU, RAM, and SSD storage can be independently scaled at any time. With Hetzner, you have to pick from a list of premade VPS instances with a fixed set of resources. This approach usually leads to you paying for resources you don't need. For example, Hetzner's cheapest managed VPS offers 8GB of RAM. A small or medium-sized project might not require even half of this, yet you'll still have to pay for it. While Hetzner does generally offer slightly higher resource limits,
Kamatera lets you pay only for what you use right down to the second, so you can ensure you'll get full value out of every cent.
Features
• 15 data centers across the globe.
Kamatera covers every major continent with an impressive number of data centers. While Hetzner can only cover the US and Europe, Kamatera can also reach Asia and the Middle East.
• Fast server setup.
Unlike Hetzner, you can be up and running with Kamatera in just a few short minutes. Sign-up is quick and straightforward, and new server instances can be spun up in seconds.
• Intel Xeon Platinum powered servers.
While Hetzner uses Intel Xeon Gold processors, Kamatera goes a step further and offers Intel Xeon Platinum, the faster (and more expensive) series.
• 30-day free trial.
Kamatera lets you try out a cloud VPS with up to $100 credit. You can fully customize and configure the server as you wish. If you're not a fan, you can cancel the trial at any time without paying a thing.
Want to know more? Check out our expert Kamatera review
.
Data center locations
5 in the US, 1 in Canada, 3 in Europe, 5 in the Middle East, 1 in Asia
Money-back guarantee
30-day free trial
Uptime guarantee
99.9%
Starting Price

$

4.00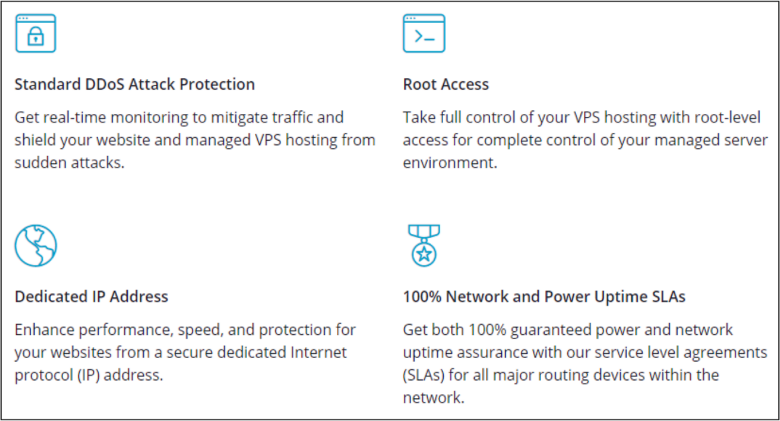 Liquid Web's managed VPS service is among the best
, and it's no wonder why.
Unlike Hetzner, Liquid Web's support team is one you can actually count on when problems occur. For example, if your Hetzner server runs into a critical error, its support engineers will not fix it if the problem has occurred outside of business hours – unless you pay huge fees on top of the money you're already paying for managed service. Liquid Web, on the other hand, will fix issues as they occur at no extra cost, regardless of the time or date. Furthermore,
Liquid Web guarantees a response within 59 seconds on a live chat enquiry or phone call, or within 59 minutes on a support ticket.
If this isn't fulfilled, you'll be due compensation. This kind of dedication to your needs is sorely missing with Hetzner, but that being said, Liquid Web does command a higher price.
Features
• 100% uptime guarantee.
Liquid Web will compensate you generously for any downtime, no matter how little. The compensation will comprise of a service credit equalling 10x the amount of downtime experienced. This is leagues better than Hetzner, who won't compensate you for downtime at all.
• Control panel management.
If you pay a small fee extra per month, you can extend Liquid Web's managed service to include full control panel support. This isn't even an option with Hetzner. Supported control panels include cPanel, Plesk, and Interworx.
• Full root access.
Despite being a managed solution, you'll still have full root access to your server. This allows you to customize your server as you desire. Conversely, Hetzner disallows full root access on its own managed servers.
• Beginner-friendly managed WordPress.
If you're looking for a simpler solution, Liquid Web also offers feature-filled managed WordPress plans
.
These include automatic AI-supervised plugin updates, daily backups, performance monitoring, and other nice extras.
For more details, read our Liquid Web review
.
Data center locations
2 in the US, 1 in Europe
Money-back guarantee
30 days
Uptime guarantee
100%
Starting Price

$

15.00

While Hetzner's low prices for shared hosting are a powerful draw if you're looking to save money, we found the performance to be disappointingly slow at times.
Hostinger is the best-performing shared hosting provider we've tested
, managing to compete with much more expensive hosts. Despite this, it's also one of your least expensive options. Hetzner is still ever so slightly cheaper, but is saving a few cents really worth putting up with weaker performance?
Hostinger also features a more modern and beginner-friendly control panel.
Like Hetzner, it uses a proprietary control panel – but unlike Hetzner's konsoleH, Hostinger's hPanel's clean and intuitive interface is a breeze to navigate.
A free domain name is included with some hosting plans from Hostinger
Features
• No setup fees.
Hostinger waives its setup fee if you choose to commit to an annual payment plan or longer. As you'll know if you've already signed up, Hetzner's shared hosting plans come with a sizable setup fee, and if you cancel your plan, you won't get this back.
• More SSD storage.
Hostinger offers five times more SSD storage with its basic plan compared to Hetzner. This gives you more room to grow and develop your site.
• Support for hundreds of sites.
With Hetzner, you're limited to a single domain with every shared hosting plan. On the other hand, Hostinger allows you to host hundreds of separate websites on its Premium Shared Hosting plan.
• Easy WordPress sites.
Every Hostinger shared hosting plan includes access to a WordPress start-up wizard. It will ask you a few questions about what you'd like to achieve with your WordPress site, then it will install plugins and suggest available themes based on your answers.
Learn more from our comprehensive Hostinger review
.
Data center locations
1 in the US, 3 in Europe, 2 in Asia, 1 in South America
Money-back guarantee
30 days
Uptime guarantee
99.9%
Starting Price

$

1.99

1&1 IONOS is one of the few hosts that can beat Hetzner's prices, with huge discounts for new customers. For example,
1&1 IONOS' VPS XL plan offers 4 vCPU, 8GB RAM, and 160GB SSD for just a couple of dollars per month.
The catch? This discount lasts only six months and then renews at a significantly higher price that is much more in line with the service you'd get from this hosting package. Still, the money you'd save in the beginning is a nice bonus if this is the level of plan you're after.
1&1 IONOS' VPSs feature unlimited traffic
. If you have multiple high-traffic sites, this will help you save more money over Hetzner, which charges overage fees if you exceed the traffic limits of any given plan.
A free domain name is included with some hosting plans from 1&1 IONOS
Features
• Customizable firewall.
Every 1&1 IONOS VPS comes with a customizable firewall. While it's preconfigured in a working and secure state, you can set your own custom rules with ease in the 1&1 IONOS admin area.
• Dedicated support advisor.
1&1 IONOS assigns a personal support advisor to every customer – even those with unmanaged VPS. This support agent will serve as your main point of contact for any queries and can even help with basic server administration. This includes server monitoring, external firewall rules, and more.
• Email service included.
Unlike most unmanaged VPS solutions, 1&1 IONOS includes an email service at no extra charge. This comes with an unlimited number of mailboxes, each with 2GB of storage.
• Free snapshots.
1&1 IONOS allows you to take a snapshot of your server at any time, without having to pay any extra. However, you're limited to just one snapshot per server, which is automatically deleted after three days. Still, this can serve as a good backup solution or an easy way to clone your server.
Check out our 1&1 IONOS review for more details
.
Data center locations
1 in the US, 3 in Europe
Money-back guarantee
30 days
Uptime guarantee
99.99%
Starting Price

$

2.00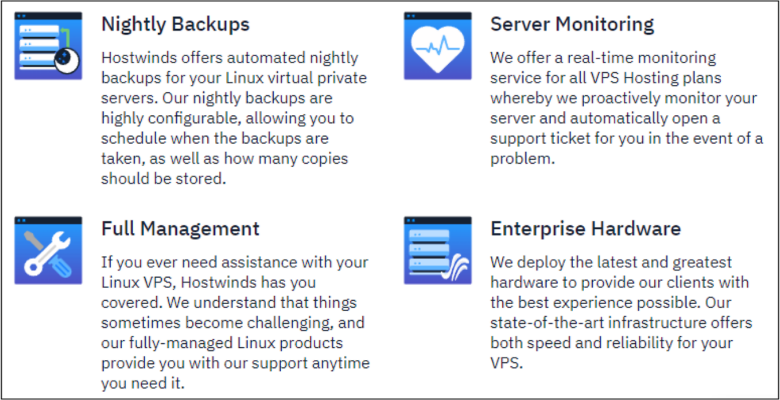 If you'd like the convenience of a managed VPS, but you're on a tight budget, Hostwinds is a great-value option.
Hostwinds is your cheapest option for managed VPS
– prices start at less than half the price of Hetzner.
Of course, Hostwinds managed VPSs aren't quite as resource-heavy as Hetzner's offerings. But, if you're just running a small site or an otherwise lightweight project, you'll probably find one of Hostwinds' low-tier VPS packages very suitable.
The scope of Hostwinds managed service exceeds that of Hetzner's.
You can request package installations and get help with server optimization, on top of 24/7 monitoring with proactive responses to any issues.
Features
• Great value shared hosting plans.
While it isn't as cheap as Hetzner, Hostwinds shared hosting plans offer unlimited storage, bandwidth, and databases at a very affordable price.
• User-friendly Cloud Control Portal.
Hostwinds allows you to control your managed VPS from a single, well-designed interface. You can use it to manage DNS, IP addresses, firewall rules, and much more.
• Volumes and load balancers.
At any time, you have the option to purchase additional storage volumes or effortlessly incorporate load balancers between multiple VPS. These premium services enable you to store any necessary data and optimize server performance for the best results.
• 99.9999% uptime guarantee.
Hostwinds commits to providing 99.9999% uptime. If this promise isn't met, you'll be due compensation through service credits.
Read through our Hostwinds review for a detailed analysis
.
Data center locations
2 in the US, 1 in Europe
Money-back guarantee
No guarantee – prorated refunds for services cancelled within 72 hours of purchase
Uptime guarantee
99.9999%
Starting Price

$

8.24
How To Choose the Best Hetzner Alternative for You
As you can see, there are plenty of exceptional alternatives to Hetzner. If you find yourself struggling to choose between them, here are my recommendations.
For the best in performance and flexibility,
I'd go with Kamatera
. Unlike Hetzner, you can custom-build the perfect server from the ground up. Furthermore, you can deliver your visitors with impressively fast loading times regardless of where they are located, thanks to its extensive network of data centers.
If you'd prefer a managed solution,
Liquid Web is your best option
. With a 100% uptime guarantee and a support response time guarantee, Liquid Web holds itself to high standards, and delivers better service because of this.
For the best shared hosting services,
give Hostinger a try
. It's similarly affordable, but offers significantly faster performance and more resources for your money. Still unsure? Get an overview of all the providers on this list from the comparison table below.
Standout feature
Data center
Beginner friendly?
Starting price
Kamatera
Highly customizable cloud VPS with great performance
5 in the US, 1 in Canada, 3 in Europe, 5 in the Middle East, 1 in Asia
✘

$

4.00

Liquid Web
Reliable managed service with a fast support response time guarantee
2 in the US, 1 in Europe
✔

$

15.00

Hostinger
Fast shared hosting performance at budget prices
1 in the US, 3 in Europe, 2 in Asia, 1 in South America
✔

$

1.99

1&1 IONOS
Very cheap unmanaged VPS with unlimited traffic
1 in the US, 3 in Europe
✘

$

2.00

Hostwinds
Affordable managed VPS with impressive scope of support
2 in the US, 1 in Europe
✔

$

8.24
FAQ
Are Hetzner's servers fast and reliable?
Our performance tests revealed that while uptime was satisfactory, its average page loading speed fell well under expectations. Kamatera delivers faster and more consistent page loading speeds, and so do many of the other hosts on our list of the best web hosting services for 2023.
Is Hetzner secure?
Hetzner's hosting service includes good security features. However, if you choose to go with the unmanaged cloud VPS, you'll have to take full responsibility for the security of your server instance. If you're not sure how to do this, choose a managed VPS, or go with shared hosting instead. If you're entirely new to web hosting, I recommend reading our complete guide to hosting a website in 2023.
Does Hetzner have cPanel?
cPanel is only available as an optional add-on for its VPS and dedicated servers. By default, Hetzner uses a proprietary control panel called konsoleH. It can get the job done, but its interface design is a little outdated. Hostinger and Hostwinds both offer more modern and user-friendly proprietary control panels, while many other providers offer cPanel.
How do Hostinger and Hetzner compare in performance?
We found Hostinger to deliver better performance in our shared hosting tests (including impressively fast loading speeds), whereas we found Hetzner's performance less impressive and its uptime less consistent.