If you're looking for an alternative to Hetzner, you may think often about one of the big reasons you likely went with it in the first place: low prices.
Yes, Hetzner is an affordable hosting service, but this affordability comes at the price of quality, security, and performance. Of course, there are plenty of other hosting companies that offer similarly low prices – but many of them have the same weaknesses as Hetzner.
Lots of budget hosts like Hetzner end up being more expensive in the long run because of the issues they bring, like subpar performance, inadequate customer support, and stingy resources. Luckily, there are several web hosting services that offer both better value for money and higher-quality hosting than Hetzner.
I tested all the top web hosts to find some excellent alternatives to Hetzner that meet the needs and levels of different users, from the casual blogger to the advanced webmaster. Some of them are even cheaper than Hetzner, while others provide premium or enterprise-level hosting for developers and large companies. Read on to discover which one is right for you.
What We Look For in the Best Alternatives to Hetzner
Reasonable cost. Hetzner's low prices often mean lower quality, so I looked for vendors that offer better value for your money while remaining affordable.
Strong security. A common concern for Hetzner users is that its servers are hackable, which is the last thing you need for your website. The hosting services listed below provide better security.
Speed and reliability. While Hetzner delivers decent speeds in Germany and South Africa, it's slow everywhere else. When looking for alternatives, I chose hosts with larger server networks, higher uptime, and faster speeds.
Features. Hetzner covers the basics, but there are other web hosting services that offer more valuable features for free (CDN, one-click CMS installer, SSD storage, etc.). The strongest alternatives also have more intuitive control panels that are much easier to use
Customer support. Hetzner doesn't have live chat support, whereas superior providers offer 24/7 live chat alongside other communication channels (like email) and online tutorials and community forums.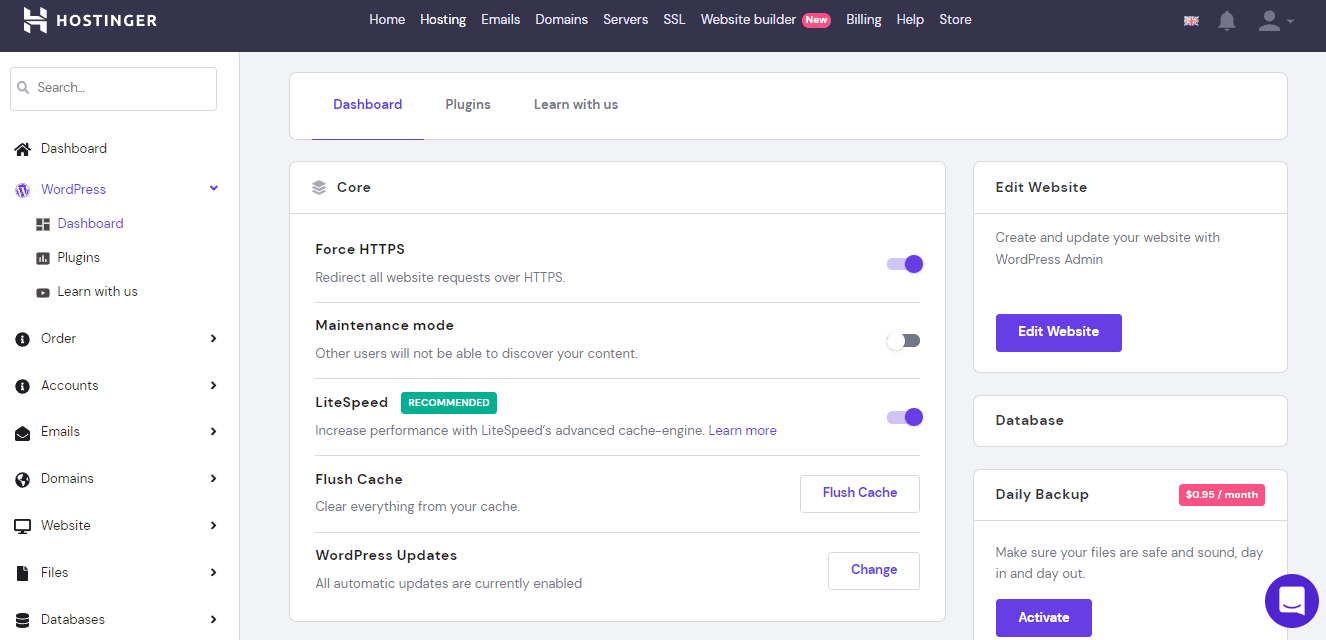 Hostinger is my top choice for many reasons, including its exceptionally reliable performance, lightning-fast loading speeds, user-friendly control panel, and dependable customer support.
Unlike Hetzner, Hostinger enables you to reach a wider audience through servers in Europe, Asia, and the Americas. More importantly, our tests showed that Hostinger lives up to its uptime guarantee (99.9%) and delivers high speeds, whether you sign up for a shared or dedicated server plan.
In Hostinger's case, low prices don't mean lower quality or security. All its plans come with SSD-powered storage, weekly backups (or daily backups on the Business plan), free SSL encryption, a one-click installer (for 100+ apps), tools for managing WordPress, DDoS attack protection, Git access, Hotlink Protection, and more.
Hostinger customers will have less of a learning curve, thanks to its simple custom control panel, and enjoy better access to customer support than Hetzner customers.
Features
Pricing. Hostinger's long-term (48-month) shared hosting plan costs less than the price of a cup of small coffee per month, and the promotional discounts are unrivaled. Its highest-value plan (Business) costs about half as much as Hetzner's most expensive plan and renews at a cheaper rate as well.
Value-added features. All shared hosting plans (including the entry package) are SSD powered, run on CloudLinux OS servers, come with free SSL, and are optimized for WordPress. The Premium and Business plans also include a free domain name for the first year.
Easy-to-use control panel. As a simplified version of cPanel, Hostinger's custom hPanel lets you easily manage every aspect of your website. It's modern, intuitive, and great for novices – but not too simple (or restrictive) for experienced users.
Customer support. In addition to a comprehensive online knowledge base, Hostinger offers 24/7 live chat and ticket support. Despite some wait time, once you're in touch with an agent you'll get helpful and accurate support.
Read our expert Hostinger review for more details.

InterServer is another solid alternative to Hetzner, thanks to some great perks like unlimited storage and bandwidth, dirt-cheap plans, and top-notch security.
InterServer's data centers are all located in the US, while Hetzner's are in Europe and Africa. At first glance, it may seem like InterServer is ideal if your audience is in North America, and Hetzner is better for audiences in Europe or Africa – but this isn't the case.
In reality, InterServer has great loading speeds in both North America and most of Western Europe, while Hetzner has poor loading speeds around the world.
On the downside, InterServer can be hit-or-miss with its customer support. The live chat agents aren't always knowledgeable enough. However, it does have call centers in the US, the UK, Israel, Brazil, and Mexico, so users around the world can get help in their native language.
Features
One-size-fits-all plan. The single shared hosting plan is packed with advanced features but comes at an entry-level cost. It also includes unlimited SSD storage, bandwidth, and email accounts.
Advanced caching. InterServer plans are cached across different systems, including at the hardware and software levels, to provide fast loading speeds for high-traffic websites.
Security. All plans include two security packages for free: Inter-Insurance (which ensures InterServer will clean up your site if it gets infected) and InterShield (which includes an advanced firewall, virus scanner, in-house malware database, and more).
Ease of use. All of InterServer's Linux-based plans come with cPanel, which is far easier to use and more up to date than Hetzner's KonsoleH panel. Plus, cPanel is good for both beginners and pros.
For more on our performance tests, read our expert InterServer review.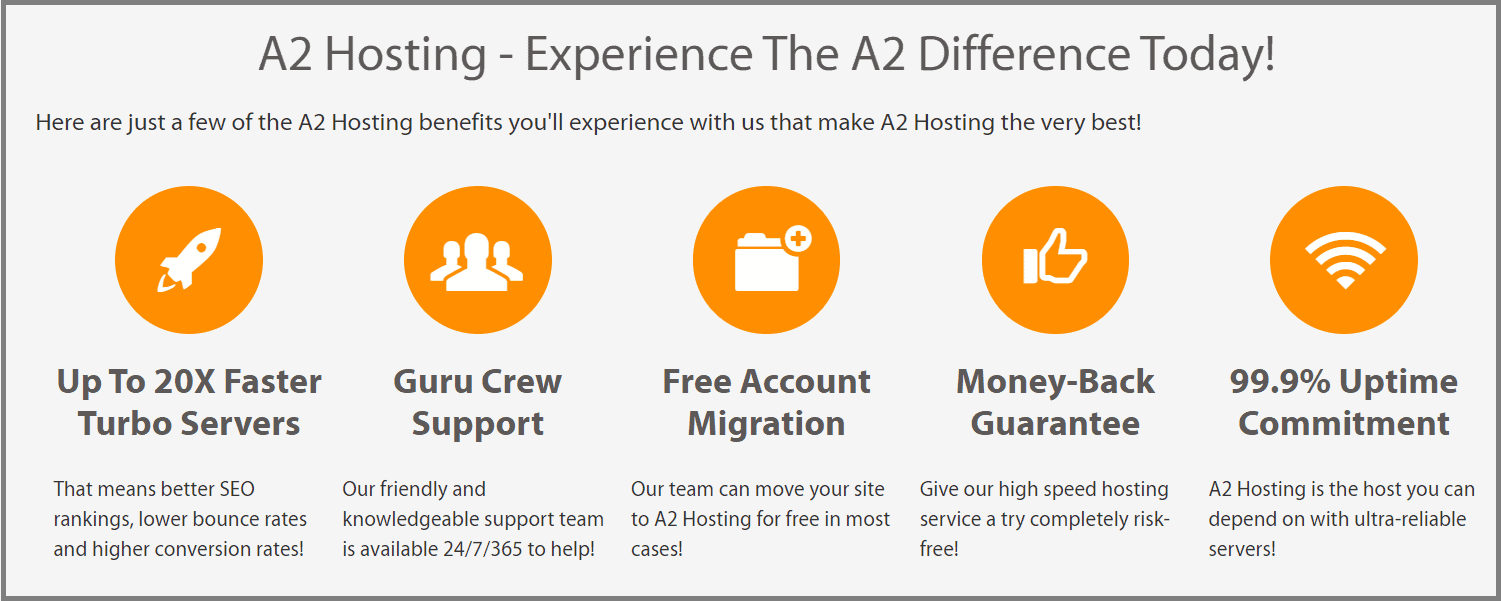 A2 Hosting is a great web hosting service that offers amazingly priced plans, especially for long-term contracts. Even without a discount, though, it's a much better value than Hetzner.
For one thing, A2 Hosting's plans include tons of features, excellent security, and better resource allocation. Its shared hosting plan starts with 100GB of SSD storage, and all subsequent plans have unlimited storage. In contrast, Hetzner's plans only range from 10 to 300GB.
Not only does A2 Hosting have data centers in the US, the Netherlands, and Singapore, but these data centers are powered by turbo servers that deliver fast speeds. This clearly shows in the difference between A2 Hosting and Hetzner's global loading speeds.
A2 Hosting's support can be reached 24/7 through live chat. It also has an impressive number of call centers in the US, the UK, Brazil, Australia, Colombia, and India, allowing it to serve customers from all over the world.
Features
Turbo Servers. All of A2 Hosting's servers are technologically advanced and optimized to deliver the fastest loading speeds possible. Turbo Servers benefit from upgraded NVMe SSD drives.
Security. All plans include KernelCare (daily, automatic, and rebootless Kernel updates), DDoS/Brute-Force protection, a dual web hosting firewall, HackScan, Auto-Heal hosting protection, Barracuda spam filtering, and virus scanning.
Better VPS. A2 offers more expansive VPS hosting options than Hetzner. You can choose from unmanaged VPS (with root access) or managed VPS (with or without root access).
Anytime money-back guarantee. Unlike most hosts, A2 Hosting allows you to terminate your contract at any time and get a prorated refund for the remainder of the contract period.
See our in-depth review for more on why we recommend A2 Hosting.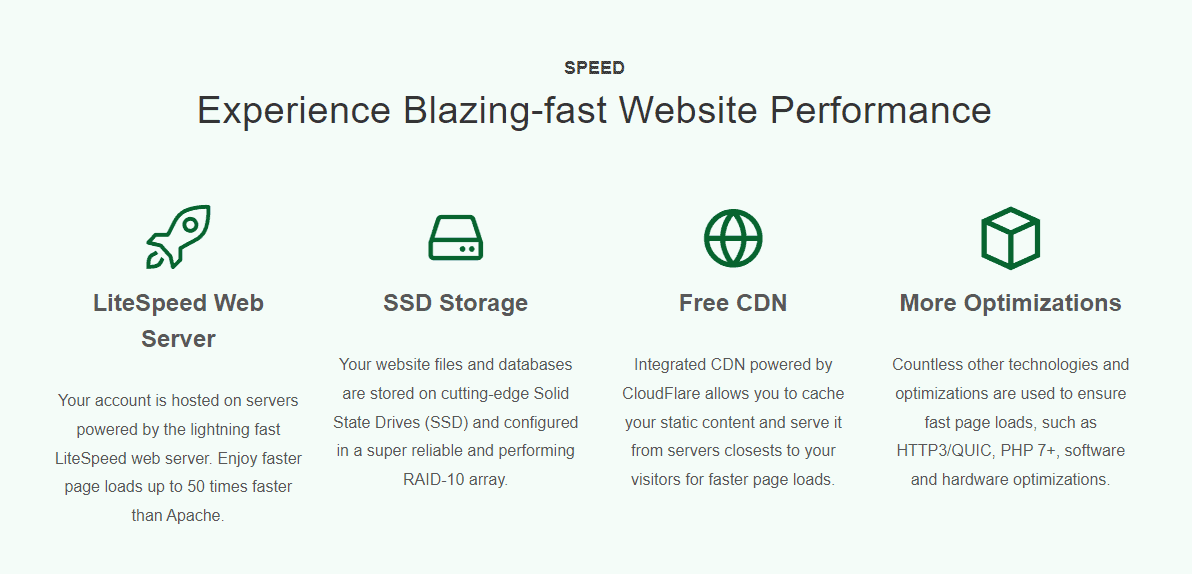 As its name suggests, GreenGeeks is an eco-friendly web hosting service. It invests heavily in renewable energy to offset the resources its web hosting consumes. It has servers in the US, Canada, and Europe, and is a solid host for both simple landing pages and multi-page business websites.
Although GreenGeeks can be pricier than Hetzner, it provides considerably better value. Its most basic plan, Lite, comes with unlimited resources like SSD storage, email accounts, and databases. All plans also include free SSL, Cloudflare CDN, nightly backups, a website builder, and more. Plus, its infrastructure is more secure.
GreenGeeks also has outstanding customer support, with helpful representatives available around the clock via live chat. On top of that, the extensive Help Center contains all kinds of tutorials.
Features
Customer support. This is GreenGeeks' strongest advantage. Staff are extremely helpful and available 24/7 through live chat, and wait times are either minimal or nonexistent.
Exceeds its 99.9% uptime guarantee. Over the course of two months, GreenGeeks' uptime was 99.991%. Not many hosts can back up their SLAs, let alone exceed their guarantee.
Valuable freebies. No matter which shared hosting plan you sign up for, you'll get a bunch of value-added features for free – like a free domain name for the first year, a website builder, and nightly backups.
Security. All shared hosting plans come with useful security features, like real-time malware scanning, spam protection, container-based tech for better scalability, and account isolation on shared plans.
Read our comprehensive GreenGeeks review for more information.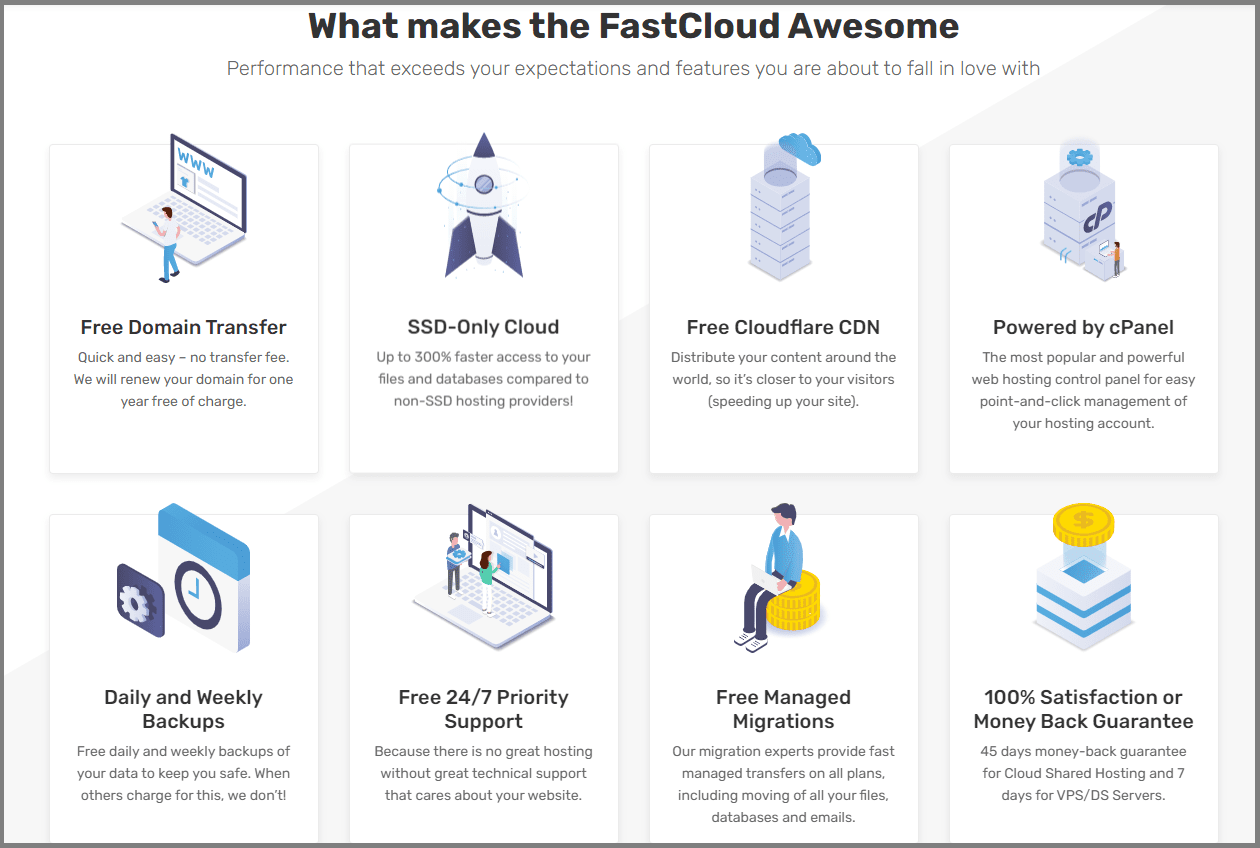 FastComet, like GreenGeeks, lives up to its name – in this case, with outstanding performance. FastComet's data centers are spread across four continents, allowing it to deliver fast loading speeds across the globe.
FastComet guarantees 99.9% uptime. Although our tests show that its actual uptime is a bit below that mark, it is still consistently very high and pretty dependable. FastComet is so confident about its uptime that it offers credit for any downtime your site might experience.
FastComet is more flexible than Hetzner, with a wider range of contract length options (from one month to three years). And if you transfer to FastComet from another host and your previous contract hasn't expired yet, FastComet will give you free hosting for the number of months you had remaining with your previous host (up to six months).
Features
Global data centers. FastComet's data centers are spread across North America, Europe, Asia, and Australia (with a total of eleven data center locations) to provide optimal speeds all over the world.
RocketBooster optimization. Recommended for e-commerce websites, this additional feature included in the FastCloud Extra plan uses LiteSpeed technology, Opcode caching, and CloudFlare CDN to enhance performance.
Gzip compression. This feature compresses your website to almost half its size to enable faster loading – it's effectively the same as doubling network speed.
24/7 customer support. FastComet's support is available through live chat, email, and support ticket. Unlike most hosts, FastComet's support doesn't just stop at helping you navigate the control panel. You can get help with configurations and deployments, as well as assistance with compromised websites.
To learn more about FastComet's hosting plans, read our expert review.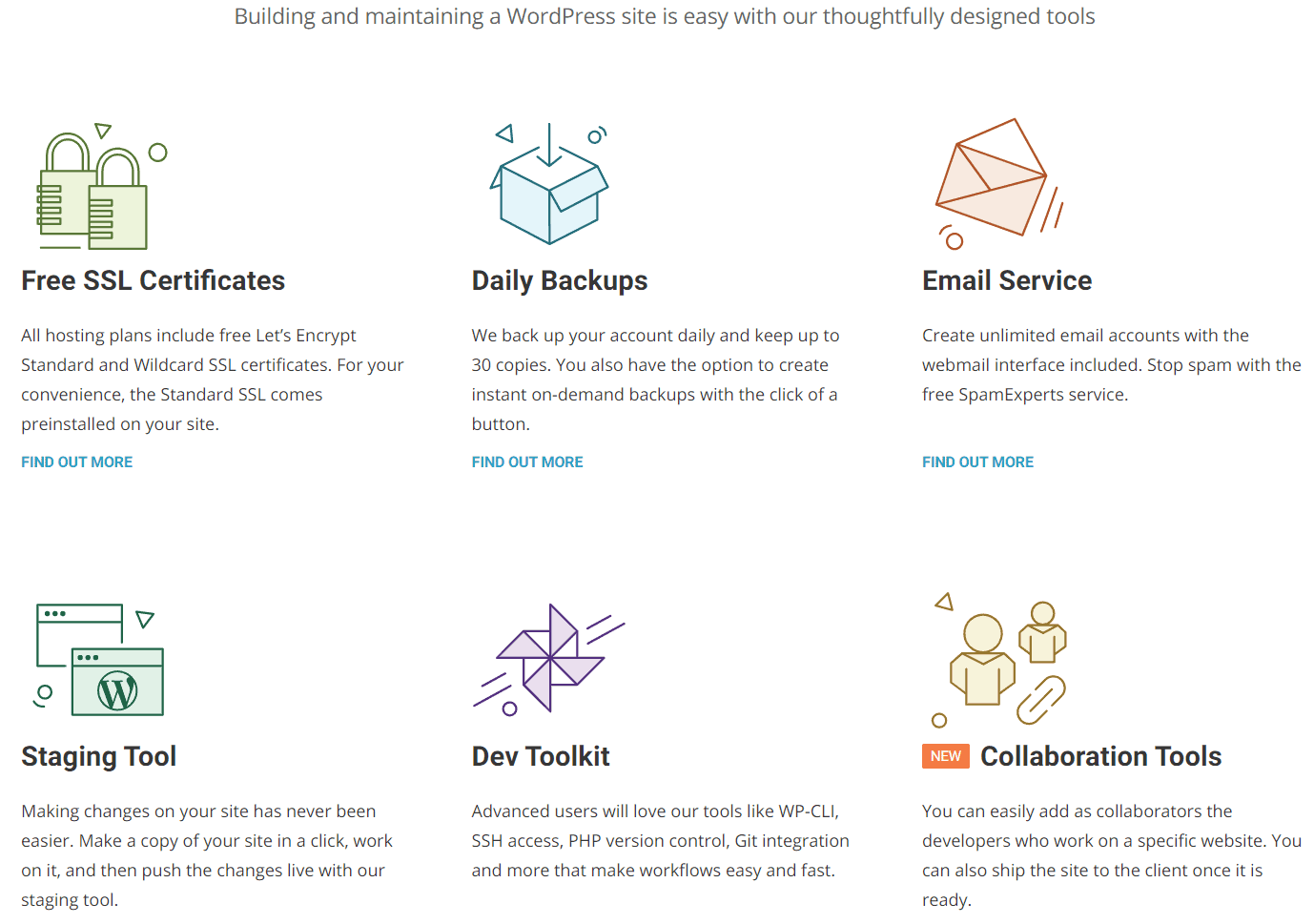 Bulgaria-based SiteGround is a popular choice for managed WordPress hosting, and for good reason. In addition to its numerous server locations, SiteGround also offers NGINX-based static and dynamic caching for fast loading speeds. It also comes with an optimized WordPress app to improve your site's performance and SEO – something Hetzner can't claim.
While many basic plans are limited, SiteGround is quite generous with its StartUp package. It includes 10GB of SSD disk space, 10,000 visits per month, free Cloudflare CDN, daily backups, SSL, the WordPress command line interface (WP-CLI) for advanced users, Weebly's site builder, spam protection, and more.
So, what's the catch? While SiteGround is more expensive than Hetzner, you get a lot of premium goodies included with your plan – and it does offer discounts. I would mainly recommend it for advanced users with more demanding websites.
Features
Ease of use. SiteGround has, like Hetzner, developed its own control panel (called Site Tools), but it's much better. Site Tools is well organized with an intuitive interface, and is easier to use than even cPanel.
Staging environment. SiteGround offers site staging with GrowBig and GoGeek plans, which lets you create a live copy of your website to test big changes or new apps.
Customer support. SiteGround's representatives are always available and ready to help via 24/7 live chat, phone, and support ticket. Plus, the Help Center and community forum are extensive.
Security. SiteGround has advanced intrusion detection/prevention systems, and all shared hosting servers have firewalls. The company also updates its security protocols weekly, and all servers use the latest PHP 7 version by default.
Read our full SiteGround review for more about performance and uptime.
You Can Get Better Hosting than Hetzner
As you can see, all six web hosting services on this list are ideal alternatives to Hetzner. Still finding it hard to choose the right web host for your needs? Let me help you out.
If you want a powerful hosting service on a small budget, Hostinger is your best bet. It delivers excellent performance and has loads of features. It works well for personal websites as well as small and medium-sized businesses.
InterServer is another budget-friendly choice, boasting unlimited resources, low renewal rates, high performance, and solid security features.
If you want more scalable solutions, A2 Hosting is a good option. You can choose from feature-rich unmanaged and managed VPS plans (with or without root access). Plus, you can cancel your subscription at any time and get a prorated refund – which makes A2 Hosting one of the best hosts for managed VPS plans in 2022.
If you have a bigger budget and want premium managed WordPress hosting – or even just shared hosting with more resources – SiteGround won't disappoint. It's true that SiteGround's plans renew at a relatively high price, but you'll get a bunch of premium features.
Take a look at my summary table to see which host is best suited for your website.
FAQ
Which host is better – Hetzner or InterServer?InterServer is a better value than Hetzner, as its one-size-fits-all shared hosting package includes more value-added features and unlimited resources at a low rate. Even though InterServer's servers are in the US, it still delivers better performance in Europe than Hetzner. It's no surprise that InterServer is among the top 10 web hosting services in 2022.What are the best free alternative hosts?To be honest, I don't recommend using a free web hosting service, especially if you need strong security and/or advanced features for your business or professional website. With a free service, your resources will be severely limited and you'll be vulnerable to cyber threats. Instead, go with a premium provider that offers a money-back guarantee, and check out our coupons and deals page to find the latest discounts.Is Hetzner an affordable hosting provider?Although Hetzner offers quite low prices, you don't really get your money's worth because of poor performance, security flaws, limited features and resources, and a dated control panel. The hosts listed above are also super affordable, and they'll provide a much better overall experience than Hetzner.How do Hostinger and Hetzner compare in performance?Hostinger delivers far better performance (including impressively fast loading speeds), whereas Hetzner is slow and has inconsistent uptime. Hostinger also has servers in more locations worldwide, as opposed to Hetzner's limited server network. If you want to see for yourself, here's how you can carry out a proper web hosting server performance test.