Some hosts claim to be green, but they aren't quite as eco-friendly as they seem.
And green web hosting can also be expensive and under-resourced when compared with competing web hosts. Switching to a green web hosting company will lower your carbon footprint and encourage hosts to do better.
But before you switch, you need to know which green web hosting companies also deliver good value for money.
I've checked the major green web hosts' environmental policies
and
tested the hosting features they offer so you can decide whether it's worth it to switch.
Short on Time? These Are the Best Green Web Hosting Services
GreenGeeks – 300% carbon offsetting, with unlimited disk space and transfer on all shared hosting plans
HostGator – Carbon offsetting combined with low pricing and impressive features
InMotion Hosting – Great support and security, with modern tech to reduce HVAC power usage
What We Look For in the Best Green Web Hosting Services
When evaluating green web hosts, I'm looking at three things.
Quality and pricing: Does this host offer a good range of features? Is it more expensive than other website hosting services? If so, is it worth the extra cost?
Green initiatives: Some hosts use green energy in their data centers. Others offset their carbon emissions to compensate for fossil fuel usage.
Workplace initiatives: This category includes composting, recycling, or encouraging employees to reduce emissions by working from home.
1. GreenGeeks – Impressive 300% Carbon Offsetting and Scalable, Feature-Rich Hosting
As its name suggests, GreenGeeks markets its hosting as environmentally responsible and "green." If you want an eco-friendly host, it deserves to be on your shortlist.
What Makes GreenGeeks Green?
For every unit of energy GreenGeeks uses, it puts three units back into the grid in the form of renewable energy.
This is essentially a form of carbon offsetting. GreenGeeks reports its infrastructure and staff numbers to the Bonneville Energy Foundation in Portland, Oregon, and then pays BEF for wind power equivalent to 300% of its usage.
Could GreenGeeks Do Better?
GreenGeeks' four data centers (in the US, Canada, and the Netherlands) are not equipped with renewable energy, and they still rely on diesel generators for backup power. It would be nice to see GreenGeeks using some facilities that harness power from natural sources directly.
What Else Does GreenGeeks Have to Offer?
All of GreenGeeks' shared hosting plans offer unlimited web space and bandwidth and a free domain name for the first year.
The most affordable plan, Lite, allows you to host one website, but its Plus and Premium plans allow unlimited websites. All shared hosting plans come with an easy-to-use drag-and-drop website builder and free site migration of one website. A free SSL certificate and advanced security features are also included to ensure your website is secure.
All plans are scalable, so you can add extra RAM and disk space if you need it
, and GreenGeeks will take daily backups of your site. GreenGeeks also offers managed WordPress hosting plans, reseller hosting, VPS (virtual private server) hosting, and support for programming languages like Perl and Python. Its pricing is not the lowest I looked at in my comparison, but its features make it one of the best web hosts on the list.
Should You Switch to GreenGeeks?
Any eco-friendly business will earn kudos with customers for making an ethical choice and switching to GreenGeeks. Its plan prices after renewal are at the high end, but they have the capacity, features, and scalability you need to host your website and provide room for it to grow. Features are impressive, and the company has a good track record in the hosting industry. To learn more, read our
in-depth GreenGeeks review
.
| | |
| --- | --- |
| Green Initiatives | Offsetting |
| Carbon Neutral? | Yes |
| Support | 24/7 live chat, phone (9 a.m. to midnight EST daily), email, knowledge base |
| Typical Pricing | High |
2. HostGator – Low Cost, Feature Rich and Carbon Offset for a Decade
HostGator is part of Endurance International Group (EIG), a large hosting company with data centers all around the world.
It has retained some of the core principles it held as an independent company, and carbon offsetting is one of them.
What Makes HostGator Green?
Twelve years ago, HostGator started purchasing Renewable Energy Credits (RECs) to offset the carbon emissions produced by its servers and cooling systems.
The RECs are used to purchase renewable energy and put it back into the grid. HostGator purchases RECs through 3Degrees Inc. and aims to offset 130% of its consumption. One REC purchased by HostGator at 3Degrees is equivalent to one megawatt-hour (MWh) of energy used.
Could HostGator Do Better?
It's challenging for established hosts to make a sudden switch to renewable energy. There are obviously costs and environmental consequences. But smaller changes could be introduced.
I would like to see HostGator take a stand on things like recycling and carpooling to boost its impressive record so far.
What Else Does HostGator Have to Offer?
HostGator's shared hosting includes a free domain name when you sign up for 12 months or longer.
You'll also get a free SSL certificate on all plans so your website is secure and data is encrypted
, making HostGator suitable for e-commerce sites. The Hatchling plan allows you to create one website, while the Baby and Business plans allow you to create unlimited sites. All shared hosting plans include unlimited storage and bandwidth.
A free website builder is provided on all HostGator's shared hosting plans, along with a one-click installer for WordPress.
HostGator provides advertising credits for customers who want to try out Bing Ads or Google Ads. HostGator also gives you plenty of opportunities for scaling your website, with WordPress hosting, VPS hosting, and dedicated servers.
Should You Switch to HostGator?
HostGator has been offsetting for a very long time, so its green credentials are proven.
It has a good reputation as a solid host that provides affordable hosting packages and is one of the internet's biggest names too. If you want an environmentally conscious hosting company that is easy on your wallet, HostGator ticks both boxes. It lacks some features, like daily automated backups and free security features; if those are important to you, consider GreenGeeks as an alternative. Want to know more? Read our
full HostGator review
.
| | |
| --- | --- |
| Green Initiatives | Offsetting |
| Carbon Neutral? | Yes |
| Support | 24/7 live chat and phone, ticket, video tutorials, knowledge base |
| Typical Pricing | Average |
3. InMotion Hosting – Natural Cooling and Great Security Features
InMotion Hosting is one of the few hosts that has changed its data center infrastructure to reduce its environmental impact.
As an independent company, it is well placed to respond to consumer demand for green alternatives, and this shows in its tree-planting policy.
What Makes InMotion Hosting Green?
InMotion Hosting's Los Angeles data center was the first in the area to incorporate a natural form of cooling.
Instead of pumping the same air around the data center, and using power to cool it down, the system pumps warm air out and draws fresh, cool air in from outside.
This is a much smarter way of lowering the ambient temperature to ensure servers don't overheat. InMotion Hosting has also made a commitment to plant 5,000 trees in the developing world through an initiative called Trees for the Future.
Could InMotion Hosting Do Better?
The cooling system at its LA data center is saving 70% of energy previously spent on cooling. For transparency,
I'd like to know whether it has plans to offset or reduce power consumption across its other facilities
; if it does, this represents a massive emissions saving.
What Else Does InMotion Hosting Have to Offer?
InMotion Hosting has three tiers of shared hosting: Launch, Power, and Pro. Launch supports two websites, Power supports six, and Pro supports unlimited sites.
All plans include a free domain name for one year, unlimited bandwidth and disk space, and a drag-and-drop site builder.
Security is great too, with hack protection and a free SSL on all plans. This would give me the confidence to host a business or e-commerce website with InMotion Hosting, even on its cheapest shared hosting plan.
InMotion's WordPress hosting plans
 are fully managed and include the BoldGrid website builder. This is a website builder that sits on top of WordPress, making it easier to create your first site without learning lots about how WordPress works. InMotion Hosting also offers VPS hosting and dedicated servers.
Should You Switch to InMotion Hosting?
I have always liked InMotion Hosting's approach to web hosting, particularly at the more affordable end of the pricing scale.
It has tons of well-written, well-organized help for users, and when I've hosted with InMotion, I've found the uptime and quality of service to be very good, with fast response times to tickets. Its shared hosting offers competitive features, like SSD drives and data backups, and I like the hack protection for shared hosting customers. The fact that InMotion Hosting is adapting its infrastructure to be more eco-friendly shows a solid commitment to green web hosting, beyond carbon offsetting. Read our
expert InMotion Hosting review
 for more information.
| | |
| --- | --- |
| Green Initiatives | Natural cooling |
| Carbon Neutral? | No |
| Support | 24/7 live chat, ticket, phone, email, knowledge base |
| Typical Pricing | Average |
4. A2 Hosting – Company-Wide Green Initiatives and "Turbo" Hosting Speeds
A2 Hosting's FutureServe hosting uses a combination of initiatives to lower its environmental impact across the whole company.
It's great to see a host thinking on a broader scale about how to achieve true carbon-neutral status.
What Makes A2 Hosting Green?
A2 Hosting has been offsetting its emissions for 13 years in partnership with CarbonFund.org.
This is an impressive legacy; its energy offsetting actually predates HostGator's by a year. Additionally, the host has encouraged staff to make some small but significant changes to their working routine:
All staff work remotely to reduce emissions from travel
Everyone at A2 Hosting is encouraged to carpool when they can
The host repurposes old hardware rather than disposing of it when it's out of date
Small changes, like encouraging people not to use disposable cups, are the sign of a business that takes its responsibilities to the environment seriously.
Could A2 Hosting Do Better?
The main issue I have with
A2 Hosting's green hosting plans
 is that the details are so hidden. Scroll right to the bottom of the green web hosting page and you'll finally find all the details.
Given that it's doing so many things right, it could make this information much more prominent.
What Else Does A2 Hosting Have to Offer?
A2 Hosting has three shared hosting plans: Lite, Swift, and Turbo.
All plans include unlimited storage and bandwidth, a free SSL certificate, and a site builder tool.
Lite allows you to host one website on your plan, while the other two plans allow for unlimited sites. Swift and Turbo include automatic backups. All plans include hack protection. WordPress customers can use its free A2 Optimized plugin to harden the security of the WordPress login page and automatically keep the core WordPress code updated. The Turbo plan is designed for the best possible speed. For example, there are fewer websites per server on Turbo plans, and all of the servers for Turbo customers use SSD storage, which is faster than regular hard drive storage. A2 Hosting differs from competitors like HostGator in that it does not include a free domain name. However, it does offer options for scaling your website, with managed and unmanaged VPS hosting and dedicated servers.
Should You Switch to A2 Hosting?
A2 Hosting has a very impressive set of eco-friendly credentials, and its hosting plans are fairly priced.
When I've used A2 Hosting, I've always been impressed with the quality of the technical support, with engineers going above and beyond to fix complex problems. If loading times are important to you, its Turbo plan promises the best possible speeds, and the support for developer languages and tools sets it apart from the other hosts I looked at.
| | |
| --- | --- |
| Green Initiatives | Carbon offsetting, green workplace policies |
| Carbon Neutral? | Yes |
| Support | 24/7 live chat, ticket, phone, email, knowledge base |
| Typical Pricing | Average |
5. Greenhost – Green Ethics, but What About the Rest?
Greenhost uses the Iron Mountain data center in Amsterdam, which is powered using 100% renewable energy.
Greenhost has a range of other green policies to complement its eco-friendly infrastructure.
What Makes Greenhost Green?
Many hosts have added eco-friendly offsetting policies to their existing hosting packages.
With Greenhost, eco-friendly credentials are built into every part of the business.
The most important component of
Greenhost's hosting plans
 is the choice of data center. The Iron Mountain facility charges its customers on a metered basis to encourage them to reduce power consumption. Iron Mountain says that it has invested in wind and solar projects in the United States and within the European Union. Greenhost's primary storage servers are equipped with SSD storage, which uses less power than traditional hard drives. It employs virtualization to efficiently use its server capacity by splitting it into smaller virtual servers. The company itself is located in a carbon-neutral building in Amsterdam, Patch22, which is heated using locally sourced wood and green energy. Its employees eat a high proportion of plant-based and vegetarian food, and many of them cycle to work.
Could Greenhost Do Better?
Greenhost does not provide many details on its hosting plans. There is no information about the number of websites or domains you can host, and no details of migration support.
I am concerned that the lack of plan details makes Greenhost appear uncompetitive, and that could put off a lot of customers who want to switch.
Also, you have to pay annually for all plans at Greenhost. This is unusual since the other hosts we've considered offer a monthly payment option.
What Else Does Greenhost Have to Offer?
Greenhost has three shared hosting plans. Basic includes 1,000 MB storage and 10 GB bandwidth per month. Professional provides 5 GB storage and 50 GB bandwidth, and Premium increases this to 10 GB storage and 150 GB bandwidth. Plans include free SSL certificates and daily backups.
Should You Switch to Greenhost?
Greenhost has three affordable shared hosting plans, VPS plans, and a basic level of support that will be enough for confident hosting customers. But it's difficult to compare its plans with other hosts when there is little detail on the extras you might be looking for, like backups. For its green credentials alone: yes, I would recommend you switch. But
Greenhost needs to give us a little bit more information on exactly what we get for our money.
| | |
| --- | --- |
| Green Initiatives | Wind power, carbon-neutral office, ethical policies |
| Carbon Neutral? | Yes |
| Support | Phone (2 hours per day); email, knowledge base |
| Typical Pricing | Low |
6. DreamHost – Green Facilities and Excellent WordPress Features
DreamHost proudly states that it's a carbon-neutral company. Its facilities are highly optimized with energy-saving tech, putting it at the forefront of the best green web hosts.
DreamHost's shared hosting plans
 include lots of great features, like daily backups.
What Makes DreamHost Green?
DreamHost runs its data centers and offices in an eco-friendly way.
Here's a summary of what it's put in place so far:
Office facilities are certified by LEED and EnergyStar
It uses motion sensors and modern lights to reduce power
Servers run processors chosen for low power consumption
Data center power is partly renewable
Office recycling or composting is encouraged and disposables banned
Staff work from home and use videoconferencing to cut unnecessary journeys
The company has made an effort to go largely paperless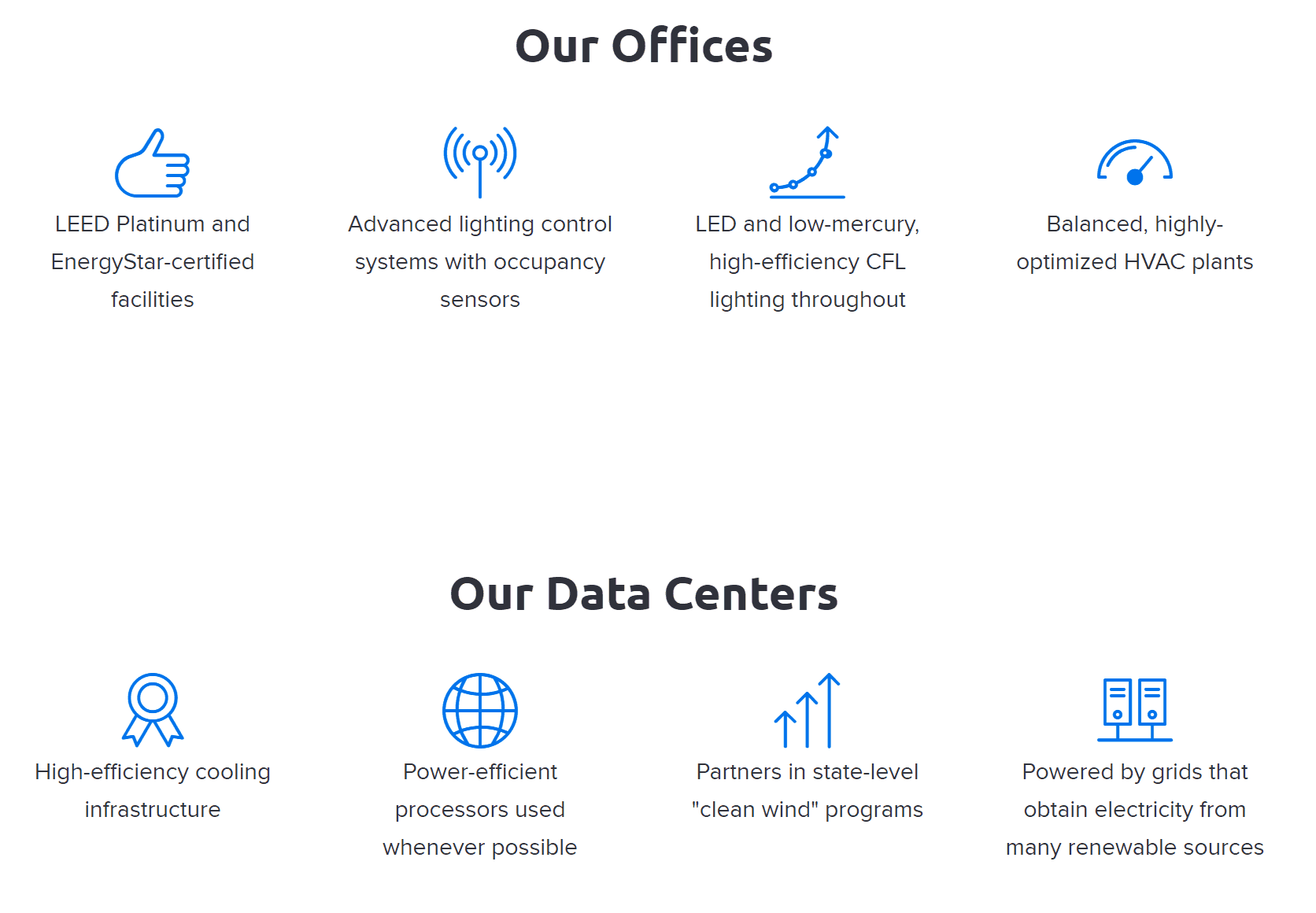 What Else Does DreamHost Have to Offer?
There are two shared hosting plans at DreamHost: Starter and Unlimited. Both plans include unlimited bandwidth, an SSL certificate, pre-installed WordPress, a free domain for one year, and DreamHost's website builder, which integrates with WordPress. Starter limits you to one website and 50 GB storage, while Unlimited allows you to create as many sites as you need with unlimited storage for your website data.
All plans include automated WordPress security updates and daily backups.
Not all hosts provide these features on low-cost shared hosting plans, so I thought this was impressive.
Could DreamHost Do Better?
DreamHost could provide a little more detail on its eco-friendly initiatives to really boost my confidence in its commitment to green hosting.
| | |
| --- | --- |
| Green Initiatives | Green facilities, office policy |
| Carbon Neutral? | Yes |
| Support | 24/7 live chat, ticket, knowledge base |
| Typical Pricing | Low |
Which Green Web Host Offers the Best Hosting?
If you want an affordable eco-friendly host,
GreenGeeks
is the best all-rounder, with great features, good pricing, and carbon offsetting. For WordPress users,
DreamHost
 has great features even at the lowest plan level, including backups and security updates that other hosts don't provide at that price. It has also considered eco-friendly initiatives in its offices and wider workplace. And if you want rock-bottom pricing without the carbon footprint,
Greenhost
 is my recommended pick.
| | | | |
| --- | --- | --- | --- |
| Host | Method | Energy reduction | |
| GreenGeeks | Offsetting | 300% energy offset via BEF | |
| HostGator | Offsetting | 130% energy offset via RECs | |
| InMotion Hosting | Partial wind power | 70% reduction in energy for cooling in one data center | |
| A2 Hosting | Offsetting Environmentally friendly policies | 100% (carbon neutral) | |
| Greenhost | Wind power Environmentally friendly policies | 100% (carbon neutral) | |
| DreamHost | Low energy usage and renewables Environmentally friendly policies | 100% (carbon neutral) | |
FAQ
1. What is green hosting?
Green hosting is web hosting that is more eco-friendly than regular hosting. Web hosting companies have different green initiatives: they might offset their power usage, switch to reusable energy, or reduce the environmental impact of their business as a whole by encouraging staff to recycle, compost, and carpool.

2. Why should I care about green hosting?
According to The Independent, data centers globally use around 3% of the world's electricity. The environmental impact of data centers is greater than the aviation industry. Our websites demand a huge amount of power, both for the servers they run on and for the air conditioning equipment used to keep the servers cool. Switching to green hosting reduces the impact of data centers on the environment and therefore helps combat climate change.

3. What kind of carbon footprint does a non-green web hosting company have?
According to GoClimateNeutral, the footprint of a single server using non-green electricity is between 450 kg and 899 kg of carbon dioxide emissions per year. Web hosting companies typically have thousands of servers, though few disclose the exact number.

4. What kinds of environmentally friendly features do green hosting companies offer?
Green hosting companies typically use either renewable energy or offsetting to reduce their carbon footprint. For example, some rent server space in a data center that is powered 100% by wind energy. Others purchase credits to put clean energy back into the grid to compensate for the fossil fuel energy their web hosting has consumed.