Email marketing services all claim to be the best for your business, but the truth is not every option is the best for Shopify. Some services come with better e-commerce tools that let you directly feature your Shopify products in emails – saving you a ton of time. Strong synergy between your EMS and Shopify store can boost engagement, sales, and brand recognition.
So, which email marketing service works best for Shopify? Well, that depends. If your Shopify store is already established with a large customer base, you'll want an advanced service that supports a big mailing list. But if your list is smaller or you're on a budget, you should look into a low-cost service or a free plan.
Either way, you need an email marketing service with solid e-commerce capabilities. To help you get the best email marketing for Shopify, I thoroughly tested the most popular email marketing services to discover which can help your online store flourish. Keep reading to find out which one is best for you, or check out my top 3 picks below.
What We Look For in the Best Email Marketing Services for Shopify
If you want shoppers to buy from your store instead of the competition's, you need a strong marketing strategy to help you stand out. That means the email marketing service you use HAS to have features that work well with Shopify and e-commerce. I looked for the following features:
Product templates: Since many of your emails will be product promotions for your Shopify store, it's important for an email service to offer stylish templates designed for products, announcements, sales, and coupons.
High-quality images: Blurry or tiny images can hurt your credibility, so using professional-looking pictures of your products is a must. The service you use should support big, beautiful, high-res images to really show off your stuff.
Automation and autoresponders: Good automation will let you share related products after a purchase, reward buyers with coupons, and send cart abandonment messages – which more than doubles the chance a customer will complete their purchase.
Email list segmentation: Organizing your customers by their purchase history and behavior will help you send targeted ads for better results. For example, you could promote rugs and throws to customers interested in home decor.
Shopify integration: Lastly, it almost goes without saying that the email service you use should let you easily connect your Shopify account. This will make designing emails that showcase and link to your products a breeze.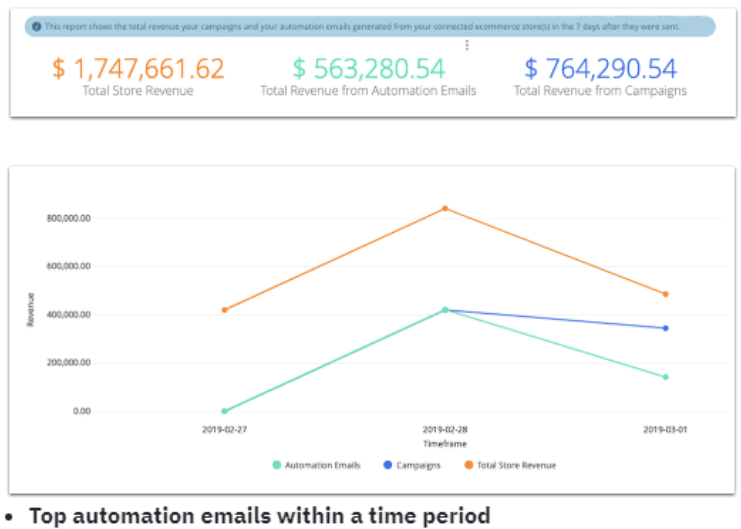 ActiveCampaign is my top pick for Shopify because its CRM, impressive automation, and e-commerce reports work so well together. For example, to improve your conversion rate and re-sells, ActiveCampaign allows you to organize your contacts by their browsing and purchase history. This allows you to send targeted emails and coupons to reward loyal customers.
To make the process even easier, you can use ActiveCampaign's powerful automation to send emails when a customer clicks a product link or makes a purchase. You can also set up automated abandoned cart messages – an absolute must for your Shopify store.
I was also blown away by the amount of data you get in ActiveCampaign's in-depth reports & analytics. You can compare campaigns, learn which products are most popular by traits like age, gender, or location, and see how much money each email or automation campaign generates for your Shopify store.  See for yourself how strong its reporting tools are are by checking out our ActiveCampaign review.
Features
125+ professional templates. There are a few product and sales templates you can choose from to show off your Shopify listings. Plus, you can upload high-res images up to 10MB in size and use them as backgrounds for your email.
E-commerce reporting. In addition to the robust reports and analytics on your campaigns, ActiveCampaign provides exact figures for how much an email or automation campaign makes for your online store.
Native CRM. Track and nurture leads with a scoring system, notes, event scheduling, and behavior analysis by links clicked and sites visited. This helps you keep tabs on promising individuals and improves your chances of sealing deals.
24 automation triggers. Set up automations for specific conditions, such as when a customer abandons their cart, makes a purchase, opens a specific email, or visits your store. This really broadens your options for setting up targeted autoresponders.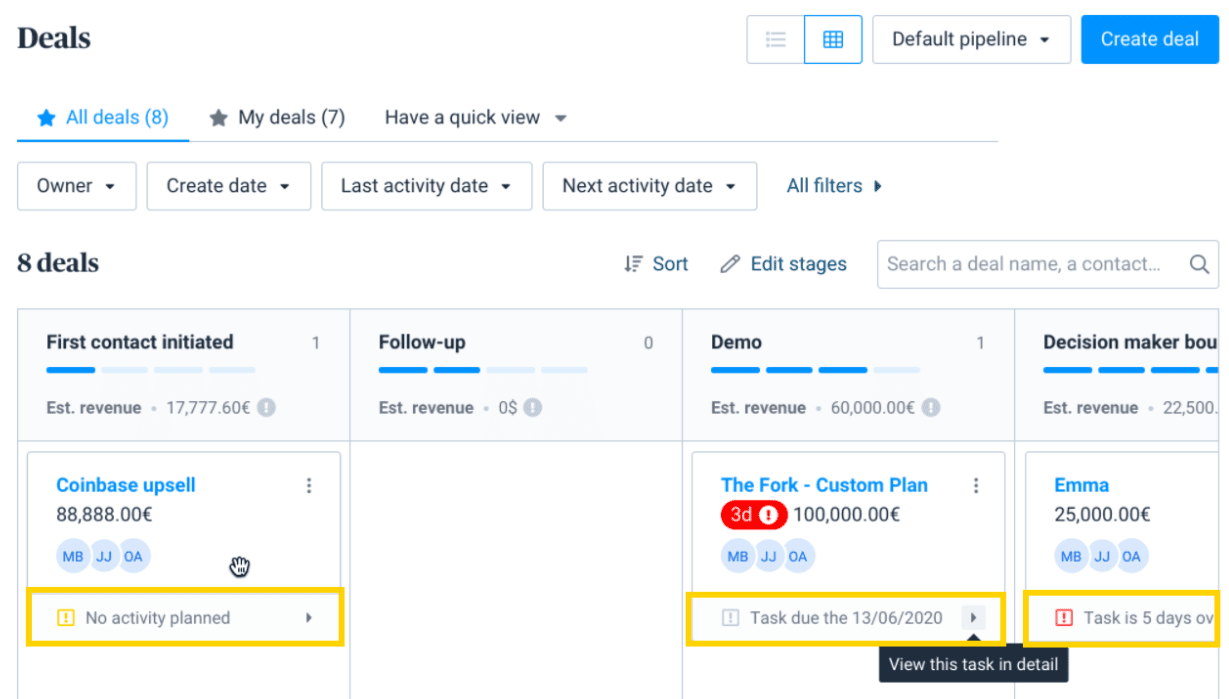 There are some solid free options on this list, but the best free email marketing app for Shopify is Sendinblue. For starters, it's ridiculously easy to add the Sendinblue app to Shopify and vice versa. Contacts are linked instantly, and you don't have to jump through too many hoops to get started.
With Sendinblue's free plan, you get unlimited contacts and 300 email sends a day, so it's a great option if you have a smaller shop. Plus, you get some pretty awesome features like sales CRM, SMS marketing, and automation workflows – and yes, that includes cart abandonment campaigns. Getting all that for free is seriously awesome!
However, you will have to pay when you need to send more emails per day. While there's a pretty generous limit, you won't be able to stay free forever as your store grows. Shopify can be pricey as-is – read about hidden fees and pricing in our Shopify pricing guide. It's also worth noting image uploads are capped at 1MB, so you'll need to use smaller pictures in order to keep them at a decent resolution.
Features
Unlimited contacts. You can import and store as many contacts as you want, no matter which plan you're on – while most free plans limit this number to as low as 500. It's also one of the many reasons it scored 4.7 out of 5 in our Sendinblue review.
Behavioral segments. Segment your contact lists based on behavior with your store, such as purchase history or inactivity. You can send coupons to inactive contacts to draw them back in, for example.
Shopper tracking: Collect data on products shoppers have left in their cart or purchased, including the name, quantity, size, price, image, and page of the product.
Sales team tracking: Create and assign tasks for your team. Great if you run a bigger store and have employees.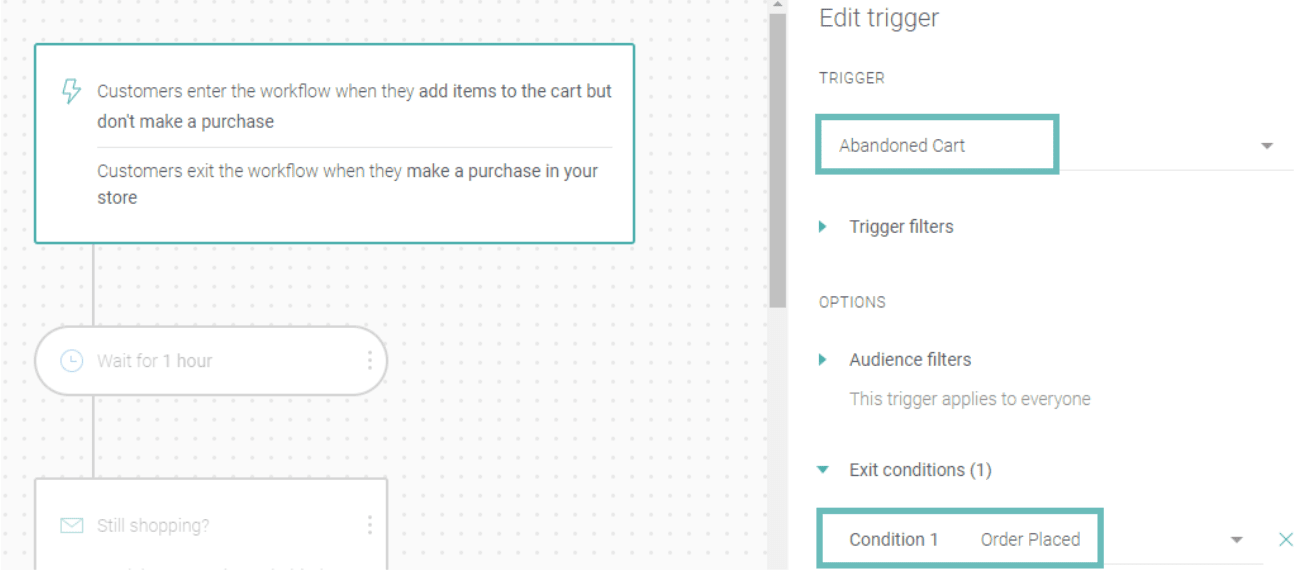 Omnisend was built with e-commerce in mind. And even knowing that, I was still pleasantly surprised by its detailed sales reports and CRM capabilities. In my opinion, it's one of the best Shopify apps for email marketing.
You get some pretty serious e-commerce marketing reports that cover sales performance across all your email campaigns. Sales and campaign performance are also broken down into your mailing list segments, so you can see exactly what is and isn't working in your groups.
This helps you learn which campaigns are drawing in new customers, and which automations are succeeding with repeat buyers. It's a really great way to fine-tune your marketing strategy and improve your conversion rate.
Omnisend can also serve as a CRM, which is awesome. You can track when a customer places an item in their cart, completes an order, or visits a product page in your store. This is a great way to keep tabs on leads and send targeted emails to encourage a purchase.
Features
E-commerce SMS marketing: You can set up text marketing alongside your email campaigns to advertise products or share coupons. You don't have to pay extra for SMS, which I really like.
Shopping segmentation: You can segment your mailing lists by shopping behavior. Customers who have purchased coats can be added to a "winter" list, for instance. Then you can send them related products or coupons in September.
Customer profiles: Keep tabs on customers by collecting data on purchase history, interaction with your emails and store, and custom segments you assign. Customer lifecycle mapping is one of many e-commerce perks we go over in our Omnisend review.
Audience growth trends: Get reports on growth trends to help understand which products are popular with different groups.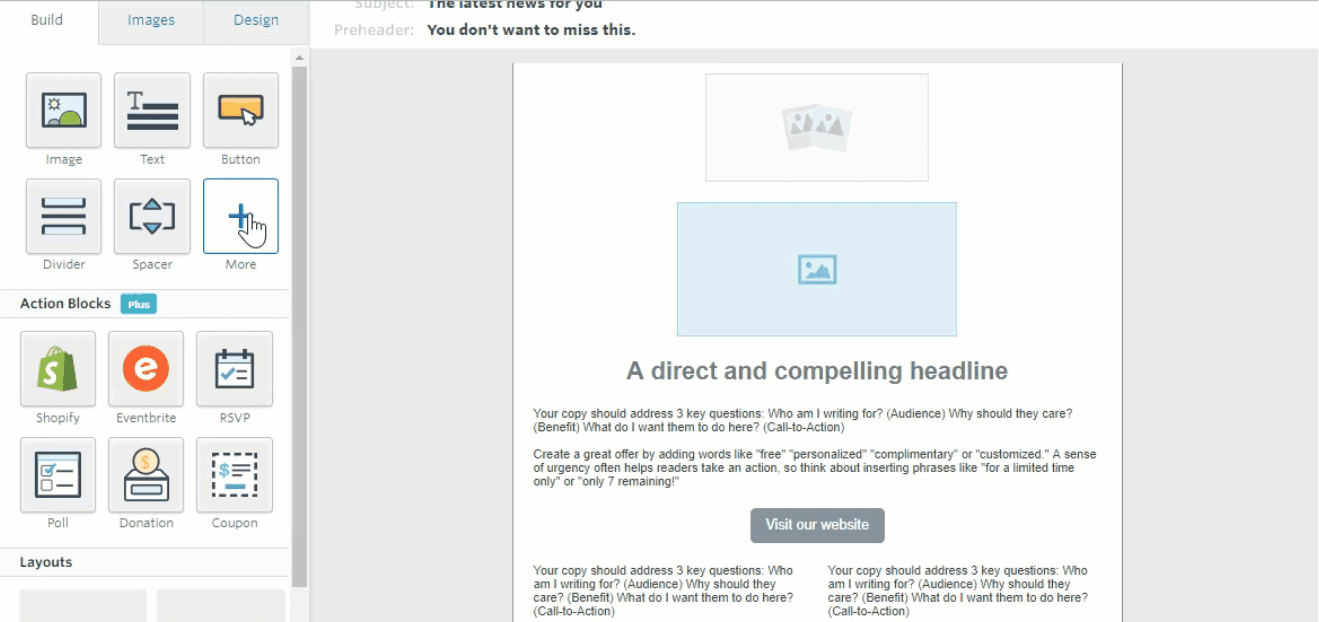 With Constant Contact, building emails to market your Shopify is quick and easy. I like how Shopify can be integrated directly into the email builder, so all you have to do is drag and drop your product into the email to create an instant link. You can also do this with any coupons you have set up on Shopify, so I really appreciate how simple it is to use Shopify with Constant Contact.
Plus, you can link your Facebook and Instagram with Constant Contact, allowing you to easily advertise your products on social media. Advertising on social media is a great way to grow your audience and boost conversion, and it's neat to have it all centralized in one place.
Features
240+ templates: You get a lot of email templates to choose from, including designs catered to products and coupons. It's also easy to showcase your Shopify listings. You can read about its templates and how easy they are to edit in our Constant Contact review.
Social media marketing: Extend Shopify ads to your Facebook and Instagram accounts from one place.
Eventbrite event marketing: With Eventbrite, you can manage events such as announcements and webinars. This could be a great way to talk about new products directly with your customers and build engagement.
Click heatmaps: You'll get reports on which links were clicked the most. This can help you discern which pictures were most eye-catching, or which products the most people wanted to check out.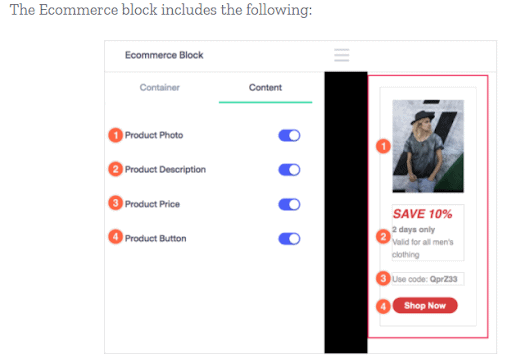 Benchmark was super easy to use with Shopify and worked great for e-commerce. Its email builder gives you an e-commerce block, which you can use to quickly plug in your products and lure in buyers with coupons. Plus, Benchmark has a free plan that includes basic segmentation and light automation.
Still, I recommend checking out Benchmark's Pro plan if you want better email marketing for Shopify. The features you get form a complete package, including behavioral segmentation (browsing and shopping history) and full automation (abandoned cart messages and purchase follow-ups).
You can even offer coupons when people abandon their carts, potentially drawing them back and turning a "lost cause" into a sale.
Features
E-commerce email builder: You get a drag-and-drop block for showcasing your product that allows you to quickly set an image, description, and price of your product in the email builder. You can read more about this over in our Benchmark review.
Video and image gallery storage: Store unlimited video and up to 10GB of images to showcase your products in your email campaigns.
Cloud-based CRM: You can store contact records, support tickets, and documents on the cloud. Using your contact data, you can also send coupons to leads who actively engage with your emails and shop, but haven't purchased anything.
Click heatmap reports: Get reports on where people are clicking on your email so you can tell which pictures and links are working, as well as which aren't. This lets you perfect your emails with attractive pics and CTAs that you know are drawing visitors to your store.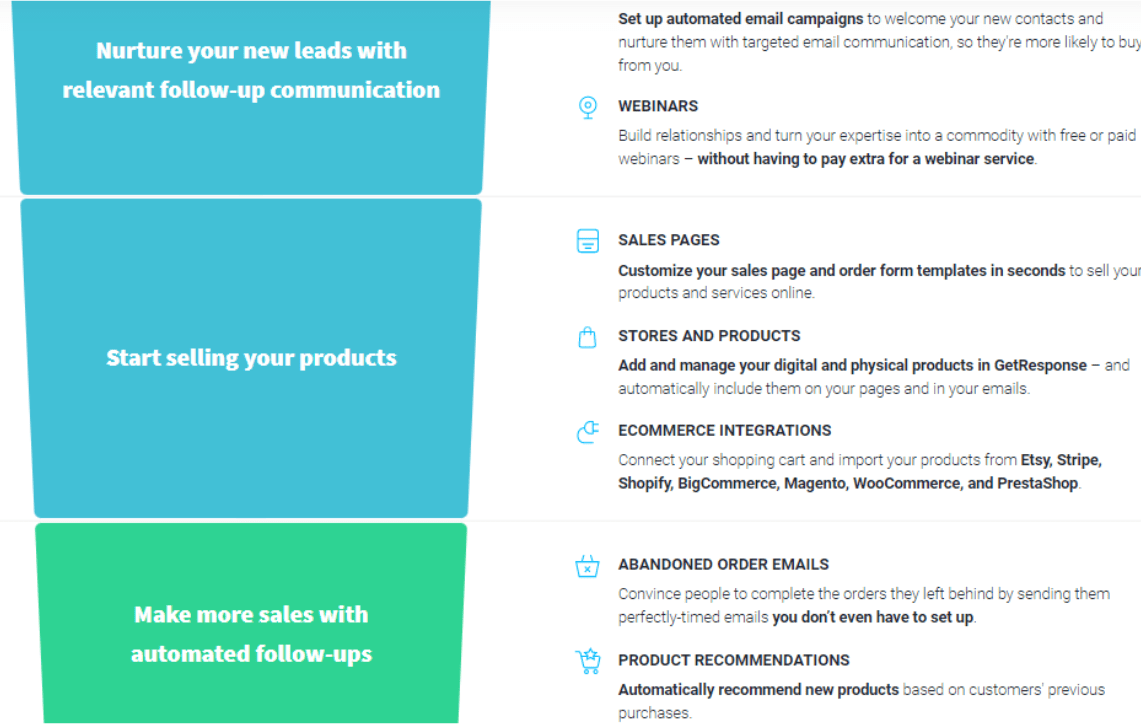 While GetResponse also covers the basics, what really grabbed my attention was all the extra features that work great for e-commerce. With GetResponse's Plus plan, you get lead scoring (a CRM tool to help prioritize your best leads), webinar hosting (which can be great for promoting products and deals), and 5 sales funnels.
I really like how sales funnels work in GetResponse. You can set up a "conversion funnel" to help drive traffic to your store, nurture leads with automated targeted emails, recommend products, handle payments, and confirm purchases. Since you can integrate your Shopify store, sales funnels are a nifty tool to help automate your store's selling process.
However, you do have to pay quite a bit to get to the good stuff, including key things like automation. Still, what you get if you pay is seriously powerful.
Features
500+ email templates: You get a ton of templates to choose from, and 33 of them are designed for selling products, promoting sales like Black Friday, and free shipping deals. That's a lot of templates in itself but I'd also recommend reading our GetResponse review to see why else we rank it so highly.
Paid ad campaigns: You can build Shopify ads directly in GetResponse to find a new audience across Facebook and Instagram.
CRM calendar: Set reminders for important tasks and meetings to help stay on top of customer interactions.
Webinar builder: You can host webinars on the Plus plan or higher, as well as manage registrations and presenters. This is an awesome add-on if you want to host product promotions or share special offers.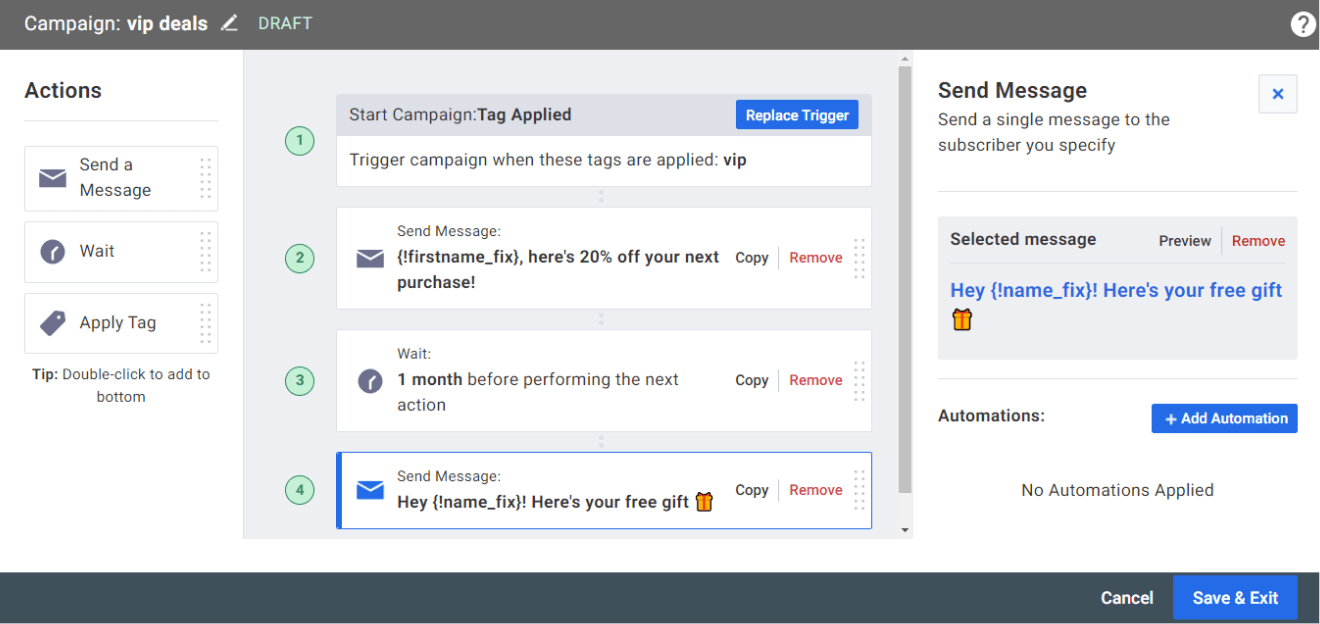 AWeber gets you plenty of e-commerce features in a neat package – although I was sad to find there's no native CRM. Still, AWeber's Pro plan offers full automation, cart abandonment campaigns, sales tracking, and contact tags, all of which are key for selling online.
Contact tags are great because they're totally customizable, meaning you can use whatever definition you want. You can apply tags manually or set it so tags automatically apply when a contact makes a purchase or reads a specific email. That makes sending targeted emails to contacts with a custom tag super easy!
With AWeber's free plan, you get almost everything you need for Shopify, but you miss out on advanced automation and sales tracking. Still, this is an excellent option if your online store is small – you can always upgrade as you grow.
Features
600+ email marketing templates: The sheer number of email templates you get is amazing – but some felt a little dated to me. There are a lot of designs for products, sales, and coupons, though.
E-commerce email builder: The email designer tool includes drag-and-drop product displays, image carousels, and coupons to quickly set up emails for your store. Its email builder is one of the reasons we placed it among the top performers in our AWeber review.
High-res images: You can upload images up to 10MB, so you can feature high-res pics of your products in your emails.
Product tags: When you link your Shopify site to AWeber, you can give custom tags to each of your products. This is a great way to organize your products and decide which ones to promote to a specific contact group.
Which Email Marketing Service Should You Use for Shopify?
Any of the email marketing services I've reviewed here can help boost your sales – but which is the best email marketing app for Shopify? Well, the best choice for you depends on what you need.
If you're looking for the most advanced features, ActiveCampaign is my top pick. You'll get robust automation, detailed sales reports, and CRM tools, which is everything you need for a big or growing online shop.
If pricing is your main concern, consider Sendinblue instead. Sendinblue has the best free plan for Shopify because you get sales marketing automation and CRM for free.
If you'd rather have a service entirely built for e-commerce, I recommend Omnisend. It gives you everything you need for Shopify, with the added bonus of SMS marketing to further engage your audience.
Or check out the major features and pricing of each service in the comparison table below:
FAQ
What is the best email marketing app for Shopify?That depends on what you need as a seller. If you want all things e-commerce, I recommend Omnisend. If you want advanced automation and CRM, check out ActiveCampaign. If you're on a budget or run a small store, Sendinblue has the best free plan for Shopify.Does Shopify have free email marketing?Yes, Shopify offers Shopify Email, which provides 2,500 free emails per month. Honestly, though, it's a barebones add-on. Shopify Email offers way fewer features than even the most basic email marketing software. I suggest taking a look through our list of top-rated email marketing software in 2022 to find an email marketing service that'll actually help your marketing efforts.Which email marketing software is best?After testing, I found ActiveCampaign to be the best email marketing service overall. It has the most advanced features, powerful automation, and in-depth reports. However, ActiveCampaign isn't free – and you have to pay to get the best features with all the top services.