If you are all out of creative ideas, a good domain name generator can help you out
. If English isn't your first language, it can also be a great way to come up with a domain name that will appeal to an English-speaking audience. We bring you this list of 20+ domain name generators, all tried and tested by us personally. Not only will these handy tools help you find a domain name, but many of them also include features that offer additional assistance, like keyword filters and even checkers to see if your name of choice is registered to any social media accounts.
Short on time? Some domain registrars (see Hostinger, for example) have a built-in domain checker & generator.
1. Nameboy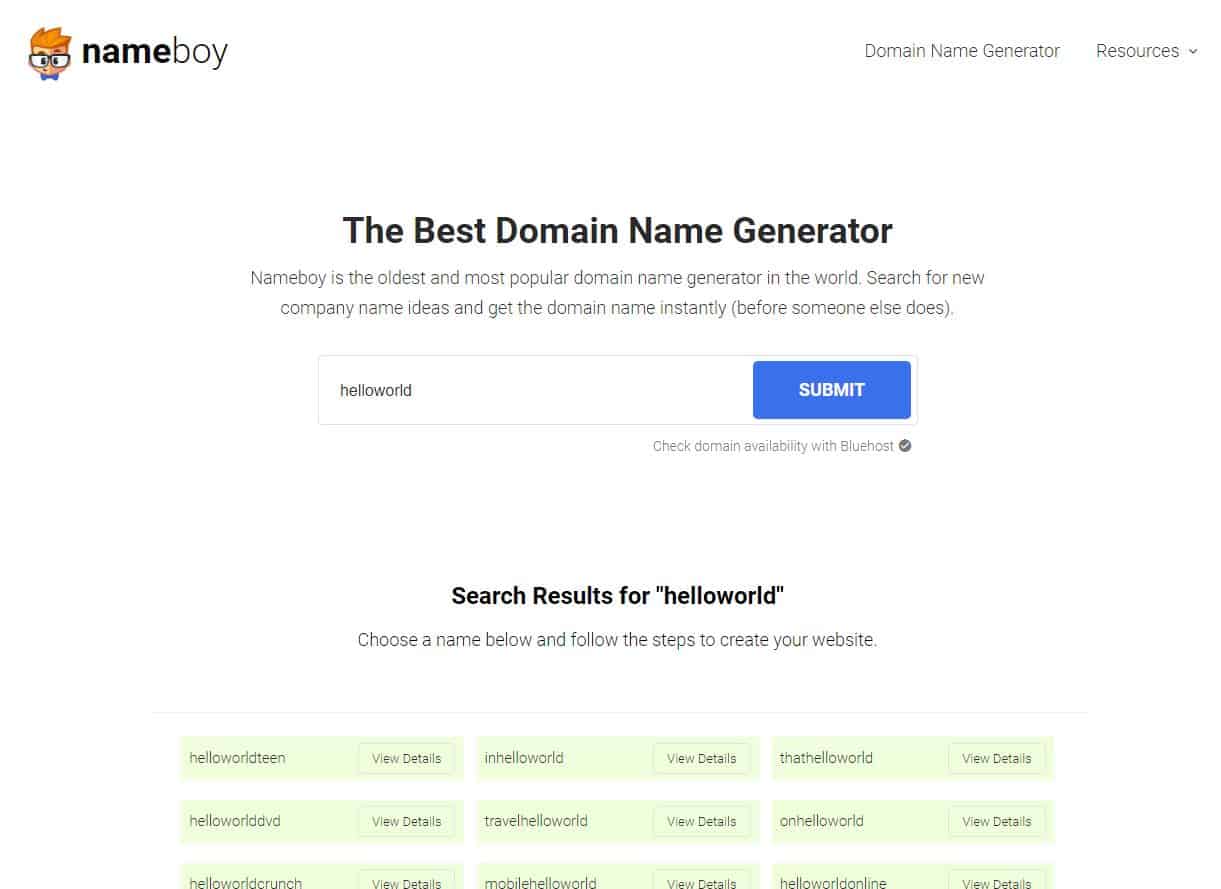 If you grew up in the nineties, the name 
Nameboy
 is sure to make you smile. But either way, it's a fantastic tool
if you need help coming up with a domain name from scratch
. All you have to do is type in one or two keywords and the platform provides a whole host of cool suggestions in seconds. All the suggested domains are available for purchase. And, like most options on our list, the
platform provides a link for you to register the domain
through a web host or registrar. For Nameboy, you can check domain availability with
Bluehost
.
2. Domainpuzzler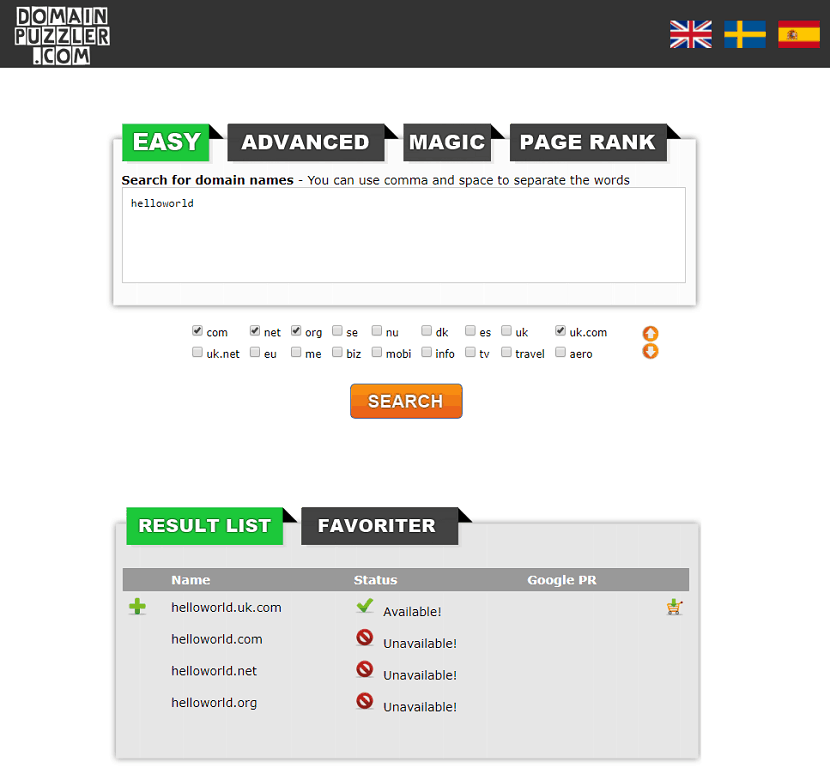 Choosing the optimal domain name is kind of like putting together pieces of a puzzle. You've got your
keywords, brand identity, and target demographic
to consider. 
Domainpuzzler
embraces this fact by
incorporating numerous features into a functional high-end tool.
For example, users can select their preferred domain extension and use multiple keywords rather than the usual limit of two. You can also choose what TLD (top-level domain) you'd like. When you are done, you can add your results to a favorites list. Other options include more advanced searches as well as tools to compare different domain name page ranks.
3. DomainsBot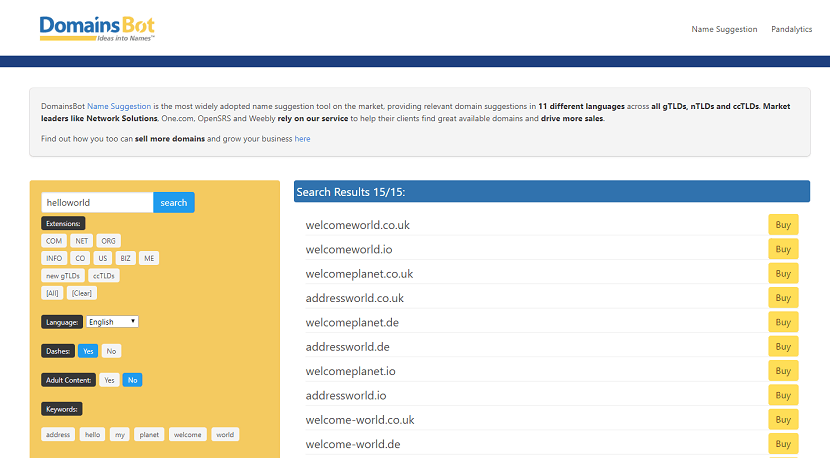 DomainsBot
is
an awesome option for the beginner webmaster
who doesn't feel comfortable using complex domain generation tools and SEO techniques. Simply chuck your keyword into the search tool and
choose from the array of options that appear
, filtering by extensions if need be. Entering a domain will bring up a list of similar available options if that ideal URL is already taken.
4. NameStation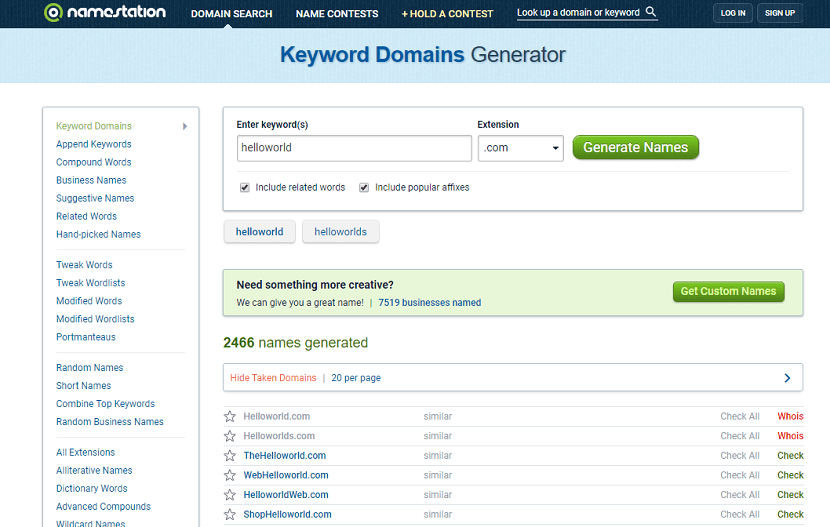 NameStation
requires you to sign up for a free account
, which is admittedly a bit of an arduous extra step. However, in return for handing over your precious personal info, you'll get
access to a robust generation tool
that's been touted by the likes of TechCrunch and Moz. Features include a high-end keyword suggestion function as well as a domain name generator and domain availability verification tool. If you don't like what the algorithms invent, then you could hold a crowdsourced domain name contest and
have a human think up the perfect name for you
.
5. Instant Domain Search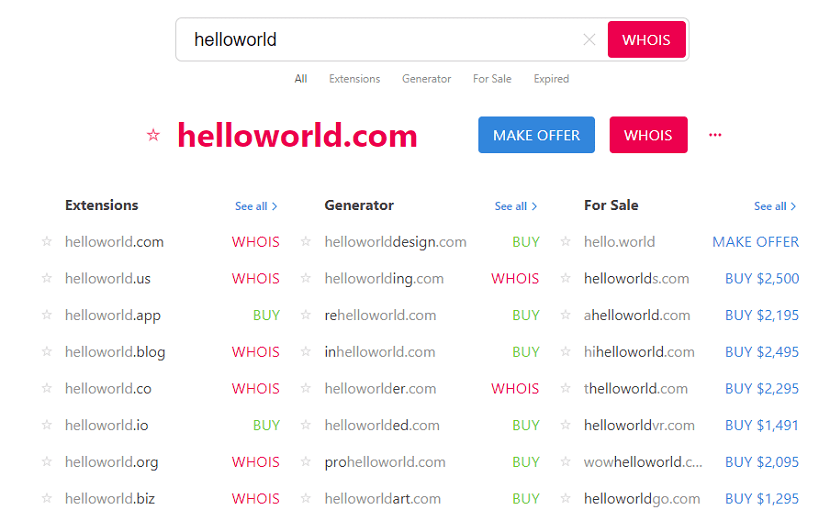 Already have a domain name in mind
? Then this is the website for you.
Instant Domain Search
won't generate any new ideas. Rather,
it'll check if your preferred name is available
and suggest alternatives should it be taken. If you're set on your original idea, you can follow their links to
discover who owns the domain name
and perhaps even make an offer to purchase it from them.
6. Cool Name Ideas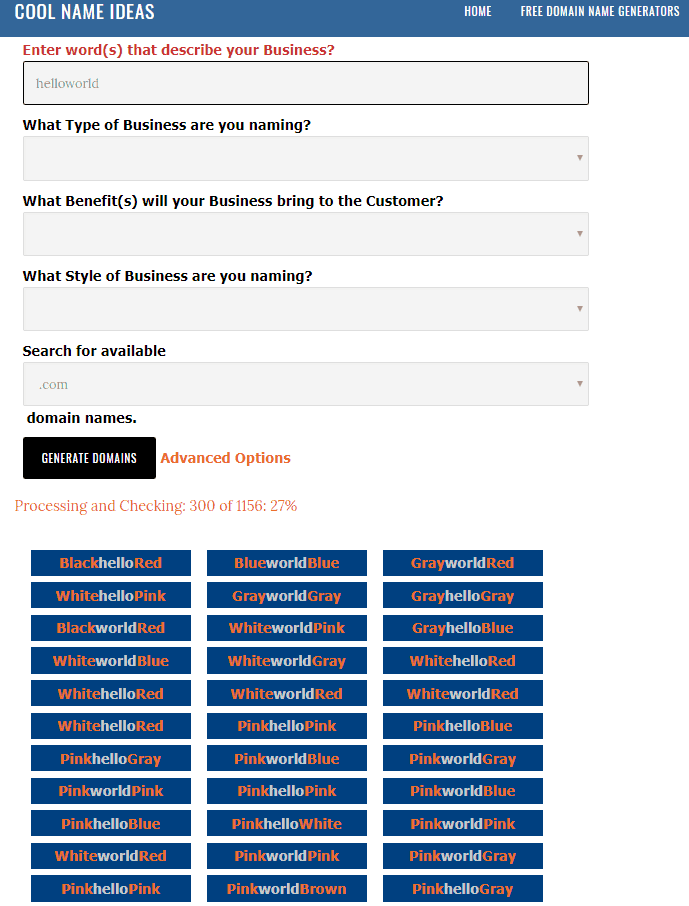 Perhaps you need to
come up with a business name as well as your domain URL?
Cool Name Ideas
is a handy tool does just that, offering a variety of
creative company names based on the data you provide
such as keywords, business size, customer demographics, and location. Once you've settled on an ideal business name, it'll find a suitable domain and Twitter handle for you too.
7. Lean Domain Search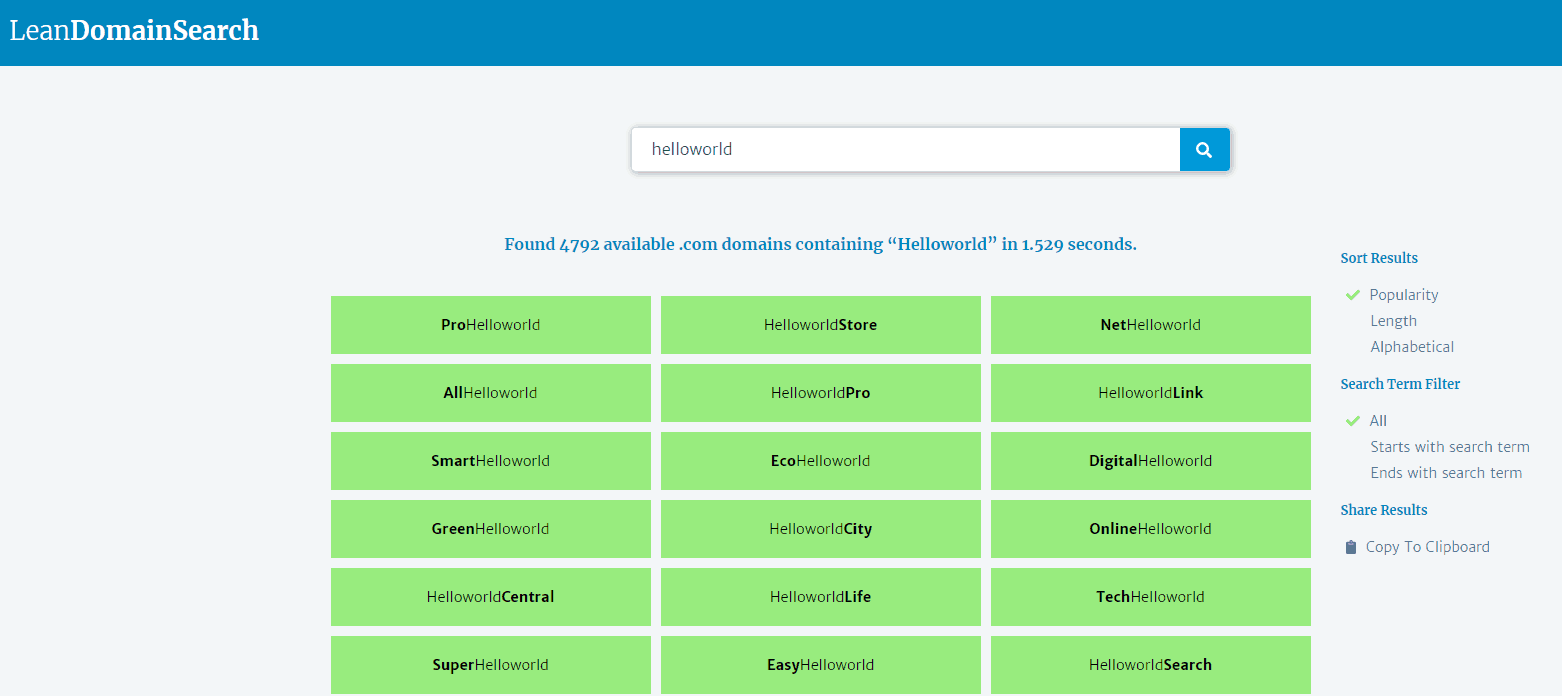 Enter a single keyword and
Lean Domain Search
will load up a list of
countless potential domain names
, oftentimes more than you'd actually want to read. Admittedly, most of the thousand or so suggestions will probably be garbage, although
there are usually quite a few gems in there too
. All results are .com domains, currently available, and can be purchased by following the links. Domains can be sorted in a number of ways, including by popularity, by length, or by alphabetical order. You can also filter to show only ones that have your keyword at the front of the domain, or behind.
8. Shopify Business Name Generator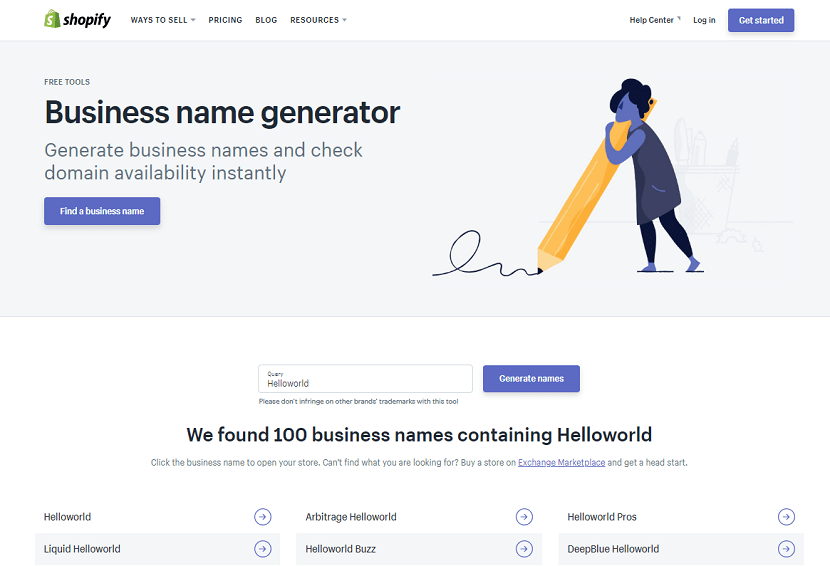 This highly functional
Shopify Business Name Generator
is strictly intended for those looking to come up with a
Shopify
business name (in reality, though, anyone looking for a domain name can use it). Enter a keyword and select a domain from a list of available .coms. And while there is no need to sign up for a Shopify account, the service makes it super simple to do so. (And it is one of our
best choices for an e-commerce website builder
!)
9. NameStall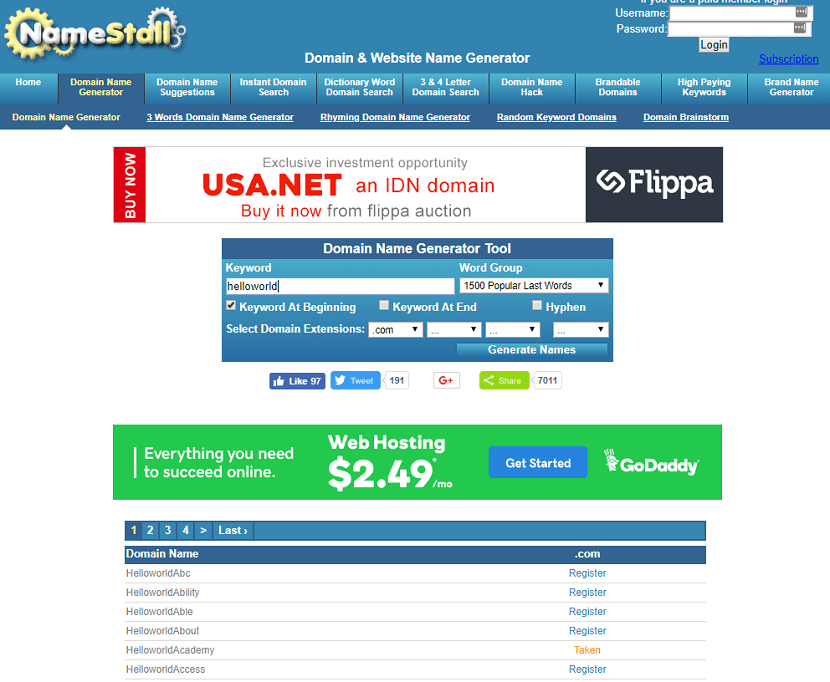 NameStall
is a hit with the advanced webmaster crowd for its
larger-than-usual assortment of features
. This in-depth domain name generator includes
advanced filters
such as commonly misspelled words, basic English words, parts of speech, concepts, themes, other popular domains, and domain extensions. Once you've found what you're looking for, the website provides
a link to the top four registrars and web hosts
, unlike others who just send you on to whoever pays the most commission.
10. NameMesh

Got a whole bunch of keywords in mind? Then try
NameMesh
, a generator that
specializes in multiple and long-tailed keyword domains
. Handy filters include
Common
,
Long, Short, Fun, Similar
, and
SEO
, among others. As usual, you can search for specific extensions, registered/available domains, and domains of a specified length. Overall, it's a user-friendly option if you have 
more complex keyword requirements
.
11. Panabee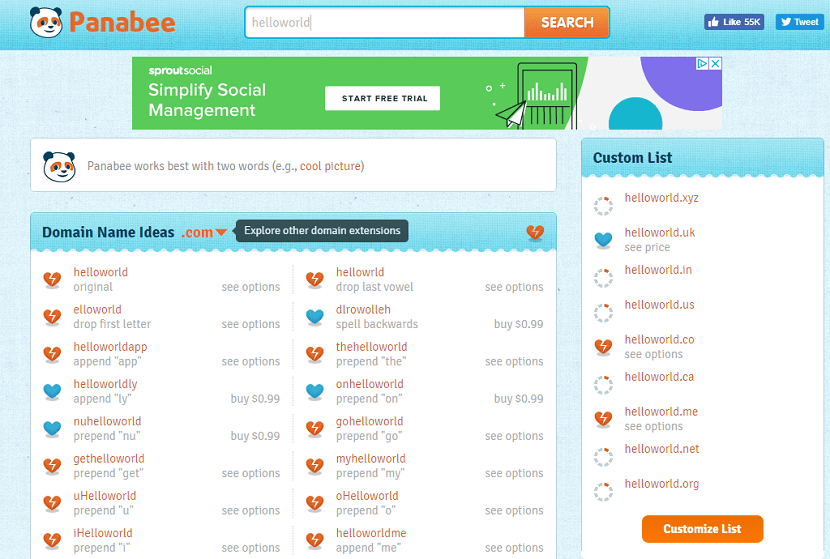 Panabee
endeavors to be your
one-stop name generation shop
. The easy-to-use online tool provides a powerful business and domain name generator for a maximum of two keywords. It's also got a fast domain availability search tool. Taking it one step further, Panabee will also let you know if your desired name is being used as a username for any social media accounts. If your preferred option is taken, Panabee
suggests useful alternatives
such as synonyms, or the opportunity to purchase the same domain with a different extension via
GoDaddy
– and GoDaddy makes it
easy to sign up
!
12. Business Name Zone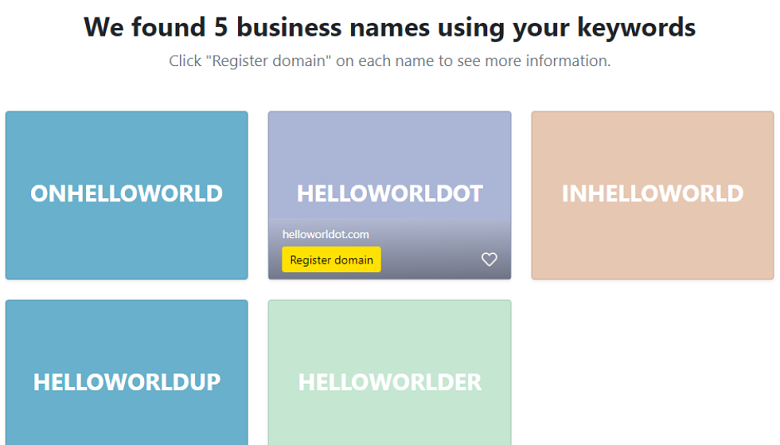 Business Name Zone is another versatile tool that provides both domain name and business name ideas. What's cool is that you can use industry-specific versions of the generator, with categories such as fashion, photography, startup, and more. 
Once you enter your keywords, you'll be asked to choose the length and style of the name. You'll also have to enter your email address to get suggestions and save your work. You'll see domain availability for every suggested name, and if you find an available name you like, you can register the domain through Namecheap
.
13. iwantmyname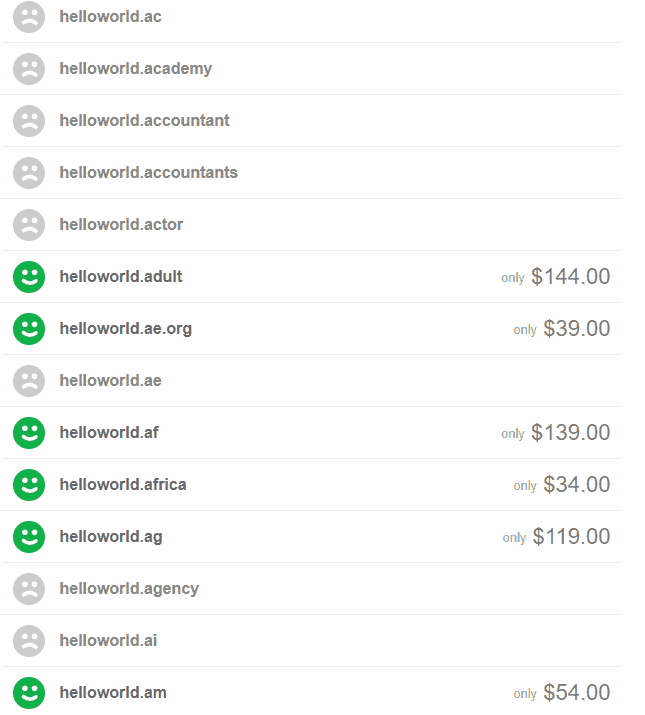 Just want to see
if your ideal domain name is available
?
iwantmyname
is a user-friendly search tool does exactly that without all the extras. If your preferred option happens to be taken,
it'll price a number of relevant alternatives for you
. However, unlike Domain Name Search, there is no option to get in contact with the registrant should you wish to purchase the domain off them.
14. DomainWheel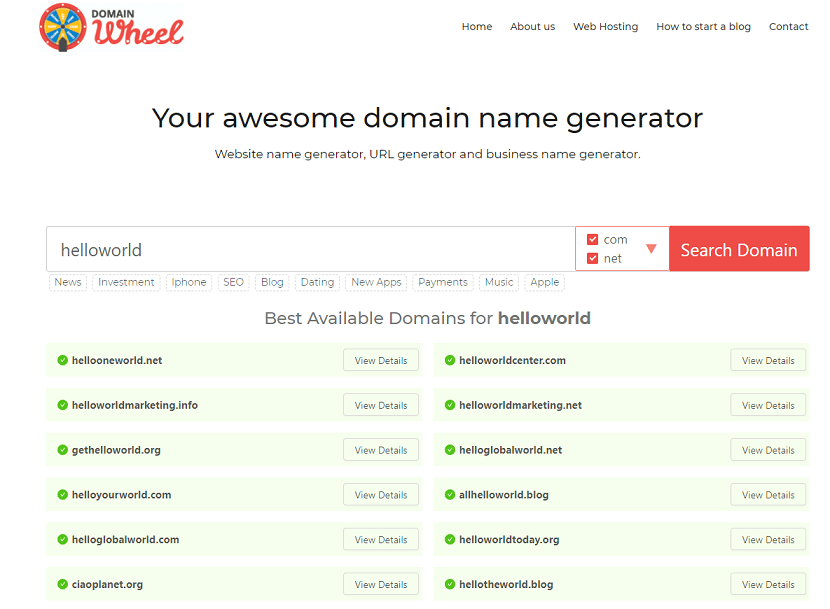 Newcomer
DomainWheel
is quickly becoming a hit on the domain generation scene for its
attractive and easy-to-use interface
as well as
advanced functionality
. The platform incorporates
the top 15 extensions
, including .com, .org, .net, .info, and .biz. Advanced features include SEO-oriented keyword suggestions, unlimited-keyword domains, business name generation, and a funky word combination feature that includes catchy rhymes in case you are looking for something a bit more original.
15. Dot-o-mator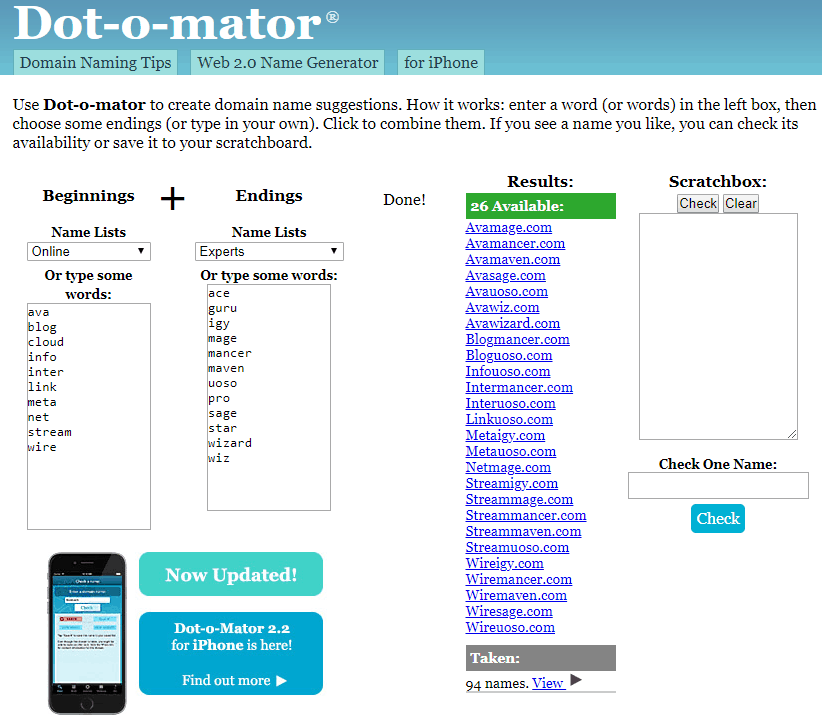 Another beneficial resource for brainstorming both business and domain names,
Dot-o-mator
is specially
designed to be used by those starting from scratch
. Simply choose an appropriate category in the beginning and end box, or add your favorite keyword in either of the two. Upon clicking
Combine
, the tool will
display a long list of .com domains
, the best of which you can save in the Scratchbox. The
Web 2.0 Name Generator
tool also has potential. Click
Generate Name!
to see a random startup name appear on the screen and keep clicking until you find one you like. Once you do, use the
Check Availability
button to see if it's up for sale. If you find a domain you like, you can register for it at
GoDaddy
or Namecheap.
16. BustAName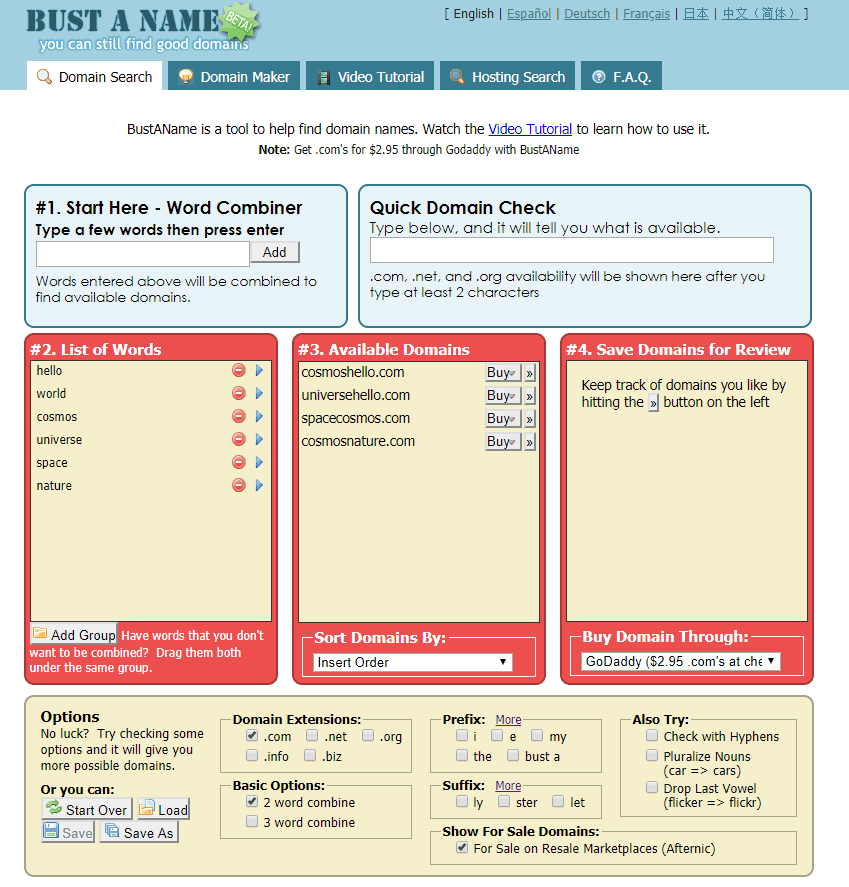 BustAName
is another great tool
if you need help deciding on both a business and domain name
. You can insert your keyword at the start or end of the domain and choose from filters such as how natural the domain should be, extensions, and the number of characters. You can find a list of alternative keywords below the suggested domain names. We suggest avoiding the 
Make Random Domains
feature, as virtually all the results are gibberish.
17. DomainTyper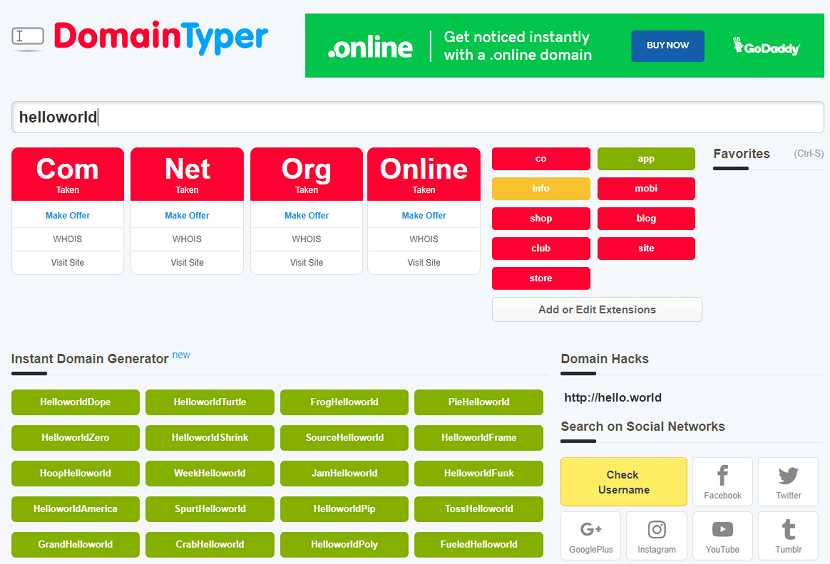 It's not enough to ensure your ideal top-level domain is available: you want to
make sure the name is available on your preferred social media channels as well
. And that's where
DomainTyper
shines. Simply type your domain into the search bar and the platform will come up with alternative suggestions and social media availability in real time. Overall, it's a super helpful final step
if you want to register multiple social media accounts that align with your domain
.
18. WORDOID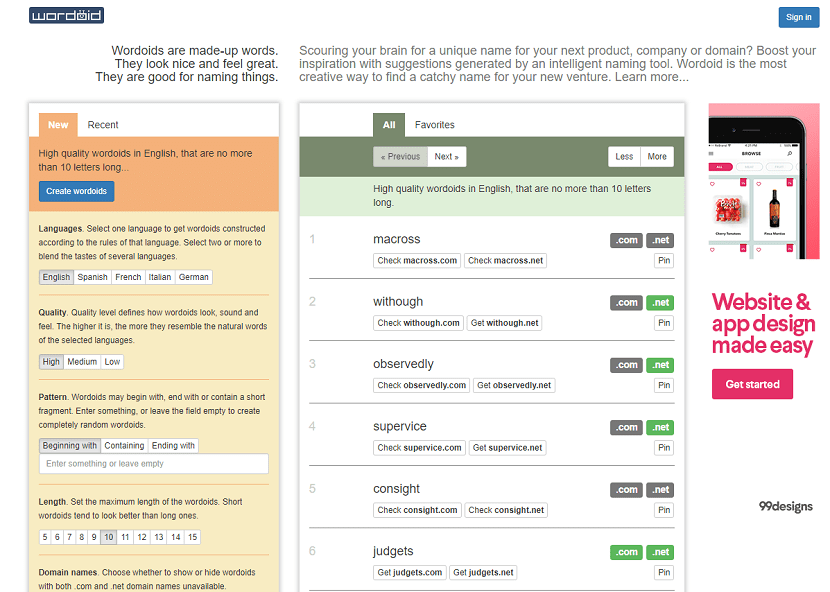 Having trouble coming up with a cool new business name?
WORDOID
spits out a long list of made-up words for you, making it the ideal tool for the 21st-century web-based startup. It'll even tell you
which domain extensions are available and how to buy them through GoDaddy
. Filters include word quality (how closely they resemble real words), length, and pattern type. Unlike other name generators on our list,
WORDOID works in as many as five languages
, including English, Spanish, French, Italian, and German. However, it is one of the few that don't let you type in your own words.
19. Domainr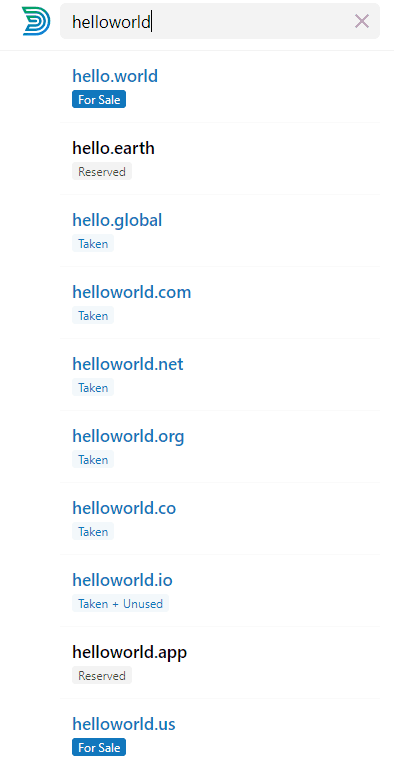 Another tool that's
especially easy to use
,
Domainr
partners with ICANN to instantly inform you whether
a domain is taken and which alternative extensions are available
. However, keep this mind – the platform won't help you come up with new ideas, so  Domainr won't be a good fit if you're still at that stage.
20. Domain Hole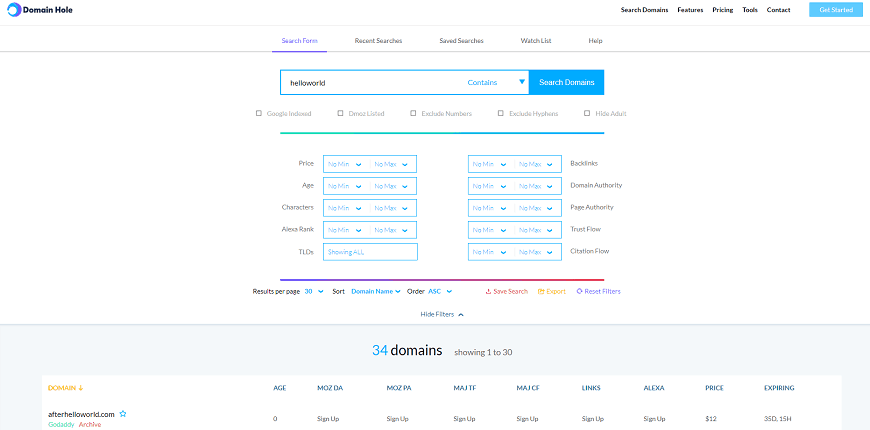 Don't have a keyword yet? No biggy.
Domain Hole
can
help you brainstorm without this vital piece of information
. It's also got loads of
added functionality that's lacking in other generators
. Examples include the ability to look up soon-to-expire domains as well as perform bulk domain checks, which are both
super valuable functions for domain drop-catchers
. Other advanced metrics include domain and page authority rankings, backlinks, and page flow. The only catch? You'll need to go through the trouble of signing up for a free account. And if you want to take advantage of all the features, you need to sign up for a paid account, which might throw off people who are just looking for a one-off domain name.
21. Namesmith.io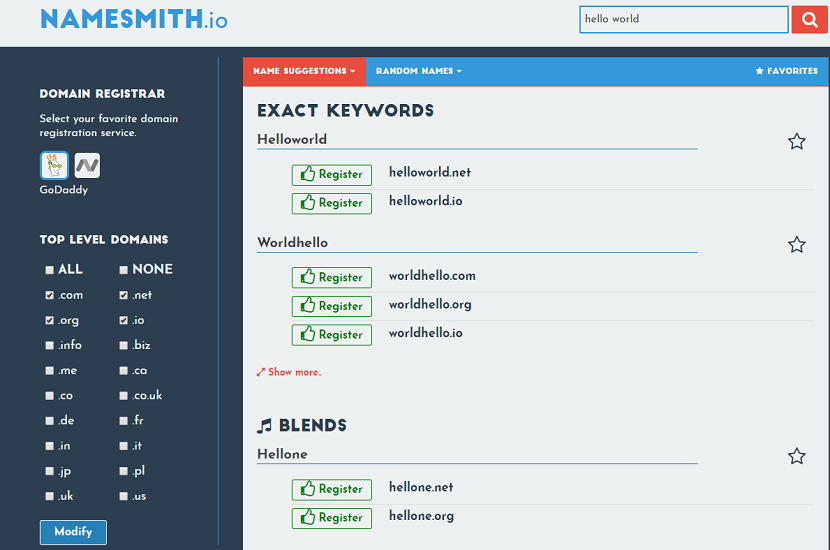 Namesmith.io
touts itself as a
creative business name generator
, and it works wonderfully for domain ideas as well. Their filters are
a little more imaginative than others
, with things like prefixes and suffixes, rhymes, blends, misspellings, fantasy adaptations, and portmanteaus. The platform promises to never sell your
keywords or domain ideas to third parties
, which makes me wonder how many of the above options do.
Find Your Next Domain as Easy as 1, 2, 3
As you can see, there are loads of valuable free resources out there to help you score the perfect domain. Whether you need help brainstorming a name from scratch or just want to quickly check if your favorite option is available, it'll be all too easy with the above 21 online tools. Find which domain name generator best fits your needs with our handy table below.
We recommend any domain name generator that is connected to GoDaddy. This well-known web host offers loads of unique features that will help you support and grow your website, from a blog to a large e-commerce website. Check out more by reading our extensive GoDaddy review or go directly to the GoDaddy pricing page.