when you pay for Divi, you also get access to over 230 Divi-only themes (or layout packs)?
On top of that, Divi comes with useful plugins, and the range of themes you can choose from is extensive – from complex layouts, to simple single-page sites, to powerful child themes. That said, the real question is: Are these themes even any good, or does the quantity reduce quality? And if they're good, where do you begin? To get you started,
I've searched the layout library and marketplace, tested the layout packs, and selected 12 themes that live up to Divi's reputation
. Not surprisingly, Divi's designers rarely miss, though I did find a few themes that didn't quite measure up. In my list,
I've also included a couple of Divi child themes you may want to check out.
 And if you don't know what a "child theme" is, don't worry! Keep reading and I'll explain exactly when you need one.
Best Divi Layout Packs for Every Niche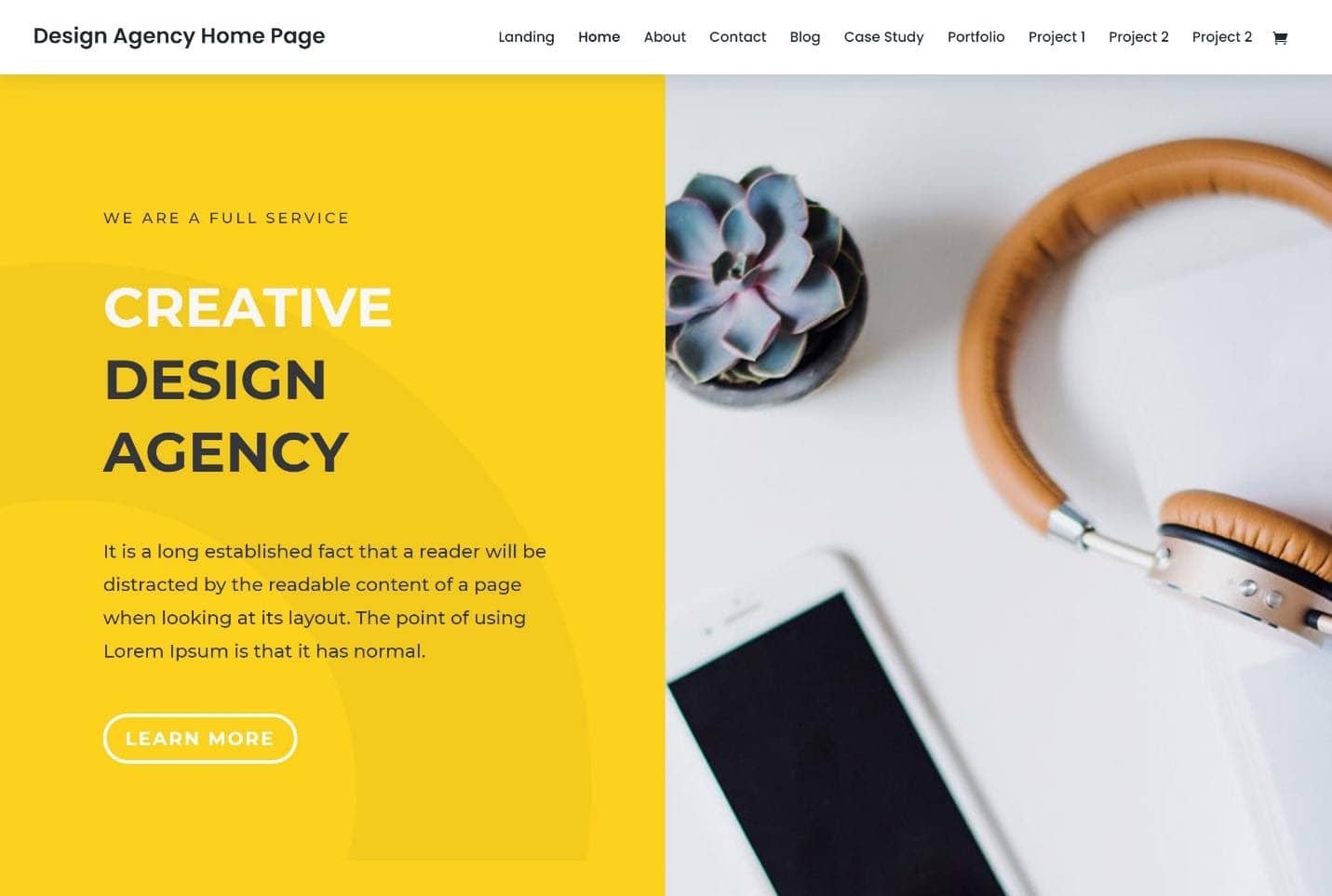 Design Agency's
attractive layout, clear calls to action, and subtle animations
 are sure to keep your visitors engaged. The homepage has a sharp split-screen that frames important content in an eye-catching yellow box.
Visitors are invited to click on the
Learn More
CTA, but if they choose to scroll, images and text sections fade in: a nice interactive touch. A Portfolio page and three Project pages let you share your best work. Plus,
the Case Study page is great for showing potential clients how valuable your work has been for previous customers
. All of these pages have simple and clean layouts, so it's easy for visitors to get compelling information at a glance. You can also use the Blog and About pages to share a bit about yourself or your firm and build trust with potential clients.
Pro Tip: If you're still looking for the right host for your WordPress website, you might want to consider Hostinger. It's by far the cheapest (yet reliable) hosting service out there, and its performance is more than decent according to our tests.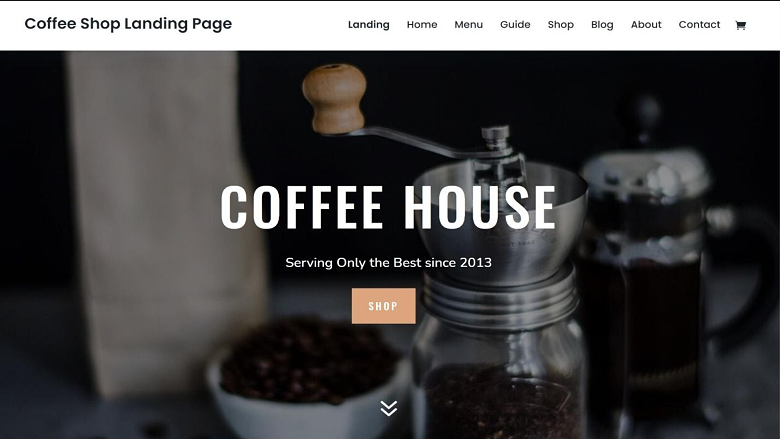 Coffee Shop
 has all the features you need to launch a new coffee business or grow an existing one, and then some.
Page after page pairs enticing visuals with text sections that you can use to share convincing copy
 about what makes your café unique. Throughout the theme, CTAs encourage visitors to browse your food and drink menus, check out your online store, or sign up for your newsletter. You can also use the Blog or Guide pages to make customers fall in love with your brand.
Coffee Shop
, unsurprisingly, comes with a shop built-in,
though you'll need WooCommerce to make use of it. The shop page is classy and versatile, so you could easily sell things like coffee bean subscriptions, brewing guides, or other goods without much extra customization. And no,
Divi does not charge extra fees for e-commerce
.
Pro tip:
Divi is fully compatible with the WooCommerce plugin. That said, you should check out our list of
the best WooCommerce hosting providers in 2023
 before you set up shop. You want to make sure you pick a host that'll give you the resources you need for an online store.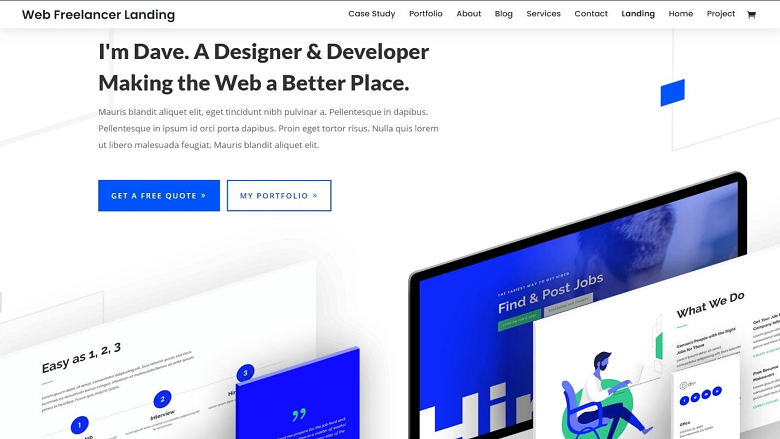 Bold colors alone may not be enough to make your website stand out. That's why
Web Freelancer gives your opening image a diagonal slant: it's a unique design that makes you more memorable
. Both the homepage and the landing page feature a clean heading and description on the left-hand side. The right side of both pages is empty space, which draws your visitors' eyes to the copy. The
Get a Free Quote
 and
My Portfolio
 CTA buttons are well-placed directly below that, so your visitors notice them right away. Also, both the home and landing pages neatly explain your available services and feature some snippets of previous projects – so your expertise is immediately clear to potential clients. But
you can go into much greater detail with the portfolio, services, and case study pages
.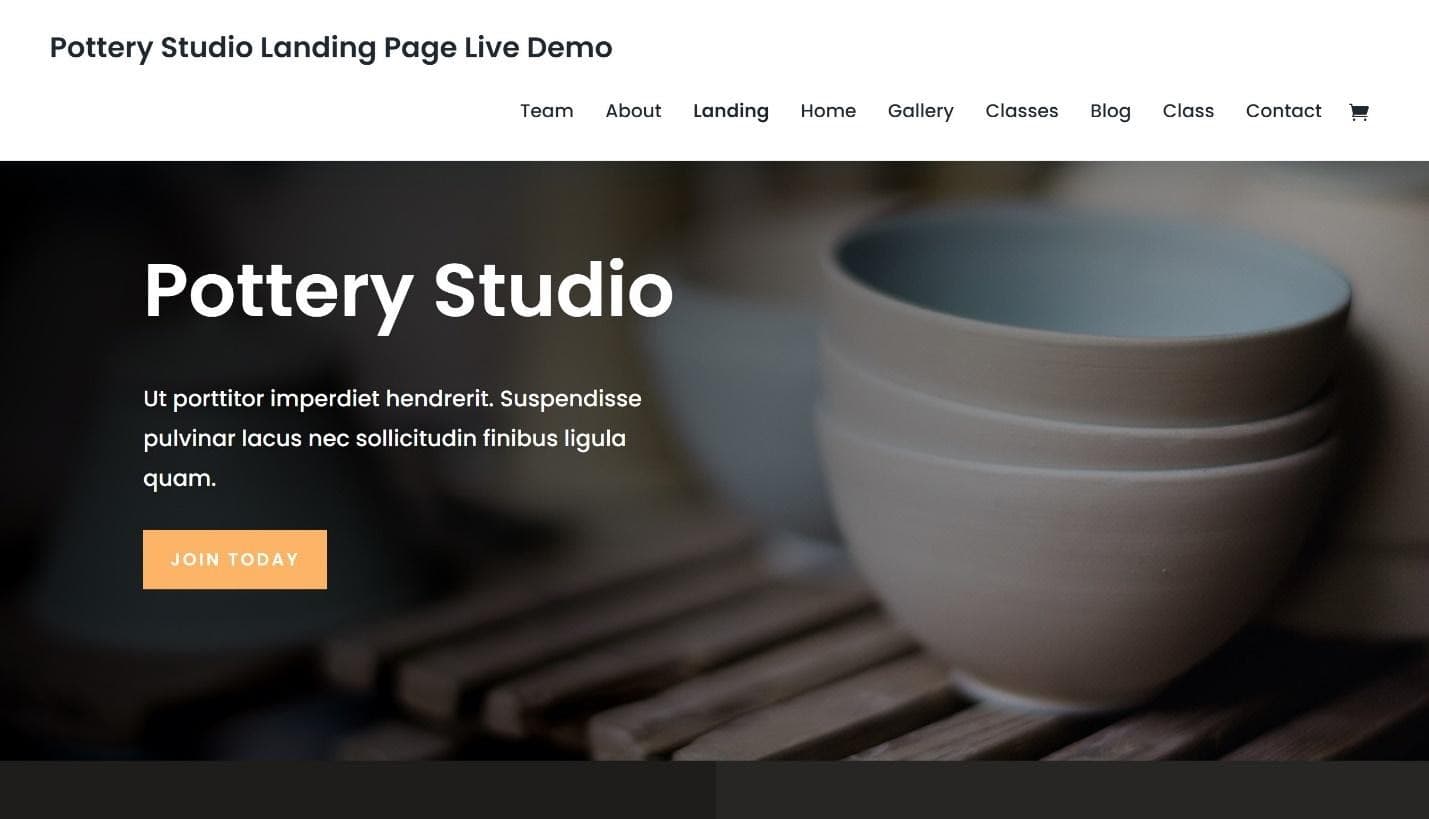 The features included in
Pottery Studio
 – like pages for classes and workshops – make it best suited for artists who are part of a collective or studio. However, 
well-designed photo galleries and contact features also make this theme good for solo artists.
If you don't offer classes, but want to offer demonstrations or promote other special events,
you
can use the Modern Events Calendar plugin to schedule and enable booking
functionality for all three. A studio or art collective can use the Team page for artists' bios and exhibition history. And there's a blog to share creative techniques, inspiration, and photos.
Pottery Studio
 also has a built-in shop so you can sell your work online
. The newsletter and membership sign-up form can help you build a mailing list to keep collectors and potential students engaged with your latest updates.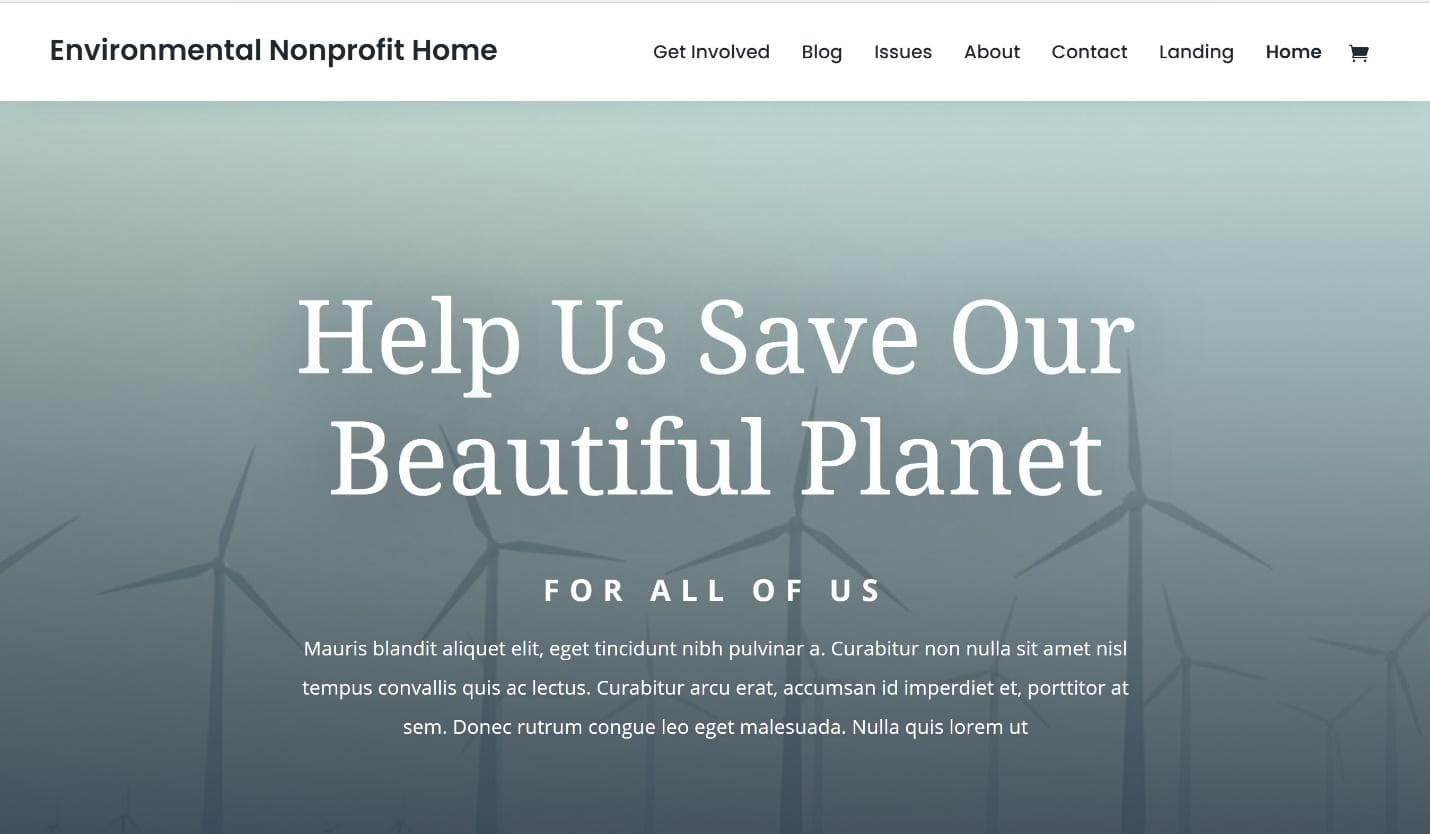 Whatever the focus of your nonprofit,
Environmental Nonprofit
 has the design and features you need to help your organization thrive. Bold headers, captivating photos,
compelling storytelling about your mission
, and multiple calls-to-action draw users in. The videos sprinkled throughout encourage visitors to click and learn more. Each page also has 5 bright green donation buttons.
Each donation button features a different dollar amount, so visitors of all financial backgrounds are encouraged to contribute
. Plus, the
Issues
 page lets you explain your nonprofit's work in different areas, so people know their donations will go to a good cause.
Environmental Nonprofit
 has a landing page you can use to kick off your next fundraising round
,
or any other necessary event
.
There's also an expansive blog page that includes an events calendar, newsletter sign-up form, and a list of your partners and sponsors.
Pro Tip: InterServer's Standard shared hosting plan is free for US-based nonprofits registered as 501C3 with the IRS (and very cheap for nonprofits based elsewhere). The plan comes with unlimited resources and automatic WordPress updates.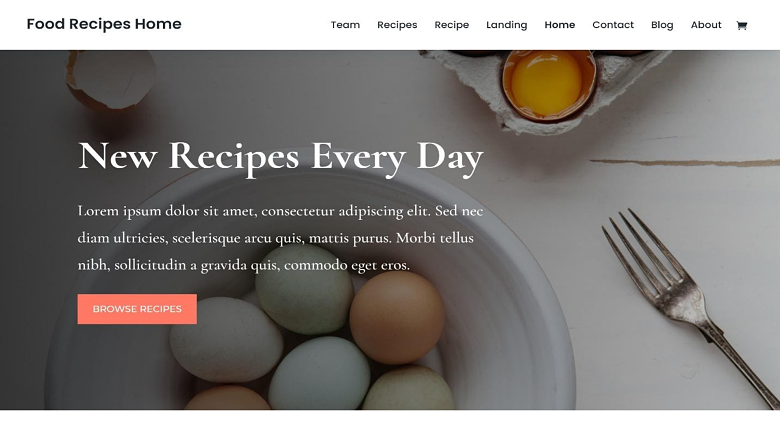 The multi-purpose
Food Recipes
is great for a blog or online magazine…or a website for a chef, food writer, or nutritionist.
It's well suited to them all, and my top pick for creating a
virtual destination for the latest food and nutrition news.
The full-screen
homepage image and bright orange CTA encourage visitors to check out your enticing content.
Meanwhile, the landing page features plenty of attractive-looking recipes and nutrition tips to keep visitors engaged and scrolling. The Recipes page neatly organizes your recipes into different categories to make it easy for your readers to browse your content. Plus,
the featured Recipe page lets you promote a single, special dish
with lots of photos and even video. You can easily update the page with your latest invention to keep readers coming back for more.
Food Recipes
 also lets you enable social media sharing – so readers can join the community, post comments, offer feedback, and share blog posts on social media platforms.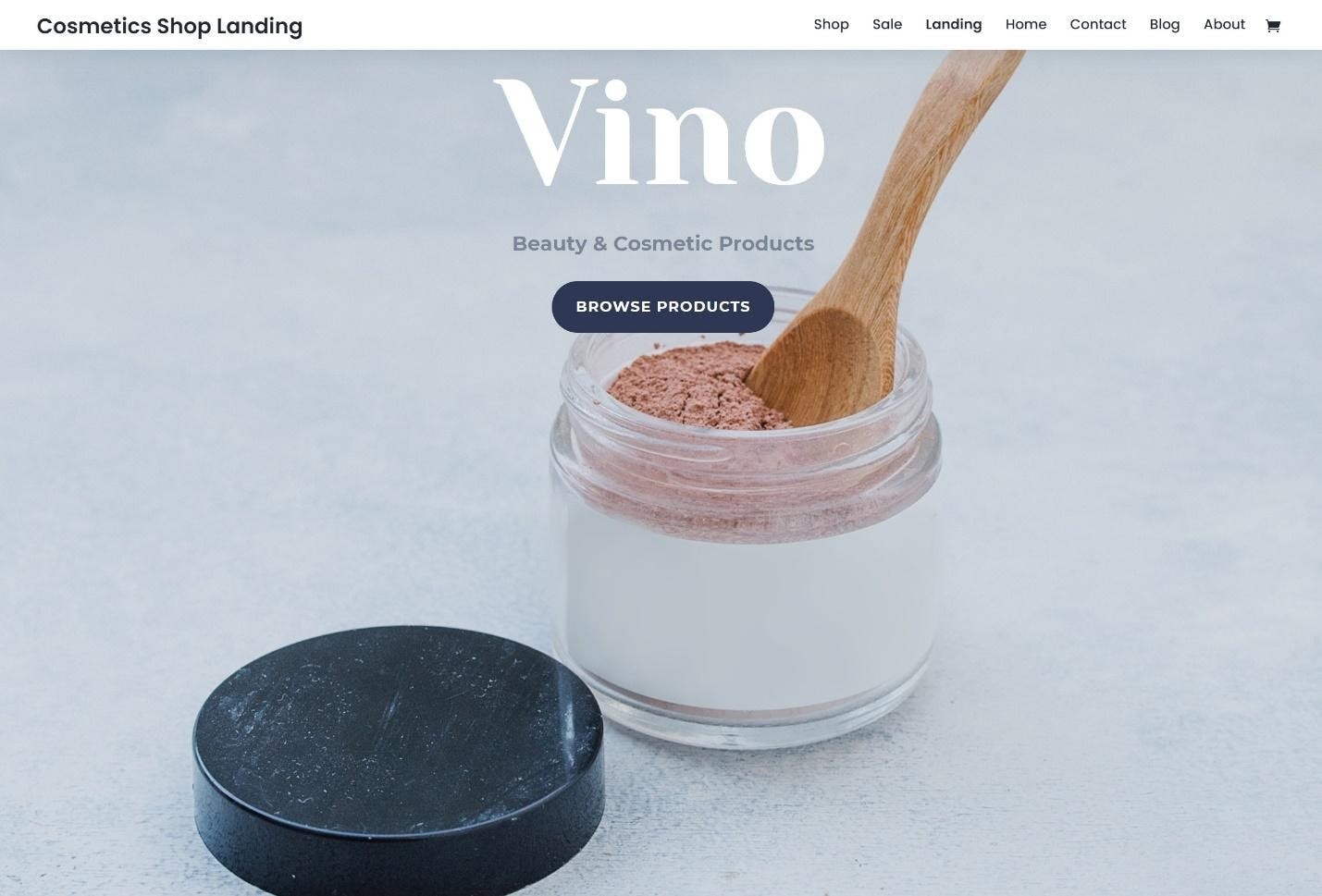 Cosmetics
Shop
's
relaxed
color palette and uncluttered design mimic the feel of a boutique shop
. It's a natural choice for an online store stocked with high-end or organic beauty products, but if you change the colors, images, and text, it will fit any business that sells fine goods online. Large
Browse Products
 button can be found on every page. And speaking of pages – if you're looking to launch a new shop, you'll appreciate the well-designed landing page. It emphasizes the big selling points of your store (for example, "organic materials," or "fast delivery") and has plenty of links to the Shop. The Contact page is short and sweet, while
the About page is longer, so you can properly explain your shop's credentials
 to picky customers. The Shop page is neat and clean, like the rest of the theme. The page mostly lists available products in a simple grid, so visitors won't get distracted by anything else. The Sales page can also be handy: it gets straight to the point, telling your customers how much they can save on certain products.
Pro Tip: Starting an online shop is difficult enough without having to worry about web hosting. If you want a WordPress platform that'll make all the performance and security optimizations for you, Kinsta should be your go-to choice.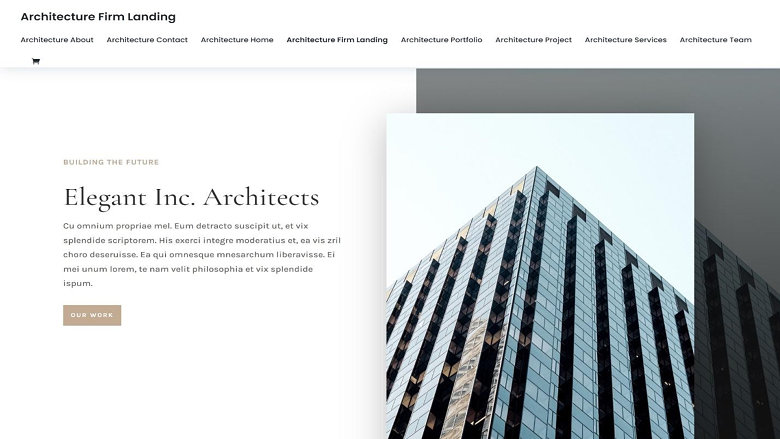 Architecture Firm
 is my
top pick for a business that provides architecture, interior design, or landscape design services (or other important work with buildings). It's straightforward and corporate, but never boring.
The black-white-gray color scheme, professional fonts, and overall layout communicate a no-nonsense approach
– which is
essential if potential customers are to trust you with big projects.
At the same time,
every page lets you
use photos to show off your design ingenuity, which keeps the site engaging.
As visitors scroll,
subtle animations will draw their attention exactly where you want it to be
: previous projects, the range of services your firm offers, and your team's qualifications and areas of expertise.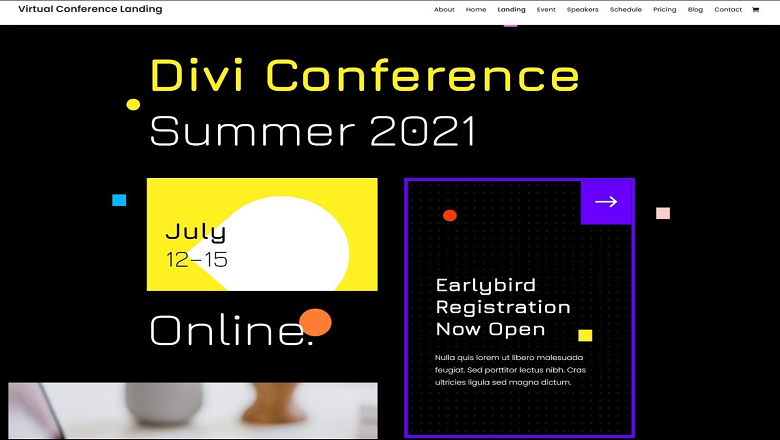 Virtual Conference's
upbeat design, vibrant color, animations, and razor-sharp geometric shapes combine to create a sense of energy and excitement
. 
CTAs on every page tempt visitors to register for the event or sign up for the blog.
Event planners will appreciate the
dedicated pages for speakers, the schedule, fees,  and organizers
. All of these pages are efficient: none are too long, and all convey key information succinctly. This is helpful for quickly enticing any visitors who are unsure about attending an event. I love the deep footer at the bottom of every page.
When a cursor hovers over the footer's
Register Today
 button, it turns bright pink, and when clicked it directs visitors to the Registration page
. From there, they can choose between different types of event passes (like all-access, single-day, or student passes). And if site visitors have questions, there's also a contact page for that with an email form and all your social media links.
Divi Layout Packs That Didn't Make My List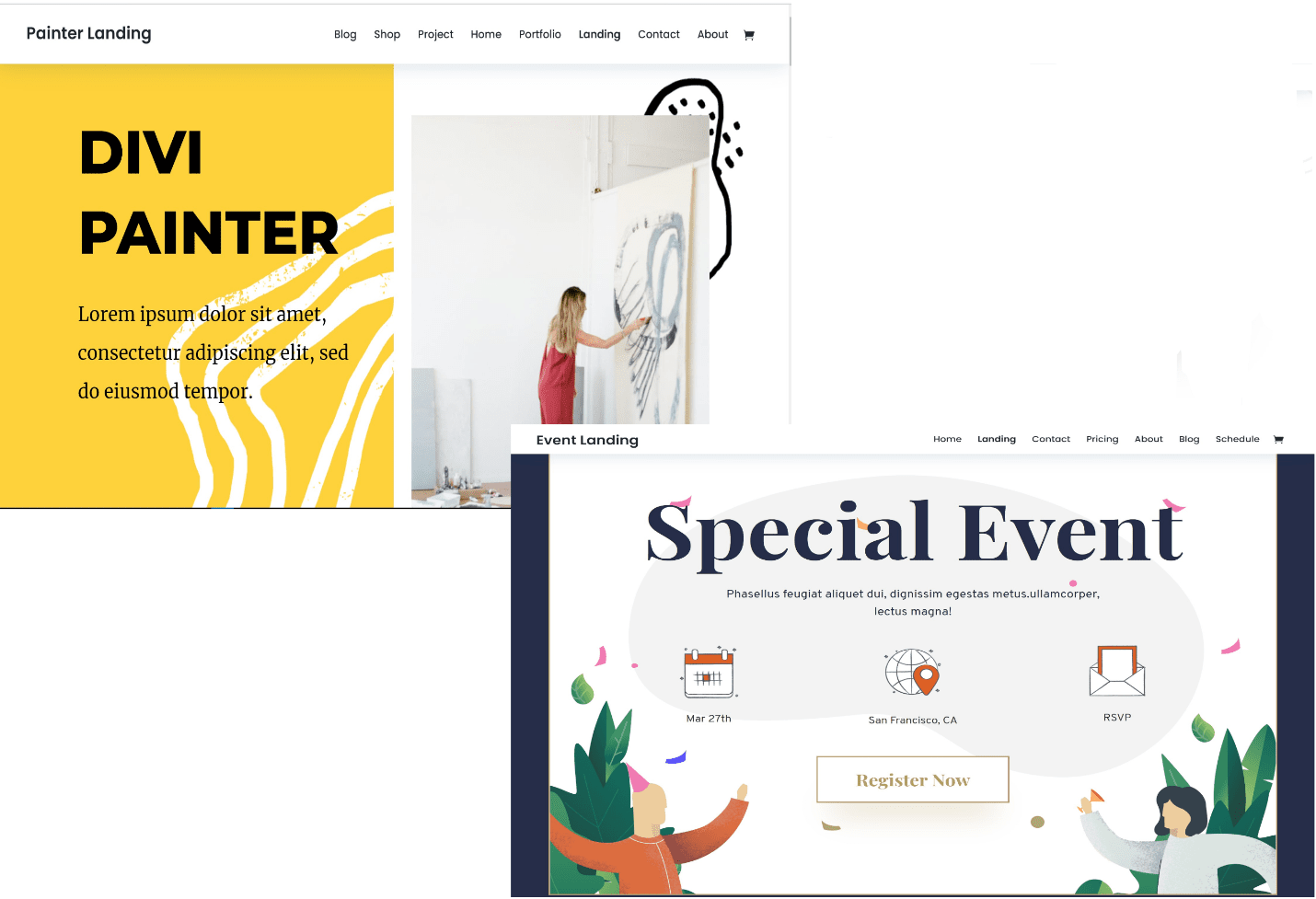 Divi Painter
 is supposed to feel contemporary and fun. But while all the pages the website needs are there, it doesn't succeed at what's important: drawing collectors, dealers, and curators in.
Why does the text in
Divi Painter
 consistently overwhelm images of the artwork?
 And the split-screen landing page doesn't seem to have a clear purpose. If it's supposed to create a buzz about an upcoming show, that should be above the fold. Another layout pack that lacks Divi's typical design flair is
Event Home
: it seems to have no overarching theme.
While the homepage and the whimsical illustrations would be perfect for a celebratory and invite-only event, like a graduation or wedding, other pages seem designed for a major conference.
Divi Child Themes – Do You Need One?
You may have heard that every WordPress website needs a child theme, including those built with Divi. So, what exactly is a child theme? A child theme is a sub-theme that pulls its settings from a 'parent' theme.
 It then allows you to safely make changes to its core settings and functionality
 (the genes, so to speak).
When you add custom settings or code to your child theme, they're automatically mirrored in the parent,
but the parent's underlying code remains intact. That ensures you won't lose custom settings, or run into other issues, when your parent theme updates. Perhaps you've taken a look at the premium child themes in the Divi marketplace, and you're wondering if that's what you need. If you're just looking for a child theme for an existing Divi website, then the short answer is no.
Divi's premium themes are the full package
, with everything you need for your website.
While it's always a good idea to be careful,
you don't have to worry about a child theme if you're using Divi's built-in tools to customize your theme.
In fact,
you can even make minor modifications to CSS in the Divi Builder, Theme Customizer, and Theme Settings, without using a child theme. However,
 you should use a child theme if you plan to make major modifications,
like changes to specific theme files
(such as page templates or functions.php)
, or if you plan to add a significant amount of custom code
 (CSS or JavaScript, for example)
to your theme files. So, which child themes do I recommend? I'm glad you asked. Take a look below!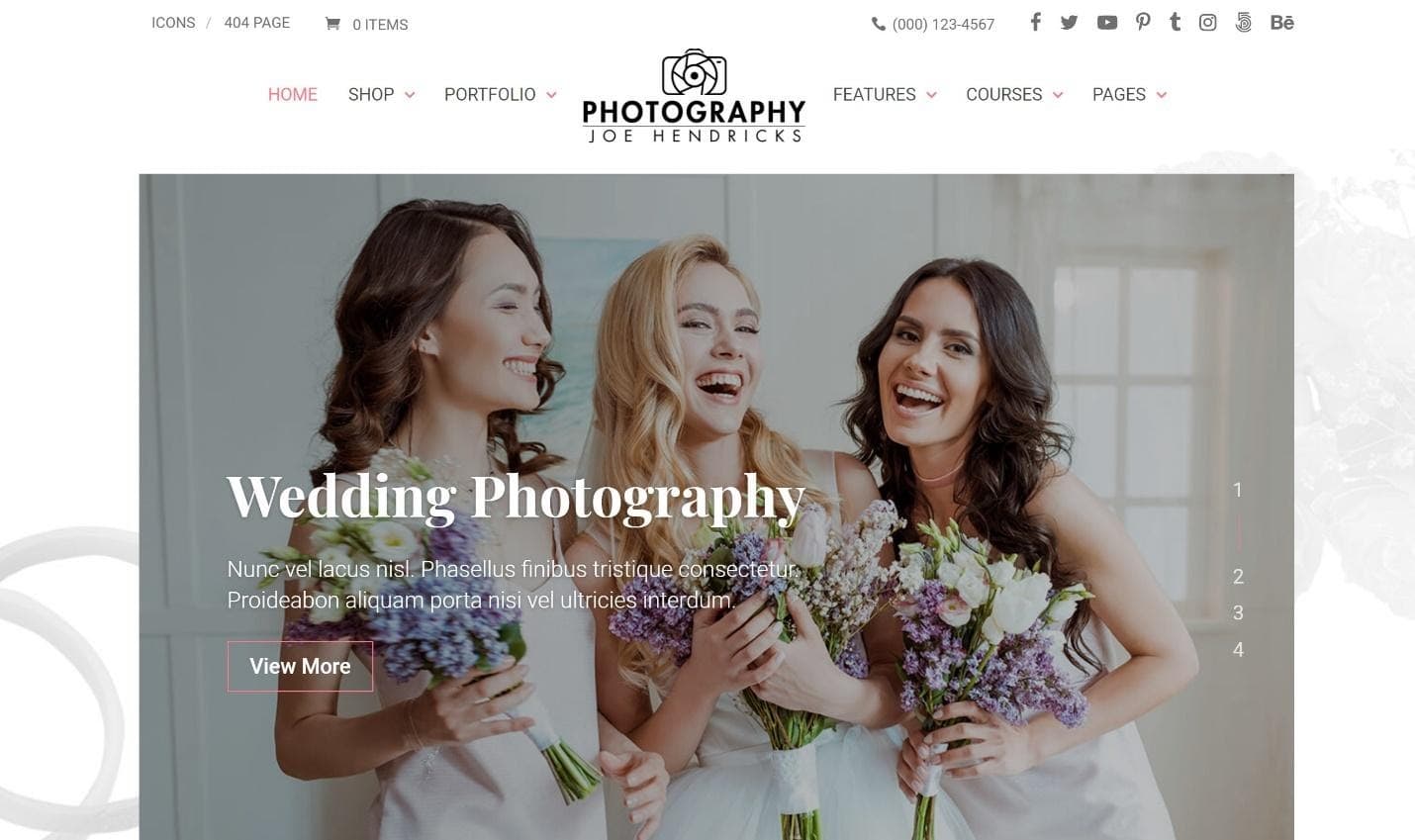 Divi Photography eCommerce
from Divi Space
is a perfect package, with
all the features photographers need to create an online presence, display and sell their work, and market their services.
You can choose either a light or dark background. Then, select one of four photo gallery styles – general, justified, simple, and masonry – to organize your portfolio. The photo galleries come with plenty of design elements to engage visitors – like hover effects, image sliders and carousels. With
built-in appointment booking and an online store,
 you get all the tools you need to sell your work and promote your services. There's even a dedicated page for virtual photography classes and opt-in forms for memberships and your newsletter.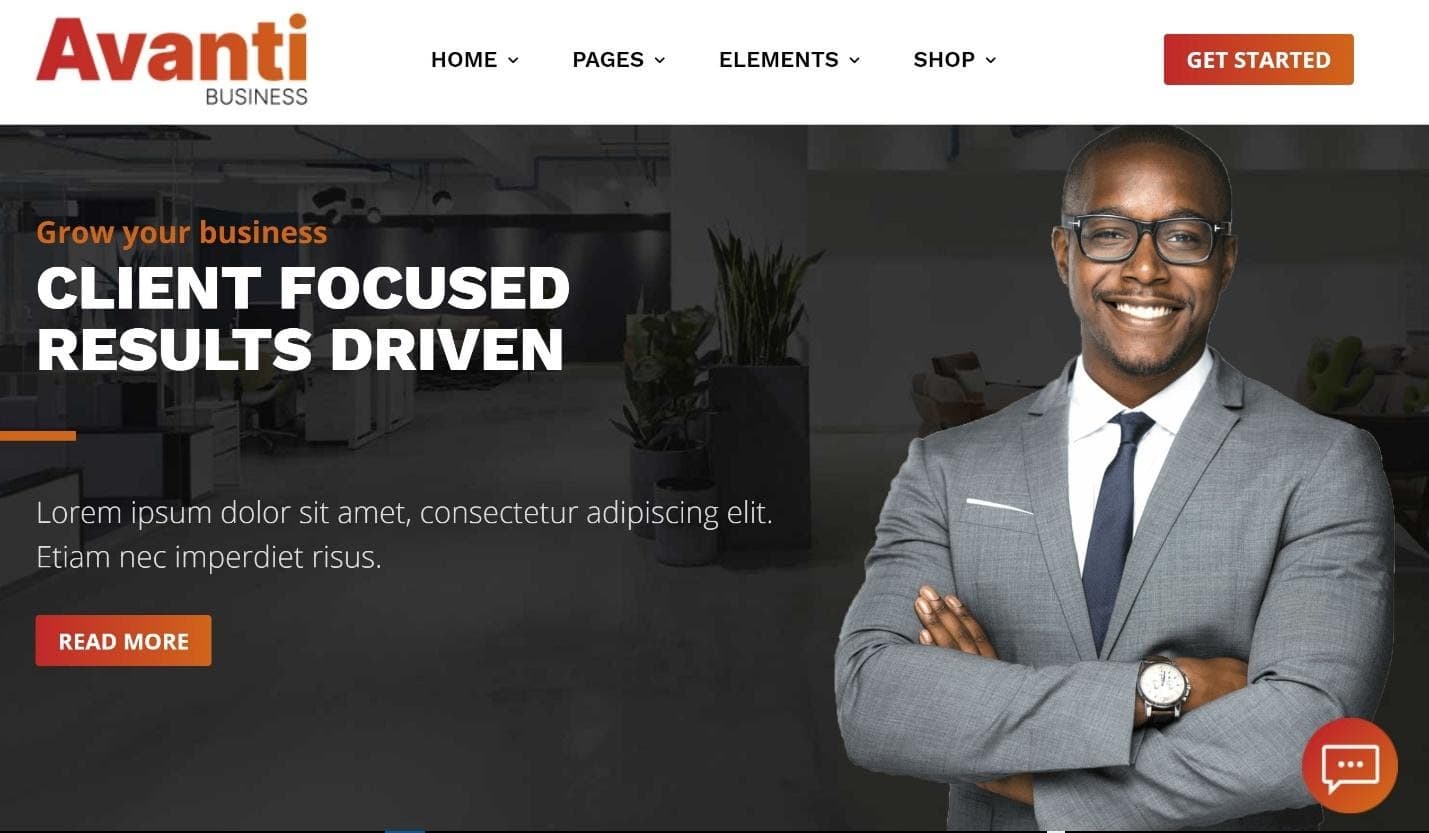 Avanti
has a lot to offer. Courtesy of Mark Hendriksen,
this child theme comes with
eight homepage designs you can use for seven different niches.
The
Avanti
 Business homepage design is my favorite. I really like how users can find everything they need just by scrolling the homepage – like available services, client testimonials, and info on the team. But Avanti also comes packed with well-designed and useful pages, like FAQ and pricing pages. Most of the page types have several variations available. For example,
you can pick a
portfolio page with a 2, 3, or 4-column layout,
choose from six different types of blog pages, and more.
Avanti's
features
make it easy for potential clients to book a free consultation, explore pricing, or start an online chat
. And at every turn, bright red call-to-action buttons encourage them to click to learn more, check out your blog, or signup to get the latest news.
Is Divi the Right Builder for Your Website?
When you choose Divi for your WordPress website, you get a lot of benefits, but you also commit to being part of its ecosystem.
 If you cancel your subscription, you can keep using any themes you already downloaded, but you won't get access to tech support or theme updates – including crucial security updates. My best advice is to
look over the layout packs
 (especially the packs in this review) to see if one suits your needs. Although
Divi has a lot of great-looking e-commerce themes, it doesn't have as many strong themes for art, music, or creative writing.
Divi definitely makes designing your WordPress website easier, and its features are on-point.
 That said, if you only need to run a simple website that isn't essential to your business, Divi may provide more features than you really need. If you're not so sure about working within WordPress (or Divi), you may want to look at our review of the
best website builders for 2023
 for more options.
FAQ
How does Divi work?
Divi's pricing structure is simple: you can choose between a one-year membership or a lifetime membership. There is no free plan, but Divi does offer a 30-day money-back guarantee. A membership gives you full access to everything Divi offers: the drag-and-drop builder, all layout packs, the Extra theme (an advanced theme for magazines and blogs), and hundreds of plugins and add-ons. As long as your membership is active, there's no limit on the number of layout packs or pages you can use – or even the number of websites you can build. A Divi membership also gets you 24/7 customer support and access to freebies from designers who are part of the Divi community. But once part of the Divi ecosystem, you're pretty much locked in. So before you commit, you might want to take the time to read our in-depth Divi review.
Are Divi themes any good?
Absolutely. Divi rarely disappoints on design. In addition to being good-looking, Divi themes almost always come with all the essential features and functionality you could ask for. Divi's library includes an extensive selection of layout packs for most types of websites. You can choose to use the full layout pack, a single layout page, or mix and match layout pages from different packs. And all the stunning photos are royalty-free.
How much do Divi themes cost?
If you're a Divi member, themes have no extra cost. Your membership includes everything – every layout pack in Divi's library, plus the Extra magazine theme (you'll find it under Divi Products). However, you will have to pay for third-party themes and add-ons in the Divi marketplace. Prices for these themes or add-ons differ depending on the creator. But keep in mind that even though your Divi membership comes with loads of themes, you still have to pay for website hosting. Check out our latest coupons (updated daily) to save on your favorite host.
What is a Divi child theme?
There are two kinds of Divi child themes, blank child themes you create yourself with a plugin like Divi Children and premium Divi child themes from third-party designers. A blank or standard Divi child theme includes a selection of core files you can use to safely edit your Divi website. For example, if you want to make changes using PHP or CSS. Premium Divi child themes, in contrast, are all-in-one third-party child themes that can be found in the Divi marketplace. These include everything you need to build your website, so if you purchase a premium child theme, you don't need to use a regular Divi layout pack. The 'parents' of these themes are first-party Divi themes.