Contact Us
button. But
behind the scenes, the right website management tool can help to make or break your users' experience
. Choosing a web host that includes
cPanel is a wise choice for anyone who needs comprehensive domain control, file management, email management, security, and performance options
– and the ability to adjust settings with an easy-to-use interface. Many providers give their customers cPanel – it's one of the most commonly used hosting management interfaces across the web. With it being so ubiquitous, how can an agency, business, or web developer choose which hosting provider is right? In an effort to save you time (and money!), the Website Planet team has researched and tested many cPanel hosts.
We've found the ones that offer the best features, the most helpful customer support, and the highest quality of service overall
for your business or other online project.
Short on Time? These Are the Best cPanel Web Hosts in 2023
1.
Interserver
 – The best prices for unlimited websites and storage with any plan.
2.
InMotion Hosting
 – The fastest speeds and developer-friendly add-ons.
3.
A2 Hosting
 – WordPress-friendly features, global data centers and multilingual customer support.
What We Look For in the Best cPanel Web Hosts
Our testing and research focused on the features that you need from a cPanel host – hands-on control without complicated setup scripts. Here are the highlights:
One-click app installation via Softaculous. cPanel add-on Softaculous is the easiest and fastest way to install WordPress, Drupal, Joomla or another CMS of your choice with a single click. All of our recommendations include Softaculous.
Email hosting. cPanel allows easy management and configuration of email addresses, so why not take advantage of a hosting provider that offers email? Matching email and domain names will keep your web identity looking professional.
Fast customer support. cPanel is more complex than some point-and-click server management UIs. Prompt customer support can help with hard-to-find settings and features, giving you more time to focus on your web content and products.
Reliability. 99.9% uptime is the industry standard, and your site users will expect nothing less. All of our recommendations promise at least 99.9% uptime via some combination of good hardware, security, and redundancy.
Site backups. Backups are necessary for stress-free website development. It's a smart move to opt for a host that provides regular backups, and gives you control over implementation. All our recommended hosts provide a backup feature.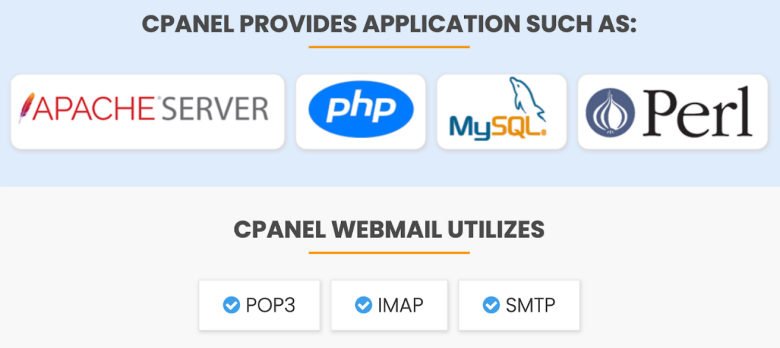 InterServer offers some of the best options and features when it comes to cPanel hosting, and it manages to do so at a very good price point.
Web developers, designers, and agencies who are looking to start small and scale up have lots to benefit from here –
unlimited storage, websites, and databases
with the entry-level shared plan, for a start. For expert-level cPanel users, InterServer offers easy maintenance of subdomains, addon domains, parked domains, and redirected domains. And,
you can edit all of your DNS entries directly
– to add SPF records to your email addresses, for example. Never used cPanel before? No problem. InterServer has a demo cPanel interface linked directly from their website that you can access before you buy, and
plans come with a 30-day money back guarantee
. Many hosts offer custom or off-the-shelf drag-and-drop web builders as part of their plans, and these can be invaluable for beginners. InterServer comes with SitePad, which is unfortunately one of the less feature-rich site builders. Not to worry, though, as
you'll have no problem installing WordPress, migrating an existing site, or uploading a site you've coded from scratch
.
Features
Unlimited "everything." InterServer's Standard Web Hosting plan allows for unlimited websites, and includes unlimited email accounts, databases, storage, and data transfer for you to grow your business, blog network or online community.
Great security, with isolated accounts. Interserver's InterShield security takes a multi-pronged approach to protecting your websites from attacks. Additionally, all accounts under cPanel are isolated for optimal privacy.
LiteSpeed caching. If your site takes longer than two seconds to load, your users will go somewhere else. LiteSpeed web server software offers better WordPress-specific caching than the traditional Apache web server, ensuring that your site loads as fast as possible for your visitors.
US-based data centers. If your primary audience is in North America, InterServer has you covered on both coasts of the USA. The only possible downside to this is that your site will load more slowly for visitors outside of the continent, if you expect them.
Read our expert InterServer review for more details
.
1-click app installation via Softaculous?
✔
Unlimited storage?
✔
Performance boosts
SSD Storage, LiteSpeed Caching, CDN
Reliability and security
Proprietary InterShield Security, optional add-ons
Starting price

$

2.50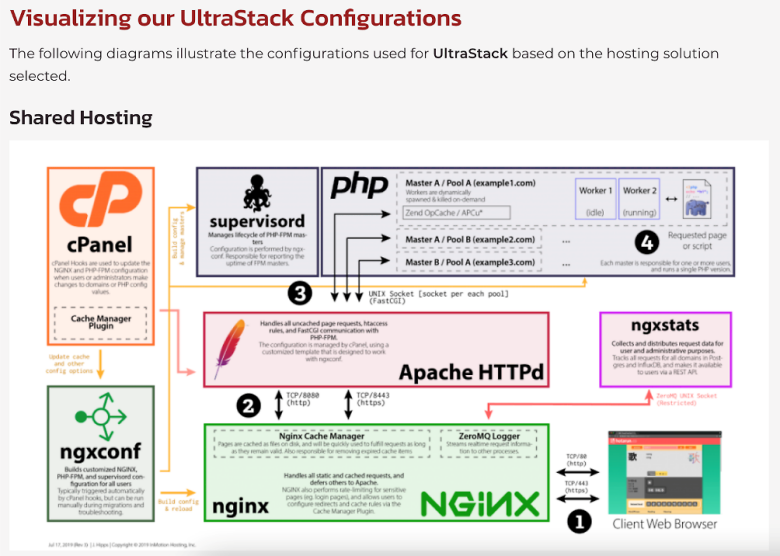 Of all the hosts on this list, InMotion Hosting provided the most cutting-edge features and technologies in terms of speed, caching and compression.
All but the entry-level InMotion Hosting plans come with NVMe SSD storage, which deliver faster read and write speeds
than standard SSD. These plans also offer UltraStack, a proprietary blend of NGINX proxy caching, Brotli compression, and custom optimization. If you're delivering high-quality image assets, accessing large databases, or loading user-generated content on your sites, InMotion Hosting's advanced tech stack is worth your consideration.
With cPanel, you can monitor your disk space and fine-tune all your hosting settings
. Softaculous is included, along with the requisite suite of installable CMS and ecommerce apps. Secure remote access via SSH allows advanced users to edit and modify site setup via the command line. To round out the rich list of features,
InMotion Hosting provides free SSL, security from malware and hackers, and DDoS protection
. They also offer automatic backups, but unfortunately these will cost you extra unless you opt for one of the higher-tier WordPress plans.
InMotion Hosting Web Hosting
Features
Plenty of email addresses to get you started. InMotion Hosting's basic plan comes with the capacity for 10 email addresses, and all other plans offer unlimited email addresses.
Developer-friendly add-ons. In addition to cPanel's point-and-click control over every aspect of your hosting configuration, SSH allows for secure access to your server from anywhere, WP-CLI gives you command-line-based control of your WordPress installation, and Git integration ensures your version control is on-track.
Unlimited bandwidth. Plan marketing campaigns without having to worry about data transfer overage fees.
90-day money-back guarantee. You get three months to see for yourself if your bounce rates are lower and your Google Page Speed scores are higher than with other hosts. This is the most generous money-back guarantee of all our top hosts.
Read our expert InMotion Hosting review for more details
.
1-click app installation via Softaculous?
✔
Unlimited storage?
✔ (except with entry-level plan)
Performance boosts
NVMe SSD Storage, industry-leading compression and caching
Reliability and security
Free SSL, hack and malware protection, DDoS protection
Starting price

$

3.29

A2 Hosting has a fairly standard suite of features and add-ons, but when it comes to global web hosting it comes out on top. Unlike many other hosting providers,
A2 Hosting has data centers across the globe so you can choose the location that best suits your needs
. It's also the only host on this list to offer multilingual customer support, and claim to have customers in over 200 countries.
All A2 Hosting plans come with the proprietary Turbo Server
, which guarantees fewer users per physical server –
this means that even with shared hosting, you won't have to put up with noisy neighbors
. Caching and SSD storage (or NVMe SSD for higher-tier plans) is also included. A cPanel license with the Softaculous installer ships with each plan. If you're interested in WordPress,
you'll benefit from the 'A2 Optimized' WordPress install, which sets up a selection of pre-configured optimization plugins
for increased site speed. A2 Hosting also offers security add-ons such as Jetpack's uptime monitoring and masked login URLs to protect your WordPress login screen from brute-force attacks. And WP-CLI's command-line tool is supported with all plans.
Features
Site staging support. Take advantage of A2 Hosting's easy-to-use site staging in order to test complex or important changes to your web project before they go live.
Free site migration. Allow the A2 Hosting folks to handle your website migration, without having to worry that your content, code, and SEO settings might get lost in the shuffle.
Jetpack for WordPress. Jetpack has lots of additional features for backups, caching, compression, and security. It's an additional $5 per month of value included with all WordPress plans.
Unlimited site visits. All plans, including the entry-level shared option, allow for unlimited data transfer, so you won't need to monitor bandwidth levels as your online presence grows.
Read our expert A2 Hosting review for more details
.
1-click app installation via Softaculous?
✔
Unlimited storage?
✔ (with Drive and Turbo plans)
Performance boosts
Proprietary Turbo speed tools
Reliability and security
Free SSL, 24/7 security monitoring, reinforced DDoS protection
Starting price

$

2.99
Like A2 Hosting,
FastComet has data centers around the world
so that your content can reach your customers faster, wherever they happen to be. The entry-level plan's account dashboard comes with easy access to billing, customer support, and of course your domain names. cPanel is also included within this interface, although it may be hard to find for first-time or infrequent users. Ultimately, though,
FastComet has incorporated all the must-have tools and features into its own dashboard as well
to make them easy to find.
AMD EPYC servers power all FastComet hosting plans
, which means your websites are hosted using hardware that's powerful enough to handle even very heavy computational tasks such as AI. Unlike some of the other hosts on this list, FastComet doesn't have its own proprietary caching system. Instead
it uses Varnish – a reverse proxy cache that stores requested files (your website's code, images and other assets) in a temporary location for quick access
. Plans also ship with Cachewall, a popular Varnish add-on offering real-time security features.
Users can install, configure, and manage caching and security settings right from the cPanel interface
, or stick with the default options.
Features
Aggressive compression. All plans from FastComet support lossless compression algorithms to make your files as small as possible without a reduction in quality.
Real-time performance monitoring. Monitor your sites' uptime and performance in real time with an easy-to-read interface.
45-day money back guarantee. This is the second-longest money-back guarantee in this bunch, giving you a bit more time than the industry standard to figure out if FastComet is the right fit for you.
Unlimited email accounts. Even the entry-level plan allows you to set up as many email accounts as you need for multiple team members, or simply to categorize your communications.
Read our expert FastComet review for more details
.
1-click app installation via Softaculous?
✔
Unlimited storage?
✘ (but all plans offer unlimited websites)
Performance boosts
AMD EPYC processors
Reliability and security
Free SSL, comprehensive DDoS protection, malware protection
Starting price

$

2.19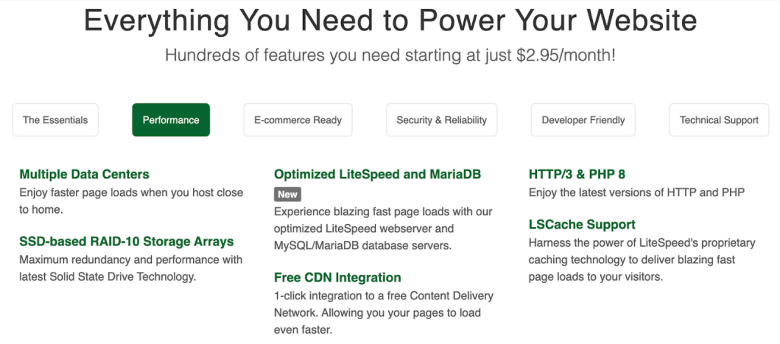 Although web servers are very energy-efficient, the sheer numbers use a huge amount of energy worldwide.
GreenGeeks offsets this energy consumption by buying renewable energy credits
. This may not exactly save the planet, but it's a meaningful gesture towards achieving a greener tech space.
GreenGeeks offers unlimited storage, websites, databases and transfers on its two higher-tier plans
, but if you're looking to host only one site, the base Lite plan is inexpensive and comes with speed-saving and security-rich features.
All of GreenGeeks' plans offer multi-user access to cPanel and Softaculous
– a must for agencies and small businesses.
GreenGeeks also comes with some solid developer-friendly options:
SSH access, Git, WP-CLI, SFTP, phpMyAdmin, and access to multiple PHP versions on each of your sites. If hands-on website management is your thing, it's got you covered. Coming in at a mid-range price based on the other hosts we researched, GreenGeeks provides everything a small business or agency needs while making you feel like your dollars are going towards the greater good.
A free domain name is included with some hosting plans from GreenGeeks
Features
300% green energy match. GreenGeeks matches three times the energy its servers consume in carbon offset credits.
24-hour backups. Free nightly backups come with any plan, even Lite, so your site is safe no matter what happens.
LiteSpeed servers and LSCache. Experience fast delivery of your web assets with LiteSpeed and its built-in caching system, LSCache.
Multi-user access. Empower your employees or clients to manage their own sites with multi-user access to cPanel and all its features.
Read our expert GreenGeeks review for more details
.
1-click app installation via Softaculous?
✔
Unlimited storage?
✔ (except on entry-level plan)
Performance boosts
SSDs, LSCache and Free CDN
Reliability and security
Hardware redundancy and free SSL
Starting price

$

2.95

If you're just starting out and are not sure where to host your new website, or even how to build your new website, Hostwinds might be a good choice
. Of all the site builders that ship with hosting plans, Weebly is one of the easiest to work with and it's included with all Hostwinds plans. If you're looking for a different site builder or CMS, Hostwinds provides the standard suite of install scripts via cPanel and Softaculous.
Hostwinds offers 2N redundancy, which ensures that there are at least two pieces of hardware ready to serve your files
at any time. This should mean less downtime for your website. As far as free add-ons go, Hostwinds is a little light. All their plans come with free SSL and nightly backups, but
only the most expensive Ultimate plan allows you to host unlimited websites
– something to note if you're looking to scale up. Hostwinds' customer service, however, is top notch, which is why
I would recommend this provider for anyone who is just getting their hosting feet wet
. Live chat is fast and responsive, and you get a real human right away (sorry, bots)!
A free domain name is included with some hosting plans from Hostwinds
Features
Weebly site builder. Beginner-friendly, and a great choice if you need to get something online quickly.
Unlimited email. Turn your website into a business with unlimited email accounts that match your website address. All plans at Hostwinds come with unlimited accounts.
LiteSpeed web server. Hostwinds' sites are delivered quickly with LiteSpeed, powerful server software that is optimized for PHP-based content management systems like WordPress.
Read our expert Hostwinds review for more details
.
1-click app installation via Softaculous?
✔
Unlimited storage?
✔
Performance boosts
LiteSpeed
Reliability and security
2N redundancy and free SSL
Starting price

$

6.47
Conclusion: Most Hosts Include cPanel, so Choose the One With the Best Additional Features
Many hosting providers offer cPanel, and it's easy to understand why – it serves as a vital tool for straightforward, hands-on management of your hosting account. You can rest assured that among the hosts in this list, there is one with the ideal blend of speed, security, storage, and reliability to meet your needs.
If you want to be able to scale up without having to worry about complicated hosting packages,
InterServer is my top recommendation
. Its only shared plan offers unlimited storage, unlimited email, unlimited data transfer, and unlimited websites for a fair monthly price.
If you've got a need for speed,
InMotion Hosting is the best pick for you
. Most hosting providers offer a similar suite of optimizations, but InMotion Hosting's NVMe SSD storage, its multi-pronged approach to caching, and its suite of file compression features are a head above the rest. WordPress power users, listen up!
If you're looking for an easy-to-use suite of WordPress tools and apps while maintaining control and flexibility via cPanel,
A2 Hosting is the right choice for you
. It's cheap, reliable, and offers WordPress optimization by default. Here's a recap of our top cPanel hosts and their standout features:
Standout feature
Softaculous installer?
Unlimited websites?
Starting price
InterServer
Unlimited websites, storage and email
✔
✔

$

2.50

InMotion
Hosting Best speed, caching and compression
✔
✔(with Launch, Power, and Pro)

$

3.29

A2 Hosting
Quick-start WordPress options and features
✔
✔ (with Drive, Turbo Boost, and Turbo Max)

$

2.99

FastComet
Real-time monitoring interface
✔
✔ (with FastCloud Plus and FastCloud Extra)

$

2.19

GreenGeeks
300% Green Energy Match
✔
✔ (with Pro and Premium Plans)

$

2.95

Hostwinds
Beginner-friendly site-builder
✔
✔ (with Ultimate plan)

$

6.47
FAQ
Does all hosting come with free cPanel and Softaculous?
Most hosting providers have paid for these licenses in bulk, and pass on their use to you as part of the price of the hosting plan. If you're planning on setting up your own server, you can buy cPanel and Softaculous for yourself, usually through any hosting provider that offers VPSs or dedicated servers.
Can I manage multiple websites with cPanel?
Yes! cPanel is a great tool for managing multiple domains and subdomains. Just be sure that your hosting plan allows for multiple websites, and offers enough storage for your needs. InterServer's shared hosting plan is a great place to start if you want to manage multiple websites.
How can I get my website files online?
Most hosts provide a file management system via cPanel, but an easier and quicker way to upload your web assets is to use FTP. You can manage your FTP login details with cPanel, and use the FTP software of your choice. All our top hosts offer SFTP (secure FTP).
Do I need to know any scripting languages to set up or optimize my website?
For most online projects, all the tools you need to set up, maintain and optimize your website can be found once you log in to your cPanel dashboard, included with all of the hosting recommendations above. Many hosts also provide a command-line interface for extra developer control, but use of the command line is not necessary to get good results.