well-structured template
. Without one, the info on your site could be unclear, or the design could dissuade people from participating. Beyond a good design, you'll also need a core set of features, including
forums, membership pages, and messaging functionalities
that encourage users to get involved. So how do you find a high-quality template? I'll walk you through the best options for WordPress themes, based on features, customizability, and design. Not a fan of WordPress? I'll also show you some great
templates from website builders
. Or, if you're looking for a template that's really one-of-a-kind, I'll give you the inside scoop on
hiring a designer to make you a custom template
for the best price.
WordPress Themes
Whether you're already using WordPress or you want to start afresh on the platform, there's a
high-quality, customizable theme for everyone
.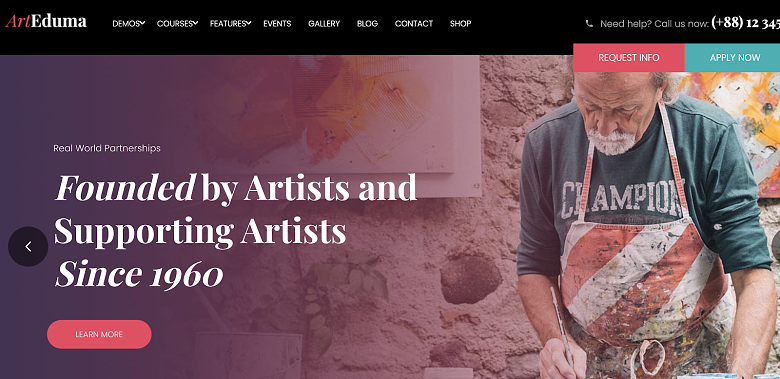 This theme by Thimpress on
ThemeForest
is geared towards
schools, academies, and vocational centers
.
Eduma
is particularly useful for education communities because it comes equipped with a course page, events calendar, image gallery, news section, portfolio page, a blog, and more. Basically, the strategy here was to include
every tool and page element you could possibly need
and let you discard what you don't want later. Visually,
Eduma
is easy to navigate thanks to its horizontal navigation bar with bold, all-caps text. The hero image at the top of the homepage draws focus to the large text in the center. And while the design isn't exactly minimalist, the screen-wide modules intuitively guide the reader's eye down the page one element at a time. Community websites that aren't geared toward education can still make this theme work, but it'll take a bit more tweaking on the design front.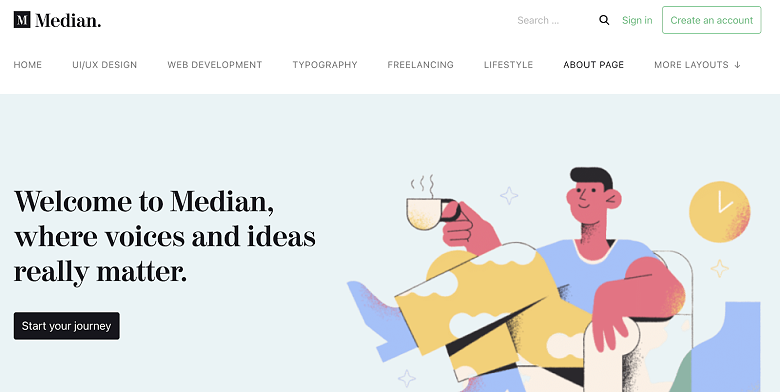 Median
from
TemplateMonster
is a sleek theme inspired by the publishing platform Medium that's ideal for
communities built through blog writing and forums
. Just like with Medium, users love this theme for its
timeless, minimalist design
which boils your site down to only the most essential elements. You can easily add or cut pages, but the main focus of the template is
sharing information through blog posts
. These don't have to be long-form articles – they are also a way to share updates, photos, and videos.
Median
allows your community members to log in and write content directly on your site, interact with articles others have posted, and share them on Facebook and Twitter with the theme's built-in share buttons. So if a blog is what you're after, this theme requires
few-to-no modifications
. Many communities would benefit from a contact form and a members-only area, though, so keep in mind that you may need to install a plugin to add those to your page.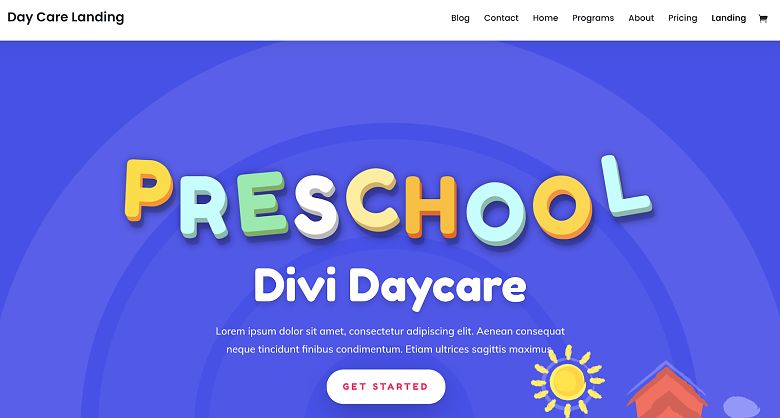 The star of the show on Elegant Themes is
Divi
, the self-proclaimed "most popular WordPress theme in the world." But don't worry about your site looking the same as everyone else's – Divi comes in 189 highly adaptable layout packs, many of which are suitable for community and education sites. Many people love
Divi
for its
user-friendly visual builder, drag-and-drop editor, and inline text editing
. You can easily add CTAs, forms, sliders, blogs, galleries, testimonials, and more. The layout pack above is aimed at daycare centers, with appropriate visuals. Or, you could go with this layout pack aimed at charities and nonprofits: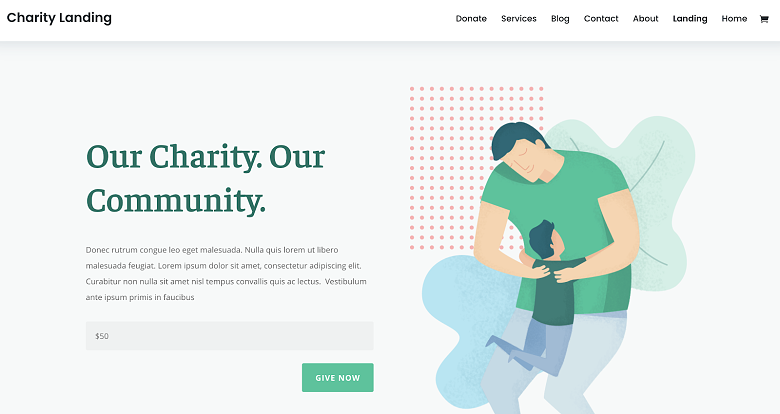 This charity landing page features an impressive screen-wide video – an important tool for organizations keen to
express their values and mission
right away. It also gets right down to business with a donation button at the very top. From an aesthetic perspective, what
Divi
does well is leave plenty of blank space throughout the site so that the design is never visually overwhelming. Each layout pack also has a
limited but memorable color palette
, which helps build a strong identity for your community. No matter which layout pack you go with,
Divi
allows you to tell your story in a natural and engaging way right from your homepage. It also finishes strong with a CTA and a contact form at the bottom of the site.
Website Builder Templates
If you haven't already started creating your site in WordPress, you might find that using a website builder template is a better option. Despite its popularity, WordPress isn't for everyone – it can be confusing to navigate, as it uses more technical language and isn't as visually intuitive. For example, in WordPress you build using a form editor, which is text-heavy and doesn't reflect what your site will look like to visitors. Site builders like
Wix
or
Squarespace
, on the other hand, have drag-and-drop editors that allow you to
easily move elements around your page and visualize the results
in real time. This makes them more easily customizable than WordPress themes, because you don't need to have any coding skills to make tweaks to the template design.
I tried out hundreds of website builder templates
and picked the ones that work best for community and education groups, based on their features, design, and level of customizability.
Charity Scavenger Hunt: Most Visually Engaging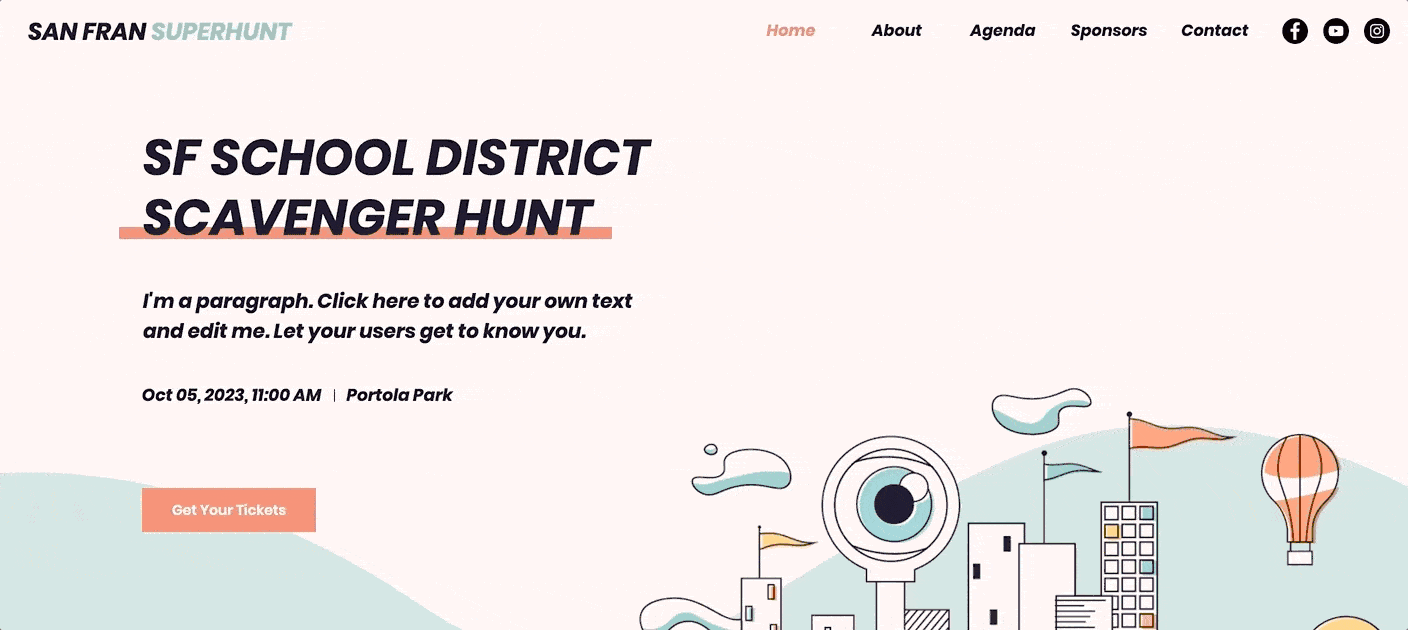 Charity Scavenger Hunt
from Wix is the most visually modern template on this list. It offers animated illustrations, a unique, bold font, and
consistent, eye-catching elements
(like the underlined section headers) which help to orient readers as they scroll through the page. The template is ideal for
any type of community event
. It includes:
An alluring, memorable design that will make people want to take part in your event or movement
Visuals that make all the important details pop: time, place, schedule, etc.
An embedded Instagram feed to give visitors a picture of what the organization is all about and encourage them to connect
Charity Scavenger Hunt
is free and, of course, highly customizable.
You can adapt the template to fit your organization's unique identity
, for example by adding your logo or swapping out the color palette to match your organization's colors. You'll also get a built-in SEO tool (the Wix SEO Wiz), which is a big plus if you want to reach a wider audience. Even if you don't organize events, this template can work for you. You could easily turn the Agenda section into a timeline of your community's history, for example, or use the Sponsors section to highlight your team. The sky's the limit. What's important is that
the page has a gorgeous design
that allows you to tell your story, gets your readers excited to participate, and finishes strong with a contact form or other CTA.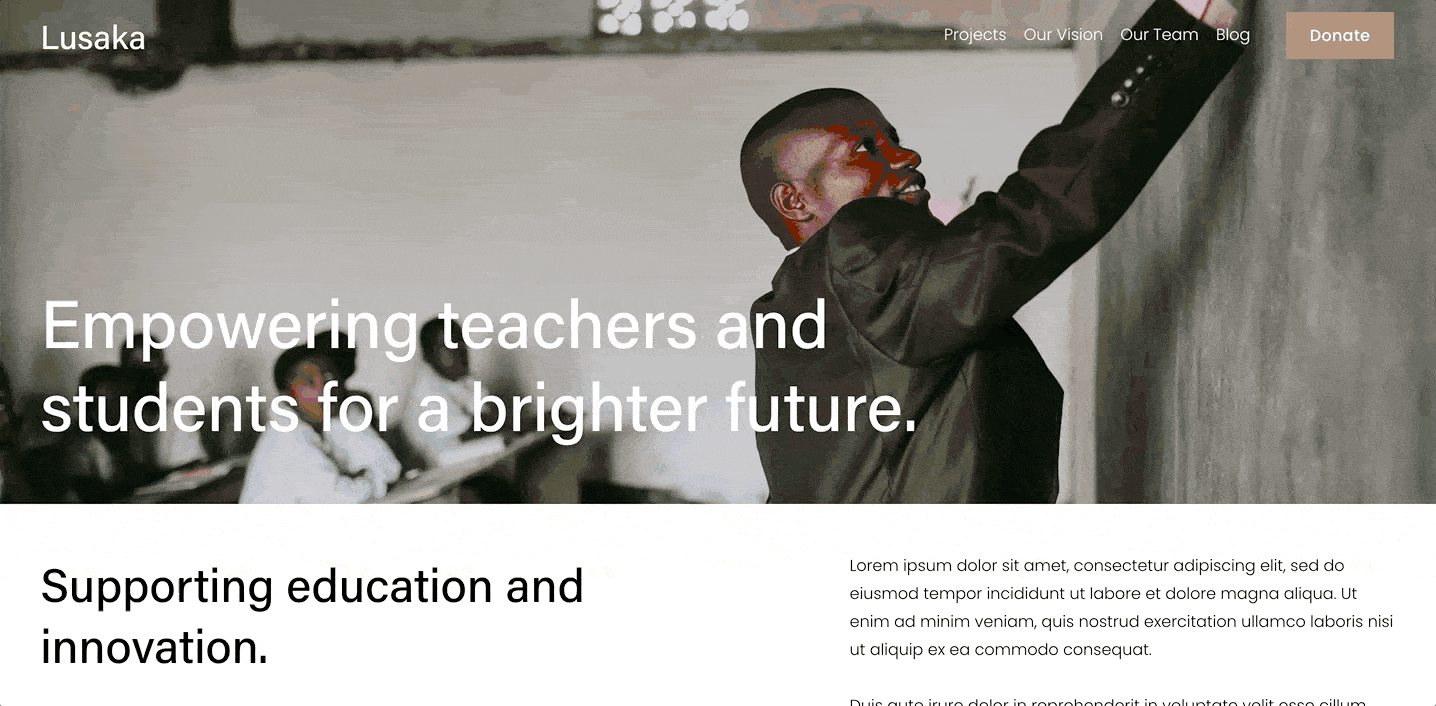 If you're willing to invest a bit more money to make a truly beautiful site, Squarespace's
Lusaka
should be your first choice, especially if your organization is education-related (be it a school, private academy, or educational NGO). This
minimalist, professional-looking design
has exactly what you need and no more. The headers and paragraphs are short and sweet, and they strike a perfect balance with the ample blank space and large images. The color selection also works really well: it's all grayscale with one pop of color (in this case, sandy beige, but it can be any color you like). Some of
Lusaka
's most useful features include:
Vision and team pages so you can clearly state who you are and what you do
A blog page to help you share your expertise
A donate button for nonprofits (Premium plan required)
As this template is geared toward getting donations, it might not make sense for every community. However, with a bit of elbow grease it can definitely be adapted. For example, you can trade in the donate button for a CTA to join the organization. Don't need a blog? Get rid of it in seconds.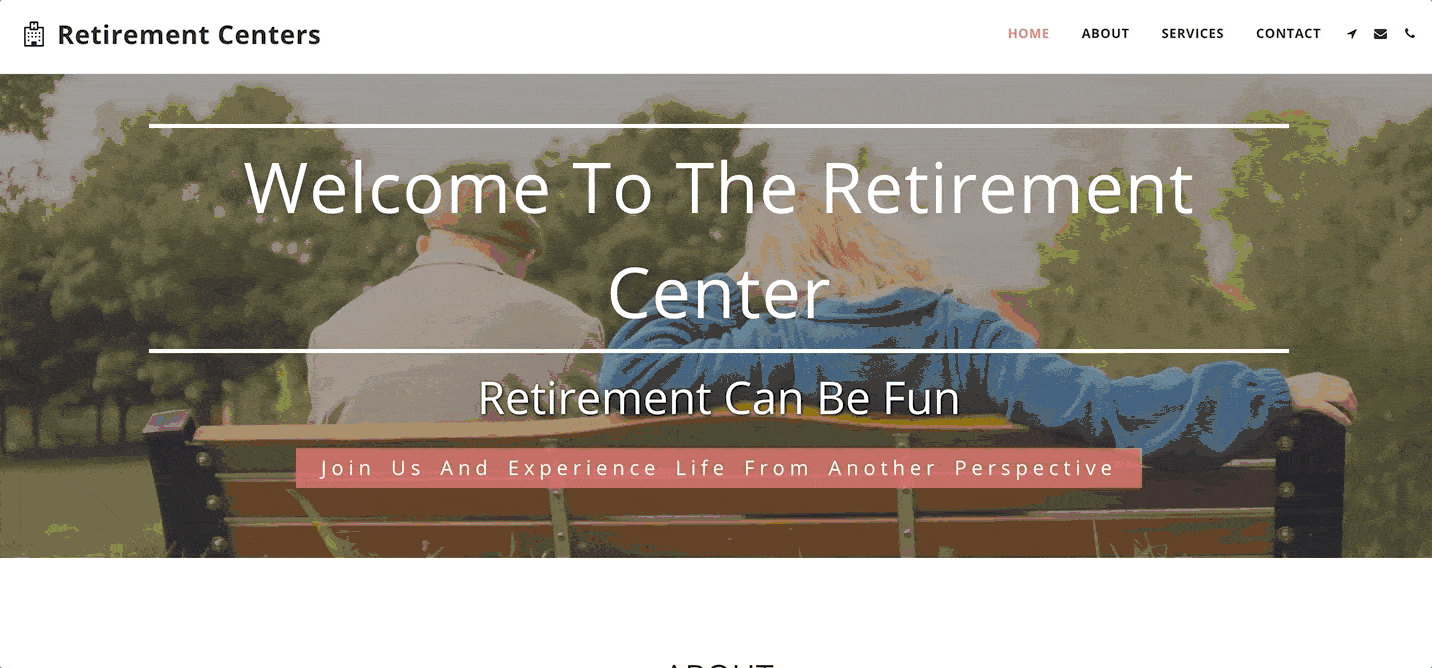 If you need to get your site up and running ASAP, the
Retirement Center
template from SITE123 is your best bet. I was able to build a fully functioning site
in less than 10 minutes
, thanks to the platform's what-you-see-is-what-you-get (WSYIWYG) editor interface. In other words, as you drag and drop elements into the page layout, you'll see exactly how it'll look when it's finished – plus, the editor will save your changes as you go. What I love about this template is that:
The sections are ordered in a very logical way, ending with a screen-wide map that shows your organization's location
Everything about it is customizable, allowing you to intuitively move around elements like images and text boxes
It automatically adapts to mobile and other devices, which is great if you know lots of people will be visiting your site on their phones
The downside here is that the graphic design leaves something to be desired. The font in particular is forgettable, and the image in the
About
section is way too small to my eyes. So if sleek design is a priority for you, this template won't be a great starting point. But if you need your site to go live fast,
Retirement Center
is the ticket.
How to Get a Custom Template for a Great Price
If none of these templates feel right to you, or if you think you'll be too pressed for time to play around with a template yourself, you can always hire a designer to create one from scratch for you. Having a bespoke template means your site won't look like anyone else's, which helps you
stand out from the crowd and build a strong brand identity
. Hiring an experienced designer also guarantees that you'll get a template
with all the features you want right out of the box
. I've found that the best place to get a good designer is
Fiverr
. The platform has thousands of skilled designers that set tasks at just five bucks (hence the name), and rather than just filtering them by category, you can also
search specific keywords
to find one that fits your aesthetic and budget. User
mydesignbd
 designs eye-catching templates in Photoshop for WordPress, Squarespace, Wix, and other website builders. This site, for example, has a very consistent look and feel across several pages:
Another highly rated designer,
farhanrahman
, makes ultra-sleek, minimalist themes specifically for WordPress.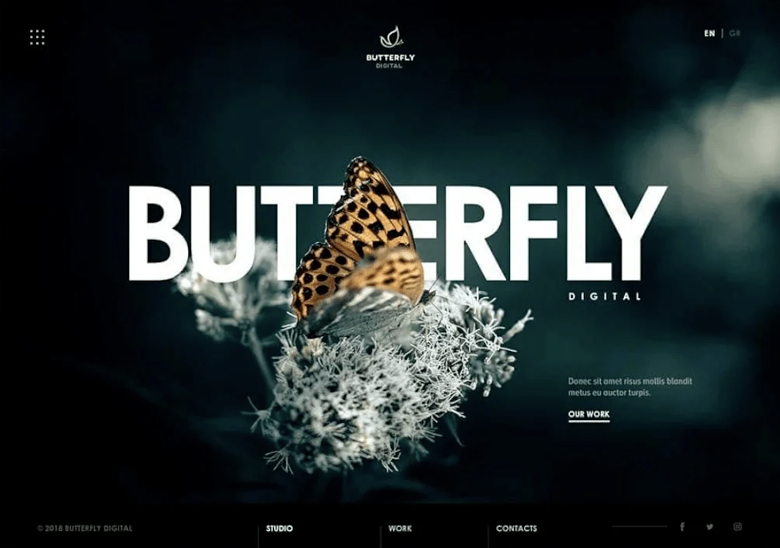 This designer offers to build in contact forms, newsletter subscriptions, pop-ups, parallax scrolling, sliding images… anything that would delight your site visitors.
The Right Template Should Draw Attention to Your Community Website
First impressions are crucial, and you aim for your community website to make a positive initial impact. A tacky theme can deter people from engaging with your message, but rest assured, the themes I've introduced here maintain well-designed, user-friendly qualities and encompass all (or most) of the features you require. If you're not set on WordPress, you might want to consider a website builder instead.
Wix
lets you customize your site to your heart's content, while
Squarespace
 has some of the best-looking templates out there. Or, if you want a truly unique feel for your site, you can turn to
Fiverr
to find a professional designer who'll create a gorgeous custom template for you at an affordable rate.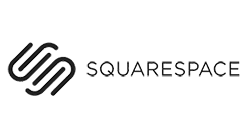 Save up to 30 % on your Squarespace plan today!
Plus get a free domain for one year!
1031 users used this coupon!
FAQ
Why is a school website important?
A school website helps keep students and parents informed – about school events, schedules and grades, projects, deadlines, etc. Forums also offer a one-stop shop for students, parents, and educators to talk to each other. Fortunately, making a school site can be quick and painless if you pick the right builder. Check out our list of the best website builders for schools and teachers to learn more.
How do I create an education website?
First, find the right builder. Platforms designed specifically for schools – like Edublogs or Educator Pages – often lack useful features that general site builders like Wix and SITE123 can give you for the same price. We compared all of the top website builders for 2023 in this in-depth review. Next, pick a template that works for you and add content to make your site special, whether that's text, images, videos, blogs, or forums. Good luck!
Can I use an HTML template in WordPress?
Yes! If you have more design experience, you can convert your HTML design into a WordPress theme, either manually, with a plugin, or by using a child theme. You can also hire a site converter to do it for you, or see if one of the freelancers on our list of top WordPress developers is up to the task. Keep in mind that this process will be simpler if your design follows the same basic functionality as WordPress themes: posts and pages, a header and footer, and a sidebar. Don't know HTML but want to learn? This free HTML tutorial can get you off the ground fast.
How much does it cost to build a website?
That depends on the type of website you need, how much traffic you expect to get, how much space you need, whether you need your own domain name, etc. You can create a simple site for free with website builders like the ones we mentioned above. Premium plans will typically set you back $10-20/month. We've rounded up the best verified coupons for website builders to bring down your cost.