We noticed that ever since Hostinger reduced their prices, many users are closing their accounts with Bluehost.
While my experience with Bluehost was a mixed bag – you can read all about it here – the cancellation process was easy. It took me no more than a few minutes, and after three business days, the money was back in my account.
Bluehost provides a 30-day money-back guarantee on all its hosting solutions, from shared to VPS and dedicated servers. This includes only the price of the hosting itself, and not any added products. If you purchased domains, extra security, mail services, or any other add-ons, their cost will not be refunded.
I documented my entire cancellation process, complete with screenshots, so if you're still within your first 30 days and looking to cancel, just follow my instructions. Looking for Bluehost alternatives? let me recommend Hostwinds, and a few other great companies.
Quick Guide: How to Cancel Your Bluehost Account
Enter Bluehost's main page and open a live chat session.
Enter your details as an Existing Customer, and choose Close Your Account as the topic.
The representative will ask you to verify your ownership of the account. You can either use your password or an email token.
Confirm that you want to cancel your account.
Your refund should be processed within 5-7 business days. Check your account to see that the full amount was refunded.
My Experience with Cancelling My Bluehost Account
Bluehost does not provide an automatic cancellation feature, which means you'll have to talk with a representative. Luckily, it can all be done via live chat, and it's pretty straightforward.
There isn't any way to contact support from your account area, so off to Bluehost's main page we go.
In the upper-right corner of the screen, press Chat.

The chat window will pop up. Choose Existing Customer, and enter your name and domain. Click Next.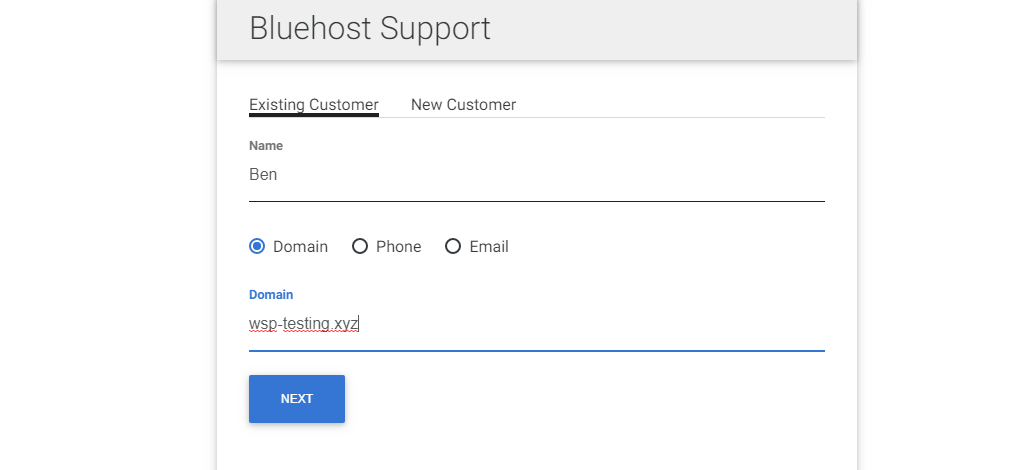 Under topic, choose Close Your Account, and under description, choose the type of hosting you've purchased. I wrote a short message asking to close the account and receive the refund.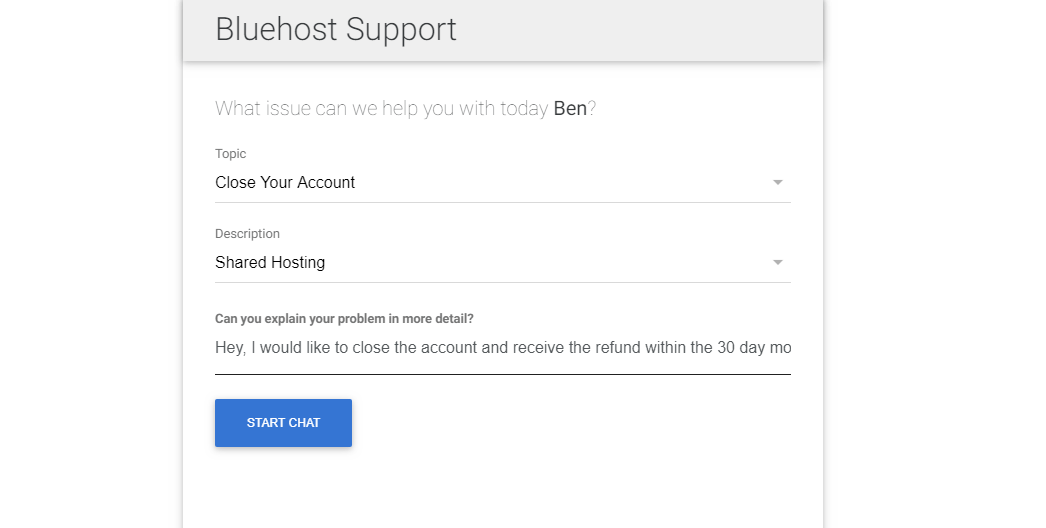 Prateesha was with me in less than a minute and asked for the reason I wanted to cancel. I would've loved it if she never asked for a reason at all, but almost all hosts do. I answered that "It wasn't right for me," and we were able to move on.
After validating my ownership of the account using the last four characters of my password (this silliness is explained in detail in my full review), she was kind enough to make sure I had backups for my site, and that my initial payment method was still active.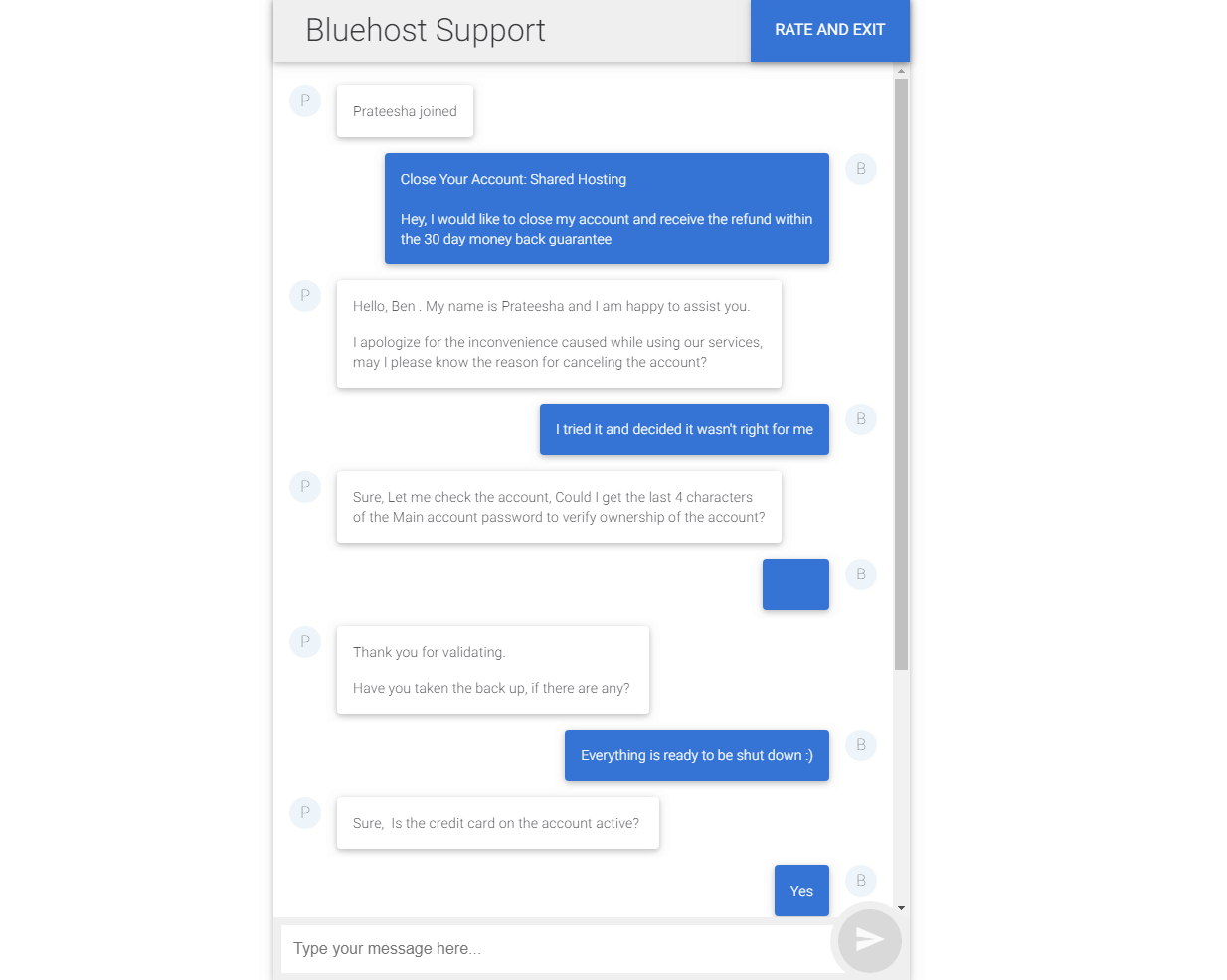 All that was left to do was confirm the cancellation, and I was good to go!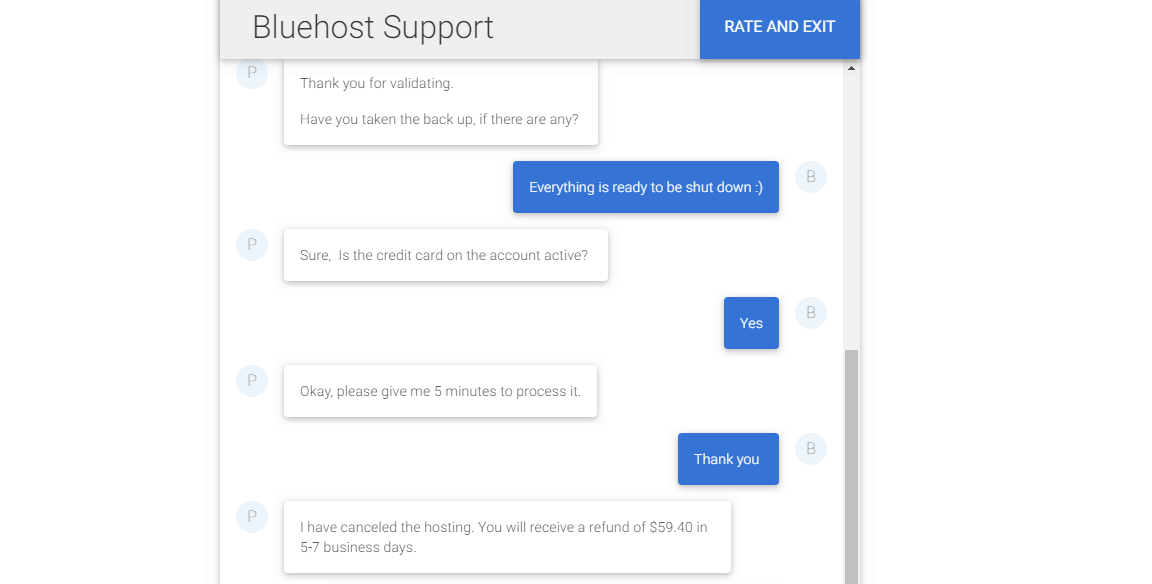 After no more than three business days, the entire purchase was credited back to my account.
Best Bluehost Alternatives
If you're looking to switch it up, each of these companies can be a great place to host your website:
Cancelling Is Easy, but There's a Catch
In the immortal words of Elaine Benes, breaking up is "one of the most important parts of the relationship." I can't agree more, and I was happy to see my breakup with Bluehost went quite well.
Still, some things bothered me. I didn't receive any email confirmation of my account cancellation. All I had to show for it was my case ID, and I had to ask for it specifically. The refund came quickly, but I would've preferred if Bluehost provided some official notice of cancellation.
The second thing was the ownership validation. With only four characters of your password, anybody can cancel your account. They don't even need your full password! It would be better if Bluehost implemented a secure cancellation method, from within the account area.
And that's it. For even more alternatives to Bluehost, don't forget to check out our full list of the top hosting companies.