who you are and what you want to achieve.
 If you're just starting a blog for the first time, you'll probably want a comprehensive solution that takes care of all of the nuts and bolts for you. Meanwhile, those with more technical know-how might be willing to sacrifice a bit on ease of use for extra creative control and functionality. Either way,
the platform you choose should make your blog look good and come with plenty of customization options
, so that you can represent yourself properly. As your blog grows, your platform should be flexible enough to grow with you, with plenty of additional features. And – most importantly of all – it shouldn't cost the earth.
Blogging should be fun, not a financial burden
. Keeping all of this in mind, I put some of the most popular platforms to the test to find out how they compared on these key features. Here's how they all did.
Short on Time? These Are the Best Blogging Platforms in 2023:
Wix – Easy-to-use blog builder, with hundreds of templates and a simple dashboard for managing all aspects of your blog
WordPress.com – Flexible, scalable solution with thousands of plugins for added functionality
Squarespace – Beautifully designed blog templates and high-quality third-party integrations
What We Look For in the Best Blogging Platforms
To sort the best from the rest, I've focused on a few key aspects that matter most to aspiring bloggers:
Ease of use. When you're just getting started, you don't want to be bogged down in tutorials and how-to videos. Most of the platforms on my list are beginner-friendly, and come with built-in hints to help you set everything up. And just in case you want something more complex, I've also included a few options where the steeper learning curve really pays off.
Built-in functionality. I've looked for platforms that package up all of the key blogging tools into one simple product, so setting up your blog (and adding new features) will be a breeze.
Well-designed templates. Sometimes the only thing separating a good blog from a bad one is design. My picks will let you create good-looking blogs that will encourage your visitors to stick around.
Value for money. Whether blogging is your passion or your business, the platform you use shouldn't be a financial thorn in your side. These options either offer a free plan or will be worth every penny of your investment.
Scalability. As you grow in confidence, your blog will get bigger and more ambitious. You need a platform that's flexible and gives you room to grow – meaning it should offer plenty of additional features and customization options.
One of the most popular website builders on the market, Wix offers some great tools for aspiring bloggers. But what I like most about Wix is that it offers
a fully-integrated blogging solution that is very, very easy to use
. With Wix, you can get your blog up and running in less than an hour – or in a few minutes, if you opt to use Wix's Artificial Design Intelligence (ADI) tool. This will be particularly easy if you start with one of
Wix's blog templates
(there are 72+ for 7 different niches), which come with essential blogging features built in.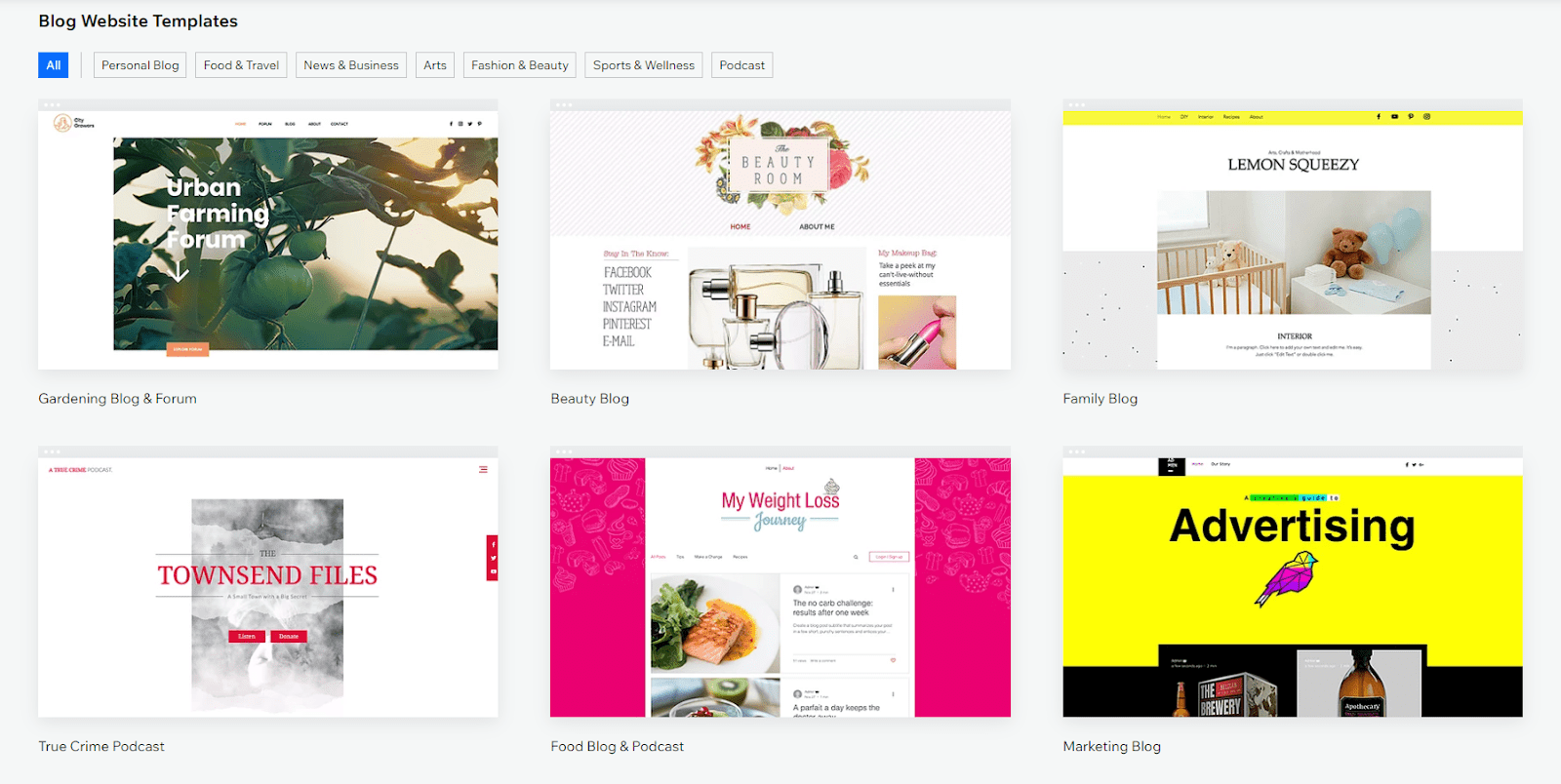 One potential drawback is that once you've chosen a template, you won't be able to change to a new one without losing all of your edits. However,
Wix offers so many customization options
 – from fonts and colors to buttons and layouts – that you're never going to be stuck with a template that doesn't accurately represent your brand. And since the drag-and-drop editor is so easy to use, it can all be done with just a few simple clicks. In terms of blogging features, Wix has more than enough for budding and established bloggers alike. To make life super easy, you get
a dashboard where you can create new posts, add categories, manage comments, and examine blog analytics.
Your readers can create member profiles, like and follow posts, comment, and even become contributing writers. There's also
an automatic email subscription feature
 that helps you collect leads directly from your website.
Wix does offer
a free plan
, but it's relatively limited
 and will populate your blog with Wix branding. It's great for getting started and working out whether the platform is for you, but most bloggers will probably decide to upgrade.
Features
Built-in analytics tool. Wix's blog analytics gives you all the data you need to optimize your blog and grow your readership.
Membership features. Members can create and customize their own profile pages, check out each others' posts, followers, and comments, and get updates – all great for driving people back to your blog.
Monetize your blog. Wix offers multiple options for monetizing your blog. These include displaying ads, offering subscription plans, and running a small online store.
Translate your blog. You can easily enable both Wix Blog and Wix Multilingual features to translate your blog content into other languages and reach an international audience.
Want to learn more? Check out our expert Wix review
.
Free plan available?
Yes
Number of blogging templates
72
Customizability
Super customizable
Standout blogging feature(s)

Wix Dashboard for managing your blog
Profile and members pages for your blog's community
When you're thinking of starting a blog, where better to put down roots than with
WordPress, the most popular blogging software in the world?
WordPress.com is the hosted version of WordPress.org (more on this platform later), and
a more comprehensive solution than its .org cousin.
 It covers hosting, custom domains, backups, and security so you don't have to do all that legwork yourself. Still, WordPress.com comes with a steeper learning curve compared to Wix, and it definitely takes some time to get used to. But there's a big payoff:
WordPress offers more power and customizability than almost any other platform
, making it an ultra-scalable option. If you have more ambitious plans for your blog and don't mind doing a bit of homework, this could be the solution for you.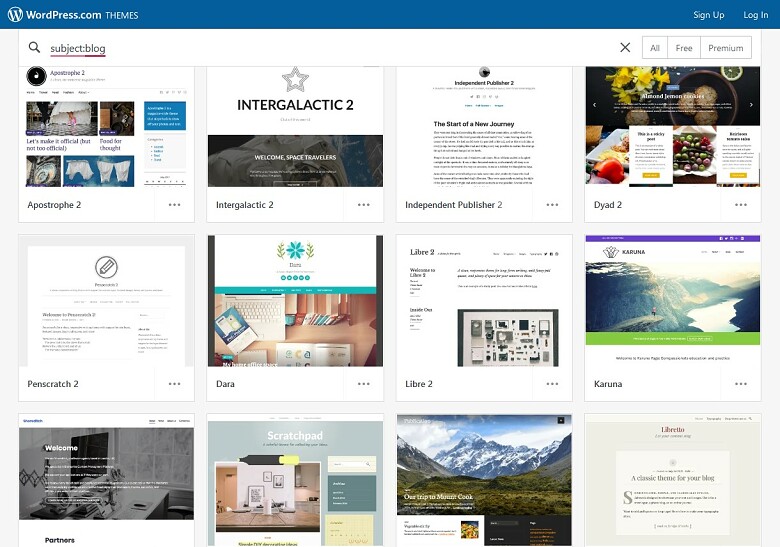 There are more than
70 free WordPress.com blog themes
, along with hundreds of premium themes, so you're sure to find one that suits you. There's also
customization options galore
, meaning you have virtually unlimited choice when it comes to colors, fonts, and layouts – although you'll have to upgrade to a paid plan if you want to edit the CSS. In terms of blogging features,
WordPress.com is pretty much the gold standard
. It lets you categorize and tag posts, schedule posts and social shares, and control your post layout right down to the size of your content blocks, the location and shape of your photos, the color of your post titles, and so on. WordPress.com does offer a
free-for-life plan
, but your blog will have a subdomain and display WordPress ads. It's a great way to get used to the platform, but
WordPress.com really only comes to its own when you gain access to its vast plugin library –
 which only happens on the Business plan and higher.
Features
WordPress.com mobile app. This app lets you publish posts, respond to reader comments, and more, all while on the go.
So many plugins. On the Business plan and up, you can extend the functionality of your site in infinite ways with tens of thousands of free and premium plugins.
Fast, intuitive editor. It's easy to create good-looking, flowing blog posts with a tried-and-tested editor that offers (among other features) a useful autosave function.
Built-in social sharing. This functionality allows you to automatically send new posts to Twitter, Facebook, and other social platforms, as well as add social tools to help readers share your content themselves.
Need more info? Read our in-depth WordPress.com review
.
Free plan available?
Yes
Number of blogging templates
70 free themes + 100s of premium themes
Customizability
Virtually unlimited customization options, although you can't edit the HTML
Standout blogging feature(s)

Easy monetization via ad revenue (Premium plan upwards)
Extensive blogging settings and display options for posts
If you want your blog to look good above all else, you should look to Squarespace, which is
widely regarded as having the best-designed templates out there.
This makes it a great platform for bloggers with lots of visual content, such as artists, photographers, or designers. For small businesses, it's also a great way of getting yourself a good-looking website without having to hire a web designer or developer.
Squarespace is another all-in-one website builder
 that offers budding bloggers an easy way to start their site. It's a bit less intuitive than Wix, but more user-friendly than WordPress.com, and its drag-and-drop editor gives you plenty of freedom to customize your templates. You don't get total creative freedom the way you would with Wix, but the upside is that
very few Squarespace websites ever end up looking ugly
(seriously, it's almost impossible). With
13 blog templates
to choose from, all you have to do is pick your favorite and start editing.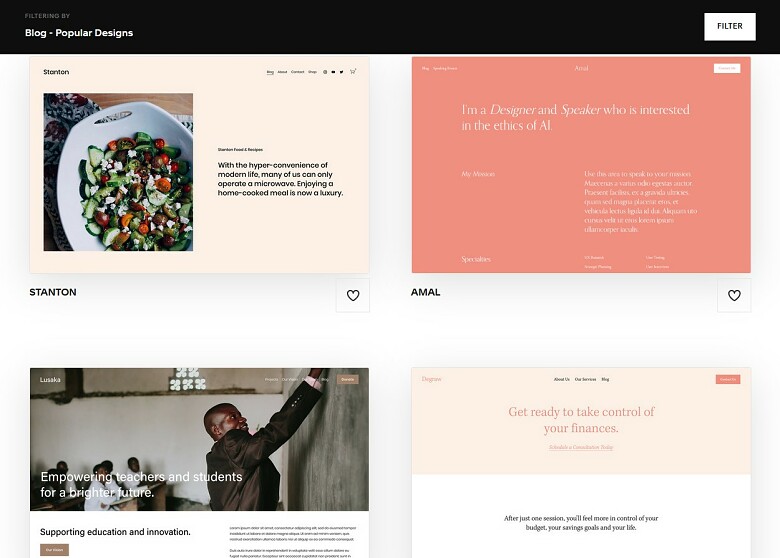 As for blogging features, Squarespace offers standard tools like the ability to set categories, tags, contributor permissions, and featured posts. It also has
a built-in post scheduler
 and SEO, social media, analytics, and email marketing tools. However, compared to Wix's app market and WordPress's plugins,
Squarespace's suite of third-party integrations
(which includes Flickr, Instagram, Tumblr, Google Workspace, and Mailchimp)
 could feel a bit limiting.
In addition, Squarespace doesn't offer a free plan, and it's definitely one of the pricier options on this list.
But if you want a good-looking blog with zero maintenance and updating responsibilities, the extra cost might well be worth it.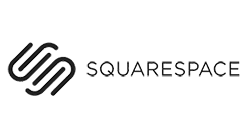 Save up to 30 % on your Squarespace plan today!
Plus get a free domain for one year!
1031 users used this coupon!
Features
Extra social media functions for blogs. These include alternate social sharing images and automatic posting.
AMP Integration. Squarespace optimizes your blog posts for mobile viewing, so your readers have the best possible experience across all devices.
SEO tools. You get title, alt tag, URL customizations, and more – all so you can make your blog more visible in search engines.
RSS blocks. This feature makes it easy for visitors to add your feed to their reader by featuring a subscribe button on your website.
Find out more about Squarespace in our expert review
.
Free plan available?
No
Number of blogging templates
13
Customizability
Good customization options
Standout blogging feature(s)

Add contributors and set permissions
Sync with and import from Twitter, Instagram, Vimeo, LinkedIn, and more
Another all-in-one website builder,
SITE123 is one of the simplest options on this list –
but that doesn't necessarily mean it won't have the functionality you need. If you want to build your own blog rather than use an external platform like Medium or LinkedIn (more on those later), SITE123 is one of the easiest ways to do it. It has
all the basic tools you'll need to build a blogging website
and is very easy to use – but the tradeoff is somewhat limited creative freedom. SITE123 offers more than
20 blog templates
, all of which are free and mobile-friendly,
but there's not a ton of variety. One major drawback is that this platform reserves a lot of its customization options for the paid plan. But on the plus side, its editing bar is (you guessed it) very easy to use.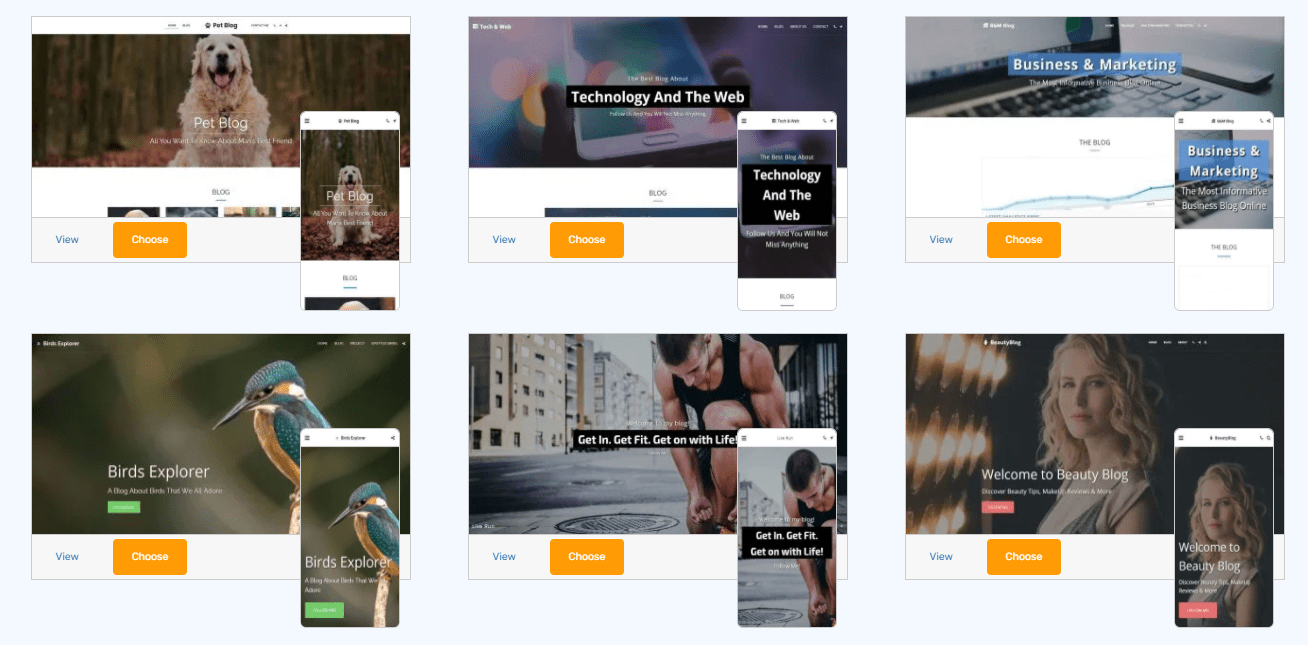 The free plan does include blog pages,
which come with essential features like analytics, social bookmarking, a search function, and an RSS feed. Once you upgrade, you can remove ads, connect a custom domain, get  more storage and bandwidth, and send more marketing emails each month.
One super useful feature is SITE123's library of royalty-free images
, which is perfect for adding visuals to your blog posts. However, there are some notable gaps in blogging functionality, including the ability to archive and categorize posts.
Features
Free videos & icons library. SITE123 gives you free access to hundreds of  royalty-free videos, images, and symbols to create visually engaging blog posts.
Free SEO tools. This suite of standard tools will help you drive traffic to your blog.
Built-in affiliate marketing. You have the option to monetize your blog with affiliate marketing for SITE123.
Third-party plugins. You can add extra features to your blog with plugins for things like live chat, analytics, and contact forms.
Get all the details about SITE123 in our complete review.
Free plan available?
Yes
Number of blogging templates
20+
Customizability
Basic free options; the full range of editing features is only available on the paid plan
Standout blogging feature(s)

Royalty-free image library
Option to use Facebook & Disqus blog comment systems
Free and easy to use, Blogger is where many newbie bloggers get their start
. It might be a bit of an old hat (it launched back in 1999!), but it's still got a lot working in its favor – not least that it's
100% free to use
. You'll get a blogspot.com subdomain, but you'll also have the option to connect your own, custom domain for free.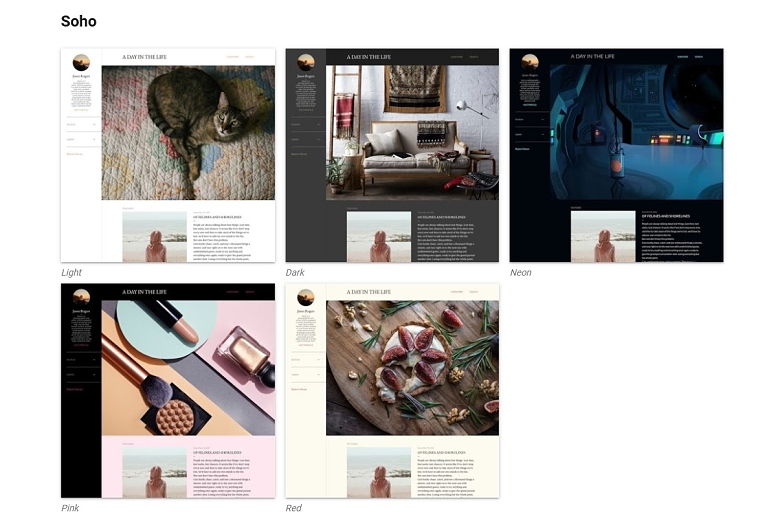 Blogger is a Google service, so it integrates with other useful Google products
 like Google AdSense (an easy way to monetize your blog with ads), and Google Analytics, which lets you track visitor statistics. However, its
template selection is pretty basic
 (as you might expect with a free platform). Its customization options are also limited, and it has little to offer in terms of extending your blog's functionality. For this reason, many bloggers quickly outgrow the Blogger platform.
Features
Make money from your posts. The Google AdSense integration offers an easy way to monetize your content.
Connect a custom domain for free. Blogger is the only option on this list that offers this feature on a free plan. You also have the option to use a free subdomain.
Automatic Google Search indexing. You can boost your blog's SEO rankings with automatic indexing.
Read our expert review to get an in-depth look at Blogger
.
| | |
| --- | --- |
| Free plan available? | Yes |
| Number of blogging templates | 12, plus various color schemes |
| Customizability | Limited |
| Standout blogging feature(s) | Integration with Google AdSense for easy monetization |
6. Medium – Best For Growing an Audience
Medium is a little different from some of the other options on this list in that
it functions more like a social networking site.
 You create a free Medium account, and you can start publishing posts using Medium's super-simple WYSIWYG editor without paying any subscription fees whatsoever.
Medium's advantage lies in the fact it comes with a built-in audience
, making it a great way to find and grow a following. If one of your posts gains traction with Medium's readers, it could be featured as one of the platform's top stories. Plus, if you sign up for the free Partner Program,
you could earn money from the time people spend reading your posts.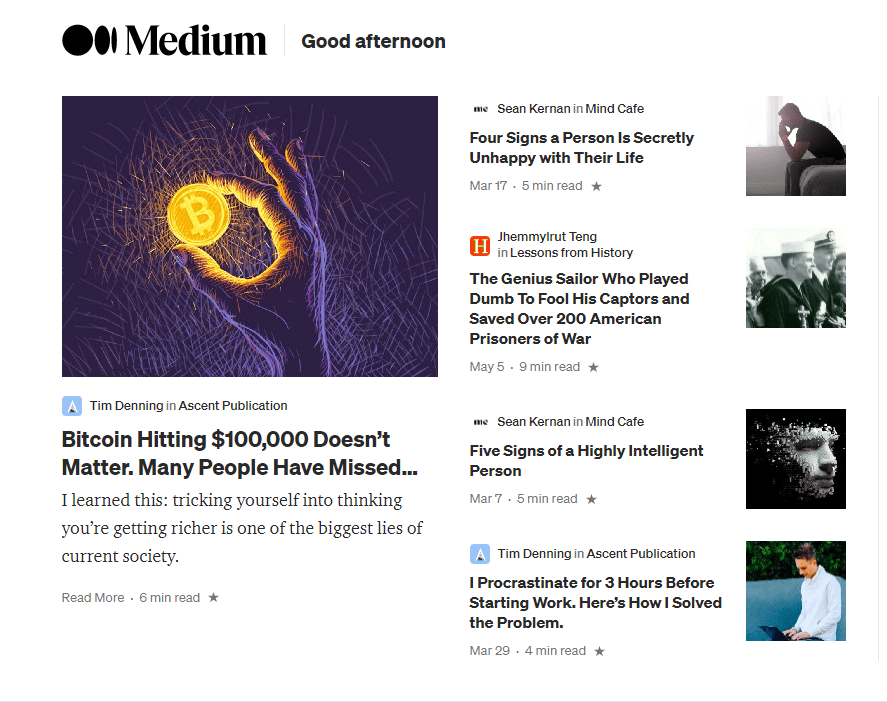 The downside? You'll be limited by Medium's format – you can't have your own customized URL, your blog will look like every other Medium blog, and
there are no monetization options besides the Partner Program
(which basically relies on your articles getting noticed by Medium's moderators).
Features
Ready-made audience. When you publish a Medium article, you get access to a readership of over 60 million people.
Easy-to-use post editor. Medium's WYSIWYG editor lets you create well-designed, mobile-responsive blog posts in just a few simple steps.
Minimal effort. Since the whole "website" side of things is already taken care of, you're free to focus on your writing.
Free plan available?
Yes
Number of blogging templates
1
Customizability
Limited for posts; zero customization options for your blog
Standout blogging feature(s)

Built-in audience of 60 million+ readers
Free partner program offers easy monetization
7. Tumblr – Best For Visual Blogs
Tumblr is another option that straddles the line between a blogging platform and a social media platform. It's definitely not the place for long-form writers,
as
Tumblr specializes in snappy (and primarily visual) content,
including Spotify tracks, images, GIFs, and videos.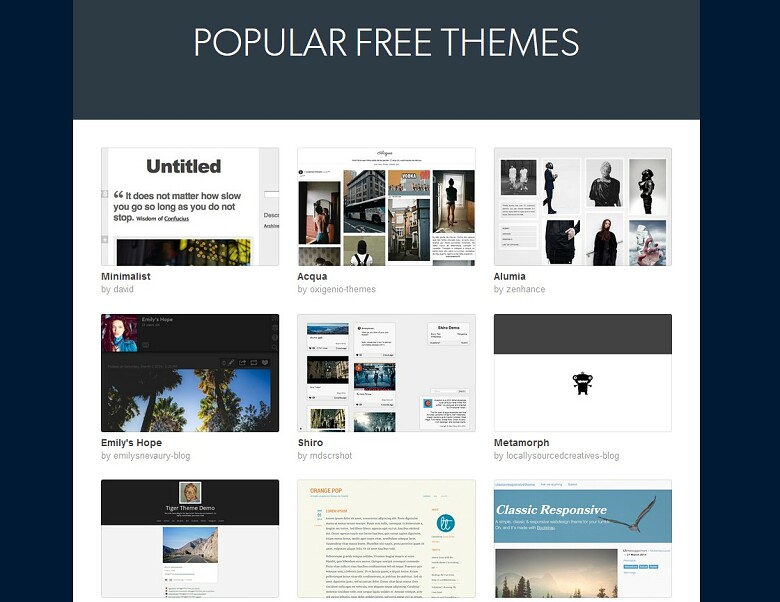 Tumblr is free with a tumblr.com subdomain (you can also opt to connect a custom domain name if you'd like), and it's very easy to set up and use. Since it's focused on creating a community of users, it gives you
plenty of options for sharing, following, and reblogging content.
Nonetheless, as your blog progresses, you will probably outgrow the platform due to the inability to expand Tumblr's restricted feature set. Furthermore, the platform does not provide any options for monetizing your content.
Features
Perfect for visual content. This is an ideal platform if your blog is heavy on pictures, GIFs or videos.
Free and easy to use. Unless you pick a premium template, Tumblr will always be free to use.
Ideal for use on a mobile device. Like any social network, Tumblr is super mobile-friendly.
| | |
| --- | --- |
| Free plan available? | Yes |
| Number of blogging templates | 100s of free and paid themes |
| Customizability | Possible via HTML edits |
| Standout blogging feature(s) | Ability to embed multiple types of content, including images, GIFS, video, and Spotify tracks |
8. LinkedIn – Best For Connecting With Professionals
Rather than "part social network, part blogging platform" like Tumblr, LinkedIn is a full-on social network with some blogging features built-in. However, its focus on industry professionals makes it
 the ideal platform for sharing business content
. When you write an article, LinkedIn will notify your connections, so if they like it, they might share it. And if a LinkedIn
editor
 likes it, they might feature it, 
exposing your work to a much broader audience of like-minded professionals.
 It's a great way to build connections and cultivate business relationships.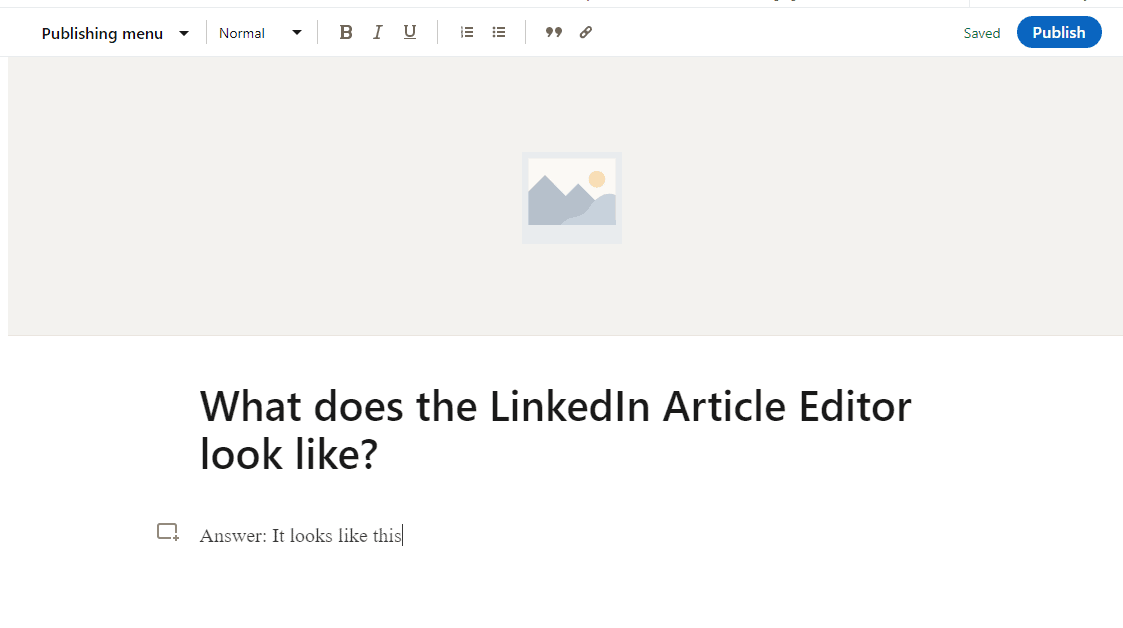 LinkedIn features a WordPress-style article editor,
making it the only social media platform where you can produce polished, professional-looking B2B content. On the downside, the editor has very few customization options and you can't schedule posts to publish in the future.
Features
Free-to-use publishing platform. You'll never pay to publish a single post.
Built-in professional audience. Get your content in front of 260 million active users per month.
Intuitive, comprehensive editor. You can create neat, well-designed posts with the LinkedIn editor.
| | |
| --- | --- |
| Free plan available? | Yes |
| Number of blogging templates | 1 |
| Customizability | Limited |
| Standout blogging feature(s) | Automatic notifications ensure that your connections never miss one of your posts |
9. WordPress.org – Best For Customizability
If you've read this far, you'll recall that I characterized WordPress.com as the neatly-packaged cousin of WordPress.org. Indeed, WordPress.org provides a scrappier solution, but once you become accustomed to its methods, it certainly delivers, my friend. WordPress.org has many of the same features as its .com counterpart, but it's got a whole suite of
advanced options, custom plugins and themes, and additional editing tools
 – meaning you can personalize your blog to your exact needs. For example, you can monetize your WordPress.org blog in any way you like, without facing any restrictions on online payments or being forced to display external ads imposed by most "packaged" website builders. The tradeoff is that
 this platform is not easy for beginners to use effectively.
 There's a steep learning curve involved.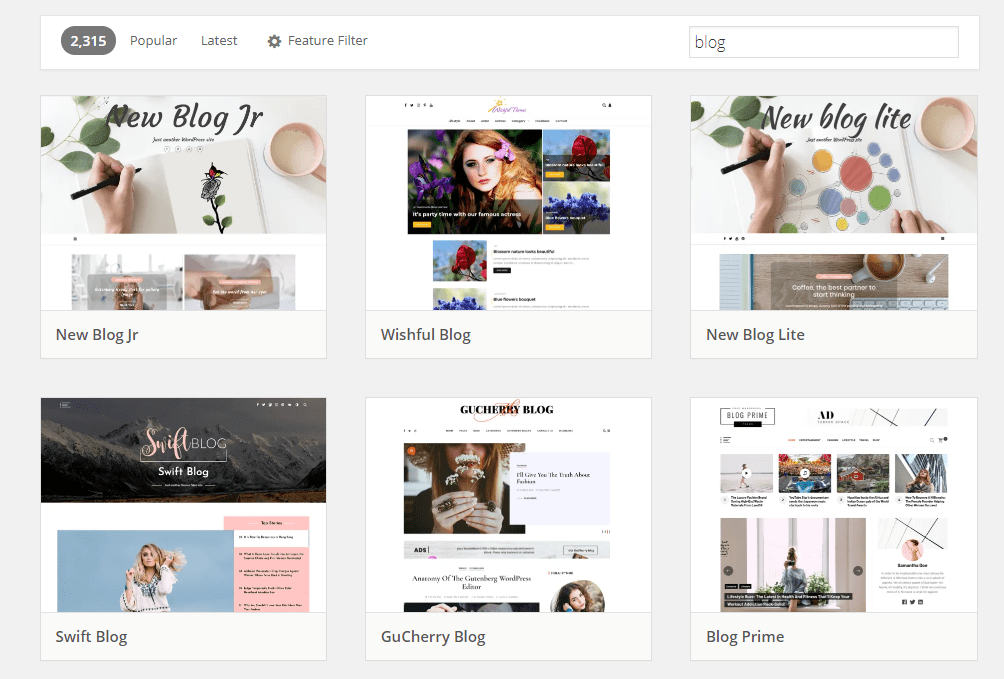 On top of this, unlike with WordPress.com,
with WordPress.org you have to take care of all of the moving parts yourself
 – like hosting, security, and backups. So, as Spiderman says, with great power comes great responsibility. Which may or may not be to everyone's taste.
Pro Tip:
If you want to use WordPress.org, but you're not sure how to get started, check out our list of the
best WordPress hosting services in 2023
. Many of these hosts offer complete solutions that include a tutorial to set up your site, built-in security tools, and more.
While
WordPress.org itself is completely free to use
, you will have to pay for a domain name, hosting, and a premium theme (if you decide to use one). You'll also have to pay for any premium plugins you add to improve your blog.
Features
Over 55,000 plugins, apps and extensions. These include a range of custom plugins and tools not available on WordPress.com.
Fully customizable. The sky's the limit in terms of personalizing your site – if you've got the tech skills for it.
Endless variety of responsive themes. WordPress.org offers not only free and premium but also custom themes.
| | |
| --- | --- |
| Free plan available? | Yes, but hosting costs extra |
| Number of blogging templates | 2,000+ |
| Customizability | Unlimited |
| Standout blogging feature(s) | Advanced plugins, themes, and customization options, giving you full creative control |
10. Drupal – Best For Tech-Savvy Bloggers
Like WordPress.org, Drupal isn't just a blogging platform – it's a complete CMS (content management system). This means that
you can use it to create any kind of webpage, in any kind of style, with unique, self-crafted elements
 that would help you stand out from the crowd. Clearly,
Drupal offers incredible flexibility
 – more so than any other option on this list – but you'll need plenty of technical know-how to make the most of its power.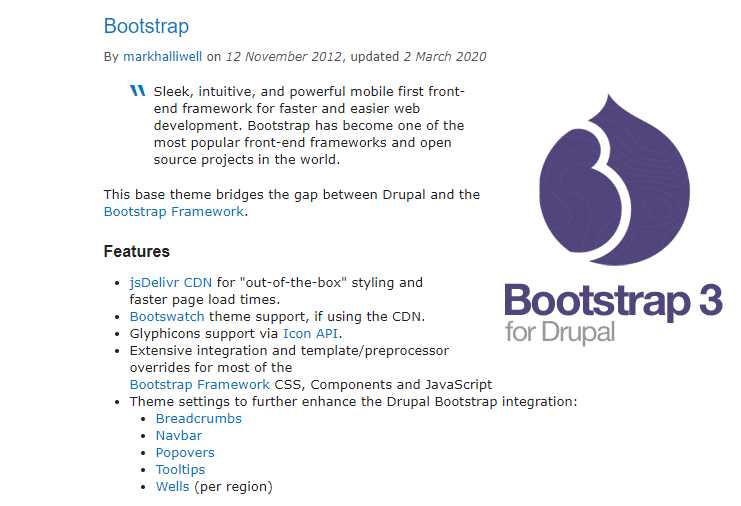 If you only want to create a basic blog, Drupal likely offers more features than you'll ever use (or even desire), such as thousands of no-cost plugins and templates, personalized content categories, and top-notch security and performance.
In addition, the learning curve is even steeper than with WordPress
 – so unless you hire a developer (or you're a developer yourself!) you'll probably struggle to get your Drupal blog working exactly the way you want it to.
Pro Tip:
If you want to build a massive blog, but you don't have the know-how to use Drupal to your advantage, you can
head over to Fiverr
 and find an affordable freelance web developer who will build your blogging framework for you.
Features
Completely free platform. Drupal is an open-source solution, meaning it's free to download, but hosting and plugins often cost extra.
Super scalable. With a free library of literally thousands of plugins, this is the perfect platform for ambitious websites.
Flexible taxonomy system. Ideal for handling lots of content.
| | |
| --- | --- |
| Free plan available? | Yes, but hosting costs extra |
| Number of blogging templates | 1000+ |
| Customizability | Unlimited |
| Standout blogging feature(s) | Flexible taxonomy system, ideal for bigger publications producing lots of content |
There's a Blogging Platform to Suit Every Blogger
Ultimately, which platform is right for you will depend on what you're looking to get out of your blog. Although some social media-type platforms like LinkedIn and Medium give you the chance to get your content in front of potentially millions of eyes,
many bloggers opt to set up their own website so they can have more control over their brand.
For a
comprehensive, all-rounder solution, my go-to choice has to be Wix
. Its well-designed templates and intuitive editor make it super easy to get your blog up and running. And as your blog grows, you can easily add more features thanks to the App Market. On the other hand,
 if you're not afraid of digging a little deeper into the technical side of things,
you can't beat WordPress.com
 for power, customizability, scalability, and monetization options. Seriously, the sky's the limit. Or, if you're still weighing your options, here's a neat table that compares them all side-by-side:
Builder
Free Plan
Standout feature
Wix

✔

Easy-to-use editor and 70+ blog templates
Manage all of your posts from a simple blogging dashboard

WordPress.com

✔

Extend the functionality of your website with 50,000 plugins
Virtually unlimited customization options

Squarespace

✘

High-quality templates that ooze good design
Solid selection of SEO, social media, and email marketing tools

SITE123

✔

Simple, easy-to-use site builder
Mobile-friendly templates

Blogger

✔

Free-to-use blogging platform
Useful Google product integrations like Google AdSense and Analytics

Medium

✔

An existing audience of over 60 million readers
Neat, well-designed posts

Tumblr

✔

Great for highly visual, short-form posts
Instant access to 400 million+ users

LinkedIn

✔

Best for business posts aimed at a professional audience
Use your content to create new connections and cultivate business relationships

WordPress.org
Yes, but hosting costs extra

Free-to-use software with unlimited customization options
Free, paid, and custom plugins can expand your blog's functionality in endless ways

Drupal
Yes, but hosting costs extra

Unmatched flexibility to scale your website
Super powerful features, great for ambitious websites
FAQ
Which is the best blogging platform?
That depends on who you are and what you want to achieve. If you're a beginner, you'd probably be most comfortable with an all-in-one solution like Wix or Squarespace. If you've got more technical know-how and are planning on growing your blog quickly, you might want to go with a platform that gives you more flexibility, such as WordPress.com. Most website builders offer attractive blogging features and a comprehensive subscription plan. Check out our list of the best website builders in 2023 to see which we'd recommend.
What's the best blogging platform to make money in 2021?
If your goal is to make money with your blog, you'll need a blogging platform that lets you sell products, display ads, or include affiliate links. You can't usually do these things on a free plan, so it will be tricky to monetize your blog unless you upgrade. However, some platforms, such as WordPress.org and Blogger, let you run ads for free (although with WordPress.org, you'll have to pay for hosting).
3. Which blogging platform is the easiest to use?
Lots of blogging platforms make it very easy to start posting content, including Medium, LinkedIn, Blogger and Tumblr. However, the tradeoff is that you sacrifice a measure of control over your content. For this reason, many people choose to create their own blog via a website builder like Wix or SITE123, both of which are very easy to use.
4. Can I start a blog for free?
Yes! There are lots of options for starting a blog for free. You can sign up to a publishing platform like Medium or Tumblr and start writing. Or, if you want to keep full control over your content, you can spend some time creating your own blogging website (most site builders have free plans). That said, if you ever want to upgrade to a paid plan (for example, to get a custom URL or start monetizing your blog), make sure you visit our coupon page to take advantage of the best deals.